Have you ever noticed that cage light covers (especially the daintier ones) kinda-sorta resembles a birdcage? Well, as soon as I made that connection I decided to test my theory by upcycling one into bird cage decor for Spring.
If you remember my Light Cage Luminaria from my collection of repurposed Christmas projects, then you know I already have a collection of cage light covers.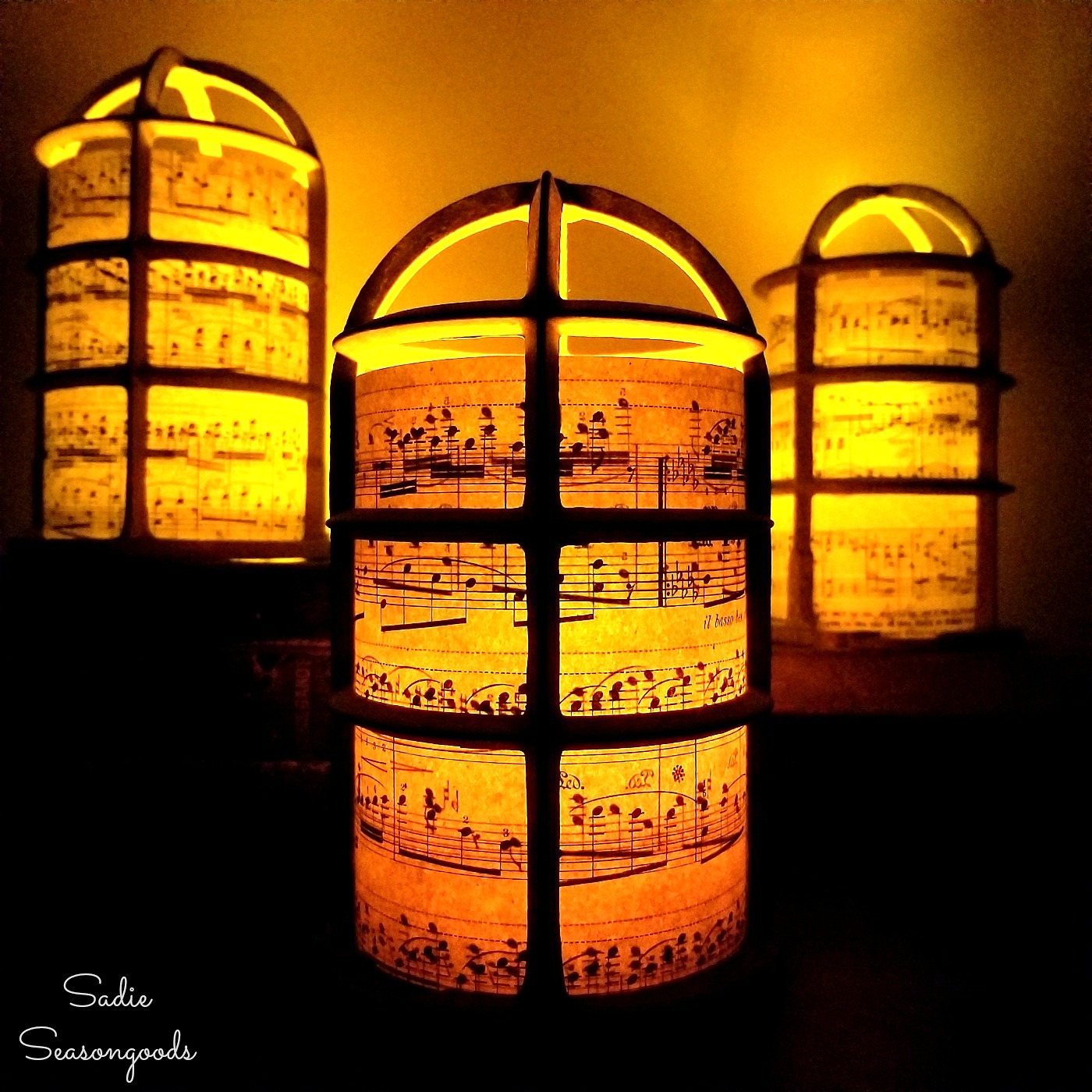 So you could say that I'm about to repurpose an already repurposed project.
I used my "sturdier" versions for that Christmas project. But check out these lightbulb cages in comparison: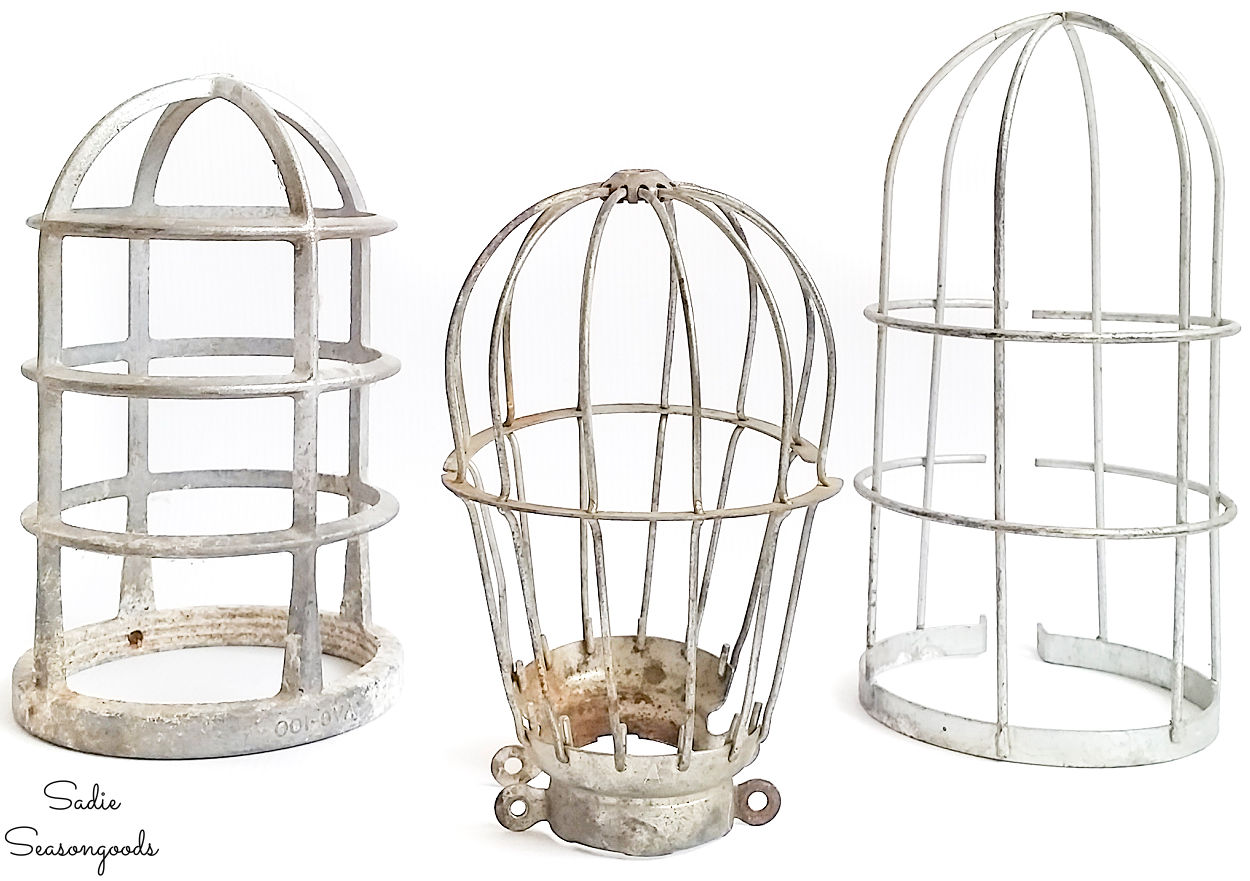 See what I mean, though? The daintiest of of them looks a little like a hot air balloon and, well, a bird cage! Maybe a bit of a stretch, but it was worth giving it a go. Besides, who doesn't love bird decor around the house during the Spring months?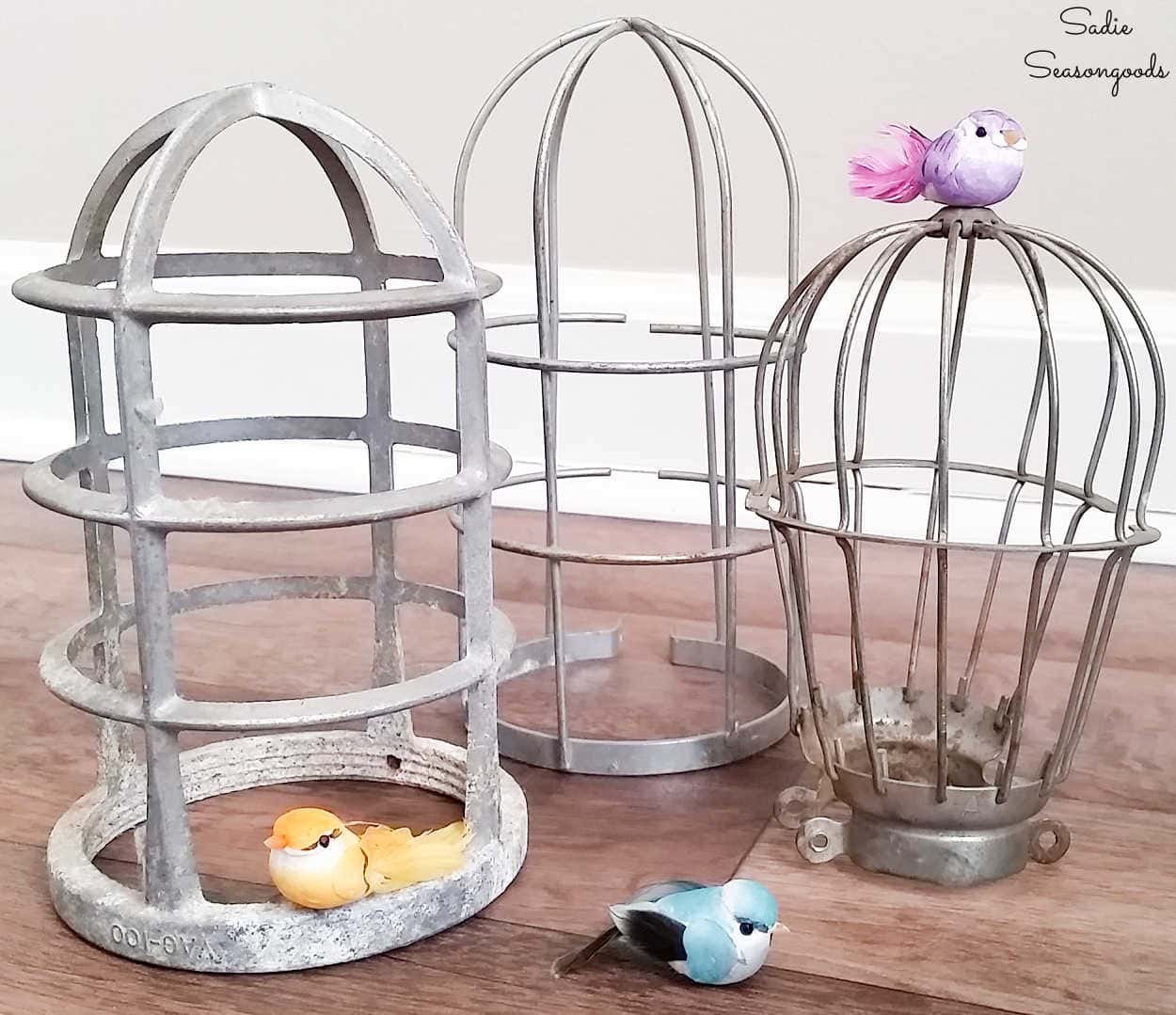 Since my Christmas luminaries were non-permanent, I simply removed the coil of sheet music, and prepped for Spring instead!
This post contains affiliate links for your crafting convenience. As an Amazon Affiliate, I earn from qualifying purchases. All blue, bold, and underlined text is a clickable link, either to a product or to a related post.
Upcycling Some Cage Light Covers
To make this project, I took a very basic approach to converting my cage light covers into bird cage decor by simply creating a swinging "perch".
First, I started off with heavy gauge jewelry wire, creating a flat edge for a mushroom bird to sit upon. I then took the ends of the wire and bent them over to create hooks.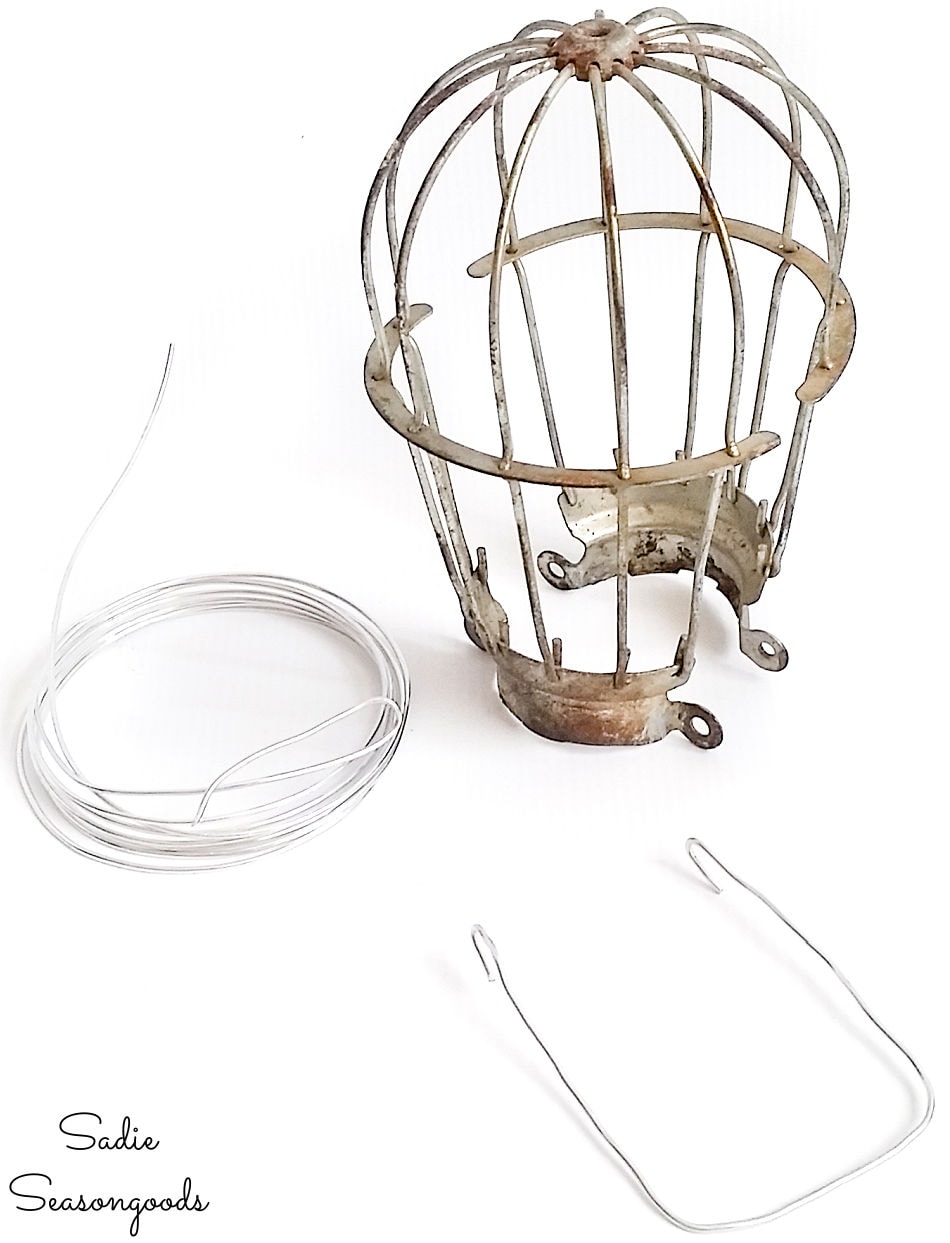 I did this with my fingers but in retrospect, some round nose pliers like these would have made the hanging curves easier and smoother.
After I was satisfied with the perch shape, I took a small scrap of brown craft paper, and coiled it tightly. This would serve as the traditional "wooden" base of a bird swing or bird perch.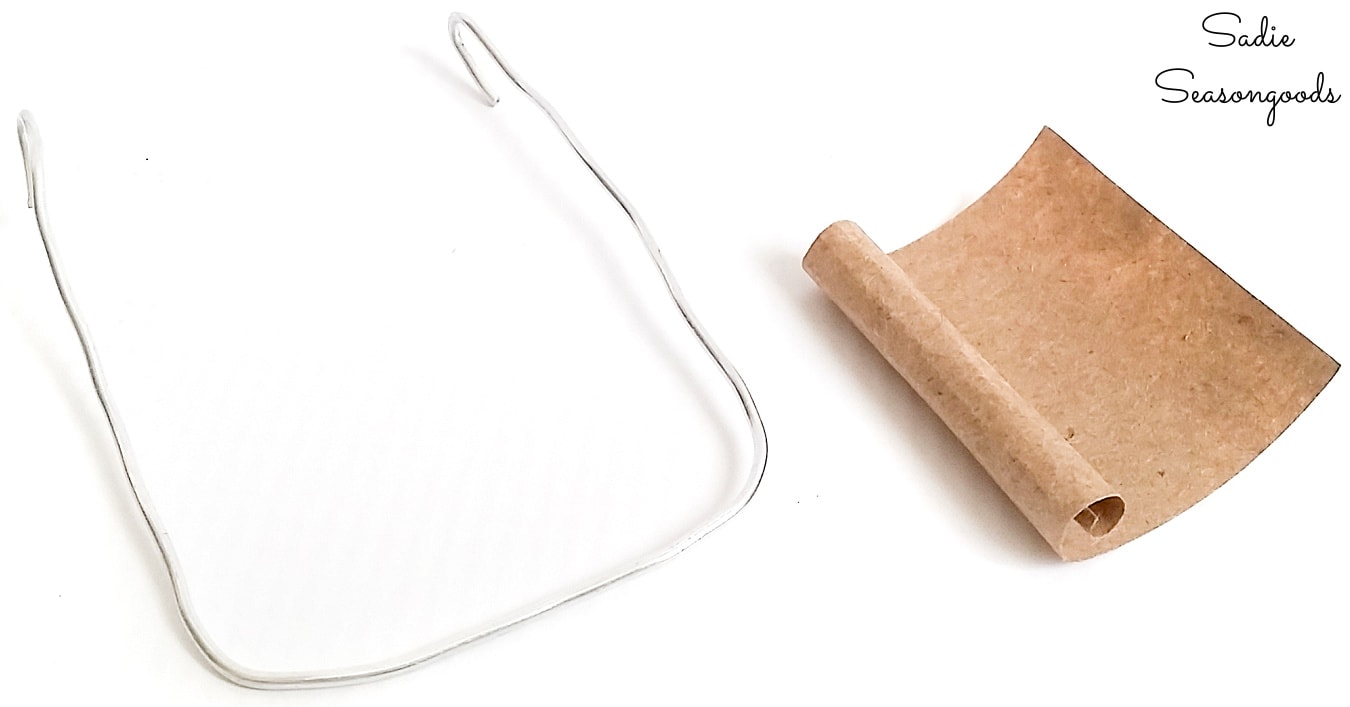 See where I'm going with this?
Next, using my hot glue gun, I dabbed a little glue on the perch bottom, wrapped the brown paper coil around it, and dabbed more hot glue at the paper edge to finish it off.
There- now my bird cage decor was going to have the perfect little bird perch.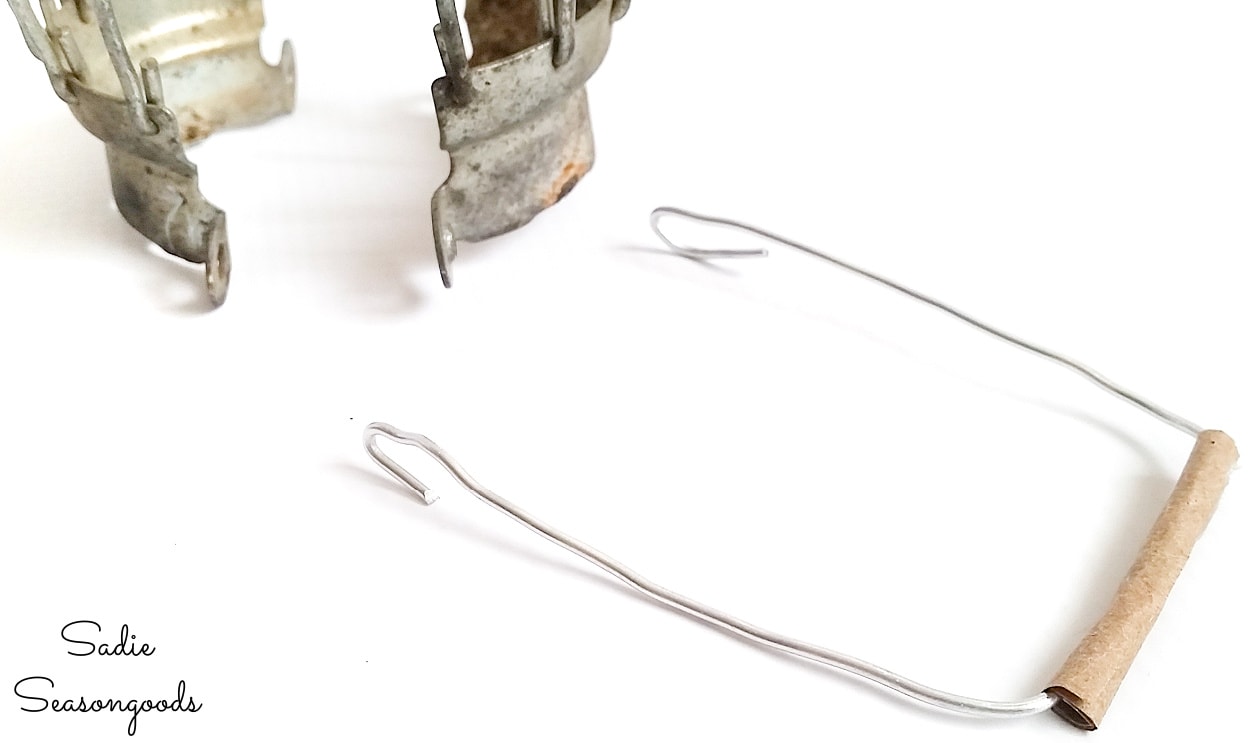 Lastly, I then attached a little "mushroom bird" to the perch with my hot glue gun. Then, I carefully hung the perch from the top of the lightbulb cage!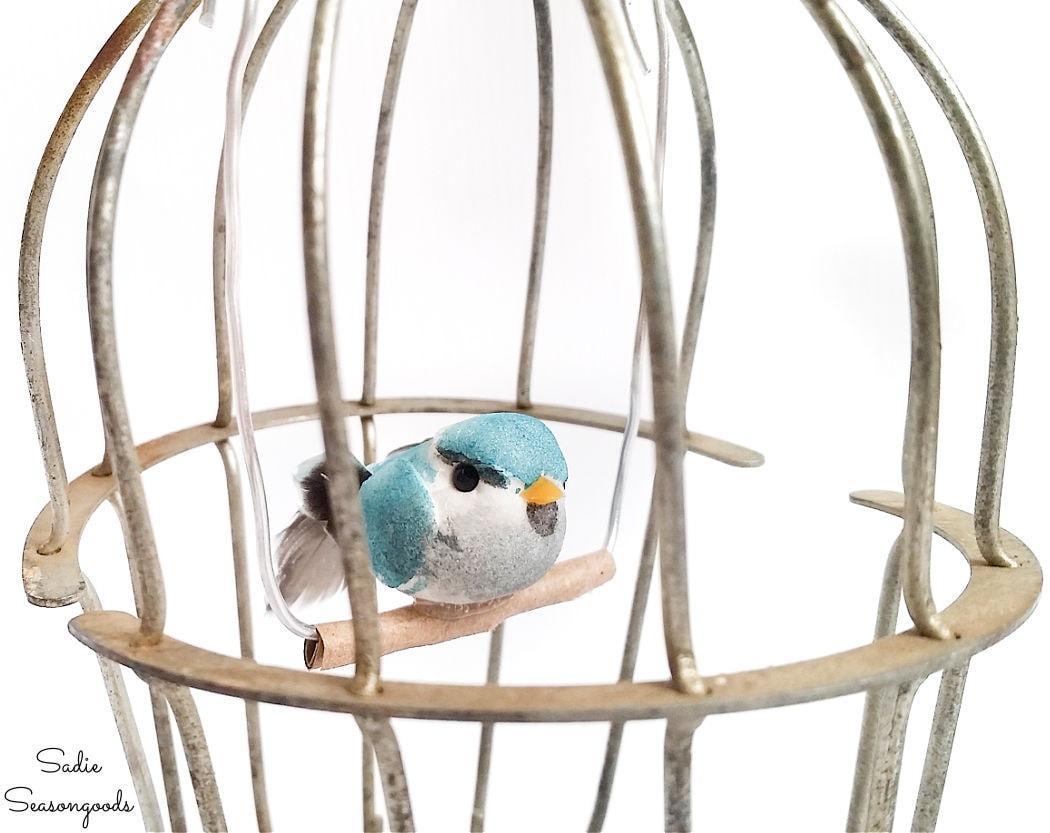 Come on…how cute is that?? I just KNEW my lightbulb cage could be transformed into bird cage decor!
I'm such a sucker for bird decor during Spring and I'm pretty sure I'm not alone! Especially when it's this adorable.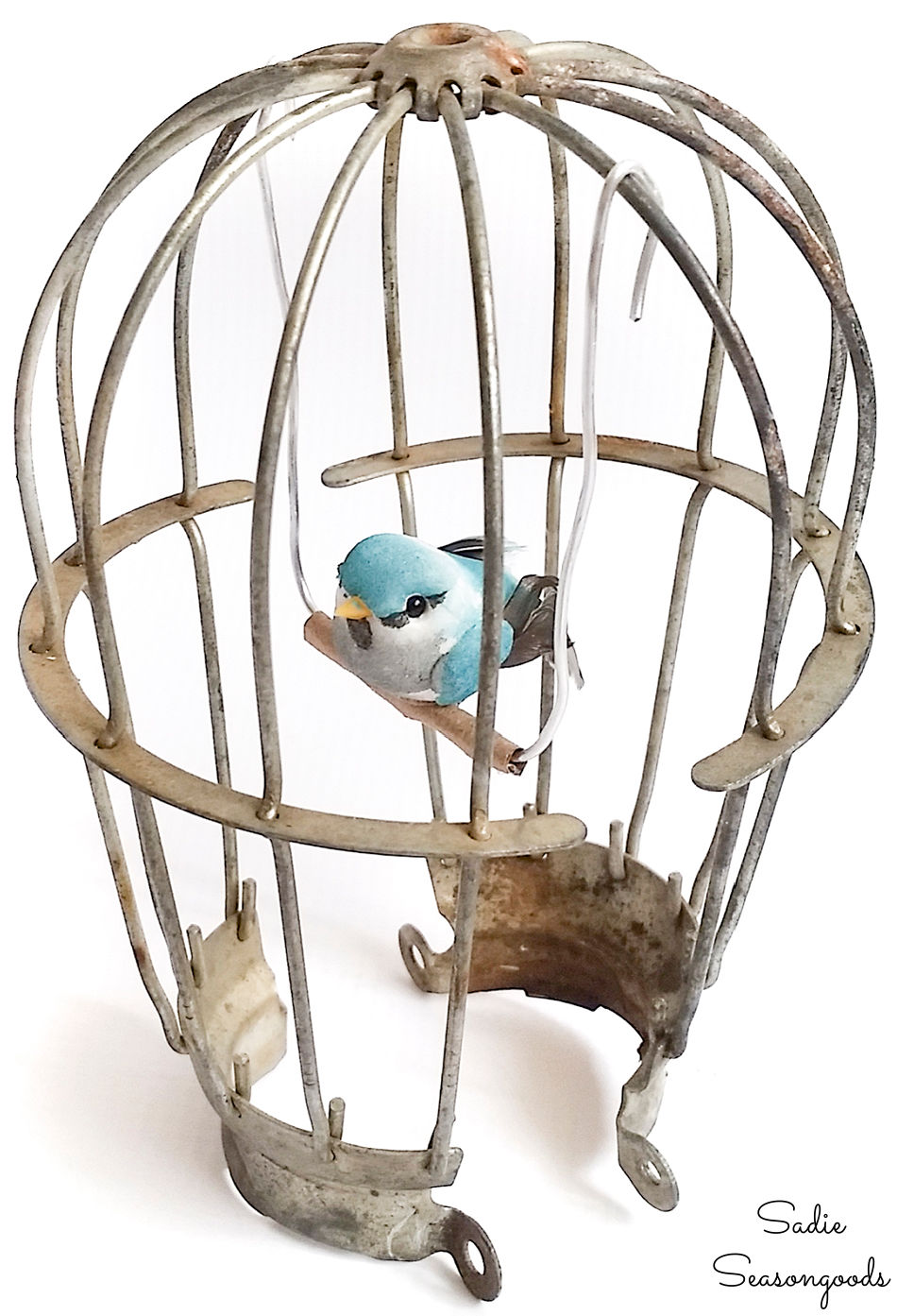 Bird Cage Decor from Cage Light Covers
To display my bird cage decor, I shredded some newsprint, crumpled it up, and placed everything on a thrifted vintage saucer.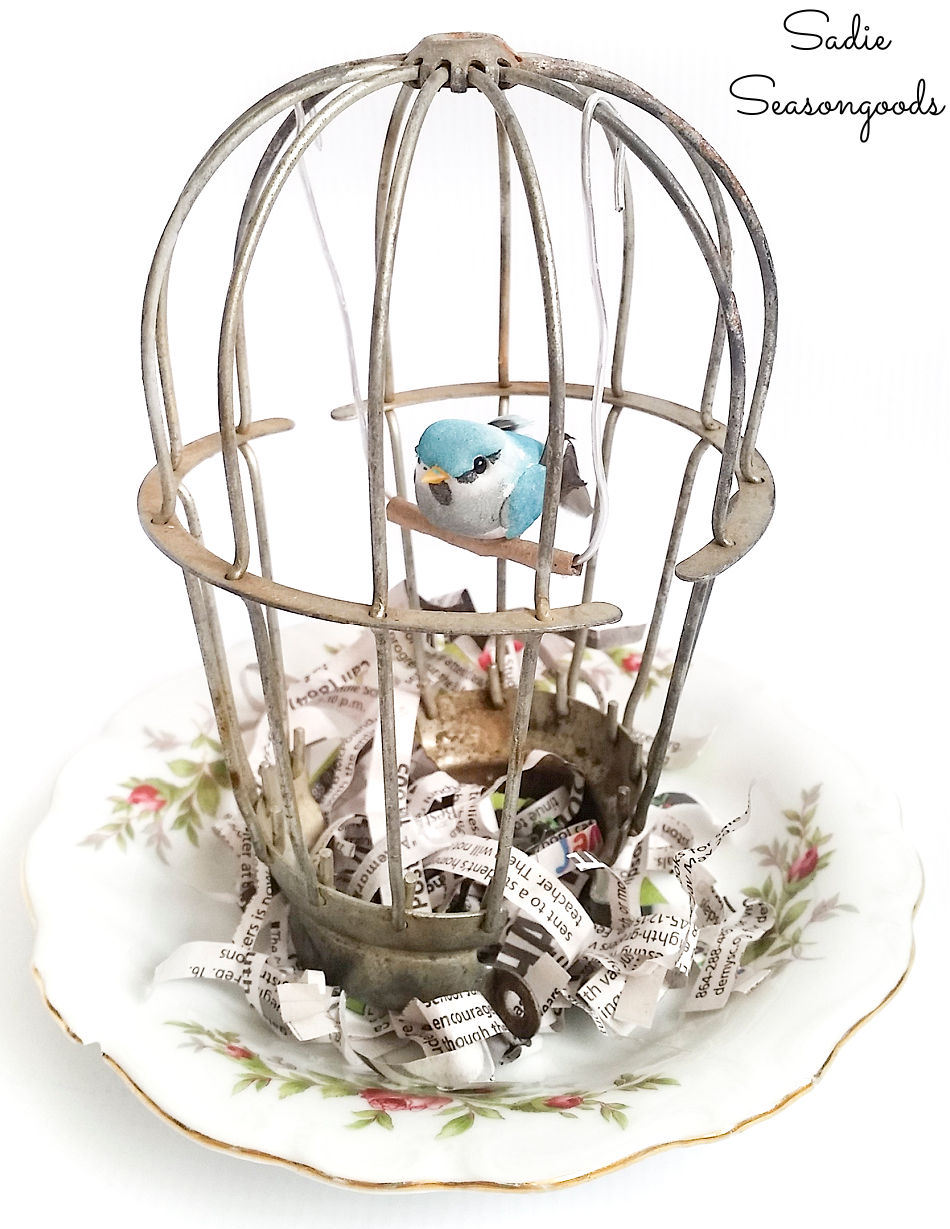 The vintage plate had a nice cottage decor feel to it, but you could use a block of salvaged wood or even a tiny pie tin for a more rustic look.
I seriously think this DIY bird cage from a lightbulb cage is about as cute as it gets when it comes to Spring home decor. A little quirky and eclectic, true, but that's my personality.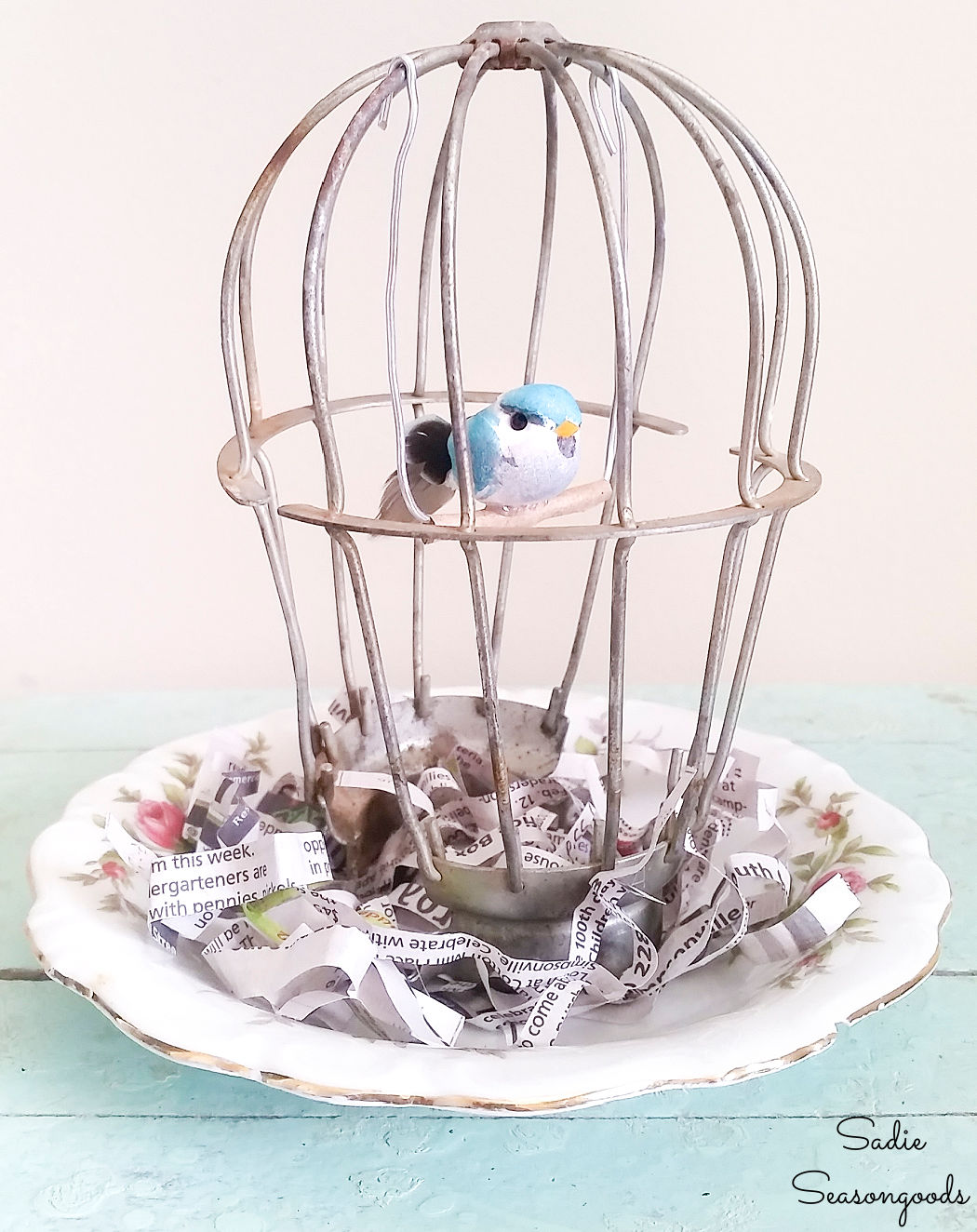 I was originally going to use sheet music, but decided that the newsprint was more accurate for a bird cage. At least, that's what my grandmother used to line her finch cages back when I was a tot. But sheet music, raffia, or anything similar would work just fine!
And if you enjoyed this upcycling idea for bird cage decor, then you may also be interested in this bird nest decor that is PERFECT for Spring!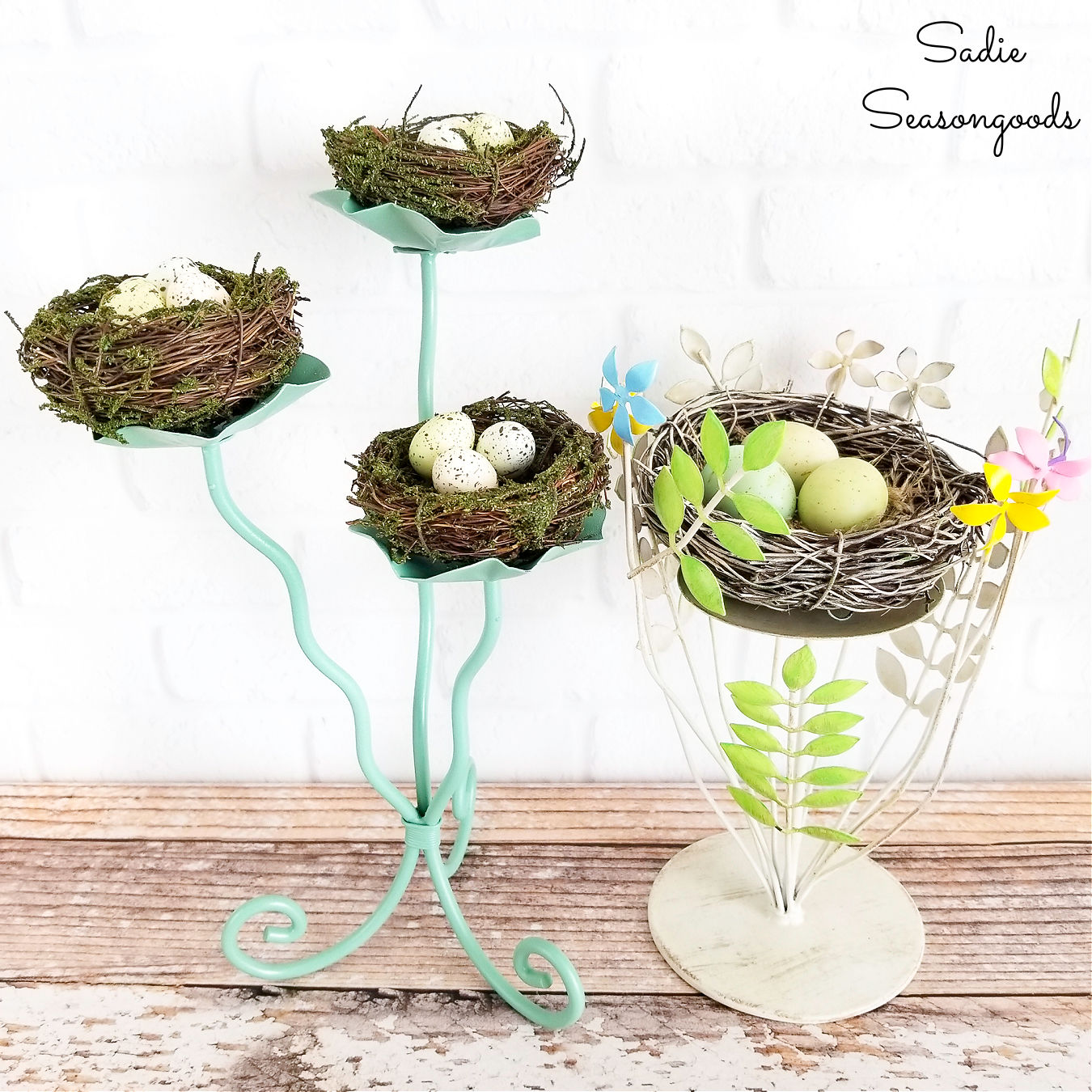 Craft on!
S
Want to be notified when I publish my next upcycling project tutorial?
Subscribe to Blog via Email
Join me on Social Media:



PIN ME!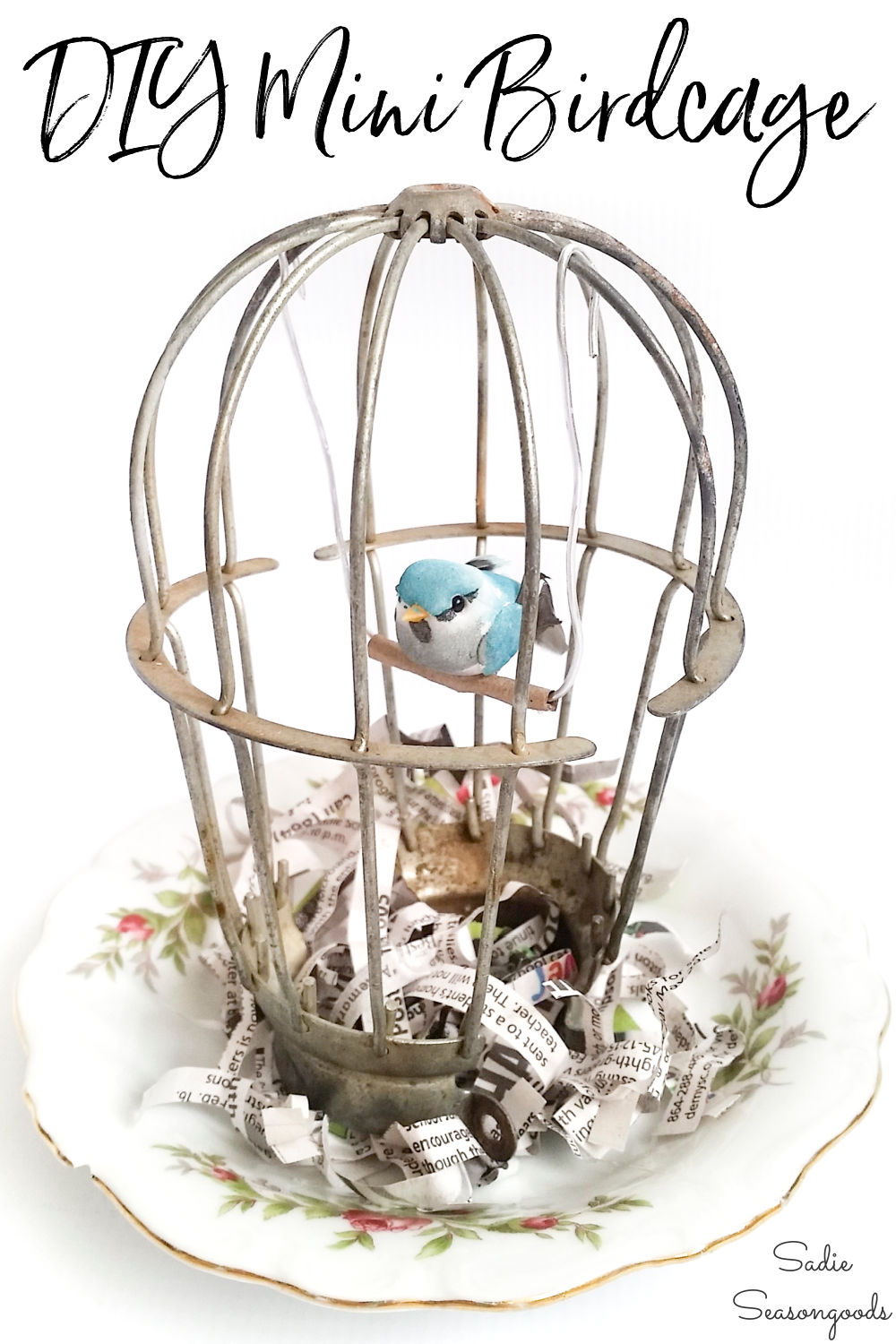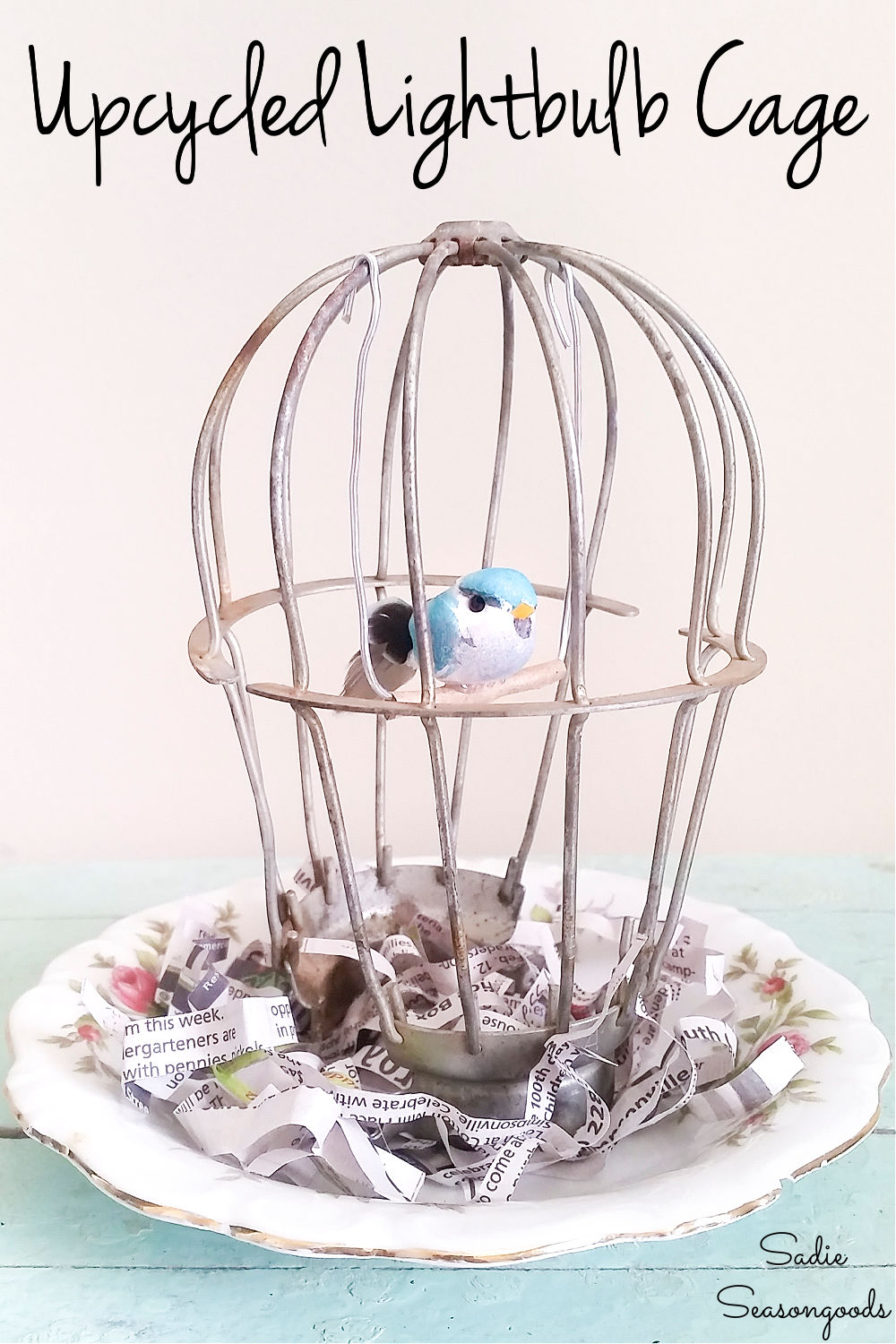 Sarah Ramberg is the owner of Sadie Seasongoods, a website that celebrates all things secondhand. From upcycling ideas and thrifted decor to vintage-centric travel itineraries, Sadie Seasongoods is a one-stop shop for anyone who loves thrifting and approachable repurposing ideas. Sarah is also the author of "Crafting with Flannel" and has been featured in numerous media outlets and magazines.