I don't know about you, but Spring is front and center in my mind. The trees are budding, the daffodils are in full bloom, and even my husband's allergies have kicked in. So, I'm kicking off the season with a fun and SUPER simple spring project idea. A few months ago, I snagged this metal candleholder from Goodwill and knew immediately that I would repurpose it into nest decor for Spring.

My mind reached back to one of Organized Clutter's projects from last year– which I had loved! So, when I saw this metal candleholder, I knew I wanted to do something similar.
My version would be a little different, of course. And then on top of that, I found a second, slightly different metal candleholder to add to my project arsenal!
The white metal candleholder reminded me of toleware or vintage tole, which was extra special!
Clearly, this was a sign from the thrifting angels- nest decor was meant to be a project for me this Spring!
This post contains affiliate links for your crafting convenience. As an Amazon Affiliate, I earn from qualifying purchases.
Craft Ideas for Spring with a Metal Candleholder and Bird Nest Decor
My plans including painting both of my vintage candleholders, but in different ways.
First up was the tall three-layer candle holder. I sprayed it with primer and then finished it off with a soft, pretty green spray paint.
While the first metal candleholder dried, I gathered some acrylic craft paints for the white candleholder. My plan was to add a touch of color to the flowers and leaves.
Remember how I said it reminded me of toleware? That's the look I'd be going for. Tole painting on the flowers and leaves to add fresh pops of color that would work perfectly with the nest decor.
Cottonball decided to help, though I'm not entirely sure what he was doing here…
When all was said and done, my vintage candleholders were fresh and bright, perfect for the Spring decorating plans I had in store for each one!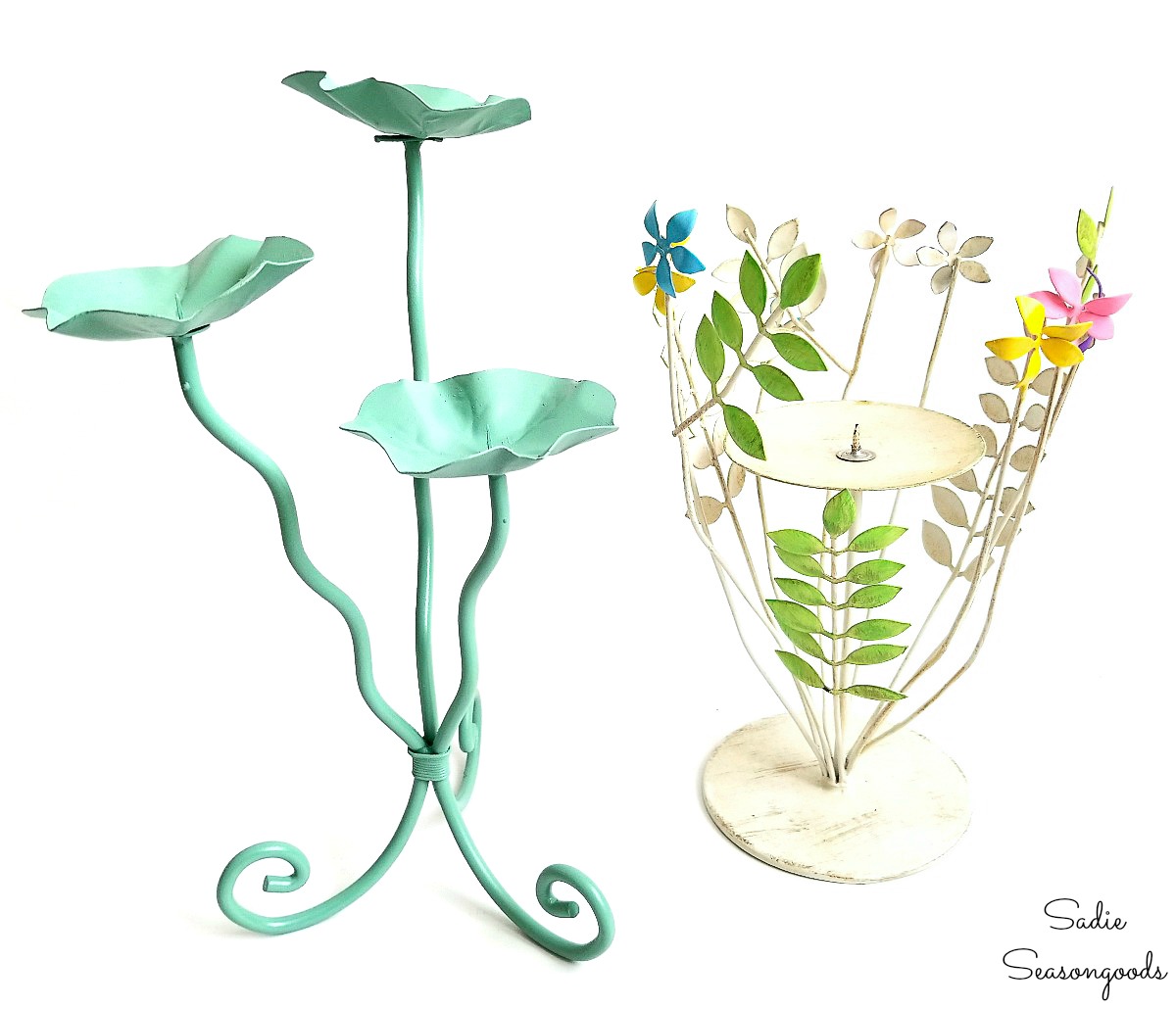 Now for the fun part- adding the nest decor I've been talking about!
I headed to my local garden decor shop because their selection of bird nest decor and speckled eggs was far superior than that at my craft stores!
Smaller nests would work best for the green candle holder and a larger nest was purchased for the white candleholder that I had done the tole painting on.
And all I did was set each birds nest on the candle holder platform(s), using the candle "spike" to help hold it in place! Doesn't get much simpler than that!
You could certainly glue them in place with hot glue but I decided not to go that route; for both storage reasons and in case I wanted to use the nest decor on a future project.
Nest Decor for Spring with a Metal Candleholder
I mean, it's almost too easy of a Spring decor project. But I didn't think either candleholder needed any further embellishment.
Just the nest decor and speckled eggs was enough for me. Each little birds nest sits perfectly on the platforms. Like they were meant to go together all along.
And despite the tall metal candleholder being the original impetus for this Spring craft, I might secretly be a little more partial towards the white candleholder.
I love how the tole painting turned out. Just a simple pop of color here and there gave it an entirely new look.
And is there anything better for Spring decorating than a birds nest filled with speckled eggs? I just can't get enough nest decor or bird decor during the Spring season.
And if you enjoyed this upcycling idea for nest decor and speckled eggs, then you'll love this idea for Easter decor with hobnail milk glass!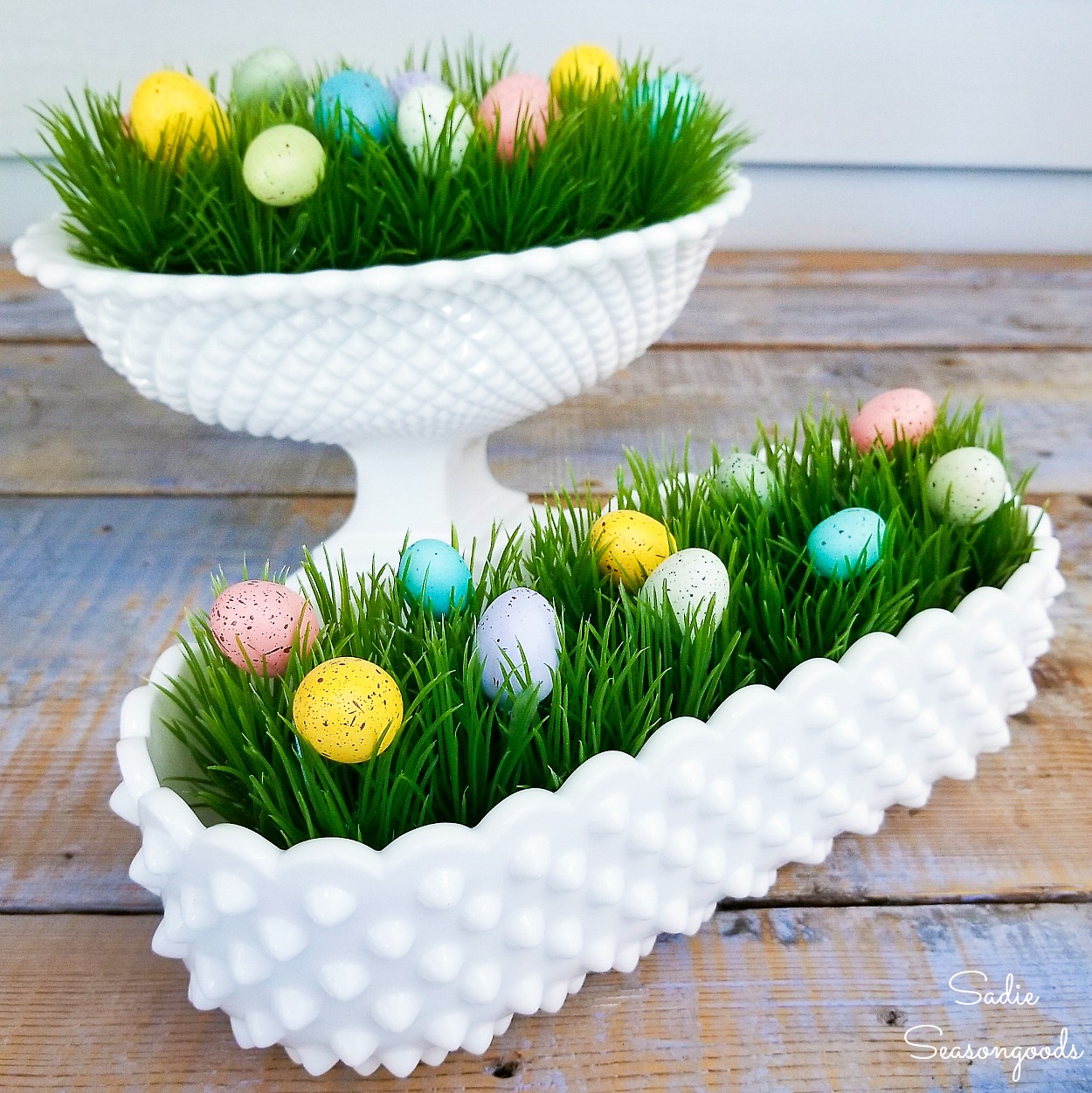 Craft on!
S
Want to be notified when I publish my next upcycling project tutorial?
Subscribe to Blog via Email
Join me on Social Media: