As soon as I spotted this retro wooden frame at a Goodwill, I was intrigued. It was as if some wood paneling and a picture frame had a baby and created this. I could also tell that the still life pictures were just printed cardboard- nothing of value to worry about. So I wondered if I could upcycle it in order to create some mid century modern wall art that was more our style.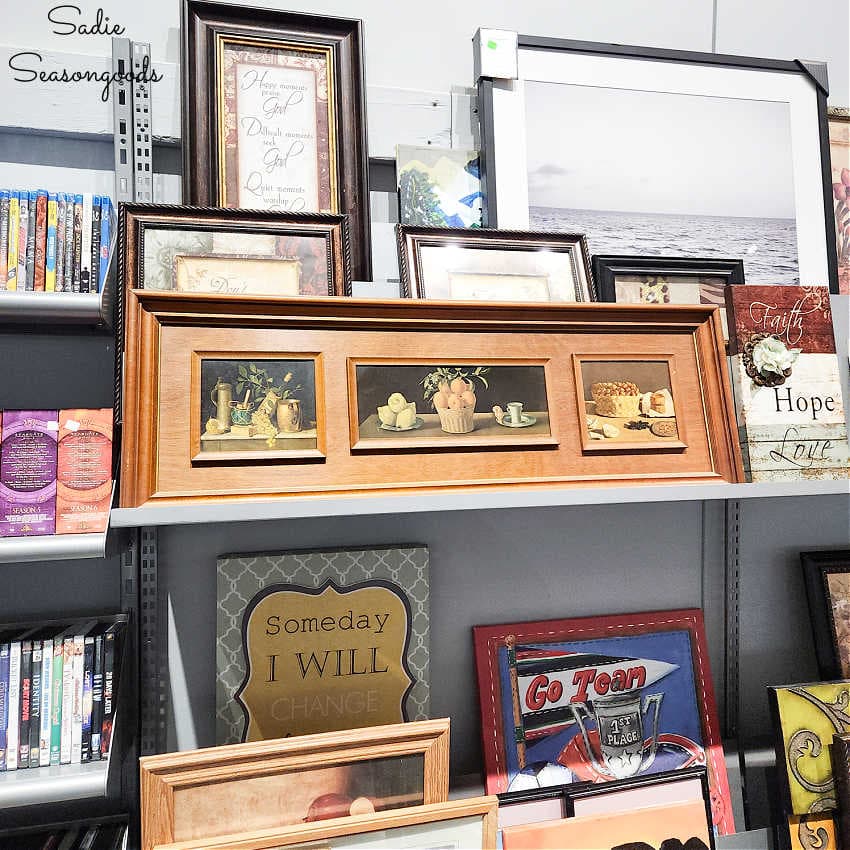 I mulled over ideas and options for freshening it up. Not that I planned to paint it, no- I simply wanted to change out the "artwork" in the three framed sections.
Once I had a plan in mind, I also realized that I might be able to use ANOTHER thrift store find, too!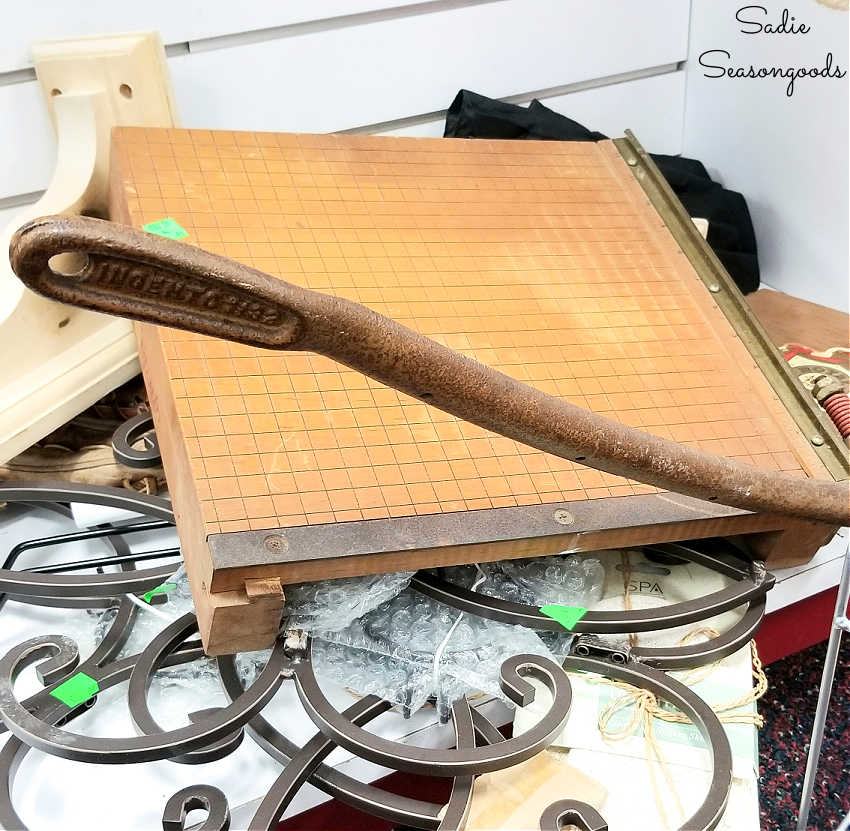 And yes, that's how I found this vintage paper cutter at a Salvation Army- blade arm raised, near the floor. I felt compelled to buy it to save them from a lawsuit! (Though, I had fun with it during Halloween last year when I was promoting my book!)
Either way, I had an upcycling plan in mind and was ready to give my idea a go!
This post contains affiliate links for your crafting convenience. As an Amazon Affiliate, I earn from qualifying purchases. All blue, bold, and underlined text is a clickable link, either to a product or to a related post.
From Retro Frame to Mid Century Modern Wall Art
First, I wiped down the l-o-n-g frame as thoroughly as I could with a damp paper towel. I also wrapped a bamboo skewer in damp paper towel to get the narrow crevices around the perimeter.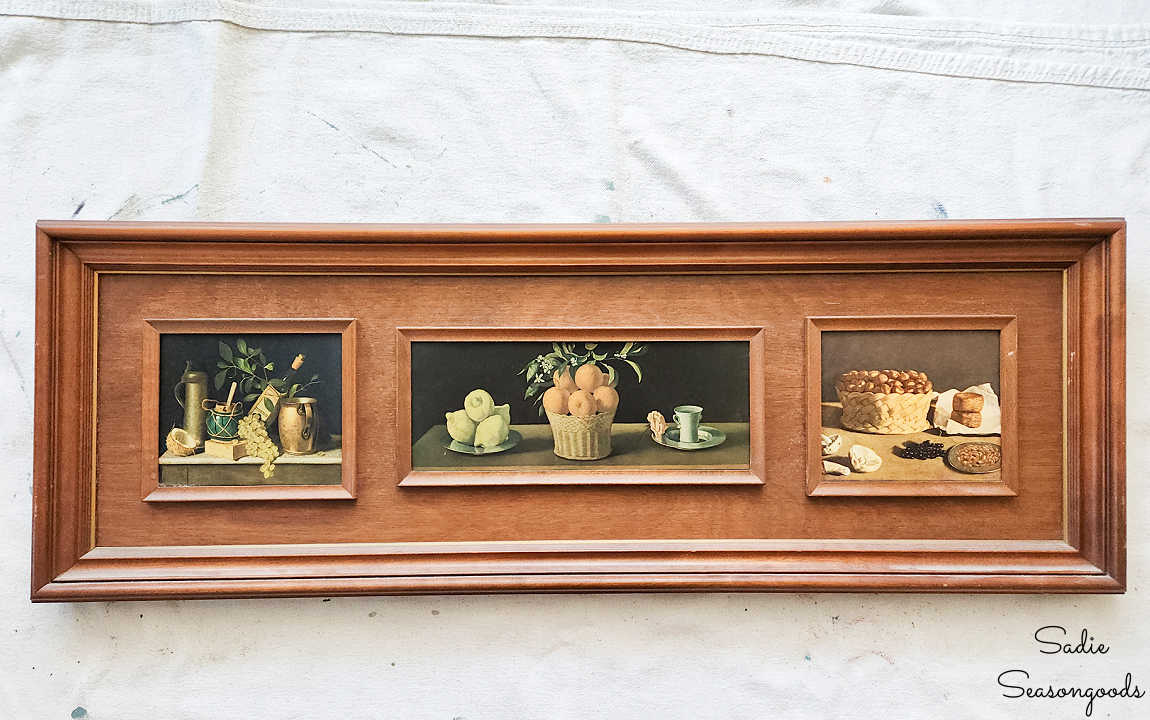 Now to disassemble it! My plan was to cover the cardboard still life pictures one way or another; with paint, fabric, or something else entirely. I just wasn't sure yet and needed to remove the paper backing to figure things out.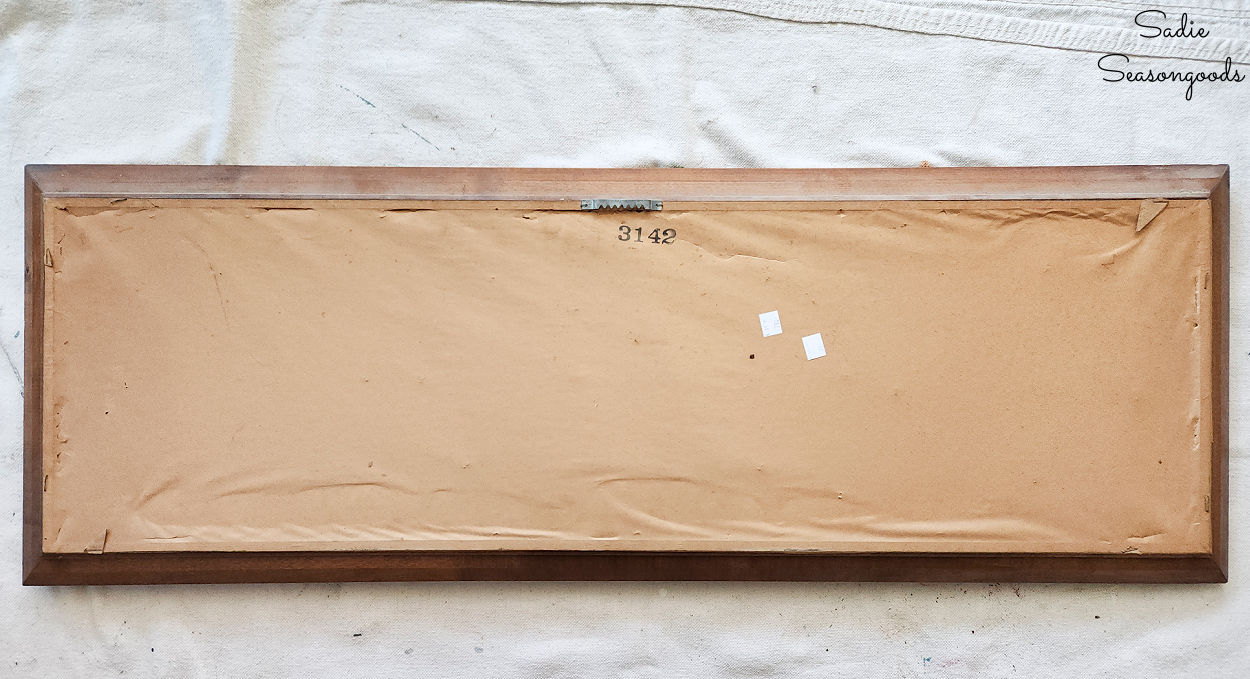 But when I removed the brown paper backing, I was greeted with a wooden panel and quite a few framing nails. I'm not sure what I was expecting, but for some reason, it wasn't this.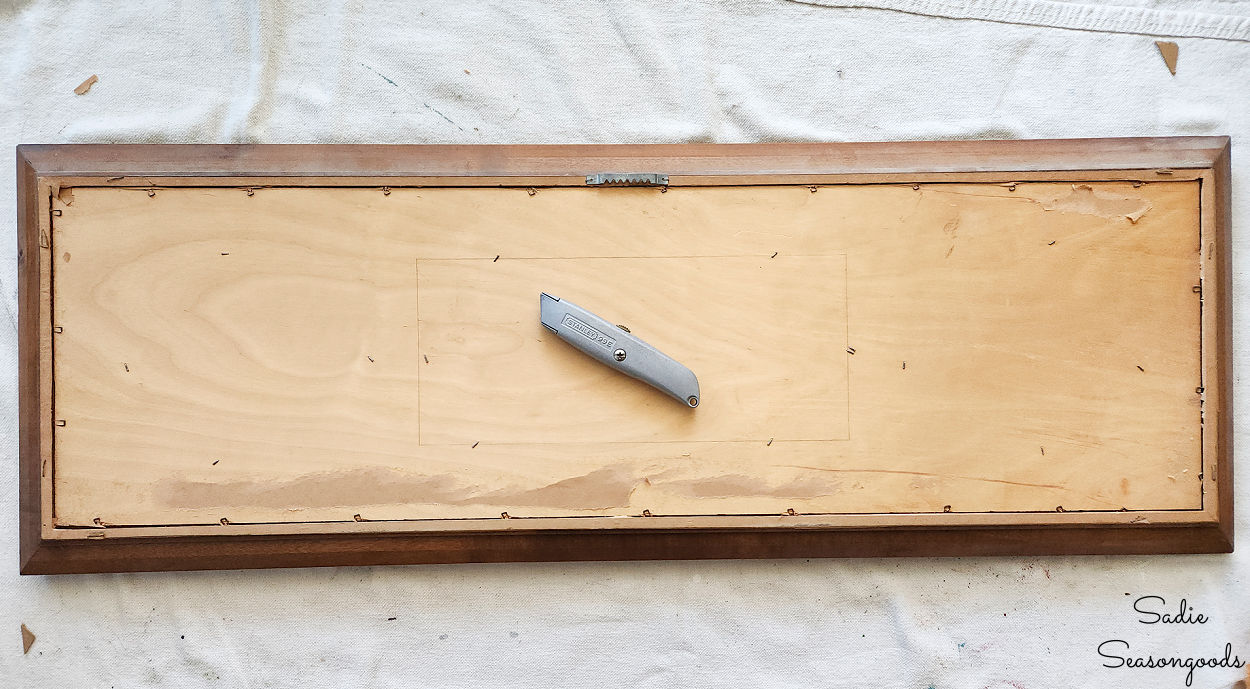 To make matters worse, the little nails had been hammered and bent, so that their little heads were embedded in the wood! And since the nails were in the center of the frame, it meant that, quite possibly, that small frame insets weren't adhered to the panel.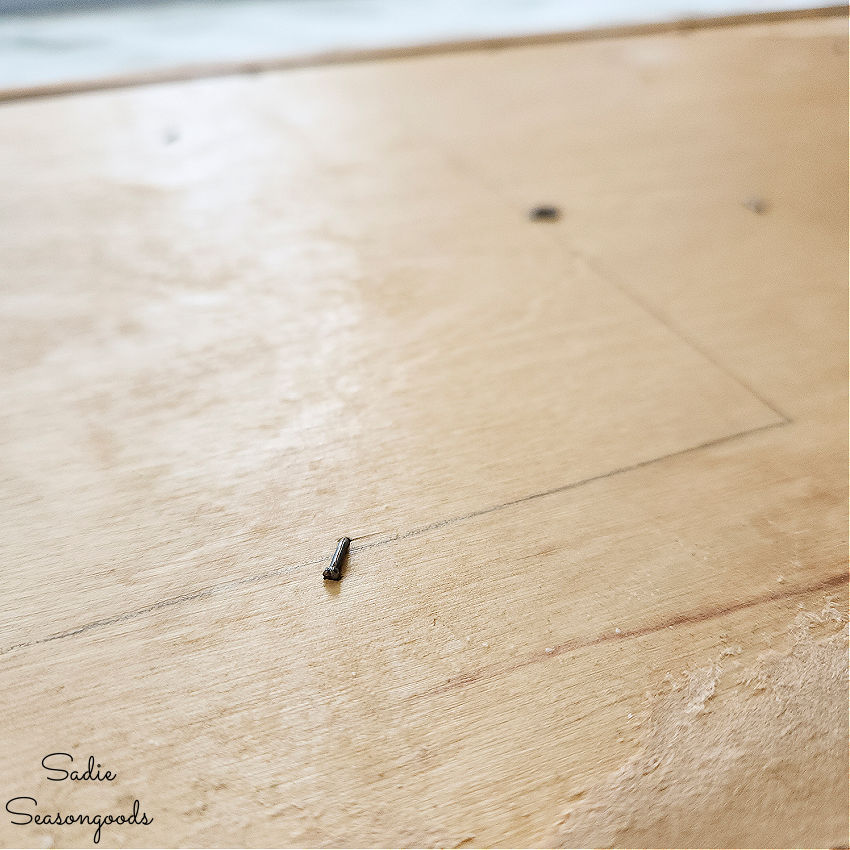 I mean, the center frame from the front was traced on the back. These little nails were likely structural- and there was no way I was going to try and pry them off, only to piece back together the entire thing later. There had to be another way…
So, I turned it back over and called an audible. Since I was going to have to approach this from the front of the frame, options such as paint, fabric, and paper were…well, less than ideal. Maybe even out of the question entirely!
But. But. Peel and stick wallpaper was a DEFINITE, albeit unexpected, possibility.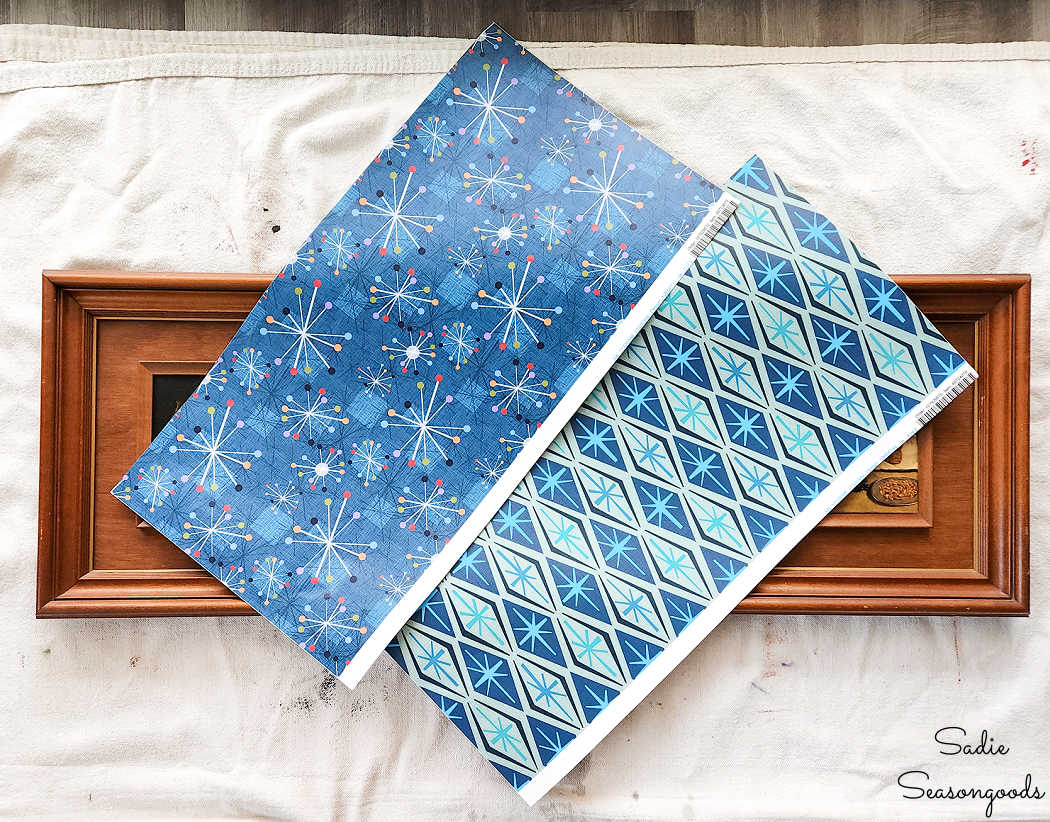 Mid Century Modern Peel and Stick Wallpaper
Shortly after I came to the conclusion that peel and stick wallpaper was the solution to my problem, Spoonflower held a wallpaper sale. HOW thoughtful of them!
And luckily for me, they have lots of mid century modern or atomic patterns to choose from. As well as seemingly zillions of other styles, too. Wallpaper swatches are usually $9 but were closer to $6 during the sale.
First, I measured the sizes of the frame insets on my piece and created templates with scrap paper, going a few millimeters over. Then, I traced the templates on my wallpaper swatches and cut them out with my paper cutter!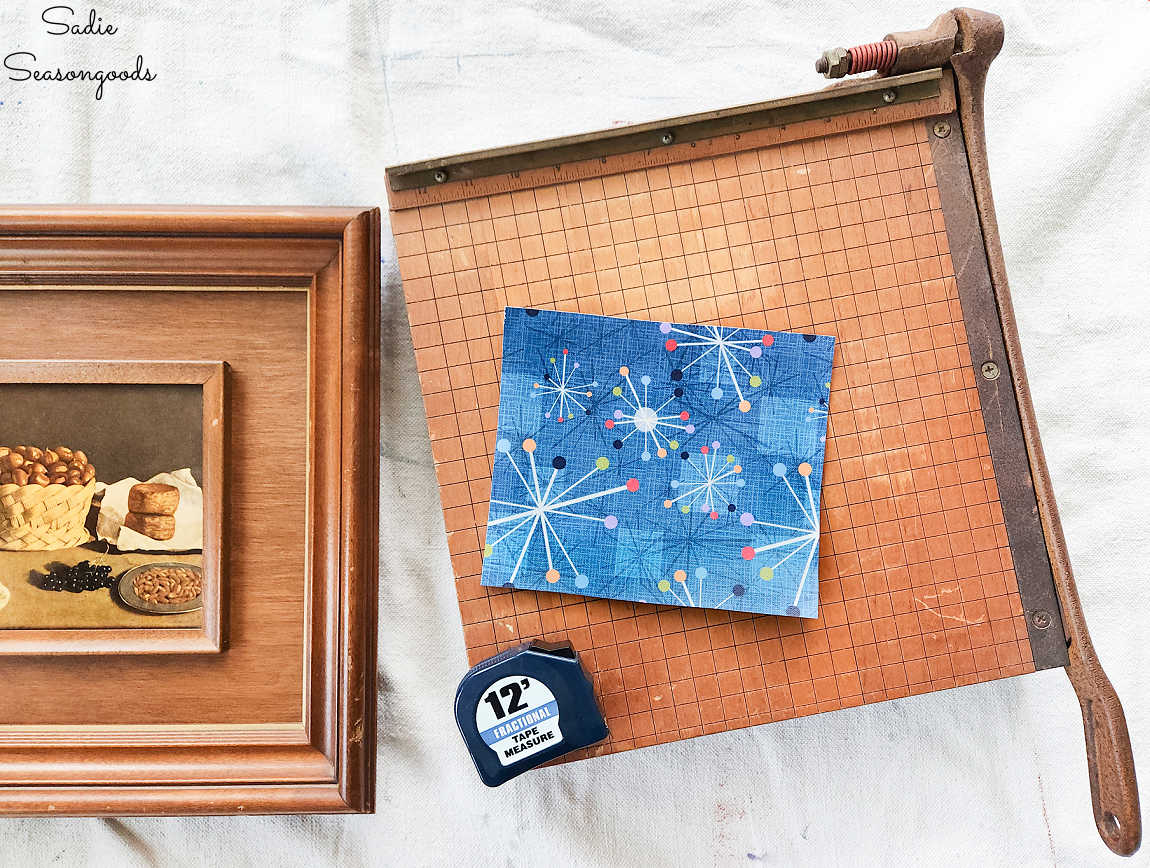 Hey, hey, it's still quite sharp after all these years! See, it was a very good thing that I bought it and removed it from the thrift store floor.
When all was said and done, I had three swatches of wallpaper to use on my mid century modern wall art!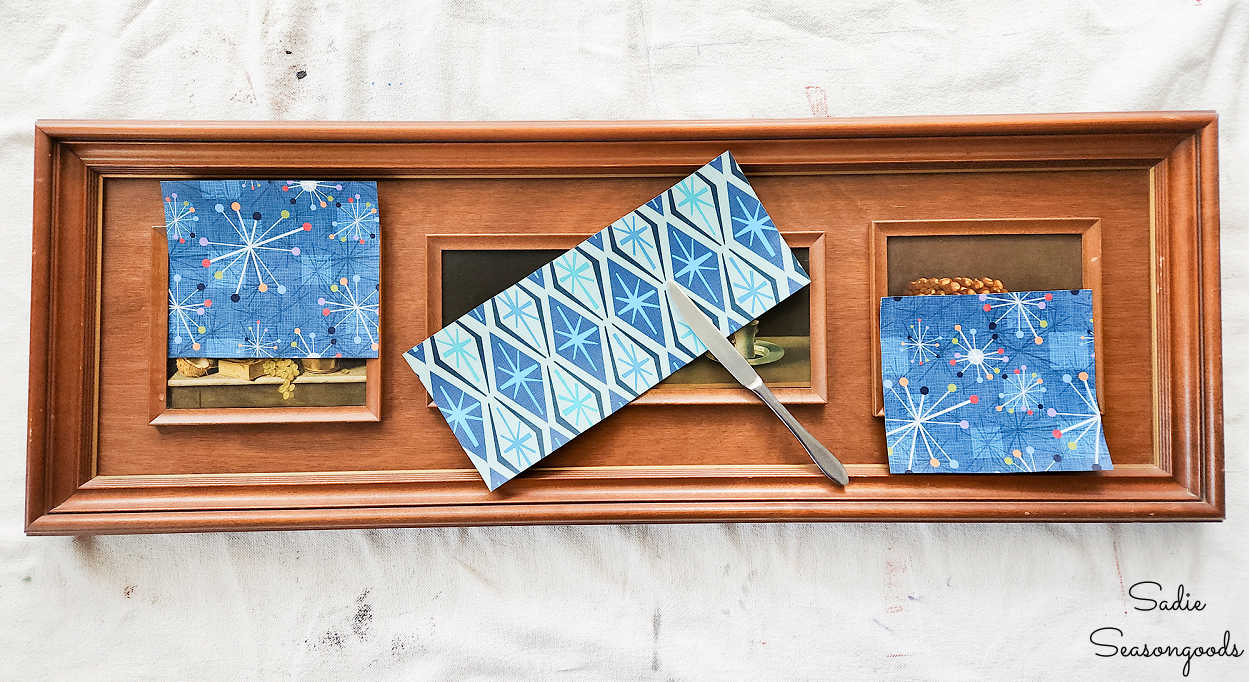 Next, I carefully removed the wallpaper backing and stuck the swatches to the cardboard "art". The samples came with a credit card-size smoothing tool that I used to press it firmly down.
Then, I used a box cutter to trim the edges and a butter knife to carefully tuck the edges under the frame insets.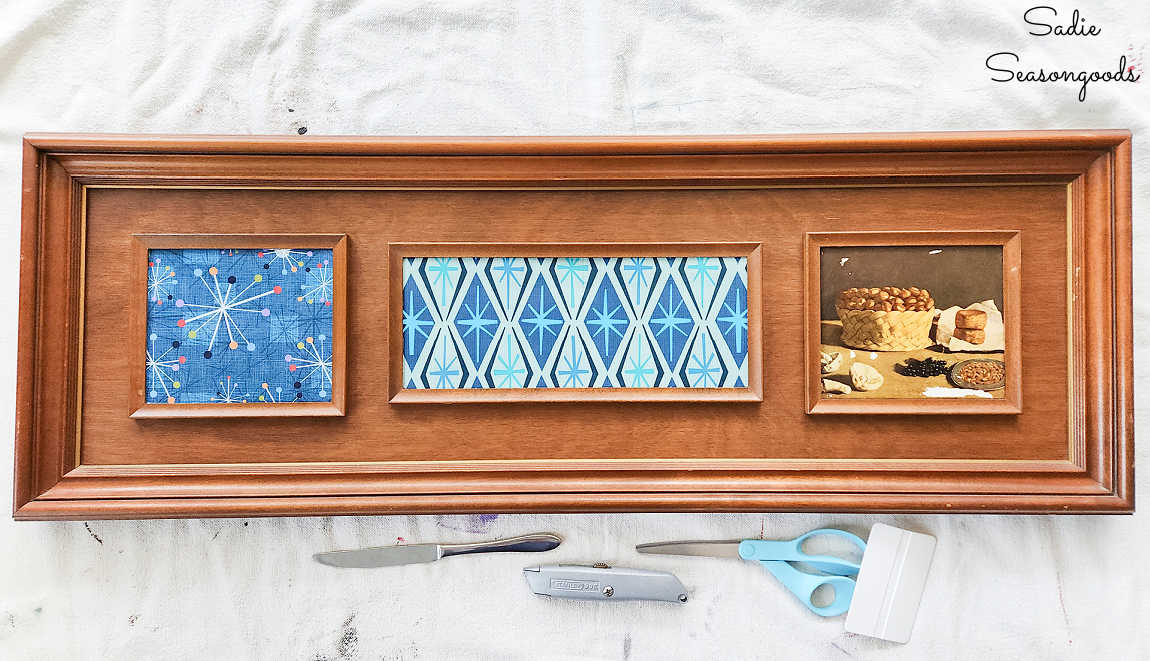 And yes, I goofed on the third one. I'd gotten a wrinkle in it and had to start over. Gah…happens to the best of us- thankfully, I still had enough leftover from my original Spoonflower sample.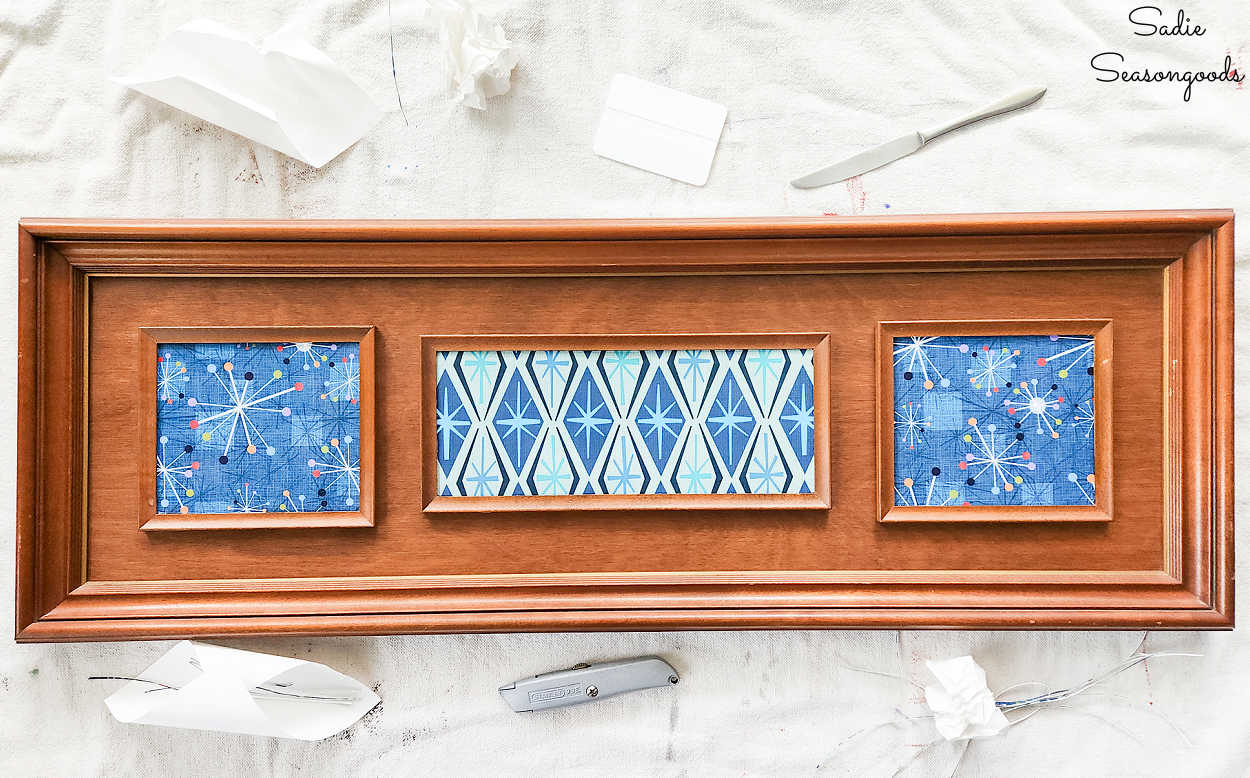 Thankfully, the third and last swatch of wallpaper went on much better than my previous attempt.
Voilà! My retro frame had been transformed into some mid century modern wall art that would look wonderful in our thrifted home!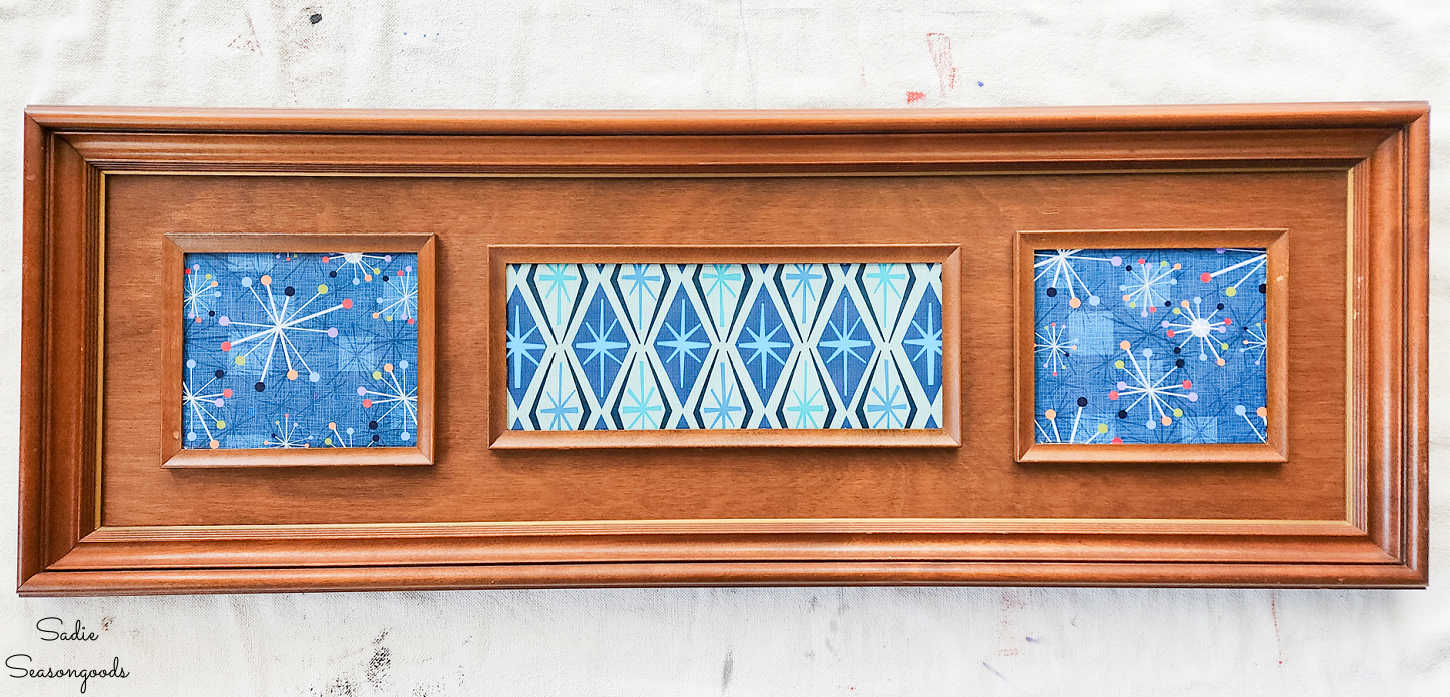 Mid Century Modern Wall Art with Spoonflower Wallpaper
I'm not entirely sure where this framed piece will end up in our home (we're still making those decisions). But for now, it's hanging over the vintage speaker I mentioned in my "Thrifting for Our Home" blog post.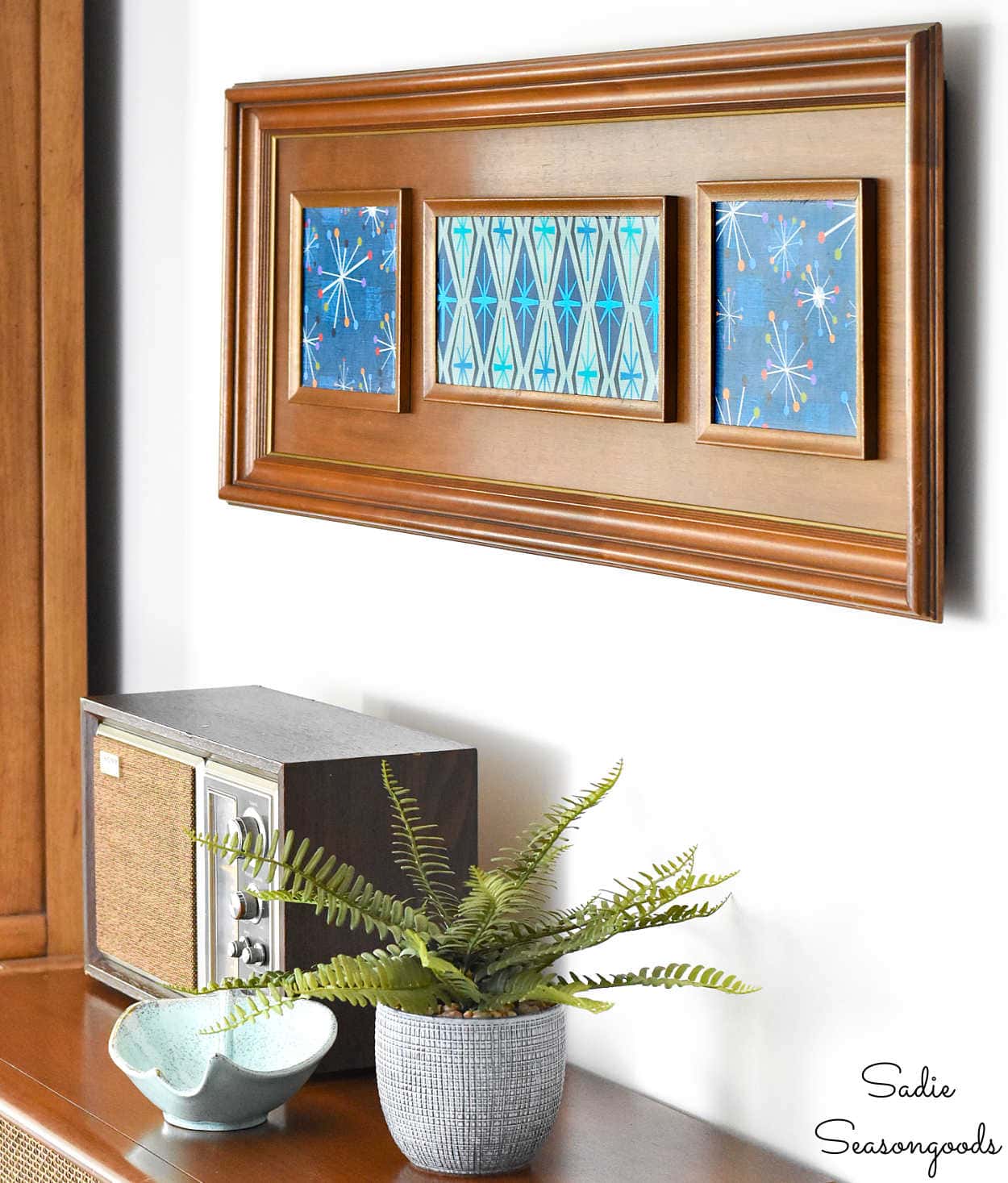 In the end, I think this piece of mid century modern wall art turned out even better than I had hoped. Even if it did NOT go as originally planned!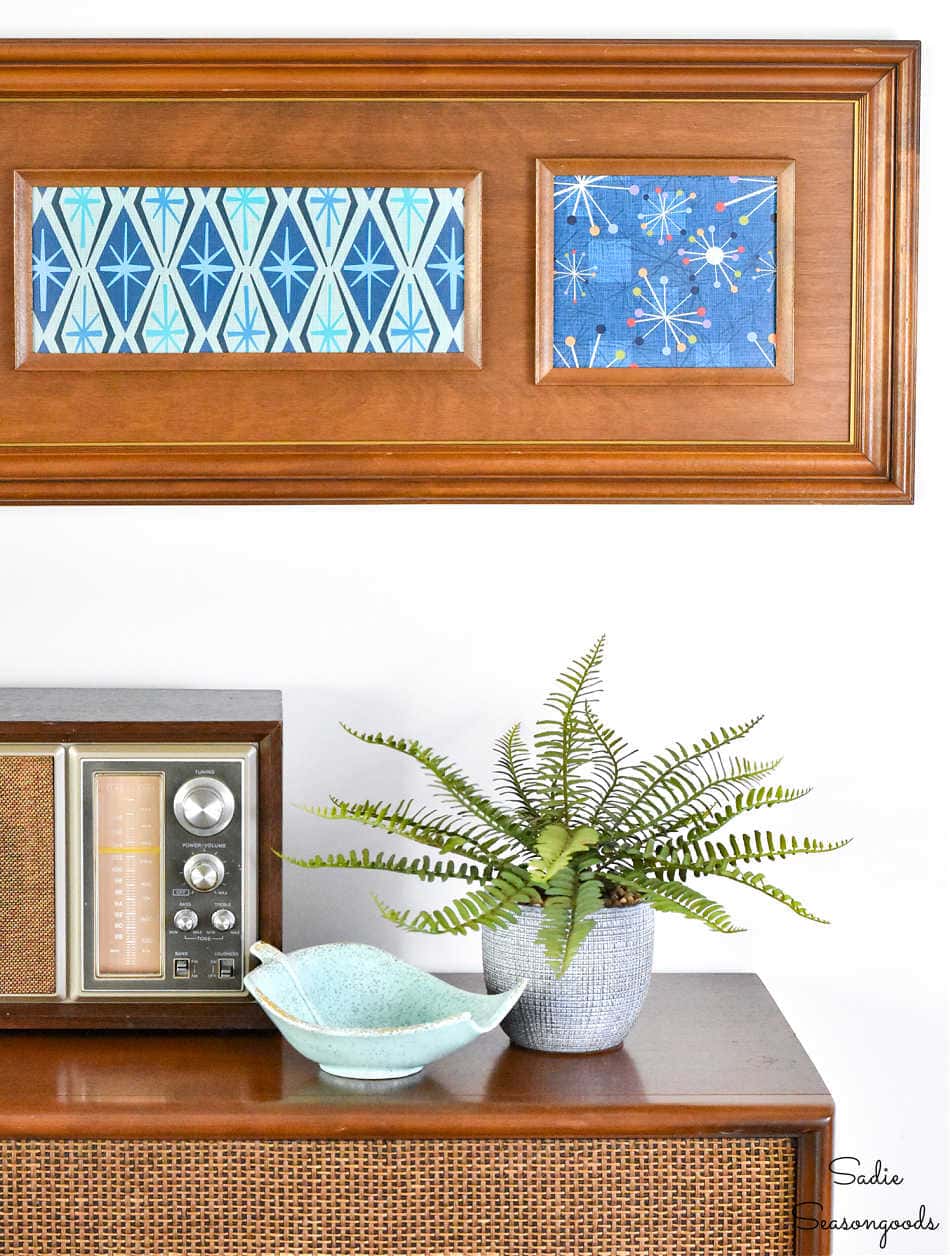 Thank goodness for some peel and stick wallpaper, though, right? Which makes me think I'll make a few more projects with it in the future.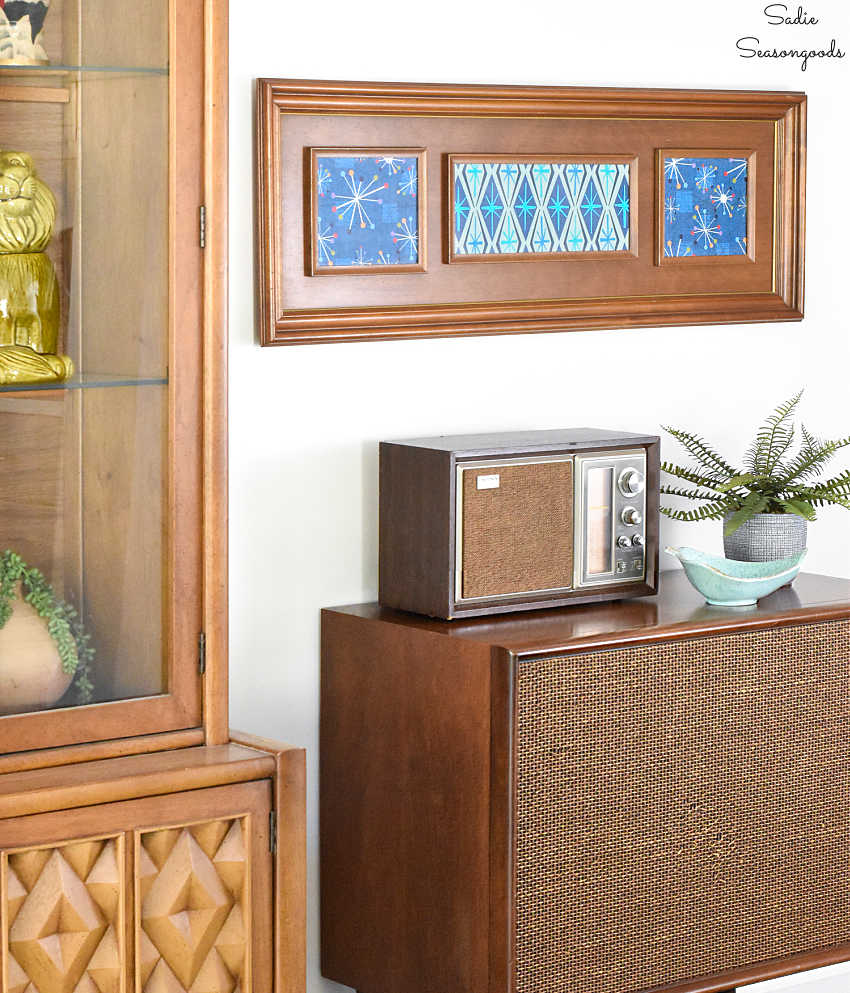 What do you think? Will you be considering wallpaper samples for your future DIY projects? I'm not a "wallpaper the room" kind of gal, but I do love it for crafty projects like this!
And if you enjoyed this upcycling idea for quirky wall art in our home, then you definitely need to see how I created this woven wall hanging, as well!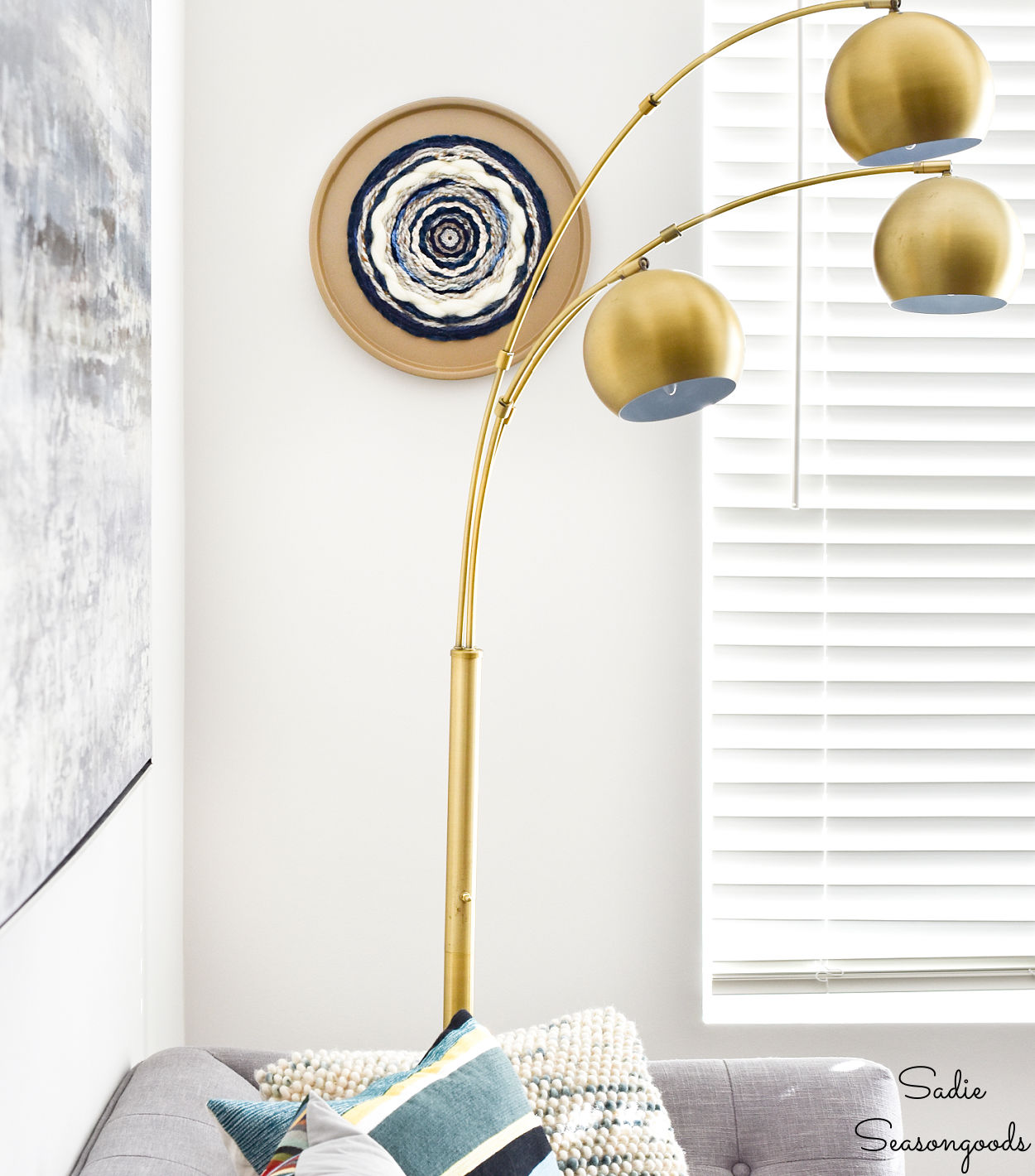 Craft on!
S
Want to be notified when I publish my next upcycling project tutorial?
Subscribe to Blog via Email
Join me on Social Media:

PIN ME!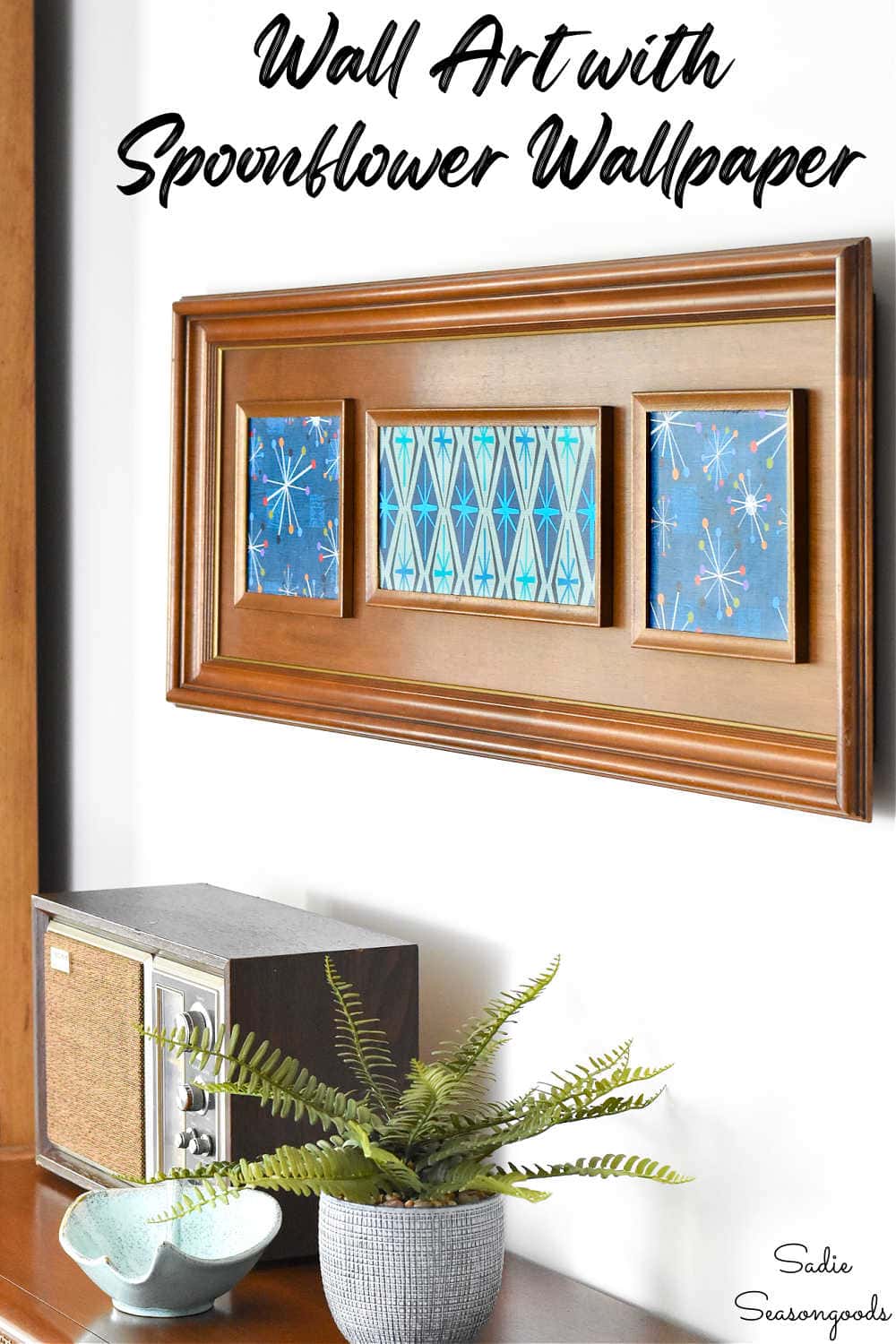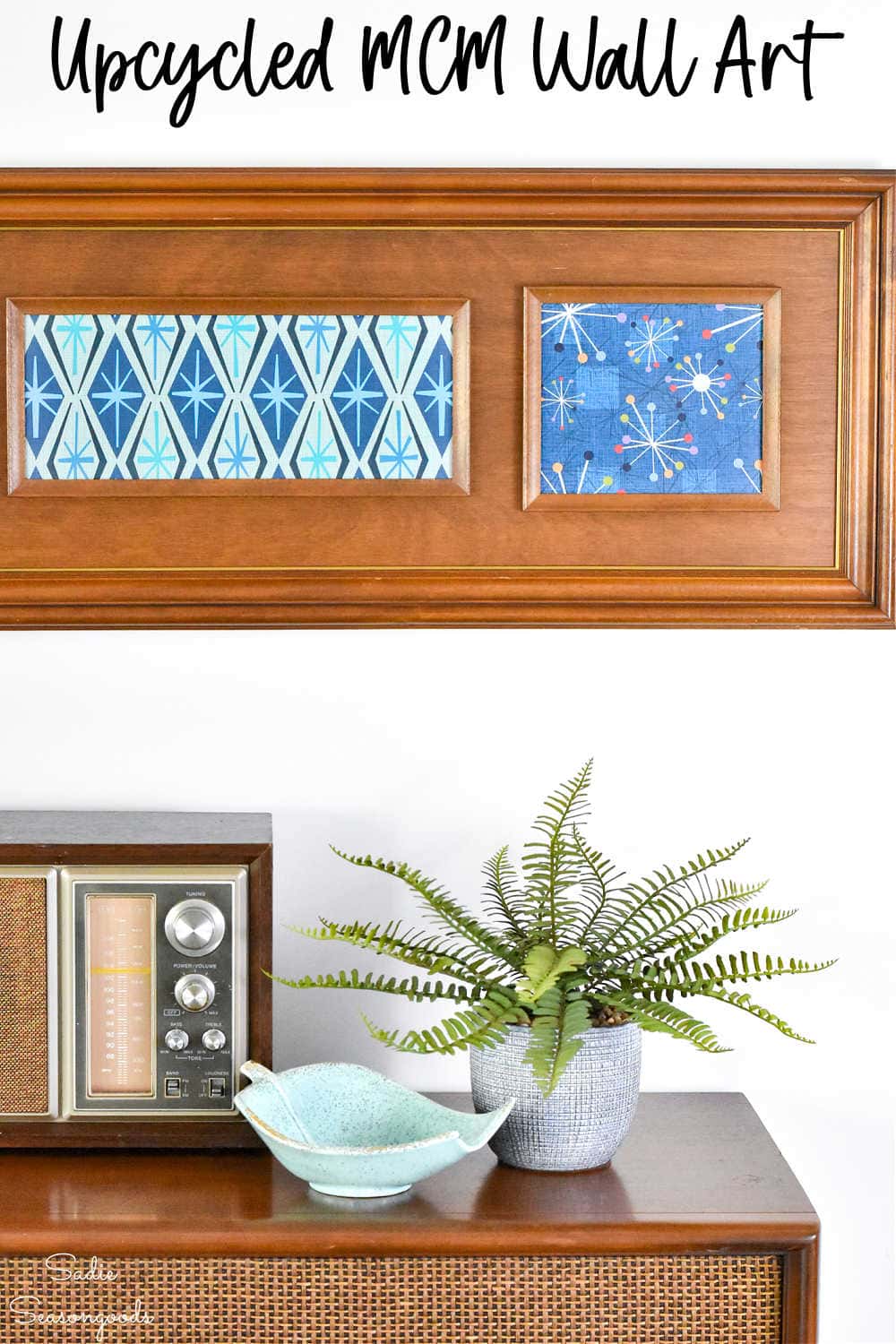 Sarah Ramberg is the owner of Sadie Seasongoods, a website that celebrates all things secondhand. From upcycling ideas and thrifted decor to vintage-centric travel itineraries, Sadie Seasongoods is a one-stop shop for anyone who loves thrifting and approachable repurposing ideas. Sarah is also the author of "Crafting with Flannel" and has been featured in numerous media outlets and magazines.