You know I couldn't get through the year without at least one flannel project, right? I've got oodles of repurposed clothing scraps leftover from previous flannel shirt projects. And with the temperatures dropping and that instinctual desire to make everything look cozy, I grabbed a trio of secondhand shirts to create a draft stopper that would double as rustic decor.
Since I loved how my patchwork flannel table runner and multi-plaid holiday wreath looked, I decided apply that patchwork theme with the draft stopper or door draft guard. It seemed fitting for the cabin decor or rustic decor that I gravitate towards at this time of year. This post contains affiliate links for your crafting convenience.
Making a Draft Stopper from Repurposed Clothing
To create my draft stopper, I first measured our front door- which is a standard 36" wide. If I were using one solid piece of fabric, I would have cut it at 40". But since I was using three squares of repurposed clothing (and thus needed to account for extra seams), I cut each piece 14" x 14" using my rotary cutter, self-healing mat, and acrylic ruler. (In retrospect, I would have cut them 14" x 12" or even 14" x 10"…but coulda, shoulda, woulda).
When all three squares were cut, I ironed them, stitched them together, and pressed the seams flat.
As you may have noticed in the above photo, I also nabbed some faux weathered leather upholstery fabric. I planned to use this "pleather" to cover up the seams.
This was a totally optional step…it just seemed to be a good way to finish the draft stopper and fit in with my theme of rustic decor or cabin decor.
Anyway, while my fabric cutting supplies were still out, I cut two strips of faux leather and set them aside.
For peace of mind, I decided to make a liner for the door draft blocker out of scrap fabric. I still had a lot of white bed sheet left after my Halloween candy stand, so I simply pinned my flannel to the white fabric like a pattern and cut the fabric around it.
Then, I folded everything over on itself (flannel sides together) and pinned along one short edge and the long edge before stitching them together (leaving the other short end open).
Next, I turned it right-side-out, pushing out the corners and gathered a bunch of rice to stuff it with!
Now, remember when I was cutting the flannel and then retrospectfully said I should have cut the squares at 14" x 12" or 14" x 10"? This is why…I had to use a LOT of rice to fill up the draft stopper / door draft guard (i.e., a narrower "tube" would have required less filler).
After my draft stopper was sufficiently filled with rice, I tucked in the edges of the open end and double-stitched it closed.
Draft Stopper / Door Draft Blocker as Rustic Decor
But I wasn't quite finished- I needed to add my (optional) pleather! And I purposefully didn't stitch it to the flannel (I figured it would have puckered). So I just used my hot glue gun to hold the strips in place around the seams of the door snake. Like I said before- this is just a cosmetic thing and therefore optional.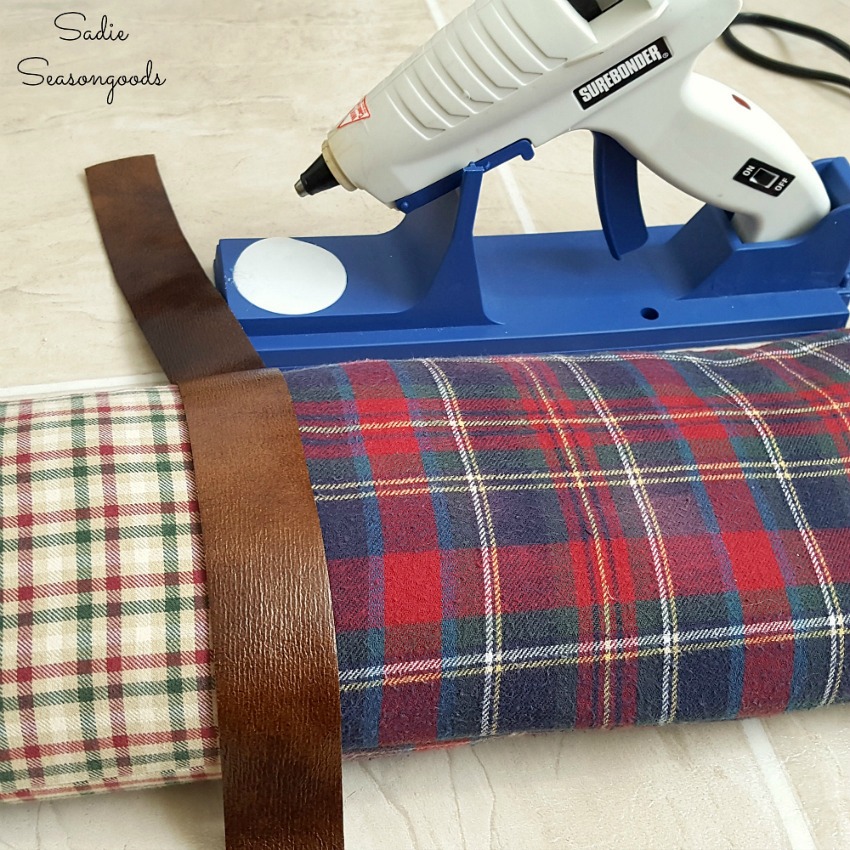 And there it is – a draft stopper or door draft guard that helps keep chilly air from sneaking in under the door. AND it has that rustic decor or cabin decor feel that I just love at this time of year. So cozy and welcoming!
The pleather is a nice touch, yes? Flannel and lace, flannel and "leather"…they both work swimmingly together in rustic cabin decor. And I love that the draft stopper blends in with our "mountain cabin" decor this holiday season. Cozy plaid at every turn!
If you enjoyed this upcycling idea for flannel shirts, then you'll love these decorative books that are covered in flannel fabric!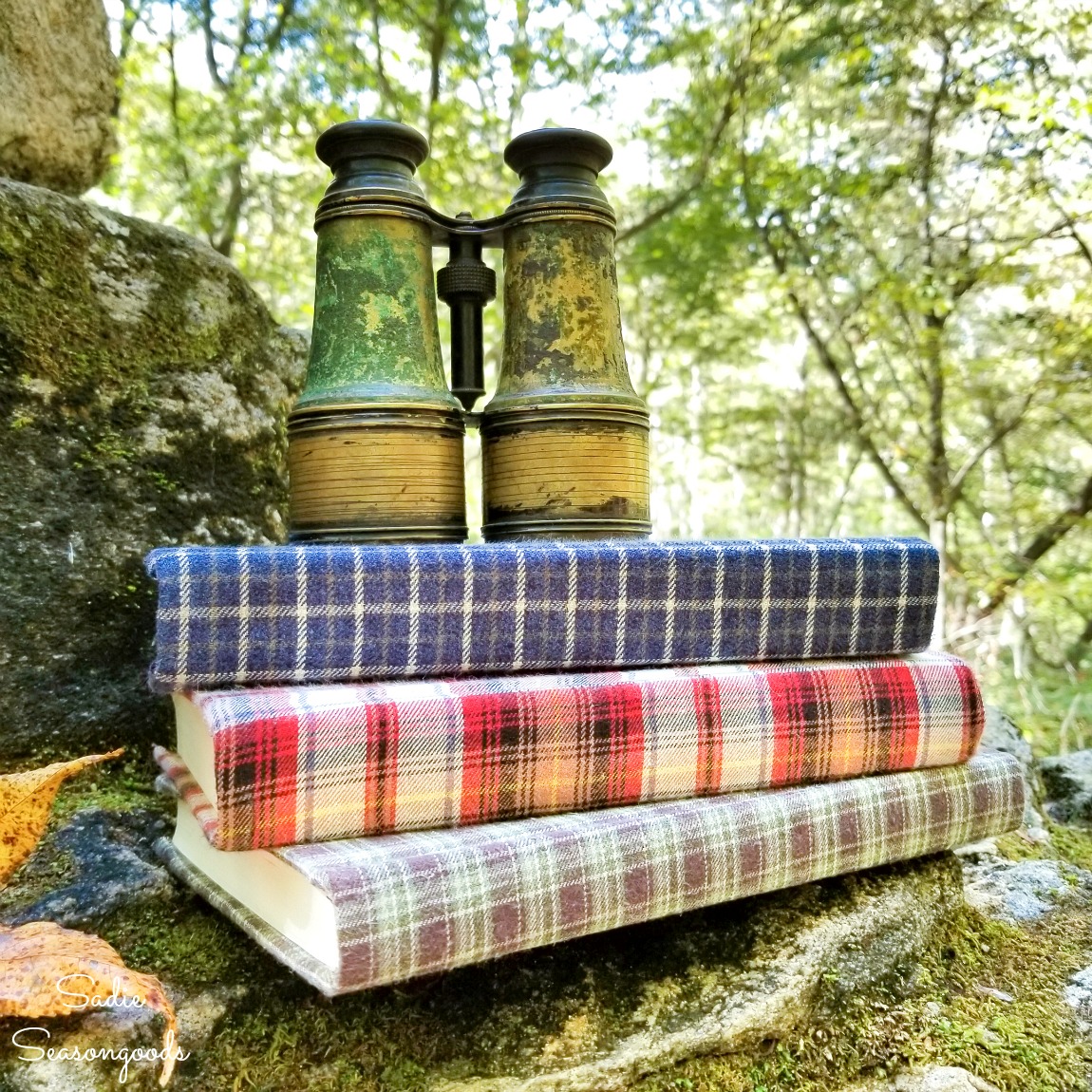 ******
Book Update
Don't forget, if you love crafting with flannel as much as I do, my first book will be coming out in February 2021. And it'll contain 55 craft ideas for flannel fabric, both from shirts and new off-the-bolt fabric, as well! I can't wait for you to see it- make sure you subscribe to my blog and follow me on Instagram and Facebook for future updates.
******
Craft on!
S
Want to be notified when I publish my next upcycling project tutorial?
Subscribe to Blog via Email
Join me on Social Media: