Flannel shirts are one of those types of clothing that lends itself beautifully to crafting after its wearing days are done. Whether it's the fuzzy feel of the fabric or the (typically) plaid designs it sports, crafting with flannel shirts is very popular- especially as cold weather approaches.
Flannel Shirts as a Craft Supply
As a preferred work shirt in many cases, flannels go through a lot in their life. From outdoor projects to home improvement, it's not uncommon for flannel shirts to be damaged over time. Which means they are perfect to add to your craft supplies- and here are some fun projects to make with them.
Many of the tutorials for the following projects are found in my book, "Crafting with Flannel", by Sarah Ramberg.
Cozy Christmas Wreath
One of the coziest wreaths you can make for the winter holidays is one that involves plaid flannel shirts like this. The red and green make it Christmas-y, but you could just as easily focus on blue, white, and green for a winter version, as well.
Reusable Hand Warmers
A chilly tailgate party or a late night bonfire come to mind when I think of these DIY hand warmers. And nothing feels cozier in the palm than flannel! Easy to make, these flannel hand warmers are pretty enough to use as cozy decor, too.
Plush Pumpkins
Fabric pumpkins are a favorite decorating element in fall. They never rot, you can use them each year, and they're surprisingly easy to make! This tutorial uses bandanas as the fabric, but the instructions are the same and they're just as cute in fuzzy flannel.
Tooth Fairy Pillow
Is there anything cuter than a toddler-sized flannel shirt? And if you can't part with it after it's too small to wear, save it for this sweet upcycle: a tooth fairy pillow for their next growing stage in life.
Wrapped Flannel Ornaments
Humdrum plastic ball ornaments aren't really all that special- and plenty of them end up at thrift stores after the holiday season. But they're ideal for embellishing into Christmas plaid ornaments with this simple craft idea: wrapping them in flannel and decorating with woodland bits!
Drawstring Pouches
Flannel shirt sleeves are remarkably easy to upcycle and refashion into handy drawstring pouches. These are great for holding any number of things- game pieces, extra buttons, loose beads, small collectibles, and more. And even for a beginner sewist, they are super simple to make- starting as a sleeve means half the work is already done.
Plaid Table Runner
A table runner is an easy way to decorate your table when it's not mealtime. And this patchwork runner made from several shirts is cozy, rustic, and inviting- especially as the weather cools down.
Cord Wrapper
Also from part of a sleeve, these DIY cord wrappers are ideal for small appliances by keeping cords neat and tidy. Handy and incredibly useful for irons, blow dryers, and small kitchen appliances, these are also n simple sewing project that would be perfect for a beginner to try.
Leaf Wreath from Flannel Shirts
Here's a fun one if you have several shirts to craft from and their earthy hues just scream Fall. Leaf-shaped cutouts are turned into a simple, stylish Fall wreath to hang on your door.
This is a great one for a craft party with friends, too- sharing shirts for projects like this keeps the costs and shirt-collection effort low.
Friendship Bracelets
Braided bracelets (similar to these) are a fun and easy form of friendship bracelets that don't require any fancy knots. And these come from perhaps the unlikeliest source- a rolled hem on a flannel shirt!
Tote Bag Pocket
A plain tote bag is fun to personalize, and a shirt pocket is an easy way to do it. A no-sew project that anyone can do, it adds function and style to a canvas tote that is no longer just a blank canvas.
Star Ornaments from Flannel Shirts
Christmas ornaments are always a fun craft project to work on during the holiday season. And this one (from shirt collars) is truly ideal- an indoor craft project that doesn't require any sewing! Plus, it's another good project to work on in a group if you have family or friends visiting during the holidays- shirt sharing time!
Trimmed Towels
Plain hand towels get the flannel treatment with this straightforward sewing project. Sleeves and shirt backs are excellent places to harvest the fabric needed to bring these festive guest towels to life.
Page Pocket Bookmarks
Love to read or want to make gifts for the readers in your life? These page pocket bookmarks are simple to create and use up some of the smallest scraps of flannel you have left. Gotta love a good scrap buster project like this!
Insulated Coffee Sleeves
Shirt cuffs really are incredibly versatile for clothing upcyclers. Not only are these coffee sleeves reusable over and over again, but they're insulated and really get the job done on your steaming cup of pumpkin spice latte.
Crafting with Flannel
"Crafting with Flannel" by Sarah Ramberg is the ultimate craft book for anyone interested in making these kinds of projects. And truly, the shirts can be made from any fabric and not just plaid. This book is available from multiple online retailers.
What Will You Make from Flannel Shirts?
Which of these projects will you make first? And then which one will come next? There are tons of project ideas for flannel shirts, many of which are really useful and handy. But the best part is that they're simple, straightforward, and approachable for all levels of crafting experience.
Craft on!
S
PIN ME!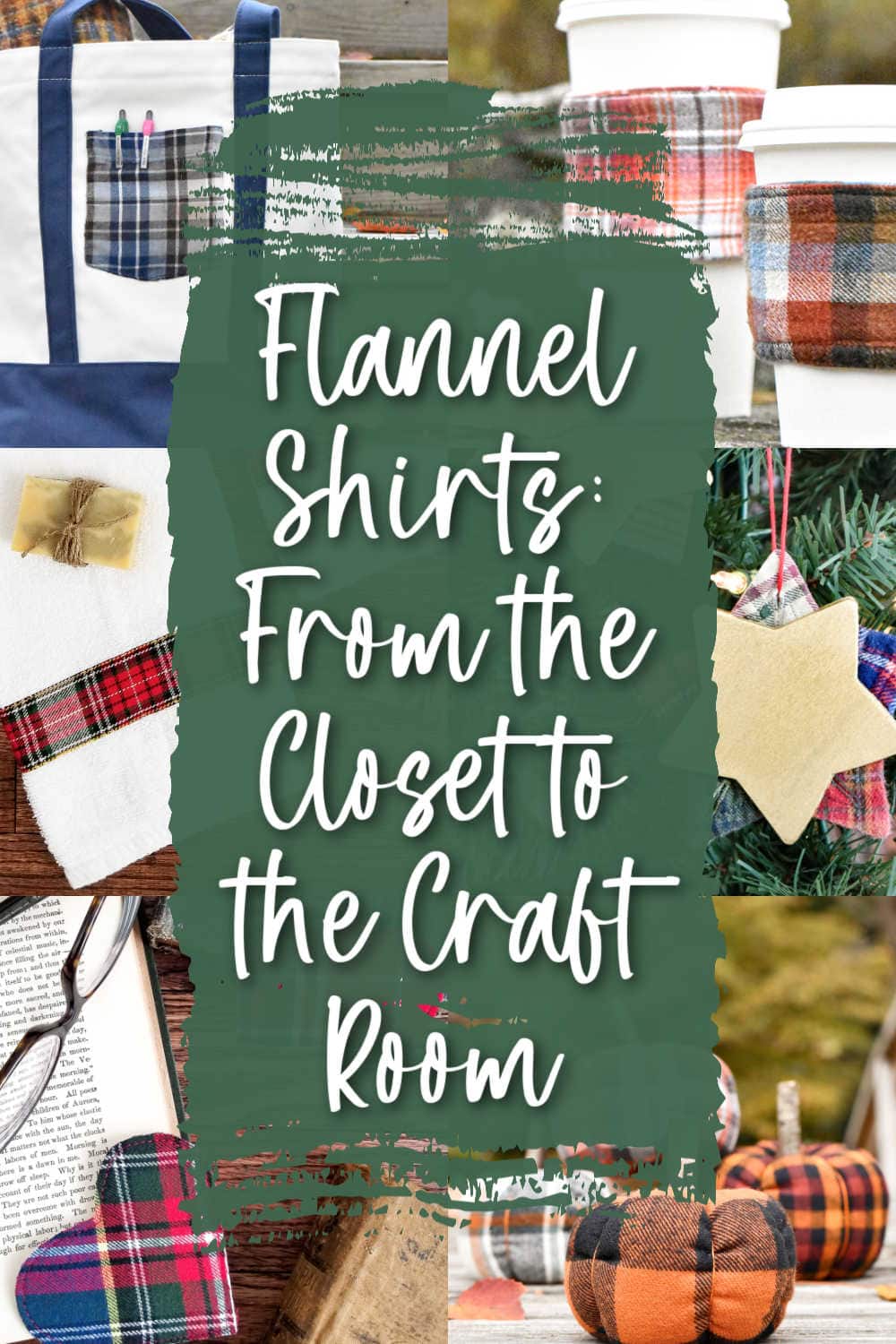 Sarah Ramberg is the owner of Sadie Seasongoods, a website that celebrates all things secondhand. From upcycling ideas and thrifted decor to vintage-centric travel itineraries, Sadie Seasongoods is a one-stop shop for anyone who loves thrifting and approachable repurposing ideas. Sarah is also the author of "Crafting with Flannel" and has been featured in numerous media outlets and magazines.