Back in early Spring when I created my Dyed Doily Table Runner, I was already envisioning an autumn version- with doilies dyed to look like chrysanthemums. AND, I even bought some vintage doilies that had orange and gold hues for a rustic table runner to use in the Fall. I was *convinced* that that was the plan. But as time marched on, I started envisioning a cozier version, one that used flannel shirts and lace ribbon.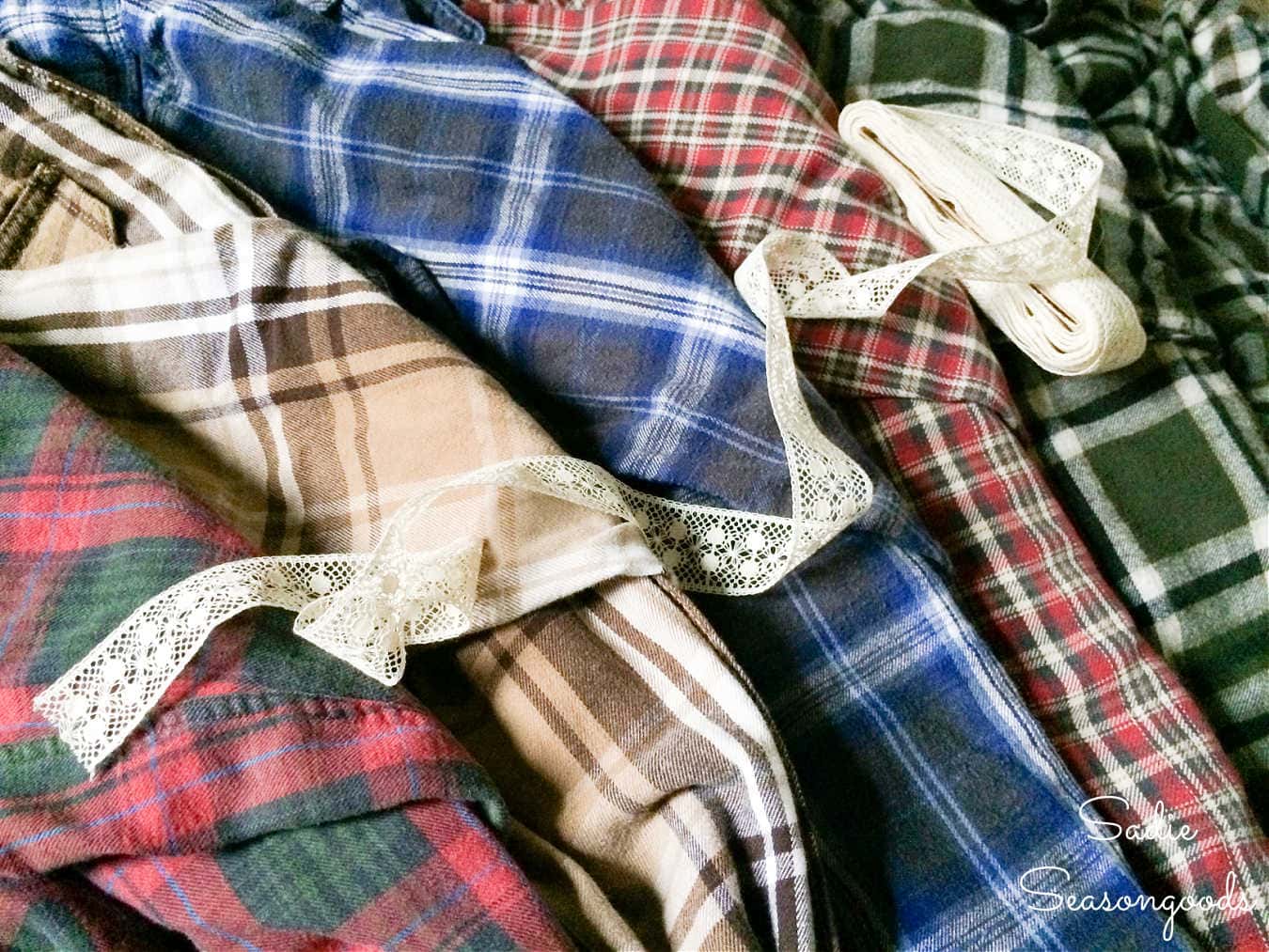 Flannel and lace are unlikely bedfellows, but for whatever reason, they work well together (in my opinion). So, I gathered some of my thrift store flannel shirts and pictured a patchwork of plaid on my table.
And besides, a flannel table runner is right up my alley since I authored the book, "Crafting with Flannel", right?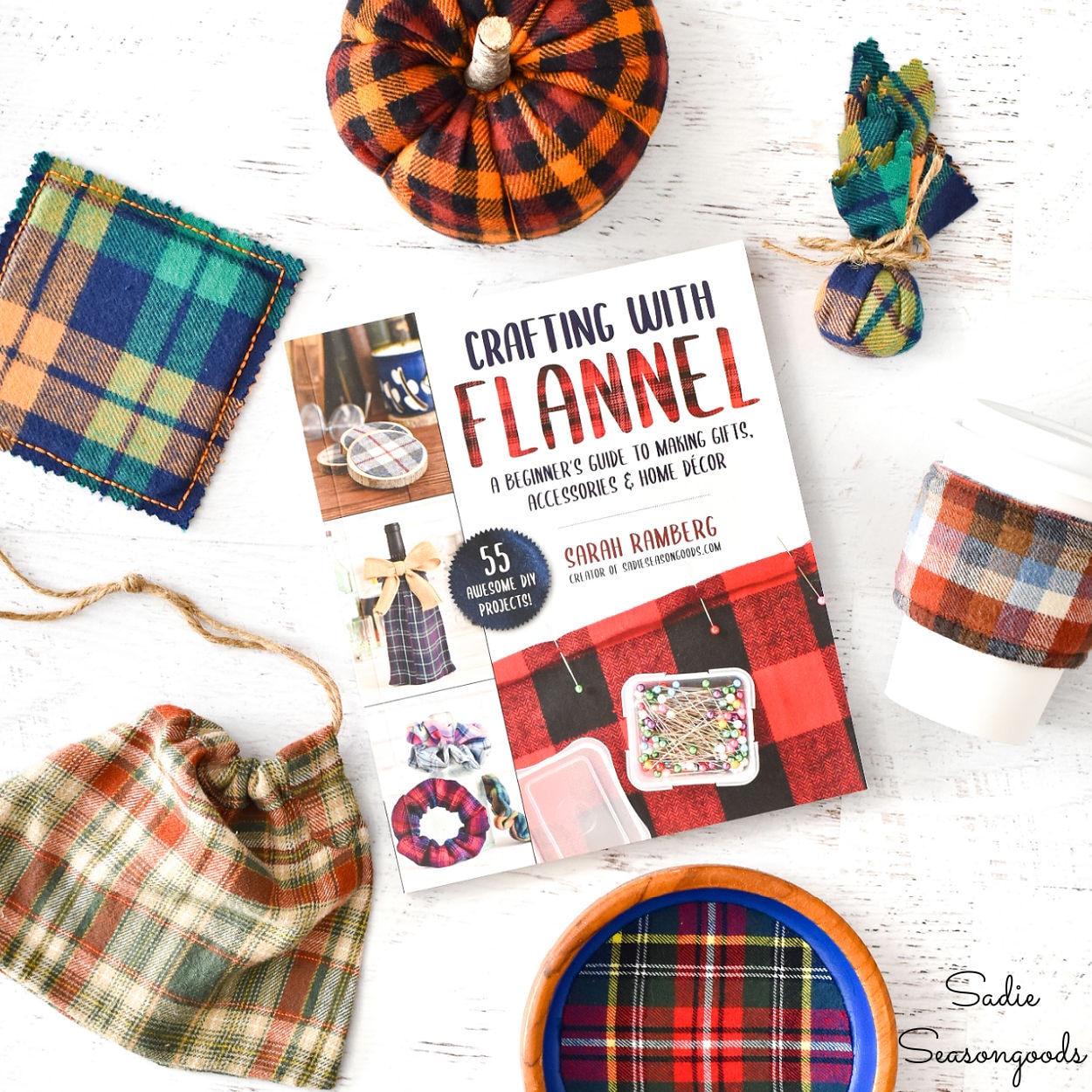 Either way, my plaid table runner was going to be rustic home decor and VERY cozy.
This post contains affiliate links for your crafting convenience. As an Amazon Affiliate, I earn from qualifying purchases. All blue, bold, and underlined text is a clickable link, either to a product or to a related post.
Making a Plaid Table Runner from Flannel Shirts
First things first, I measured our dining room table and added a little extra to know how long the rustic table runner should be.
Then, I used my craft mat, rotary cutter, and a clear dressmaker's ruler to cut out five 15" X 15" squares from the backs of each flannel shirt.
After cutting out squares from my pile of fall flannels, I laid them on the table (unconnected) to see how it would look…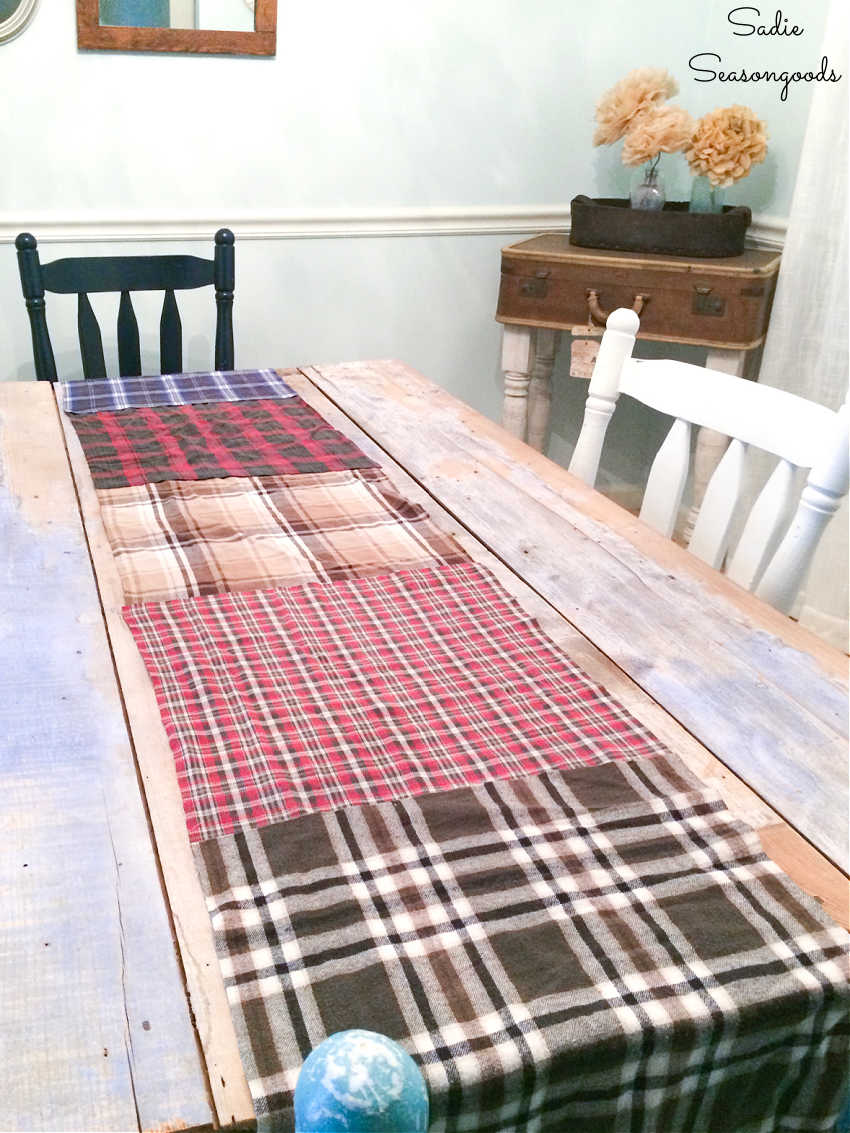 And yes, those flowers in the upper righthand corner are a project of mine, too…
Next, I decided on the order/pattern of each sequential square of flannel fabric. From there, I stitched them together (end to end) on my sewing machine.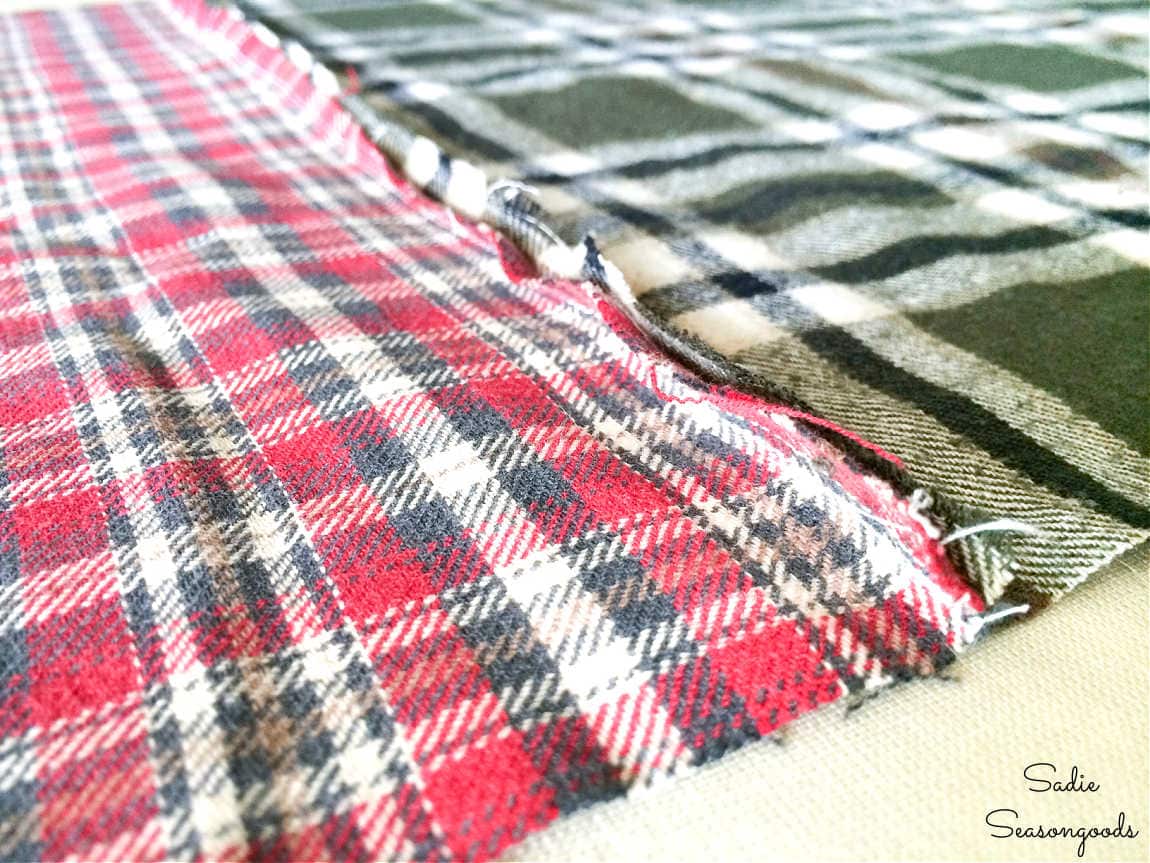 Once I had a continuous length of patchwork flannel, I used my iron to press the seams flat between panels of fabric.
Then, I hemmed all the raw edges- just a simple once-over ¼" hem on the back side of the flannel fabric. Recognize my secret pin cushion?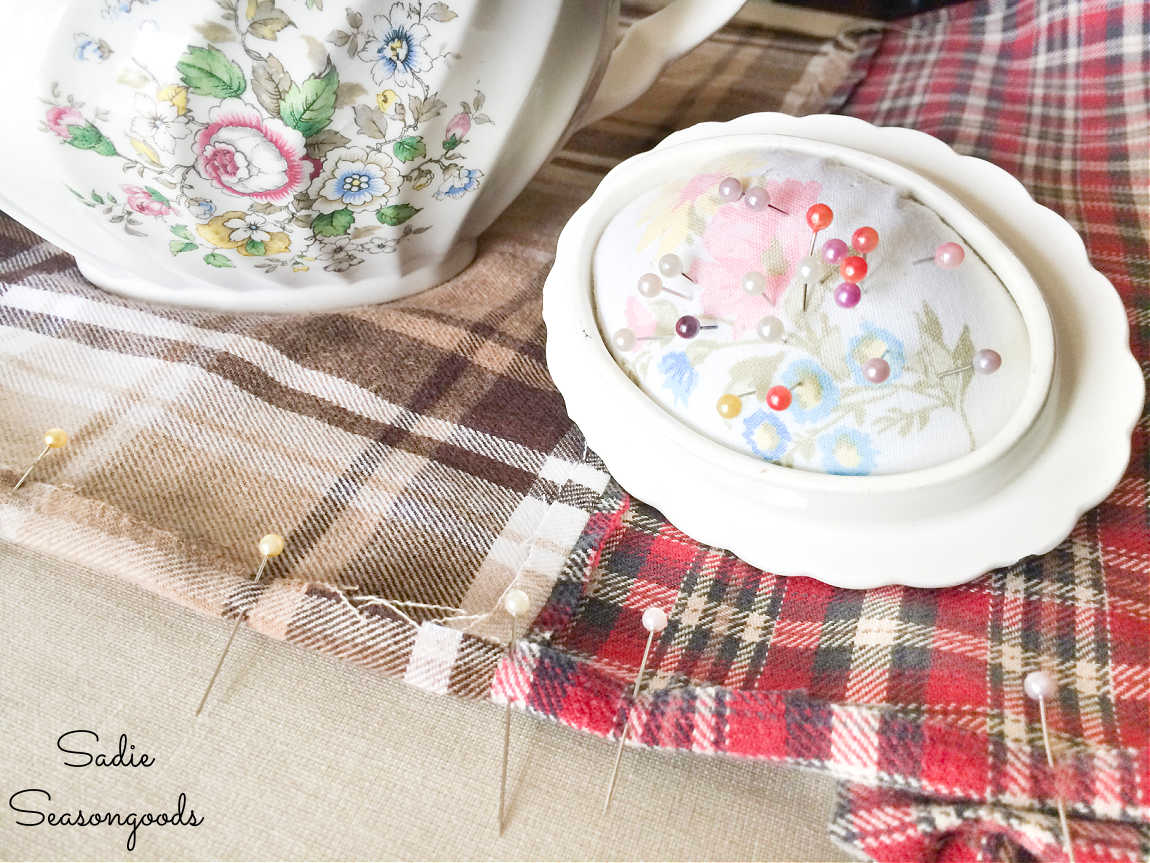 Now I was ready for the finishing touch- lace ribbon! The beauty of creating a fall table runner with panels of flannel fabric is that there are already straight(ish) lines on the fabric.
But even with that, my square-cutting skills are still developing.
So, the lace ribbon acted as a great equalizer. By stitching lace trim over the connecting seams with my machine, I could no long see any uneven lines and seams on my rustic table runner!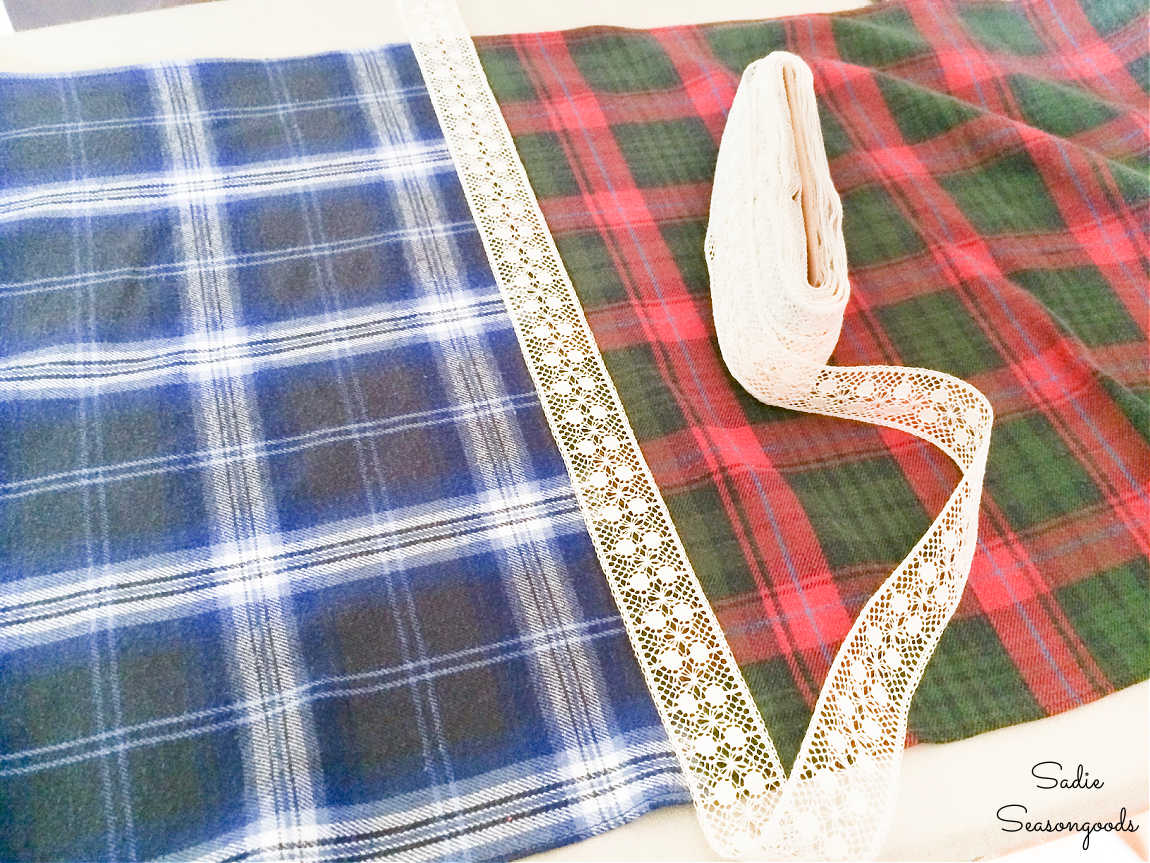 Lastly, I swapped out the thread on my sewing machine for an off-white and stitched the lace ribbon to my plaid table runner.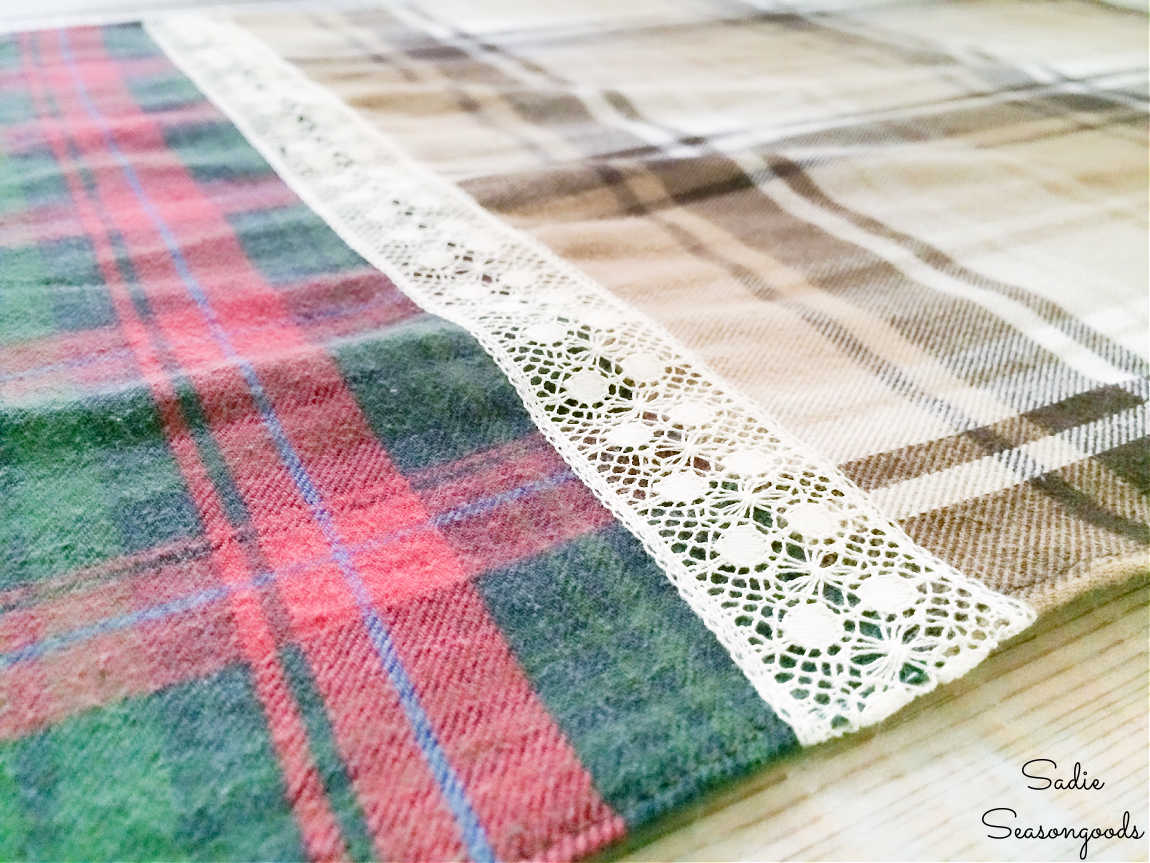 I wrapped approximately one inch of lace trim over the edge onto the back side to keep it neat and clean.
Rustic Table Runner
And that was it, my rustic table runner was done! I placed it back on the table and debated how to further style my dining table…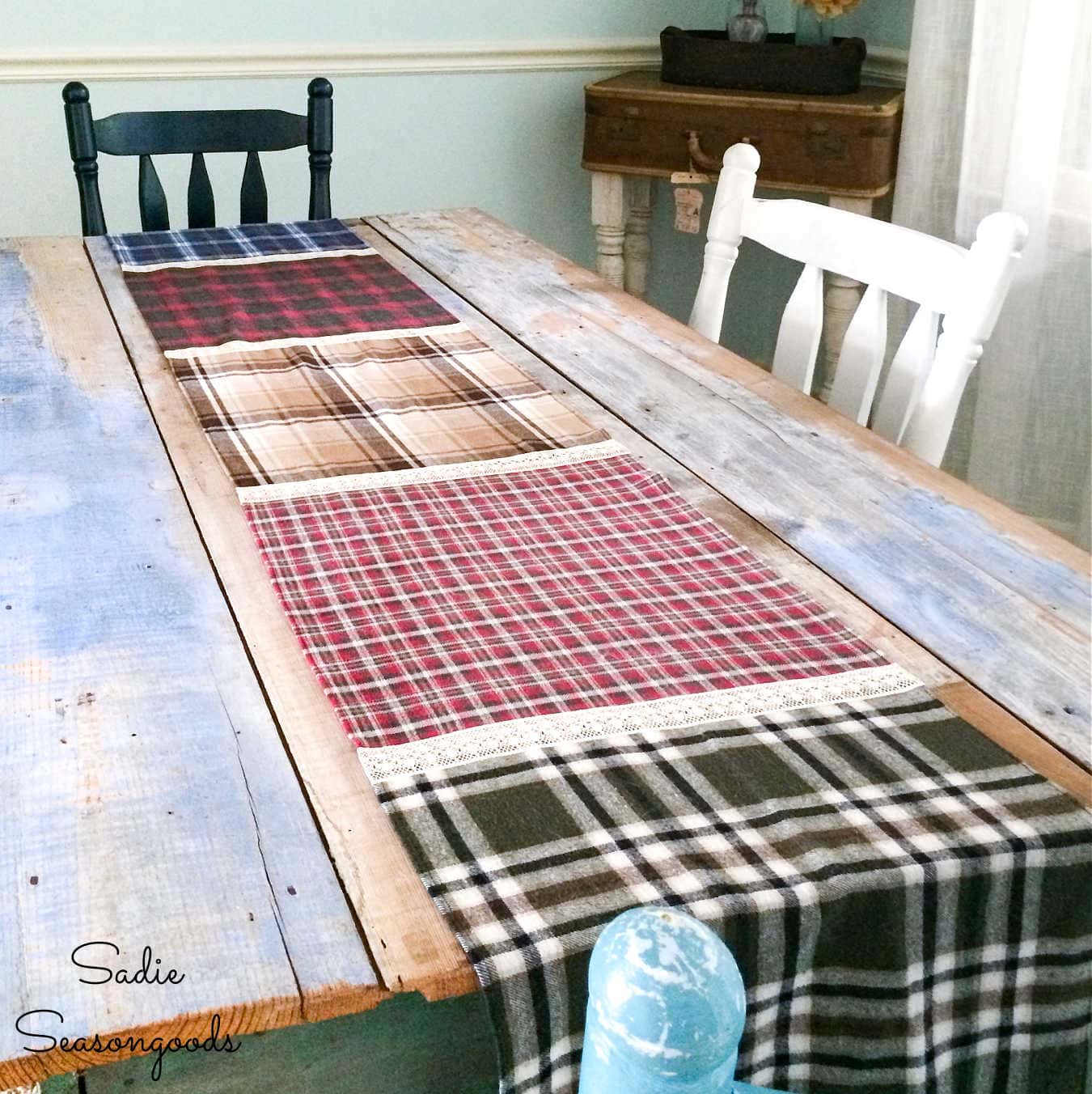 I loved that it was rustic but not your typical autumn table runner, such as burlap or stitched on leaves. It also has a mountain lodge feel to it without being over-the-top.
Now I just need some pine cones and acorns to fill my apothecary jars. Then my cozy home dining room will be all set.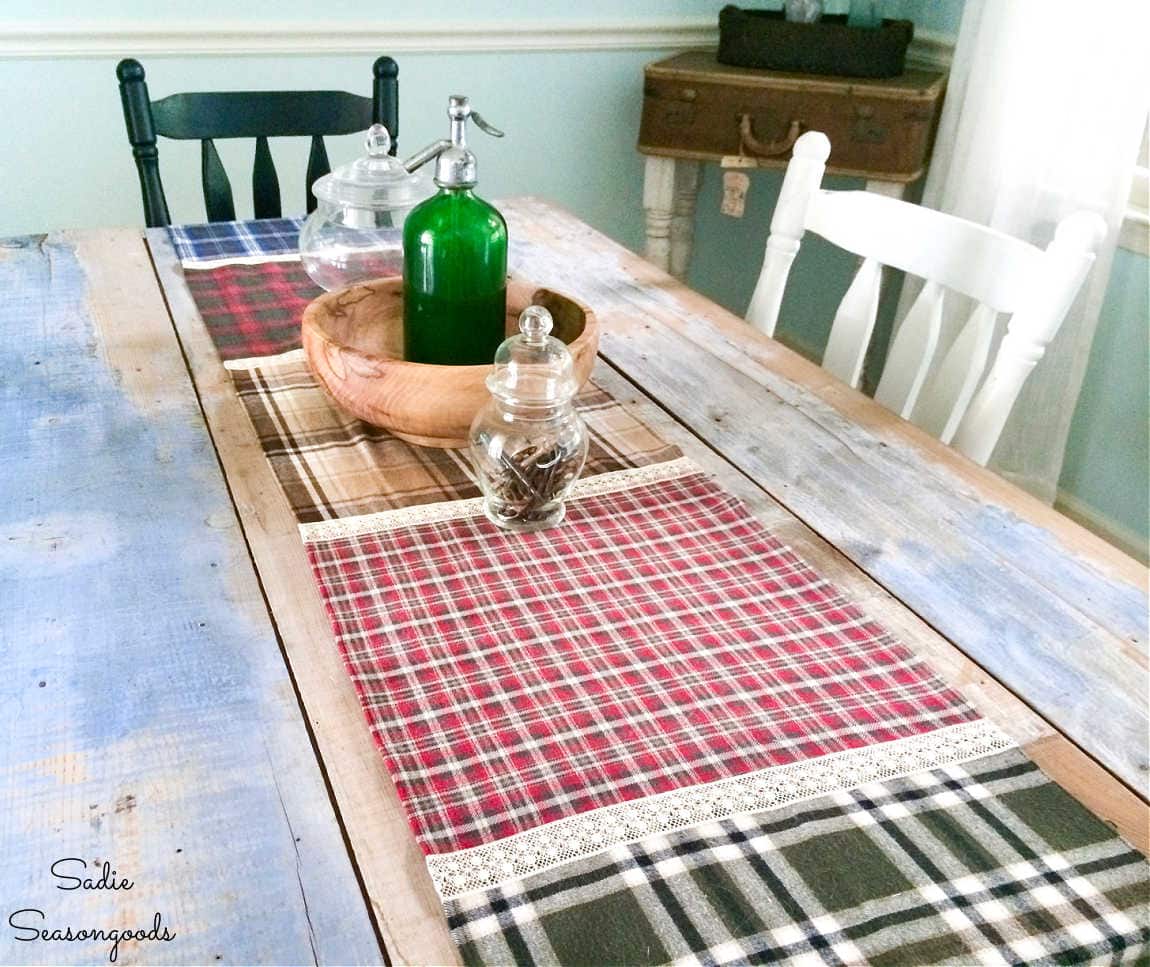 If you enjoyed this upcycling idea for flannel shirts , please check out these fabric covered books that I made from old flannels, as well.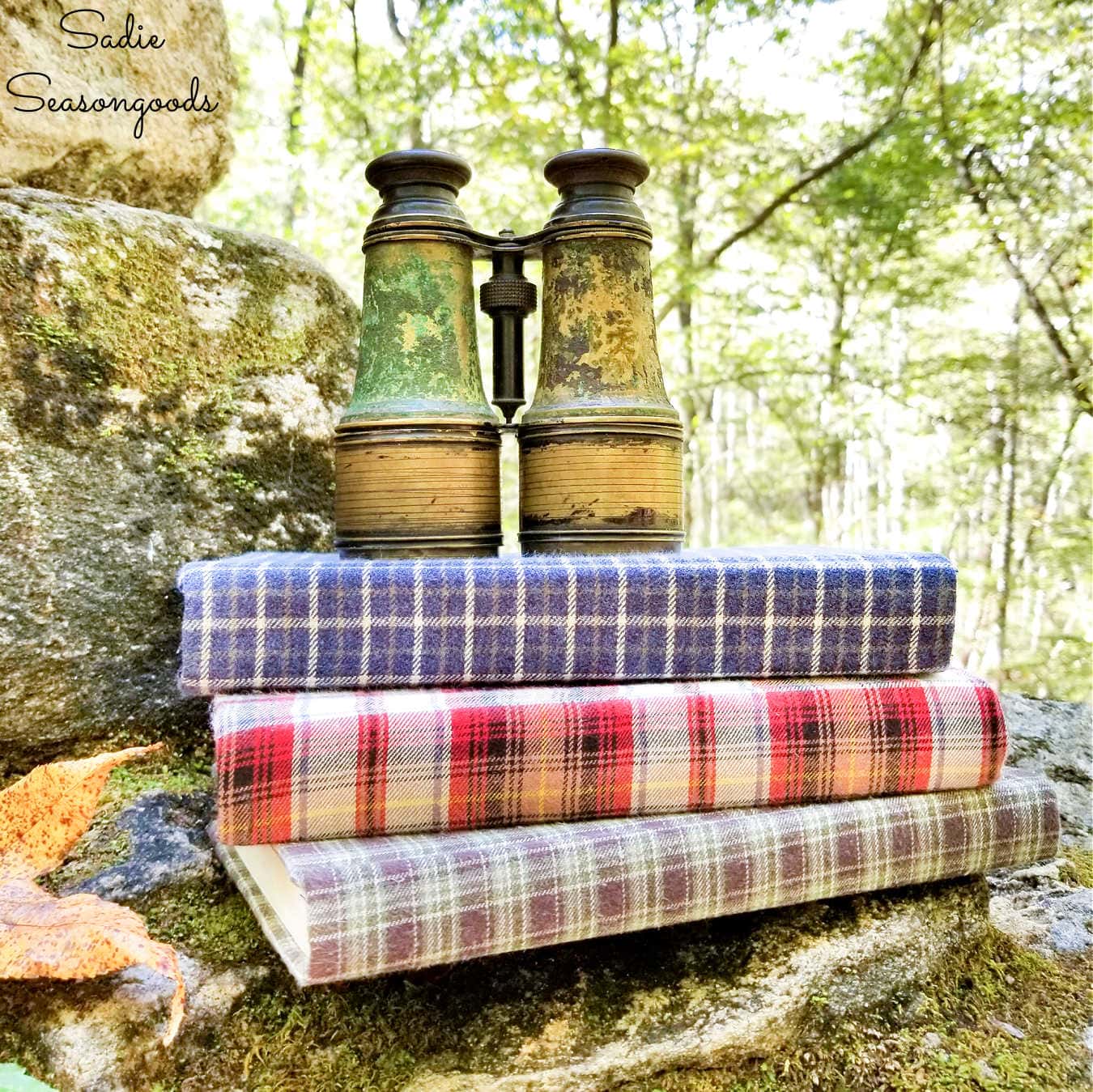 And, of course, I hope you'll give my book, "Crafting with Flannel" a look-see, as well! It contains 55 project tutorials that all use flannel fabric, both shirts and yardage. There's an entire chapter to flannel home decor projects (like this tray), as well!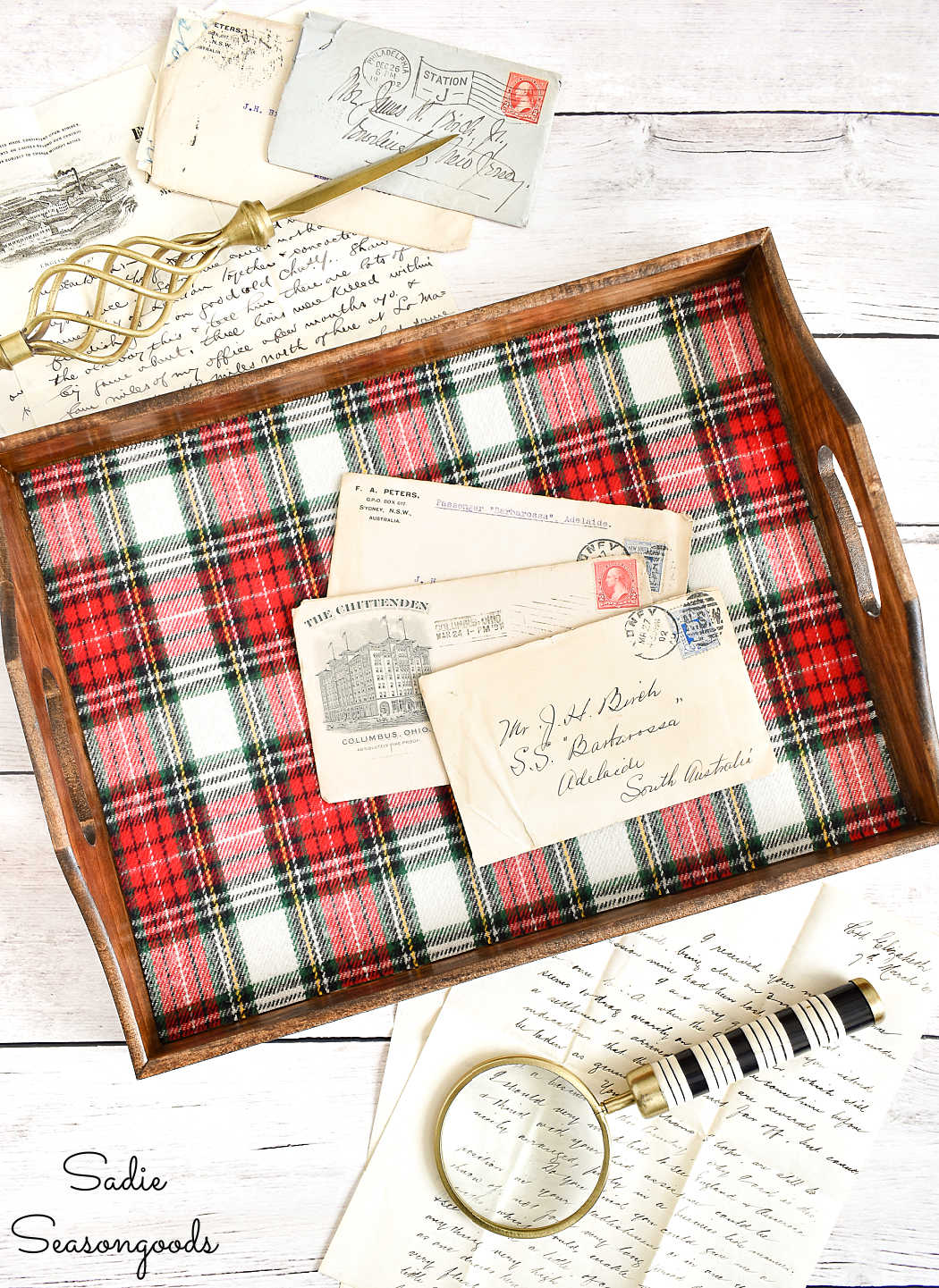 Craft on!
S
Want to be notified when I publish my next upcycling project tutorial?
Subscribe to Blog via Email
Join me on Social Media:



PIN ME!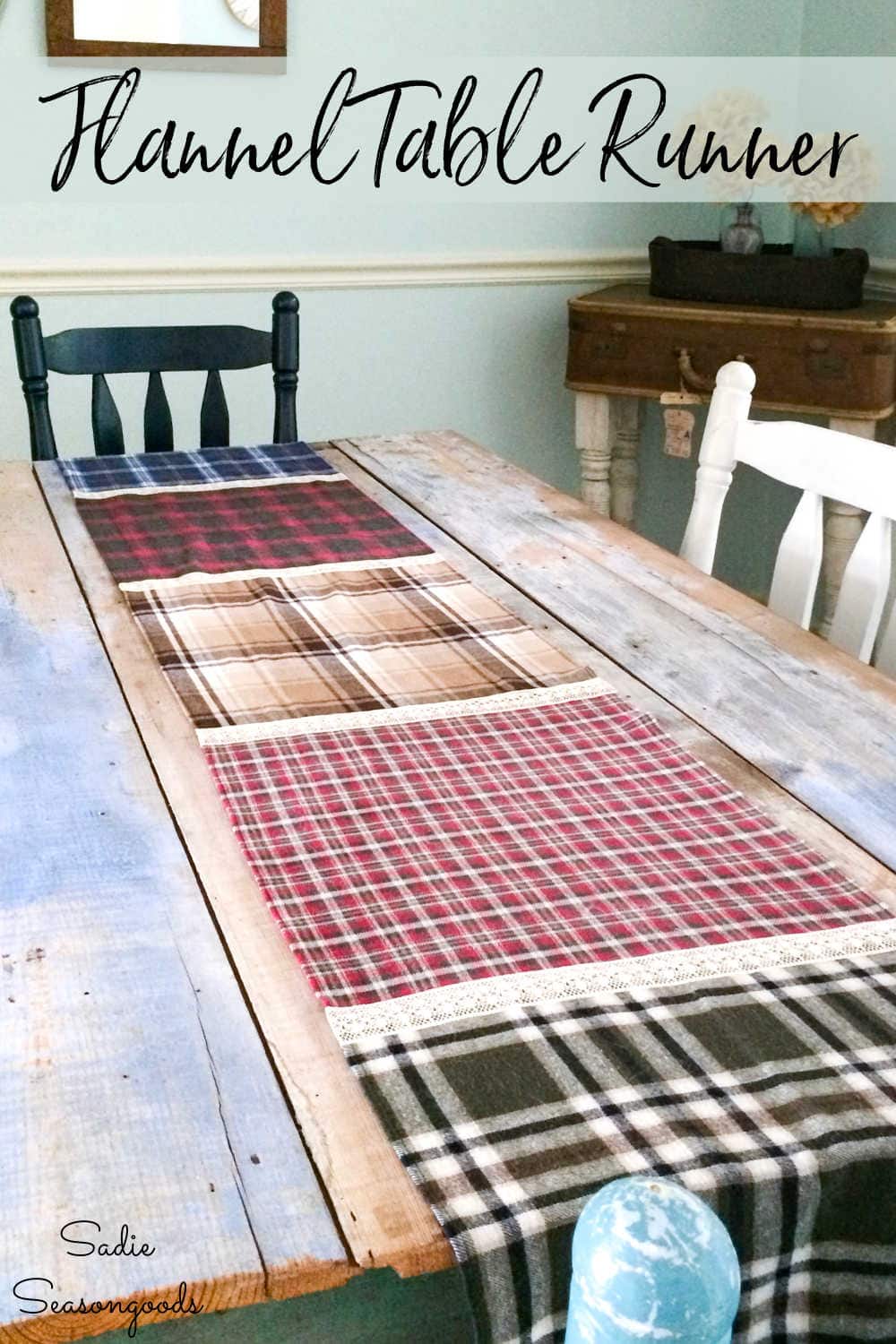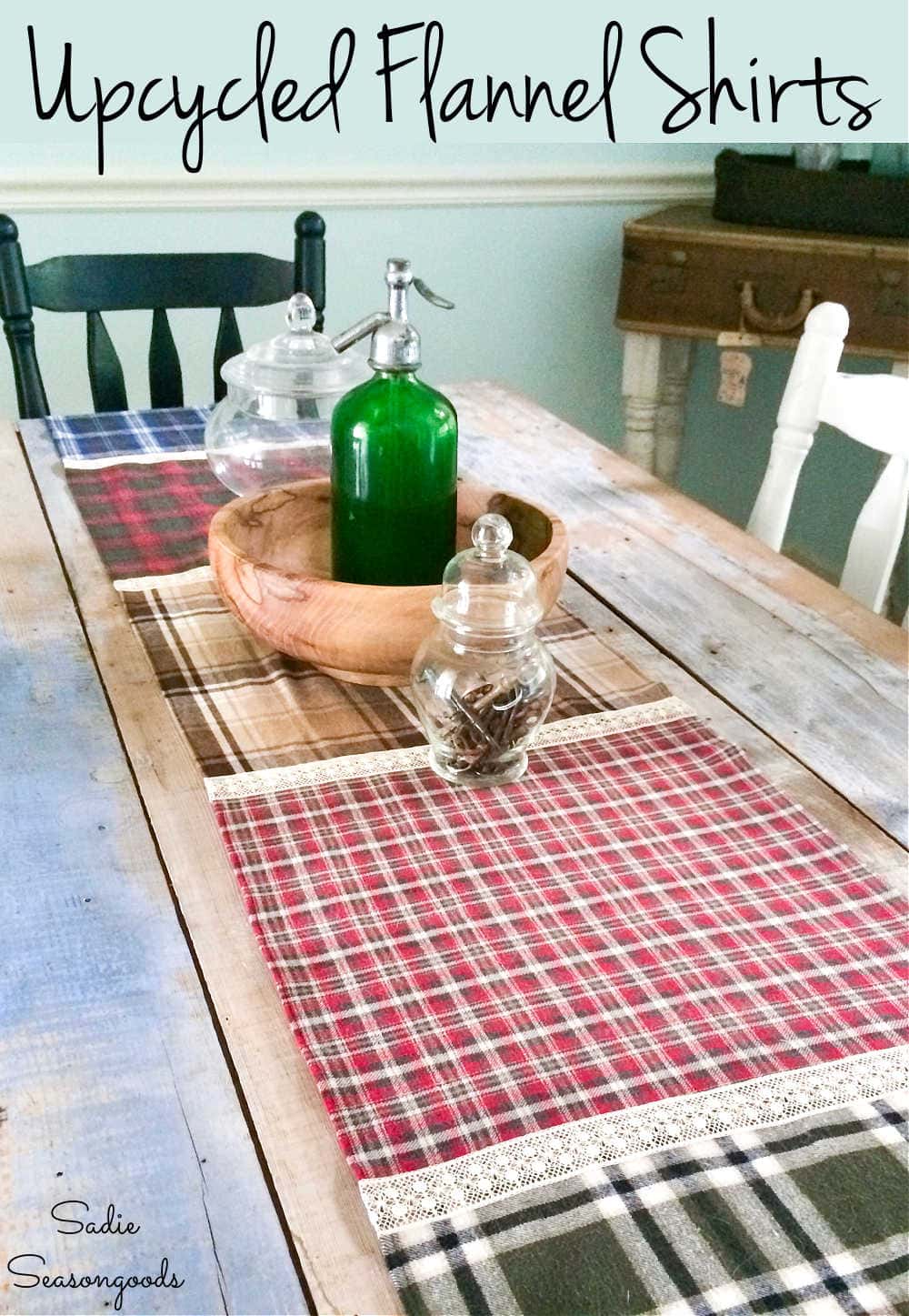 Sarah Ramberg is the owner of Sadie Seasongoods, a website that celebrates all things secondhand. From upcycling ideas and thrifted decor to vintage-centric travel itineraries, Sadie Seasongoods is a one-stop shop for anyone who loves thrifting and approachable repurposing ideas. Sarah is also the author of "Crafting with Flannel" and has been featured in numerous media outlets and magazines.