For someone who loves architectural salvage so much, I don't work with it often enough. Sure, I've created a few projects in the past, but far fewer than those using, say…thrift store finds. So, I'm here to add another architectural salvage project to my collection. And this time, I'm using some porch brackets that I spied at Maliasmark's booth during a local vintage market.
I acquired four of the porch brackets from her, each one in slightly different well-loved condition.
I knew right away that I wanted to arrange them in a circle to become architectural wall art.
And for the center? A gold medallion I found at the thrift store!
Once I had collected all the elements of my vision, it was time for a makeover on each!
This post contains affiliate links for your crafting convenience. As an Amazon Affiliate, I earn from qualifying purchases.
Upcycling the Porch Brackets into Architectural Wall Art
Because the pieces of architectural salvage were a little rough here and there (like they had been glued to something and then ripped off), I had to take a few steps back before I could move forward with my idea.
What do I mean by that?
Well, I needed to sand them a bit and repaint them the same shade of white. So, that's what I did- first, using my orbital sander to remove the rough patches and slivers-waiting-to-happen.
Next, I applied a little white spray paint to give them a brighter and more uniform appearance.
While the porch brackets dried, I moved onto that gold medallion. It was vintage by Syroco and fit perfectly in the center.
I just wasn't crazy about the gold. Instead, I wanted it to have a patina finish like an oxidized penny.
To recreate that look, I first painted the medallion in a Statue of Liberty-esque green, the same color I used in my DIY cork board project.
Once the green paint had dried, I used this shade of Rub n' Buff to add touches of copper over the green.
Just a scant amount of metallic wax on my fingertip was all it took. When I was done, I had a faux finish of green patina, which is EXACTLY what I was going for.
Reclaimed Wood Wall Art from Porch Brackets or Architectural Salvage
Now it was time to put all my architectural salvage pieces together and attach my medallion to the center!
There were various ways to do this: glue, mending plates, or screwing in thin pieces of wood behind the architectural salvage.
Ultimately, I used a combination of super glue and wood connectors behind the porch brackets to hold them together.
And a little super glue under the medallion, placed right in the middle. There- doesn't that look wonderful?
I love how it turned out! From creating a circle with the porch brackets to the green patina on the gold medallion. Architectural salvage like this is MEANT to become architectural wall art, don't you think?
*****
Guess what? Today is also Thrift Store Decor Team day, which means the best repurposing bloggers around all have new upcycled projects today. Click on the links beneath the collage to see how each project turned out!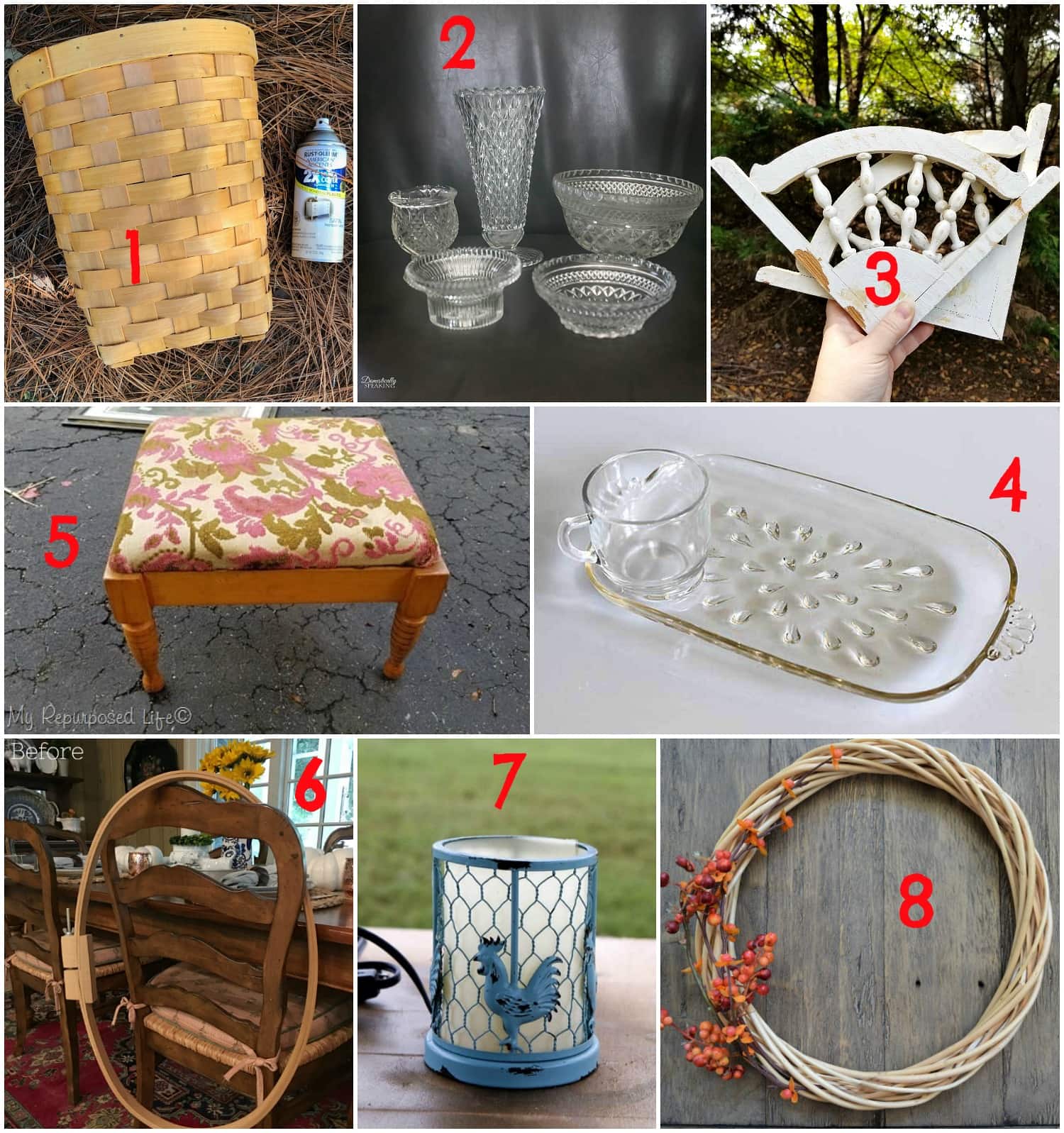 1. Thrift Store Basket Refresh
2. Copper and Burgandy Mercury Glass
3. DIY Wall Art from Repurposed Architectural Salvage (that's me, you're already here!)
4. Repurposed Vintage Snack Set
5. Small Footstool Makeover for Camper
*****
And if you enjoyed this upcycling idea for architectural salvage, then you'll love these bookends I created with wooden finials, as well!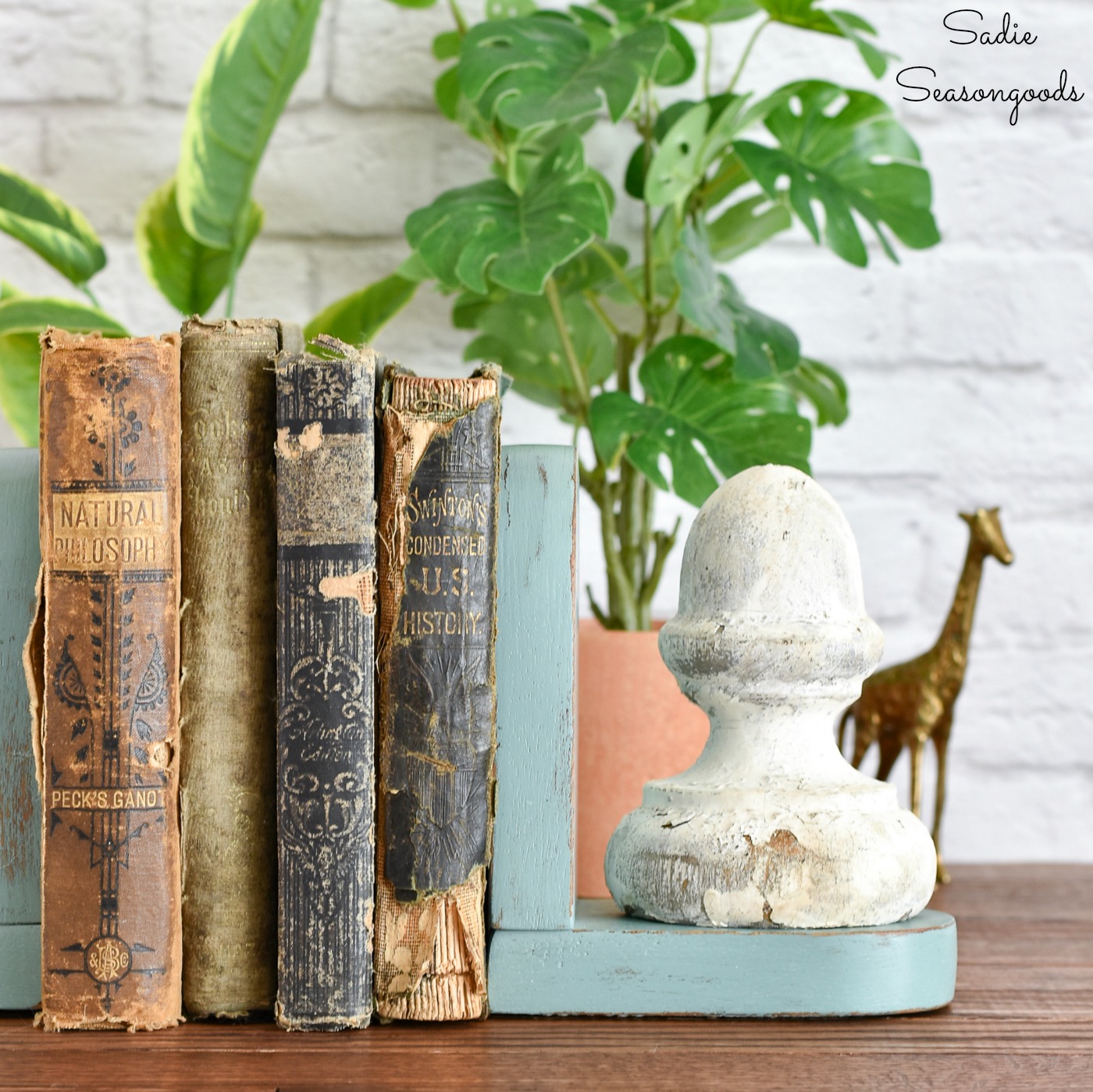 Craft on!
S
Want to be notified when I publish my next upcycling project tutorial?
Subscribe to Blog via Email
Join me on Social Media:



PIN ME!