When I spotted a pair of plain bookends at the thrift store, I knew right away that they could become stunning vintage farmhouse decor with the right pieces of architectural salvage. I just needed to find the right "bits" to complete my vision.
The bookends were nice and heavy – but aren't they just begging for something decorative to spruce them up?
I couldn't find anything at my local architectural salvage store, so I turned to Etsy and found a pair of chippy white wooden finials (well, half finials) that were just the right size. Now I just needed to marry them together to become lovely vintage farmhouse decor. This post contains affiliate links for your crafting convenience.
Upcycling Wooden Finials into Decorative Bookends
The first thing I did was rough up the surface of the thrifted bookends with 80-grit sandpaper and then drilled a pilot hole through the underside of each one. They were already a little scratched up here and there, as you may have noticed!
I also chose one of my favorite paint colors for their vintage farmhouse decor makeover. (You may have seen me use this paint before! First on my cork board project and again as part of a faux finish project that looked like oxidized copper.)
The bookends received two coats of paint and before I distressed them with 220-grit sandpaper. I did a heavier distressing than I normally do (i.e., more than just the edges). I really wanted these to have a vintage home decor look so that they'd work well with the wooden finials.
After I wiped away the sanding dust, I buffed on clear wax to protect the distressed finish. I used my Annie Sloan wax, but there are lots of other (cheaper) versions out there.
The bookends "cured" overnight (to allow the wax to harden a bit), and then I drilled screws up from the bottom into the wooden finials. I didn't pre-drill pilot holes into the finials because the older wood was soft enough to take in the screws without a fight.
One last step! To help my decorative bookends do their job well, I glued on some non-skid shelf liner to the underside of each one. The non-skid shelf liner also covered up the screw heads to protect the surface underneath the bookends, so it's a double-duty material!
Vintage Farmhouse Decor with Architectural Salvage
And that was it! Pretty easy and I simply love the end result- I adore how the dusty green color pops against the chippy white paint on the wooden finials.
Functional and gorgeous- a combination I never get tired of. And, of course, I have my never-ending weakness for upcycling architectural salvage, so…
*****
And, as a bonus, it's the second Wednesday of the month which means it's Thrift Store Decor Team Day! To see how each of these pieces were upcycled, simply click the corresponding links underneath the collage.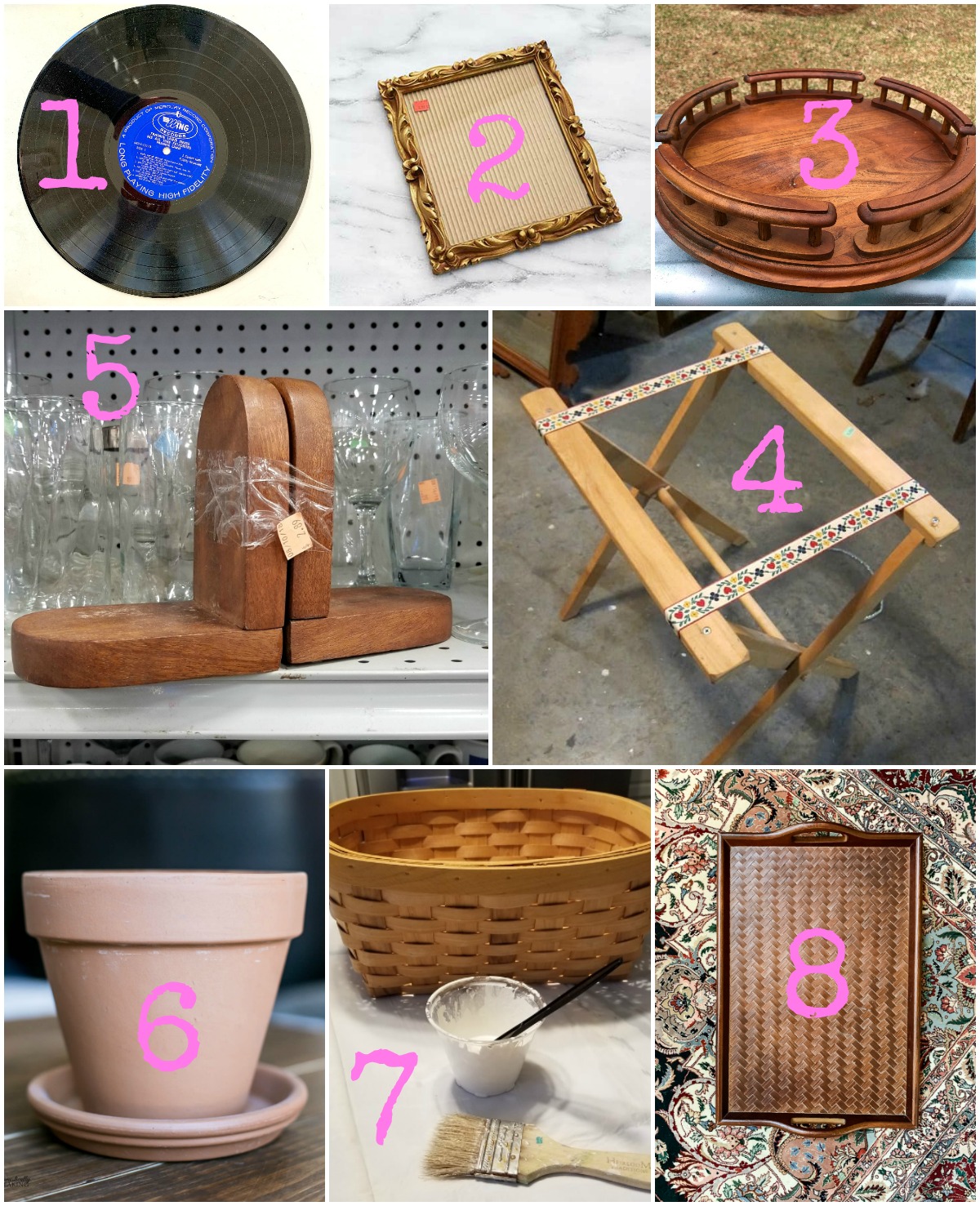 1. Vinyl Record Bowl
3. Lazy Susan Thrift Store Makeover
4. Folding Tray Table Stand Table
5. Vintage Farmhouse Decor with Architectural Salvage (that's mine, you're already here!)
7. Decoupage Basket | Hydrangea Napkins
*****
I'm definitely curious- what would you have used to transform these bookends? I think there are probably all sorts of options.
If you're interested in even more vintage farmhouse decor projects, please check out my entire collection here before you go!
Craft on!
S
Want to be notified when I publish my next upcycling project tutorial?
Subscribe to Blog via Email
Join me on Social Media: