Funny story- throughout the past year, I found one Christmas tray after another. Some were vintage-y, some less so. They were cheap and festive, so I bought several with no actual project ideas in mind. That is, until I found this kitschy Santa Claus tray. He had great vintage style, and round…so I wondered if I could upcycle him into a Santa wreath.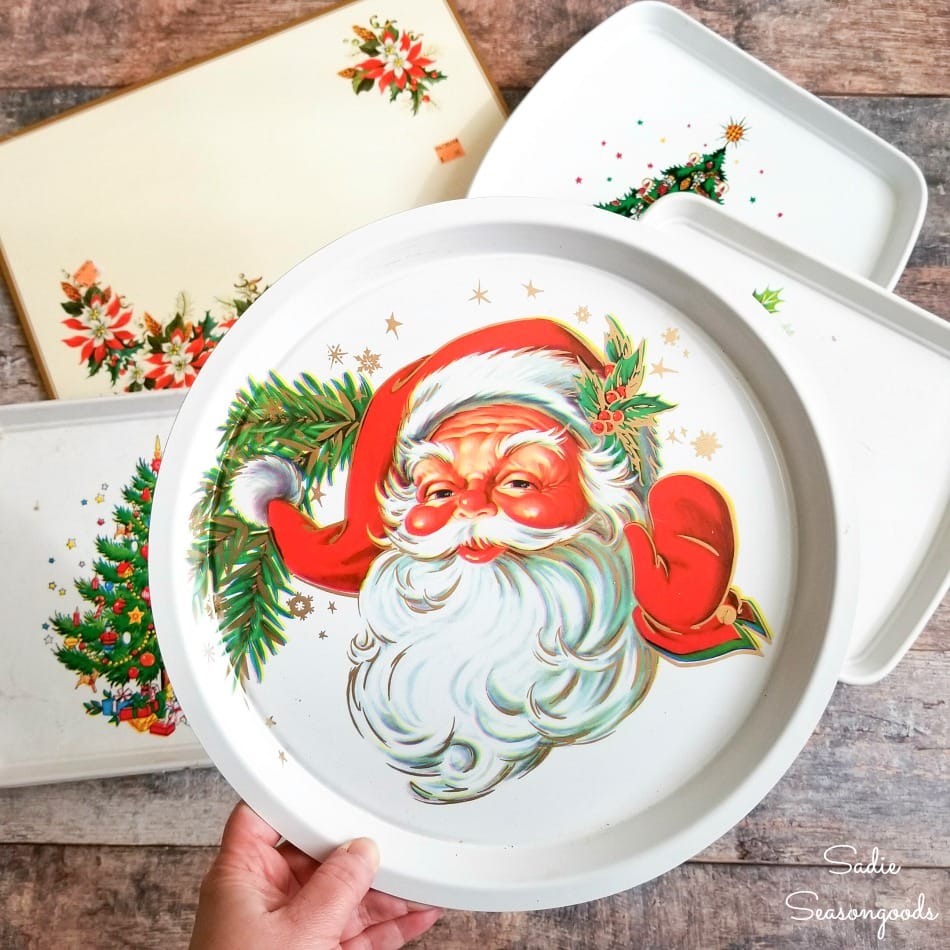 I had found all of my Christmas trays at various thrift stores. But I also spotted a very similar one at an antiques shop in Hickory, NC. Clearly, they are quite common!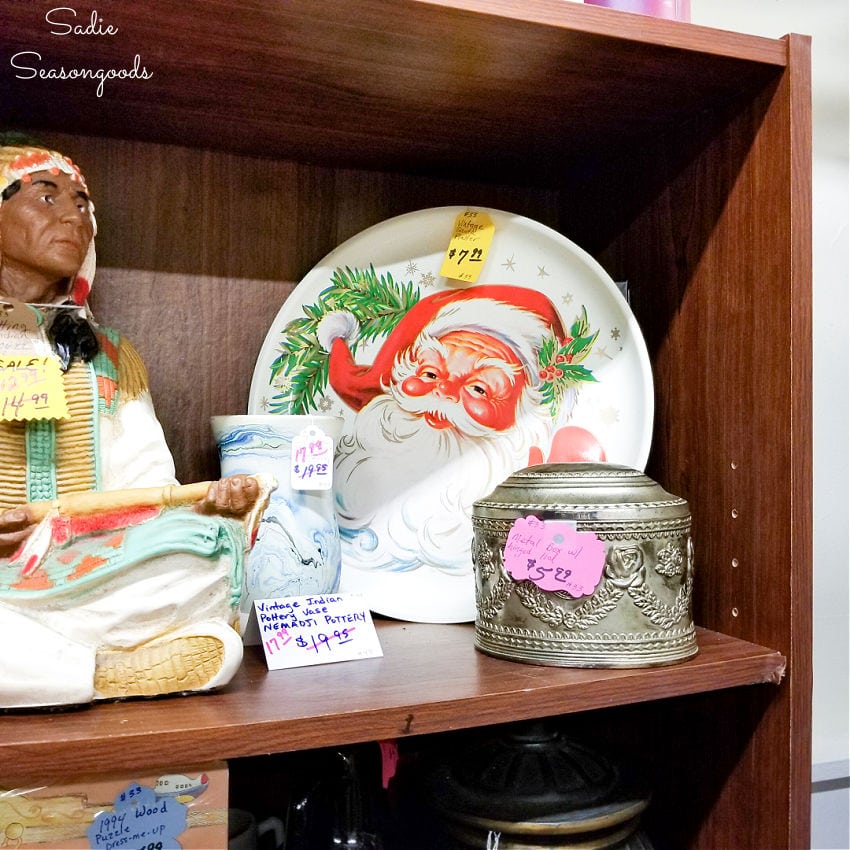 Anyway, I had a clear vision of a project in my mind. I would center the Christmas tray underneath either some garland or a plain green wreath.
And when that was done, I'd decorate the wreath with vintage Christmas decorations!
This post contains affiliate links for your crafting convenience. As an Amazon Affiliate, I earn from qualifying purchases. All blue, bold, and underlined text is a clickable link, either to a product or to a related post.
Upcycling a Christmas Tray
First things first, I used my power drill to create a small hole at the top of the Christmas tray. This would be where I would ultimately add a loop of ribbon for hanging once it became a Santa wreath.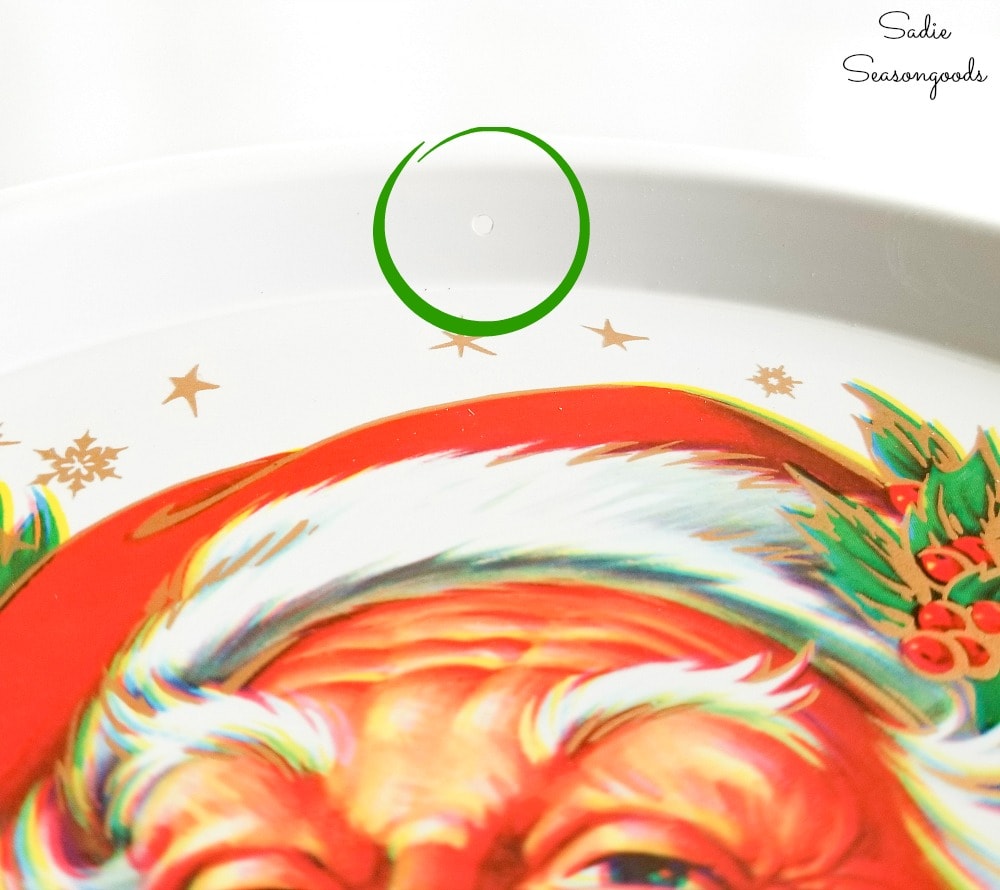 I figured it would be both easy and smart to do this first, before I decorated it! Then, using low-grit (rough) sandpaper, I gently sanded the flat rim of the tray.
Why sand it? To rough up the surface where I would adhere an evergreen wreath, making it a better surface for glue to adhere to.
Next, it was time to wreath-ify my tray. BUT, finding the perfect faux Christmas wreath proved difficult. I tried 20", 22", 24" wreaths and so on- but it was a Goldilocks situation…too big, too small, etc.
FINALLY, I resorted to plain wreath-making garland so that I could size my "just right" wreath.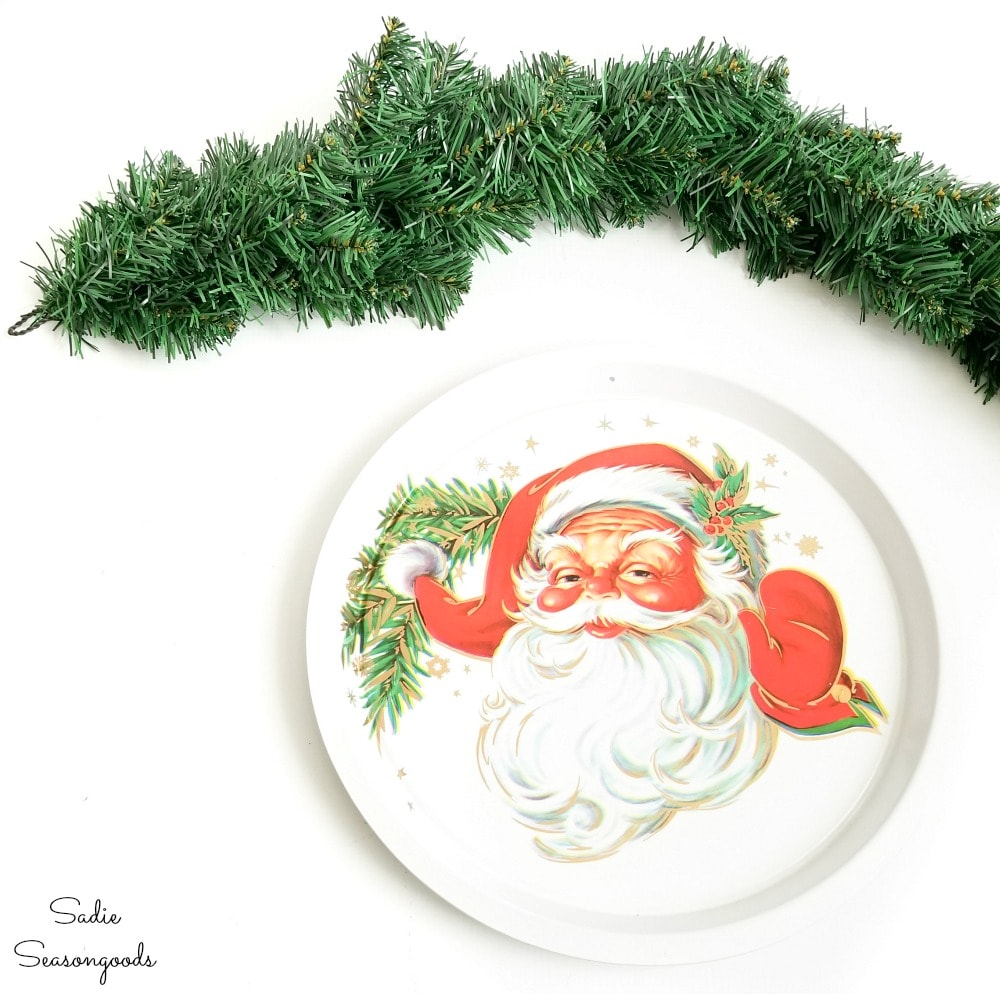 With wire cutters and my hot glue gun on standby, I created a perfectly (or near perfectly) sized "wreath" that framed the Christmas tray.
I used basic hot glue to attach the garland-wreath to the tray edge.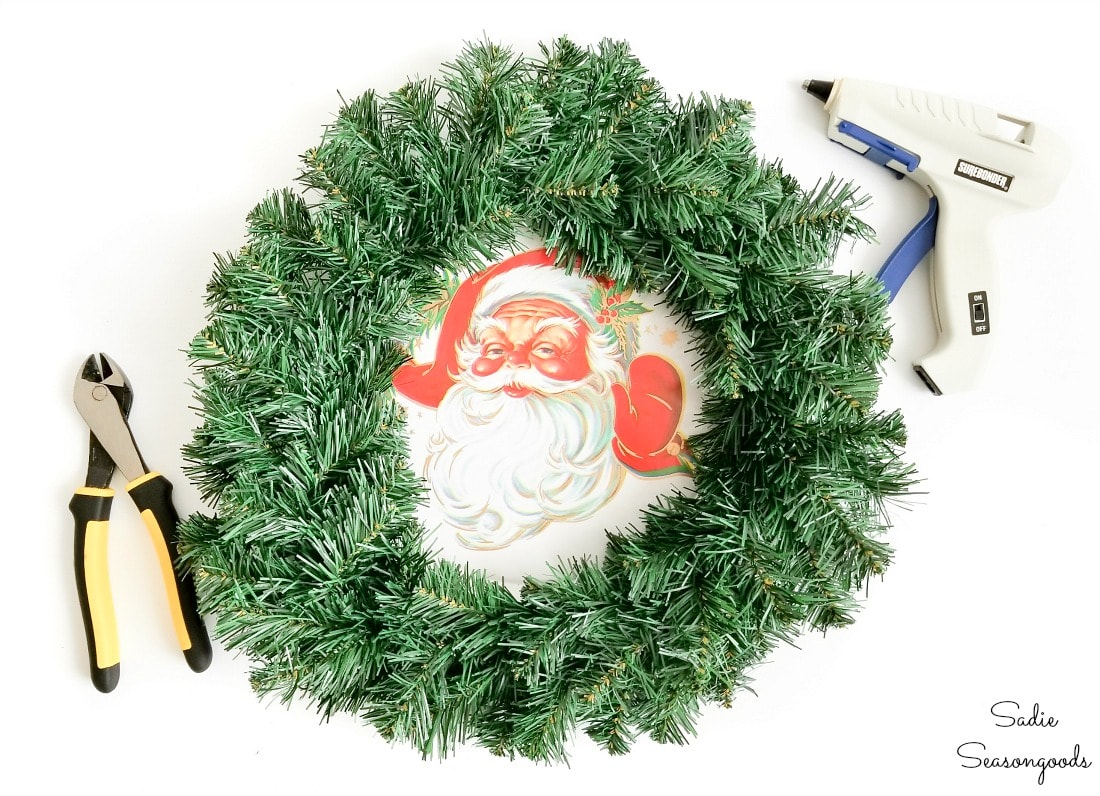 Decorating a Santa Wreath with Vintage Plastic Christmas Decorations
Next, I threaded a loop of ribbon through the hole I had drilled. I wanted to make sure I didn't accidentally cover up that hole once I decorated my Santa wreath!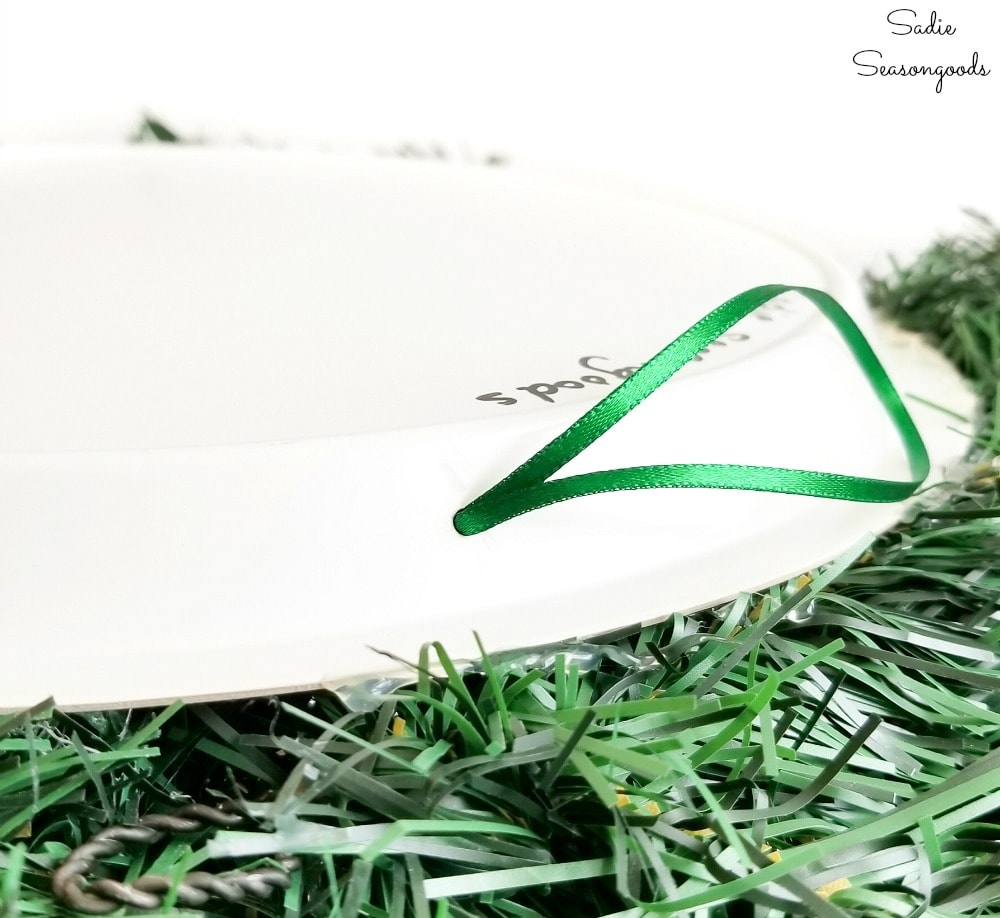 NOW for the fun decorating part. I was sure that I'd find all kinds of classic plastic Christmas "bits" while thrifting, but I came up short.
So, I turned to one of my favorite Instagram sellers, Vintage Junk in My Trunk, and purchased a huge box of vintage plastic Christmas decorations.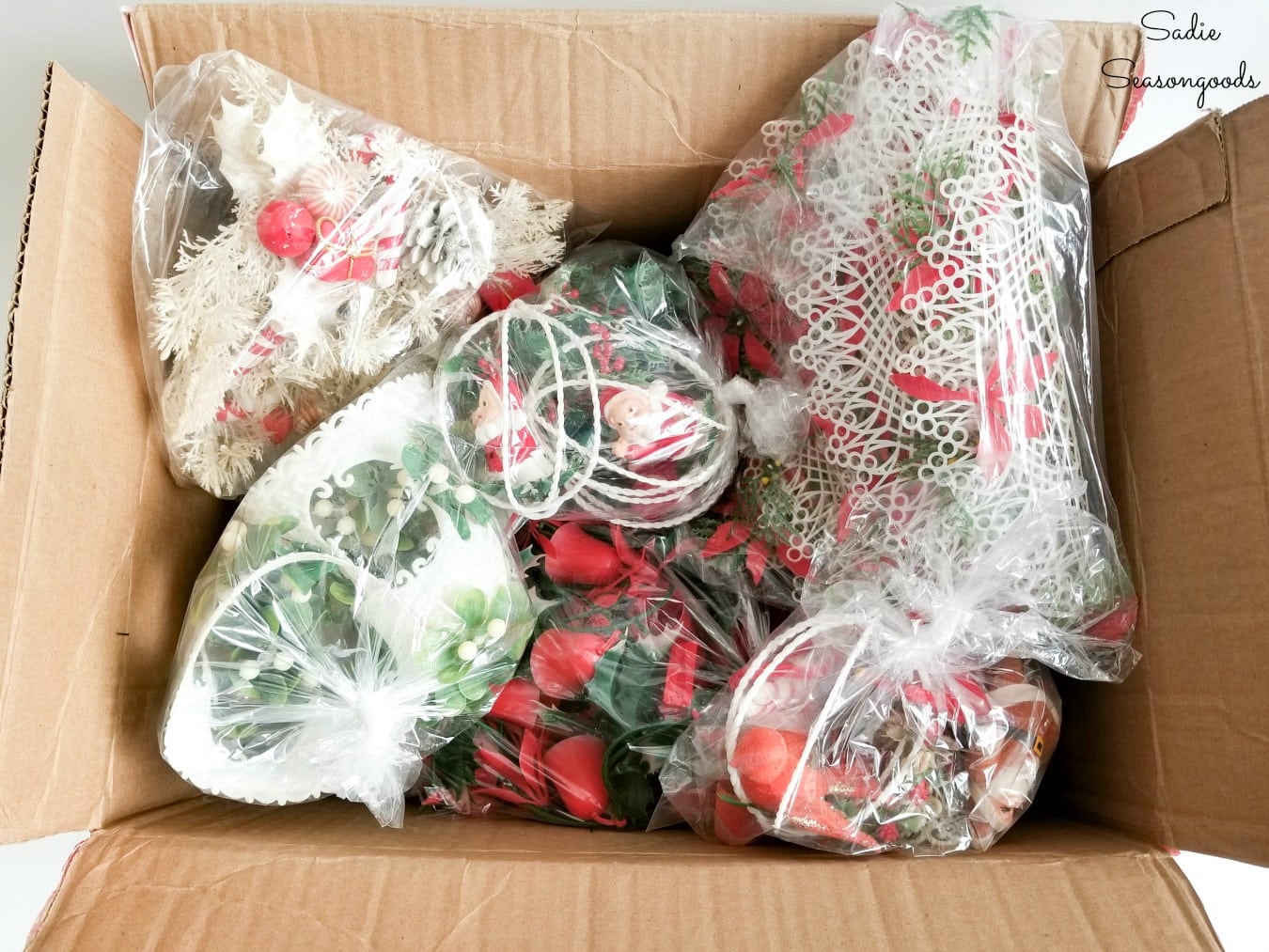 First, I "floofed" up my wreath garland, moving the little branches/arms around to create a relatively "flat" surface" for the vintage Christmas decorations.
Then, I arranged several of the retro Christmas decor bits on my wreath. When I was finally satisfied, I hot glued them in place.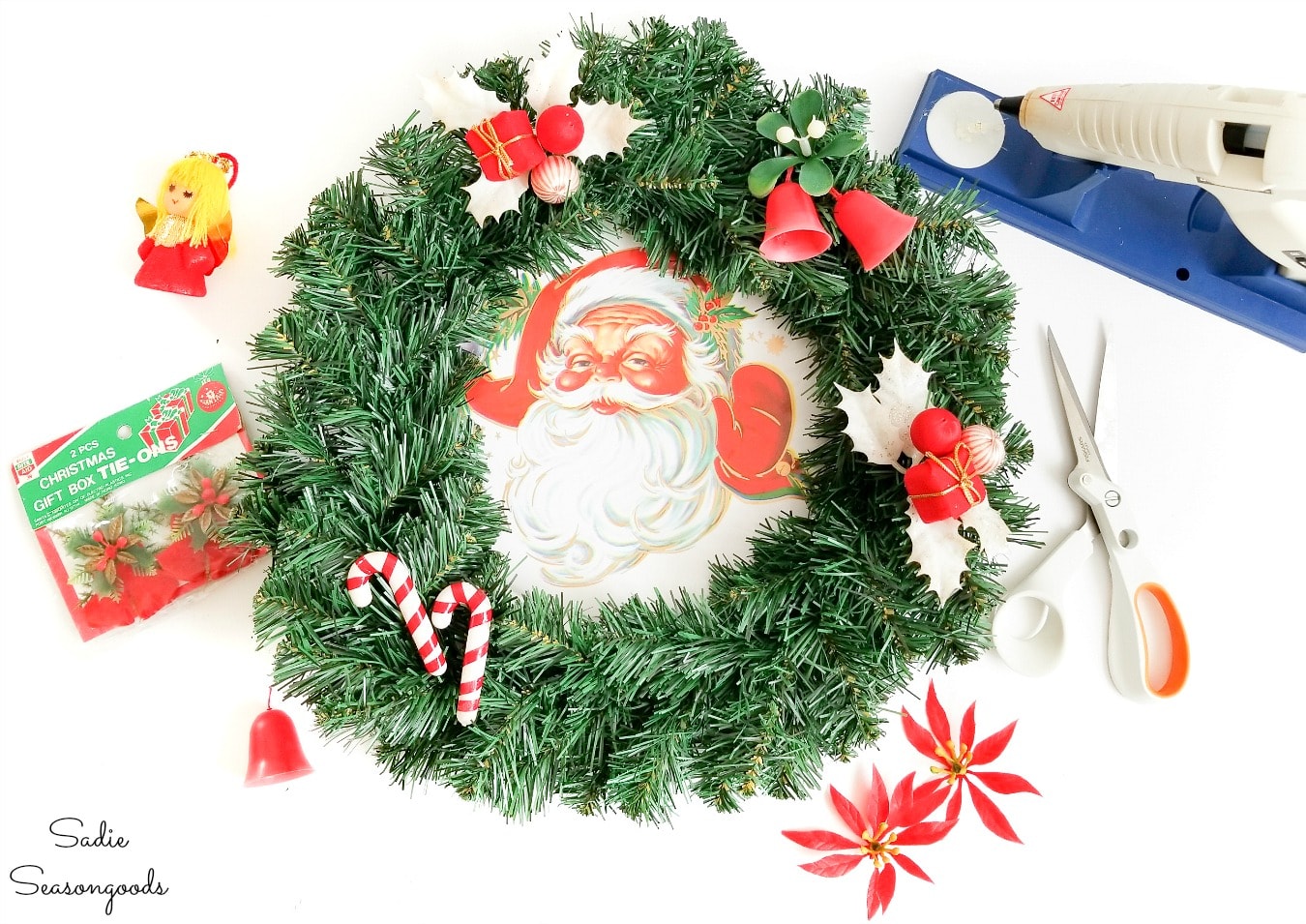 When I was happy with all the retro decorations, it was ready to be hung up for display!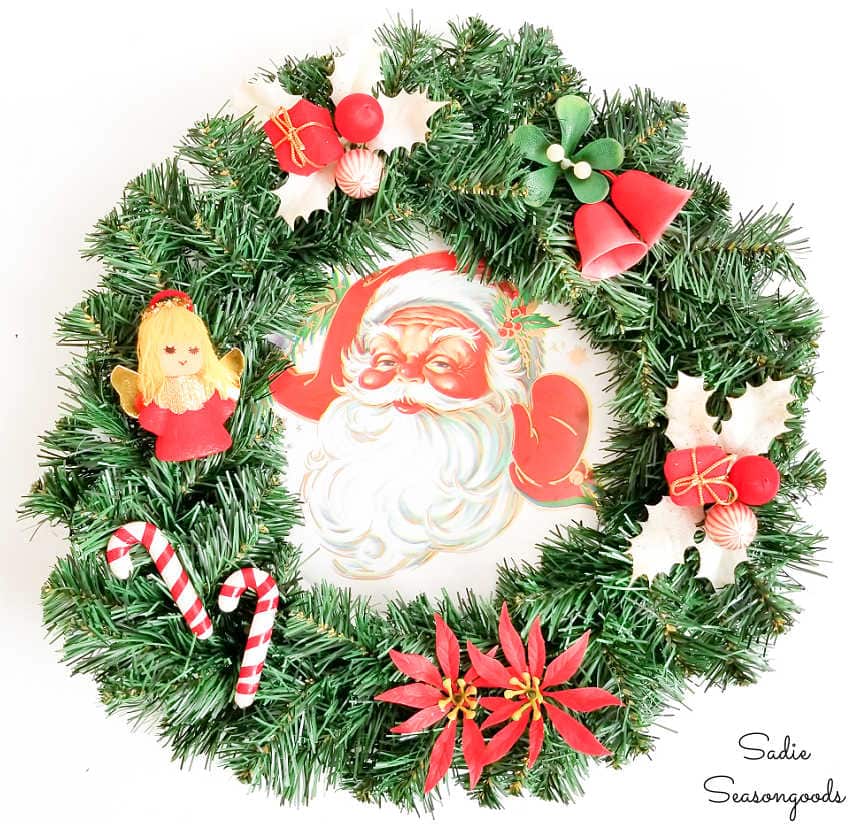 Santa Wreath from a Christmas Tray
Doesn't that look fabulous? What a fun retro Christmas wreath- all by upcycling a plastic tray with vintage Christmas decorations.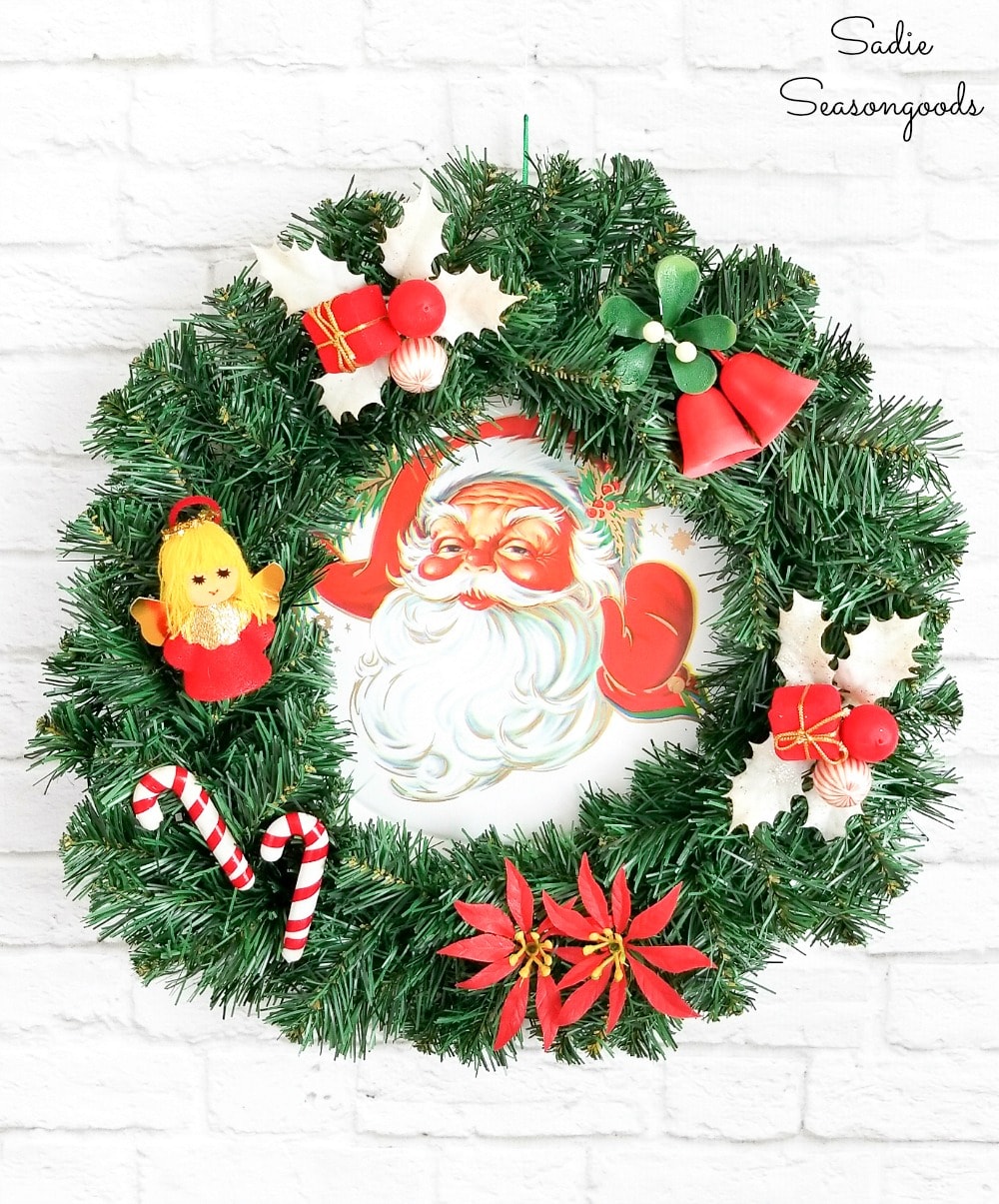 I am absolutely in love with my Santa wreath! I've made several Christmas wreaths before and am just tickled to add this one to my collection. This repurposing project really did work out even better than I could have hoped.
It's so kitschy that it's not just a retro Christmas wreath…it's a Kitschmas Wreath! How perfect is that?
And if you enjoyed this upcycling idea for vintage Christmas decorations, then you may also love this Boho Christmas tree I made for my Shiny Brite ornaments!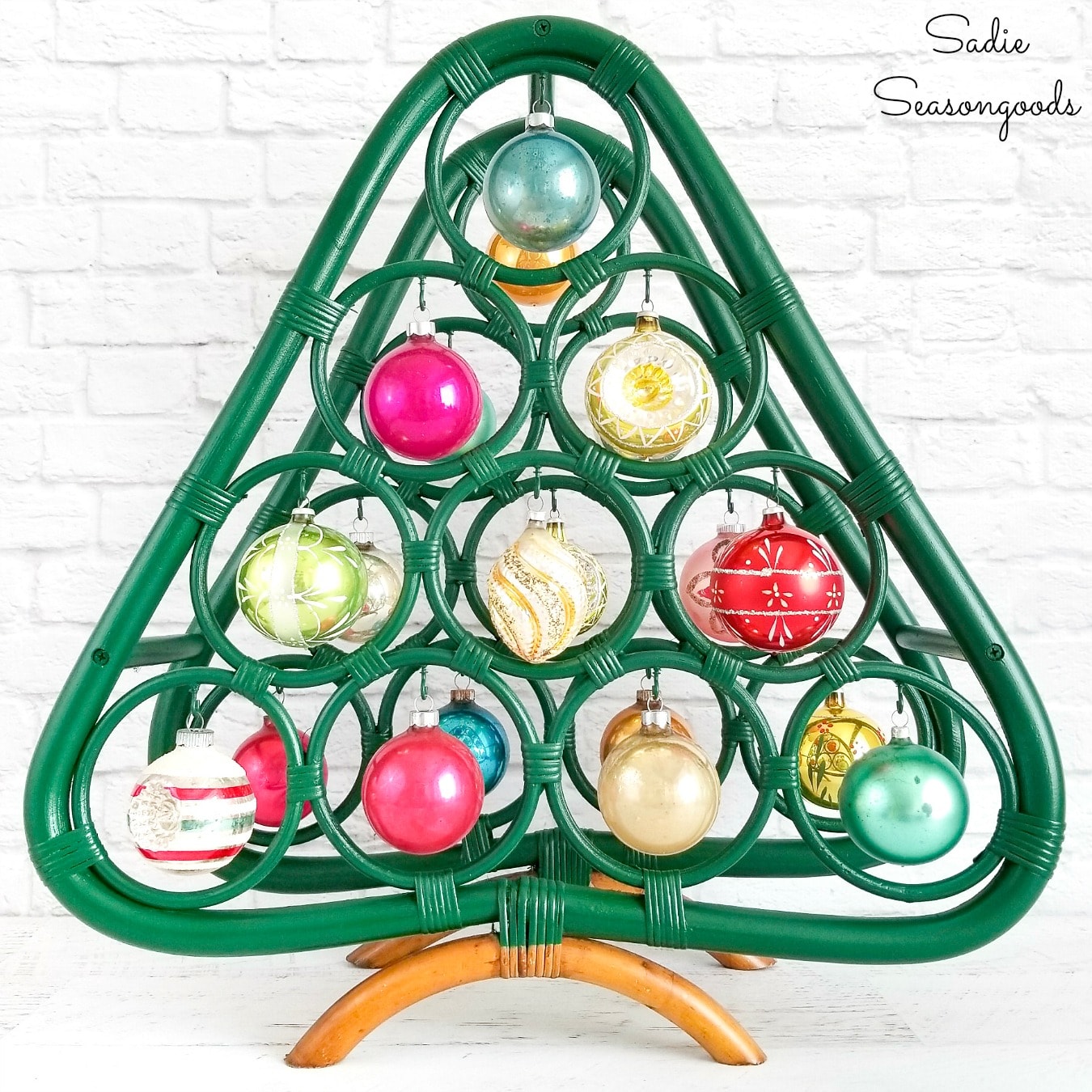 Plus, did you know that my first book, "Crafting with Flannel", has an entire chapter of Christmas projects? You can purchase it online from Amazon, Target, Barnes & Noble, and Walmart.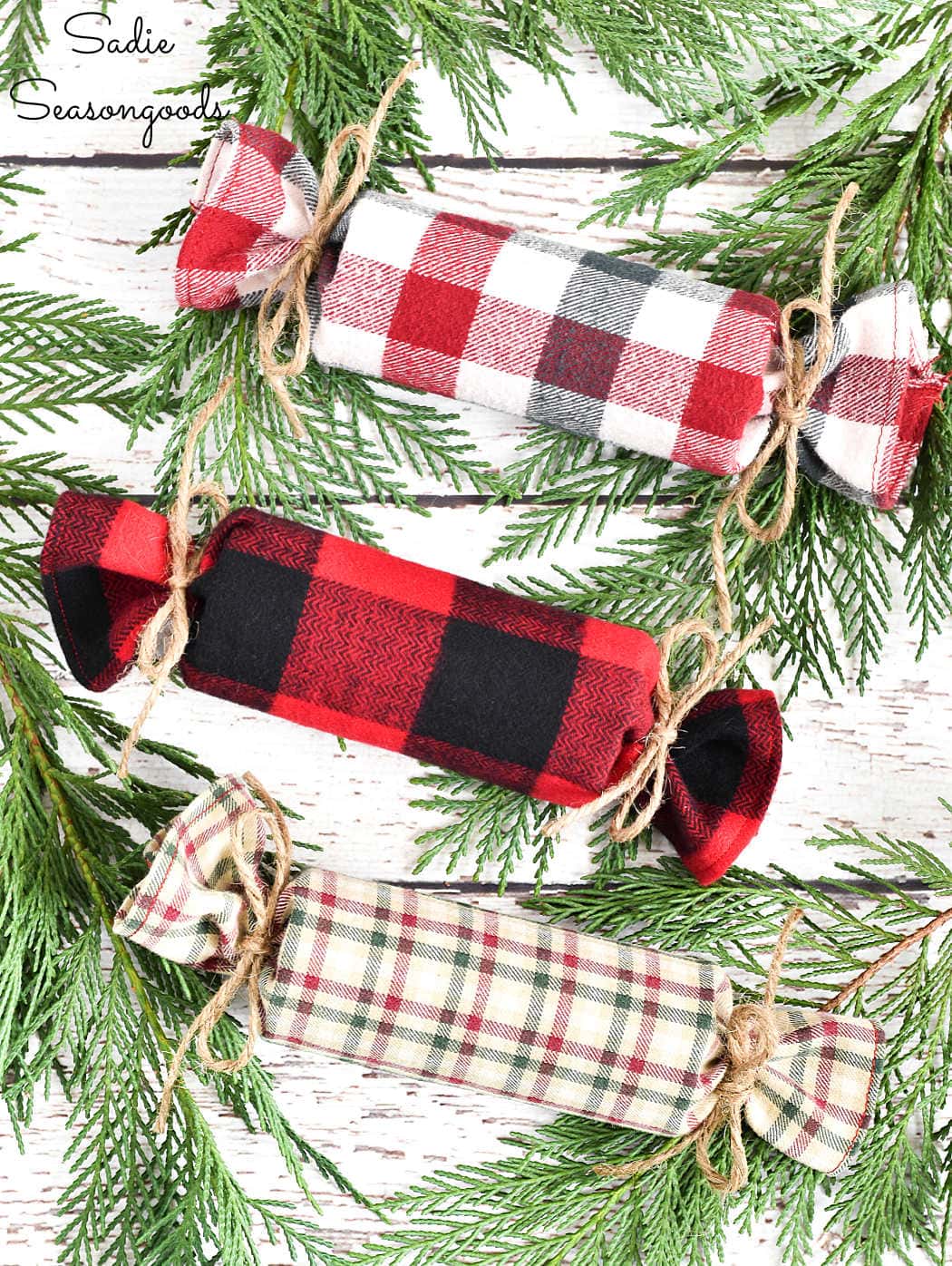 Craft on and Merry Kitschmas!
S
Want to be notified when I publish my next upcycling project tutorial?
Subscribe to Blog via Email
Join me on Social Media:

PIN ME!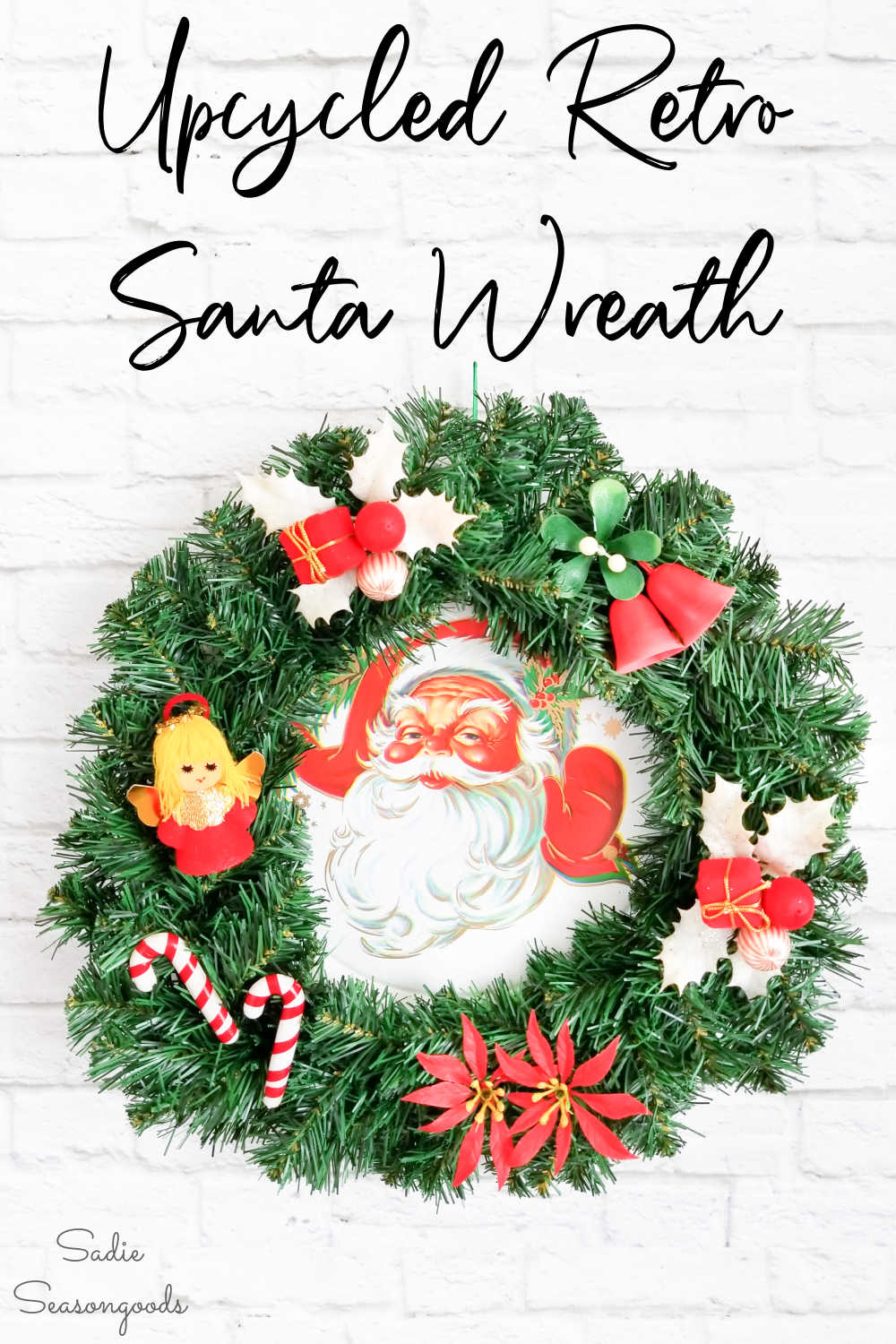 Sarah Ramberg is the owner of Sadie Seasongoods, a website that celebrates all things secondhand. From upcycling ideas and thrifted decor to vintage-centric travel itineraries, Sadie Seasongoods is a one-stop shop for anyone who loves thrifting and approachable repurposing ideas. Sarah is also the author of "Crafting with Flannel" and has been featured in numerous media outlets and magazines.