So, Valentine's Day isn't much of a holiday in our house, truth be told. We're pretty lovely-dovey all the time (I know, go ahead and roll your eyes) and I NEVER decorate for it. But, I had an idea for vintage valentine decorations rattling around in my head that just wouldn't quit. Not only did it involve vintage valentines, but it also involved an antique rug beater, which is something I'd never upcycled before.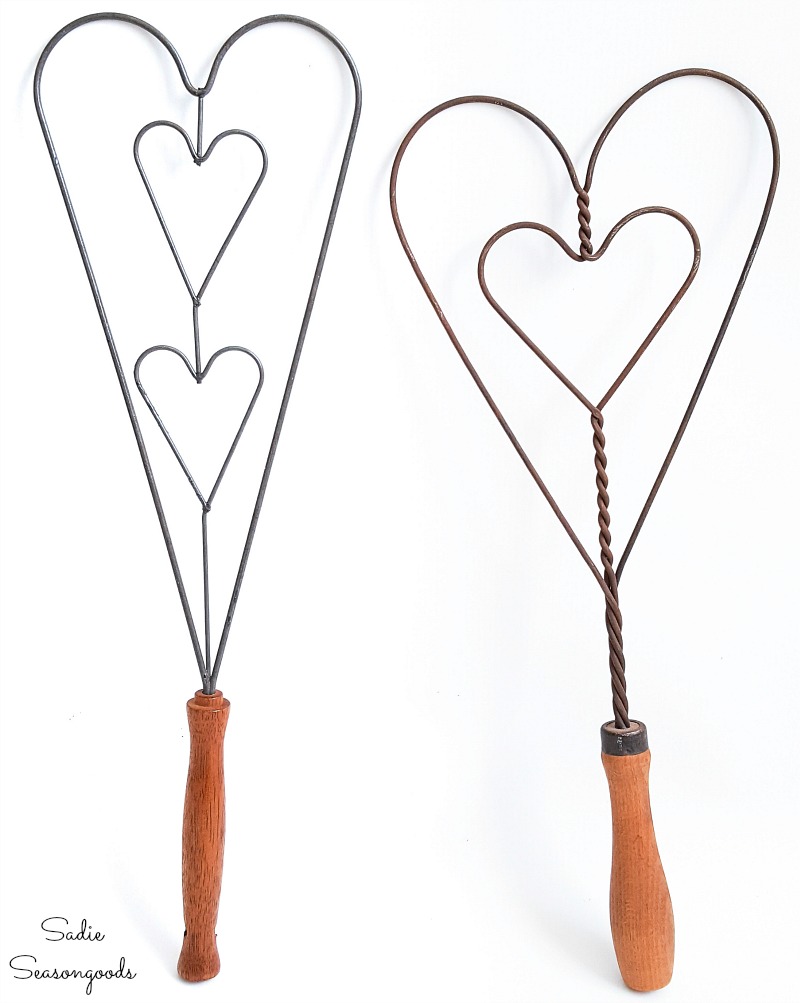 You can find a rug beater or carpet beater like this in antique malls, often hanging on the wall. And the heart-shaped versions are pretty common, too!
I just think they were meant to become heart decorations for Valentine's Day, don't you?
Especially if I paired up a carpet beater with some vintage Valentines!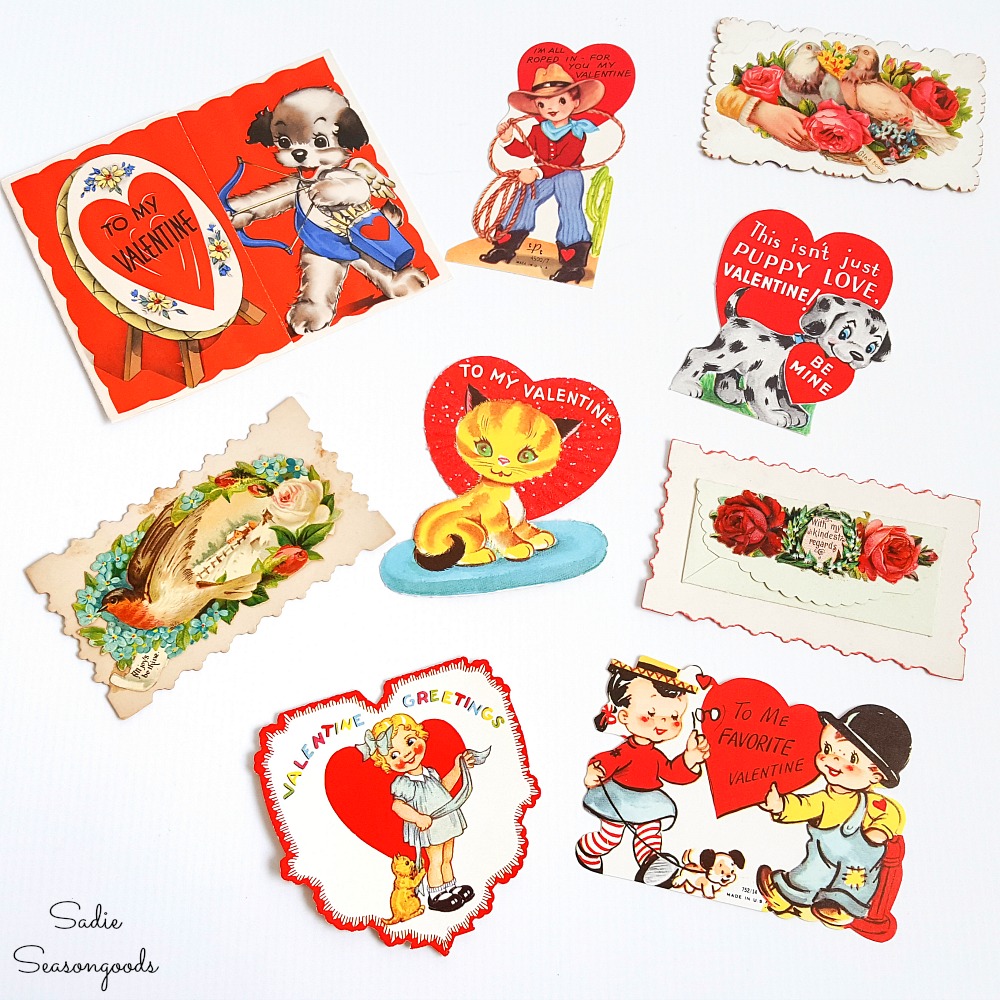 And when I tell you this is a craft project that ANYONE can do, I mean it. You just have to have the right antique rug beater to do it.
This post contains affiliate links for your crafting convenience. As an Amazon Affiliate, I earn from qualifying purchases. All blue, bold, and underlined text is a clickable link, either to a product or to a related post.
Upcycling a Carpet Beater into Vintage Valentine Decorations
The only "crafty" part of this project involved painting the wooden handles of each carpet beater. And, it's a completely optional step!
Speaking of heart-shaped rug beaters, you can often find them on Etsy, if you're interested.
But since I love vintage kitchen tools with their candy-colored handles, I wanted the same pop of color on the rug beaters. So, I gave each wooden handle a quick pop of color and set them aside to dry.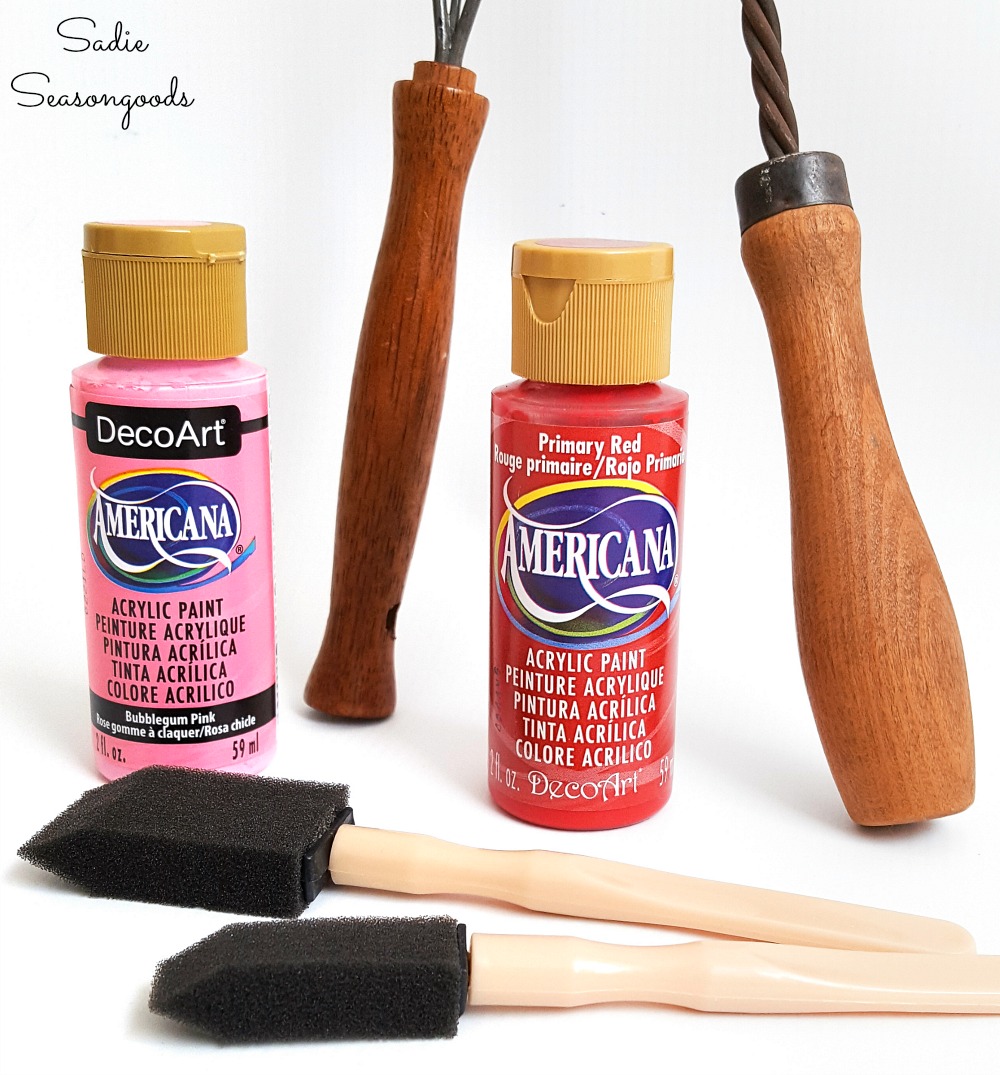 In the meantime, I gathered my collection of vintage Valentines. You can find these at antique stores, as well.
But if you can't, you can also find them on sites like Etsy. A lot of sellers also sell digital downloads of little valentines for even cheaper, which you can print at home.
If you purchase digital downloads, I highly suggest printing them and then gluing them to decorative craft paper to keep them flat and stiff. Anyway…
Next, I tied a simple loop of thread around the inner workings of the antique rug beater, which will allow me to use a single nail for hanging.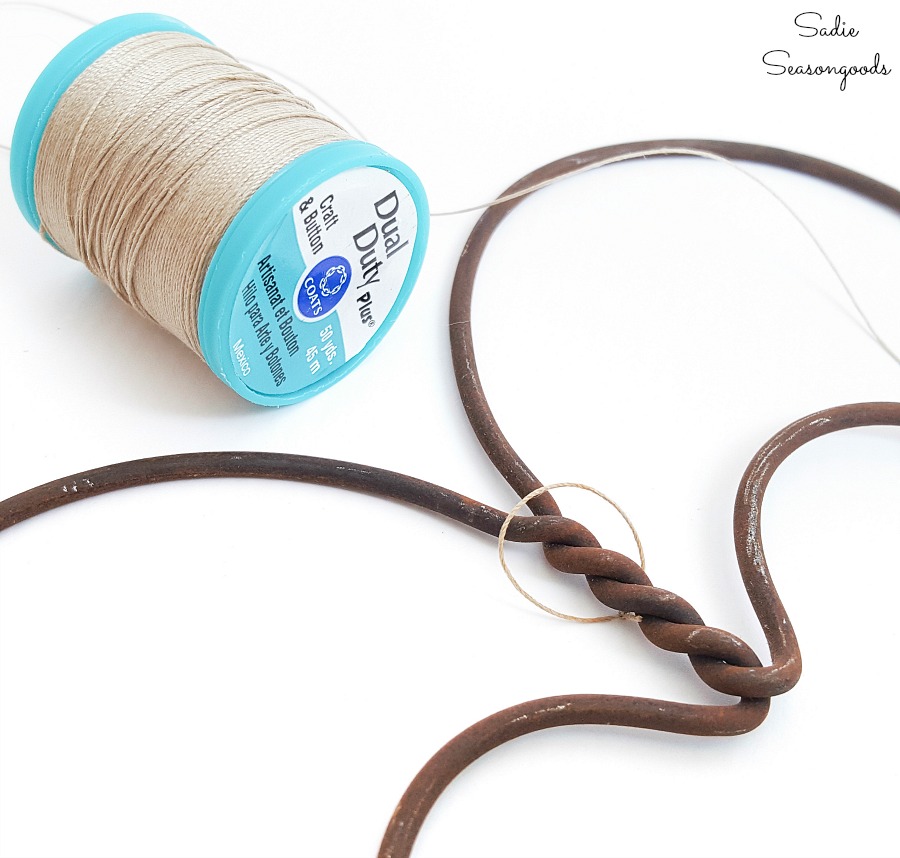 Next, it was time to incorporate the little valentines or vintage valentines!
To do so, I did the same thing I did with this wooden snow shoe I made as a Christmas wreath!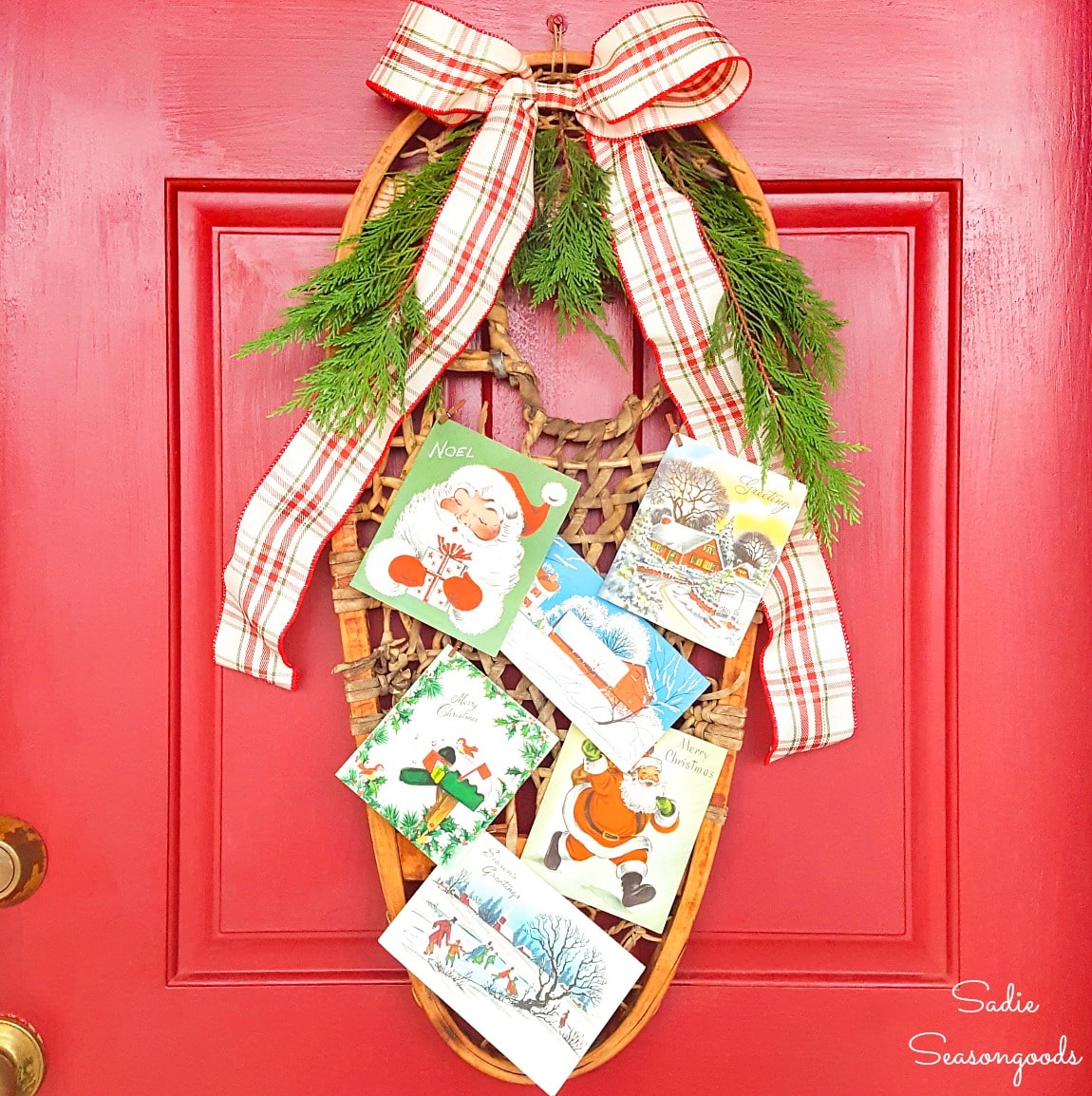 Mini clothespins! I found darling little wooden clothespins in the scrapbooking section at Michaels, and they were perfect for my Valentine's Day decor.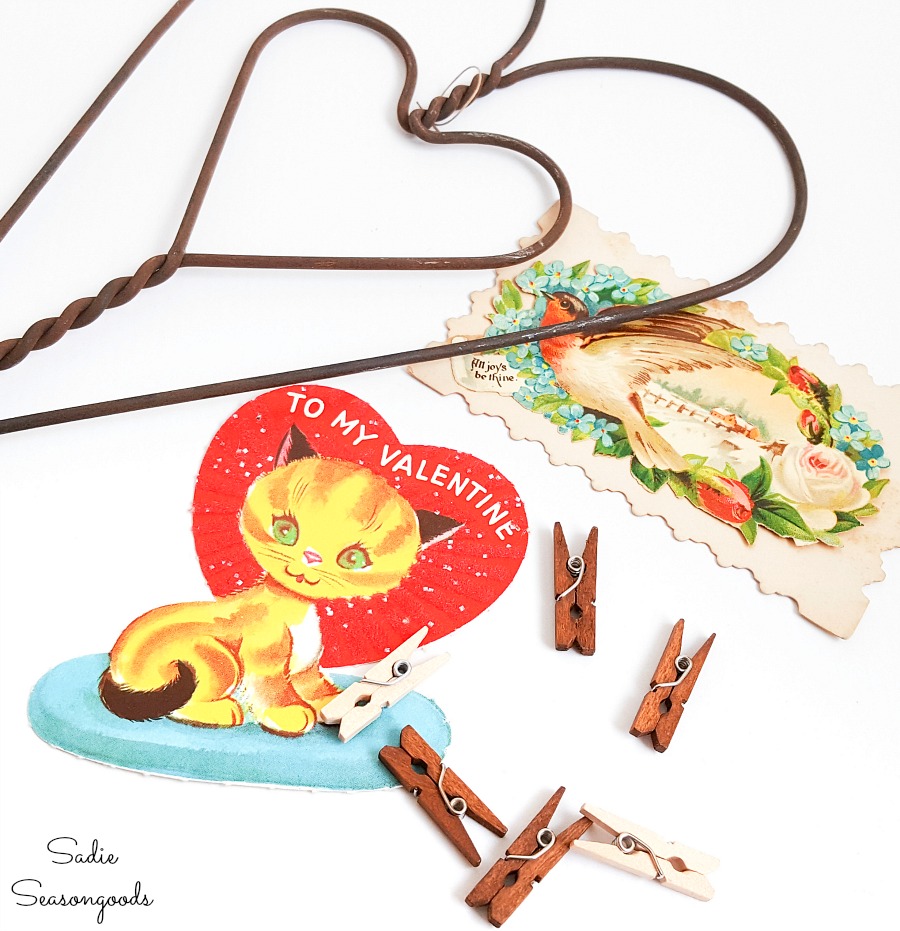 All that was left to do was arrange the vintage valentines around the antique rug beater and clip them in place!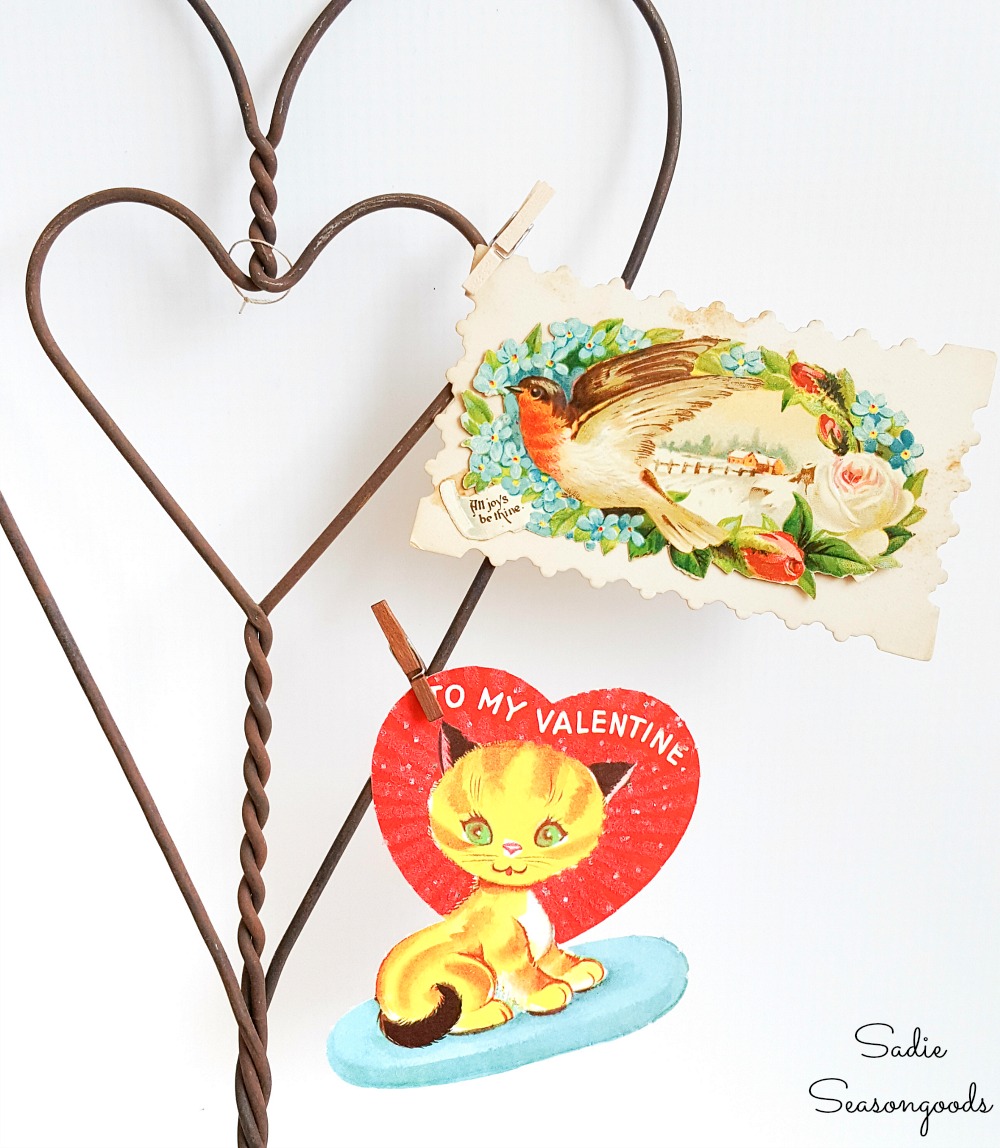 Vintage Valentine Decorations on an Antique Rug Beater
That was it- my vintage valentine decorations were complete! See, I told you this was as easy as it could get!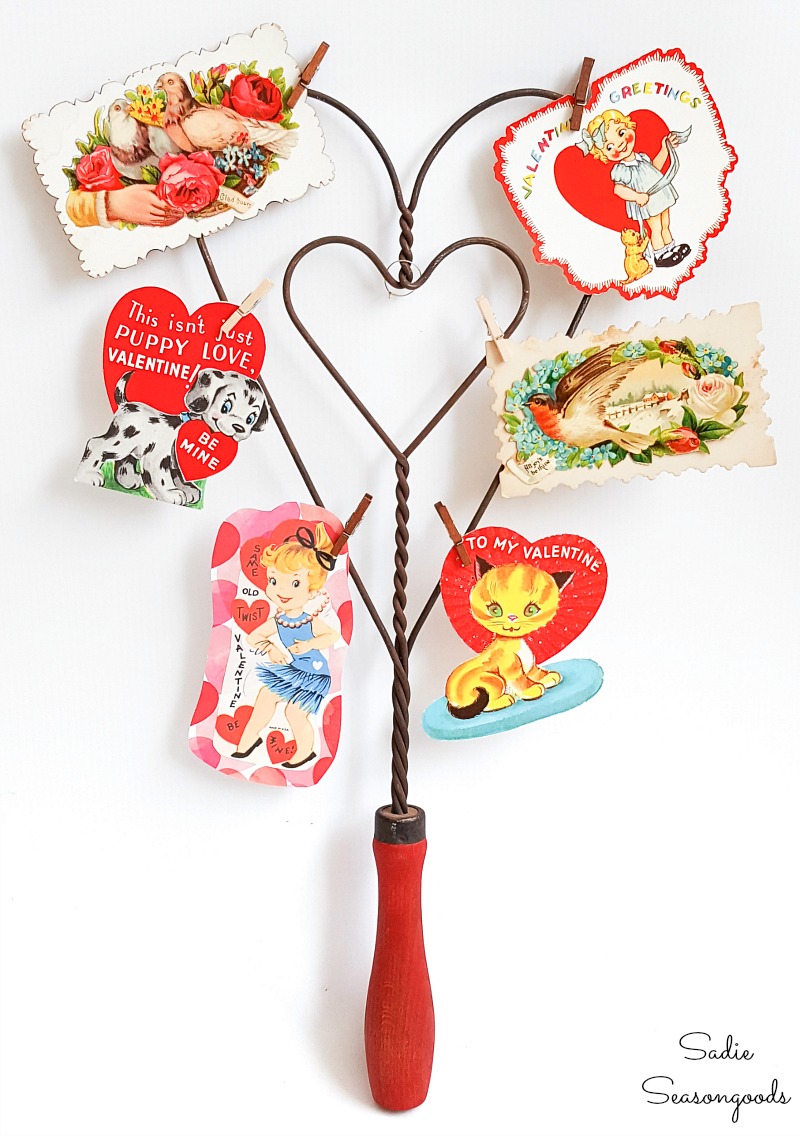 Now I just needed to find the right place to hang this, either on the wall or on a door. AND I still had the other carpet beater to decorate, too!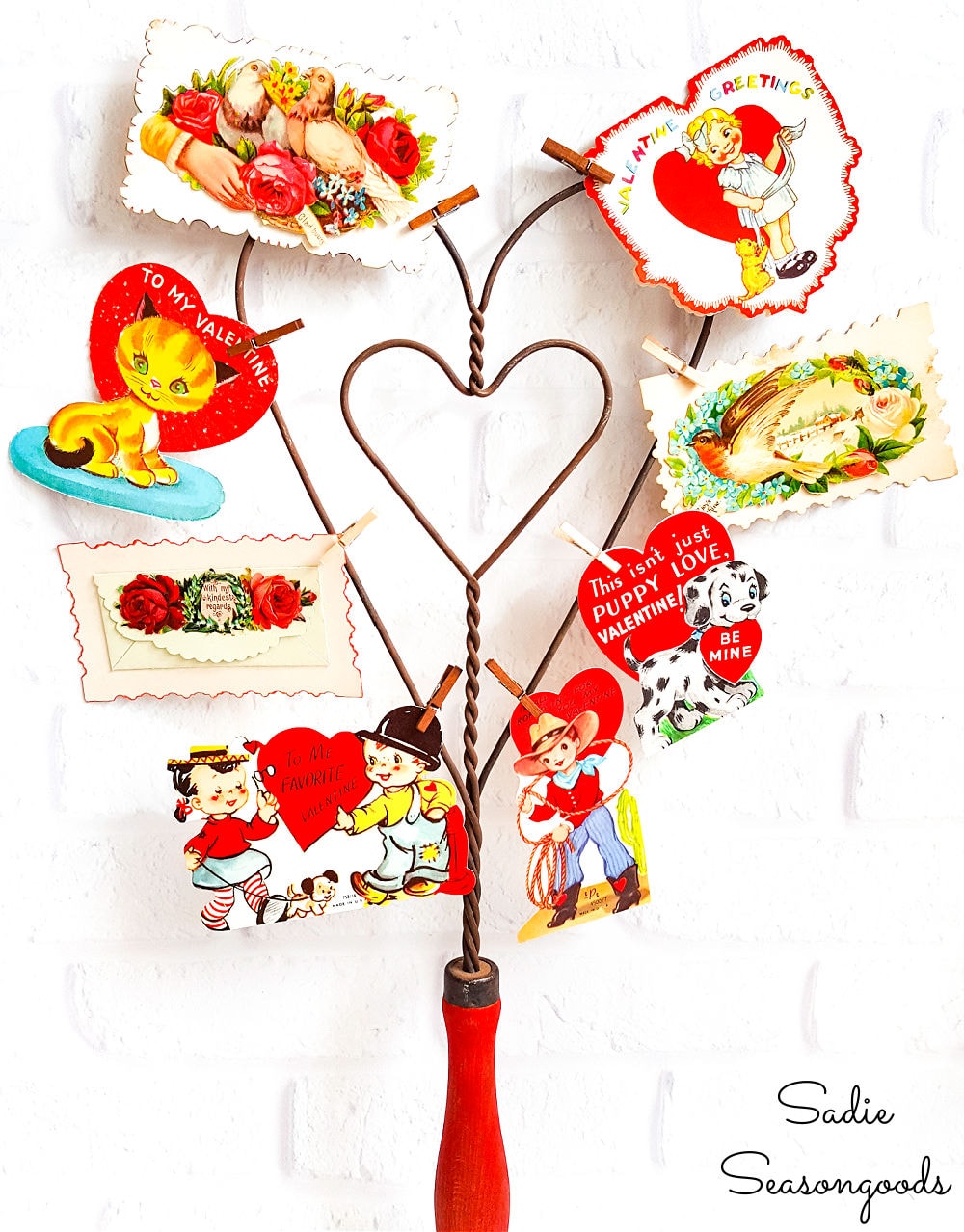 And if you enjoyed this upcycling idea for Valentine's Day decor, then you'll love this cross stitch heart, as well!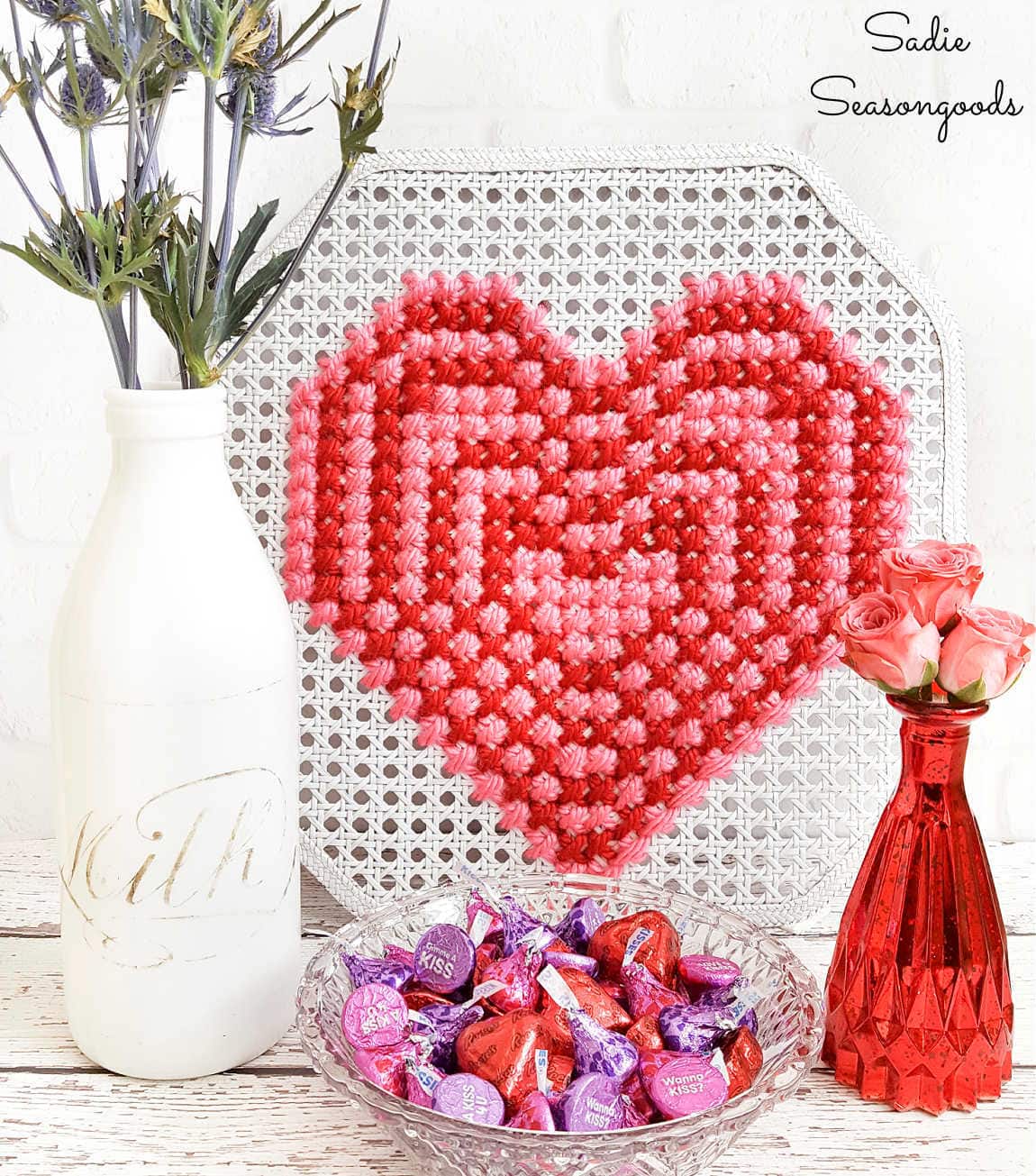 Sick of all things frilly, pink, and red? Then, these heart decorations with an industrial twist may be just what you're looking for!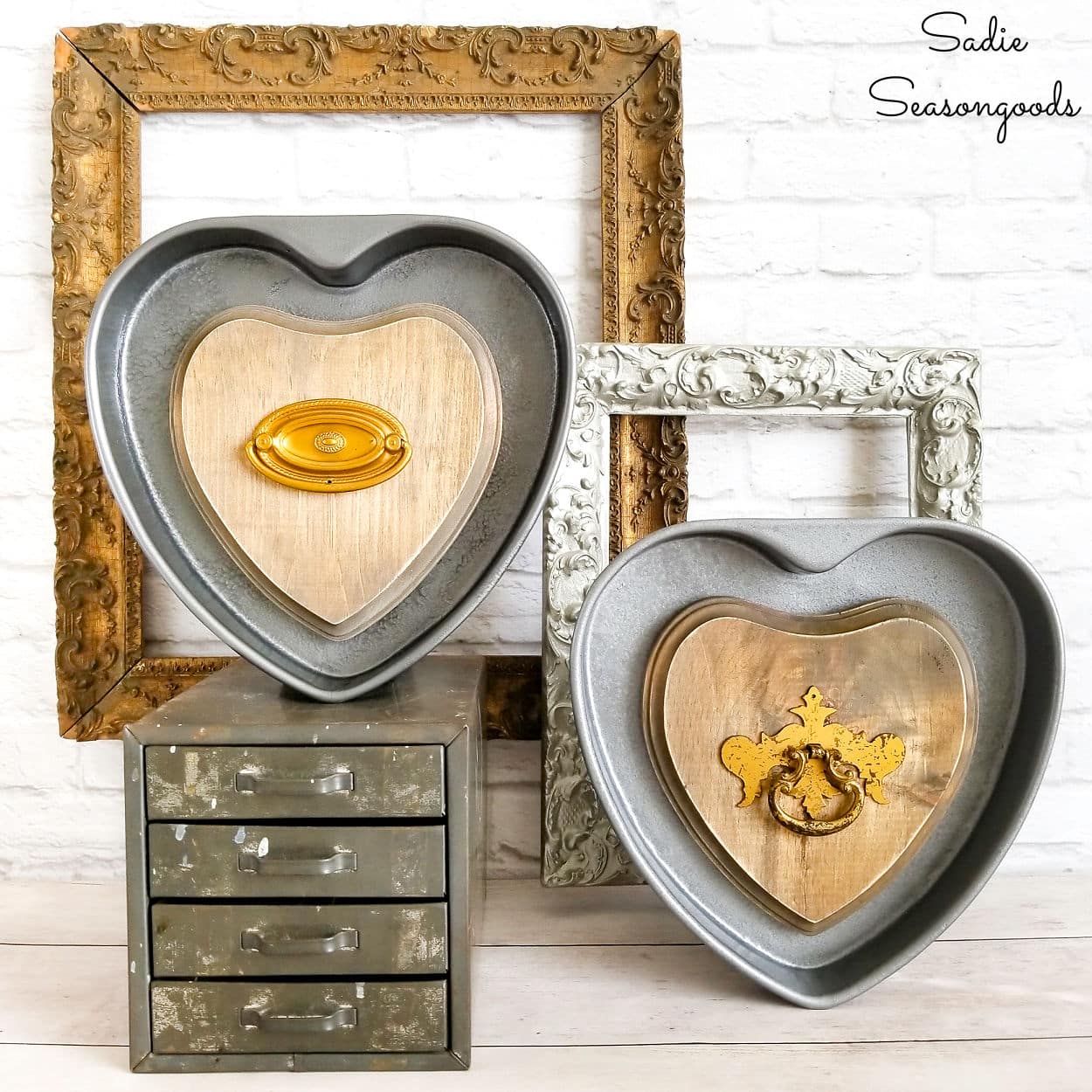 Hugs, kisses…and Craft on!
S
Join me on Social Media:

PIN ME!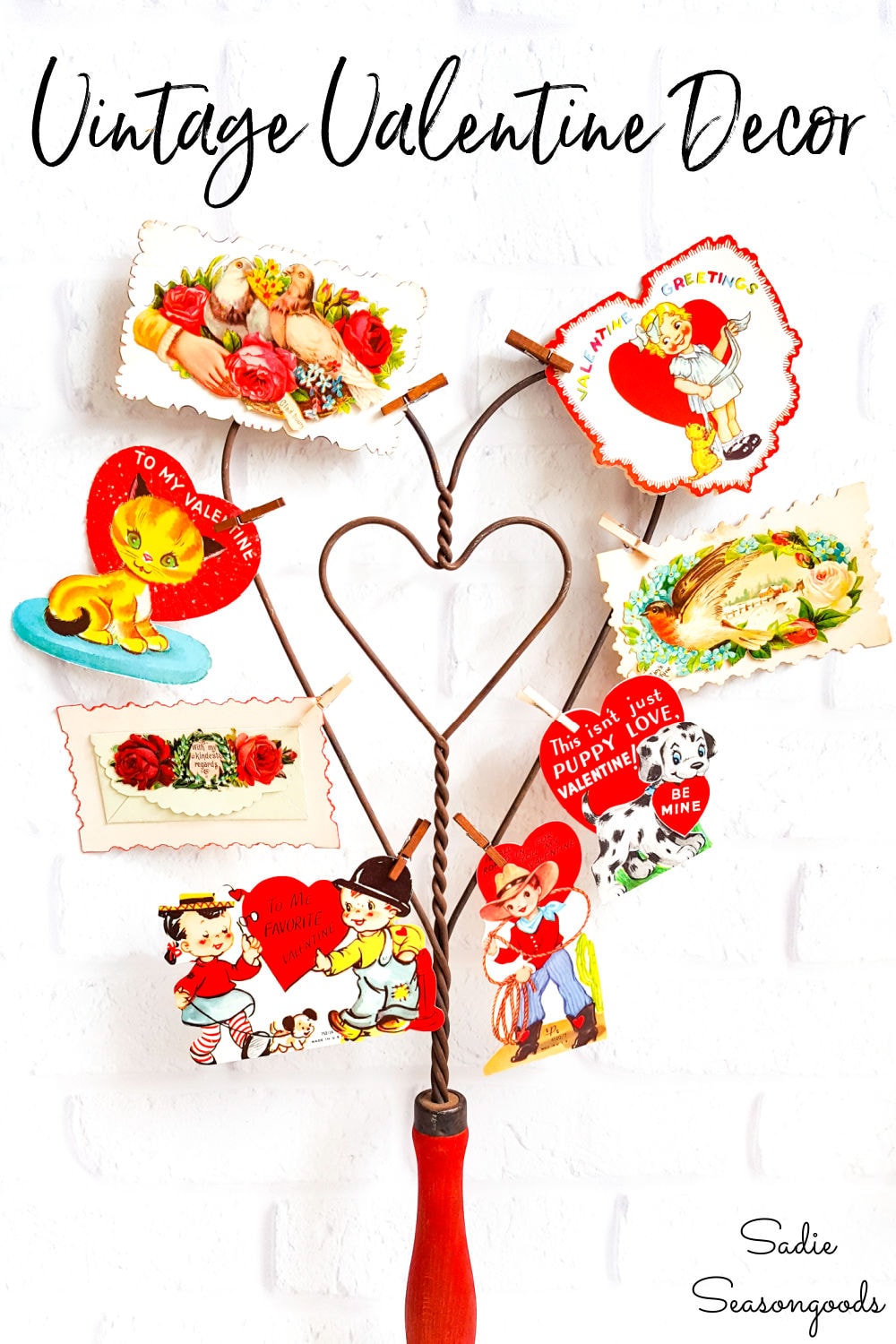 Sarah Ramberg is the owner of Sadie Seasongoods, a website that celebrates all things secondhand. From upcycling ideas and thrifted decor to vintage-centric travel itineraries, Sadie Seasongoods is a one-stop shop for anyone who loves thrifting and approachable repurposing ideas. Sarah is also the author of "Crafting with Flannel" and has been featured in numerous media outlets and magazines.