There I was, on a thrifting adventure. I had walked around the store and didn't find a single treasure for my cart. Don't you hate it when that happens? Anyway, I hit the last corner of the store when my eyes spied some cane webbing. Were they chair seat replacements? I wasn't sure, but with Valentine's Day decor on my mind, I was certain that a cross stitch heart would look darling on each one.
My thrifting adventure had been vindicated! Not only had I found a fun treasure with this rattan cane, but I already had a project in mind.
This post contains affiliate links for your crafting convenience. As an Amazon Affiliate, I earn from qualifying purchases.
Cane Webbing or Rattan Cane for a Cross Stitch Heart
The cane webbing was, admittedly, a little gross. Maybe someone had used them as place mats or kept them in an otherwise messy area, then?
A little wipe down and some spray paint would take care of that, though. So, I gathered a few paint colors in Valentine's Day colors.
And because I can't get enough oversized cross stitch, I decided to create a large, colorful heart on each piece of webbing.
Plus, I already had plenty of chunky yarn from my tennis racket project and my American flag project!
Cross Stitch Heart Pattern for Valentine's Day Decor
Once the cane webbing had been properly painted, I could get started on the cross stitch heart. But, I needed to design a cross stitch heart pattern that would fit the woven cane.
First, I sketched out the cane webbing on some standard graph paper, counting out the number of "holes" in the cane to match up with the boxes on the graph paper.
Then, I sketched out a cross stitch heart pattern that used up as much of the rattan cane as possible.
And like I've done before, I cut a long strand of chunky yarn, wrapped one end in painter's tape, and began stitching.
A note to cross stitch purists- and don't get mad at me- but with large scale projects like this, I find it makes more sense to complete each "x" individually, instead of going row by row.
The beauty of oversized cross stitch? I was done with the outline of my cross stitch heart in just a few minutes!
On the cane webbing that I had spray painted white, I alternated red and pink yarn to fill in my cross stitch heart.
And on the rattan cane that I had painted pink, I used the chunky yarn in white and red. But I also left some of the pink cane showing through.
Cross Stitch Heart for Valentine's Day Decor
Now, I thought about hanging my cross stitch hearts on the door or walls, because it would be easy to hang.
But instead, I ended using them in Valentine's Day vignettes. But either way, I just think they turned out so cute and really breathed fresh life into those sticky cane mats from Goodwill.
Cross stitch, both the dainty kind and this oversized variety, is such a great activity on cold days, too. All I needed was my cane webbing, some chunky yarn, and a favorite show on on TV.
Ok- NOW I'm done with Valentine's Day decor…I promise!
But the real question….what should I do with the remaining pieces of cane webbing?
If you enjoyed this upcycling idea for Valentine's Day decor, then you'll love this vintage valentine decoration with a carpet beater!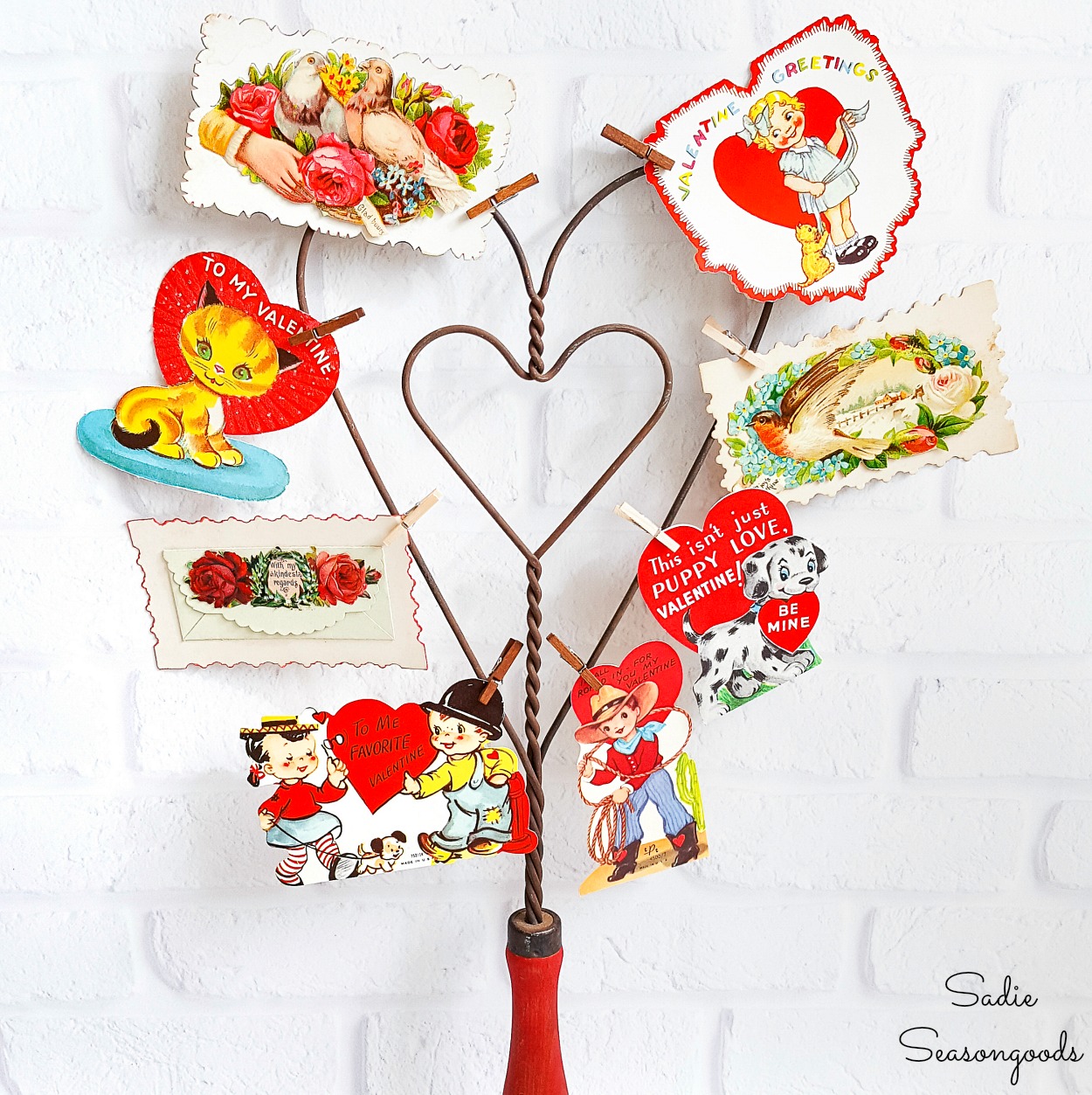 And for the easiest Valentine's Day wreath idea ever, this upcycled chocolate heart box is just perfect!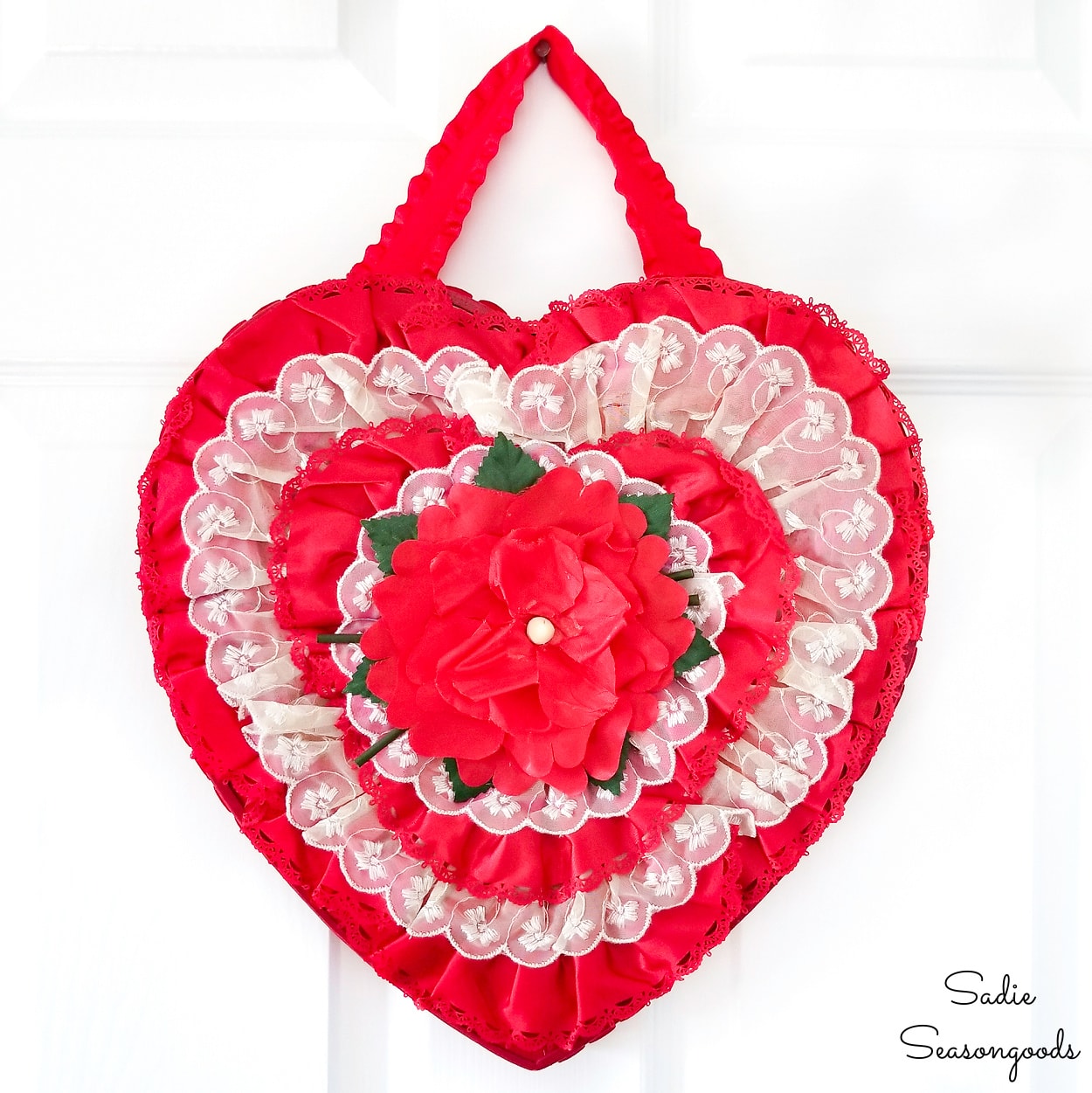 Craft on!
S
Want to be notified when I publish my next upcycling project tutorial?
Subscribe to Blog via Email
Join me on Social Media:



PIN ME!