It's hard to believe, but it was way back in March of this year when I spotted a vintage snow shoe on the wall of a local shop. Even though I was in full Spring mode at the time, I snapped it up with an idea for a rustic Christmas wreath in my mind.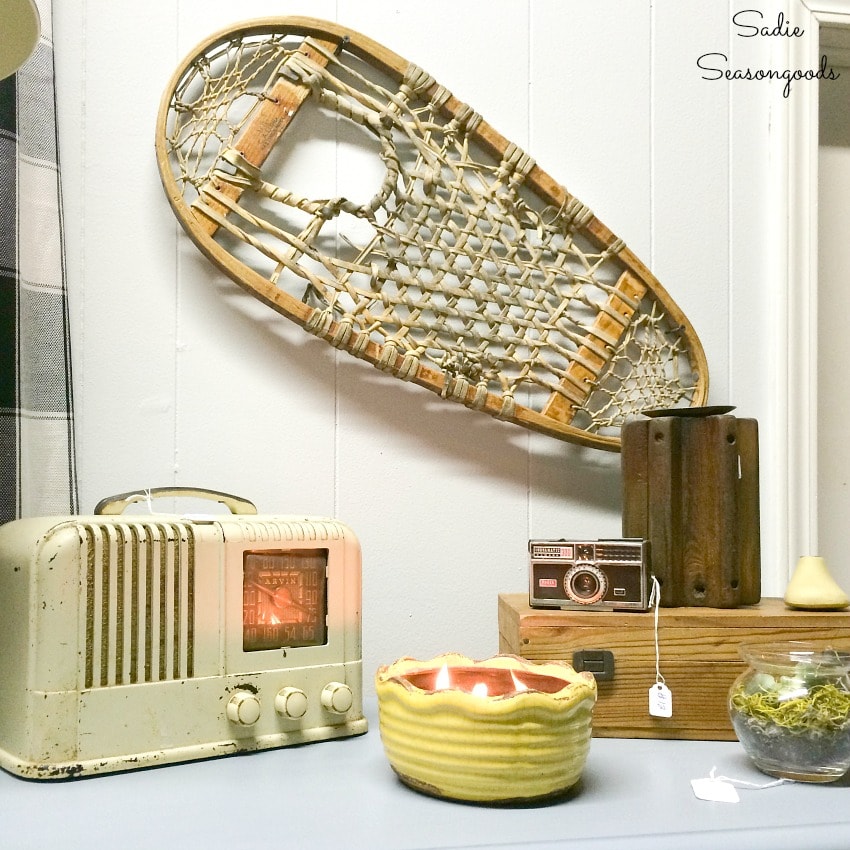 It had great rustic style, with its wooden frame and leather straps. It dated back to World War II.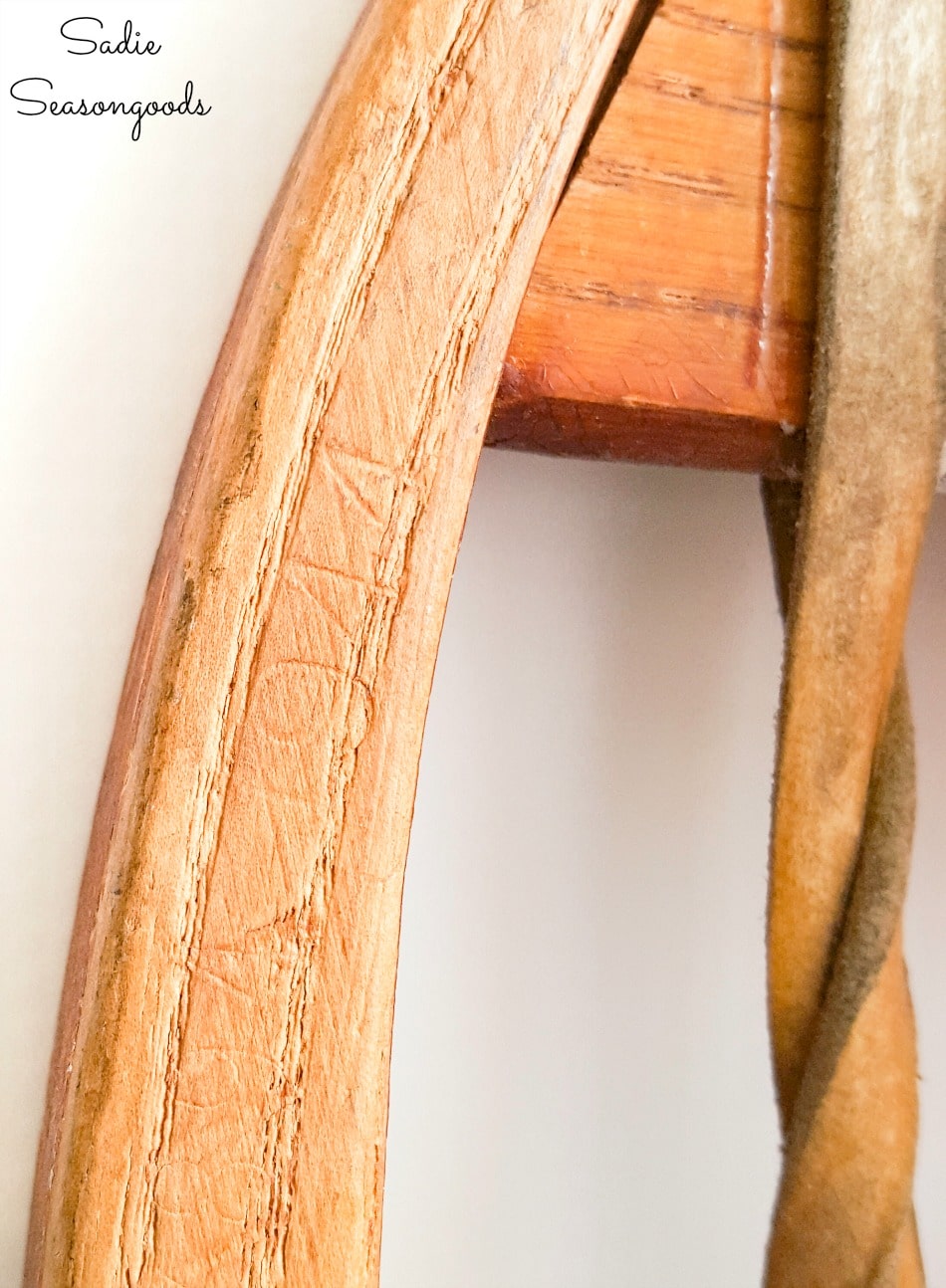 And yes, I *have* already made a rustic Christmas wreath for my blog before!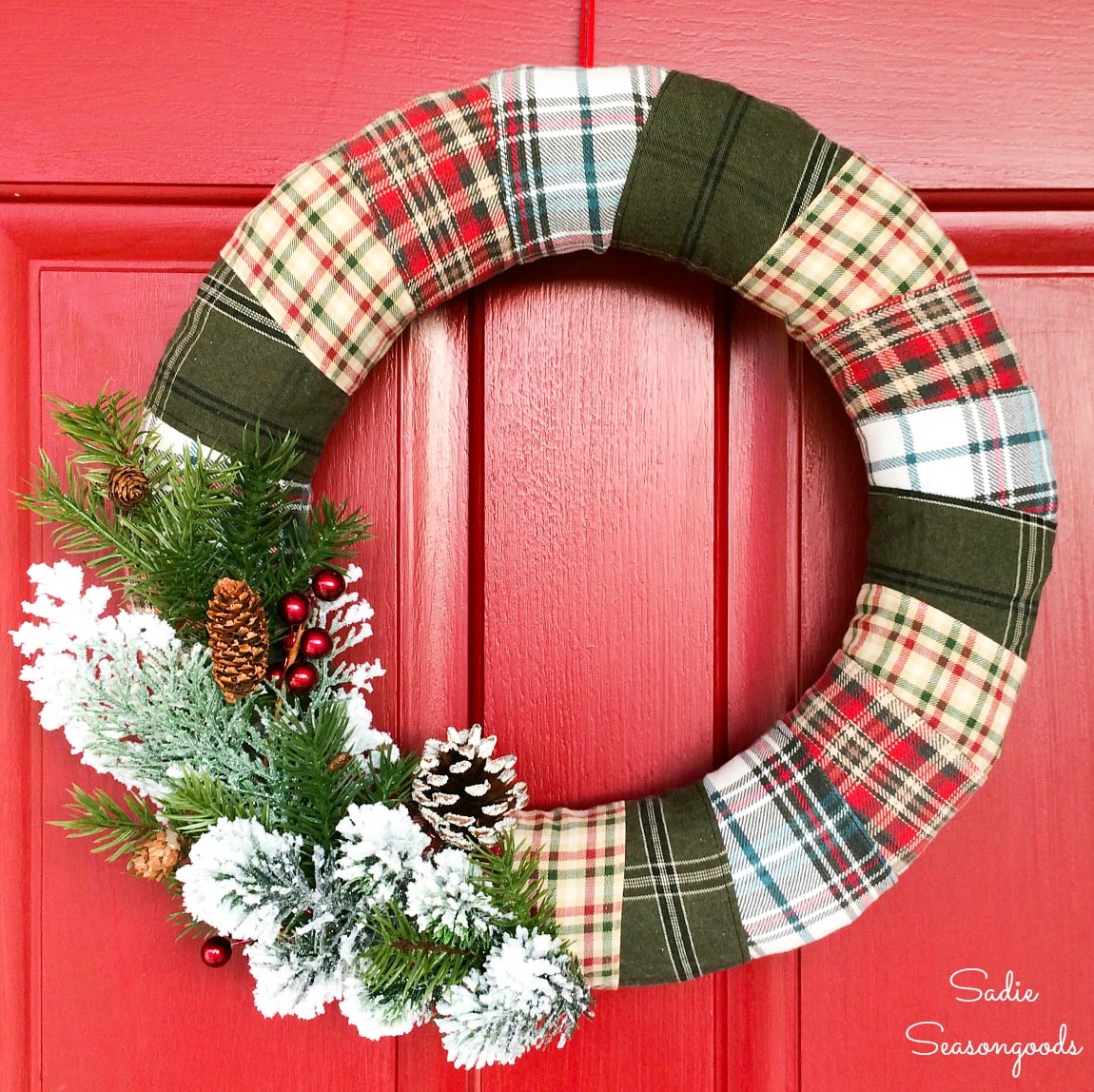 But a snow shoe version would be very different! And besides, since there was just one for sale, a project like a Christmas wreath seemed kind of perfect.
All I needed to do was embellish it a bit with ribbon and vintage Christmas cards!
This post contains affiliate links for your crafting convenience. As an Amazon Affiliate, I earn from qualifying purchases. All blue, bold, and underlined text is a clickable link, either to a product or to a related post.
Decorating a Vintage Snow Shoe for Christmas
First things first, I should make a caveat here. I plan on giving this vintage snow shoe to my in-laws for their mountain cabin. So, anything I do must be temporary so that it can all be undone after the holidays.
With that in mind, I gathered up some materials to bring my idea to life.
I nabbed three rolls of wired Christmas ribbon that had a rustic Christmas look to them.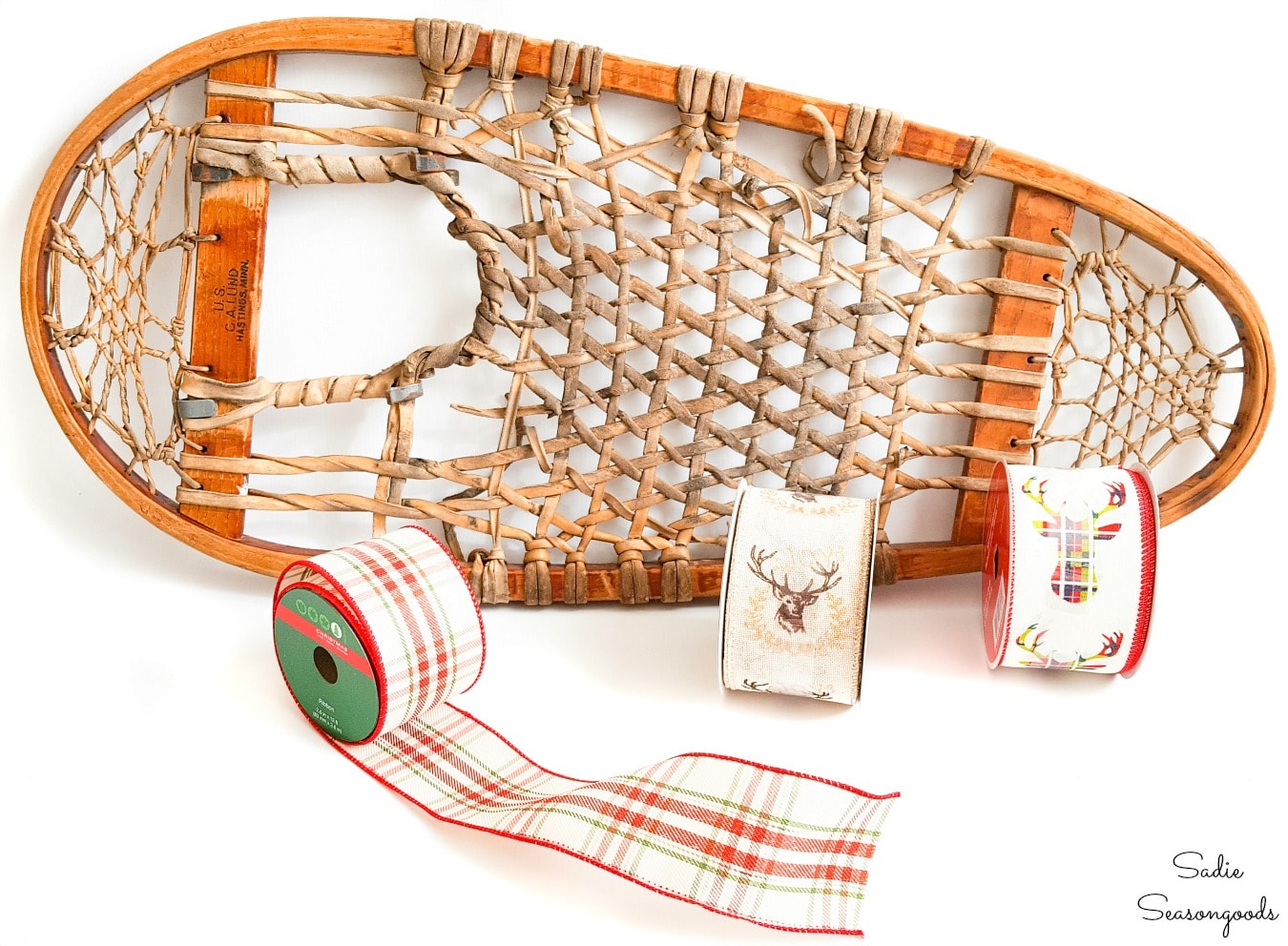 I ended up choosing the plaid ribbon for my wreath bow. But, before I sealed up the center part, I stuck a twist tie (am I the only one that saves those?) under the flaps and then hot-glued the ribbon together.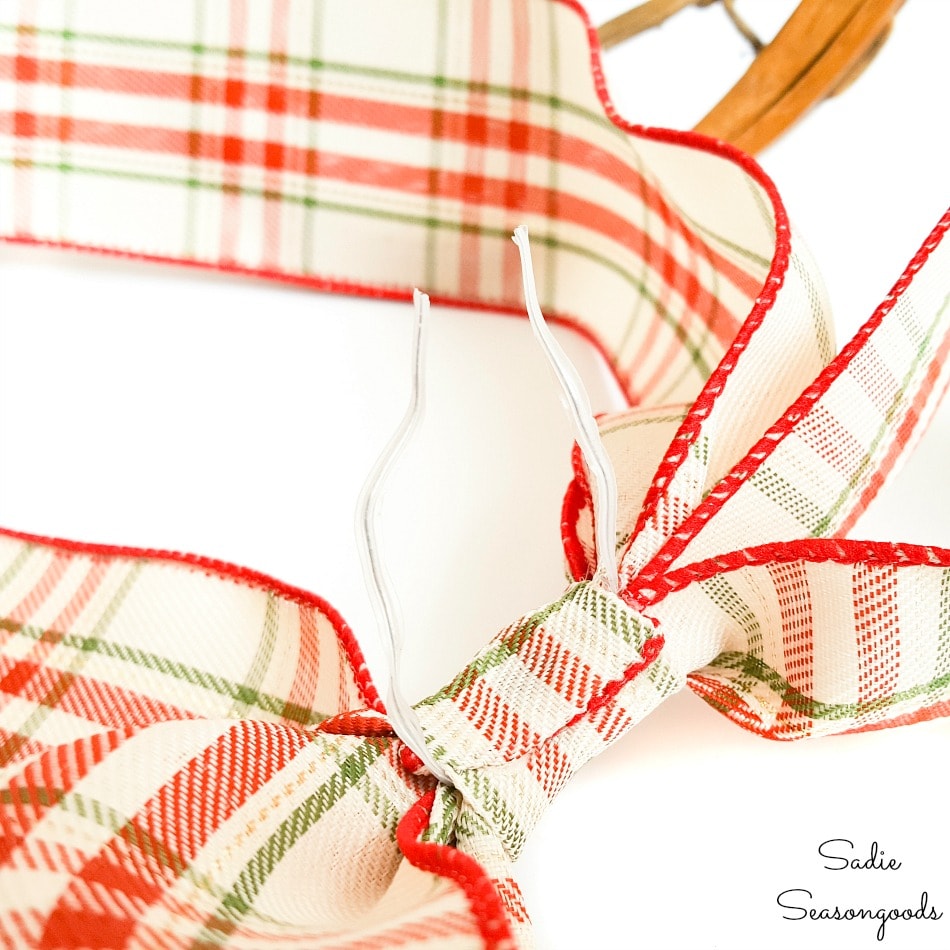 That way, I could stick the twist tie ends through the leather straps of the vintage snow shoe to temporarily keep the ribbon in place.
And it worked perfectly! Although a longer twist tie would have made things even easier.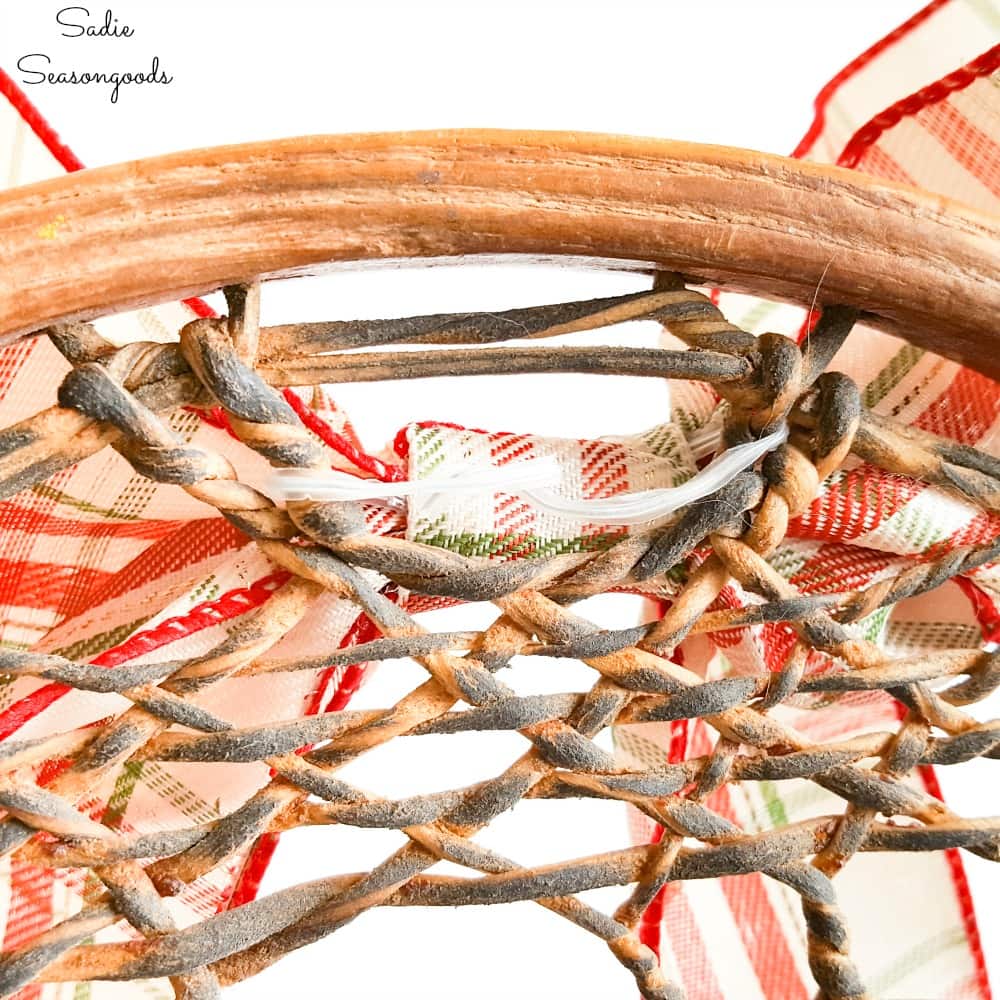 A Rustic Christmas Wreath with Vintage Christmas Cards
From the front of the vintage snow shoe, no one would ever know there was a twist tie holding the bow in place!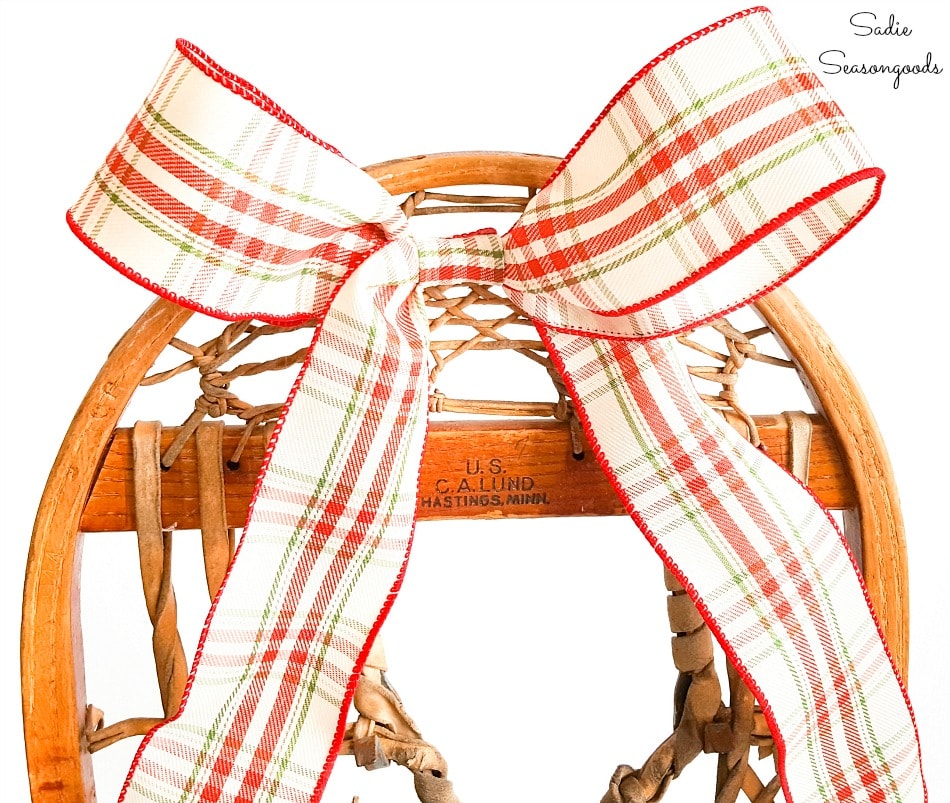 Next, I wanted to decorate the body of the vintage snow shoe. To do this, I gathered up some vintage Christmas cards from my stash.
Vintage Christmas postcards would also work, and modern cards, too. Really, any holiday paper ephemera would do…AND some miniature wooden clothespins.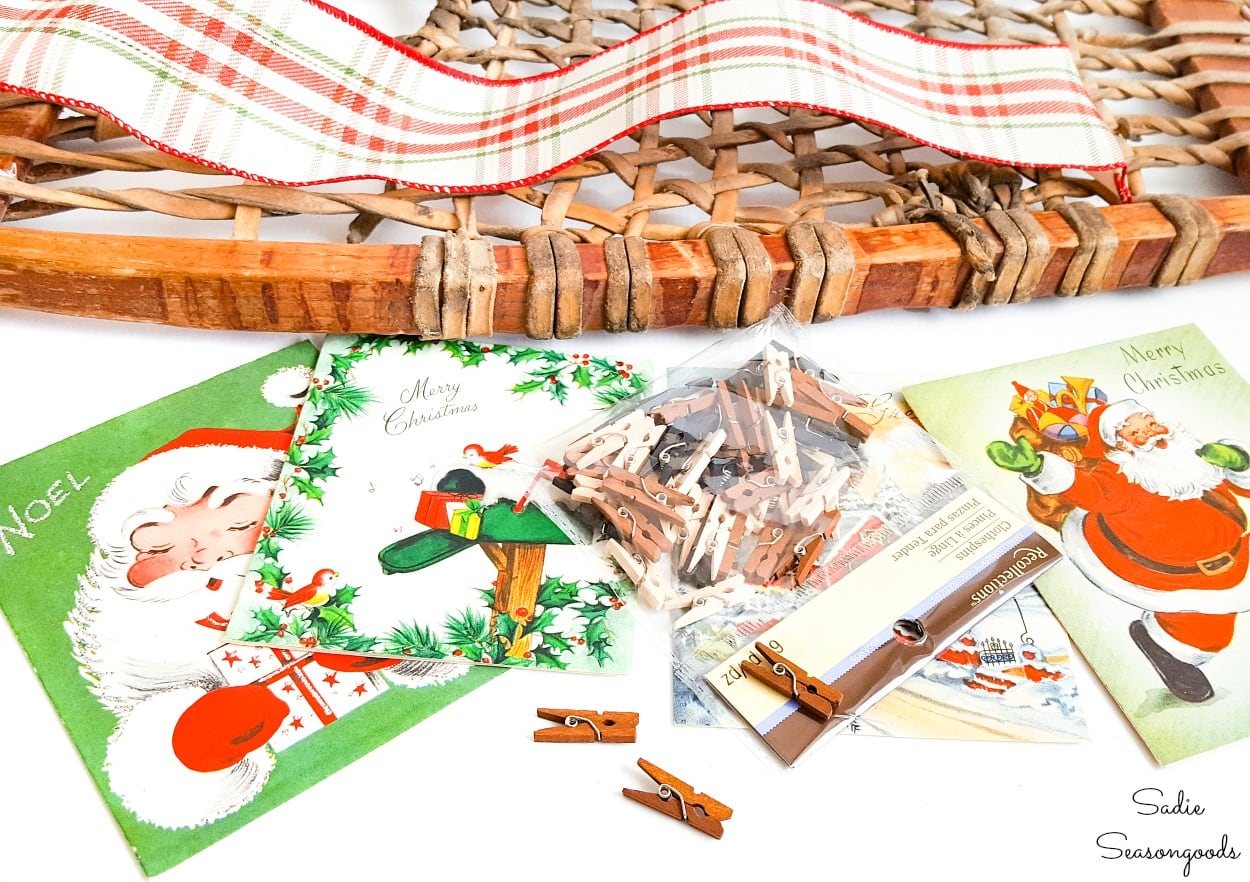 Then, I simply clipped the vintage Christmas cards to the leather straps of the vintage snow shoe.
I adjusted them as necessary to showcase the gorgeous old graphics.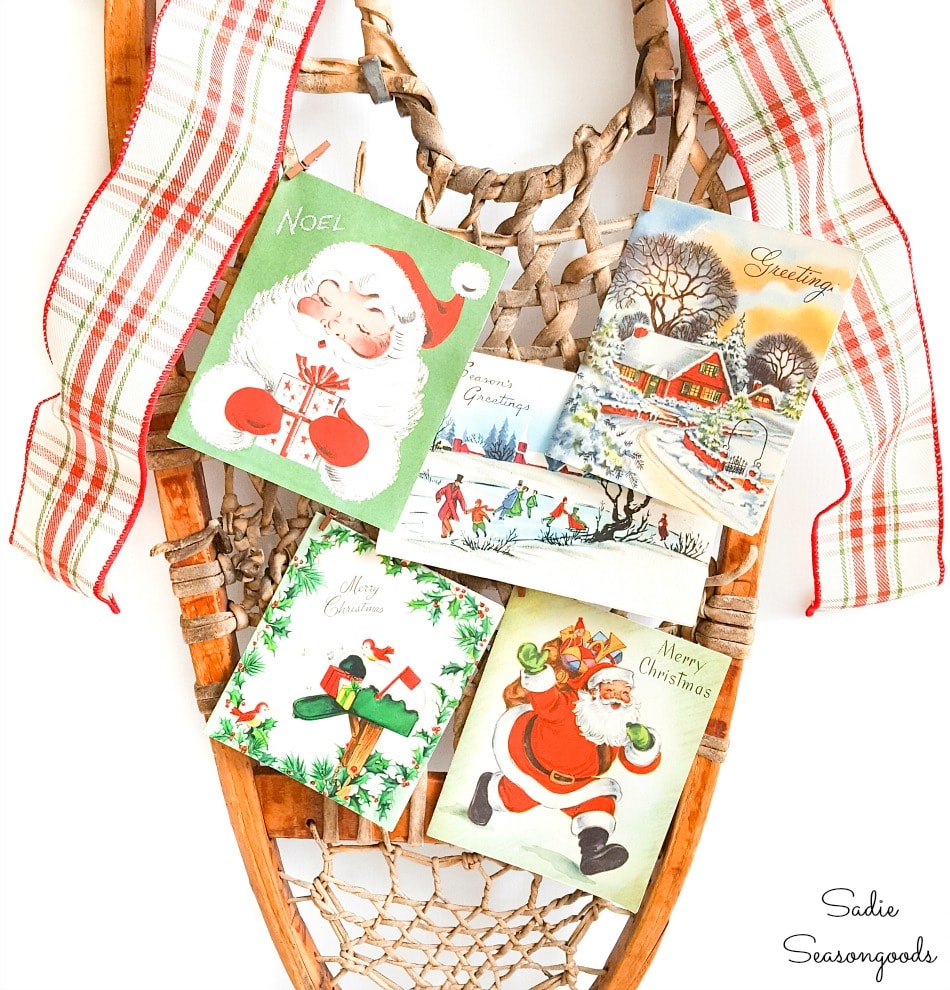 Again, nothing permanent! I can reuse the vintage Christmas cards and mini clothespins after the holidays. And the old snow shoe is left unaltered for my in-laws' cabin!
Vintage Snow Shoe as a Rustic Christmas Wreath
Now, my rustic Christmas wreath from a wooden snow shoe was ready to hang on the door. All I needed to do was add a loop of twine to the top to hang it.
But, it was still missing something, don't you think? It looked incomplete to me.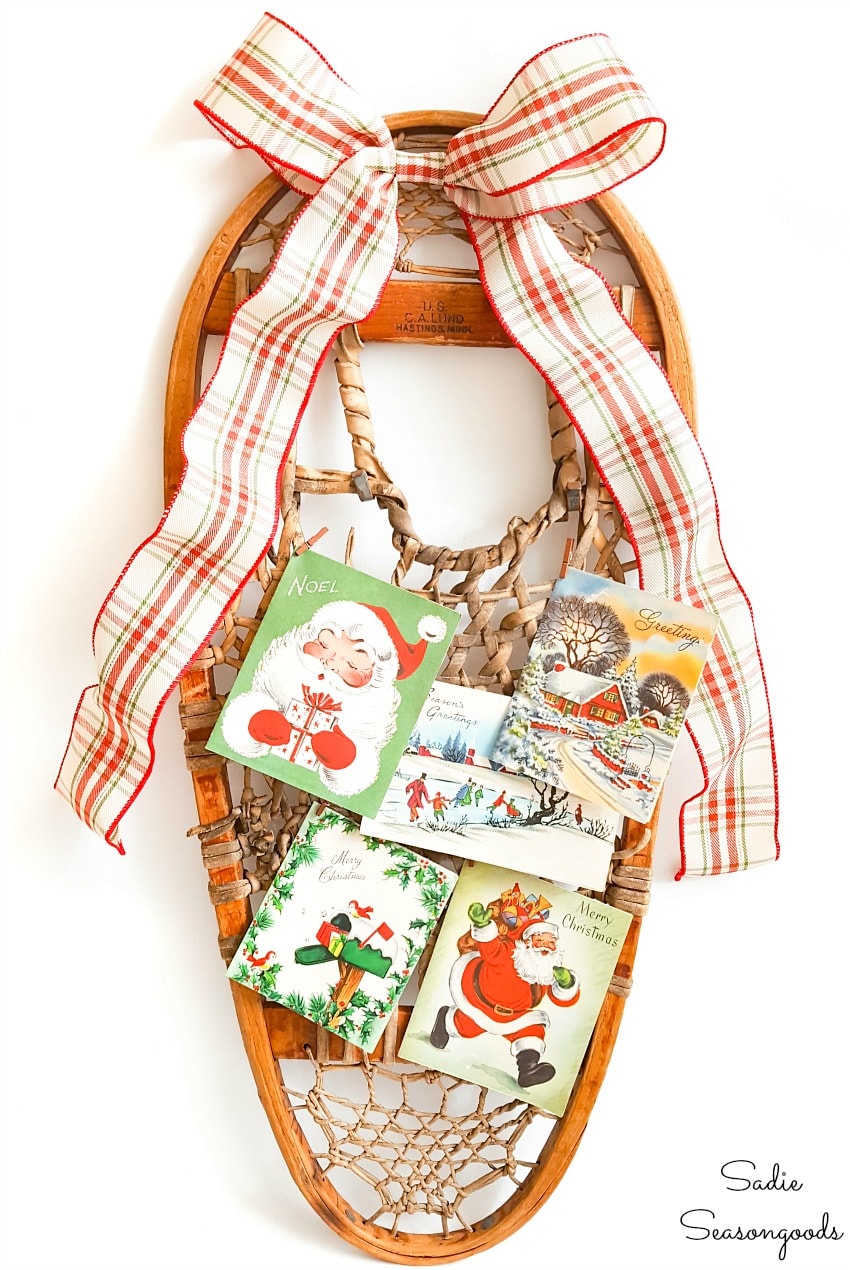 Greenery! It was missing greenery…just a touch. I used natural pieces from the yard (which I can replace every few days).
But if I had had faux greens that would have worked, that would have been perfection.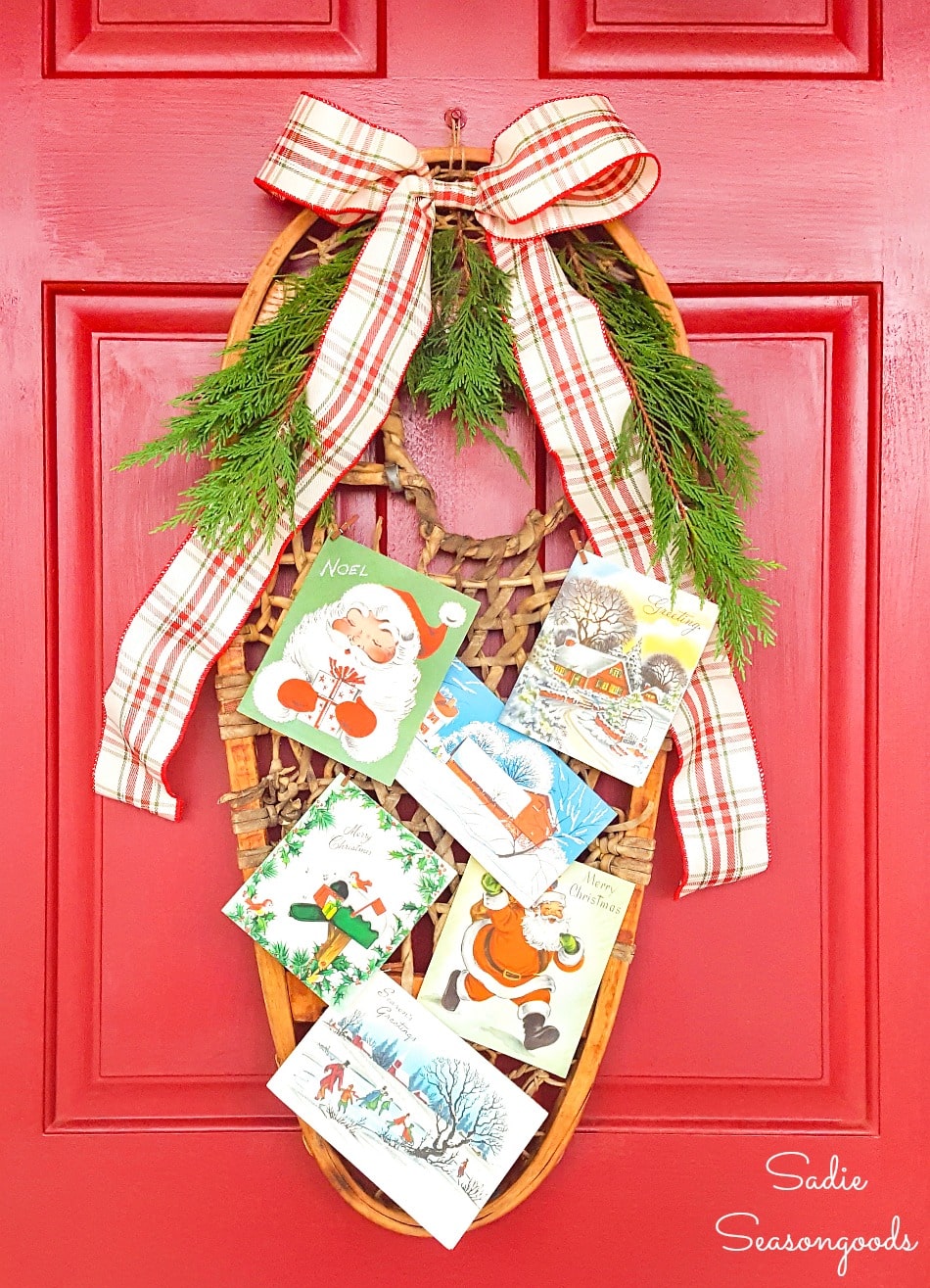 Doesn't it look lovely? I'm so glad it worked out. I no longer have my patchwork flannel wreath from last year, so this is a festive and unique replacement "wreath".
And see, as promised, here it is hanging on the wall in my in-laws' mountain cabin. (Photo is from the Zillow listing, because it's on the market!)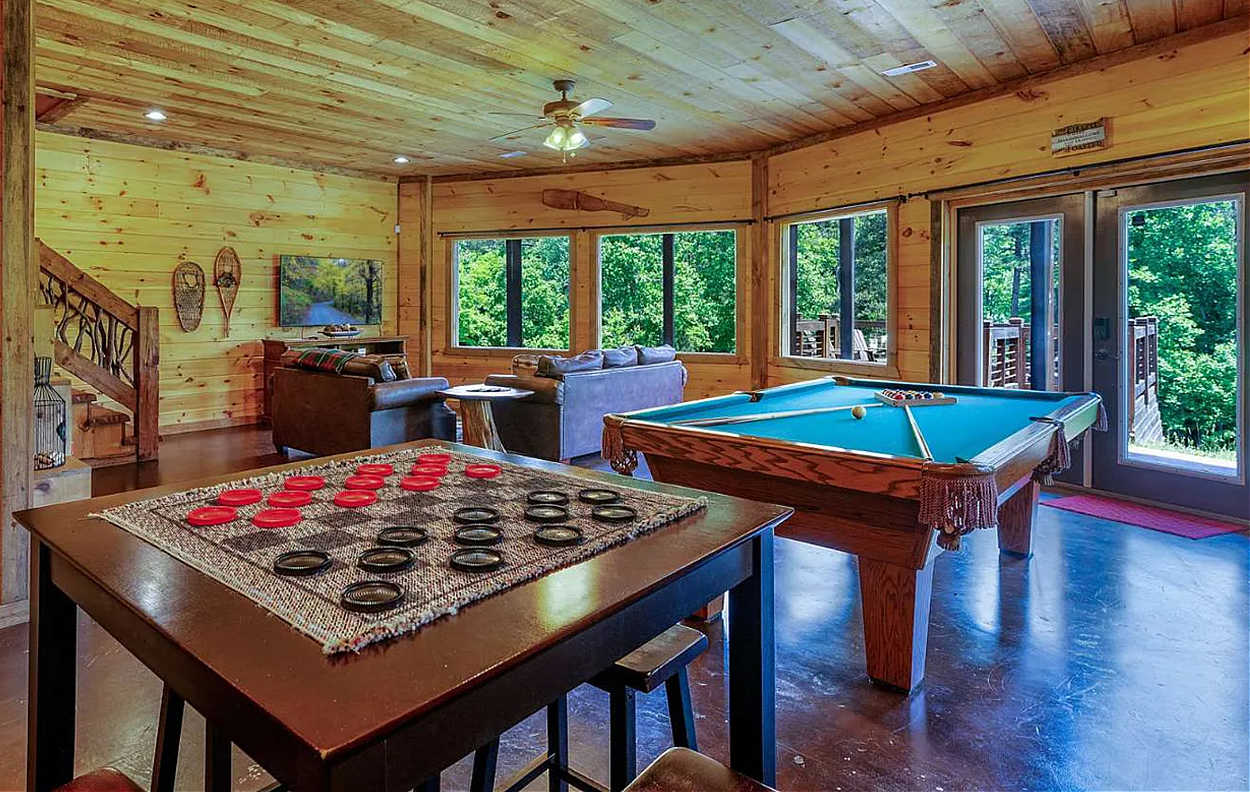 If you enjoyed this upcycling idea for rustic Christmas decor, then you may also enjoy this faux version of a Skotch Kooler for some plaid Christmas decor!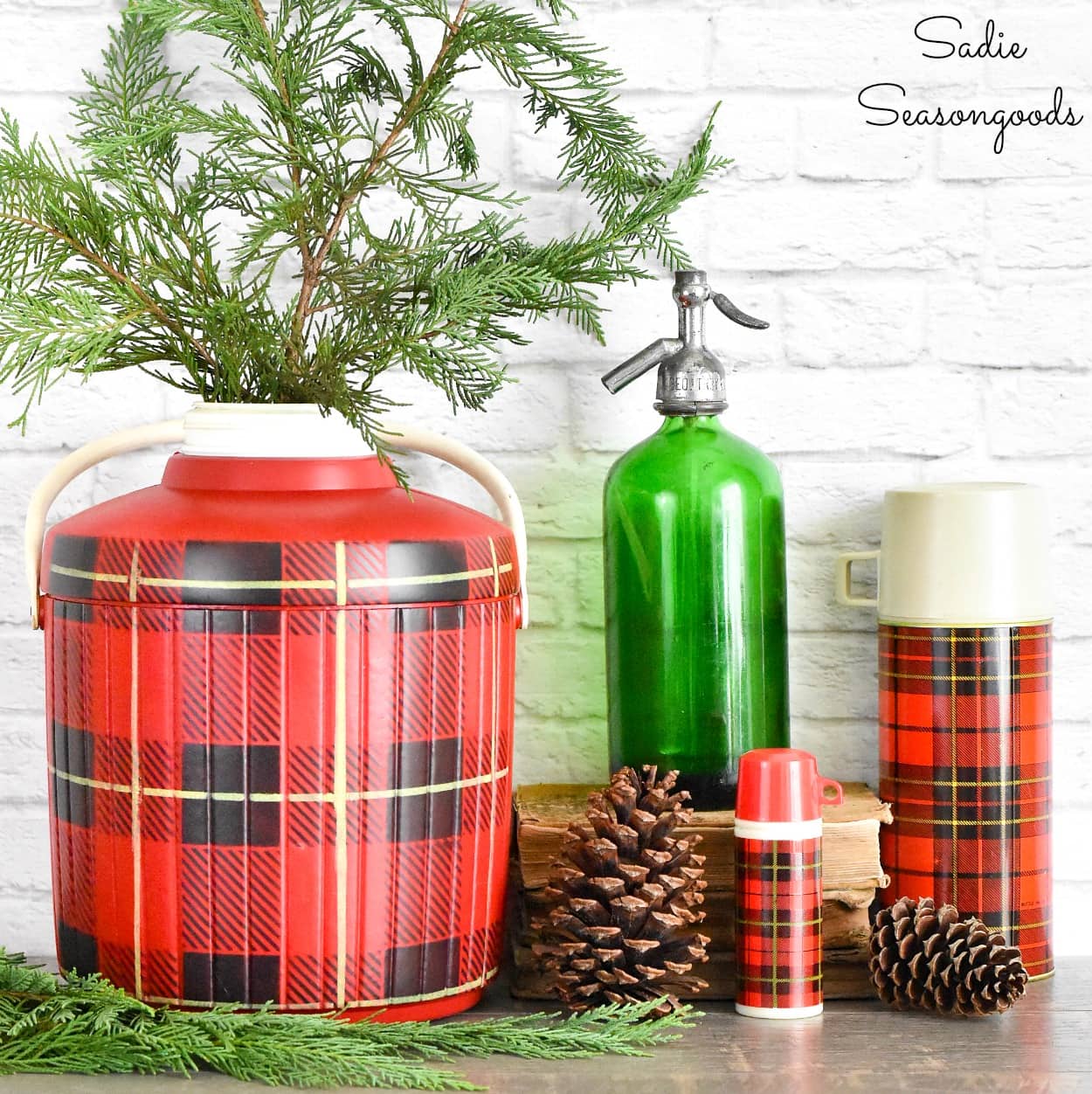 And for even more rustic Christmas ideas, don't forget that my book, "Crafting with Flannel", has an entire chapter dedicated to holiday projects! It's available for purchase online at Amazon, Target, Barnes & Noble, and Walmart.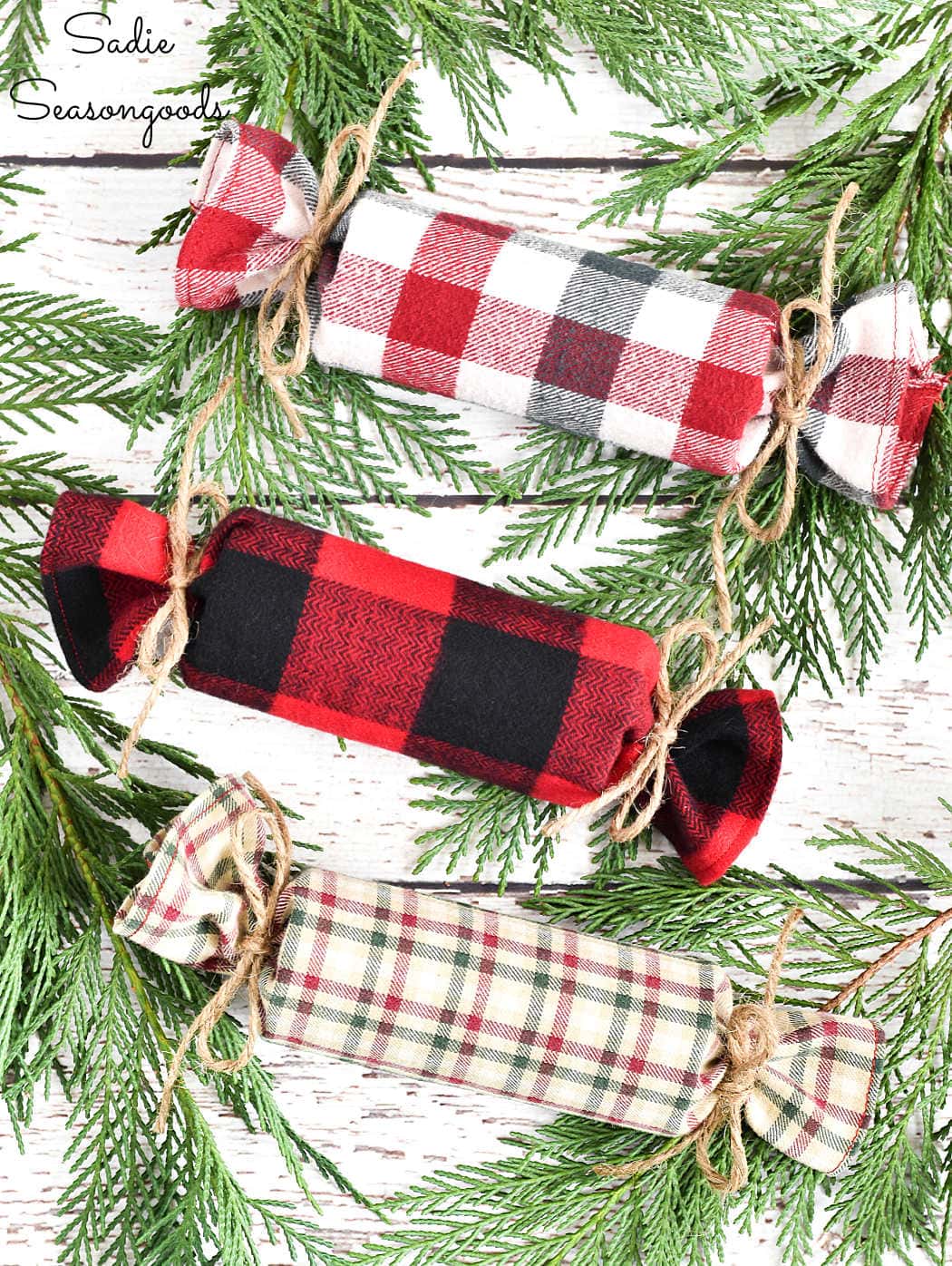 Craft on!
S
Join me on Social Media:

PIN ME!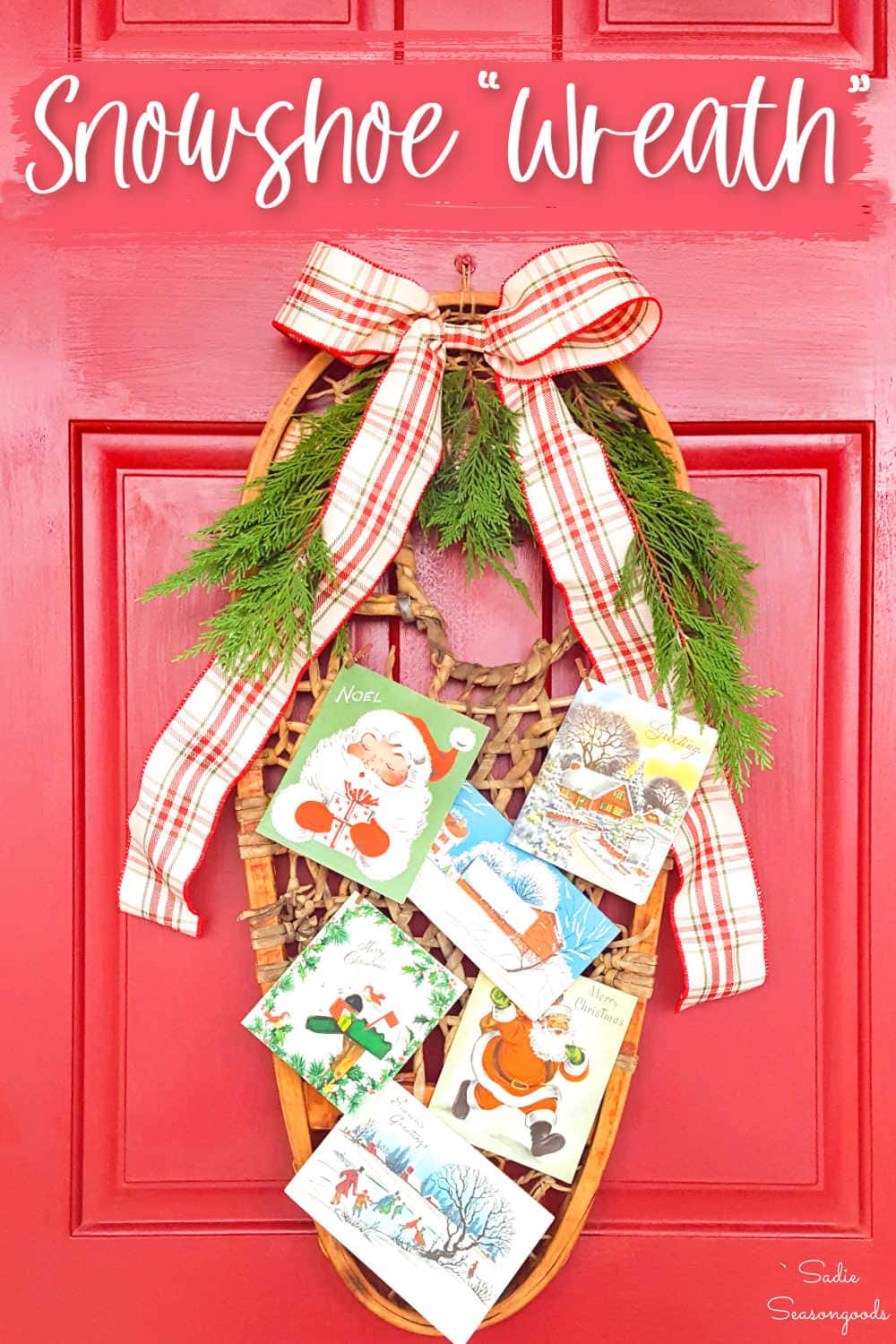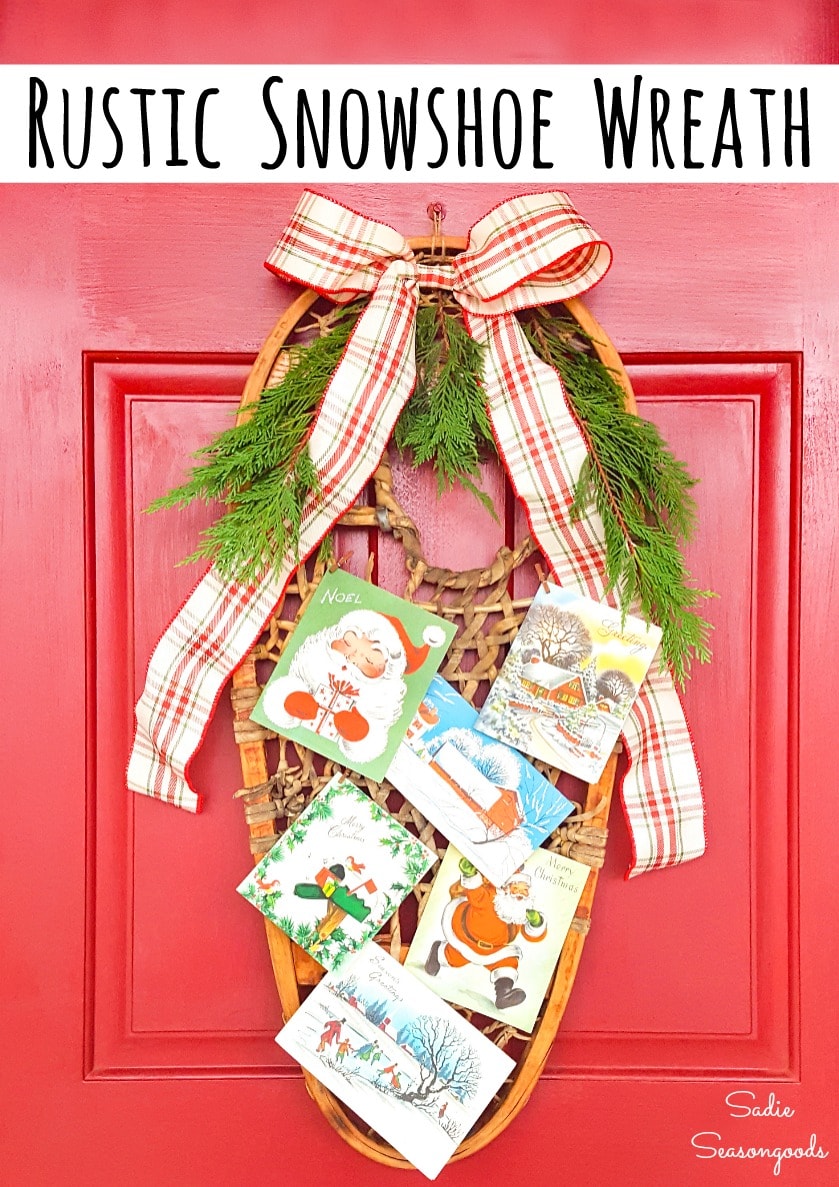 Sarah Ramberg is the owner of Sadie Seasongoods, a website that celebrates all things secondhand. From upcycling ideas and thrifted decor to vintage-centric travel itineraries, Sadie Seasongoods is a one-stop shop for anyone who loves thrifting and approachable repurposing ideas. Sarah is also the author of "Crafting with Flannel" and has been featured in numerous media outlets and magazines.