Several years ago, I repurposed a muffin tin as a seedling tray and it worked beautifully. And while I could have done that again this year, I wanted to try out an experiment. You see, my friends at T4T Thrift Shop had sent me a floppy disk holder (a while ago!) to upcycle. As I mulled over different project possibilities, I kept coming back to the idea of transforming it into a tabletop greenhouse.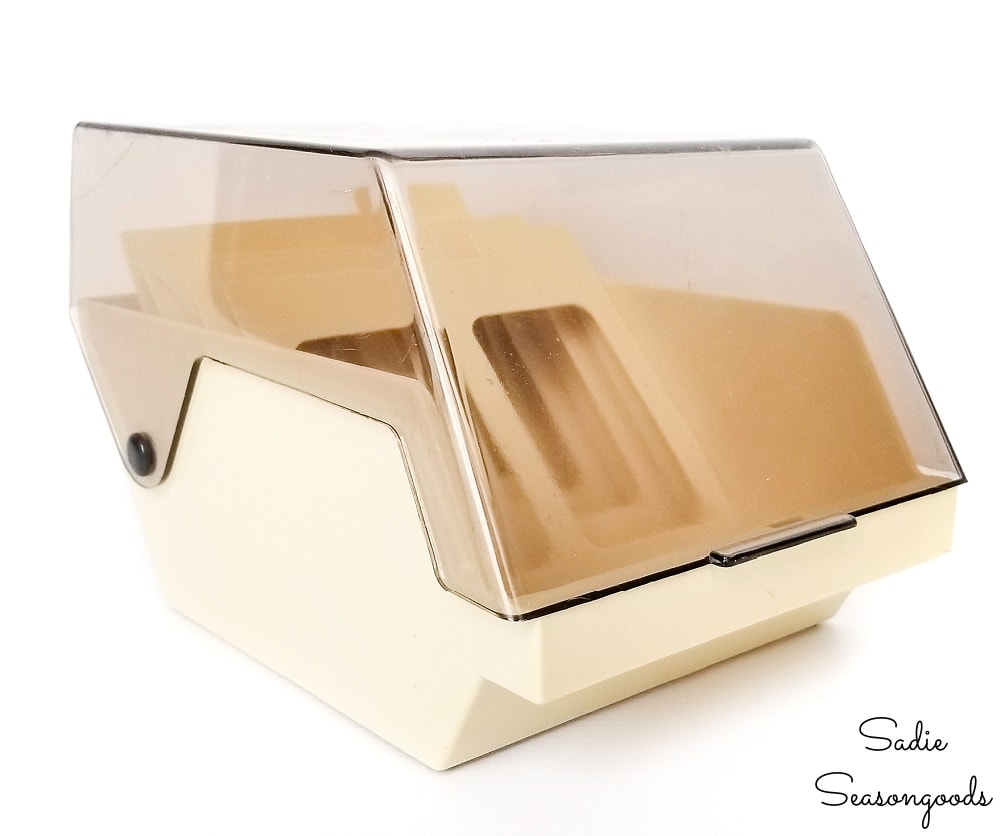 Remember those things? They were on everyone's computer desks back in the day. And now they often end up on thrift store shelves.
And like I also mentioned above, here is the seedling tray I made from muffin pan.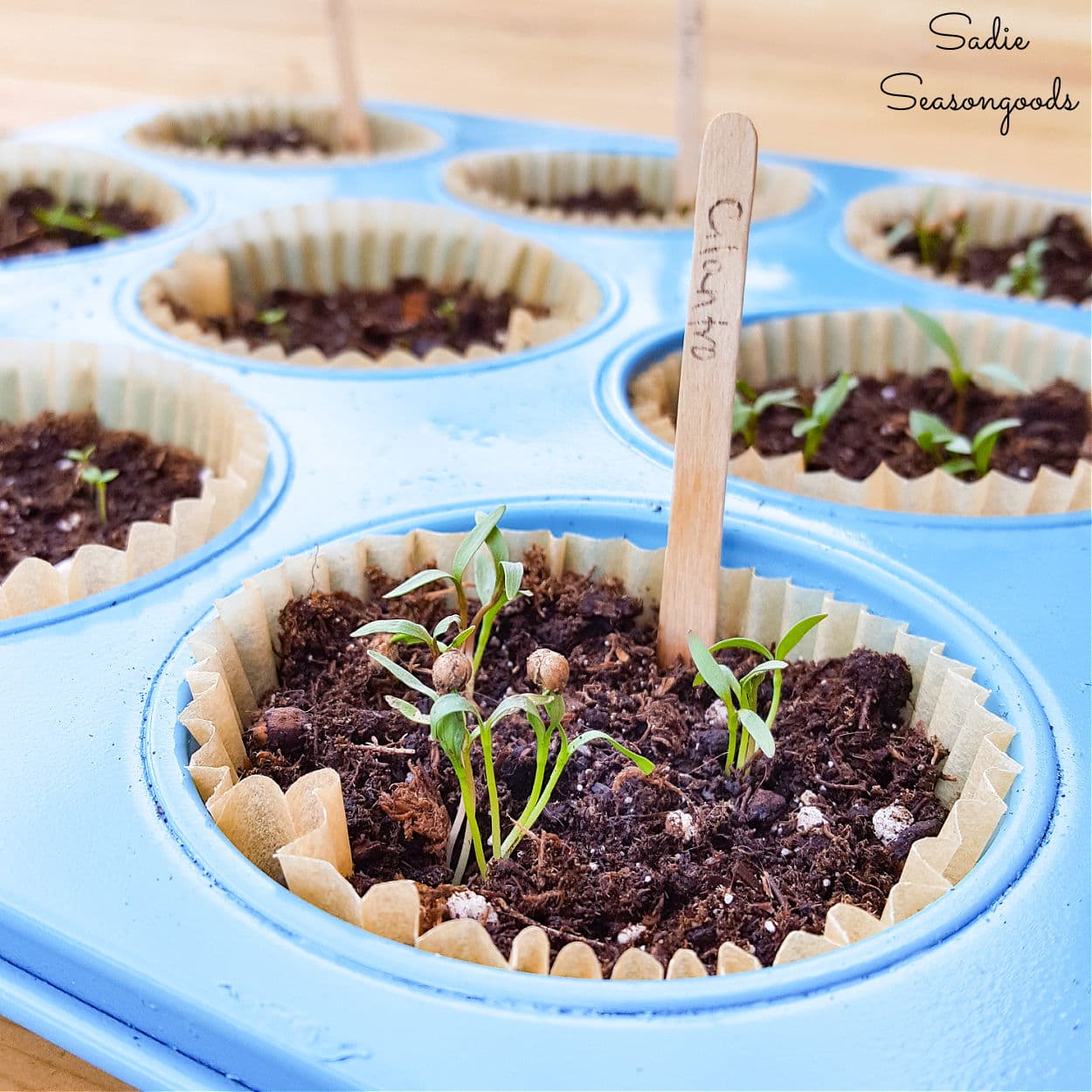 But back to the floppy disk file. To be perfectly honest, I wasn't sure if it would WORK as a greenhouse. Sure, the top was clear/see-through, but it wasn't colorless (an important distinction for a science nerd like me).
And when I think of real greenhouses, the tops/sides are clear AND colorless.
But, I decided it was worth experimenting with. I already had the seeds and jiffy pots, and couldn't wait to get started.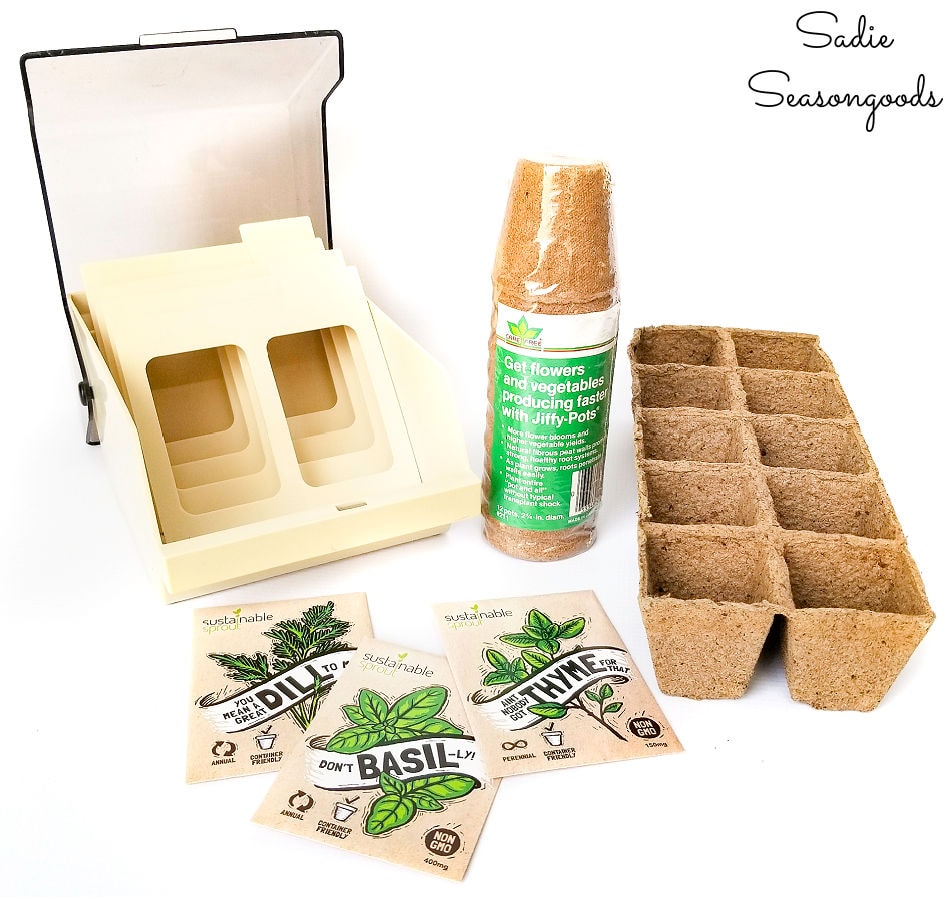 This post contains affiliate links for your crafting convenience. As an Amazon Affiliate, I earn from qualifying purchases. All blue, bold, and underlined text is a clickable link, either to a product or to a related post.
Decorating a Floppy Disk Holder
First, I dismantled the floppy disk file box by unsnapping the lid and removing the plastic dividers. Then, I wiped down the base and top.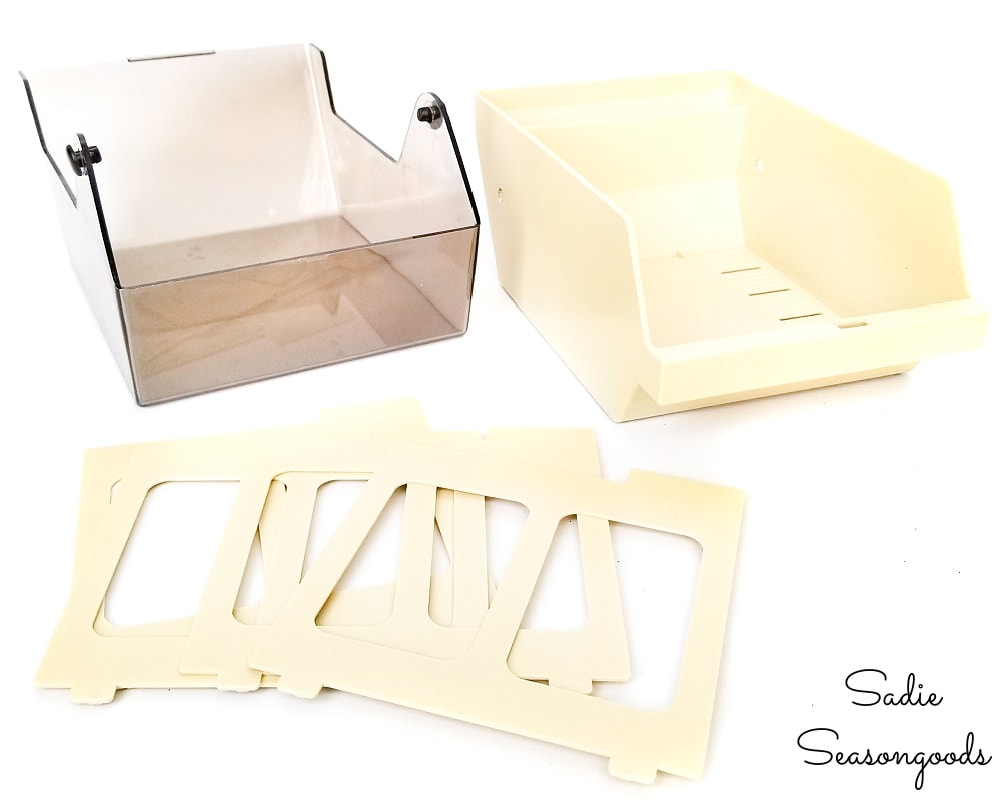 Of course, giving it a makeover is completely optional. But the discolored base of the floppy disk holder wasn't overly appealing, so…
I spray painted it white! Because why not?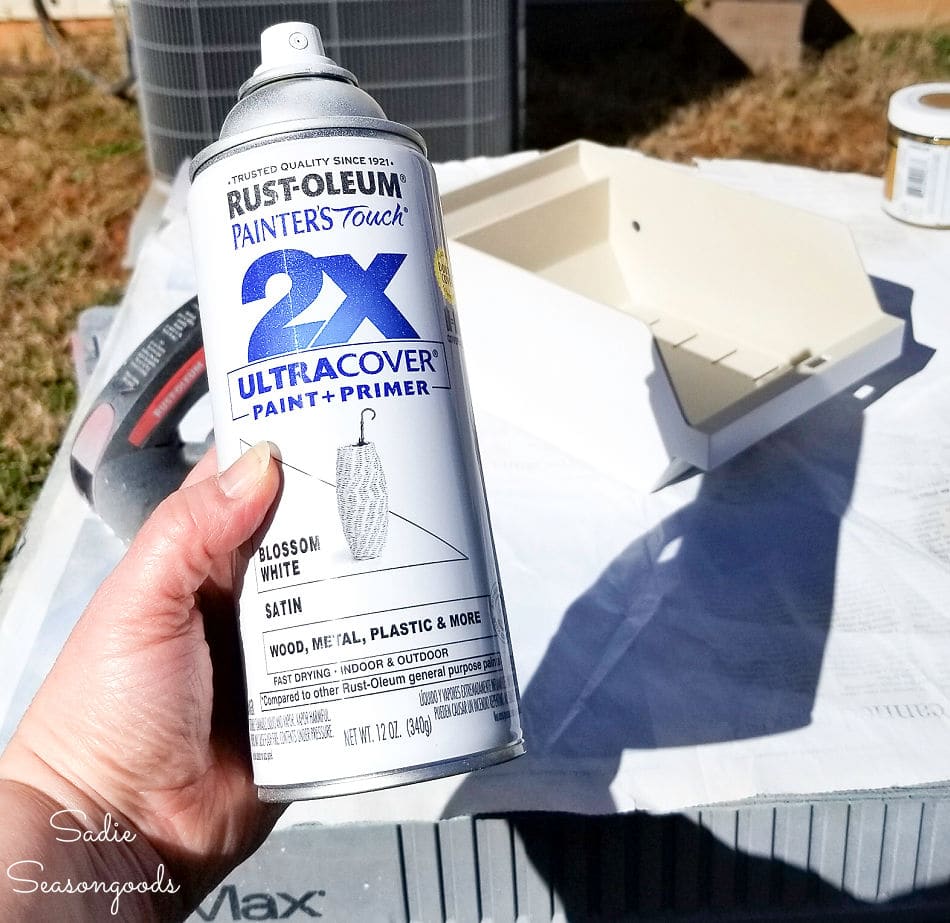 Next, I decided to stencil on some wildflowers. But the only stencils I could find were adhesive, and I didn't want them to ruin the fresh coat of paint!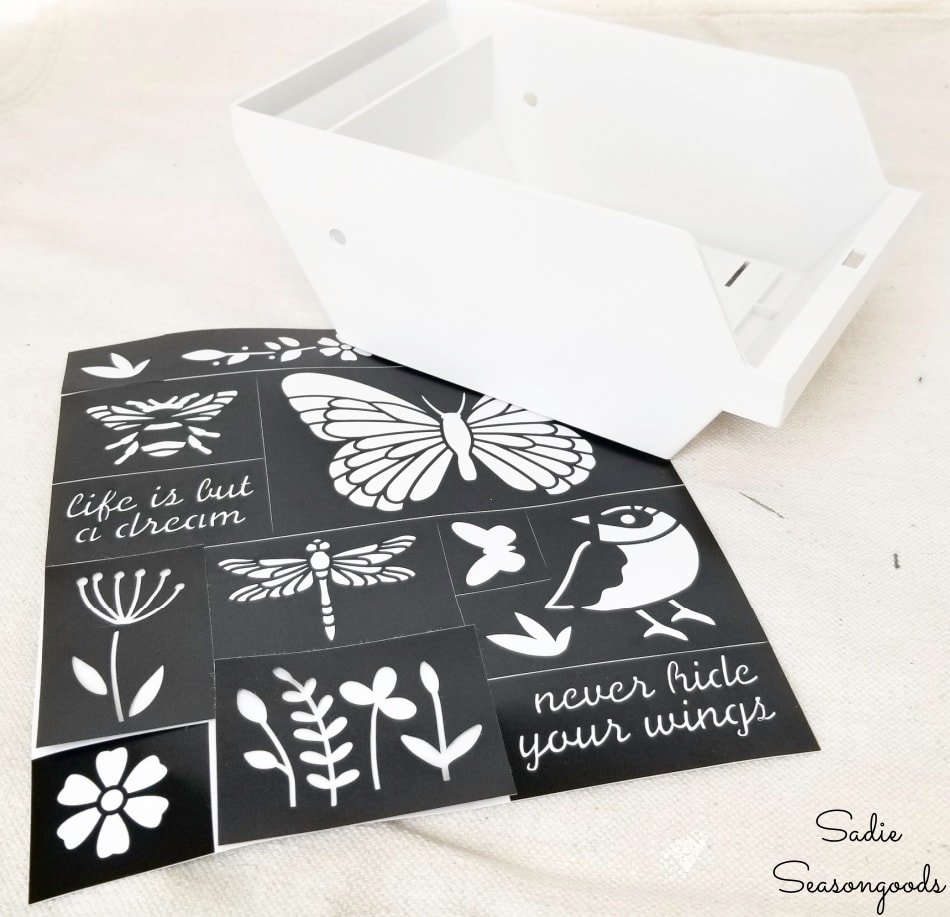 So, I peeled off the stencils I planned to use and stuck them (and un-stuck them) on a terrycloth towel. I did that several times until they were fuzzy and barely tacky at all.
Then, I simply placed the non-sticky stencils on the floppy disk holder and stippled some craft paint on top.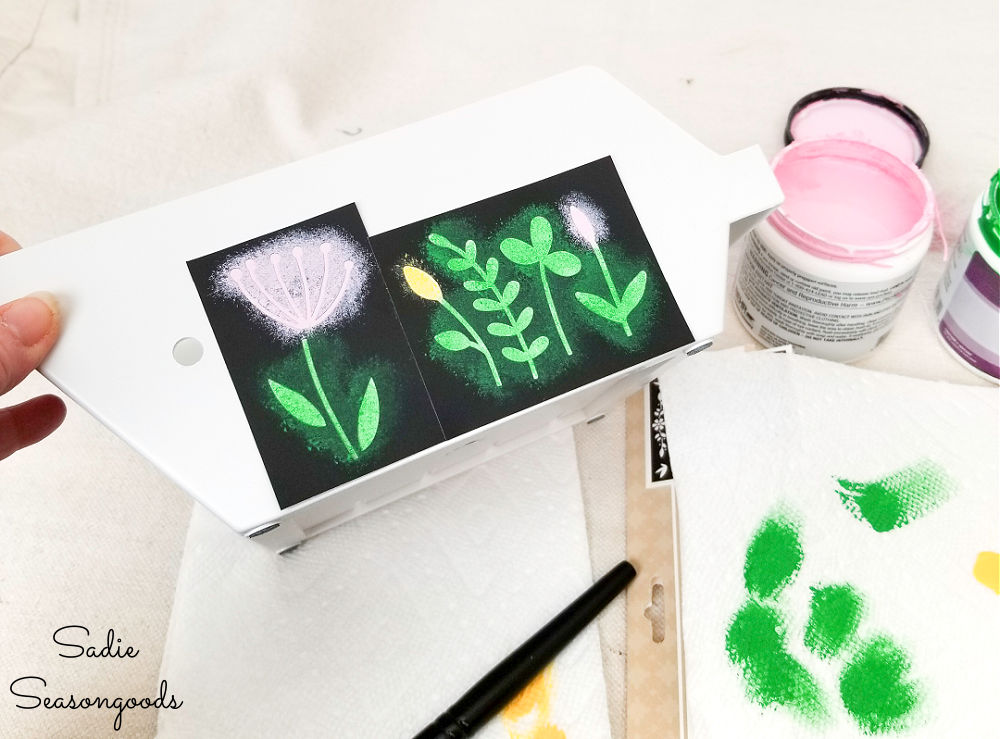 After I finished the stenciling, I carefully removed the stencils and used them on the other side of the box. Then, I sprayed a matte top coat on the entire thing before snapping the lid back on.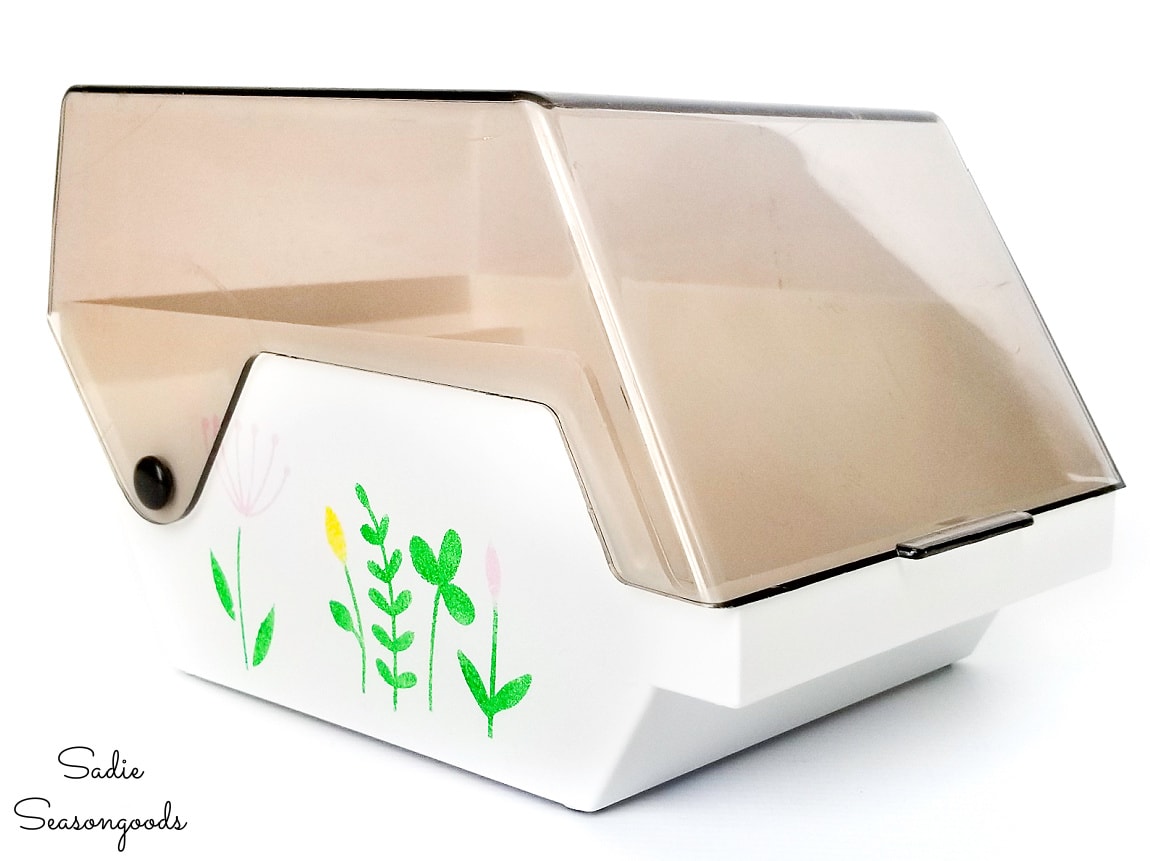 Isn't that better? And now it was ready to become a tabletop greenhouse!
Seedlings for a Tabletop Greenhouse
With the actual miniature greenhouse all set, I turned my attention to the future seedlings! I gathered up some top soil, seeds, jiffy pots, and a spoon to act as a small trowel.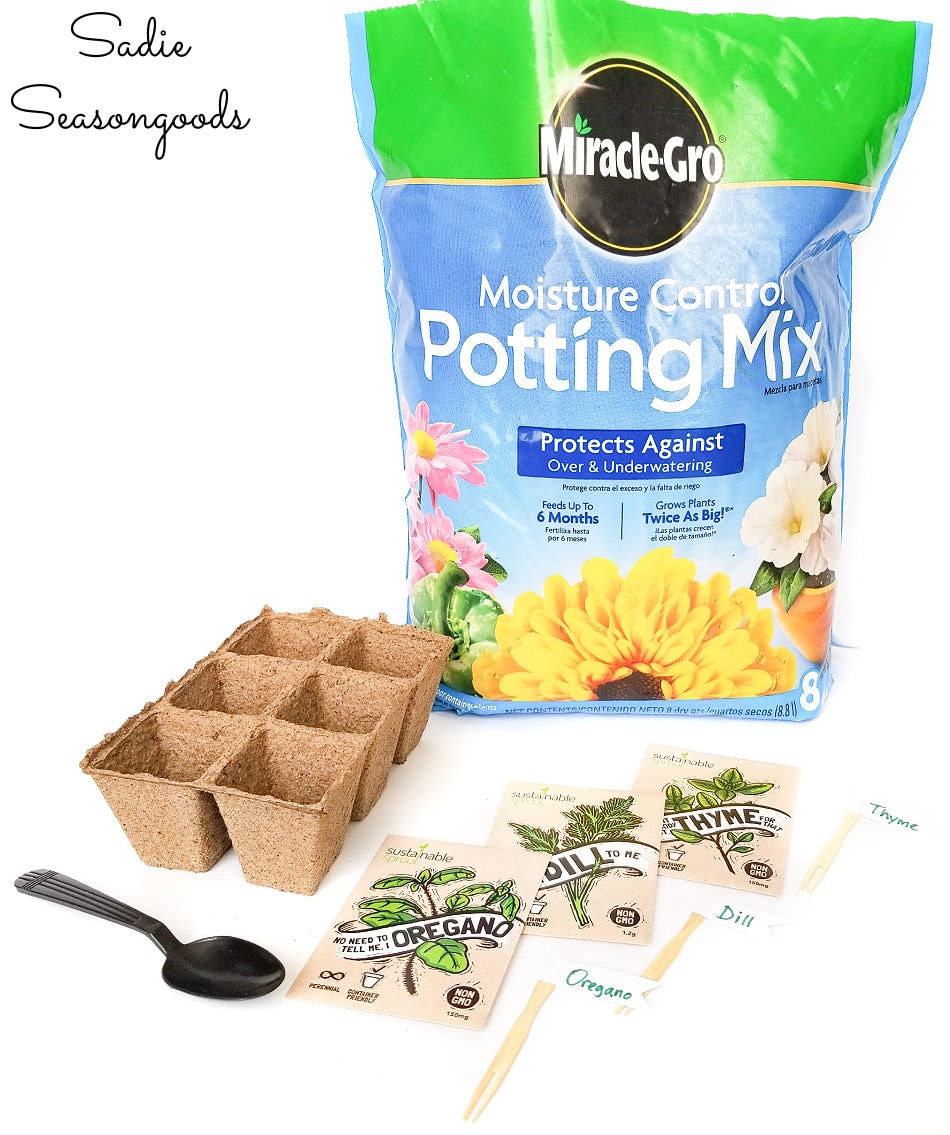 Important to not, I'd also checked and doublechecked the size of the floppy disk holder and cut down the jiffy pot length to fit inside ahead of time.
And just like that, I had a small tray of future herb plants ready to place in my tabletop greenhouse!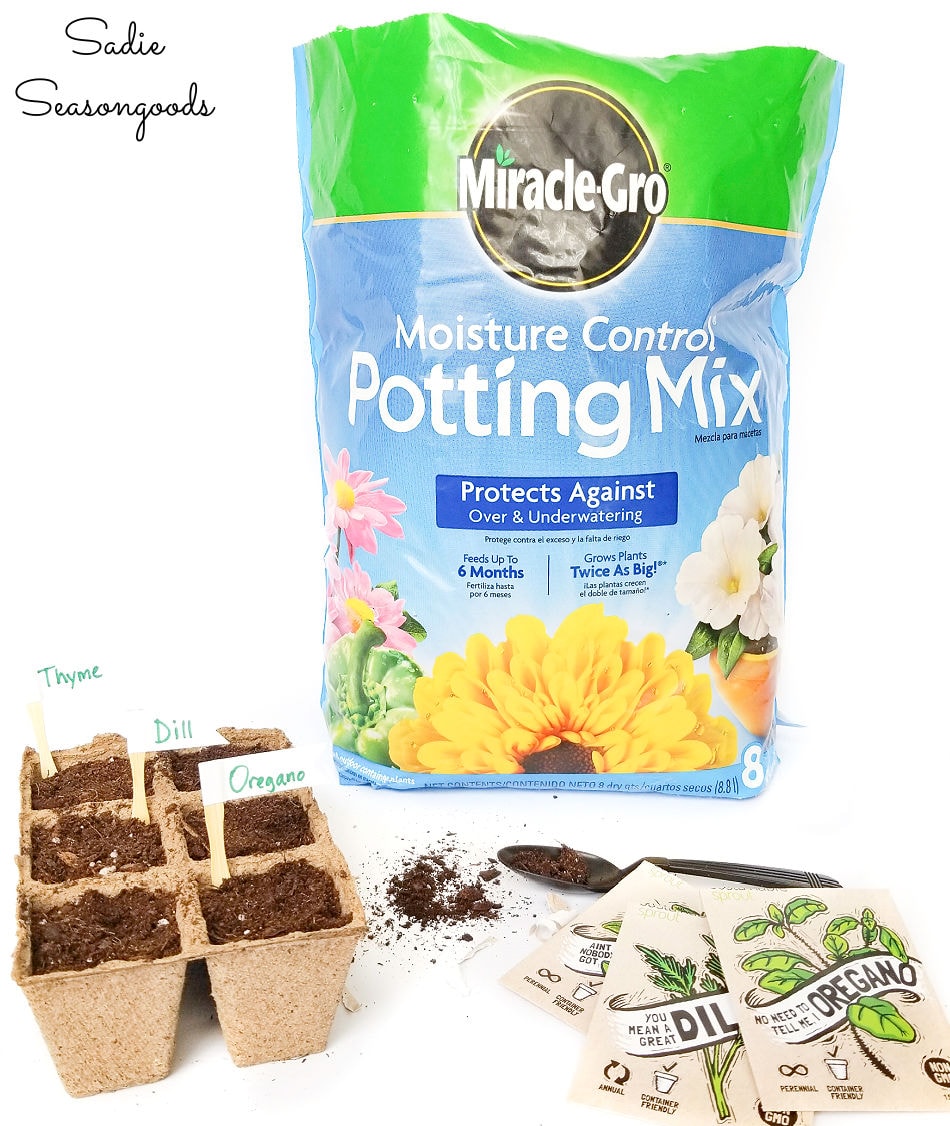 Now, I just needed to water them, give them sun, and hope that my experiment with this small indoor greenhouse really worked.
I'm not exactly known for my green thumb, so I was honestly prepared for this to fail, but…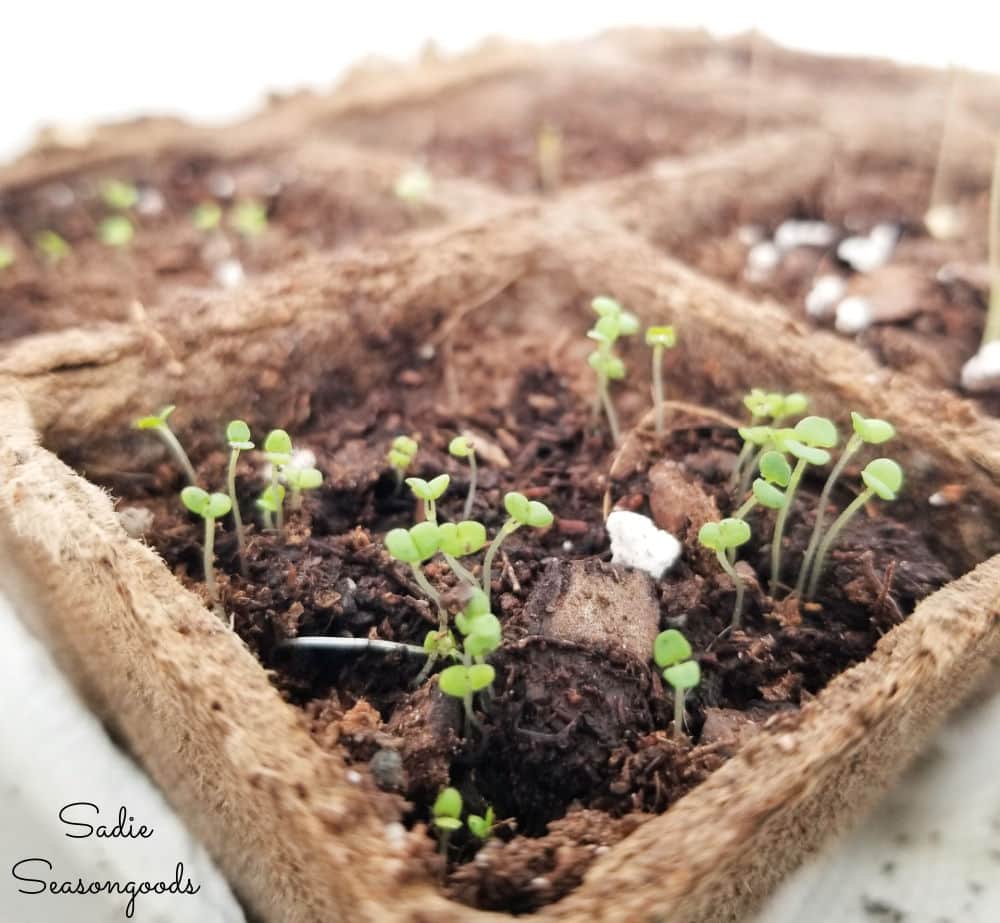 It worked- like, REALLY, REALLY WELL. Heat and moisture would build up inside, encouraging growth. And I would periodically vent it by opening the lid, as needed.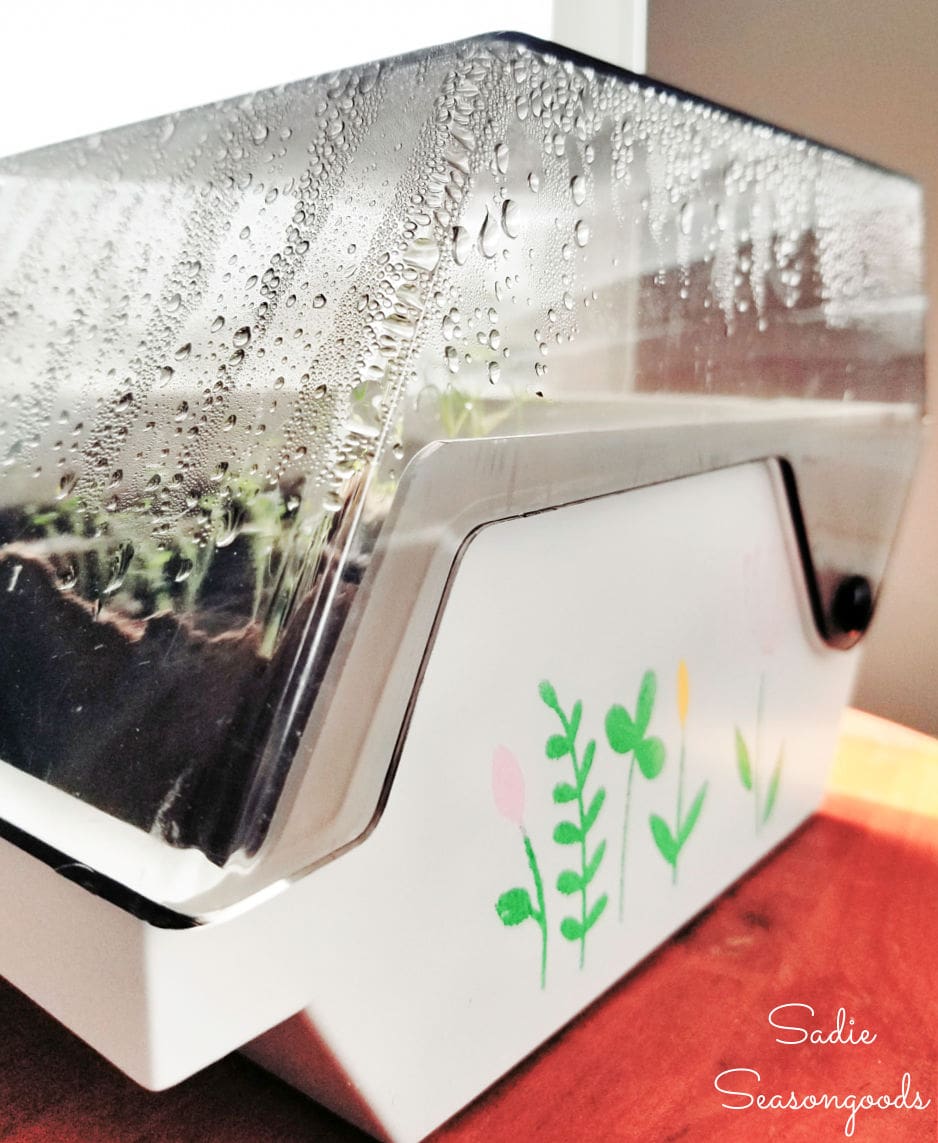 I. Was. THRILLED!
Tabletop Greenhouse from a Floppy Disk Holder
Honestly, I couldn't be happier with how it worked out. I let the greenhouse do its thing, which let me be a hands-off plant mama.
Which is really my speed when it comes to plant care, I'm afraid!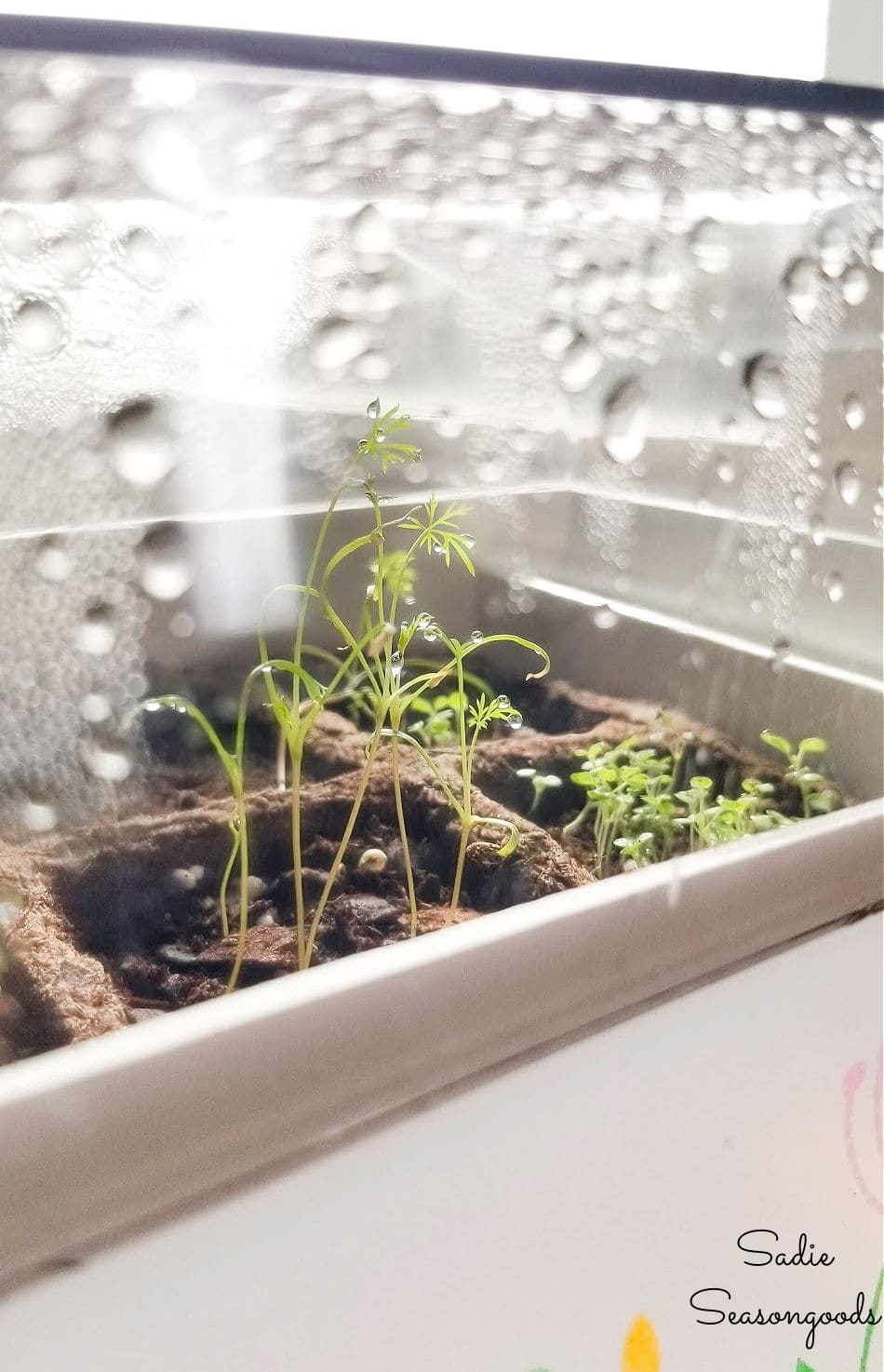 Upcycling a floppy disk holder into a tabletop greenhouse was also beneficial in other ways. Namely, it protected my seedlings from our curious kitty, Cottonball.
He spent many sunny afternoons sleeping next to my little greenhouse. But he wasn't able to disturb the tender sprouts, which was a relief for me!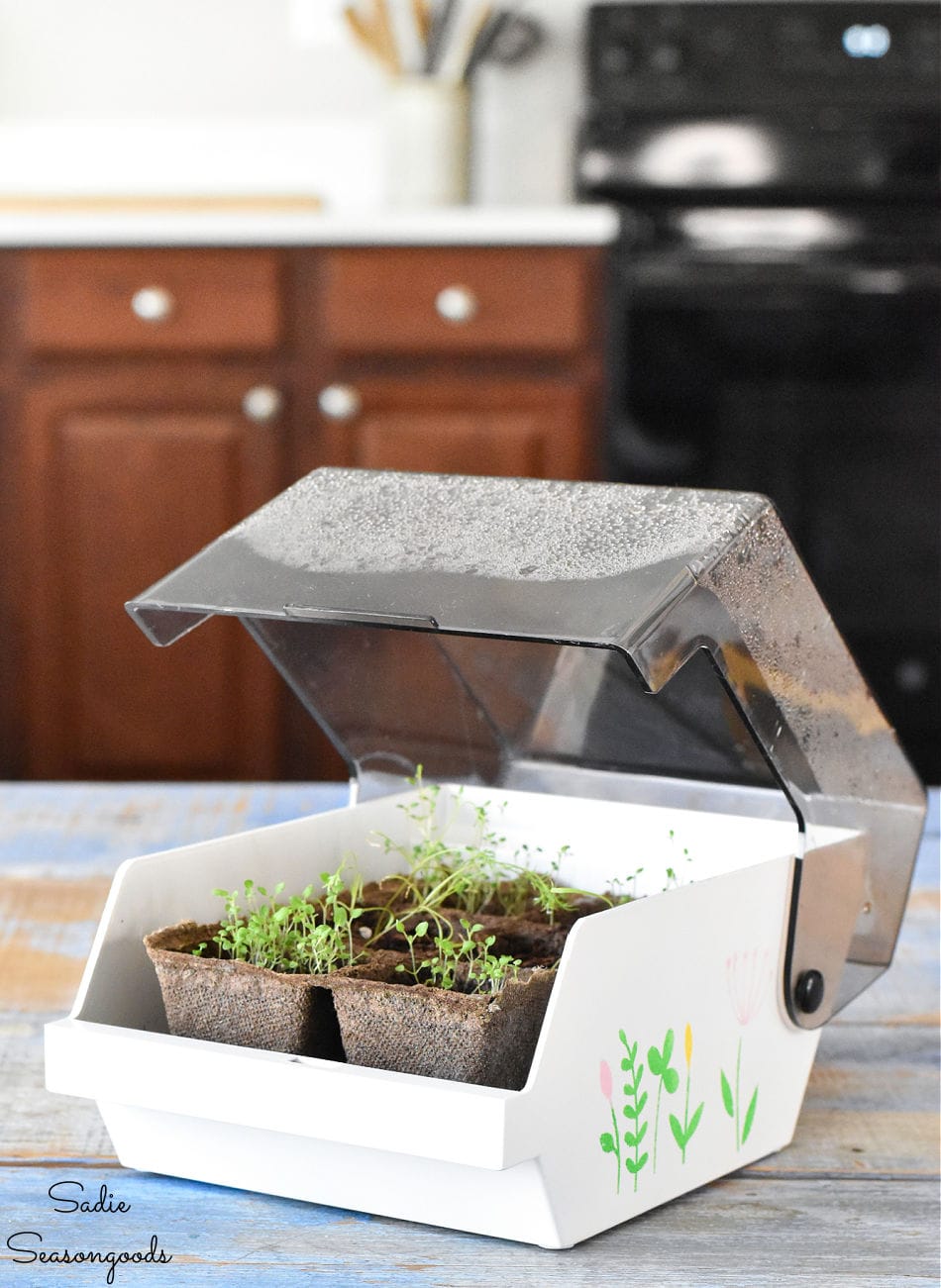 Now, I know that this idea is on the small side and most gardeners would need several dozen of these for their plant trays! So, it may not be as practical for everyone.
BUT. For small-scale growers, it's a delightful and inexpensive way to create greenhouses each Spring. And you can bet your bottom dollar that I'll be scouting out more floppy disk holders for my future garden, as well!
Many thanks again to T4T Thrift Shop for challenging me with the computer disk holder!
And if you enjoyed this upcycling idea for a tabletop greenhouse, then you'll also love these hanging herb baskets, as well. Can you guess what they started out as?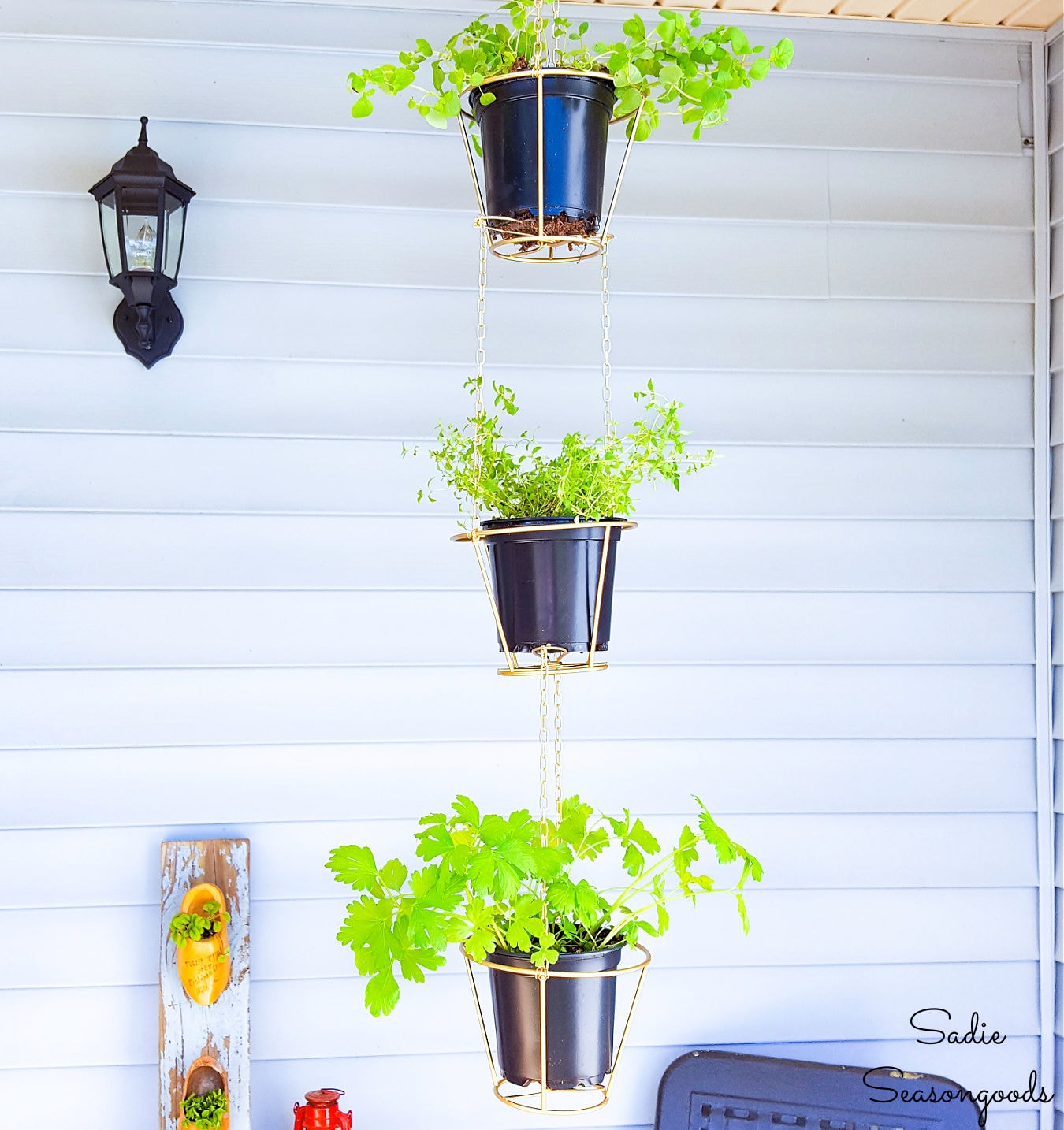 Craft on!
S
Want to be notified when I publish my next upcycling project tutorial?
Subscribe to Blog via Email
Join me on Social Media:

PIN ME!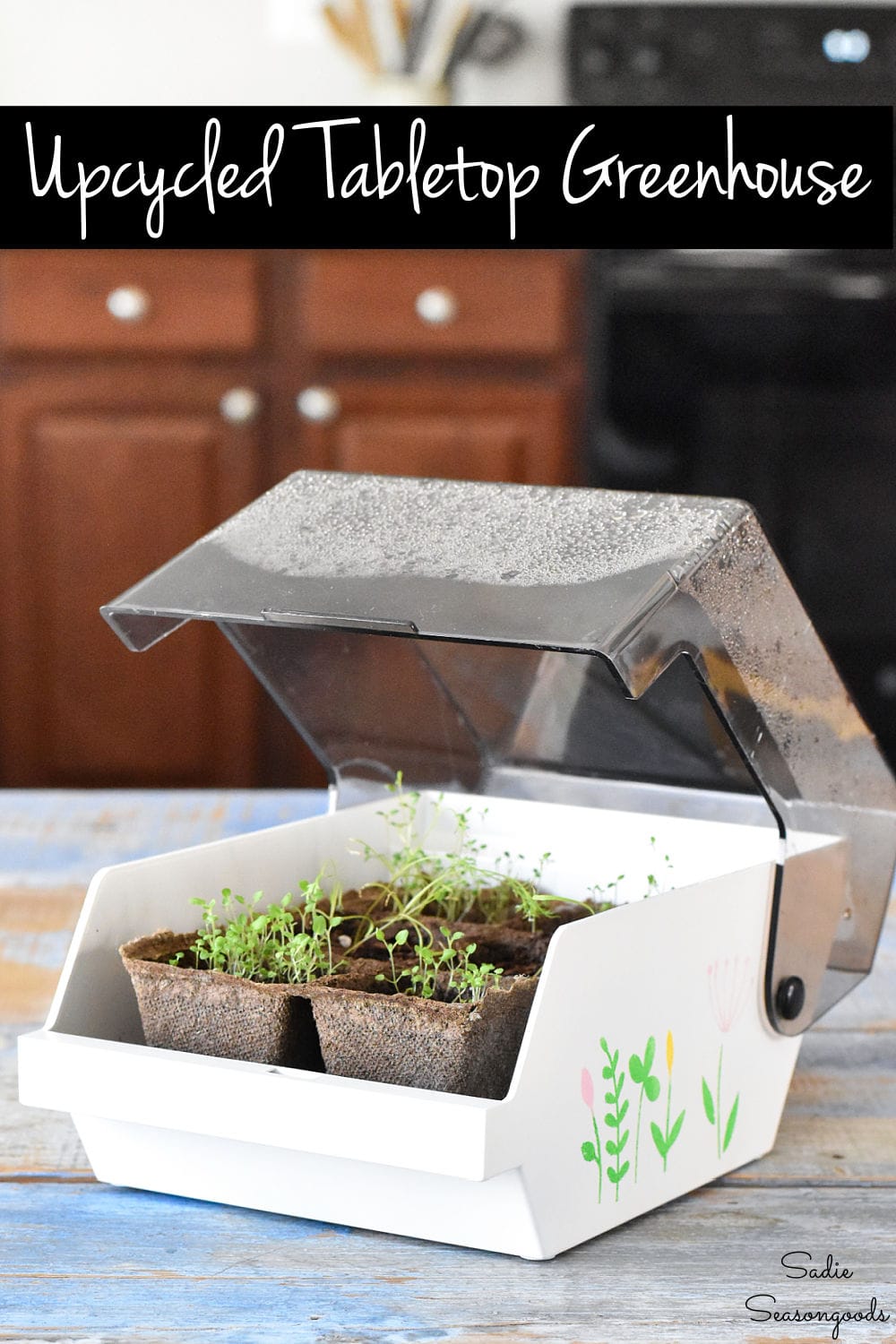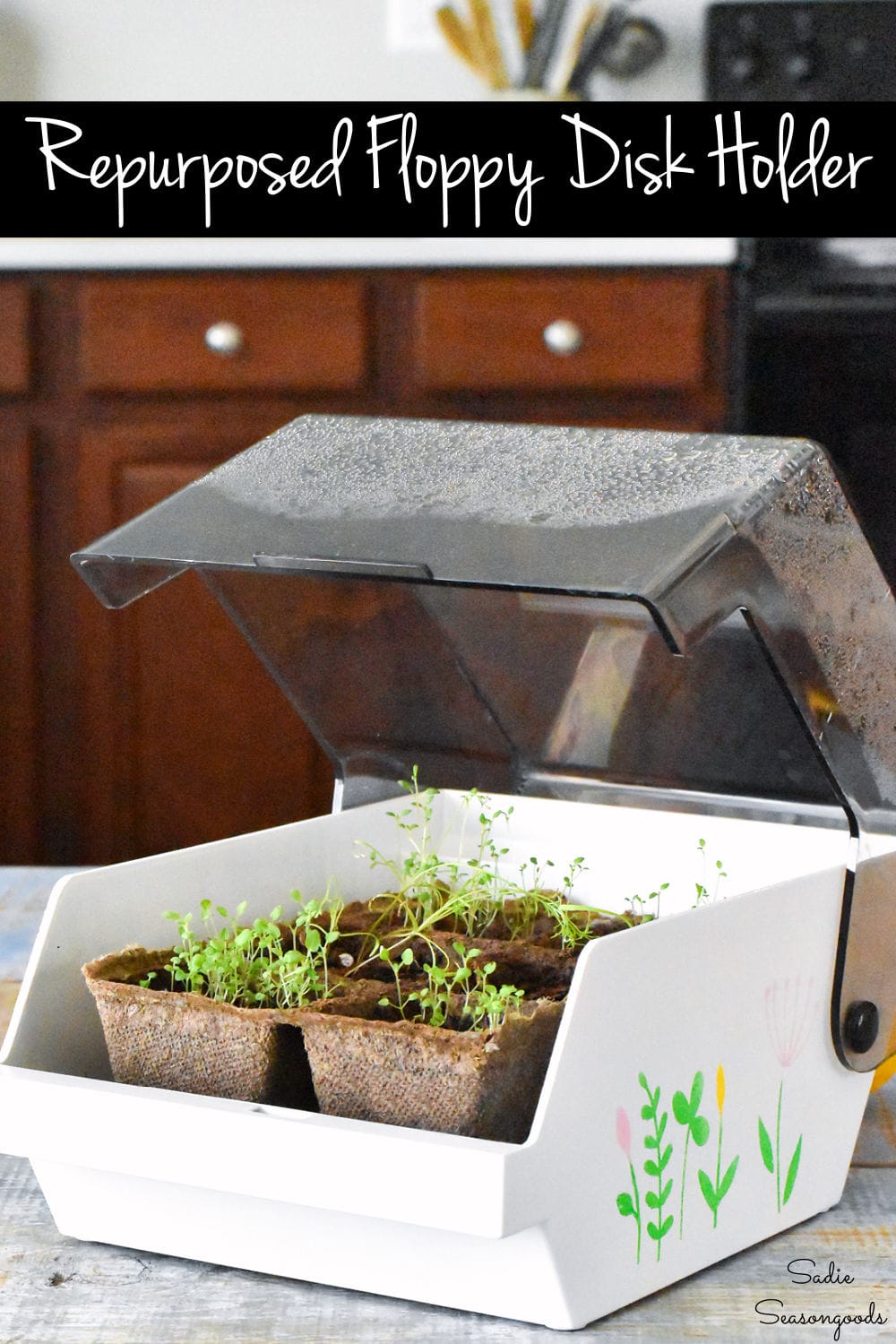 Sarah Ramberg is the owner of Sadie Seasongoods, a website that celebrates all things secondhand. From upcycling ideas and thrifted decor to vintage-centric travel itineraries, Sadie Seasongoods is a one-stop shop for anyone who loves thrifting and approachable repurposing ideas. Sarah is also the author of "Crafting with Flannel" and has been featured in numerous media outlets and magazines.