Real Life Confession- I love the idea of gardening more than I love actual gardening. Can anyone else relate? BUT. But…I still enjoy having planted herbs around as the weather warms up! So, this year, I've decided to do a series of upcycling ideas for an herb garden. And today is Part 1: Repurposing a muffin pan as a seed starting tray or plant starting tray.
You can find old baking pans at thrift stores all the time. Rusty, crusty, and all together a little gross.
Which makes them PERFECT for upcycling as a growing tray for seeds.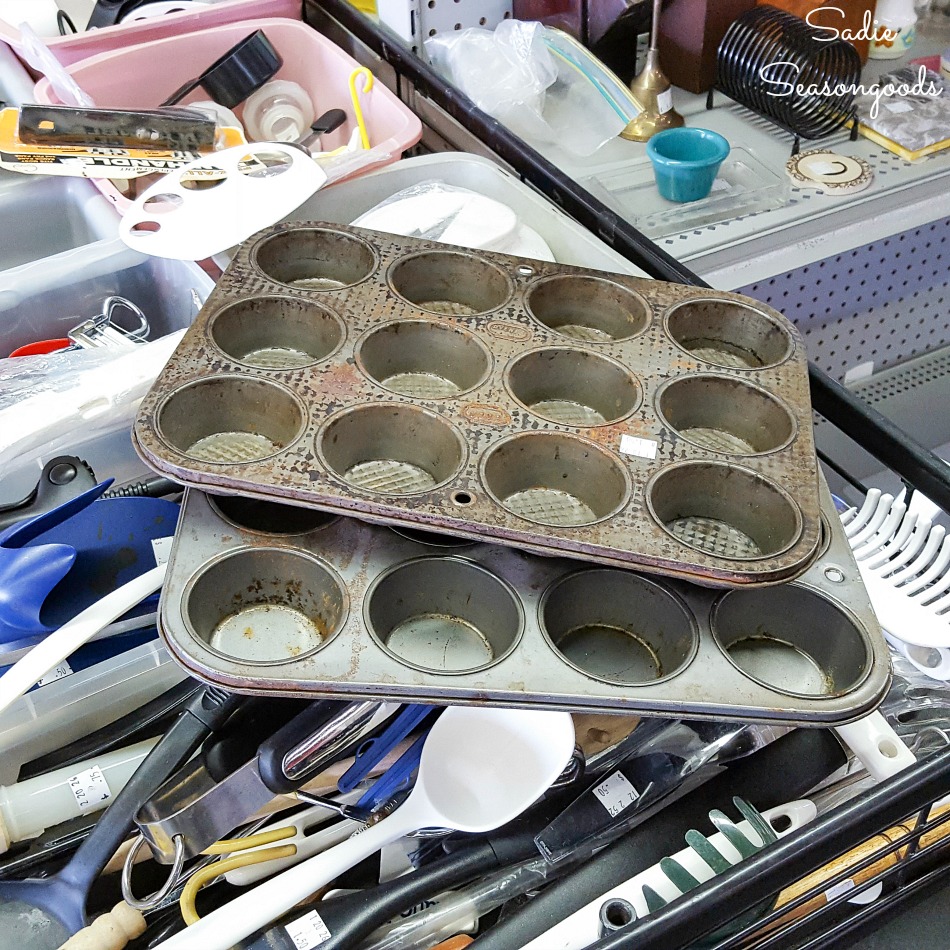 Muffin pans are shallow and compartmentalized, just like a propagation tray. They seemed like a perfect fit for trying my hand at germinating seeds for an herb garden.
So, I gathered some organic seeds for kitchen herbs before getting started!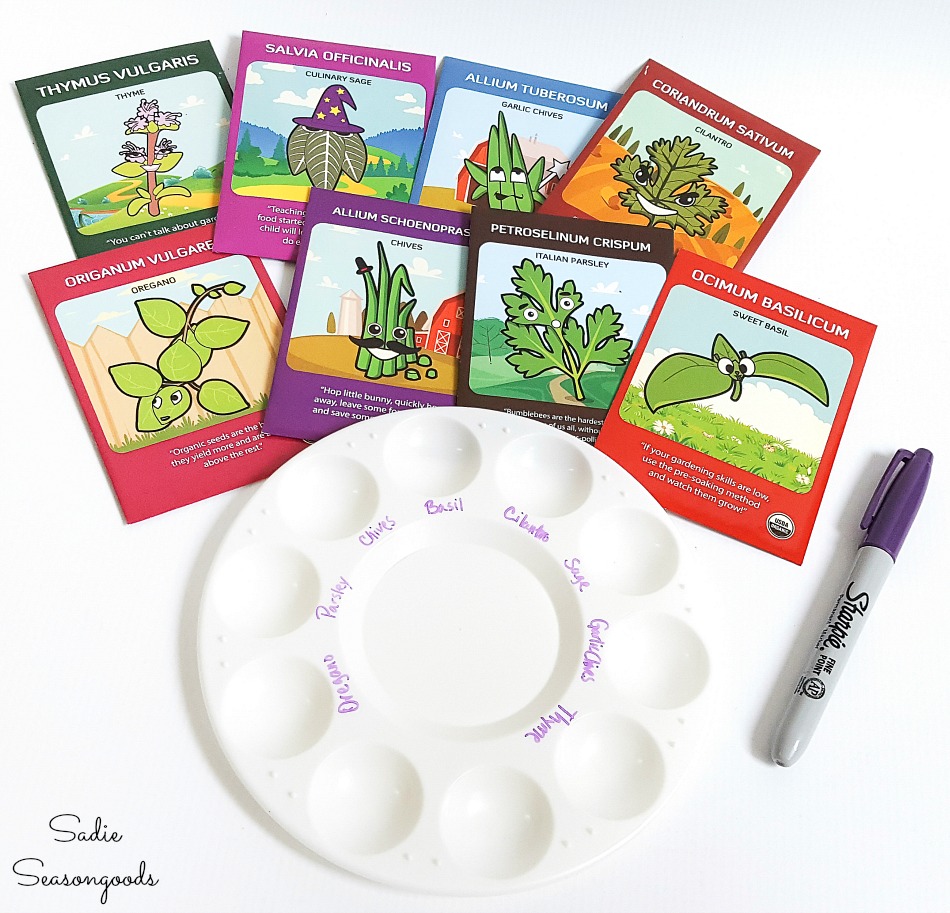 This post contains affiliate links for your crafting convenience. As an Amazon Affiliate, I earn from qualifying purchases. All blue, bold, and underlined text is a clickable link, either to a product or to a related post.
Upcycling a Muffin Pan into a Seed Starting Tray
It should come as no surprise that I decided to spray paint the muffin pans before I did anything else.
Because, well, why not?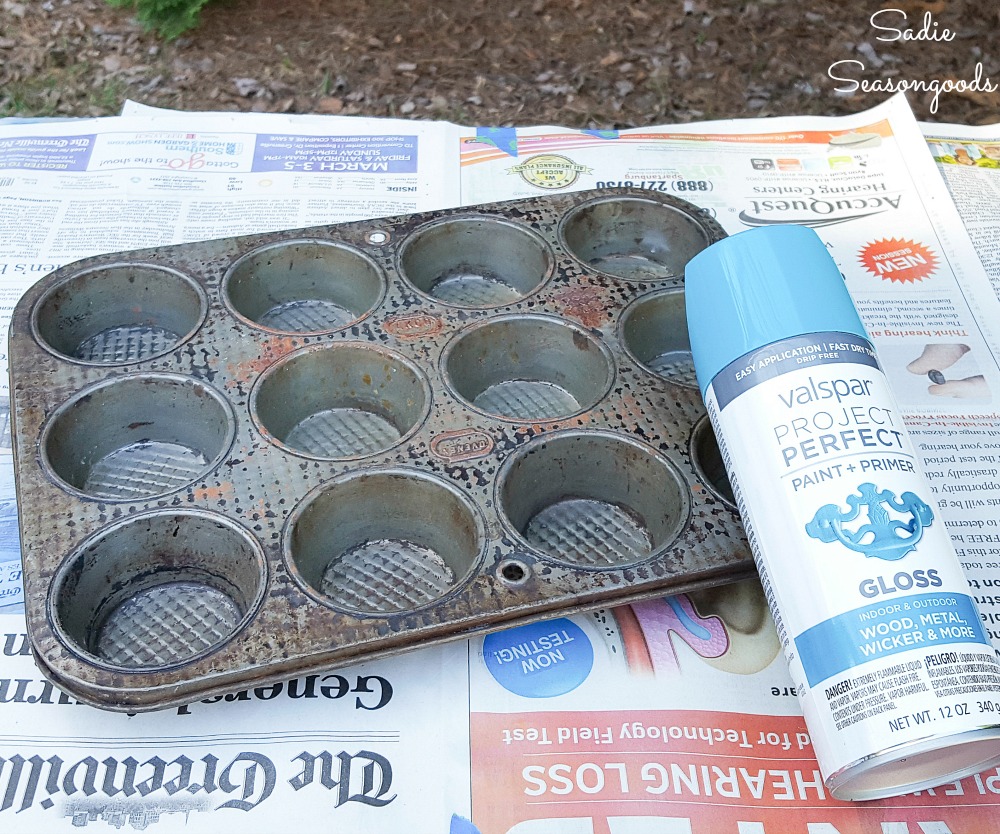 When the paint had dried, they were much nicer to touch.
Next, I filled them with my favorite natural muffin papers.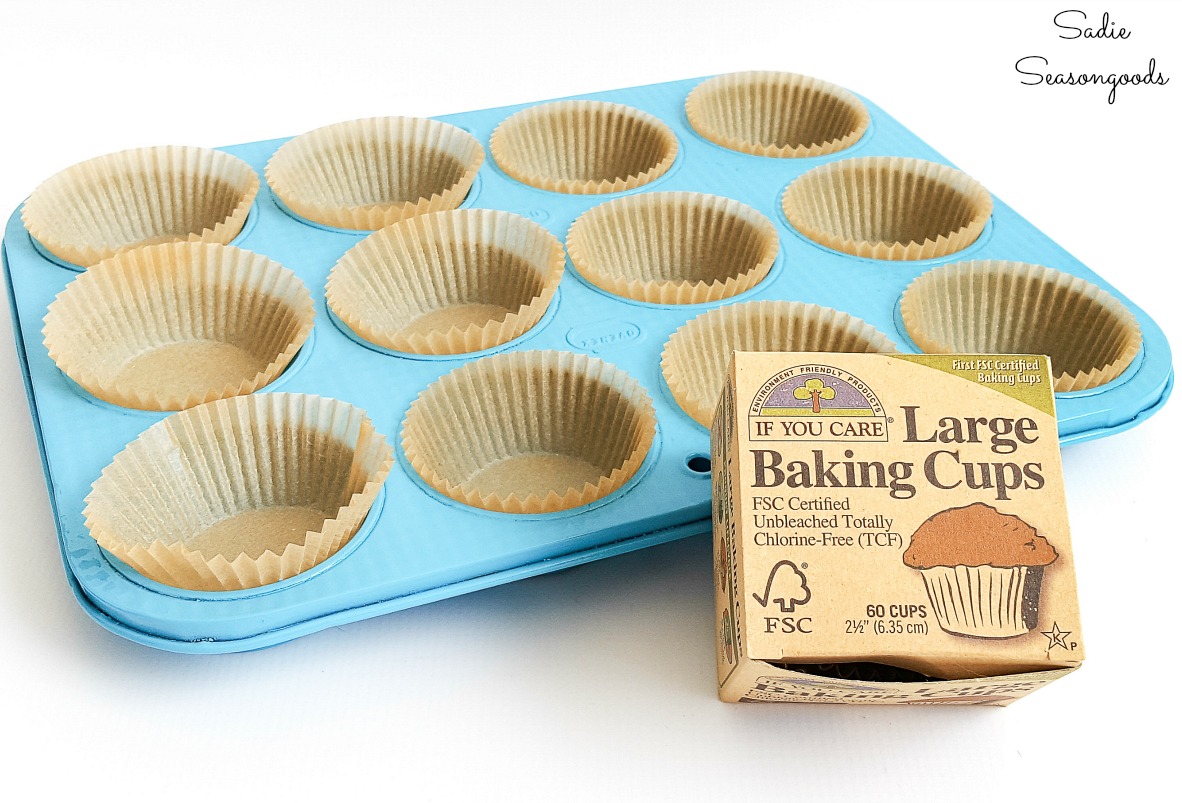 Then, I added some seedling potting soil into each cup of the muffin pan. I compacted it ever so slightly so that it didn't collapse like a soufflé when watered.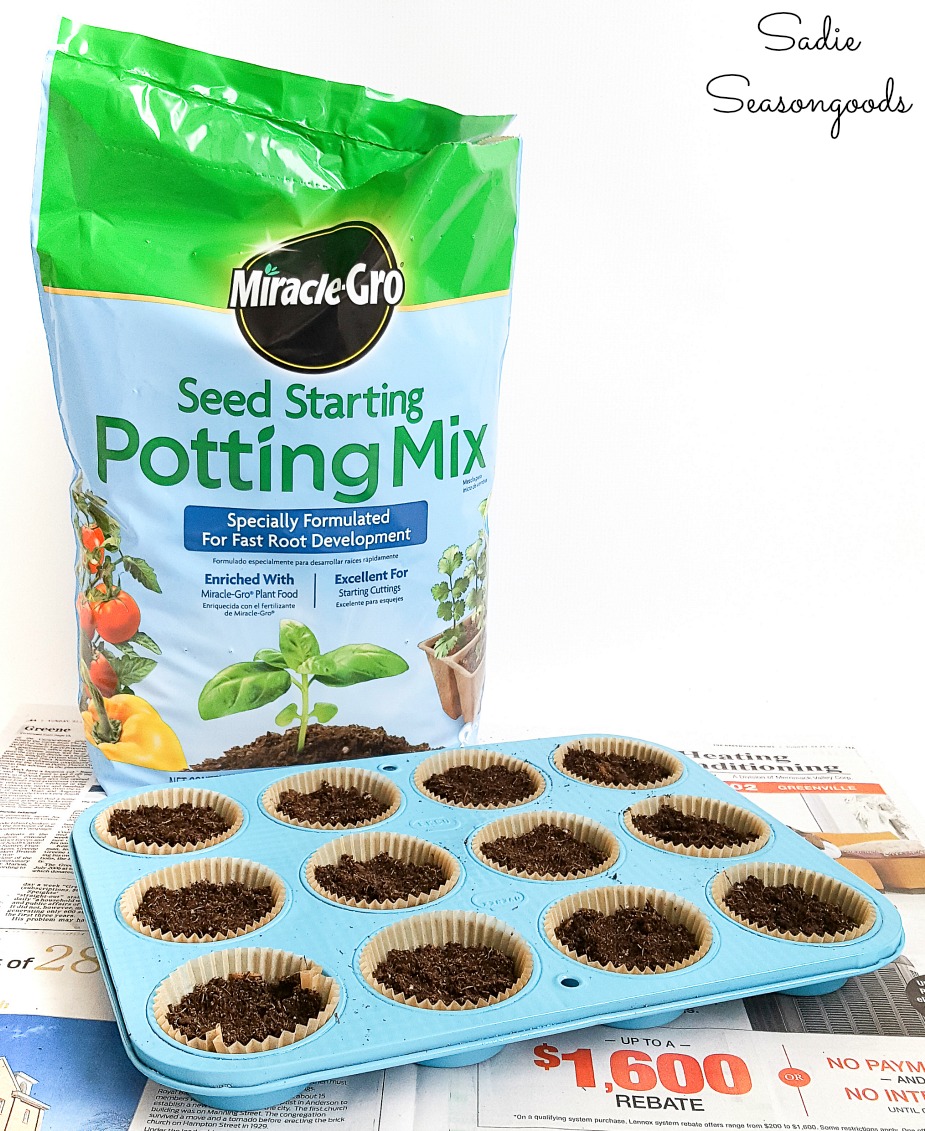 Per the directions on my organic seeds, I soaked them overnight before planting in the muffin pans. I found that a cheap, plastic paint palette/mixing tray worked PERFECTLY for soaking the seeds.
It wasn't too deep, it was easy to label, and all my seeds were separate but together, if that makes sense.
Then, I gathered everything together to do the actual planting.
And like clockwork, Cottonball decided to "help" by playing with my measuring cup of water!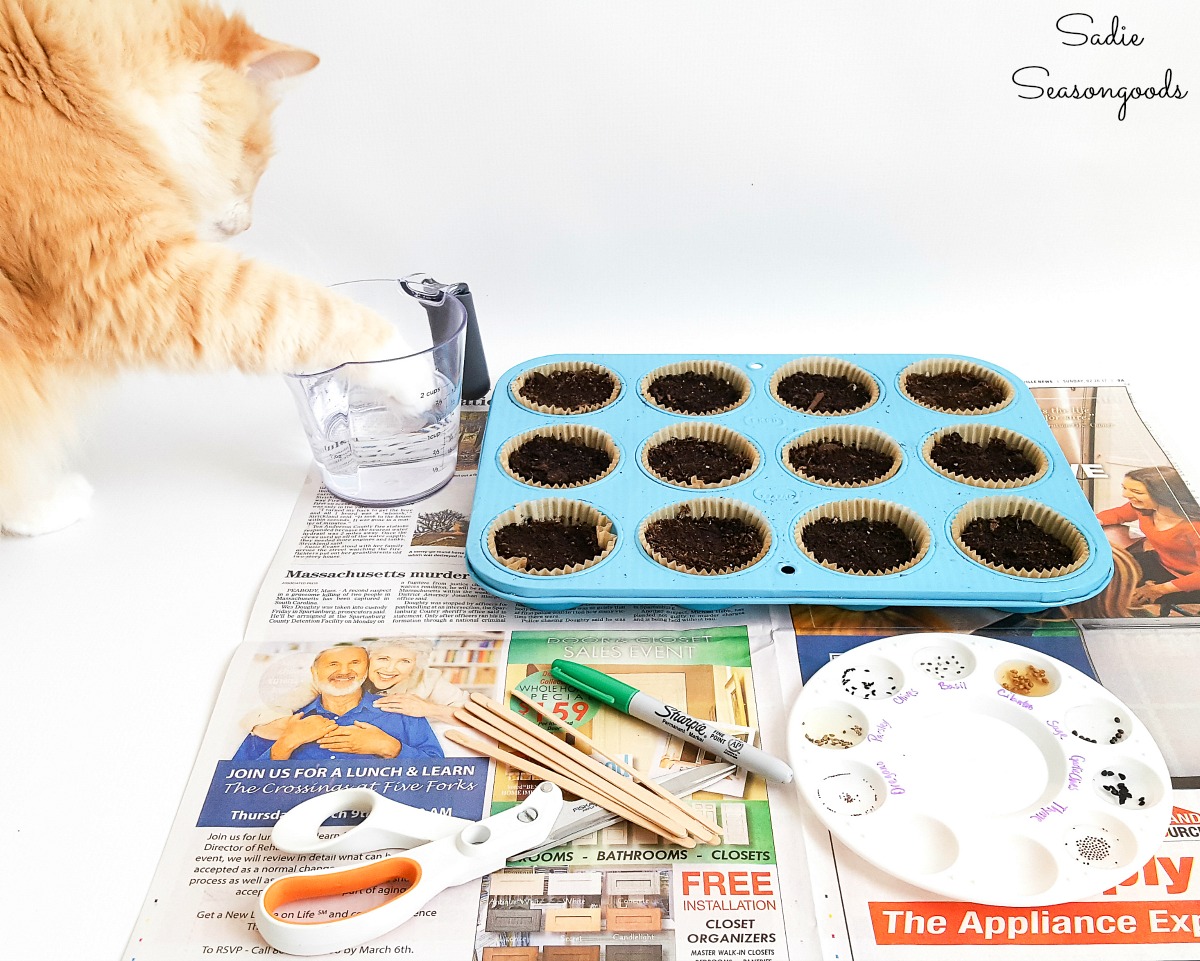 But that was it! I planted the seeds in the muffin pan carefully, following the directions on each packet.
And since these were just germinating seeds, I broke coffee stirrers in half and made hasty plant markers to keep them straight.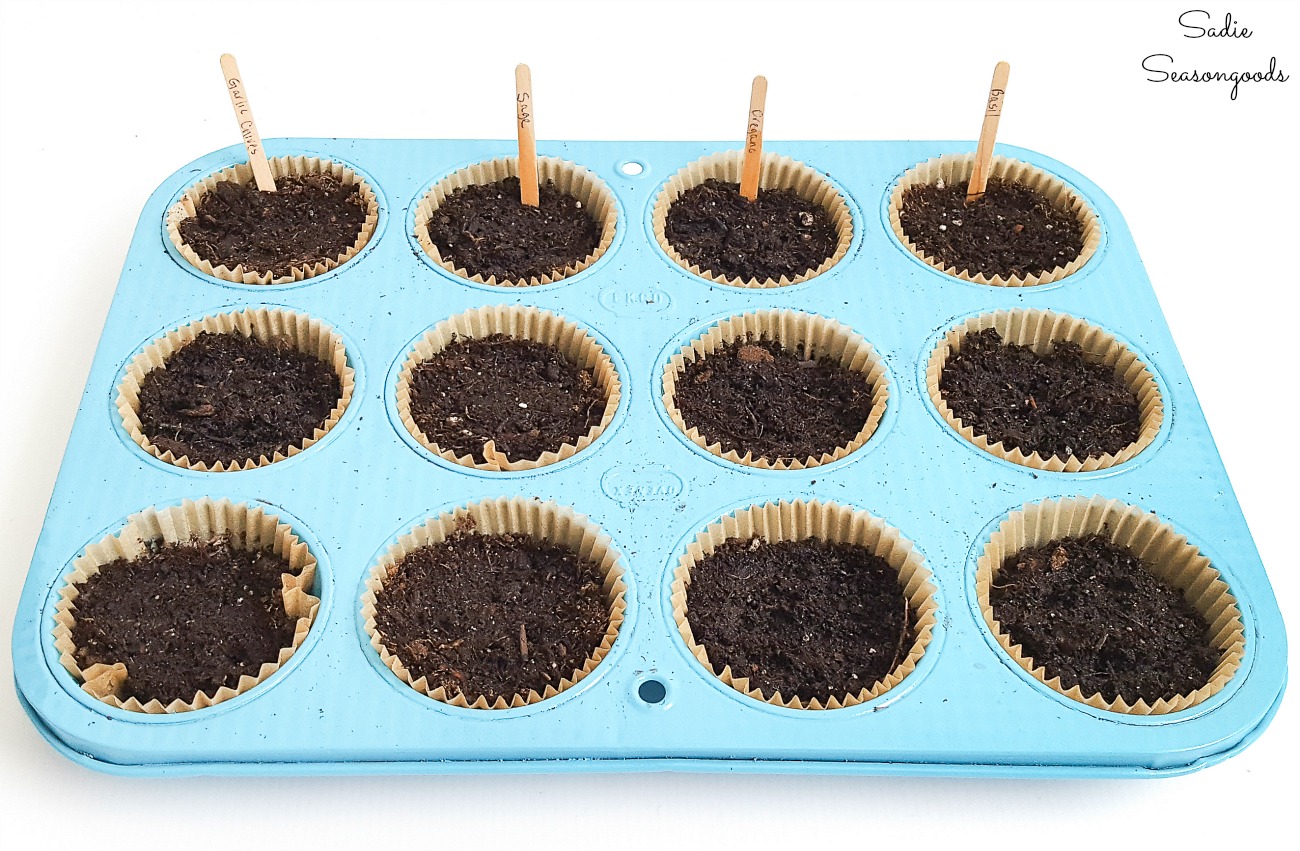 Then the waiting game began. My worrier self took over- what if nothing sprouts? What if this is a complete waste of time?
Plant Starting Tray with a Muffin Pan
Silly me! I had little green shoots in just a few days!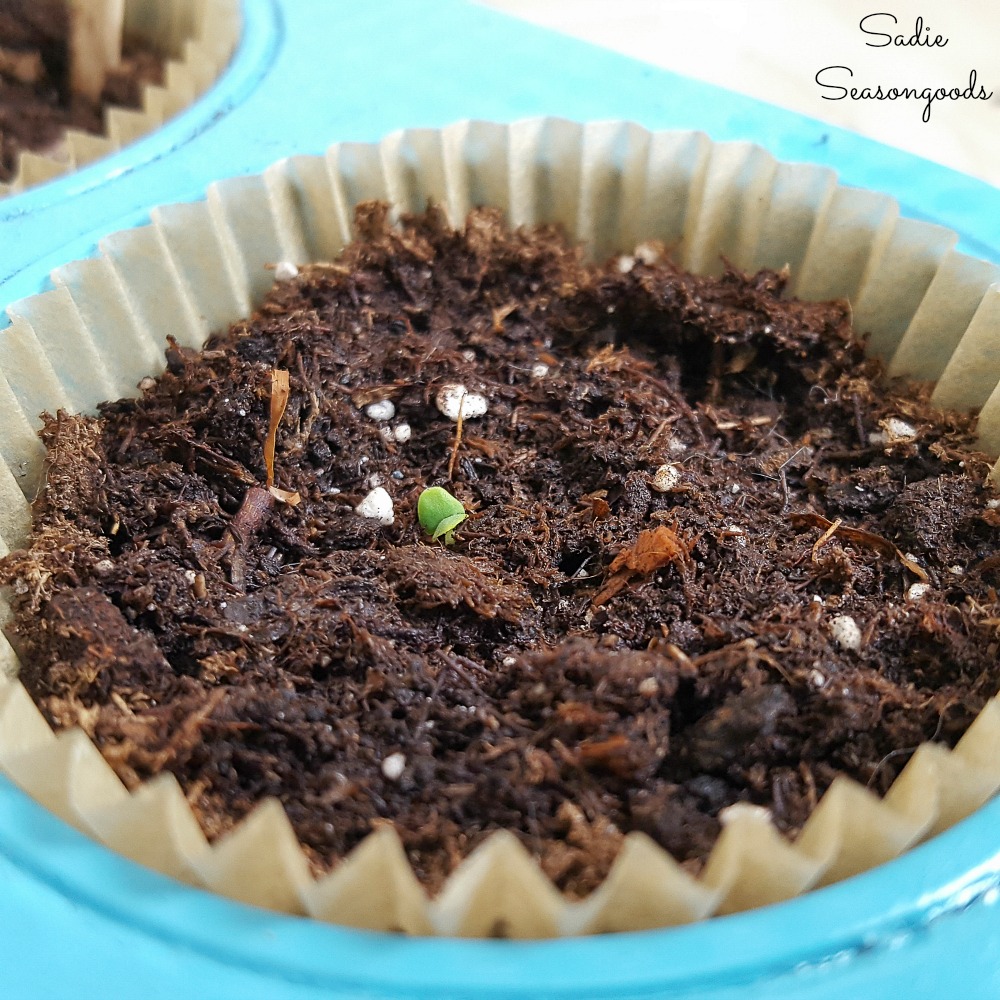 After a few weeks, I had healthy little seedlings in the muffin tin.
Healthy little seedlings that had to travel with us when we went out of town because apparently, I'm an overprotective baby-plant Mom. Who knew?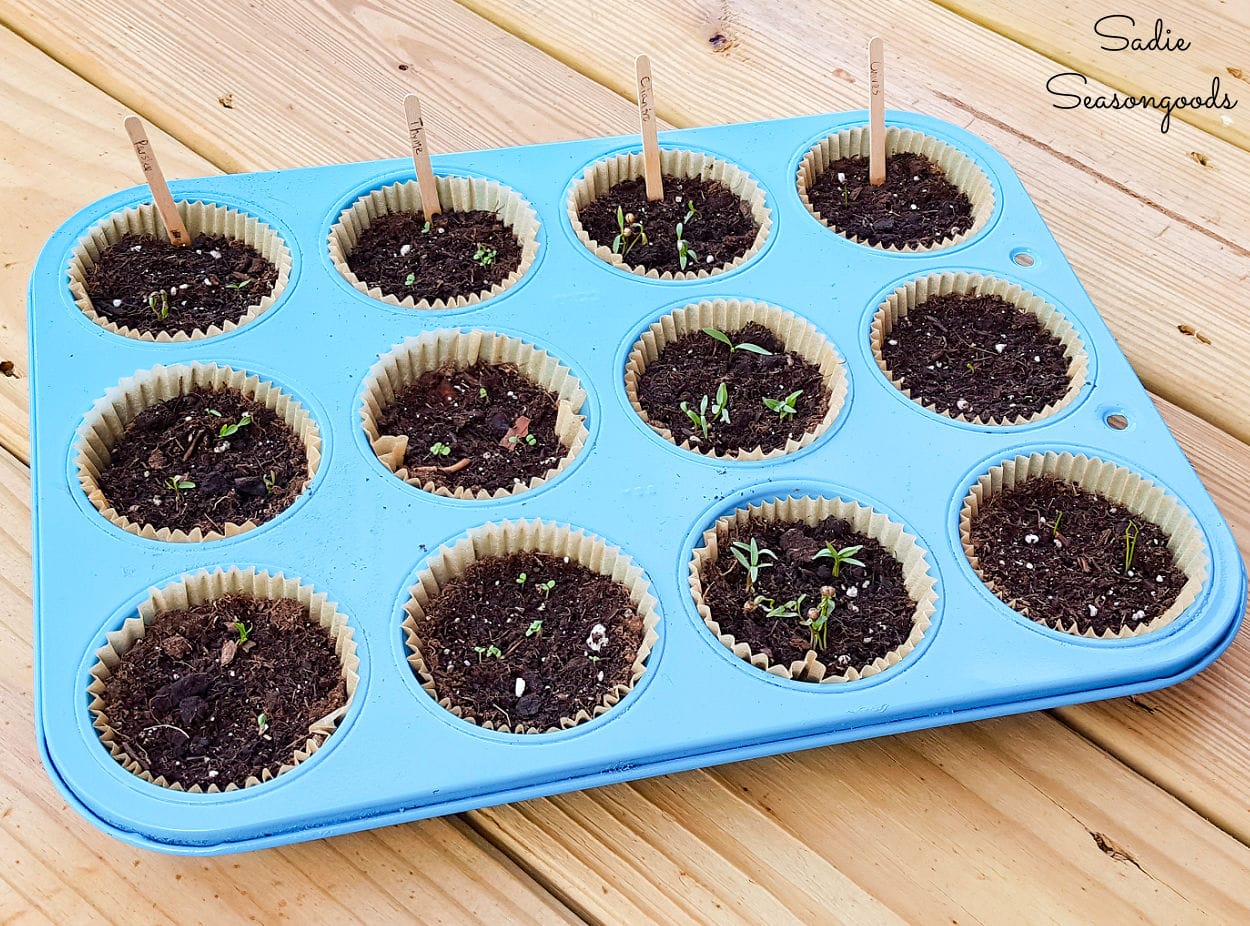 The muffin pan or muffin tin worked absolutely PERFECTLY as a seedling tray. I actually really liked the fact that it was metal as opposed to the plant starting pots that are plastic.
It was much sturdier, which was a blessing while we were on vacation.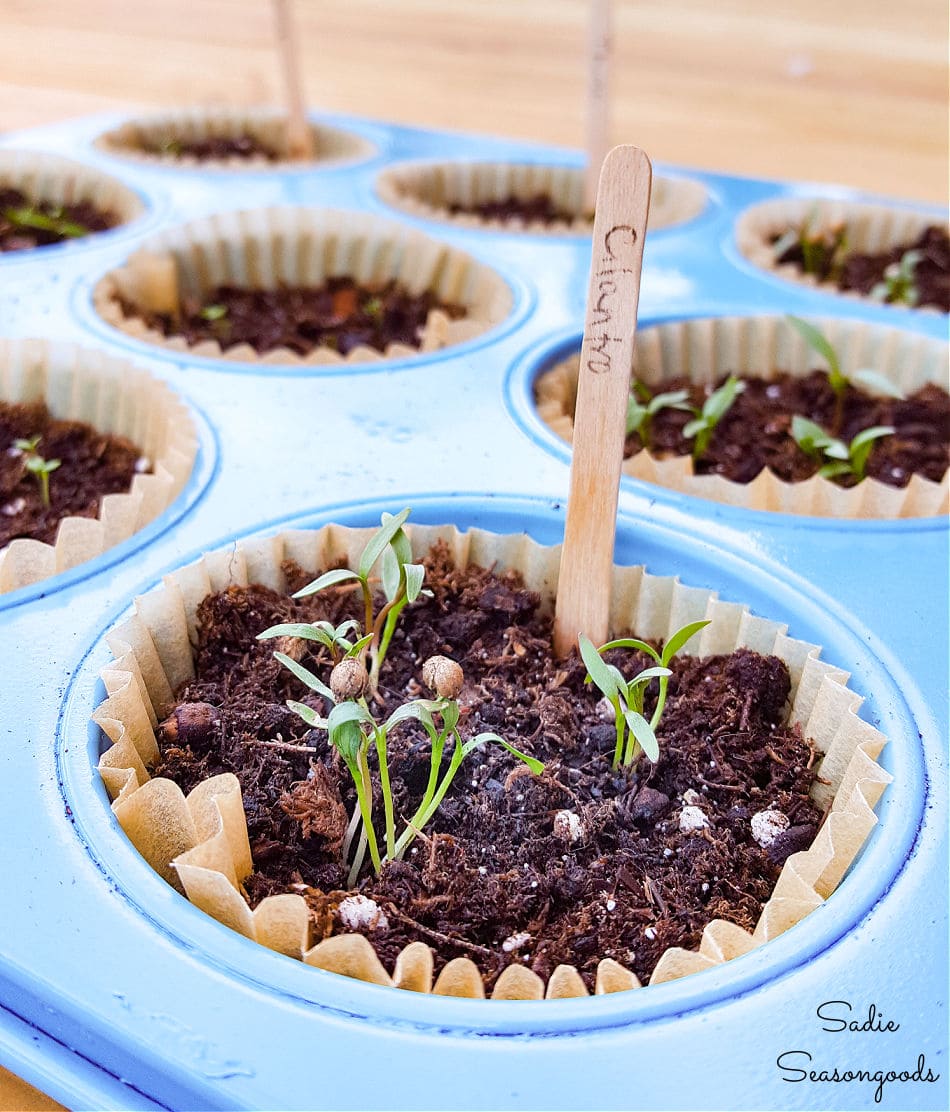 Make sure you check out Part 2 of my series of upcycling ideas for an herb garden, too. Once I transplanted them, they needed the perfect place to go!
Since I first published this blog post, I've come up with another seed starting idea! This time, I repurposed a vintage disk holder into a tabletop greenhouse.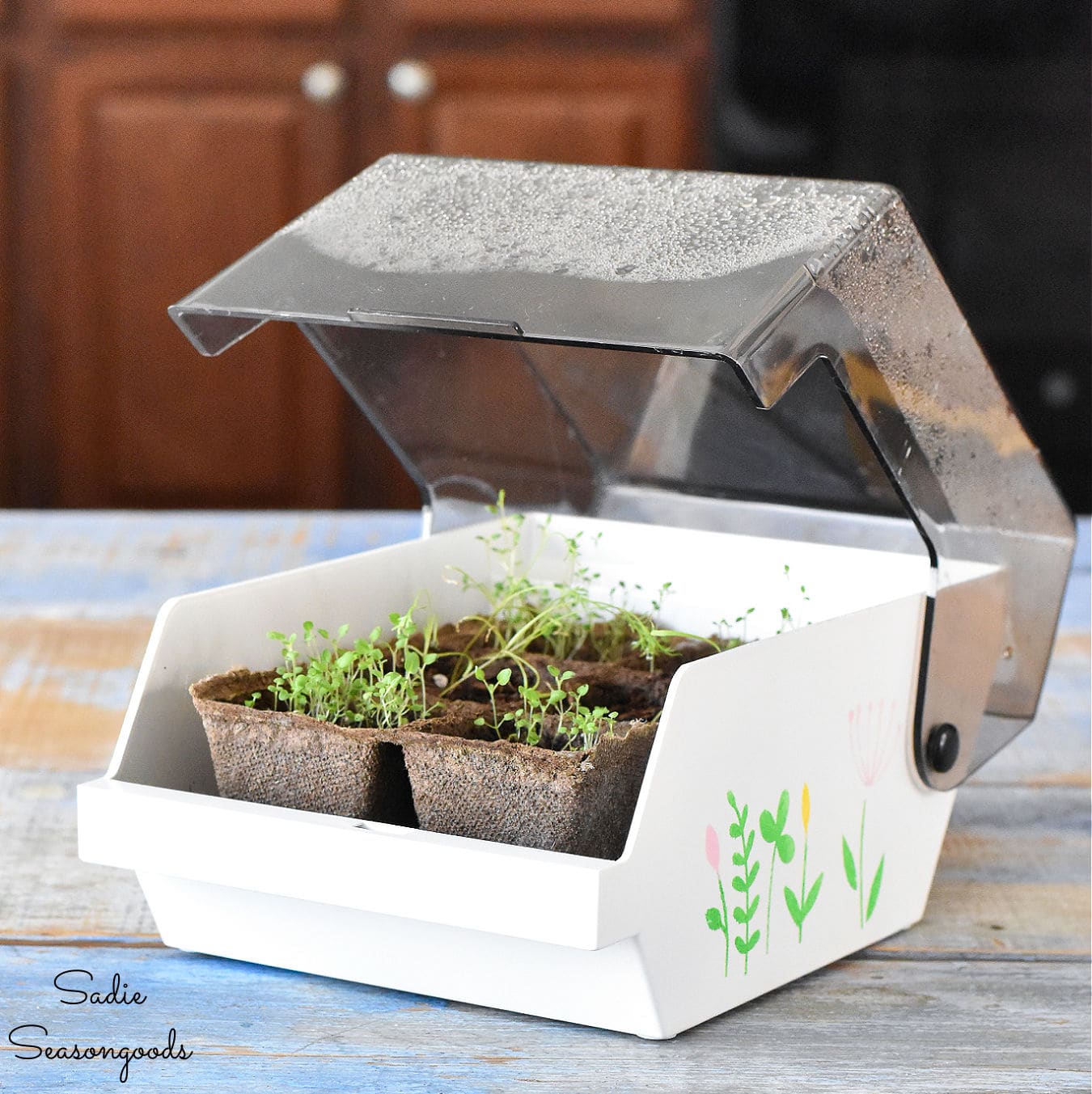 And if enjoyed this upcycling idea for an herb garden, then you'll also LOVE these hanging herb baskets that I upcycled from a thrift store find, too!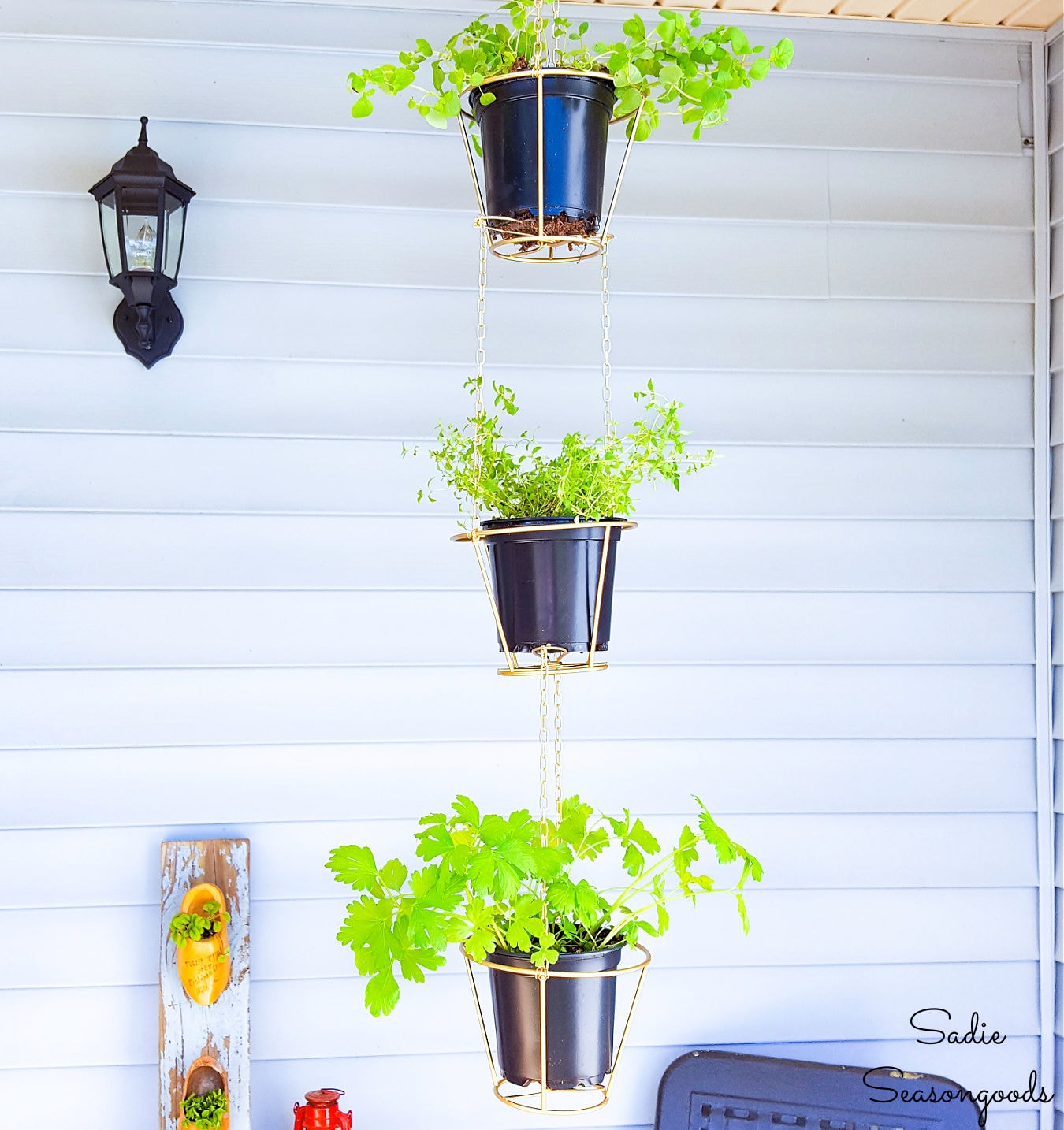 Craft on!
S
Want to be notified when I publish my next upcycling project tutorial?
Subscribe to Blog via Email
Join me on Social Media:



PIN ME!