Now that I'm doing the right thing and staying home, I can't breeze by a thrift store for project inspiration. Instead, I went "garage shopping" and decided that this large serving tray was ripe for upcycling. I needed a relaxing activity to calm my nerves and thought that tole painting the tray might be just the ticket.
But first, what an odd finish/paint job on this tray, right? The black and red is NOT working for me.
You're probably familiar with tole painting, even if you don't think you are. In fact, a lot of toleware is black with folk art painting over the black background.
But Italian toleware is often white with touches of pastel colors. This vintage chandelier I spotted while on a junkin' journey to Charleston, SC is a great example of it.
So, keep that chandelier in your mind while I work on upcycling that large tray with some tole painting. Because that's the look I'll be going for!
This post contains affiliate links for your crafting convenience. As an Amazon Affiliate, I earn from qualifying purchases.
Transforming a Large Tray for Spring Decor
First things first, I needed to paint the entire tray white. And OF COURSE, I was low on white spray paint. But I used up a couple of cans (one in a semi-glossy and one in a satin finish) to get the job done.
When all was said and done, I had a nice bright white canvas to try my hand at tole painting on.
Speaking of tole painting, I've actually tried it once before on this upcycled candle holder project.
Anyway, I gathered some craft paint in a variety of pastel colors, as well as some small craft paint brushes.
I focused on tole painting the details of the tray, which was VERY relaxing and soothing. I also didn't worry about doing a perfect job.
But it felt wonderfully freeing to concentrate on petals and leaves and cancel out the world for a little while.
Relaxing Things to Do with Tole Painting
I added touches of color to the pronounced flowers and a few of the leaves. When I was satisfied, this is what the large tray looked like.
Next, I grabbed some fine-grit flexible sandpaper and began to distress the edges. I also rubbed the sandpaper over the areas of tole painting to dilute the bright colors.
It was looking SO much better! As if it were a cousin of that vintage chandelier that I showed you earlier!
Finally, I sealed the entire tray with clear furniture wax. I always use Annie Sloan Soft Wax, but there are lot of other options out there.
Either way, I swirled on some wax and buffed it off until the tray was smooth as butter.
Tole Painting a Large Serving Tray for Spring Decor
And just like that, I had transformed my large serving tray into white toleware with some tole painting!
If you have any pieces in your thrift store stash that have embossed or raised details, it may be perfect for tole painting. And I hope the process is as relaxing and calming for you as it was for me.
This will be lovely as Spring decor, won't it? I left the center plain (i.e., no stenciling) because I figure I may cover it with flowers, candles, eggs, or other Spring-y bits and pieces.
I hope you are staying home as much as possible right now, too! If you are, it's a great time to get your garden started. And if you have any old, rusty baking pans, they work perfectly as propagation trays!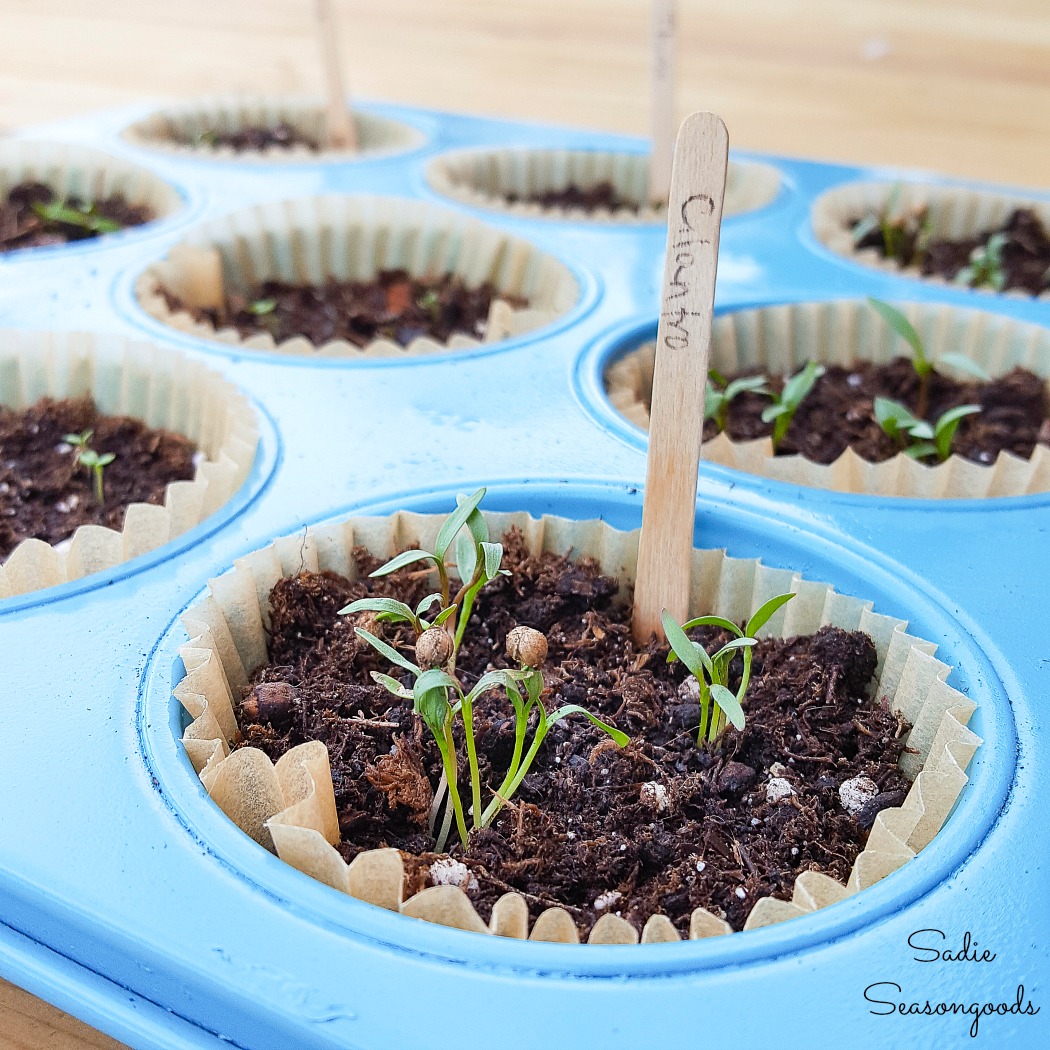 Craft on!
S
Want to be notified when I publish my next upcycling project tutorial?
Subscribe to Blog via Email
Join me on Social Media:


PIN ME!