This is one of those ideas that has been rattling around in my head for a while, and I've finally set aside time to give it a go. See, last year, I repurposed an old drawer into a potting bench and endeavored to recreate the look of an old fruit crate with wood stain. It was at that moment that I wondered if I could upcycle some old drawers (of a slightly different shape) into rustic wooden crates for easy farmhouse decor.
Here we are, a year later, and I still hadn't tested by DIY hypothesis. So, I reminded myself to seek out the right kind of wooden drawers to upcycle.
I needed them to be long, shallow rectangle drawers that had good (or decent) wood grain to play around with.
This meant a few trips to my Habitat ReStore, which is something I never mind doing!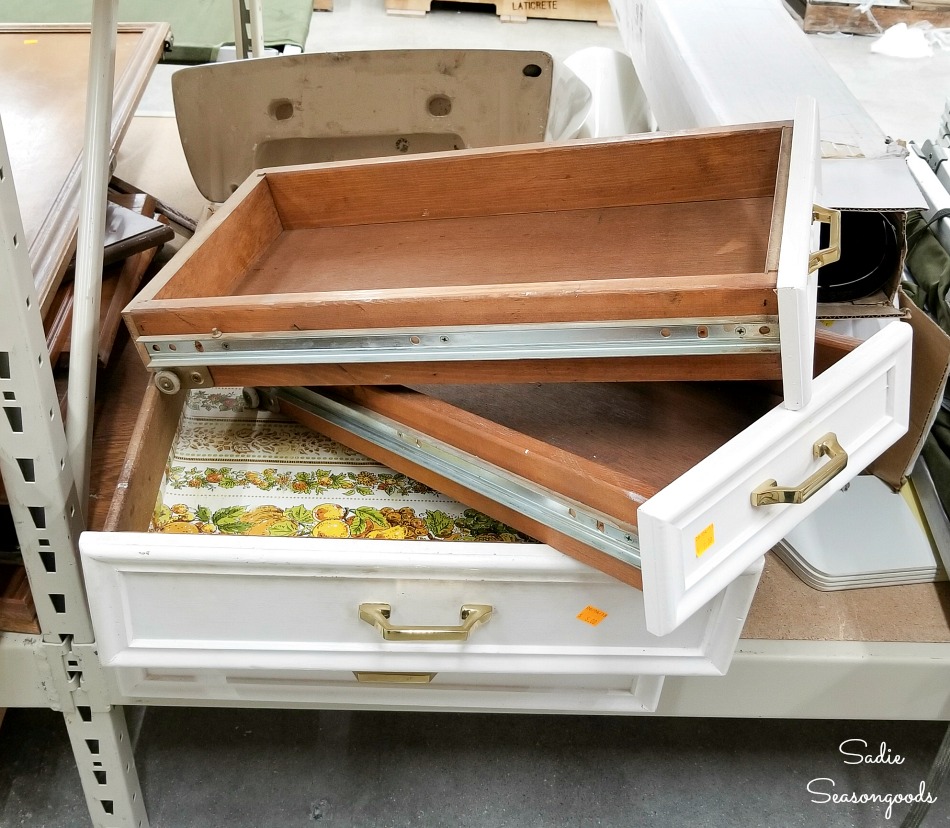 And sure enough, my Habitat ReStore didn't disappoint. There were plenty of wooden drawers to choose from – some from a wood dresser (maybe?) and others that were clearly kitchen drawers.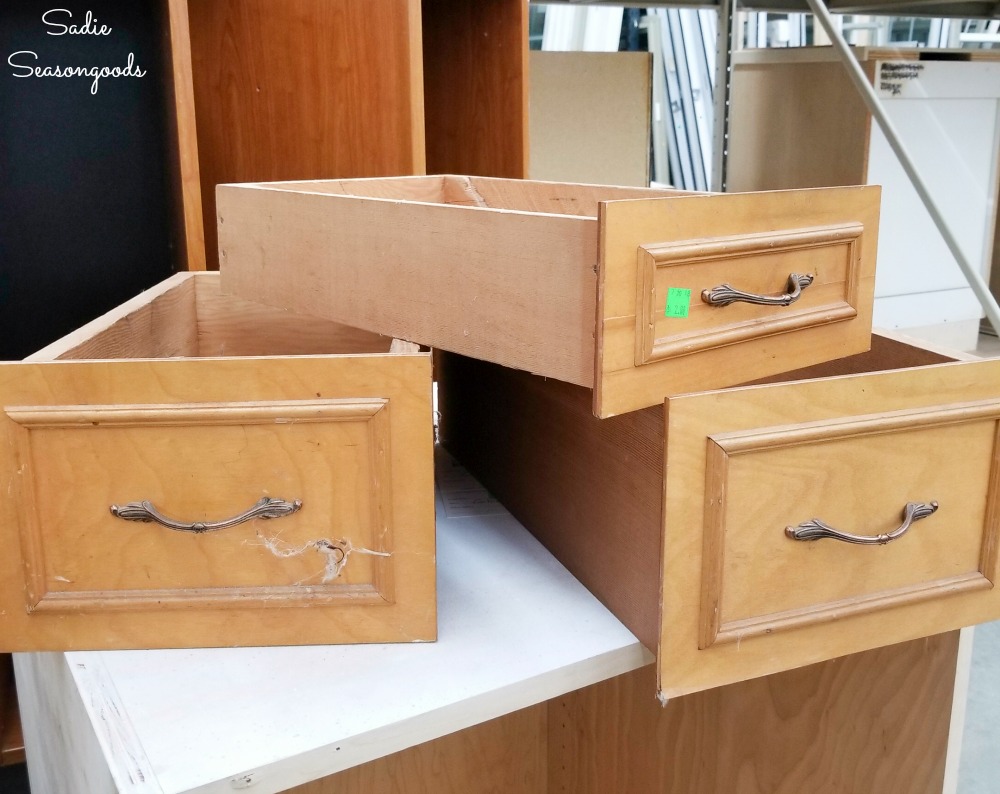 My plan? To remove hardware and drawer fronts, leaving me with a "soda crate" shape that I could decorate to create a few rustic wooden crates.
This post contains affiliate links for your crafting convenience. As an Amazon Affiliate, I earn from qualifying purchases. A stencil was provided to me by Knick of Time at no cost, but all opinions are my own. All blue, bold, and underlined text is a clickable link, either to a product or to a related post.
Transforming the Old Drawers into Vintage Crates
With wooden drawers in hand, I went to work. First, I needed to remove the hardware, such as these side rails.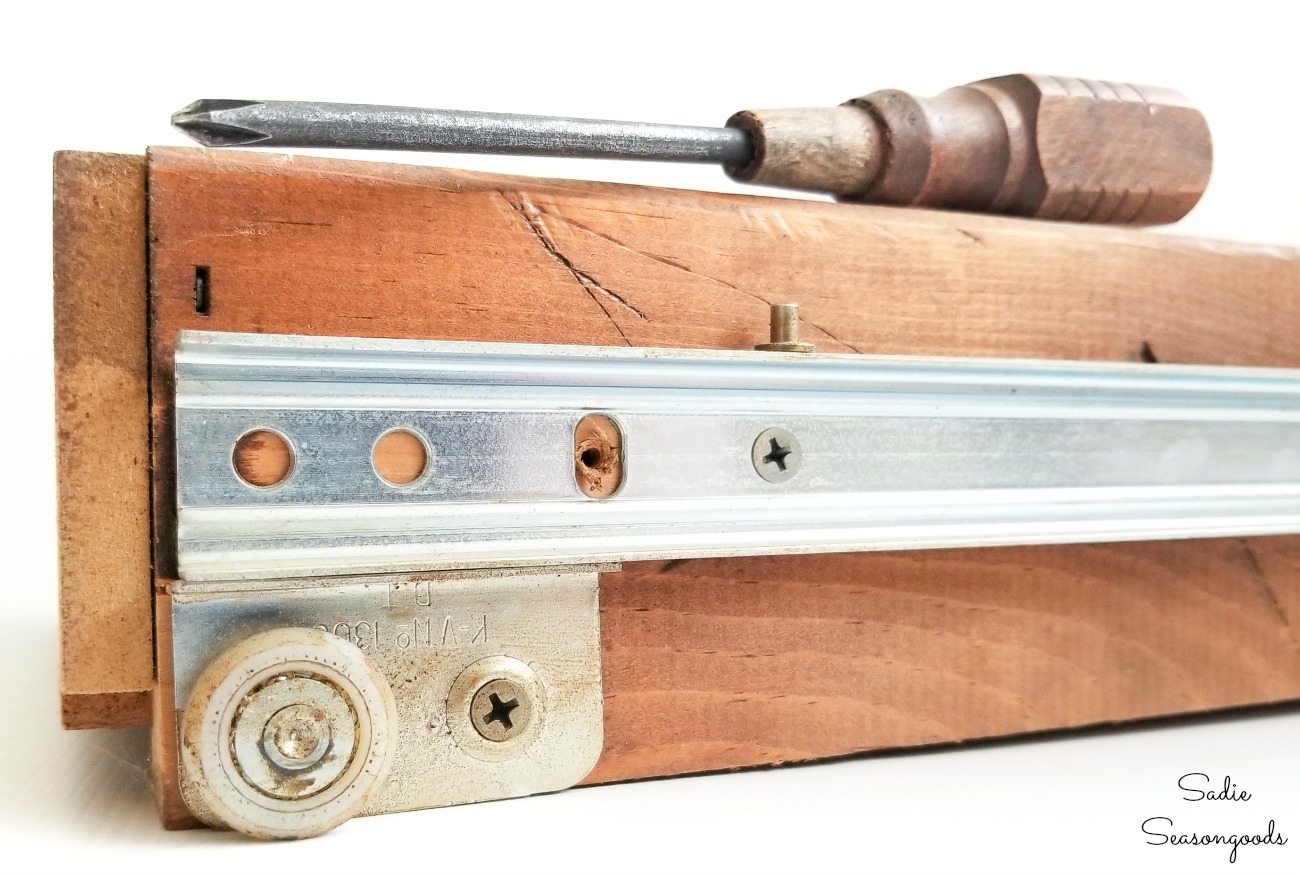 Each drawer will be different when it comes to prep work. Kitchen drawers tend to have more hardware to remove. Whereas dresser drawers may only have a knob or pull on the front to deal with.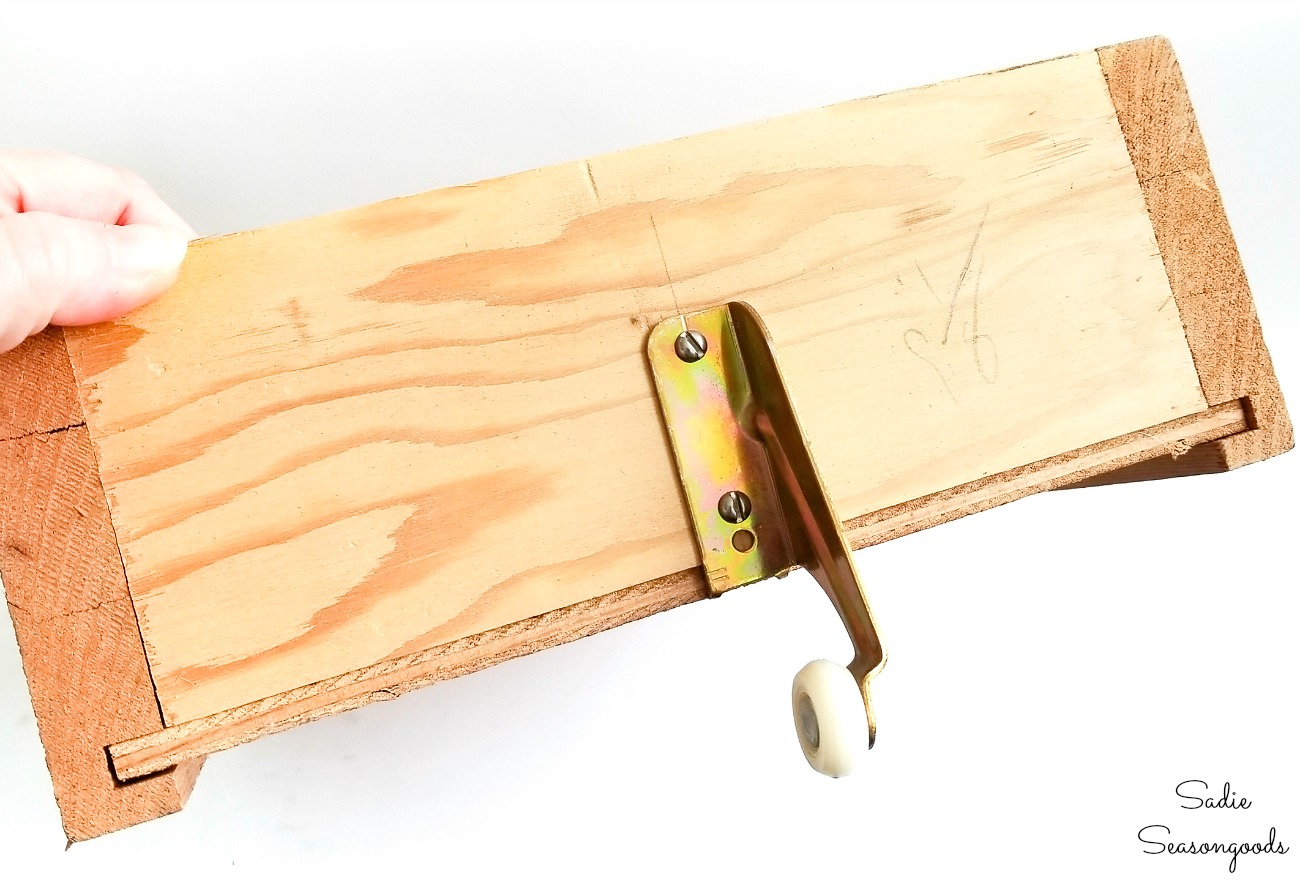 Removing the hardware left my wooden drawers full of open, empty nail and screw holes. I originally thought I'd fill them with wood putty, but decided to just leave them be.
I was recreating vintage crates after all, so a few holes and battle scars would just add character, right?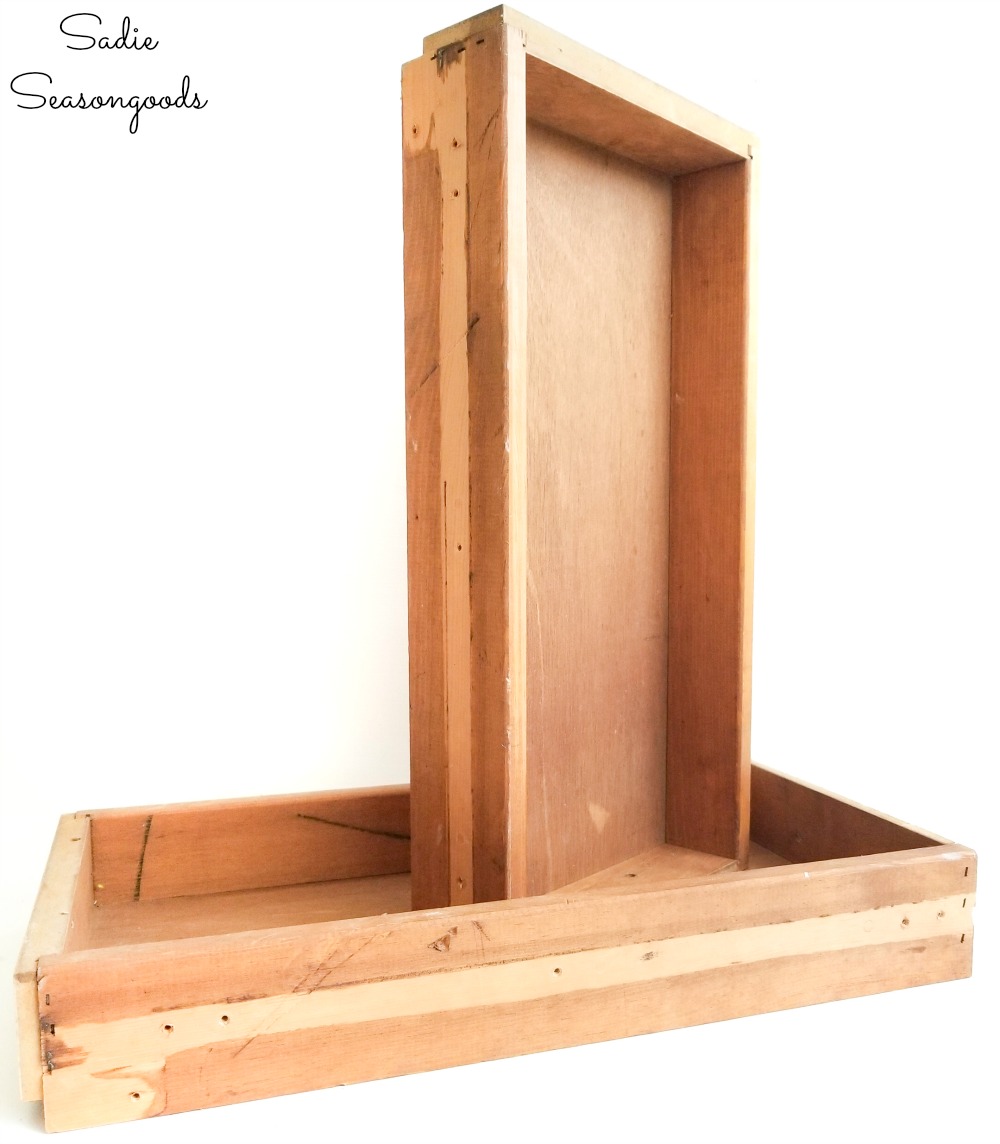 The drawer fronts also had to be pried off from my drawers- and this step (and result) will vary from drawer to drawer. To do this, I used our chisel set and a hammer to gently loosen the front from the drawer. If this leaves a messy finish, you can either sand it smooth and go about your business, or cut out a small rectangle of plywood or scrap wood to glue across the front of your drawer to cover it up.
Next, I decided to paint these two wooden drawers to cover up the different stain colors. Cottonball demanded to help, which was worrisome (visions of red and blue paw prints all over the house popped in my head).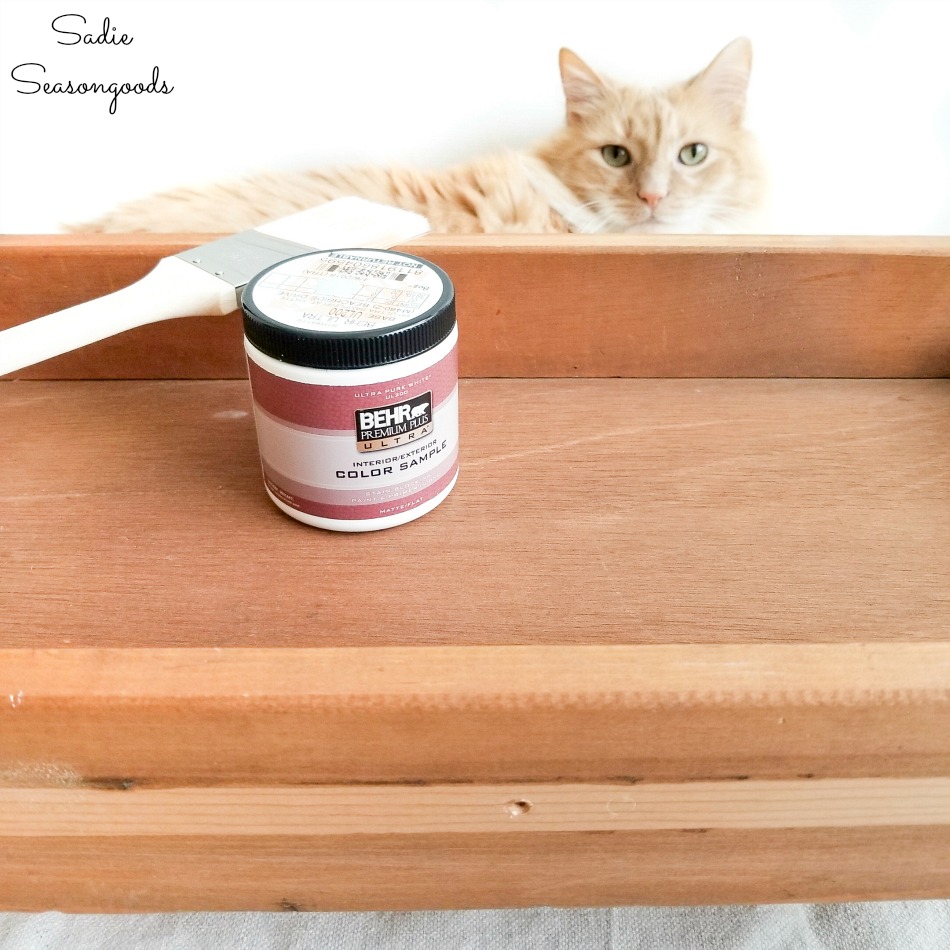 Of course, I'm sure there's some cat hair in my paint job, but that's just par for the course.
Thankfully, Cottonball was well behaved during the entire painting process. Huge sigh of relief…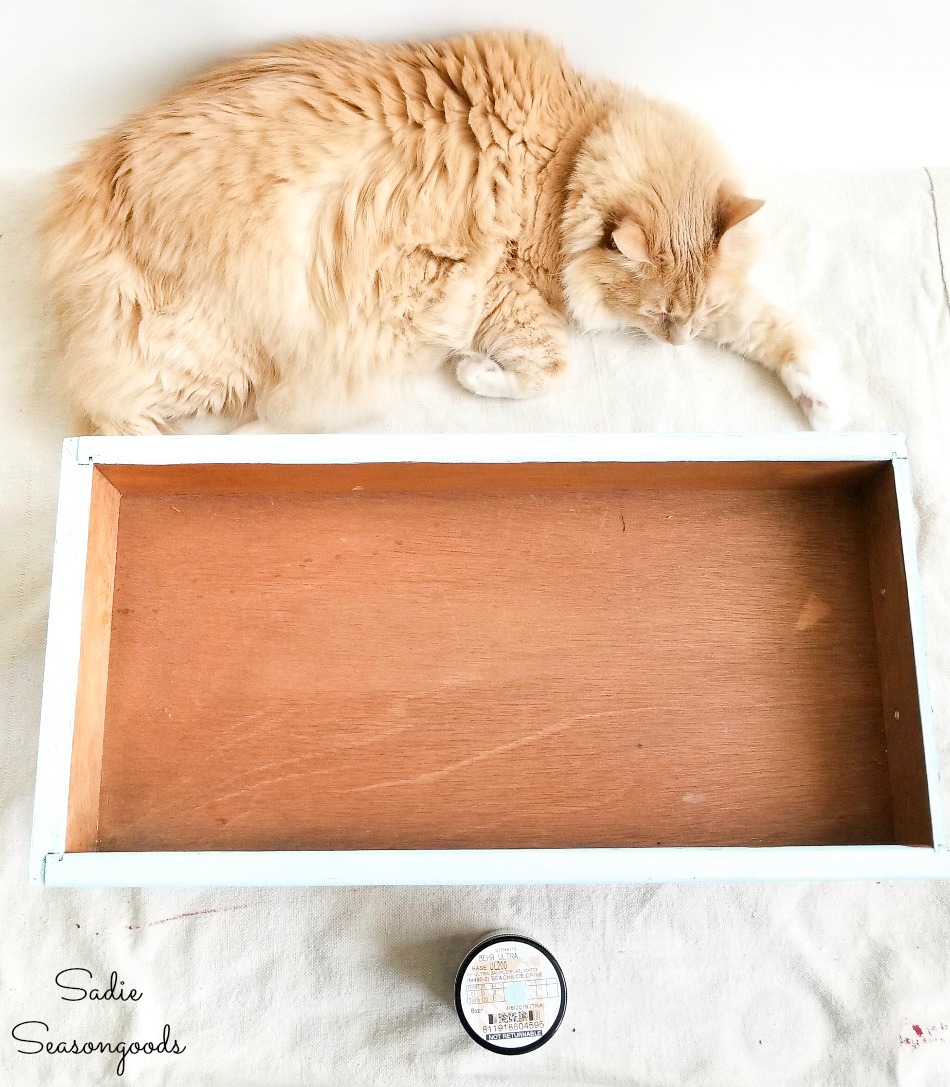 Farmhouse Stencils for Rustic Wooden Crates
In the end, these were how the old drawers, err, rustic vintage wooden crates – ended up looking like. Paint for the two with side rails, and weathered wood accelerator on the plain wood drawer, just to deepen/age its existing reddish stain.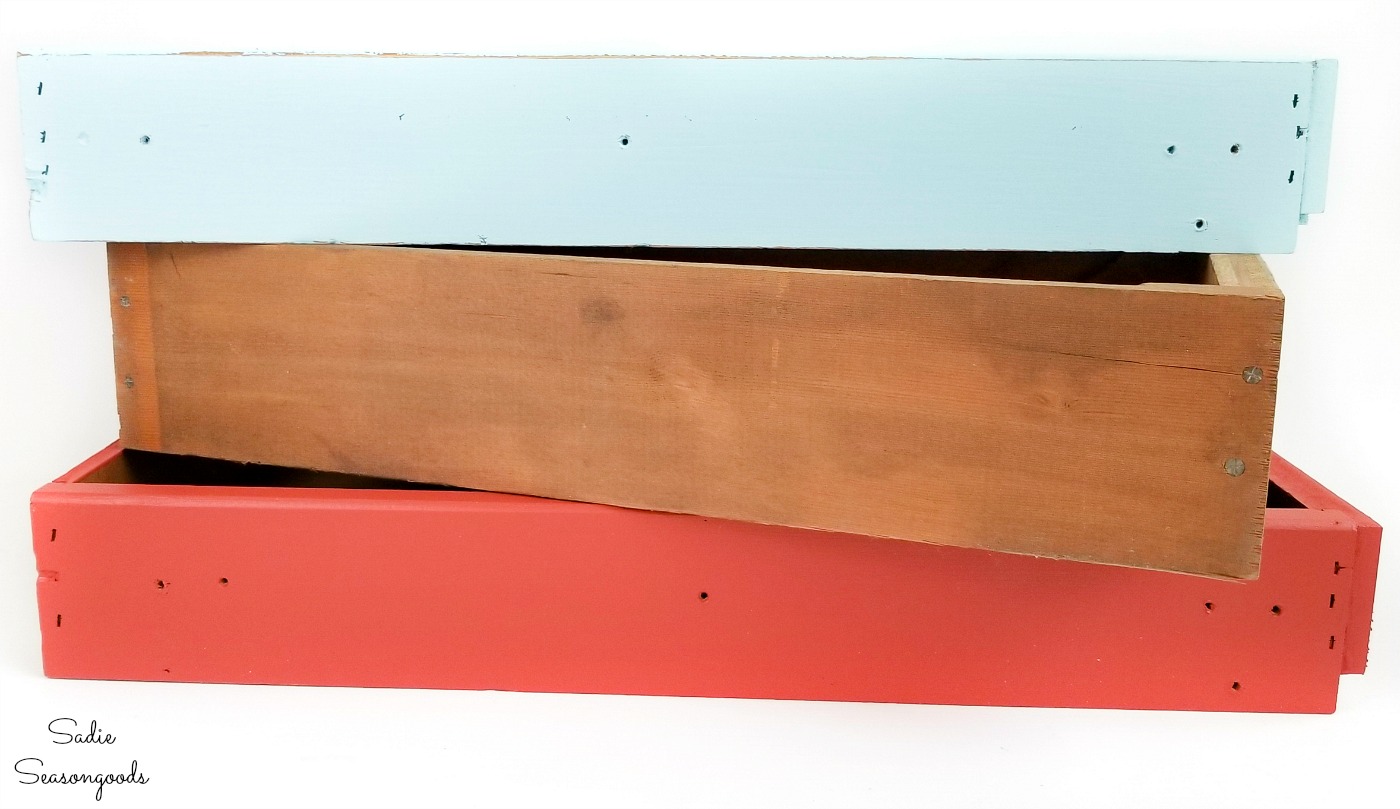 They're starting to look like vintage wooden crates, right?
Now it was time to stencil my vintage crates. But you know what? I had a hard time finding good stencils for this- there aren't a lot of soda crate stencils out there. And I didn't want to buy one that said Coca-cola or Pepsi, because I didn't want to be accused of copyright theft.
SO.
I found one made by Knick of Time from her Vintage Sign Stencils line that was PERFECT for my needs.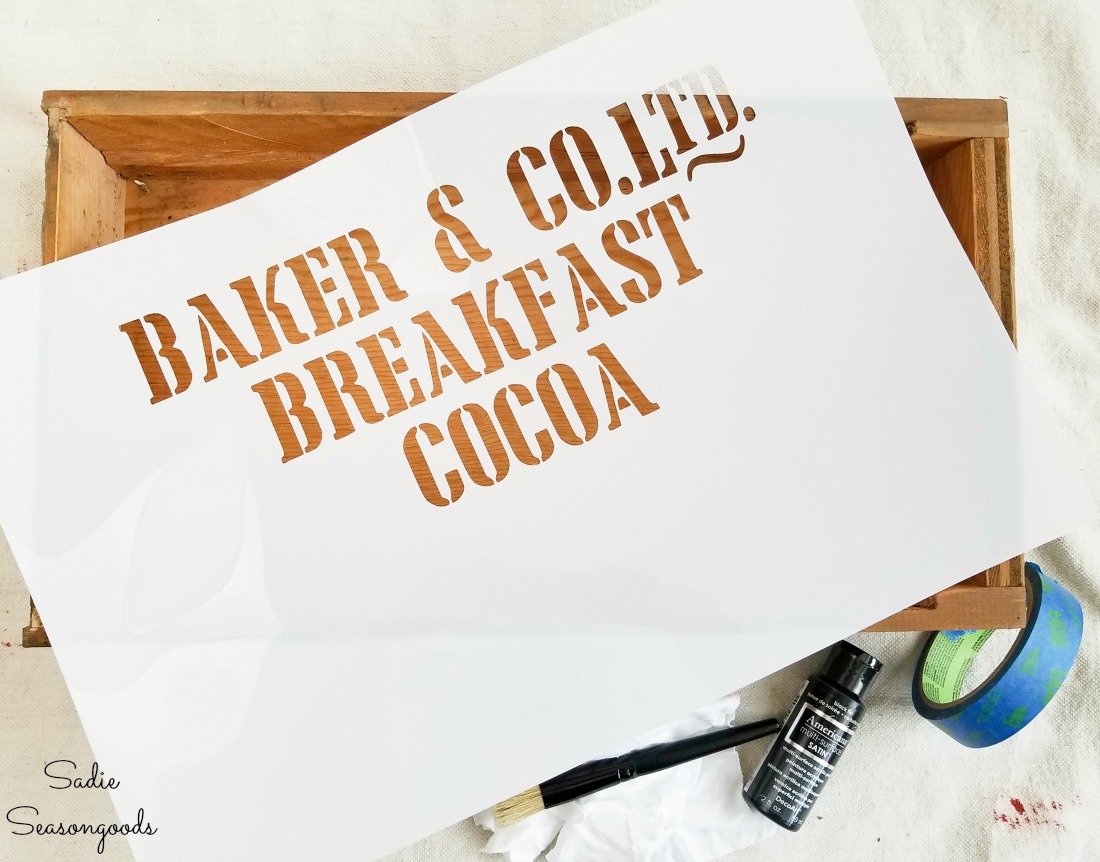 (In the years that have passed since I first posted this project, Funky Junk Interiors issued a PERFECT stencil for making your own rustic wooden crates!)
For the long and narrow space on my vintage wooden crates, I only planned to use a portion of the stencil. So, I centered it, taped it in place, and stippled on some black craft paint.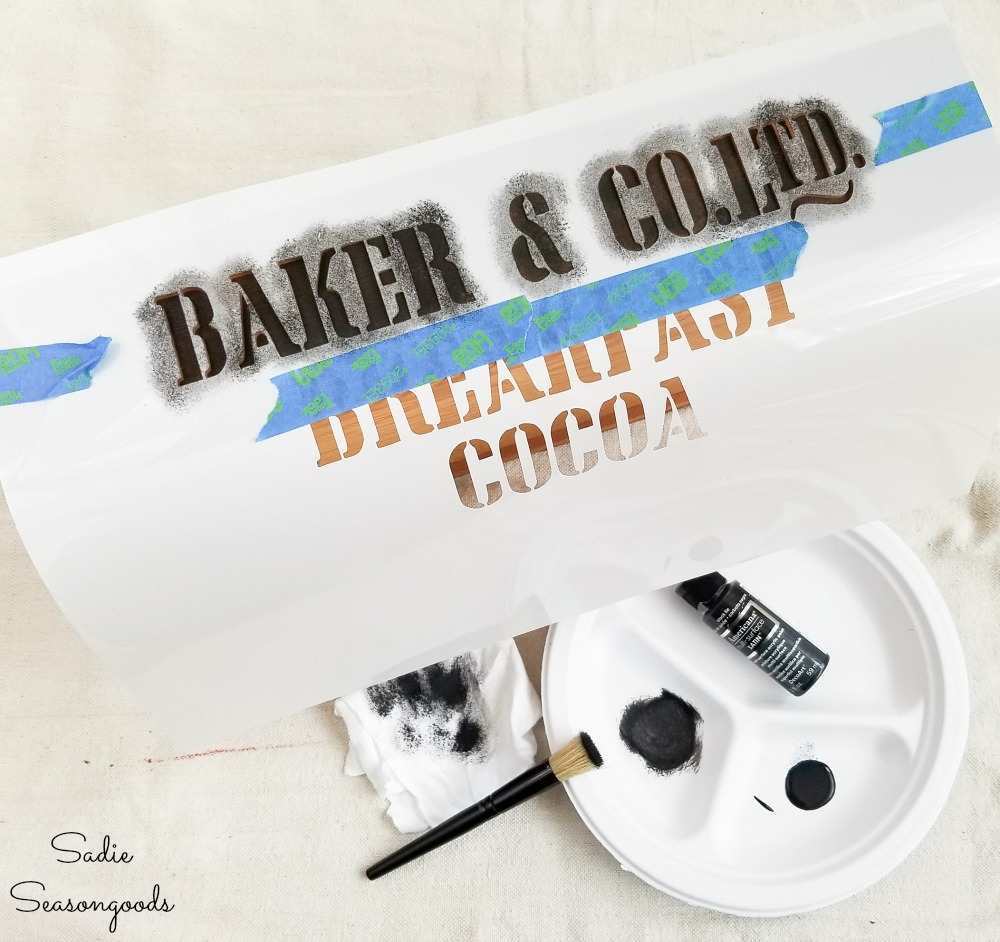 After I was done stenciling each of the rustic wooden crates from old drawers, I was left with this trio!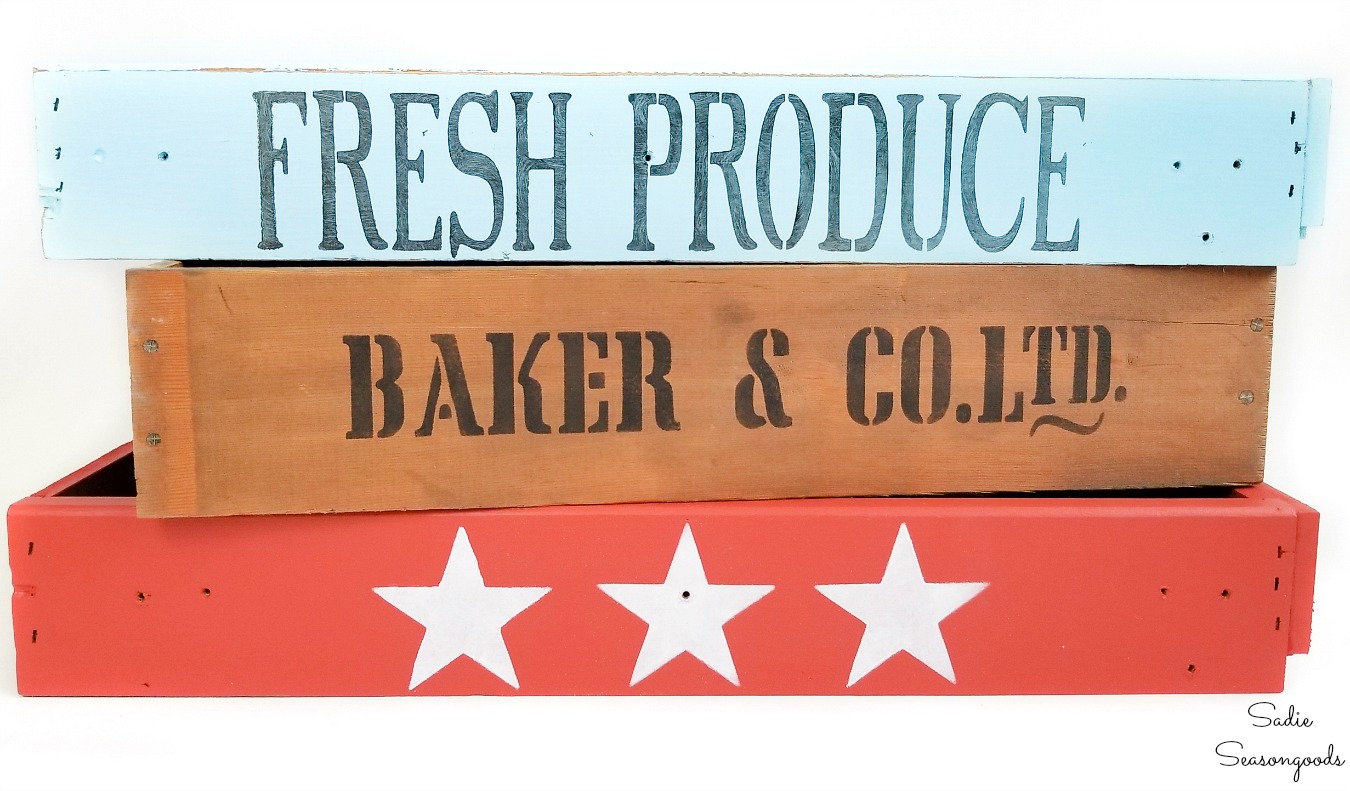 I was able to re-use my fresh produce stencil from this project and my multi-sized star stencil from another project, too. Gotta love it when that happens!
Rustic Wooden Crates from Old Drawers
Aren't they great? Would you even know that they started out as old drawers from Habitat Restore?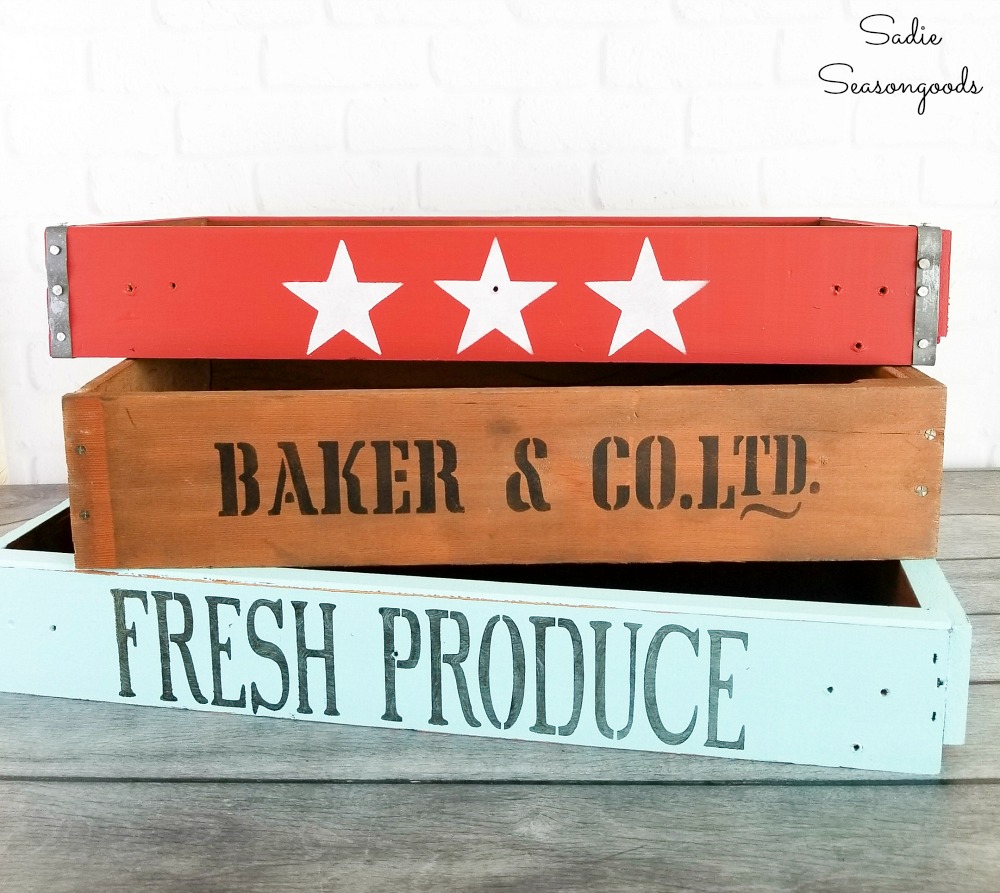 And are you looking closely to my red soda crate? I used aluminum label tape to recreate the look of reinforcement brackets that authentic soda crates have!
Now I have a whole set of rustic wooden crates that I can use in any number of ways, and for a lot cheaper than the real thing. Such a fun and unexpected way to repurpose some old drawers!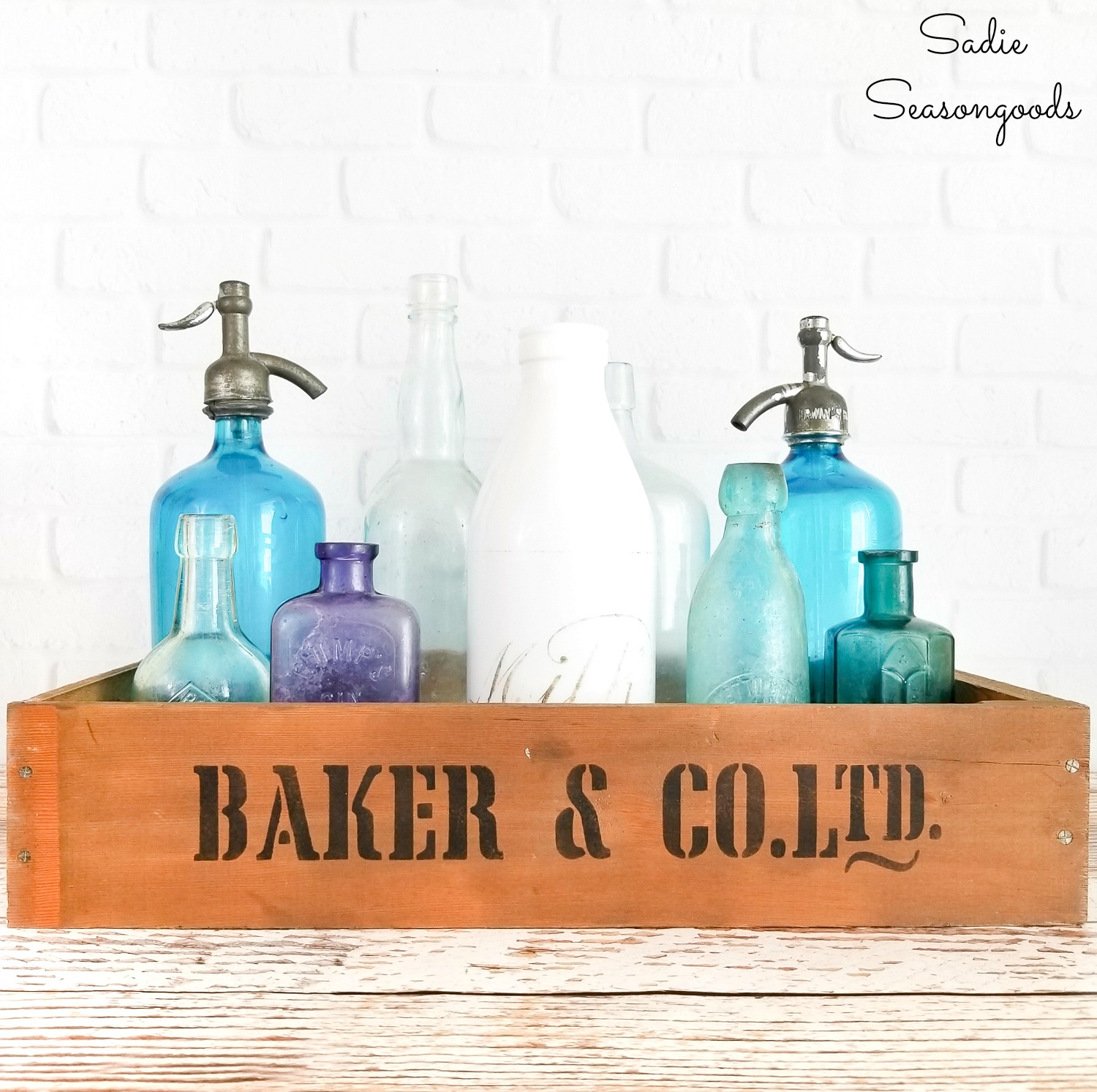 If you've ever wanted vintage crates to decorate your home with, then this is a great option for an inexpensive alternative!
And if you enjoyed this upcycling idea for DIY farmhouse decor, then you may also enjoy this windmill wall decor that I made, as well!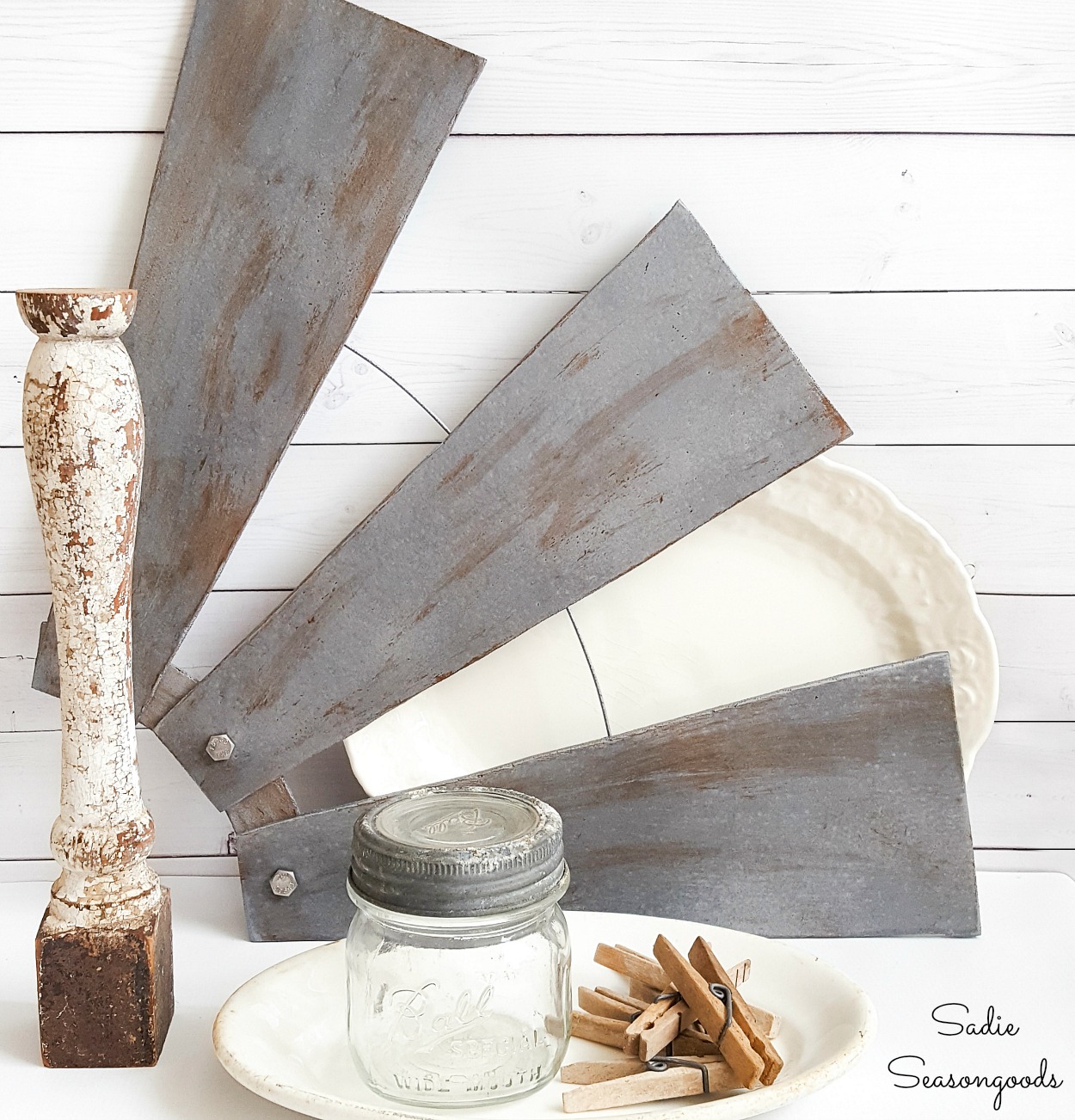 Craft on!
S
Want to be notified when I publish my next upcycling project tutorial?
Subscribe to Blog via Email
Join me on Social Media:

PIN ME!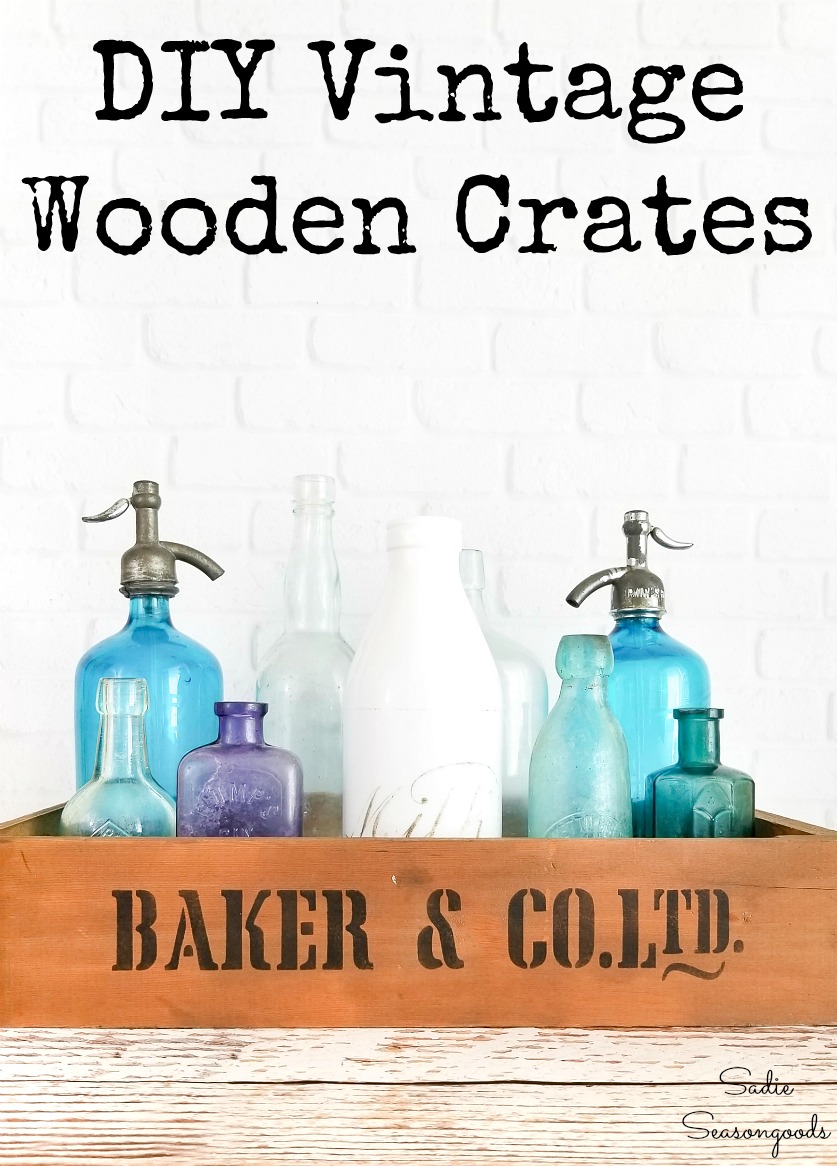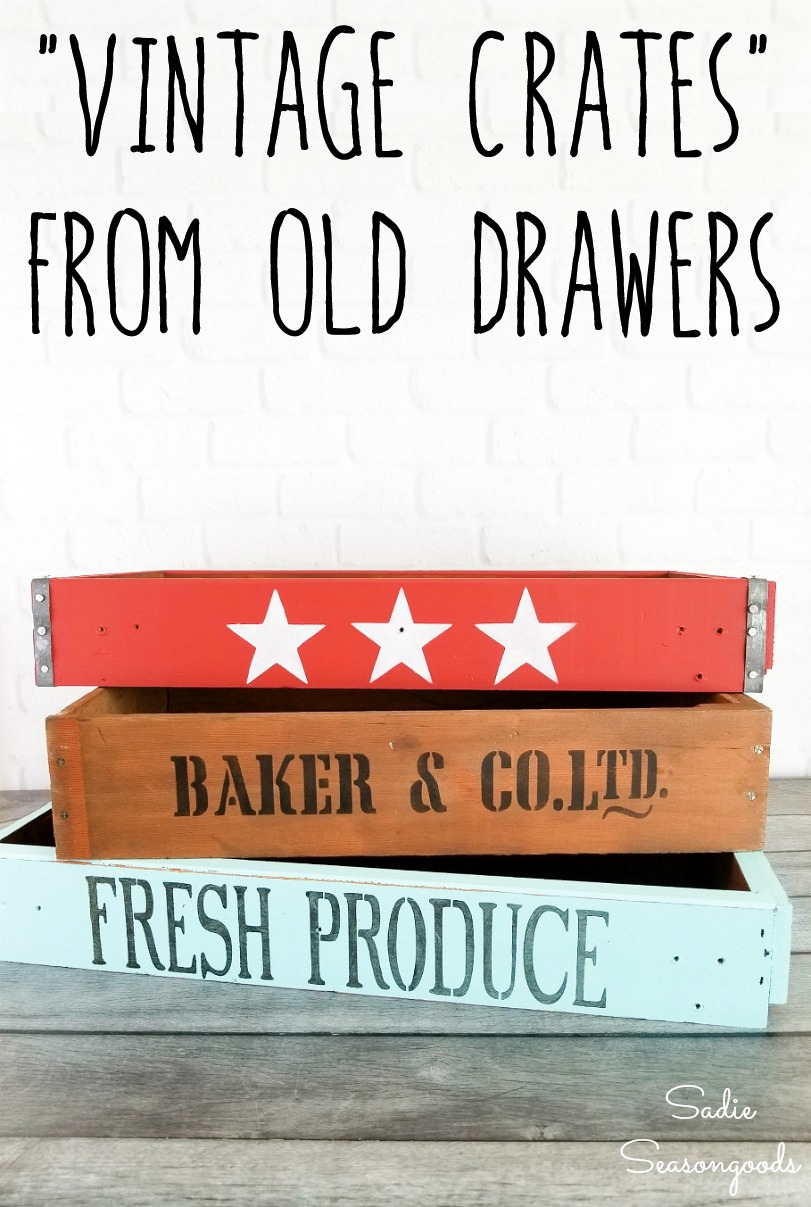 Sarah Ramberg is the owner of Sadie Seasongoods, a website that celebrates all things secondhand. From upcycling ideas and thrifted decor to vintage-centric travel itineraries, Sadie Seasongoods is a one-stop shop for anyone who loves thrifting and approachable repurposing ideas. Sarah is also the author of "Crafting with Flannel" and has been featured in numerous media outlets and magazines.