Last year, I upcycled a coffee mug tree into a tabletop Christmas tree. At the time, I had set aside the remaining "arms" or wood spindles for another project. Well, I'm happy to say that I'm FINALLY upcycling those coffee mug tree arms now. And I'm turning them into wooden spindle ornaments !
Allow me to back up first, though, and refresh your memory. This was the coffee mug tree in question, found at "The Bins".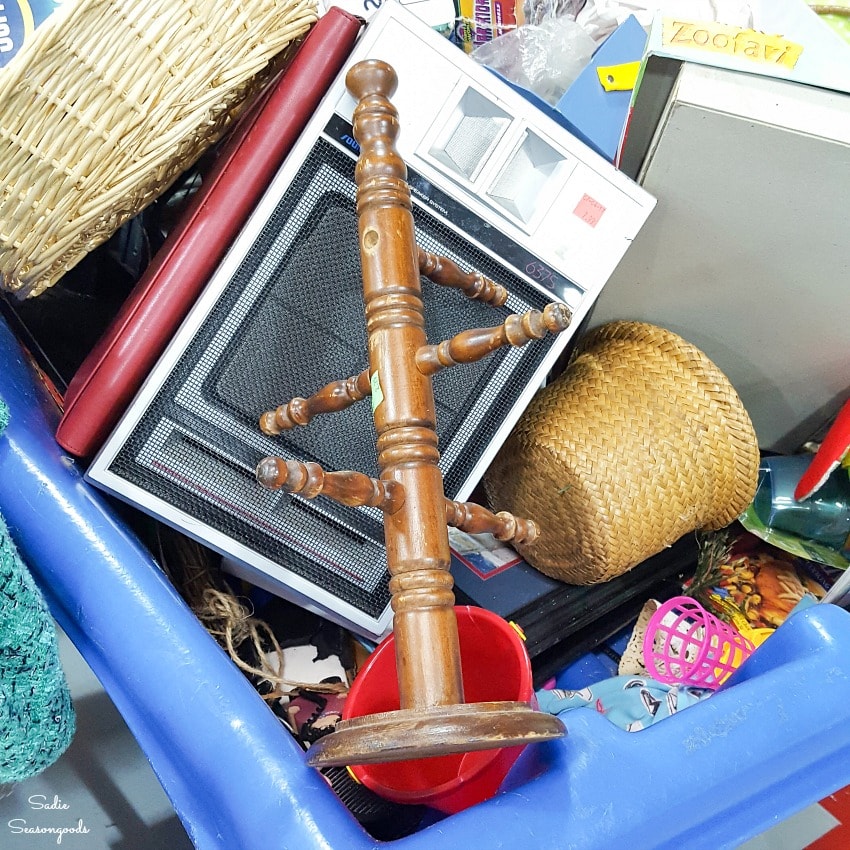 And this was the tabletop tree I made with the base: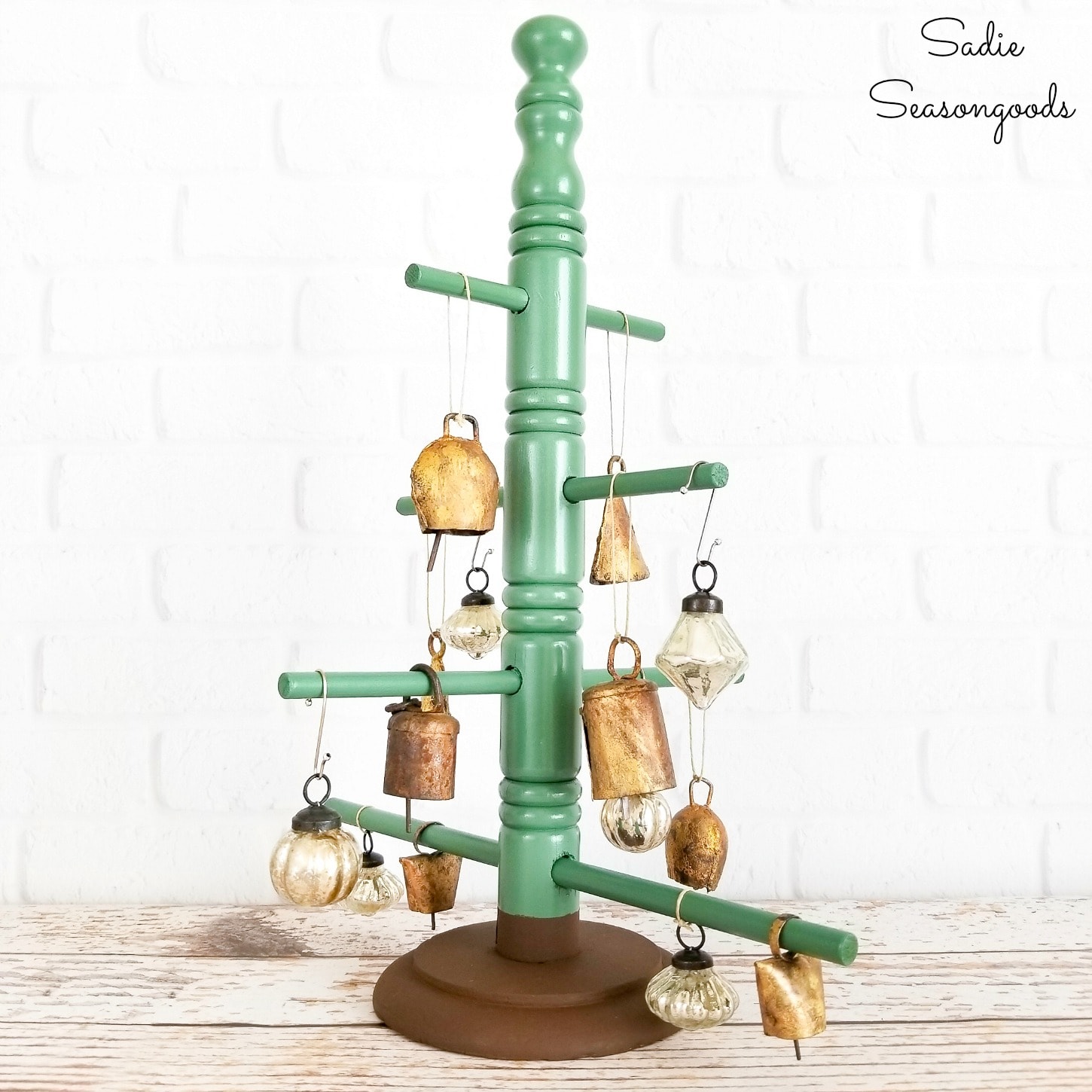 But I was still left with the little arms- five of them, to be exact, since one was missing.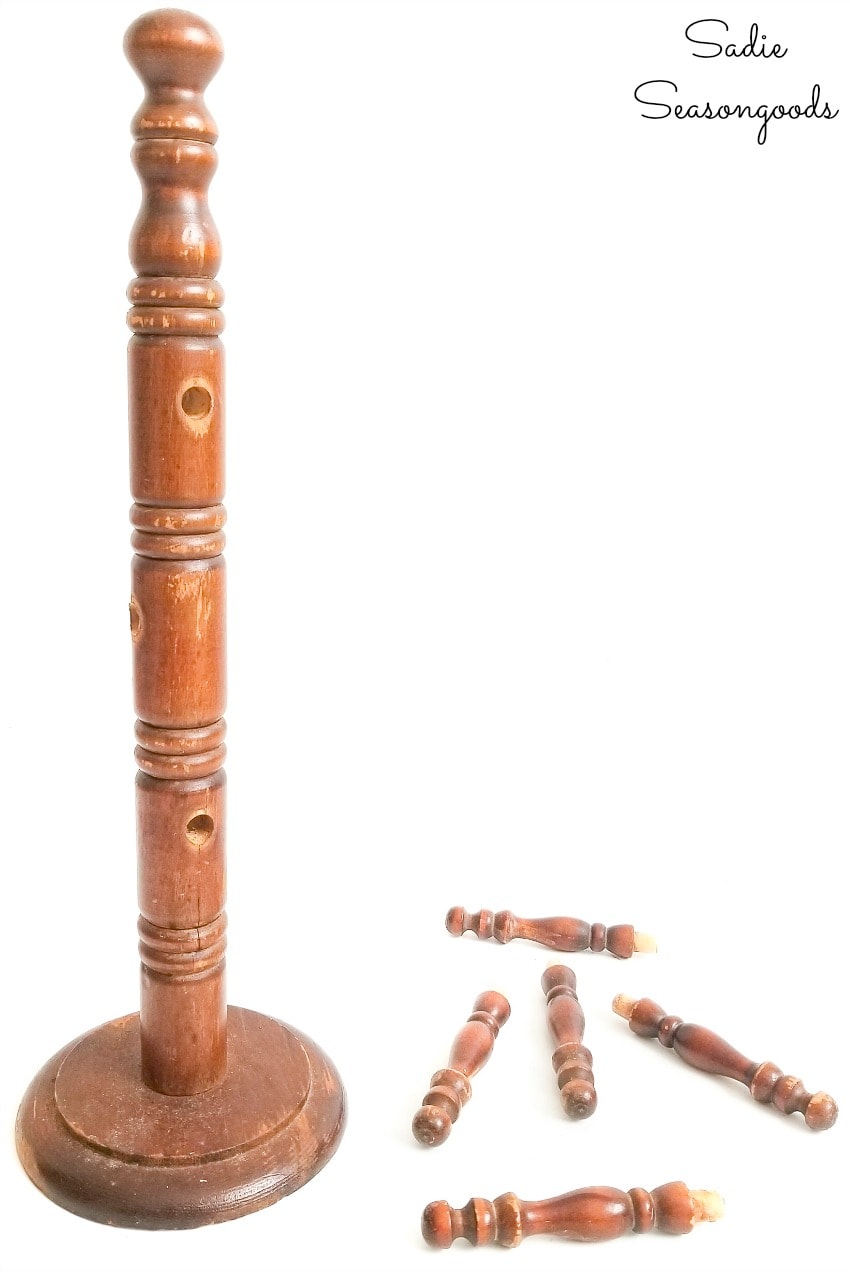 As you can see, they easily pulled out from the mug tree stand, no tools required.
My plan was simple: Paint the wood spindles and wrap them with colored twine, cord, or string. Pretty easy!
This post contains affiliate links for your crafting convenience. As an Amazon Affiliate, I earn from qualifying purchases. All blue, bold, and underlined text is a clickable link, either to a product or to a related post.
Wooden Spindles from a Mug Tree Stand
Now that I had the wooden spindles in hand, I was ready to get started!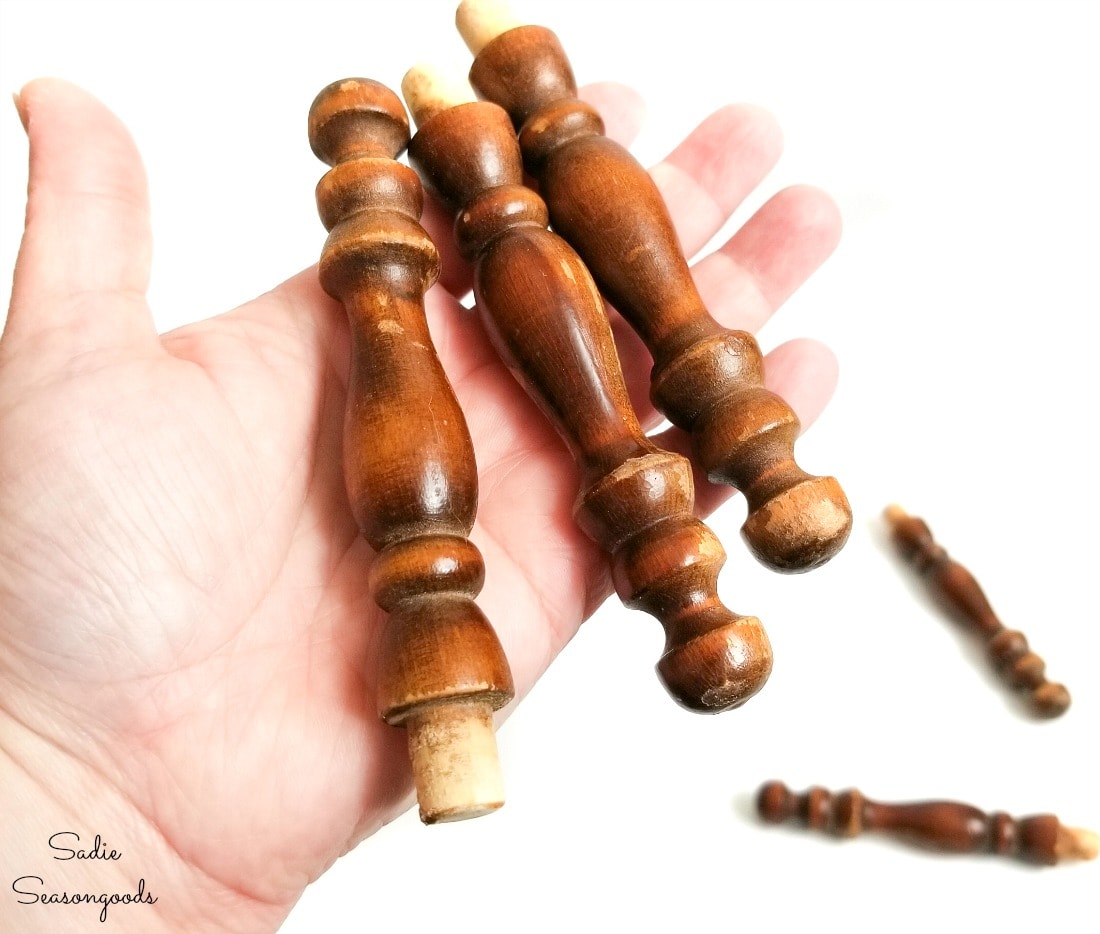 First things first, I needed to remove the very top of each of my wood spindles.
In other words, the peg that actually inserted into the mug tree. I used a small hand saw (similar to this one here) to do the job easily and cleanly.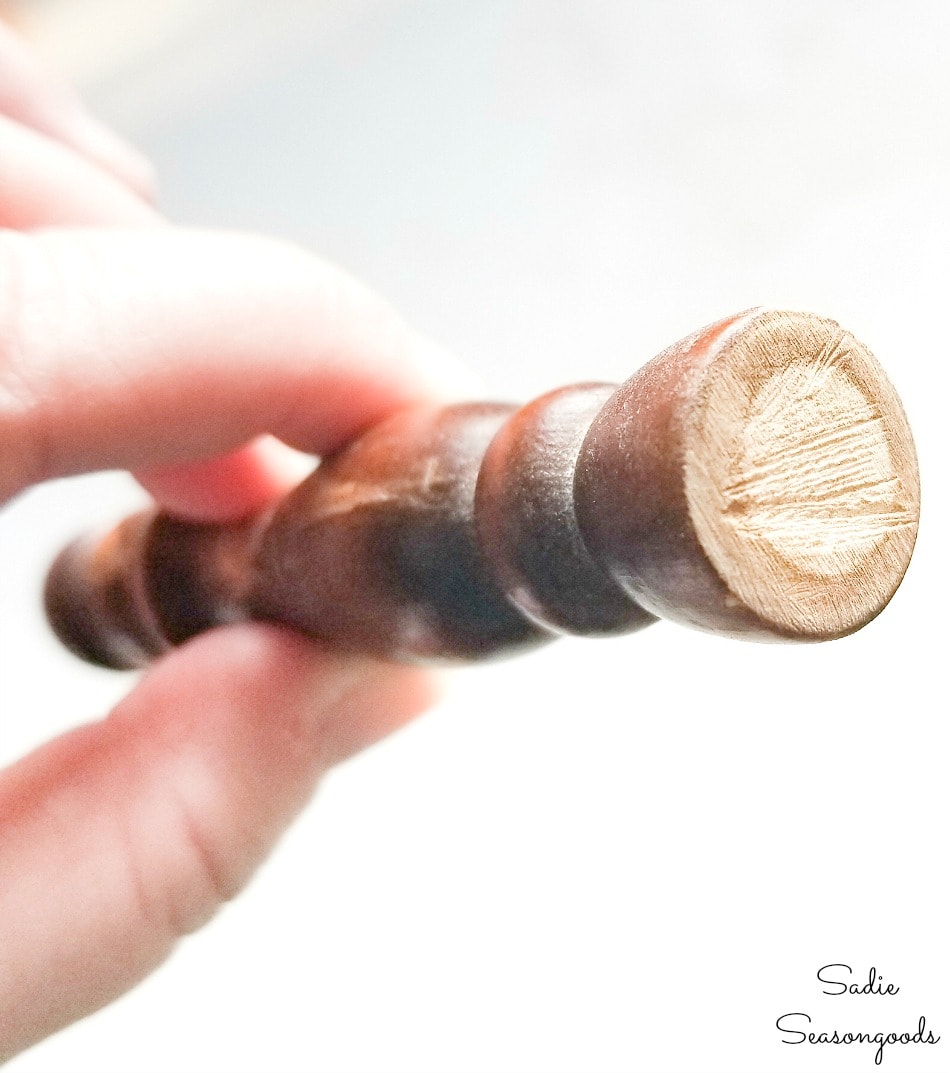 Next, I sanded down the top until it was nice and smooth.
Using my power drill, I made small pilot holes in the center of each of the wood spindles before screwing in a dainty eye screw.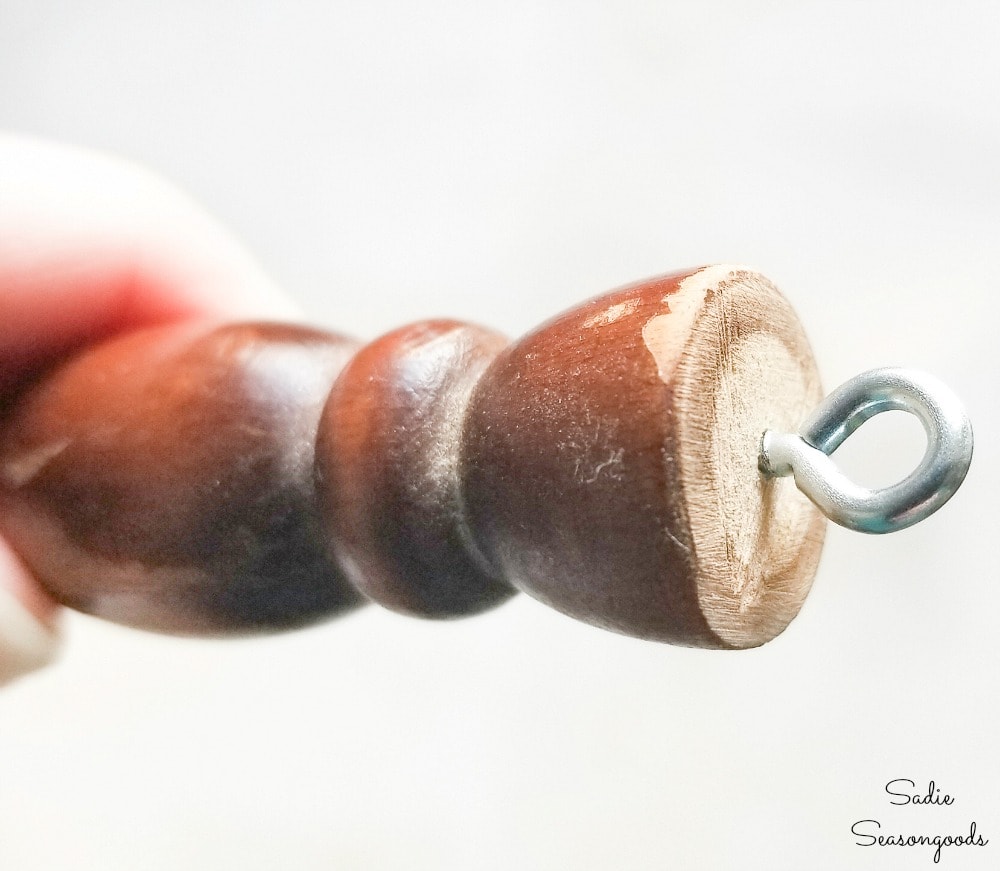 Now it was time to paint my wooden spindle ornaments!
Since I had five mug tree arms, I used the following colors: (1) a festive red; (2) a jolly green; (3) a basic white; (4) an antiqued brass; and (5) an aged silver.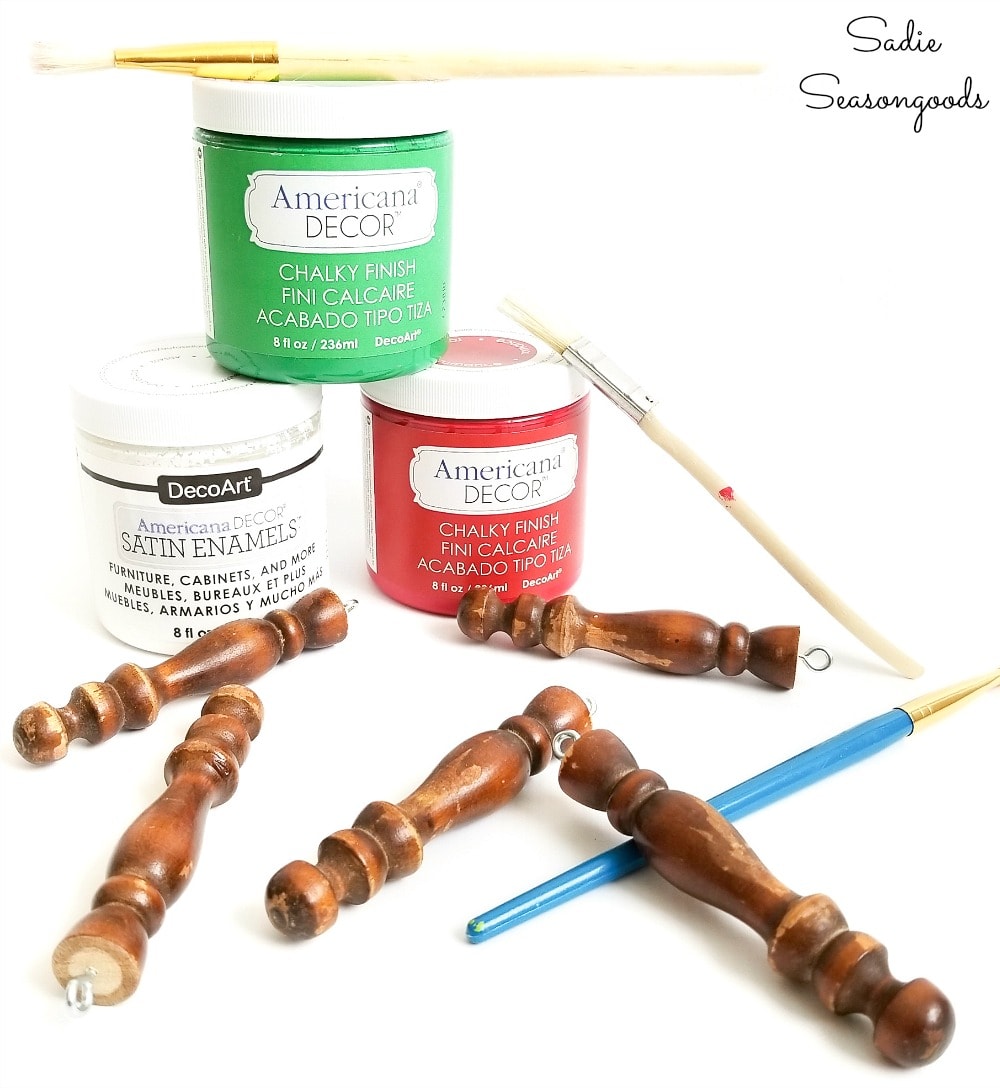 Hint- this is why I screwed in the eye screws early on. Sure, I'll need them for hanging my ornaments, but the eye screw gave me something to hold onto during painting!
Decorating the Wooden Spindle Ornaments
Aren't they looking festive now? You'd never know they came from a coffee mug tree, eh?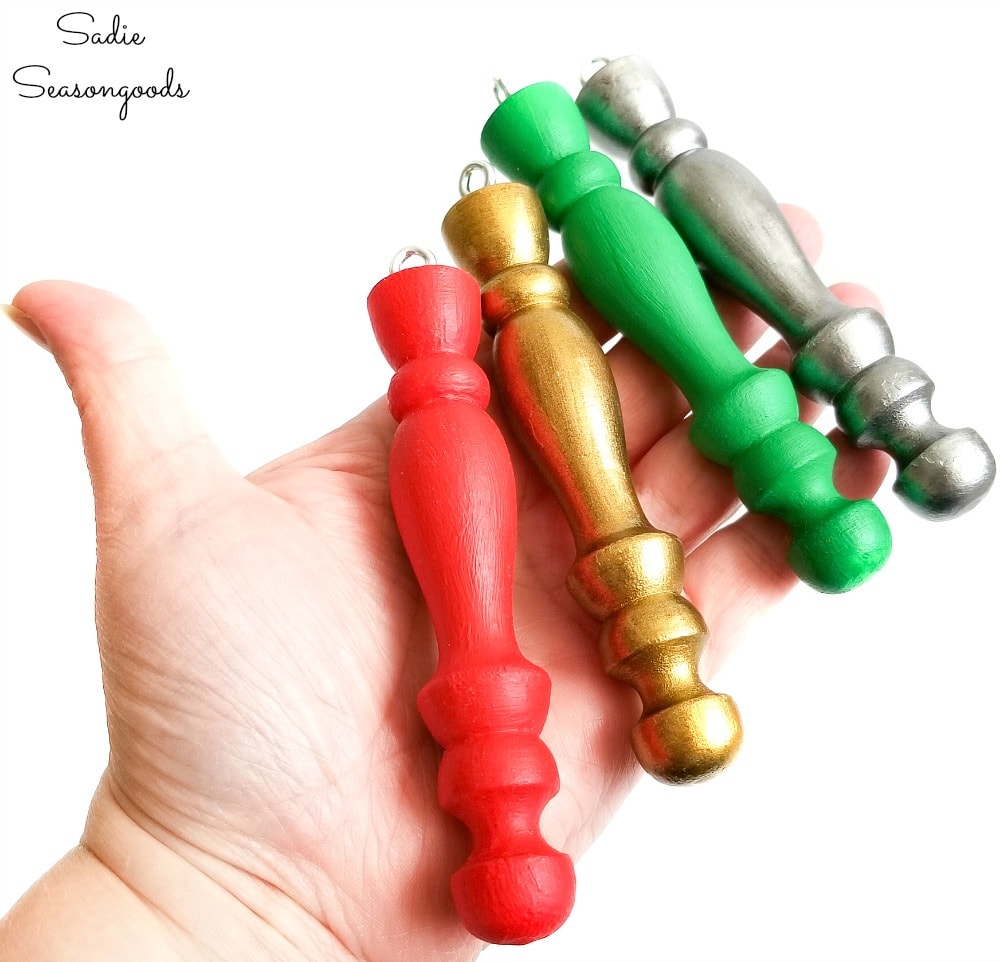 Once the spindles were painted, I gathered up some braided cord in Christmas colors. You could use any number of things- including larger-scale Baker's twine, etc.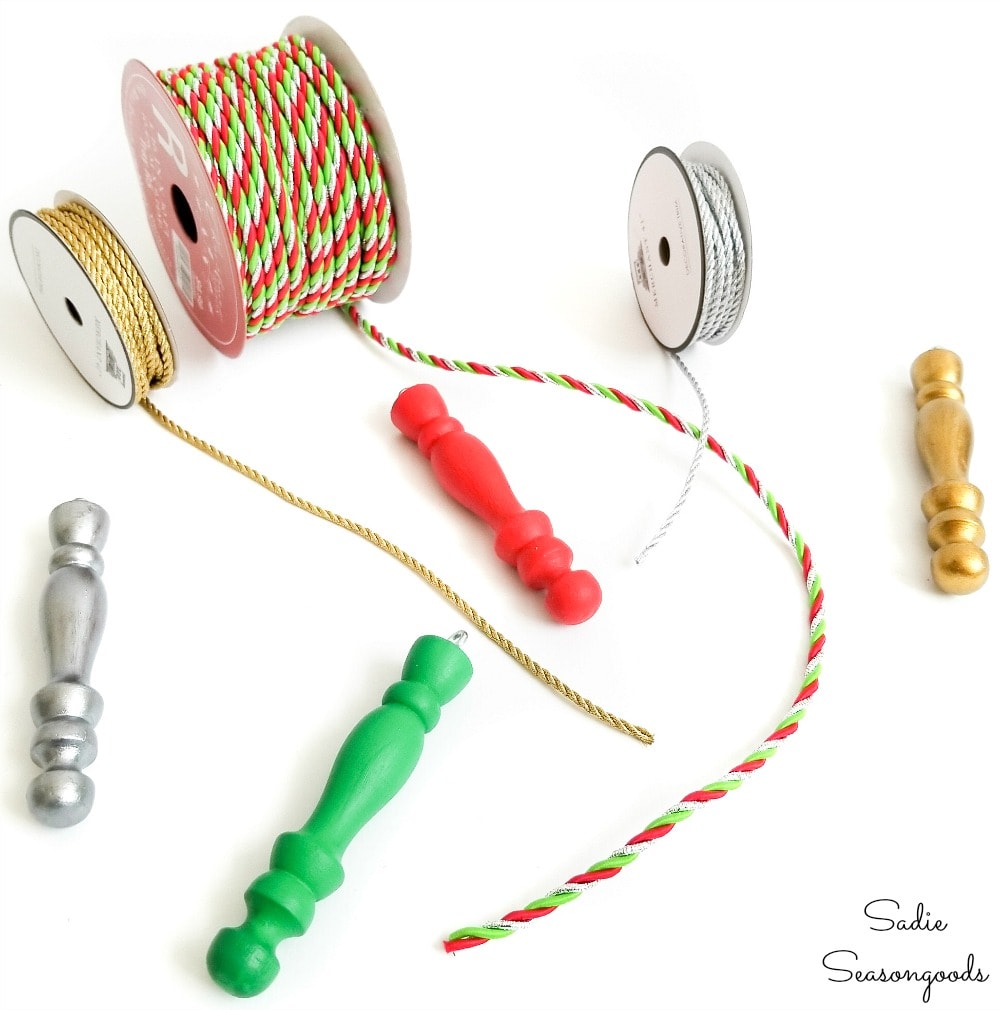 I used my hot glue gun to start and finish the ends of the braided cord. I suppose you could use other glues, but this was a good use of the instantaneous drying power of hot glue!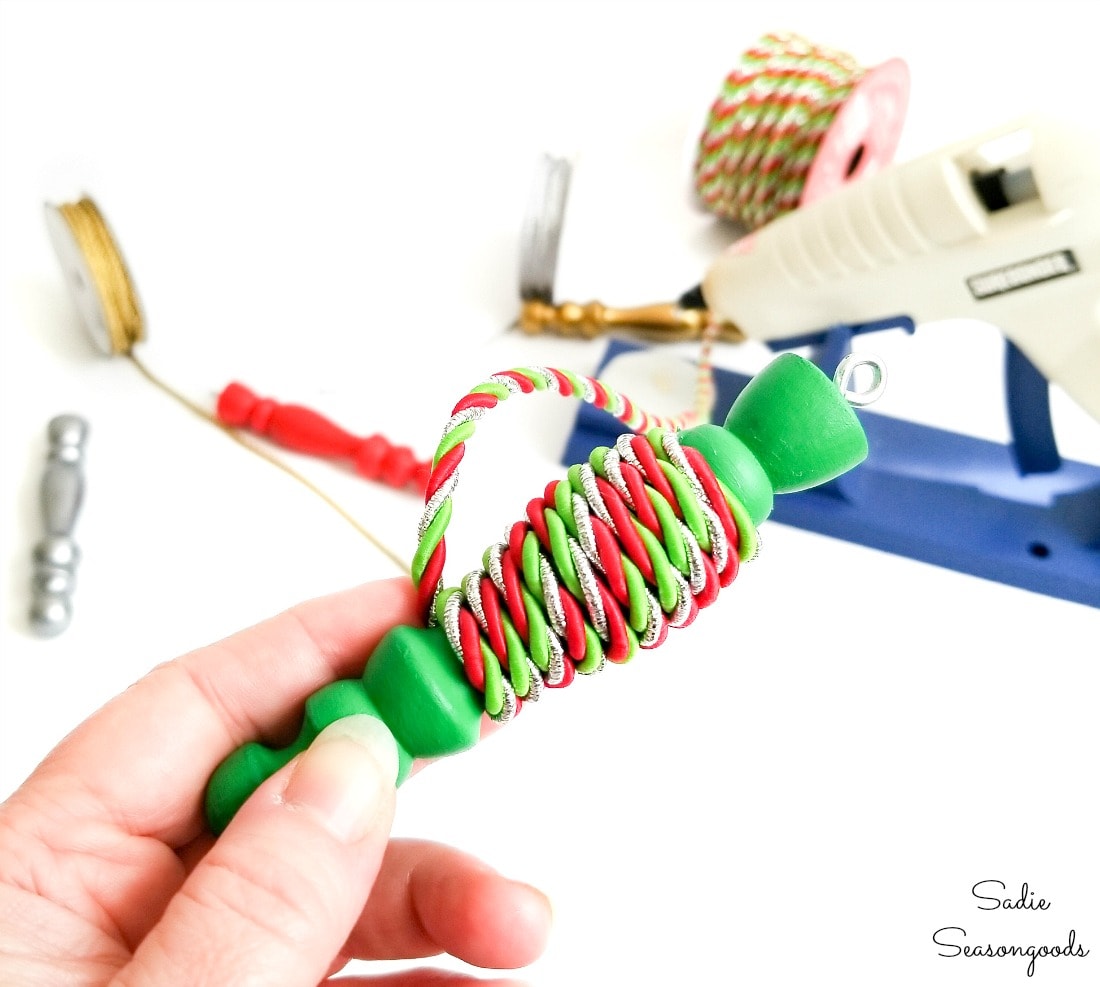 It's worth mentioning that I REALLY wanted to use a thicker baker's twine (both red/white and green/white) to turn these wooden spindles into peppermint stick ornaments. But I couldn't find the right thickness- dainty twine looked weird. Oh, well…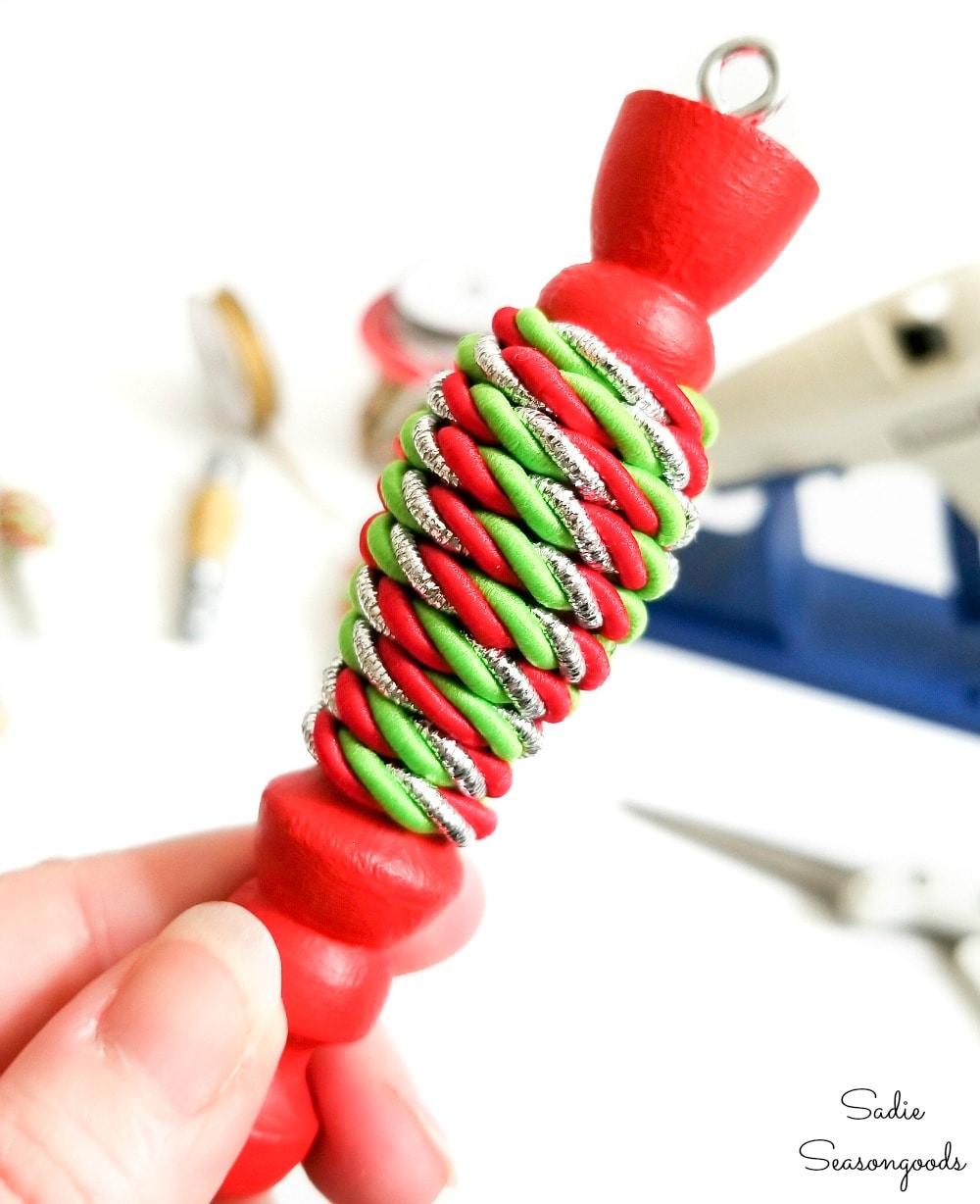 Wooden Spindle Ornaments from a Coffee Mug Tree
And that was it- my wooden spindle ornaments from a coffee mug tree were complete and ready to hang on our tree. Even if they weren't peppermint stick ornaments like I had hoped to create.
Cute enough, though!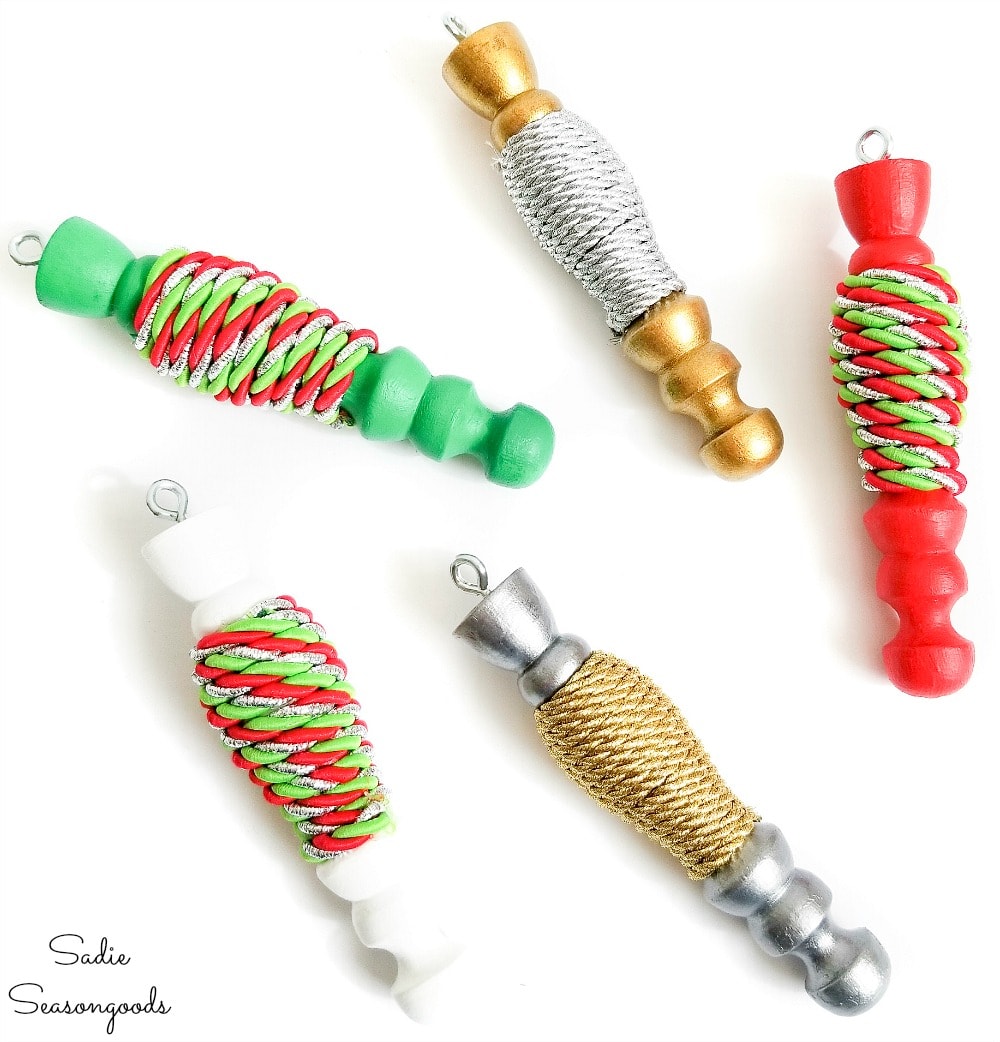 On my smaller Christmas tree, I simply added an ornament hanger directly to the eye screw. But you could add a loop of coordinating twine or cord to the eye screw to make the ornament longer.
And there you have it- DIY Christmas ornaments from the wood spindles that came from a coffee mug tree!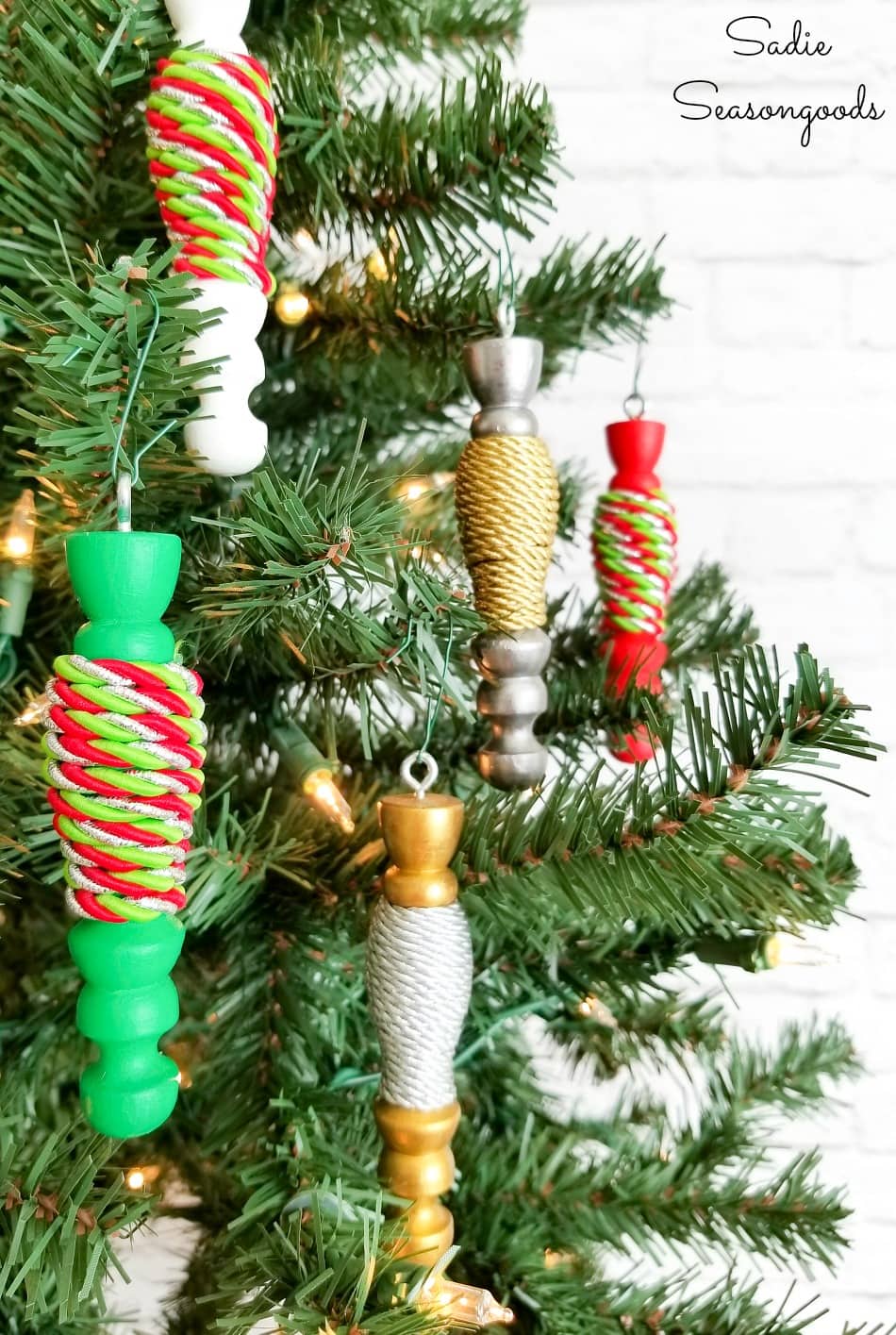 I love the fact that I got TWO projects from a single coffee mug tree- and I paid nearly nothing for it since it came from The Bins.
If you enjoyed this upcycling idea for DIY Christmas ornaments, then you may also be interested in how I upcycled some clear ornaments from the thrift store, too.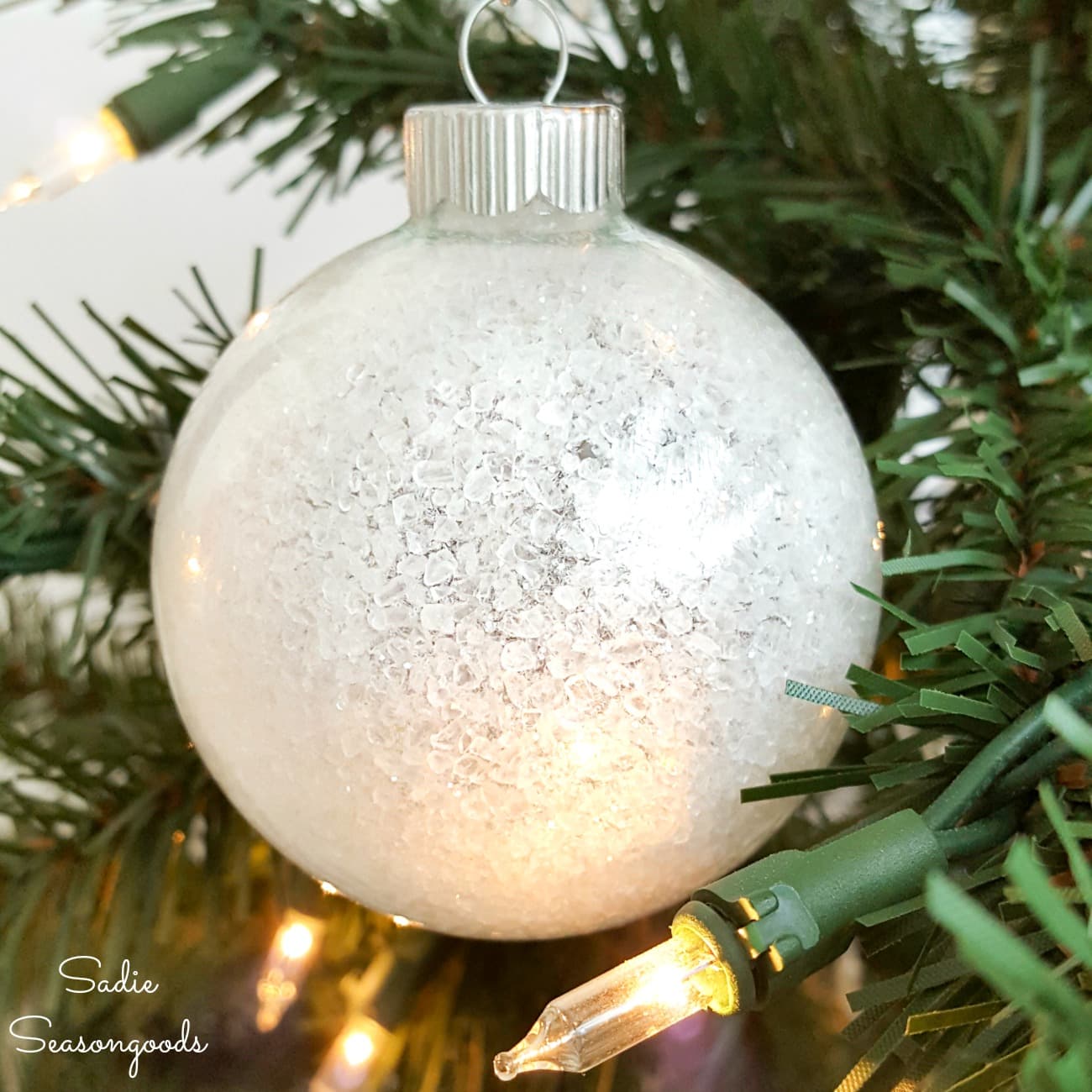 Plus, my book, "Crafting with Flannel", also has a chapter dedicated to Christmas projects- with three ornament ideas inside! It's available to purchase online from Amazon, Target, Barnes & Noble, and Walmart.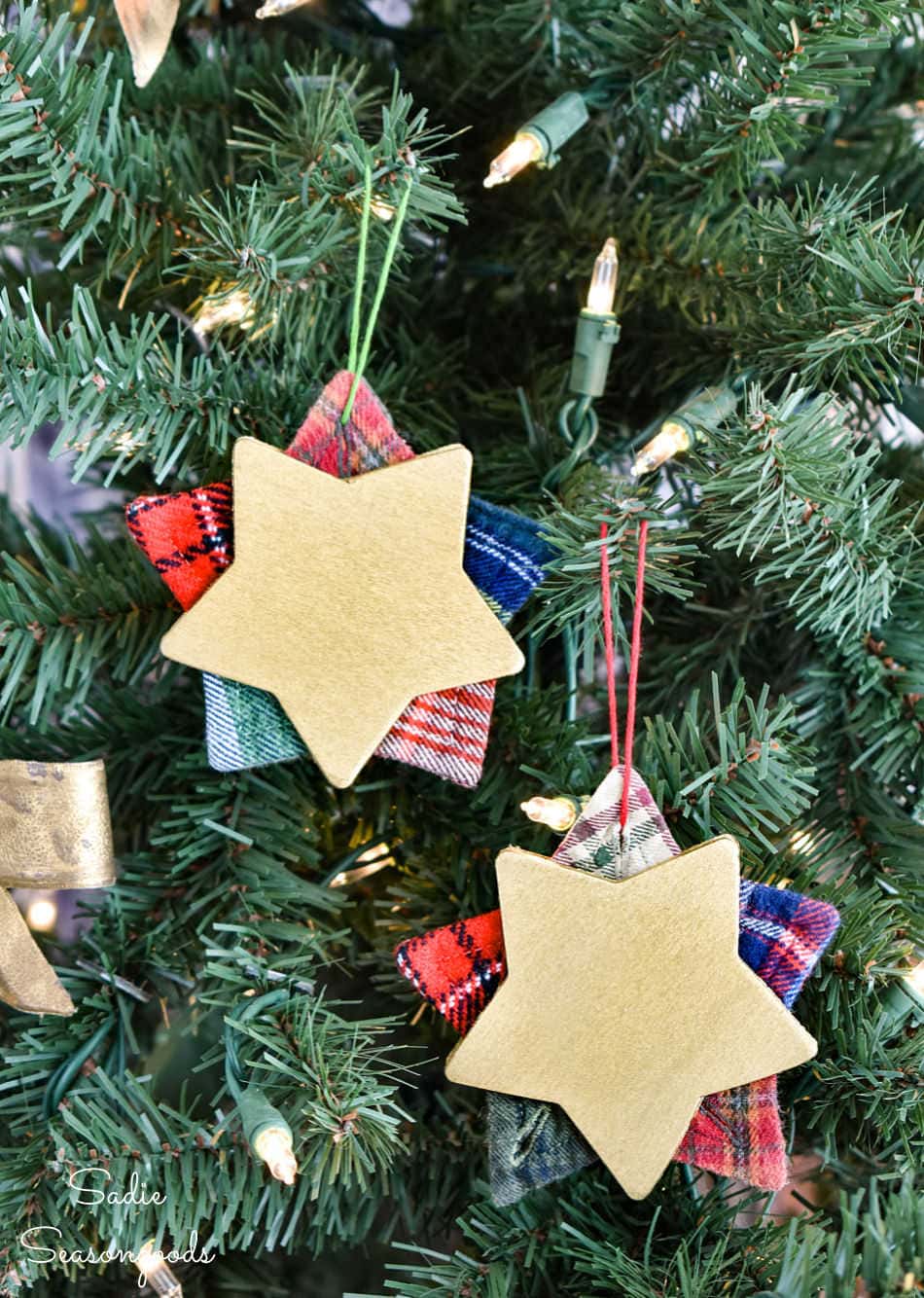 Craft on!
S
Want to be notified when I publish my next upcycling project tutorial?
Subscribe to Blog via Email
Join me on Social Media:

PIN ME!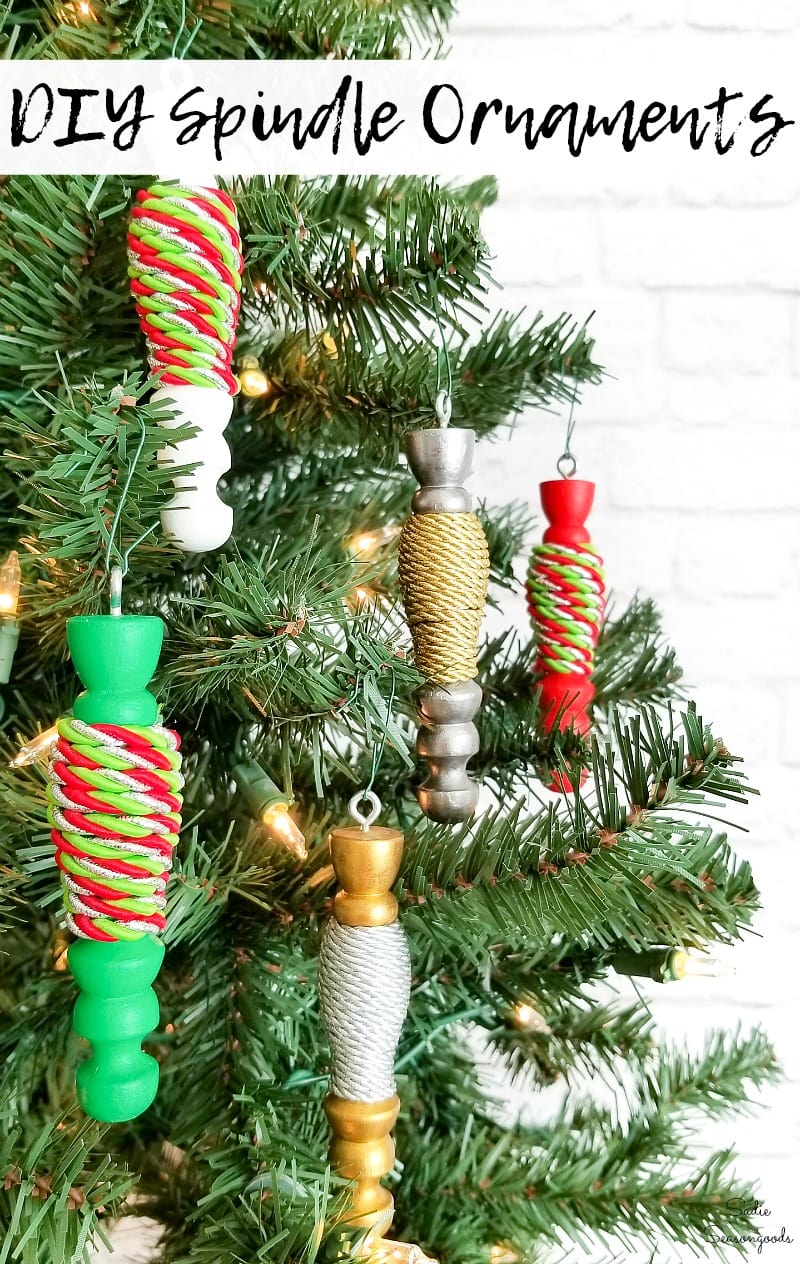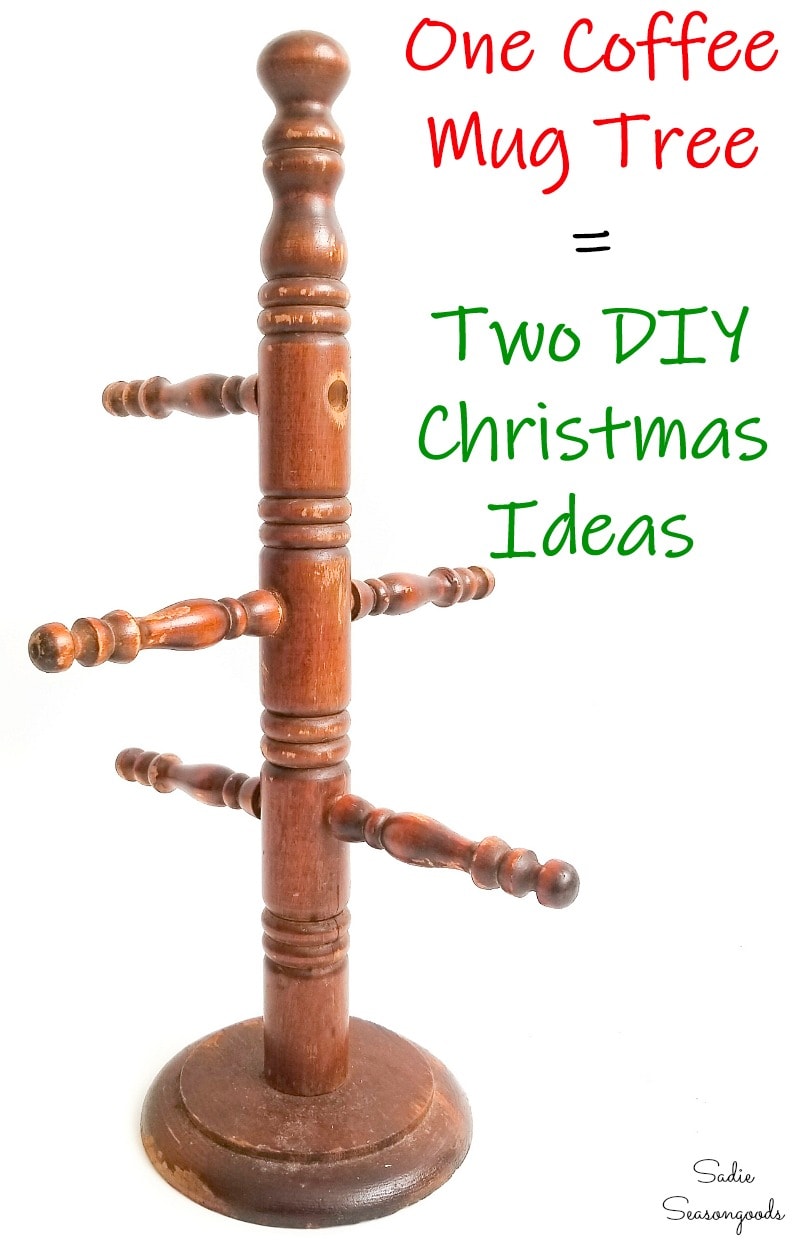 Sarah Ramberg is the owner of Sadie Seasongoods, a website that celebrates all things secondhand. From upcycling ideas and thrifted decor to vintage-centric travel itineraries, Sadie Seasongoods is a one-stop shop for anyone who loves thrifting and approachable repurposing ideas. Sarah is also the author of "Crafting with Flannel" and has been featured in numerous media outlets and magazines.