Because Greenville, SC (where I live) was historically a town filled with fabric mills, the relics of those old mills are found in every vintage shop around. And repurposing those relics is a favorite pastime- including these wooden bobbins or thread bobbins. Because they were on the smaller side, I had an idea to turn them into icicle ornaments!
All I needed to do was give them a paint job and figure out a way to hang them from my Christmas tree. And I had just the thing to use as ornament tops!
This post contains affiliate links for your crafting convenience.
Upcycling the Thread Bobbins into DIY Ornaments
First, I painted the wooden bobbins with an "undercolor"- I chose shimmery gold and silver. Why an "undercolor"? Because I planned on distressing these so that two colors would show through!
Next, I rubbed plain ole' paraffin wax over the thread bobbins. The wax will help during the distressing process by allowing the top coat of paint to be rubbed or sanded off.
After I rubbed on the wax, I painted the wooden bobbins again in a brighter "overcolor". For this step, I chose a chalk paint red and turquoise blue.
I absolutely love the color combo of a bright poppy red and an aqua or turquoise at Christmas time!
Once my unique Christmas ornaments dried, I rubbed off some of the red and blue chalk paint. This revealed the flashy metallic paint underneath, which was exactly what I had wanted to happen!
After that, I buffed finishing wax over the thread bobbins as a top coat to protect the painted finish.
Last but not least, it was time to "cap off" my icicle ornaments. And to do so, I used ornament caps from vintage Christmas ornaments that had gotten broken!
And if you don't have any broken ornaments, grab a box of cheap ornaments from the thrift store and use the ornament caps from those!
To attach the ornament caps to the thread spindles, I added some super glue in the top hole and pinched the ornament caps in the holes. Finally, I propped up the wooden bobbins in antique bottles so they could dry right-side-up.
Rustic Christmas Ornaments from Thread Bobbins
Once everything dried, I had three icicle ornaments from my the thread bobbins. I just LOVE how they turned out!
They look even better hanging on the tree, don't they?
I've had fun turning these wooden bobbins into DIY Christmas ornaments. But other small wooden spindles or even finials would work as well. In fact, there are probably endless possibilities for creating rustic Christmas ornaments from upcycled, unexpected vintage elements like these!
And if you enjoyed this upcycling idea using thread spindles as Christmas ornaments, then you'll love these tabletop trees that I made from serger thread cones!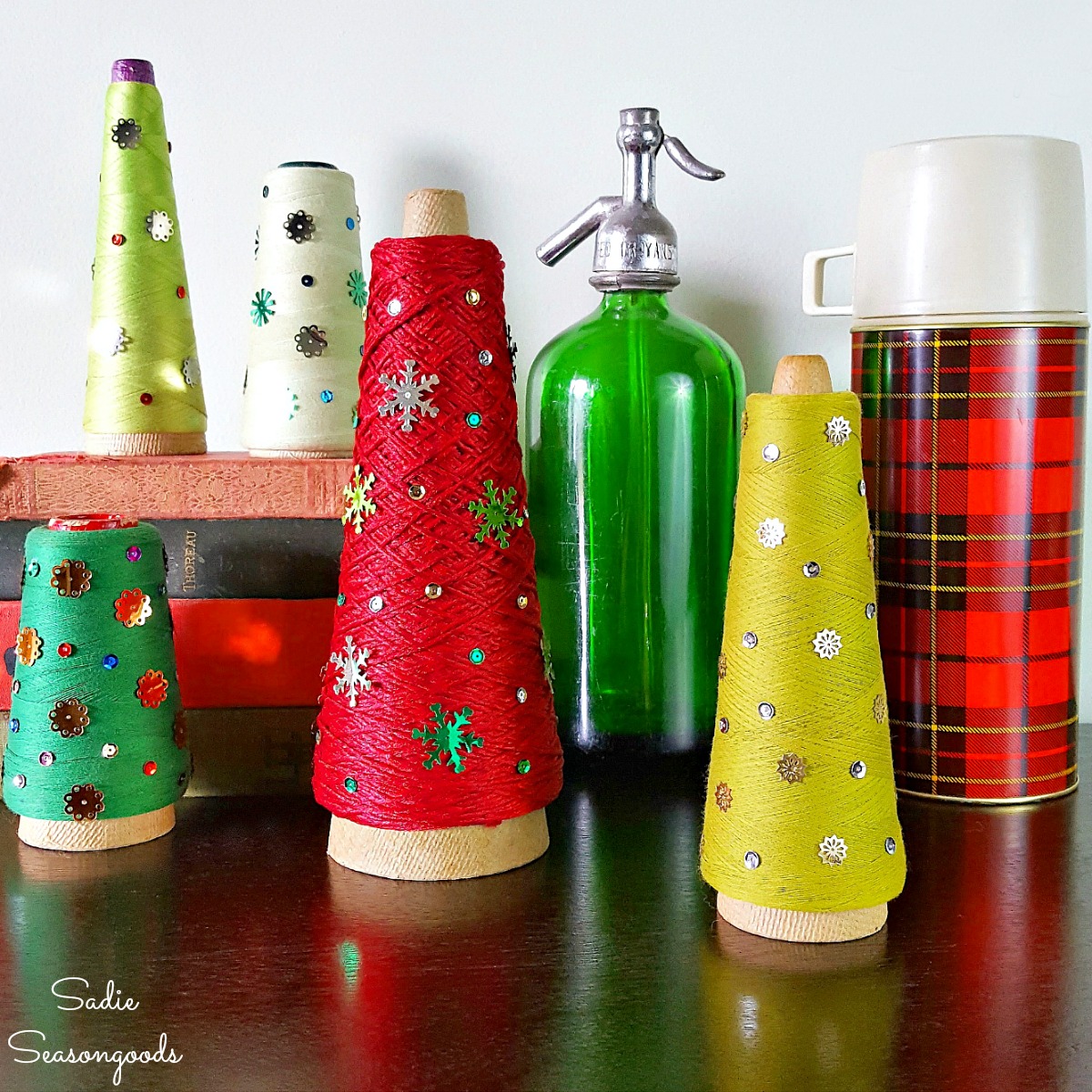 Craft on!
S
Want to be notified when I publish my next upcycling project tutorial?
Subscribe to Blog via Email
Join me on Social Media: