If you live in or have traveled to the Carolinas, then you may know that this area has a long history in textiles. The mills still dot the landscape, with one in nearly every town. Some are dilapidated, some just empty, and some of have been converted into new commercial/residential use. Relics of that textile mill history (such as serger thread) are found in nearly every antique and thrift store in the region.
I wanted to upcycle the leftover thread cones and began gathering green and red ones whenever I spotted them.
This is the collection of thread cones I ended up with, varying in shade and hue- but with a definite Christmas theme. One was wrapped in a deep scarlet yarn, but the remainders were definitely serger thread.
My main goal was to collect various sizes in reds and greens AND find cones that were constructed of cardboard/paperboard. I admittedly bypassed the plastic cones, even if the thread color was Christmas-y.
This post contains affiliate links for your crafting convenience.
Upcycling a Thread Cone or Serger Thread into a Christmas Project
Anyway, once I had assembled my serger thread, I needed to clean them up a bit. So, I unraveled any loose threads, removed tape and pricetags, and snipped off any tail ends.
Decorating my cone Christmas trees would be simple- sequins to the rescue! But after looking at the sequin options at craft stores (blegh!), I realized that vintage sequins would be far superior.
I found plenty of vintage sequins online in all sorts of shapes and colors. And well, you know me- I'd rather use vintage/secondhand goods over new goods ANY DAY!
Using quick-dry craft glue (which worked perfectly), I simply started decorating the cones with sequins.
And let me tell you, this Christmas project is kind of addictive. I forgot how much fun (and gorgeous) sequins are. They worked perfectly as the ornaments on my cone Christmas trees / tabletop trees.
Though I do also recommend using craft tweezers/forceps to perfectly place the daintier sequins. Just don't use your good tweezers!
Aren't they adorable? Talk about the easiest craft project ever (once you find the serger thread in Christmas colors).
Cone Christmas Trees / Tabletop Trees with Serger Thread
This is a great Christmas project to do with kids, too – using the scissors to trim off any loose tails is the sharpest part! Plus, there's no messy paint – just gluing sequins onto serger thread.
And the end result are adorable tabletop trees to incorporate into your Christmas decor!
I still have oodles of vintage sequins leftover in case I find more serger thread in green. Knowing me, I'll find more cone thread at some point, that's for sure!
If you enjoyed this upcycling idea for unique Christmas decor, then you'll love these Christmas ornaments that look like Florentine coasters!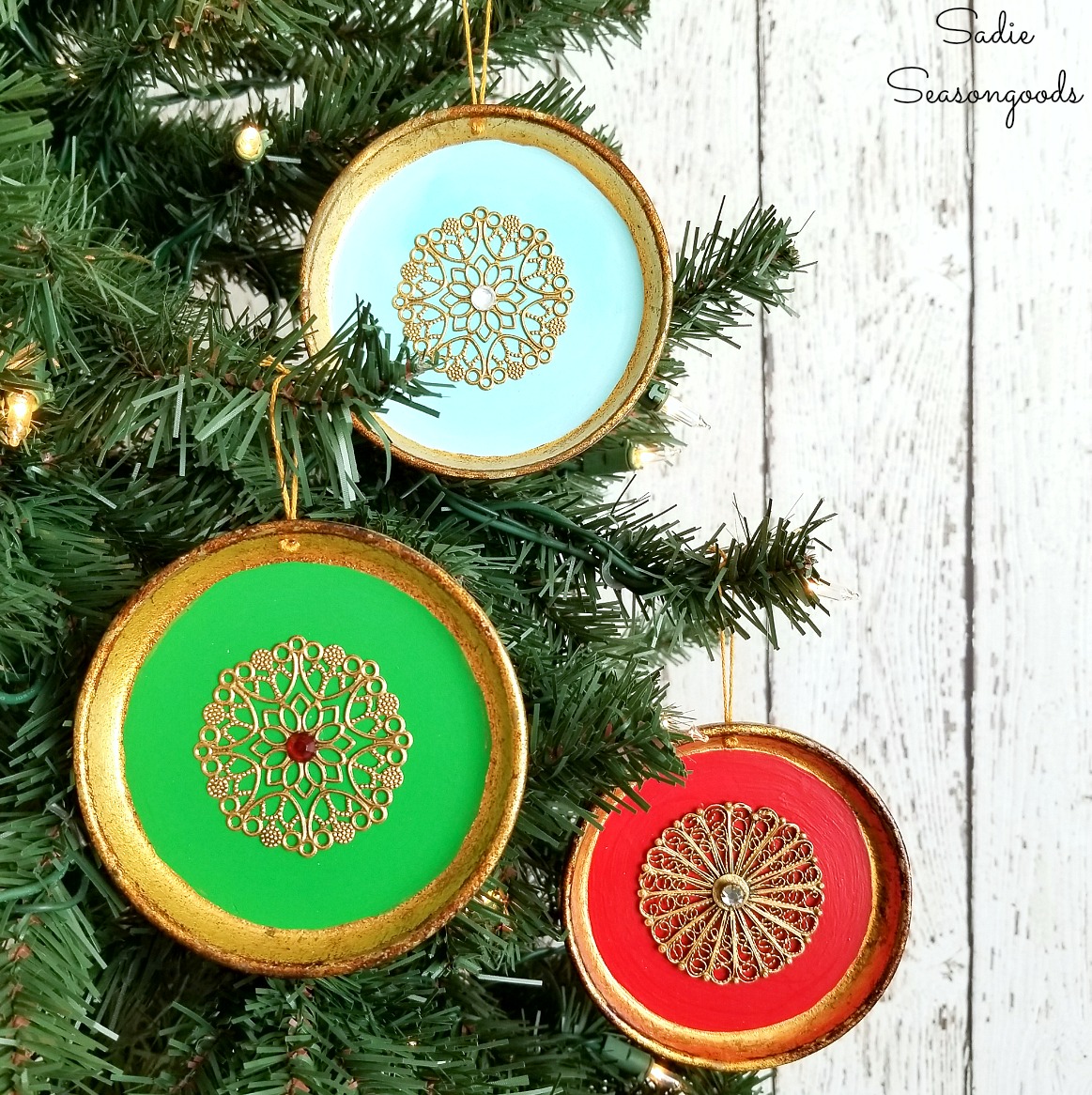 I've also upcycled some serger thread for Halloween, too – as candy corn decor and ghost decorations!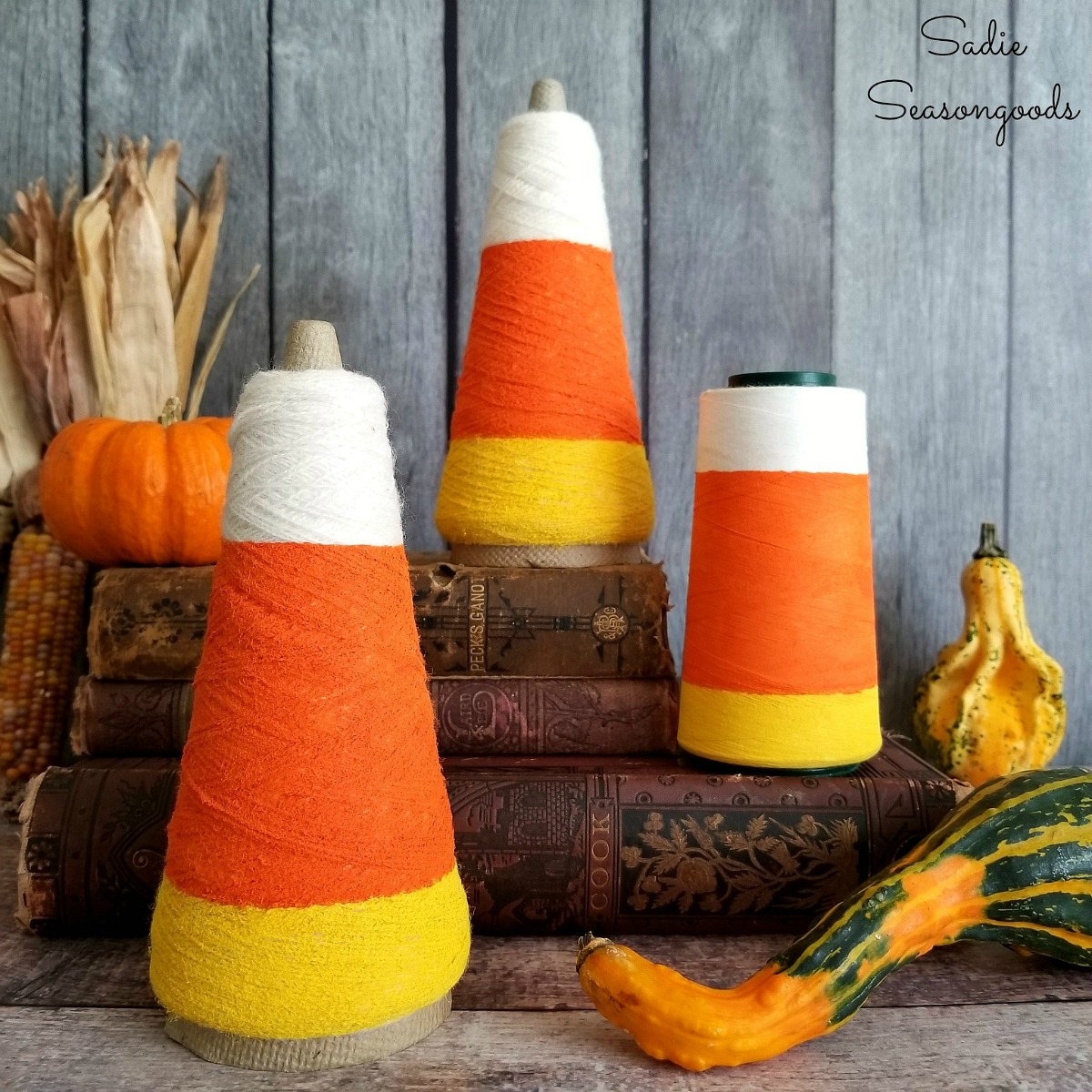 Craft on!
S
Want to be notified when I publish my next upcycling project tutorial?
Subscribe to Blog via Email
Join me on Social Media: