There I was in Goodwill, crawling through the housewares when I paused to check an alert on my phone. A friend's photo of a gorgeous sunset on the beach popped up, and when I went back to thrift shelf scanning, there it was. A vintage spice rack that someone else had painted purple, using it to house her button collection. But with the beach photo still burning a hole in my mind and the spice rack in front of me, I had an idea. To create a sand collection display in the old spice rack!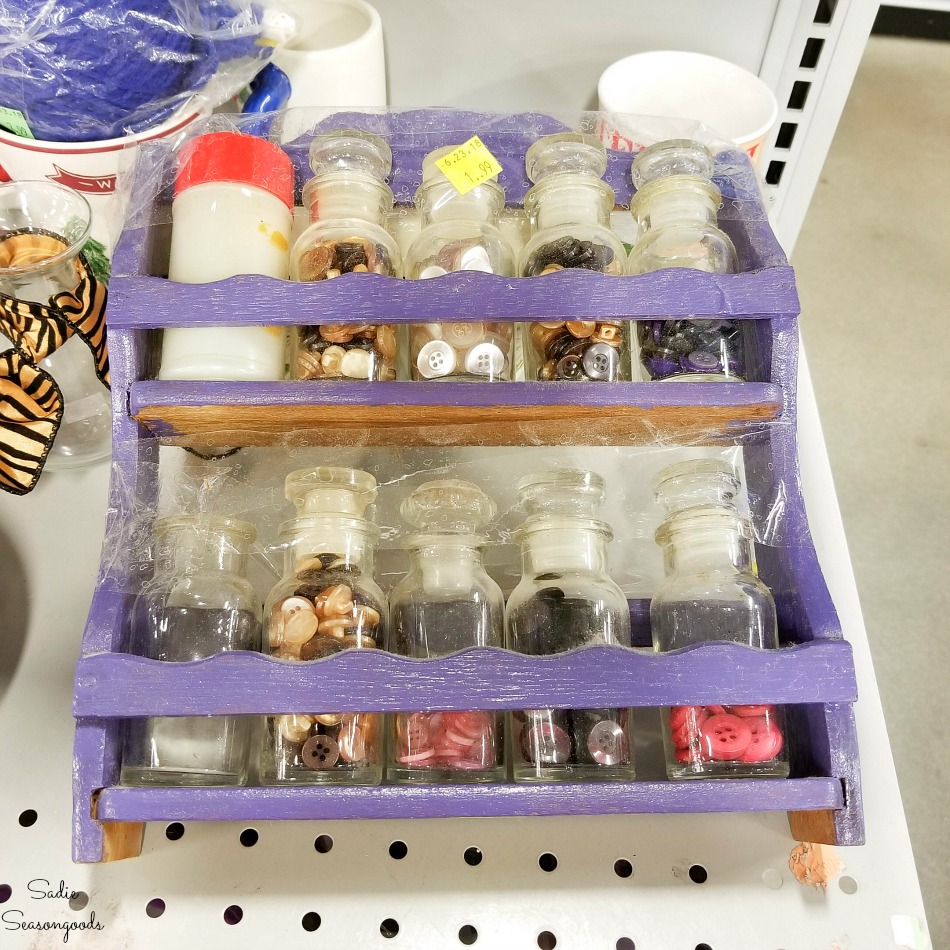 And while I purchased the purple spice rack (for the bottles, really), I already had a plain one that wouldn't need as much work to bring my vision to life.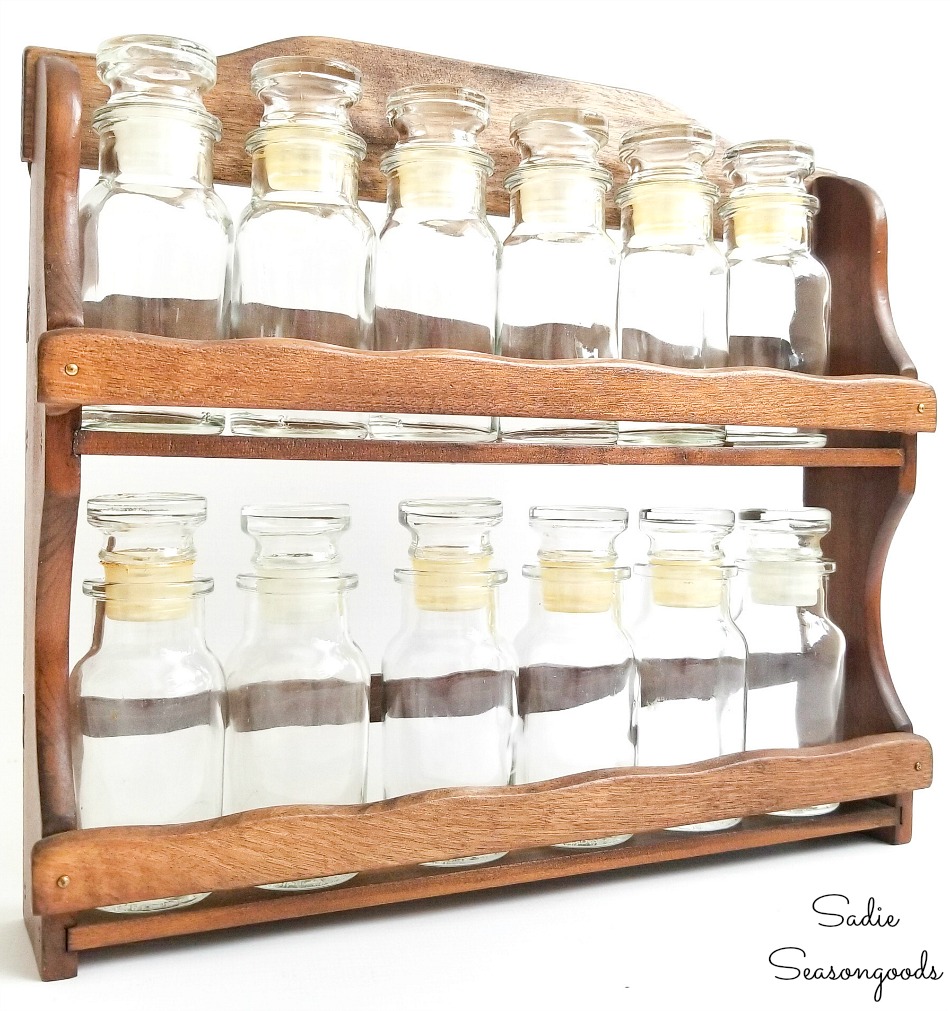 And, yes, I'm no stranger to collecting my own beach sand for projects in the past. Take my DIY message in a bottle craft idea, for example.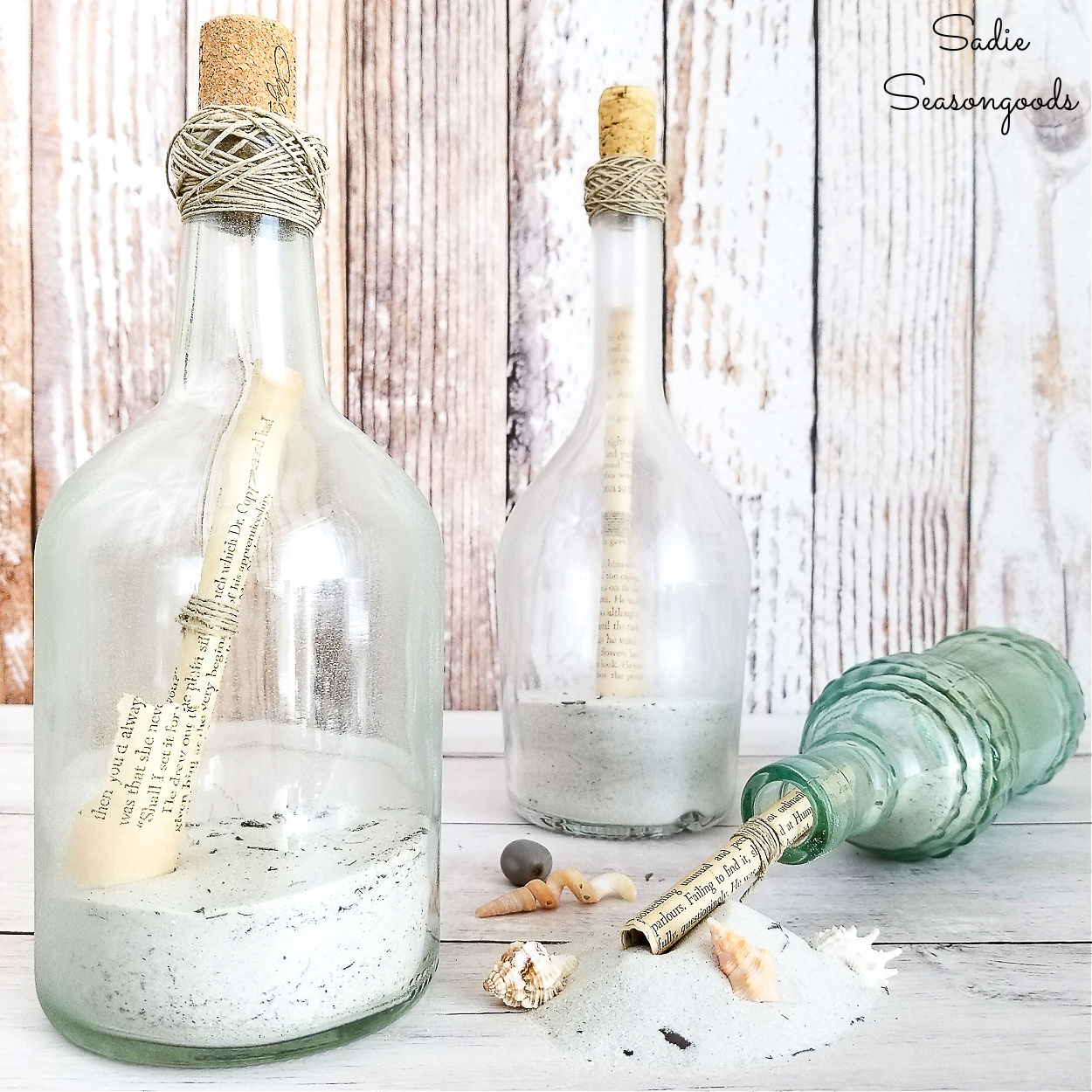 But anyway. Lots of people collect sand from their favorite beach vacations, and this would be a terrific way to display a sand collection!
This post contains affiliate links for your crafting convenience. As an Amazon Affiliate, I earn from qualifying purchases.
Displaying a Sand Collection in a Wooden Spice Rack
Recycling the glass spice jars to hold a sand collection would be quick and easy. But, I had a slight problem…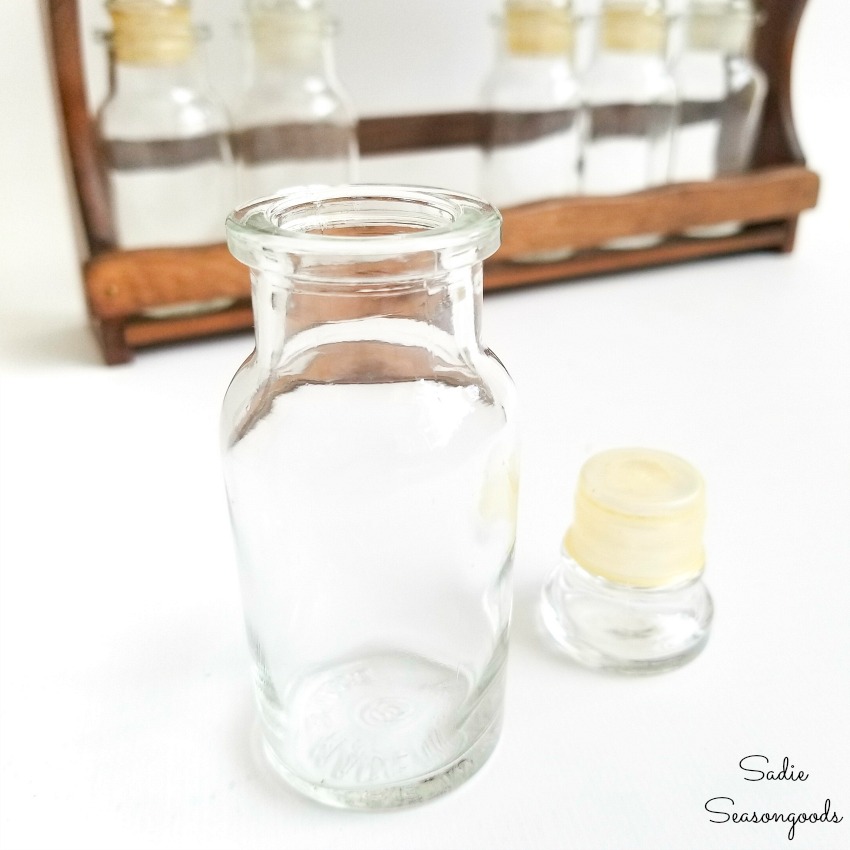 I only had beach sand from a couple of my own beach vacations and trips! But for the purposes of this blog post, I was going to need A LOT MORE SAND!
That's when I decided to put a call out on my Facebook page for some audience participation: Who would be willing to send me some beach sand from where you live or where you've traveled to?
And just like that, the happy mail started to arrive- from Europe, and Canada, the States, and beyond…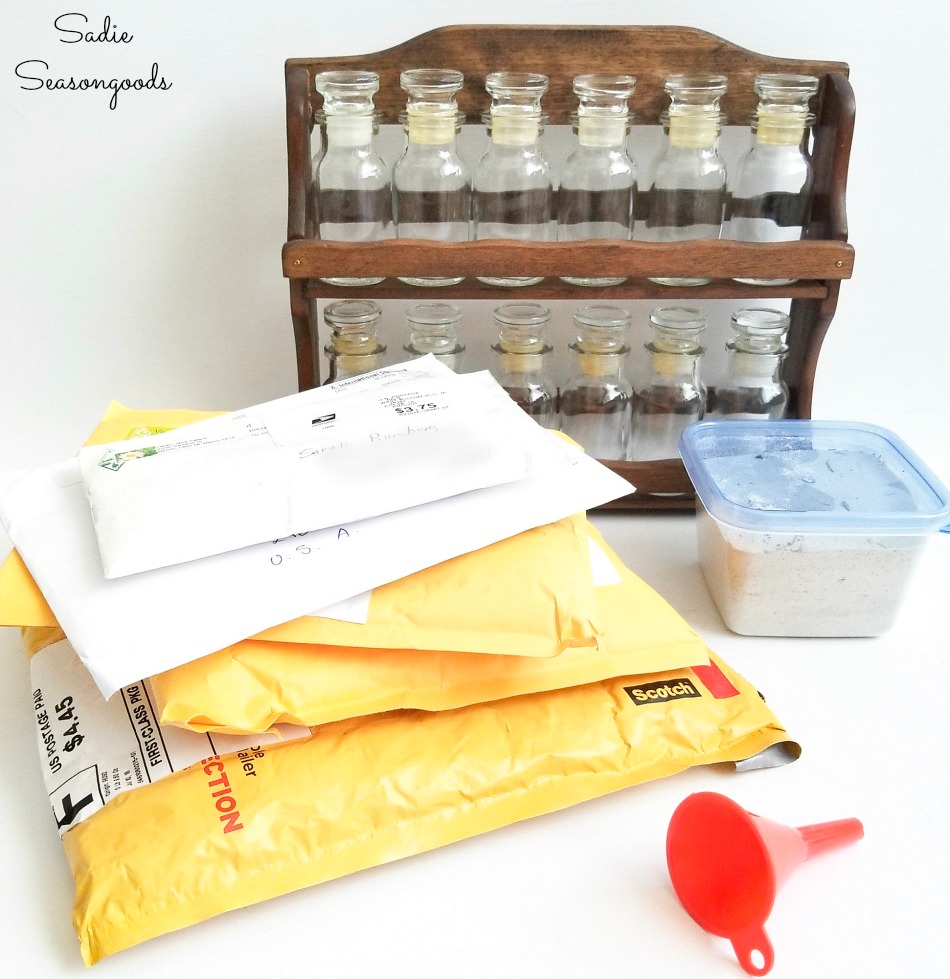 ** A special blogging thanks to Vintage Picks by Jen, Annie H., Tracy S., Helen Jane P., Stephanie Joy, and my friends, Jerry & Teri for the sand samples! **
Once I had all the samples of beach sand I needed for my photos, I created some labels of the beach names.
Then, I printed them on full-page labels I bought on Amazon.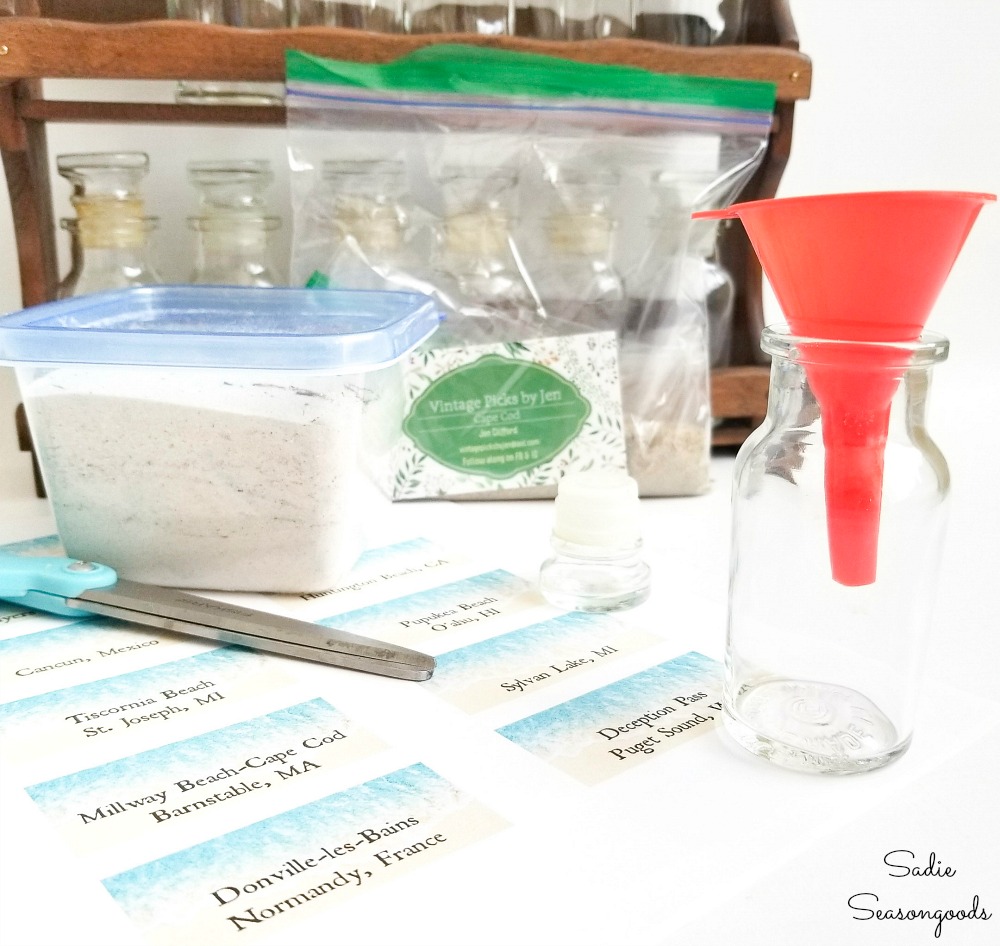 Next, I used my "scientific" measuring cups to pour the beach sand into the glass spice jars. My craft funnels came in handy for this, too.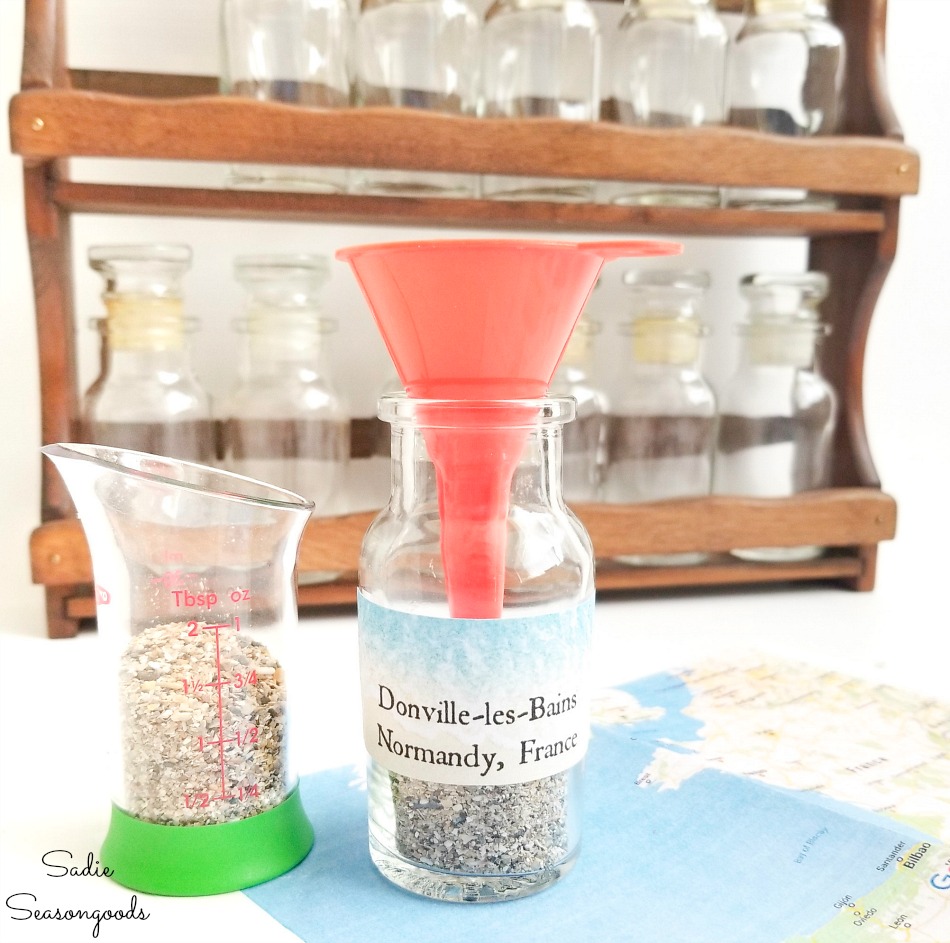 The scientist in me loved studying all the different sand grains, too! My favorite is the sand from O'ahu that looked like teeny tiny pebbles.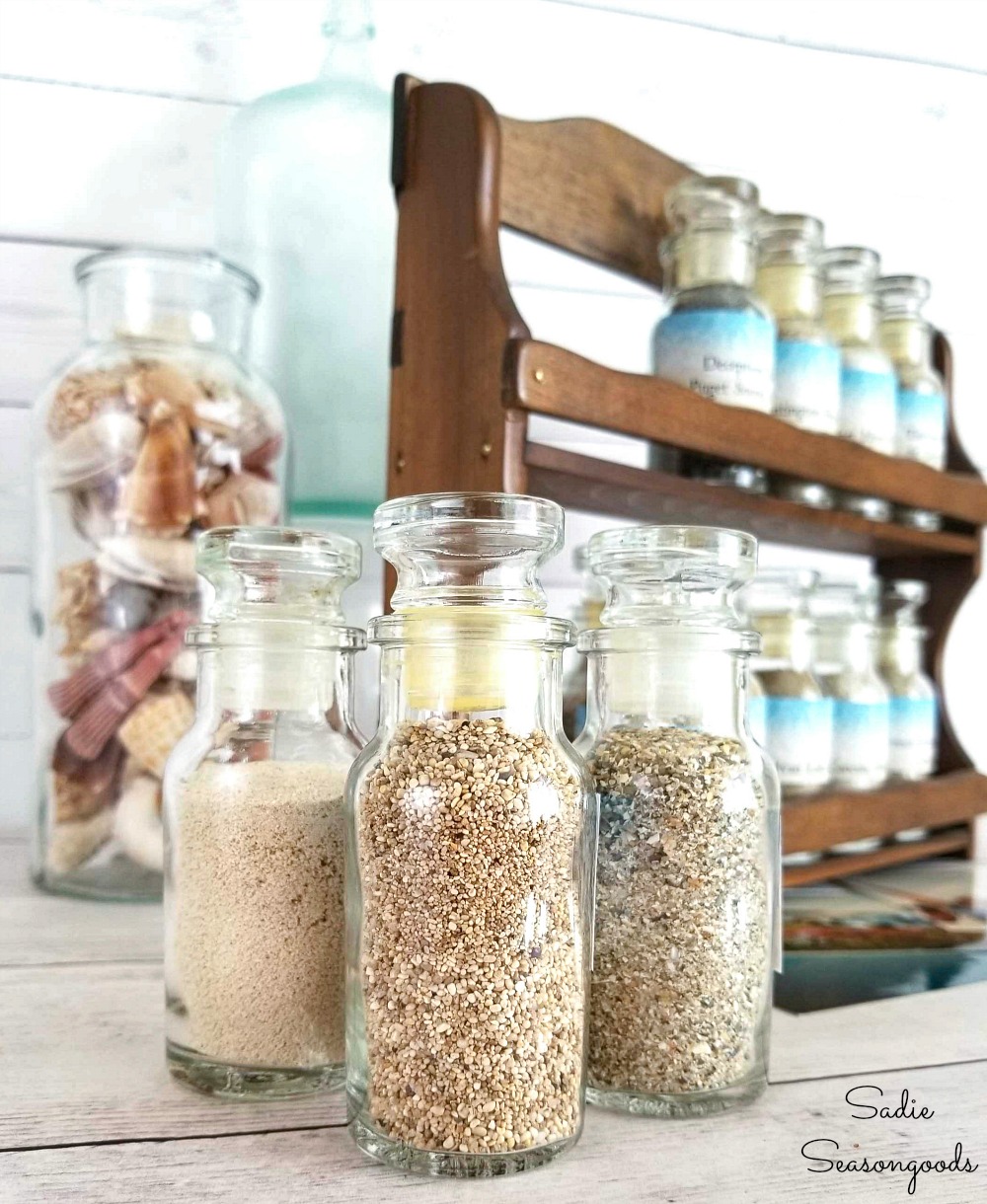 And that was it- now I just needed to do this will my entire sand collection!
Sand Collection Display in a Vintage Spice Rack
Just like that, my sand collection and display was done.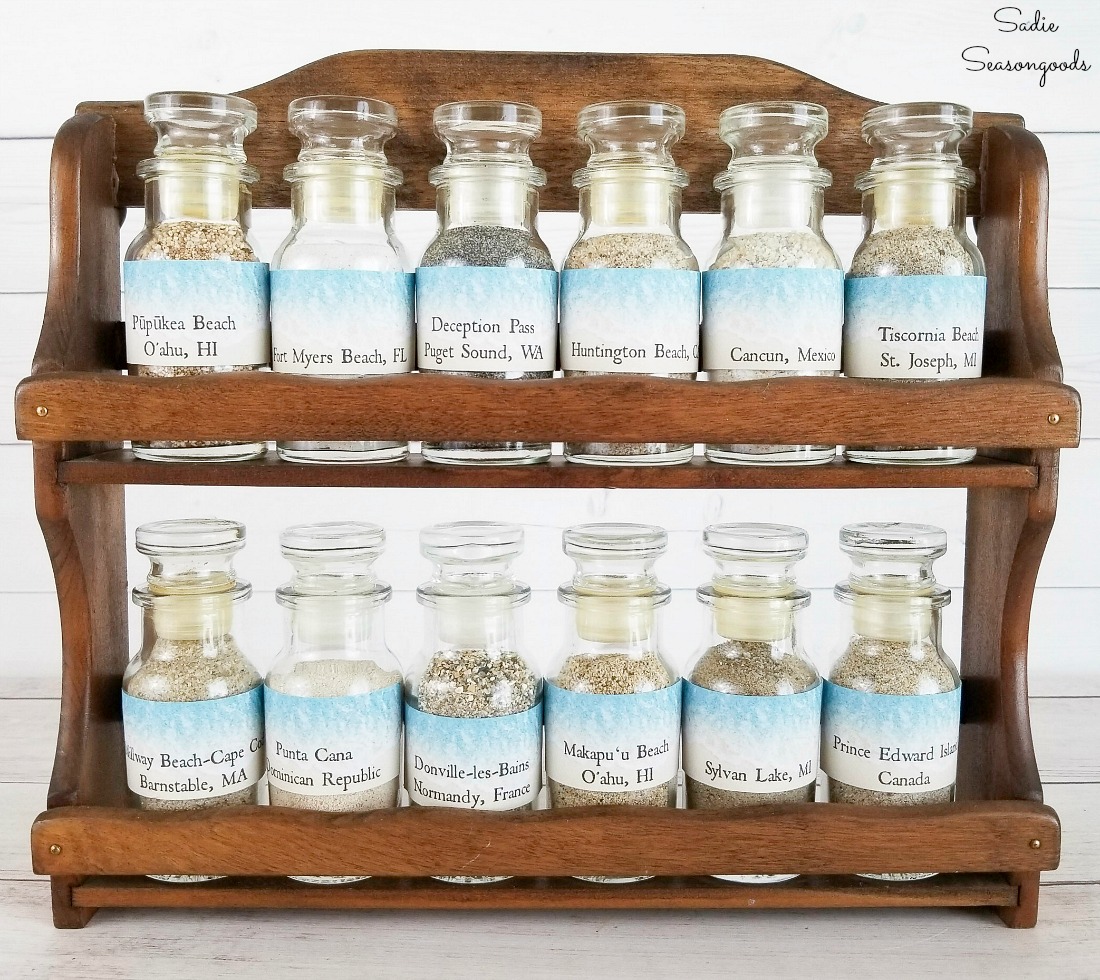 The vintage spice rack worked perfectly for it, and it will be lovely as coastal decor all summer long, too!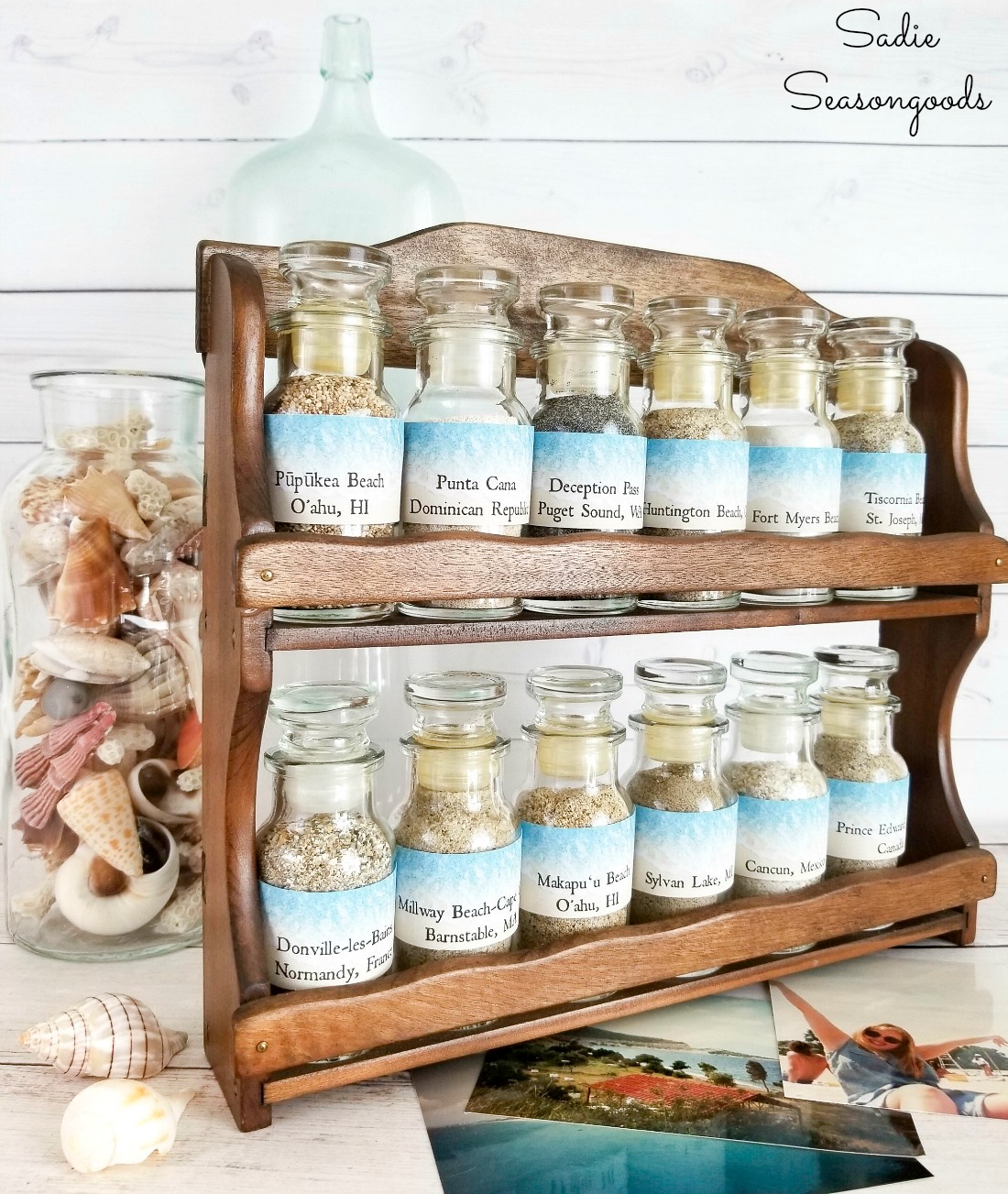 As luck would have it, I found yet another spice rack that just needed a little repair work. After I fixed it up, I went ahead and painted it to see which one I preferred!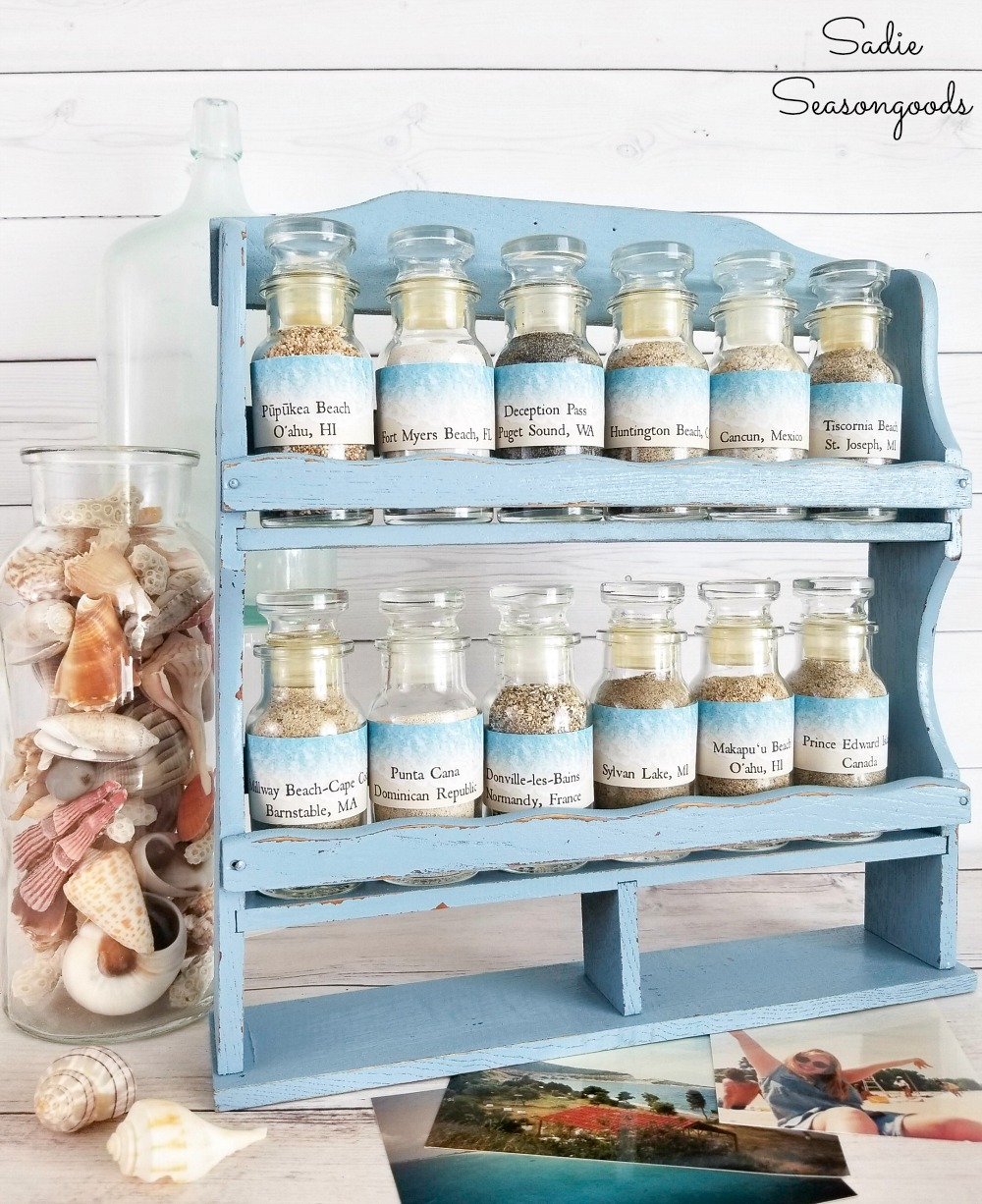 Either way you go about it, a wooden spice rack is simply ideal for displaying a sand collection. From recycling the glass spice jars, to creating labels with beach names, it ends up being creative storage AND coastal decor.
If you enjoyed this upcycling idea for coastal decor, then you may also be interested in my coastal farmhouse candles! As you can tell, I just love beach themed decor.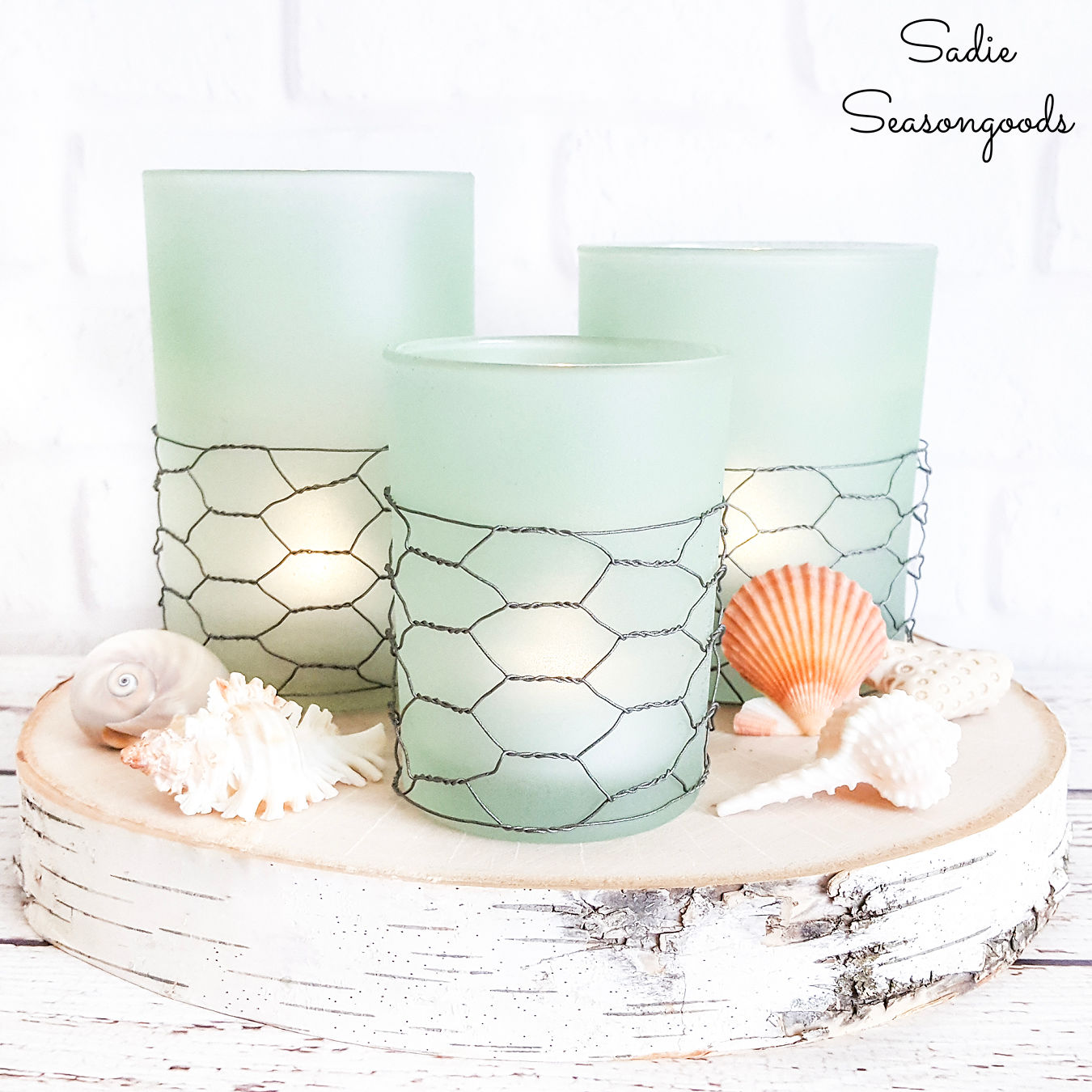 And for even more inspiration for coastal decor ideas, this collection of repurposing projects is full of beach decor ideas!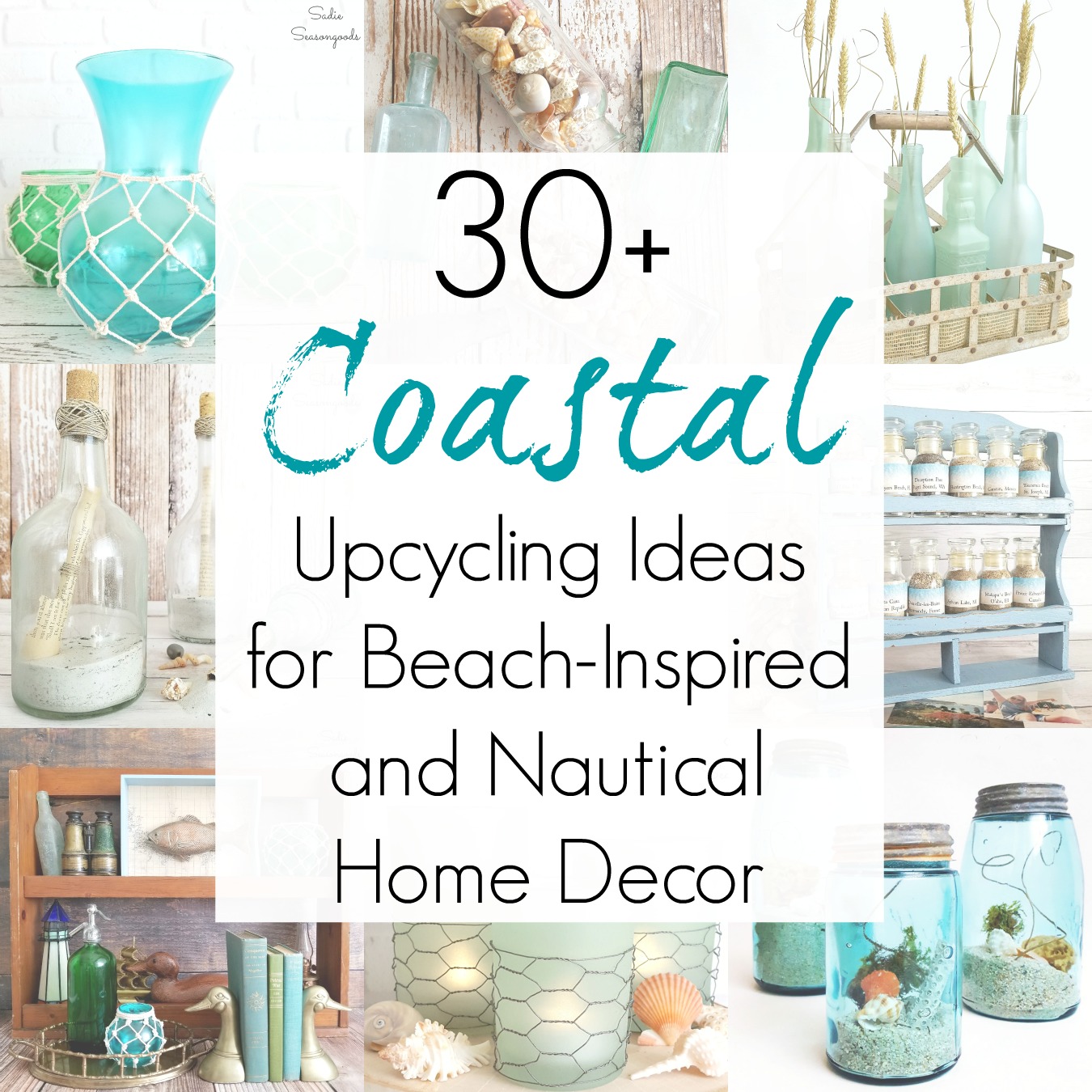 Craft on!
S
Want to be notified when I publish my next upcycling project tutorial?
Subscribe to Blog via Email
Join me on Social Media:



PIN ME!