I don't know about your neck of the woods, but it is just wickedly hot here. So much so that I long to stay inside where the A/C blows cold and I can daydream about the elusive cool summer day spent on the coast. And with that idea in mind, I decided it was time to create some beach themed decor. But this time, I'm taking it a step further as coastal farmhouse decor.
Here's how my idea came to fruition. While cruising the craft store aisles, I came to the "beach" section, an aisle full of sand, shells, rope, etc. Fresh off of completing my recent washboard project, I noticed that decorative fishing net had essentially the same pattern as chicken wire.
That's when I knew what my coastal farmhouse decor project would be. I'd combine the look of sea glass with the pattern of fishing net, but replace the net with chicken wire!
I still had plenty of chicken wire left in my garage. But, the crafting angels had different plans for me! As I turned down the next aisle, I found the most remarkable thing- chicken wire "ribbon"!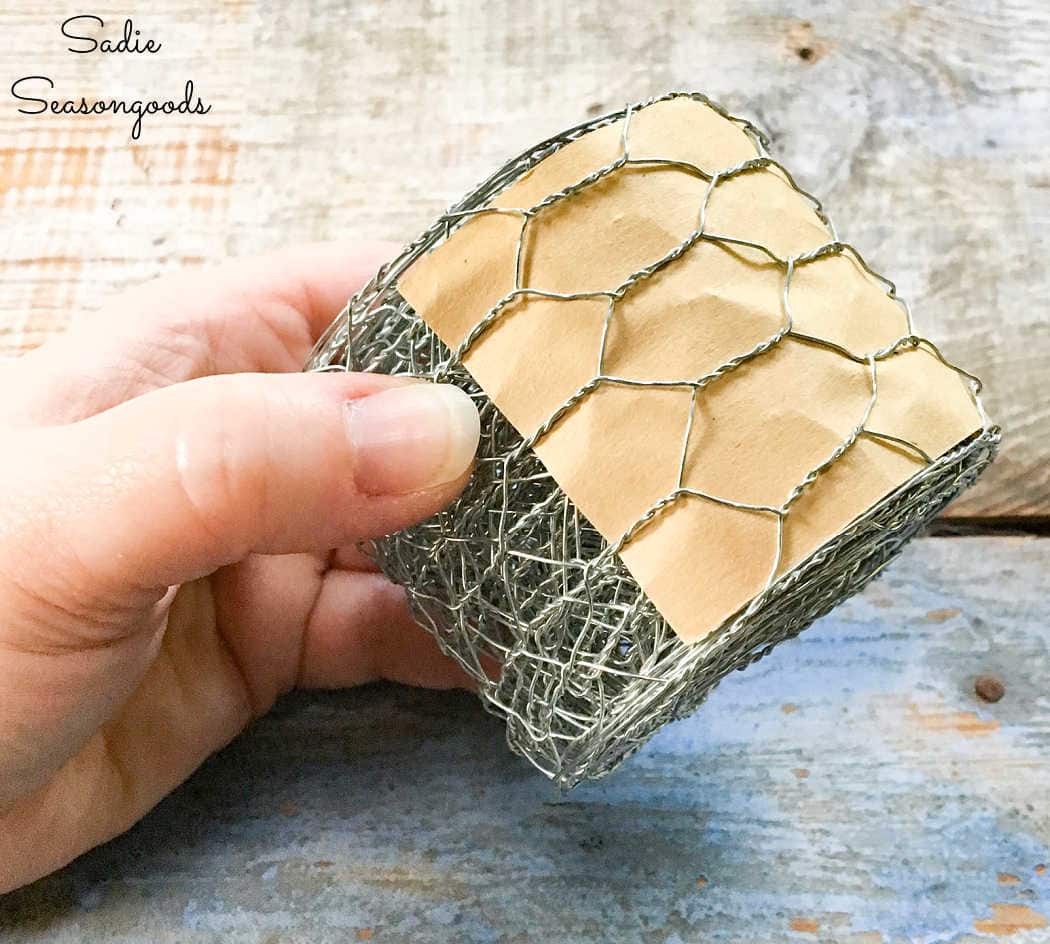 I also wanted to create something that would coordinate with last year's project, which I still love!
So, I decided to pair up some glass candle holders from the thrift store with the chicken wire ribbon that I purchased.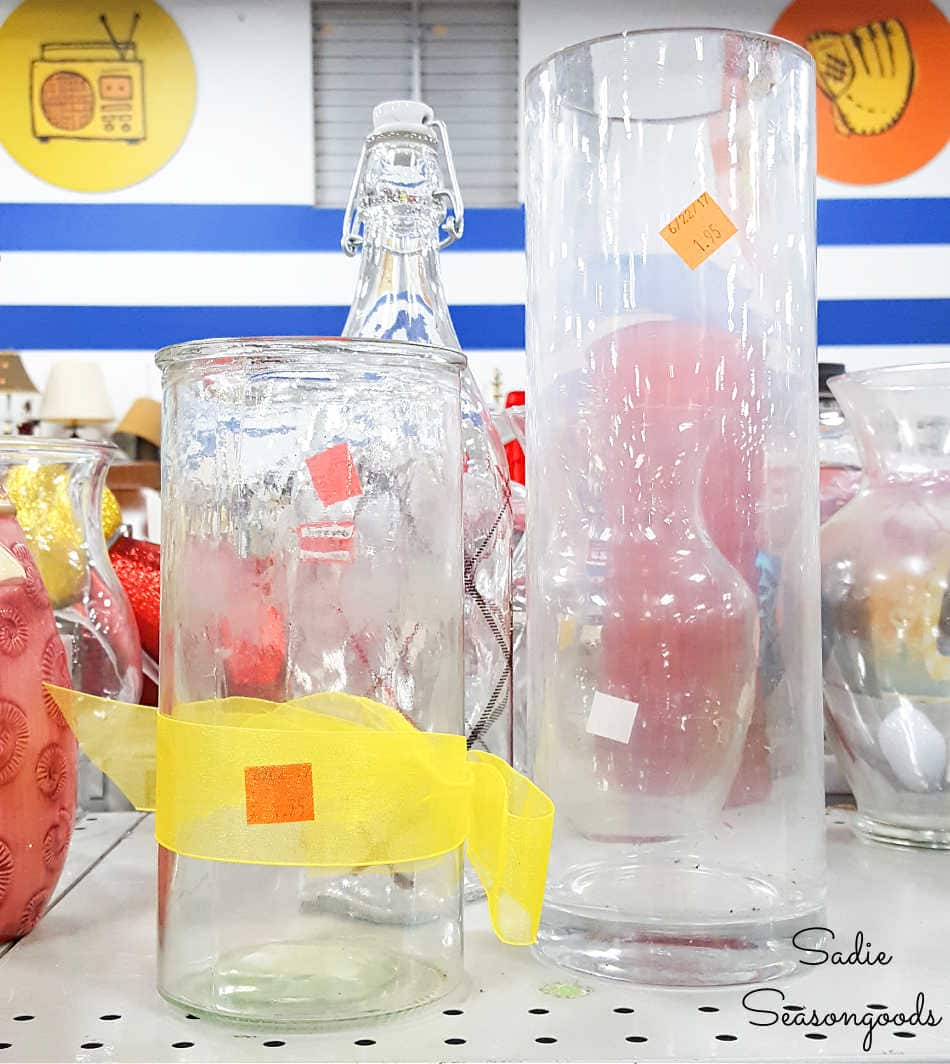 I had a vision in my mind and the craft supplies to create it. Now it was time to see if it would work out!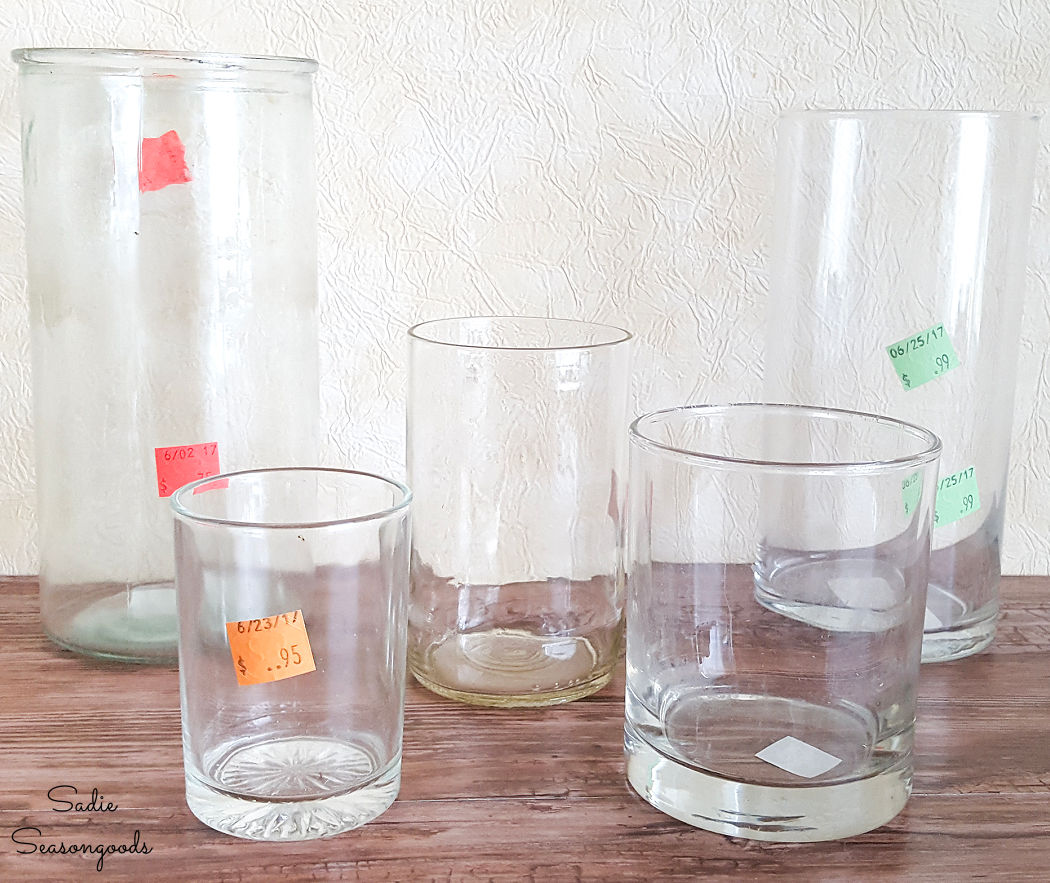 This post contains affiliate links for your crafting convenience. As an Amazon Affiliate, I earn from qualifying purchases. All blue, bold, and underlined text is a clickable link, either to a product or to a related post.
Making the Coastal Candle Holders
Because the chicken wire ribbon could potentially scratch the paint that I planned on using, I decided to measure out the ribbon for each candle holder first.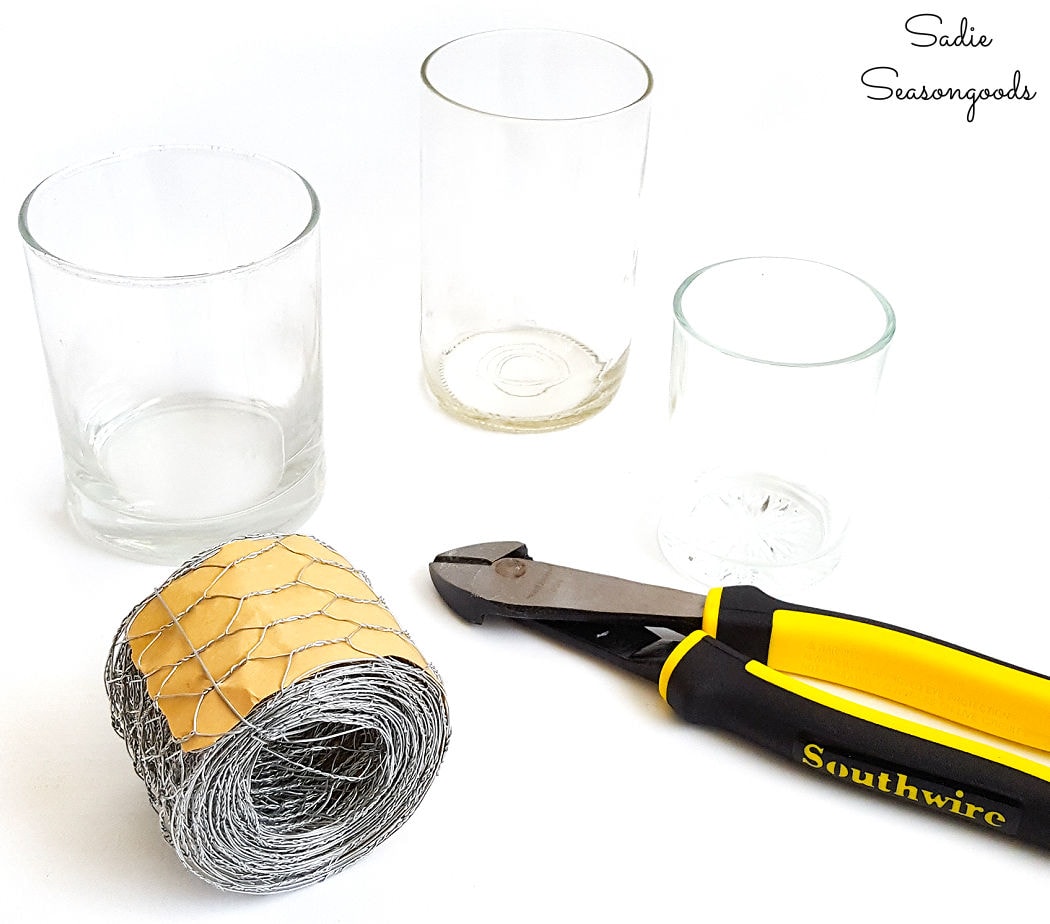 First I wrapped the wire around the candle holder, ensuring there was sufficient overlap. Overlap for closing the sleeve around the candle holder AND to ensure that the wire sleeve was fitted, but not tight, around the glass.
Then, I snipped it off with wire cutters, just like that.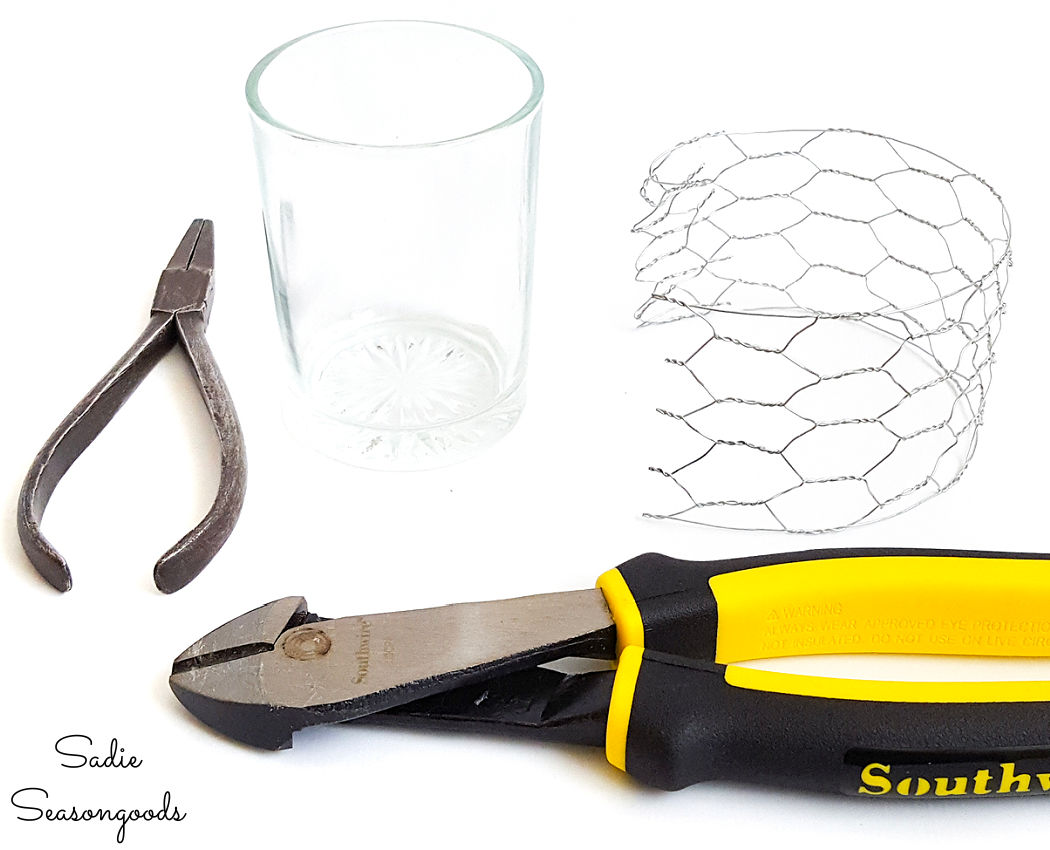 Next, I bent back the wire upon itself to connect the ends and closed the sleeve of chicken wire with some small pliers.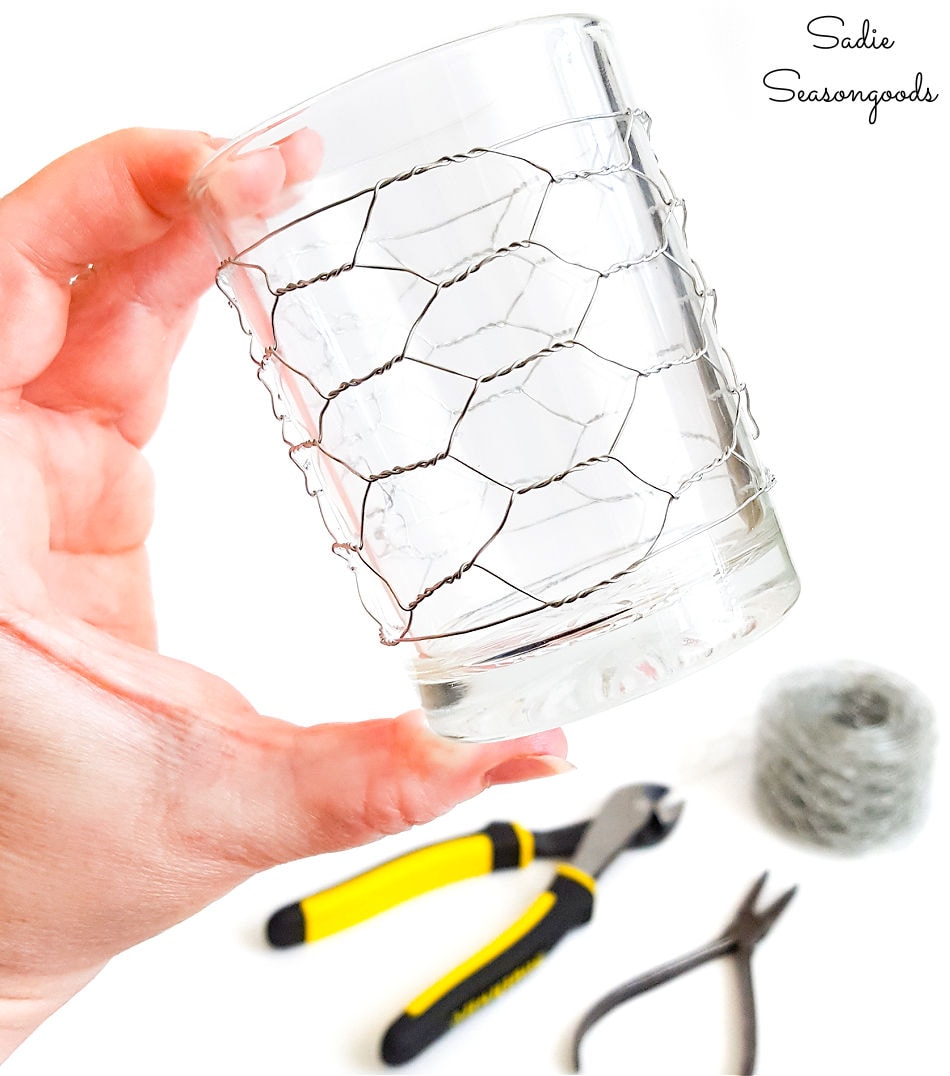 When all was said and done, I put my wire and tools away and had three glass candle holders like this.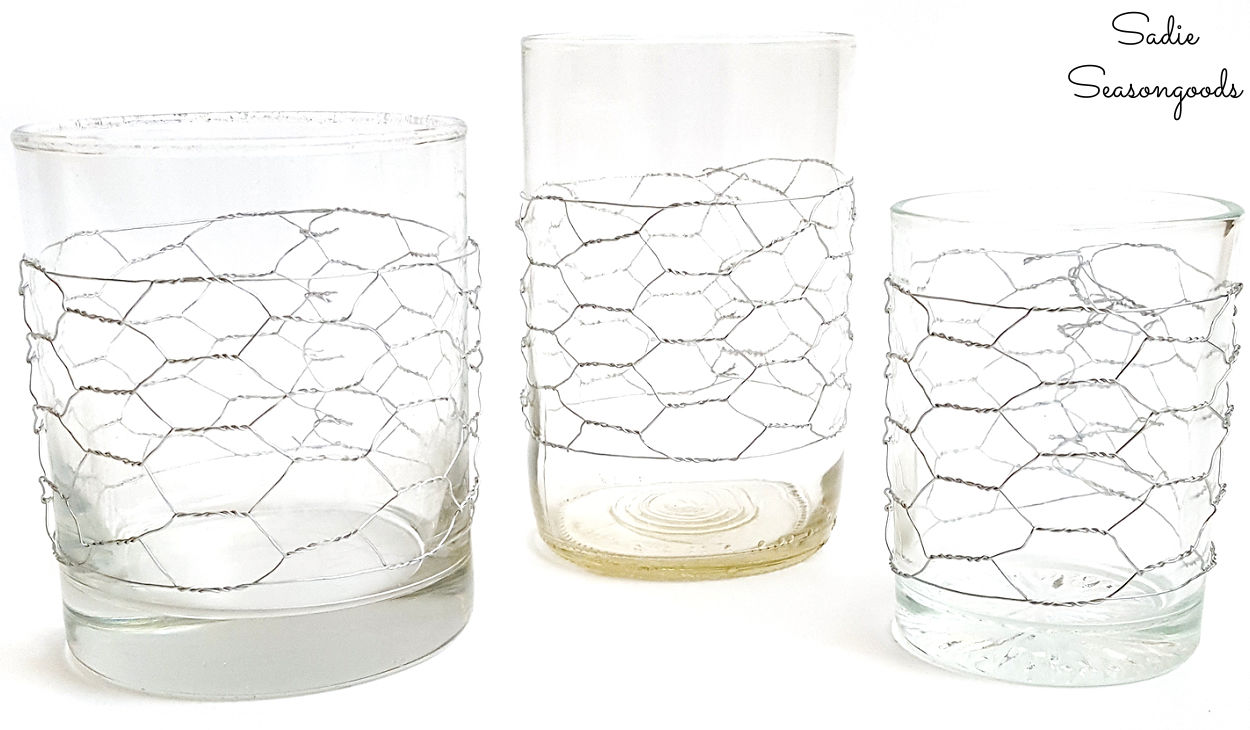 The farmhouse component of my coastal farmhouse decor was done! Now I just needed to finish the coastal part.
Sea Glass Candle Holders as Coastal Farmhouse Decor
Next, I removed the chicken wire "sleeves" from the candle holders and set up shop outside. For the coastal element, I would transform the glass into sea glass!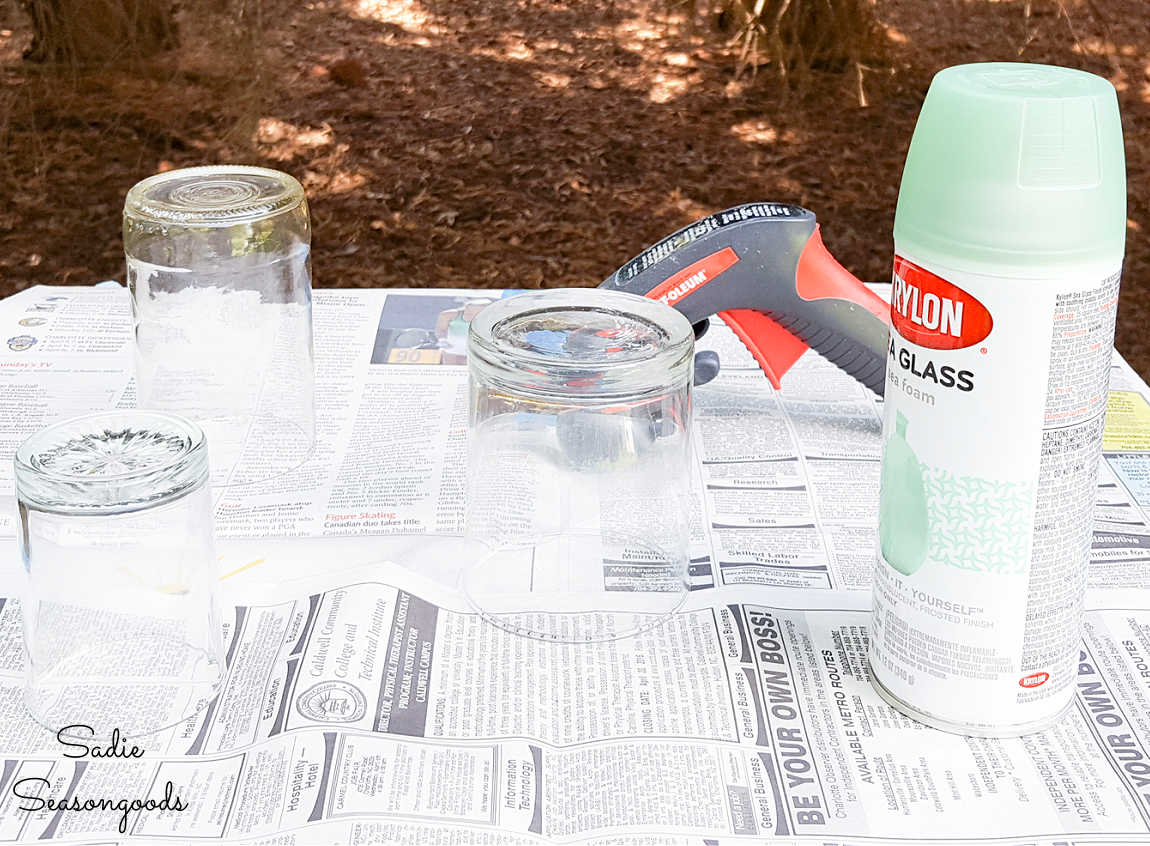 I grabbed my leftover seaglass spray paint and gave the coastal candle holders several light coats.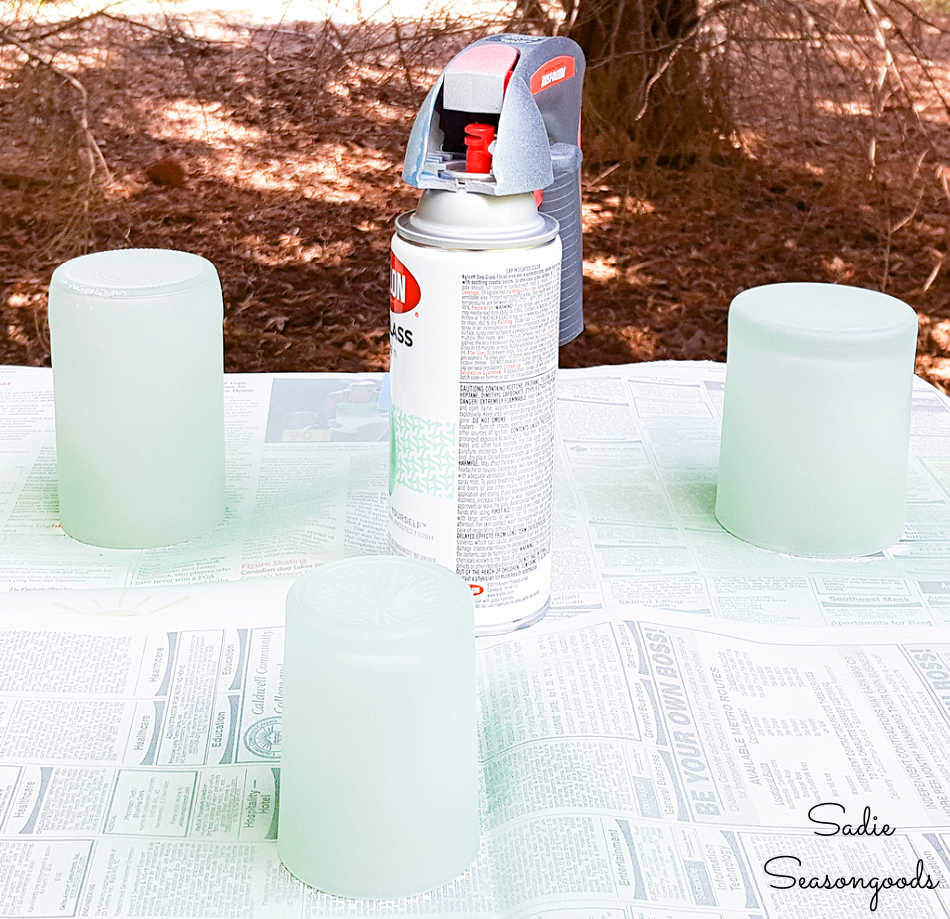 After the sea glass spray paint dried, I gave the the glass candle holders two light coats of matte sealant. Sea glass spray paint has a tendency to scratch easily if not sealed. And I still needed to replace the chicken wire sleeves on them!
To tone down the bright shine of the chicken wire ribbon, I also spray painted the sleeves in a favorite farmhouse paint, along with two light coats of a matte sealant.
Then, I *very carefully* slid each sleeve around the glass candle holders.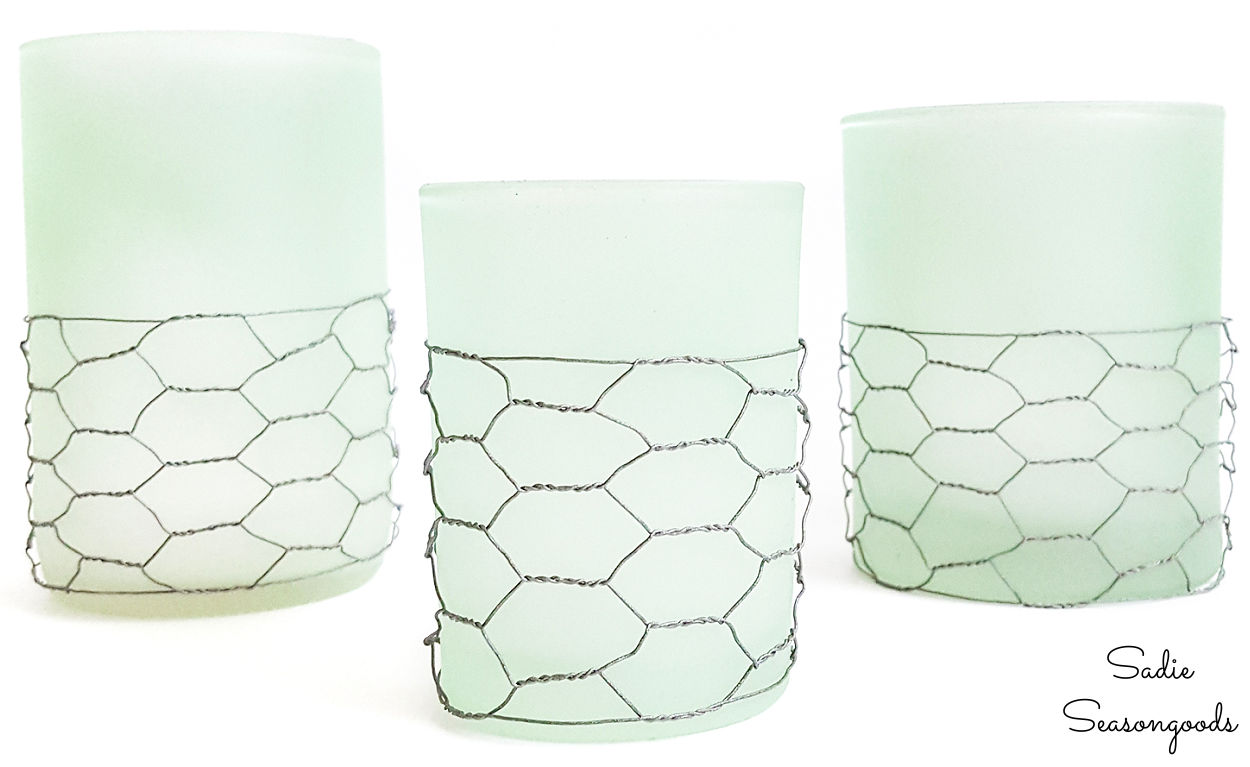 This is why I made the sleeves before the glass candle holders were painted! No measuring, just a careful slide onto the painted glass.
Much better than doing all the measuring, clipping, and folding wire over the painted candle holders!
Last but not least, I dug out my LED tealight candles…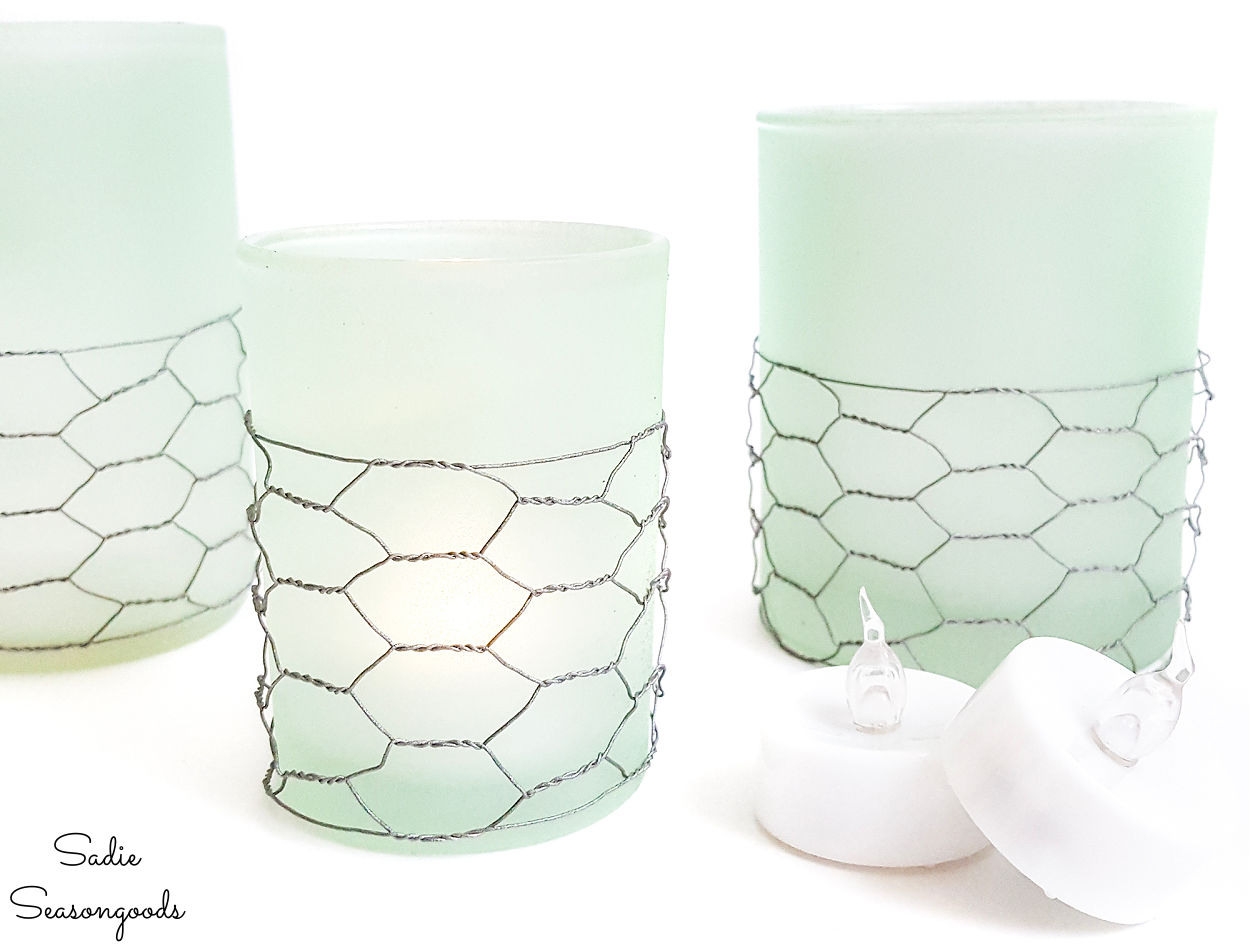 I positively LOVED how they looked!
Coastal Farmhouse Decor
To complete a vignette with my coastal farmhouse decor, I placed all three sea glass candles on a birch round, with a few shells.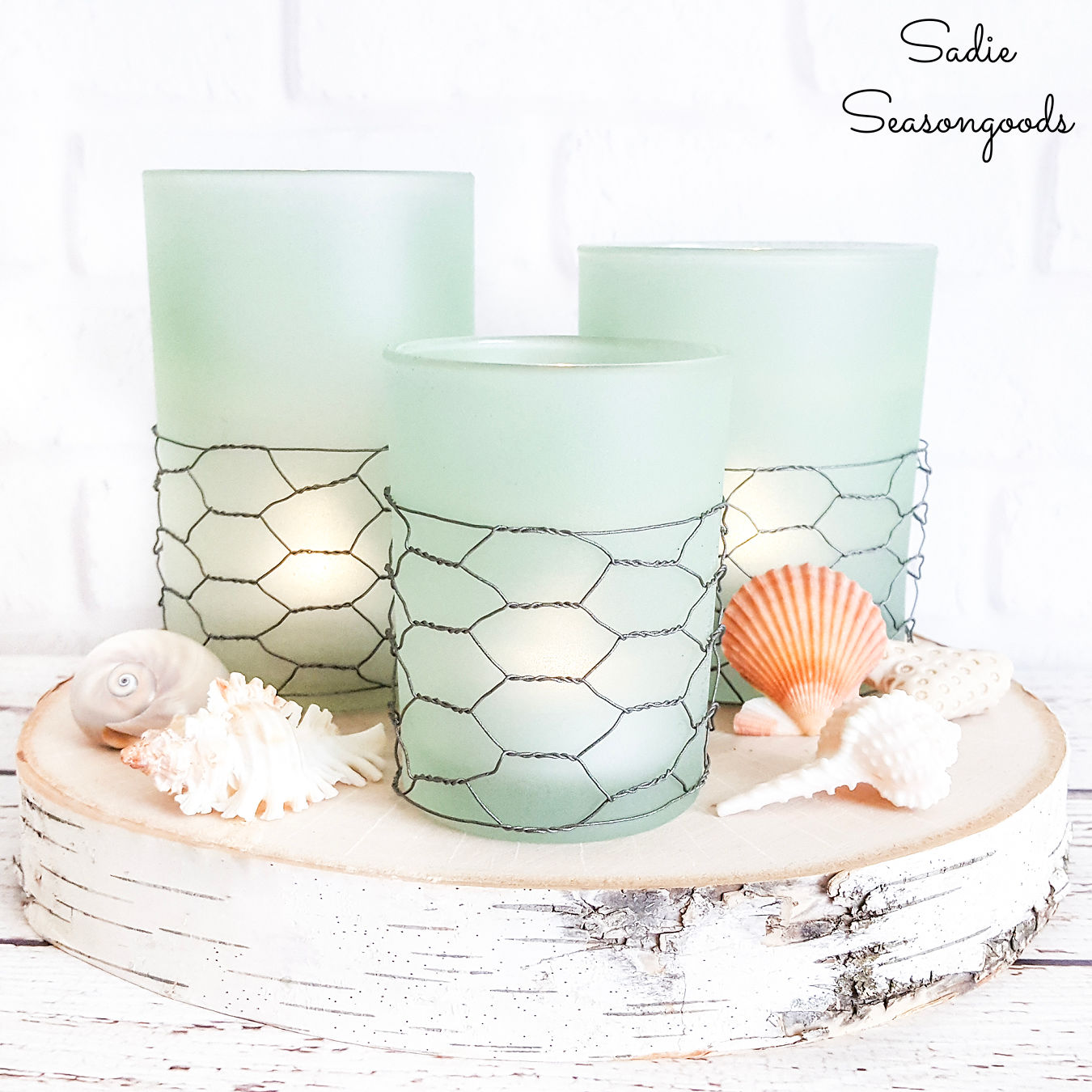 Gorgeous beach themed decor and coastal farmhouse decor! And all from those glass candle holders that you find at just about any thrift store.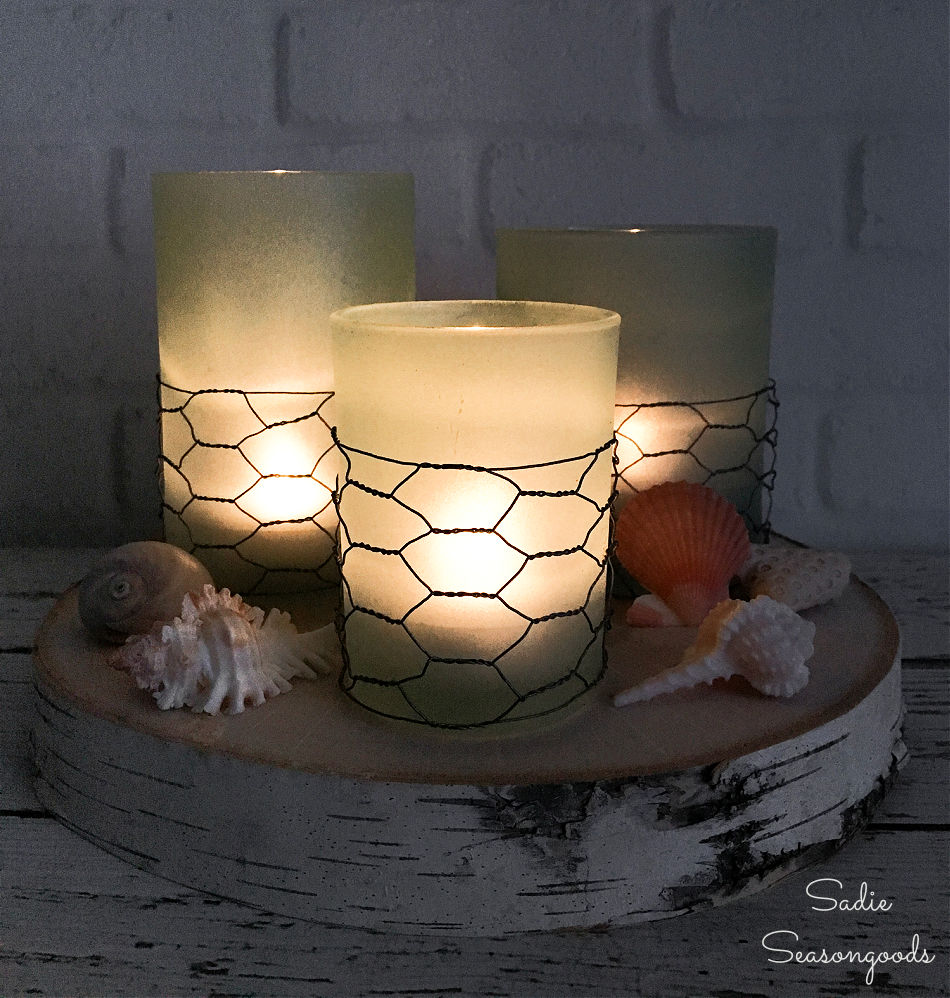 And if you enjoyed this upcycling idea for beach themed decor, then you may also be interested in this beach-inspired message in a bottle craft idea, too!
Craft on!
S
Want to be notified when I publish my next upcycling project tutorial?
Subscribe to Blog via Email
Join me on Social Media:

PIN ME!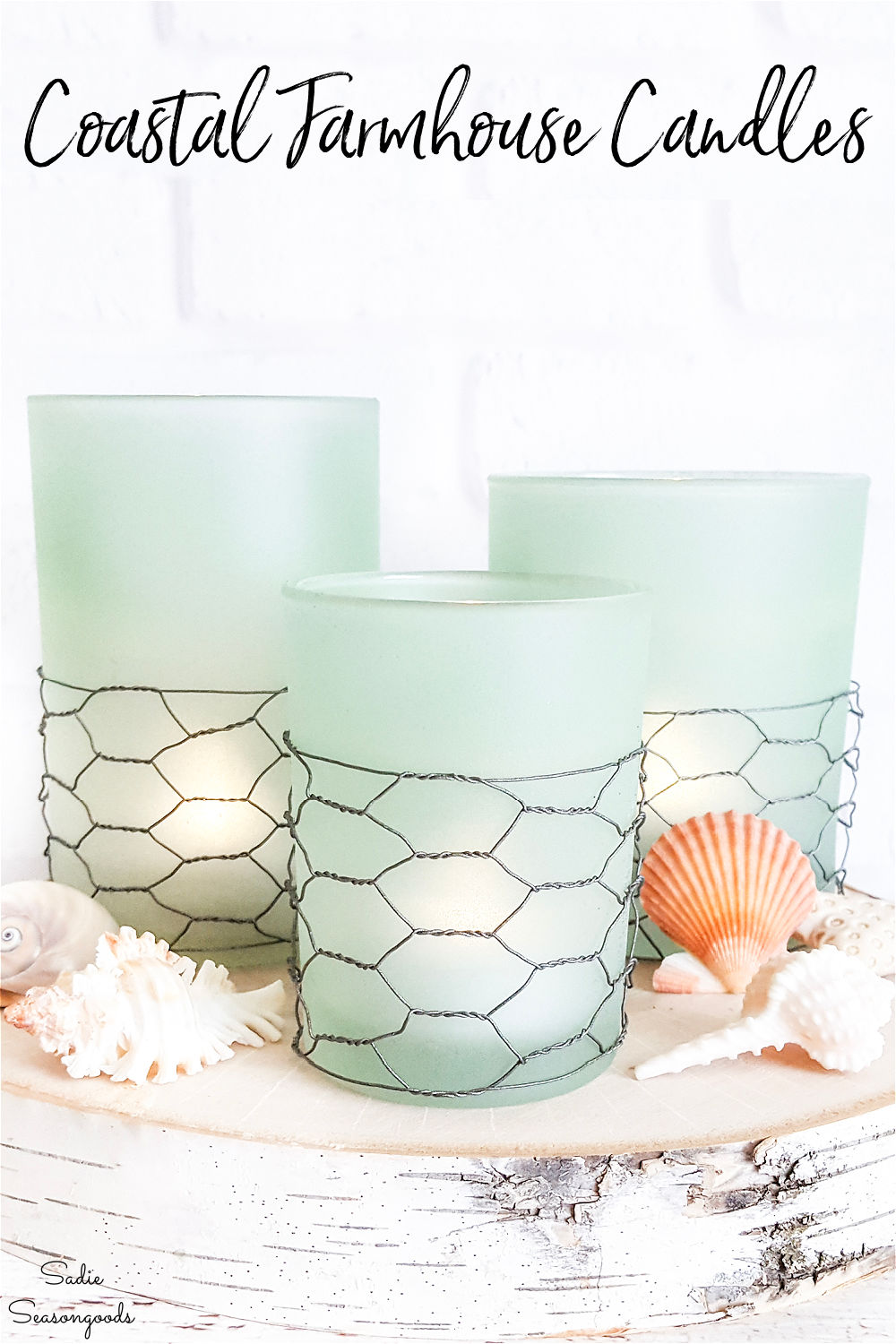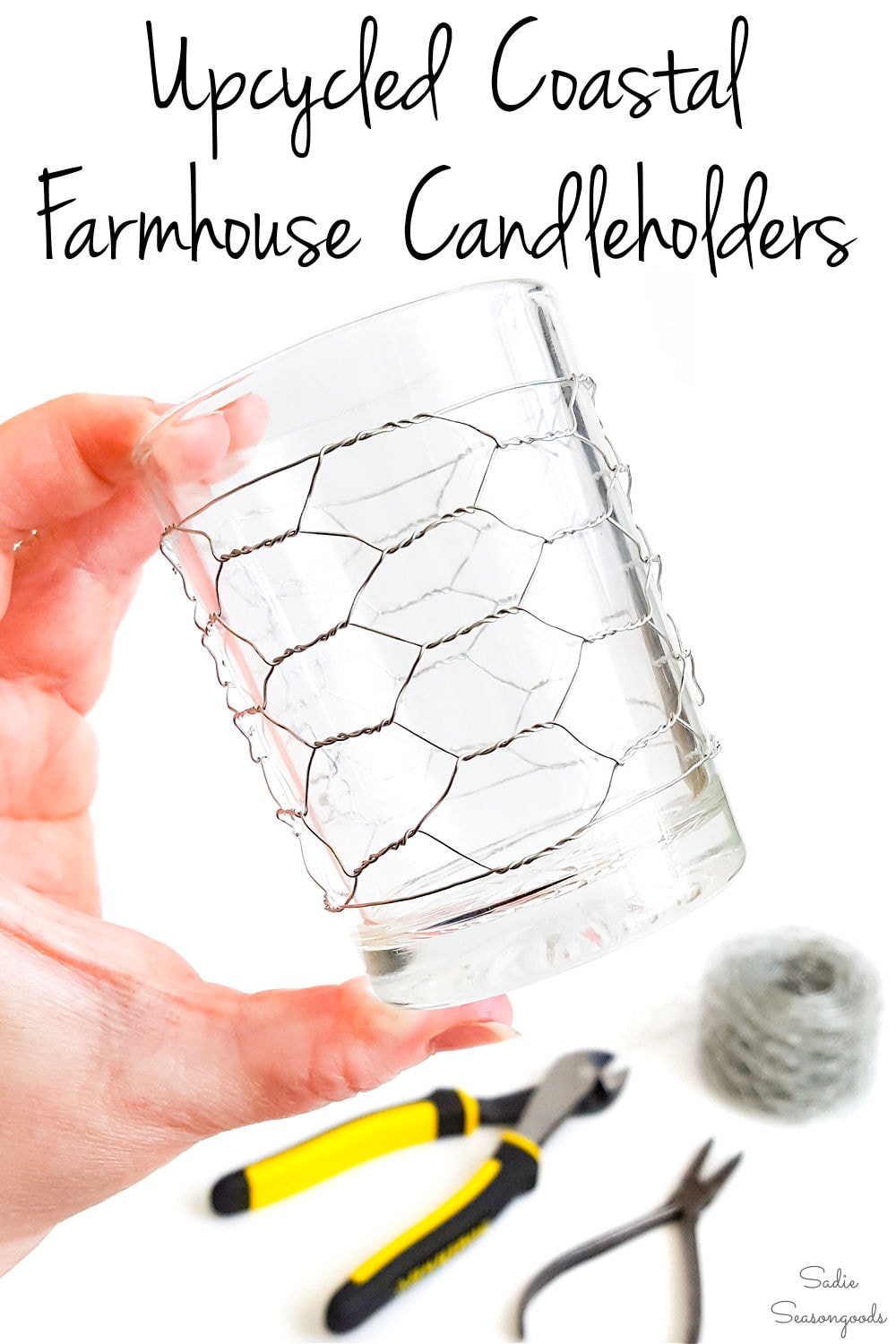 Sarah Ramberg is the owner of Sadie Seasongoods, a website that celebrates all things secondhand. From upcycling ideas and thrifted decor to vintage-centric travel itineraries, Sadie Seasongoods is a one-stop shop for anyone who loves thrifting and approachable repurposing ideas. Sarah is also the author of "Crafting with Flannel" and has been featured in numerous media outlets and magazines.