We all want a stylish, well-decorated home that fits our personality and feels cozy and inviting. Unfortunately, buying home decor can be very expensive. Yet, there are ways to decorate a home on a budget that won't look cheap but rather luxurious, bespoke, and personal.
Decorating a home on a budget can seem daunting, but it's doable with a touch of creativity and resourcefulness.
First, prioritize the areas of your home that need the most help and will get you the most bang for your buck when you give them a facelift.
Then get creative! Shop your house, go thrifting, DIY, and look for free or cheap home accessories.
Cheap Ways To Decorate Your Home
Shop Your House
The easiest way to save money on home decor is by using what you already have. It only takes creativity to make your 'old' items feel new and exciting again.
Make a grouping of a random collection of things in the same color and place them all on a tray for some coffee table decor. Move the bedside rug to the living room for a new look. Turn the hallway table into a nightstand, and use the former nightstands as end tables by the couch. Take your wreath off the front door, add some faux flowers, and hang it over the fireplace for seasonal decor.
Like this display for instance- I've had these bottles forever and decided to pair them up with shells for a little summer centerpiece. I collected those shells nearly 30 years ago during my post-grad internship!
Get It for Free
If you're looking to create an affordable home, there are plenty of ways to do so without breaking the bank. There are so many places where you can get great stuff for free.
One excellent option is to join 'free-to-have' Facebook groups, where people give away items they no longer need for free. These groups can be a treasure trove of decorating items, from throw pillows to picture frames to small furniture pieces.
Another great option is to search for 'free printables' online and create custom homemade wall decor. Countless websites offer free printable art, quotes, and other designs you can easily print at home and frame for a personalized touch.
Additionally, many areas have 'big trash pickup days' where people leave unwanted furniture and other items on the curb for pick up. Driving around these days can be a great way to find free furniture and other decor items you can repurpose or update with a fresh coat of paint or new hardware.
Thrift Store Treasures
Whether in real life or as an online marketplace, a thrift store is always near you. Thrifting has become a big business; sometimes, buying at a thrift store is just as expensive as buying something new. But there are still treasures to find.
As you know, we have been actively thrifting for our new home for a few years now- this was Part I of that blog series: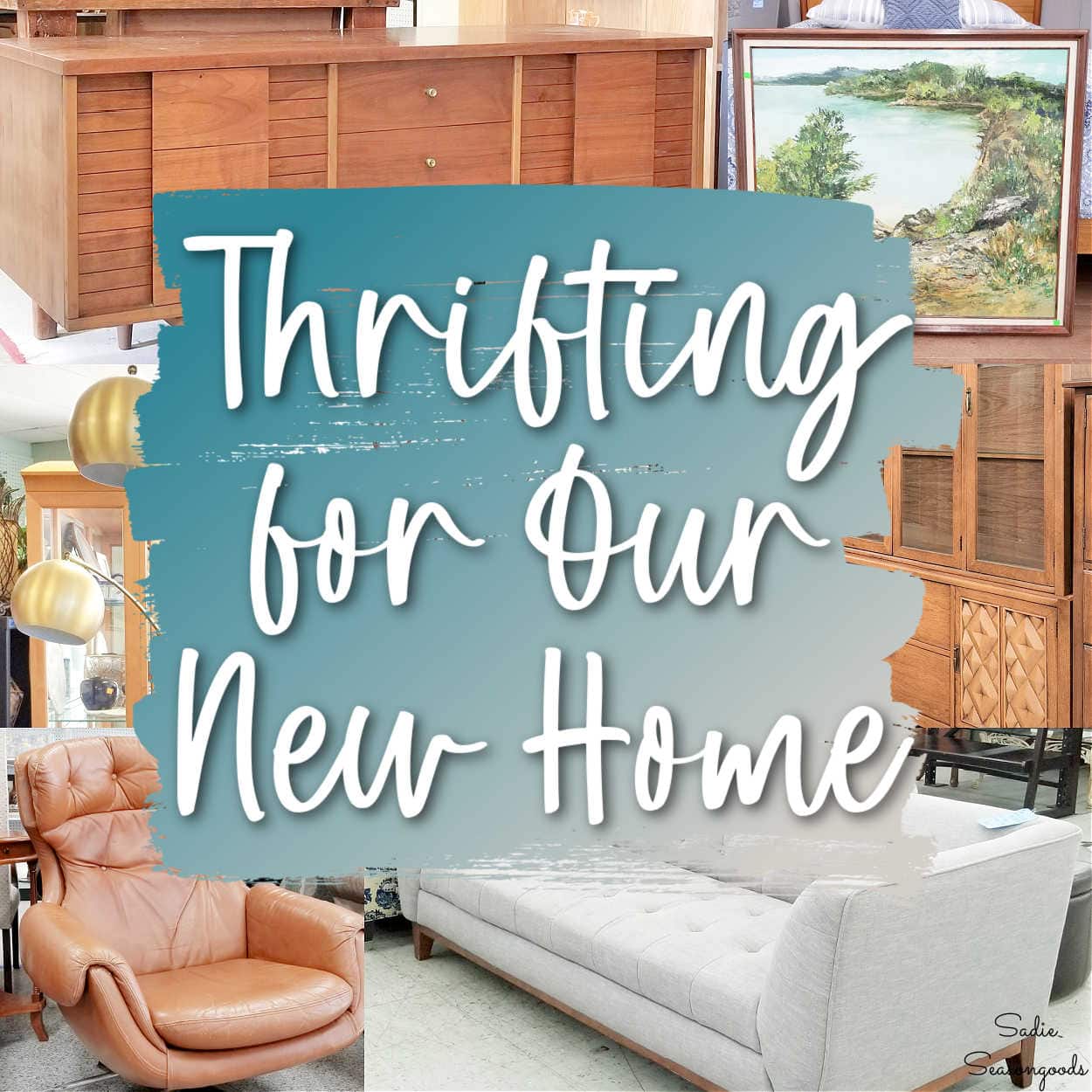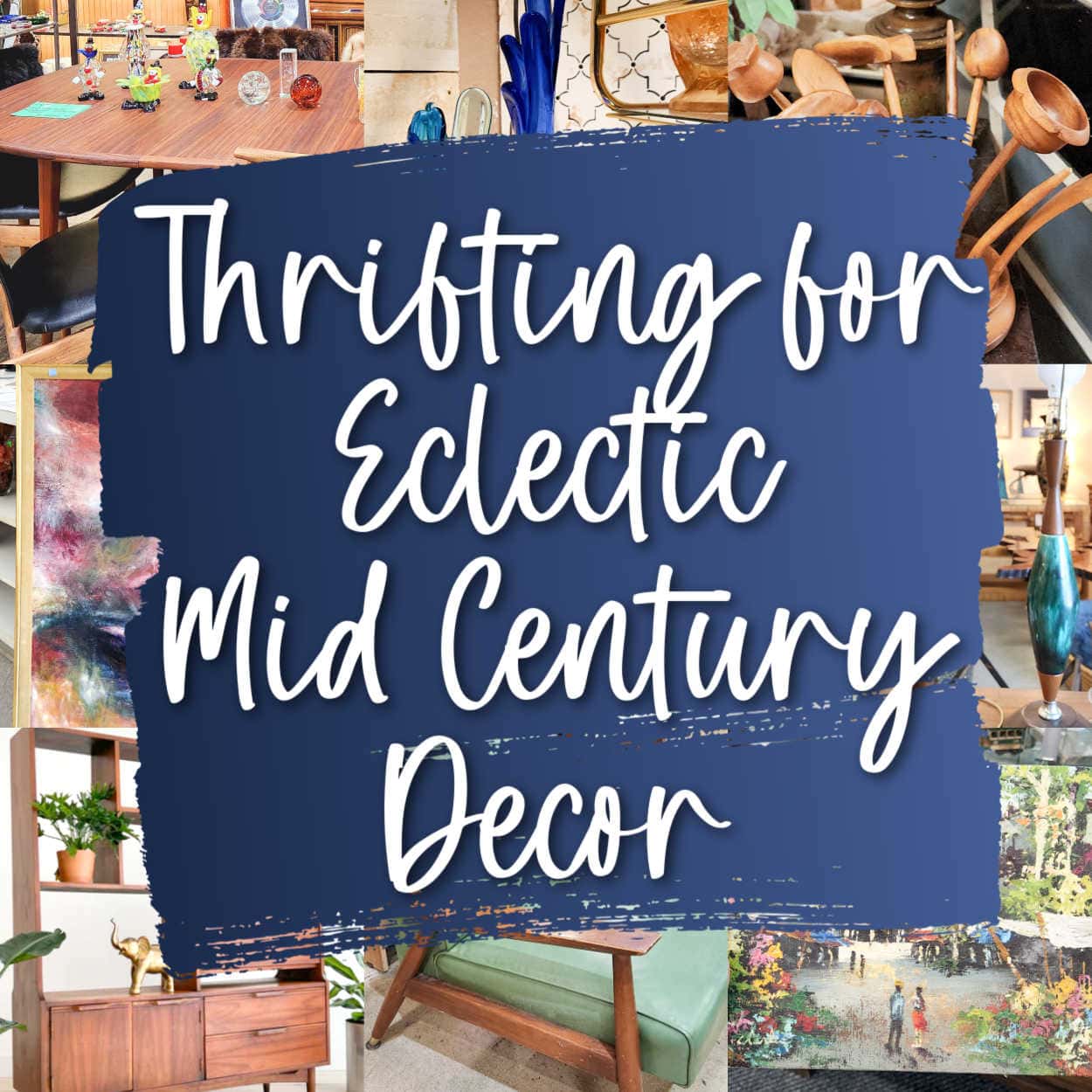 Thrift stores, flea markets, and websites like Craigslist and Facebook Marketplace are great places to find home decor products like candle holders, vases, frames, and mirrors.
For successful shopping for home decor in second-hand stores, it is a requirement to have patience and a willingness to hunt and wait for the perfect find. This post has some fantastic thrifting tips, too.
Reuse, Recycle, and Repurpose
Let your imagination go free, and see how to reuse and repurpose items in new and exciting ways. I mean, remember what I was able to do with a red plastic Folgers tub??
Are you looking for an overhead lamp? You may have a wastebasket that can be the perfect lampshade. Stack some fruit crates for an instant bookshelf and lamp stand in one. Reuse a big old tablecloth as a cover for your sofa cushions. Or hang your bread baskets, charger plates, or something even more peculiar like this, on the wall for instant decor.
Nature's Gifts
One of the best ways to decorate your home, especially when adding seasonal touches to your home decor, is to use nature's gifts. All you need for great budget-friendly seasonal decor is a keen eye for free natural decorations. A simple walk in the park or the woods can give you plenty of home decorations.
Vases with fresh green leaves in spring, little flower bouquets in summer, and bowls filled with pine cones, nuts, and seed pods in fall, are all very decorative and don't cost a dime. Here are some great nature craft ideas to inspire you…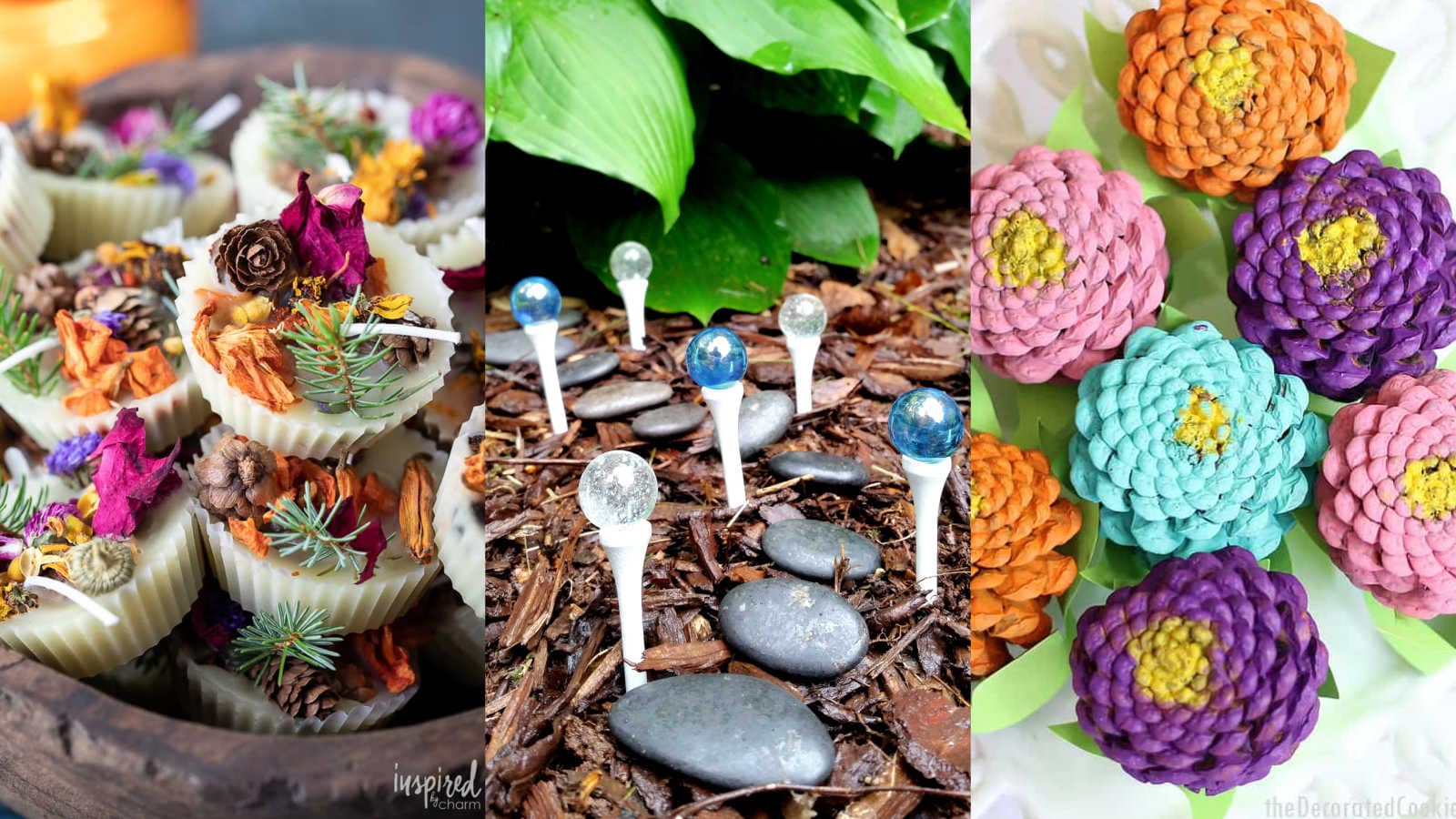 Have a (Swap) Party
Most of us are familiar with a clothes swap meet, but why not have a home decor swap meet? The same rules would apply–bring what you no longer use or love and exchange it for some things that are new and exciting to you.
A home decor swap meet would work best for smaller items, like pillowcases, vases, picture frames, candles, and wall art.
Go The DIY Way
So many beautiful and valuable items for your home are easy to DIY. Fifteen minutes of Pinterest browsing will give you many ideas to make lovely wall decorations, seasonal home accents, wreaths, or pillowcases.
You usually only need a hot glue gun and basic supplies like scissors or staplers.
This way, you can even turn a pile of scrap paper into beautiful decorations.
DIY decorating is fun and a great way to get unique home decor without breaking the bank.
Rotate, Reuse, and Reorder
A super easy way to spruce up your home with a new look that doesn't cost a penny is to take away half of the currently displayed items. Decluttering and simplifying almost always give an instant upgrade to a space. Put away some extra throw pillows, blankets, rugs, accessories, and baskets. And in six months, rotate what is out now with what you have put away. If you last saw it half a year ago, it will look fresh and new again, giving your home a fresh vibe.
Give It a Makeover
It is easy to make old look new again, and the only investment you need is time, creativity, and a few basic supplies. Making pillow covers is a true beginner's sewing project, and painting furniture to give it a new look is super easy too.
Suppose you are willing to invest a little bit of time and effort. In that case, you can create a personal, cohesive, and beautiful home from all of your gifted, thrifted, and swapped furniture and decorations by giving them a makeover so they mix and match perfectly.
Buy It Cheap
And if all else fails, there are places where you can buy brand-new home decor items on a budget. Ikea, Target, and Walmart are probably the most well-known places for great deals on budget home decor. But many more home decor stores carry budget lines to get new and trendy decorations.
How To Make Cheap Home Decor Look Expensive
Even though most of us take pride in decorating our homes on a budget, we don't want our homes to look cheap or tacky. There are a few golden rules to follow to make your home look expensive and professionally designed.
Go Uncluttered and Minimalist
If you look at pictures of professionally designed homes, you'll realize they all share a relatively uncluttered and minimalist look. Home accents are sparingly and usually in well-curated collections. Plenty of free and empty space exists in the room and on surfaces. When it comes to expensive-looking but cheap home decor, 'less is more' is the way to go.
Make a Lighting Plan
A great lighting plan can elevate a room from ordinary to extraordinary. A lighting plan doesn't mean choosing costly lamps but balancing direct and indirect lighting.
It involves placing some things in a highlighted center while at the same time enhancing the mood and atmosphere by allowing shadows and darker areas in the room.
Splurge on The Big Items
If you have some room in your budget, use it wisely, and don't scatter it by buying lots of little things. Instead, splurge on one or two statement items that will make a room you will love for years.
Choose timeless pieces like a great wardrobe, some impressive artwork, or a beautiful chandelier that will set the tone for a whole room.
Create a Cohesive Look
Choose your color palette carefully and then stick to it. Whether you like a toned-down neutral palette or vibrant colors, consider your color theme and use it consistently. When you collect your home decor from various sources and over time, it is vital to ensure it all works together and creates a purposeful look and feel.
Working within a well-chosen color scheme is the best way to get a professionally designed look for your home.
Thrifty Home Decor Made Easy
We have shown that when decorating your home, there are plenty of cheap home decor options. From DIY home decor projects to furniture hacks, countless ways exist to create eye-catching and stylish home decor on a budget.
A great way to save money on furniture and home decor accessories is to shop second-hand or at discount stores. You can also get creative with DIY projects, like repurposing old items or making decor pieces yourself.
And remember the power of a fresh coat of paint or new furnishings to give a room a new look. With some creativity and patience, you can create a beautiful and inviting home without spending a fortune.
This article originally appeared on Wealth of Geeks.
*****
PIN ME!
Marianne Songbird is the founder of Songbird, where she hopes to inspire everyone to create a home they love, one DIY project at a time. She shares anything from craft ideas to home decor inspiration and from DIY projects to decorating hacks. Originally from the Netherlands Marianne and her husband Lex are currently renovating a 250-year-old farmhouse in Germany.