As luck would have it, my friends are constantly offering up freebies for me to repurpose for my blog. And so was the case with these dresser handles. My friend, Teri, had given her mother's dresser a makeover for her daughter's new apartment. When she asked if I wanted the old hardware, I eagerly took them off her hands. They looked JUST LIKE dock cleats / boat cleats to me, and I wanted to transform them into nautical wall decor.
To bring my vision of coastal wall decor to life, I need a plank of wood and something else to spruce it up. After rummaging through my stack of scrap wood, and a quick flip through my stencil file, I gathered everything I'd need to bring this idea to life.
This post is sponsored by Weatherwood Stains, and contains affiliate links for your crafting convenience.
Upcycling Dresser Handles that Look like Dock Cleats for Nautical Wall Decor
I needed to enrich my plain plank of oak plywood with the right stain- so, I decided to give Weatherwood Stains a try. And more specifically, I used Restoration stain, which pairs well with oak and gives the weathered brown-gray color that I wanted for this project.
Per the directions on the can, I sanded my wood board with an 80-grit disk against the grain to open it up and help the Weatherwood Stains work its magic. Then, using a clean rag, I wiped on 2 coats of stain.
Because Weatherwood Stains are reactive, the full color change happens over the course of several minutes. Check out this quick time lapse video (originally 15 minutes) of the second coat drying!

This is how the board looked after the two coats of Weatherwood Stains had completely dried:
Now I just needed to add a thin coat of Clear Maintenance Oil to my board- which would darken and seal it.
Is that gorgeous or what? I love how the stain brought out the nuances of the grain in alternating brown and gray tones. This color was perfect for the nautical wall decor / coastal wall decor idea I had in mind.
Ok- now onto the stenciling! The stencil I used was actually an adhesive mesh stencil, which I had never used before. In some ways, I loved it (the adhesiveness ensured no bleed through whatsoever and didn't leave any sticky residue).
But in other ways, it was annoying. Stippling the paint doesn't work very well through the mesh letters, so I swirled the paint instead. Which was fine, but gauging the right amount of paint to use was difficult.
In the end, though, it worked out beautifully- and my inability to gauge paint quantity lent itself to naturally distressed stenciling!
Ok, back to the dresser handles which were the original reason for this project! To transform them into dock cleats or boat cleats, I used a metallic silver spray paint that gave them a hammered silver look.
And then it was time to combine the stenciled sign with the dresser handles to create my nautical wall decor!
Nautical Wall Decor with Dock Cleats as Coat Hooks
Using a speed square, we carefully measured and drilled holes for the boat cleats. I swapped out new nuts and bolts to extend the dock cleats out from the wood, thus giving plenty of space to be used as coat hooks.
And voilà- nautical wall decor (coat hooks) with dresser handles that were transformed to look like dock cleats. And Weatherwood Stains was an excellent choice for giving the coastal wall decor a rich wood backdrop.
If you enjoyed this upcycling idea for coastal wall decor, then you may also be interested in these sea glass bottles that I made from my recycling bin!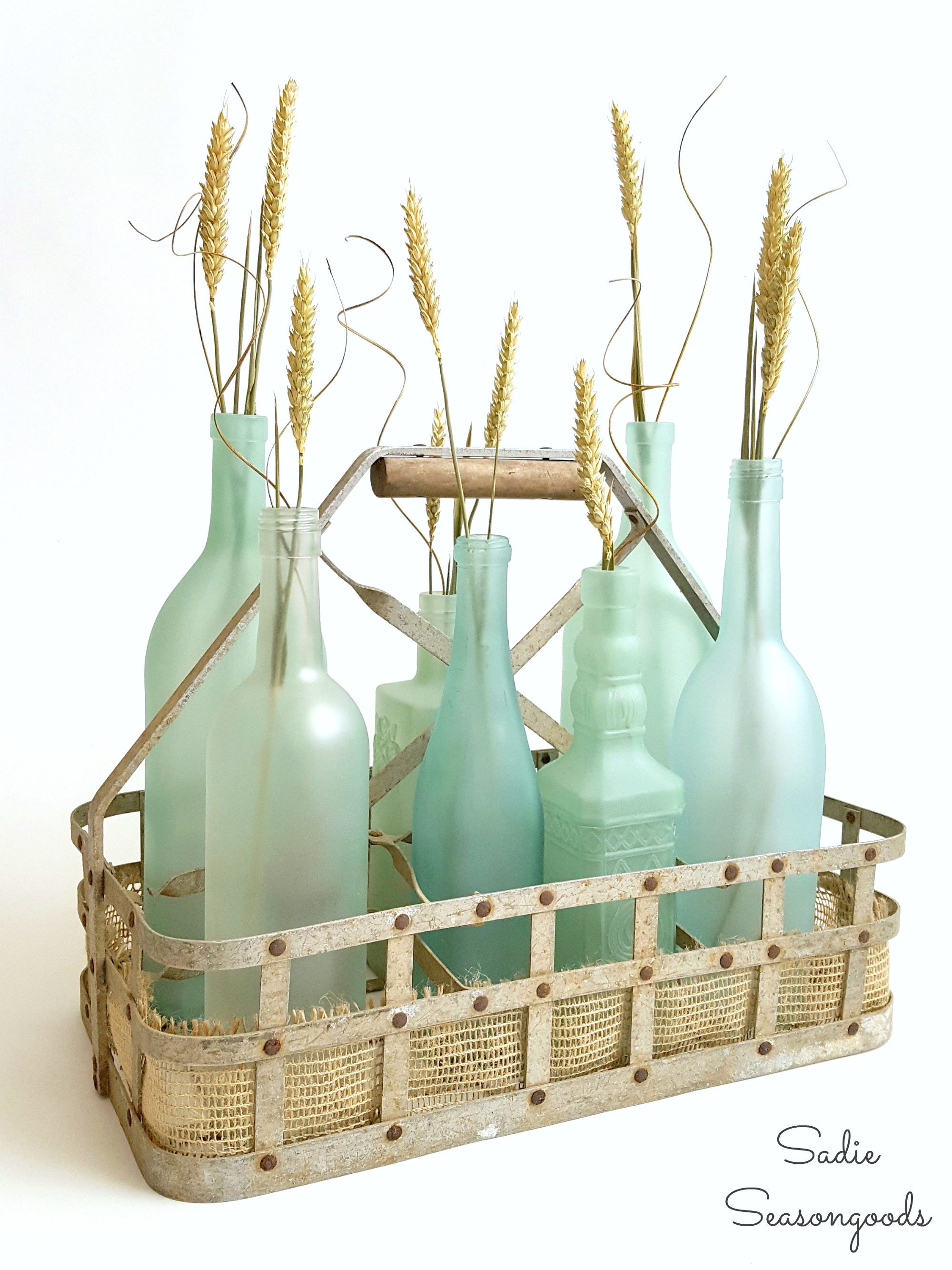 Craft on!
S
Want to be notified when I publish my next upcycling project tutorial?
Subscribe to Blog via Email
Join me on Social Media: