Cottagecore is all the rage right now, as is a granny chic decor style known as grandmillenial. So, I decided to make some cottagecore art that fits all of those styles by upcycling couple of vintage floral sheets. With a modern twist, of course, by creating a wrapped canvas type of wall hanging!

It all started when I'd posted a question on my Facebook page– asking which fabric I should use in a project.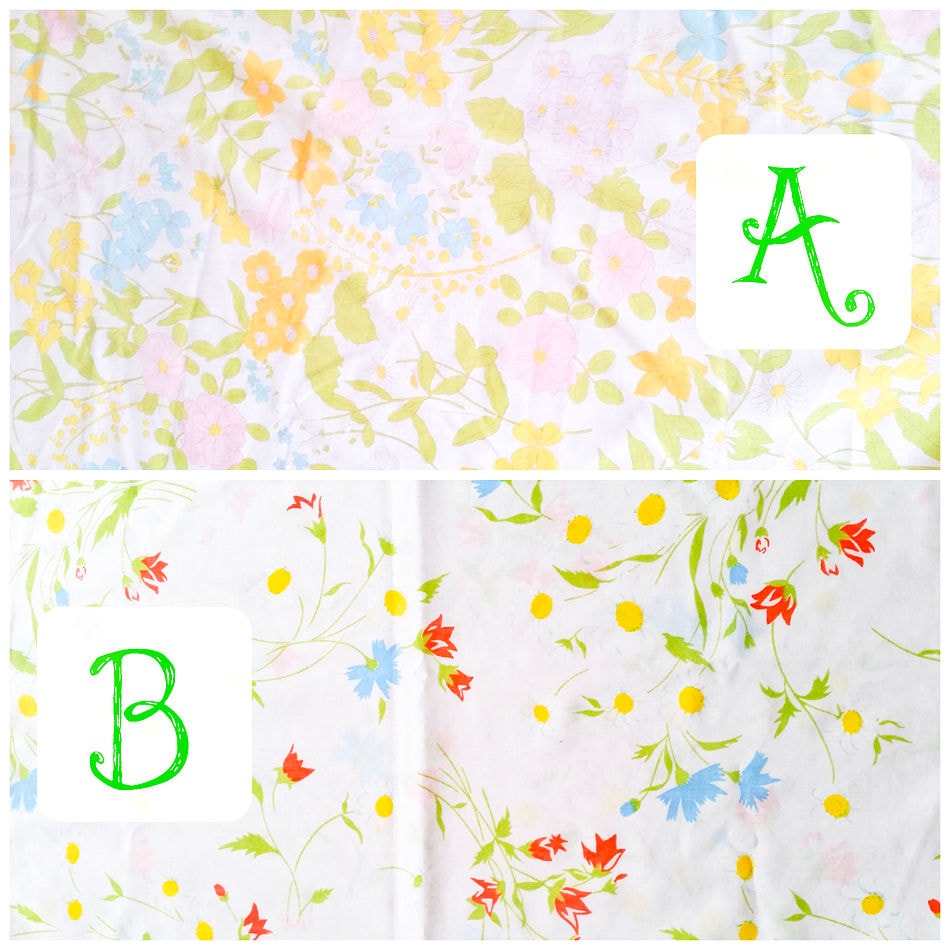 Fabric "B" won in a landslide, but I'll let you in on a little secret- I ended up using both!

For this latest and greatest repurposed sheet project, I borrowed the idea behind this project that used a vintage feed sack. This is, embroidering on a vintage background for dimensional art.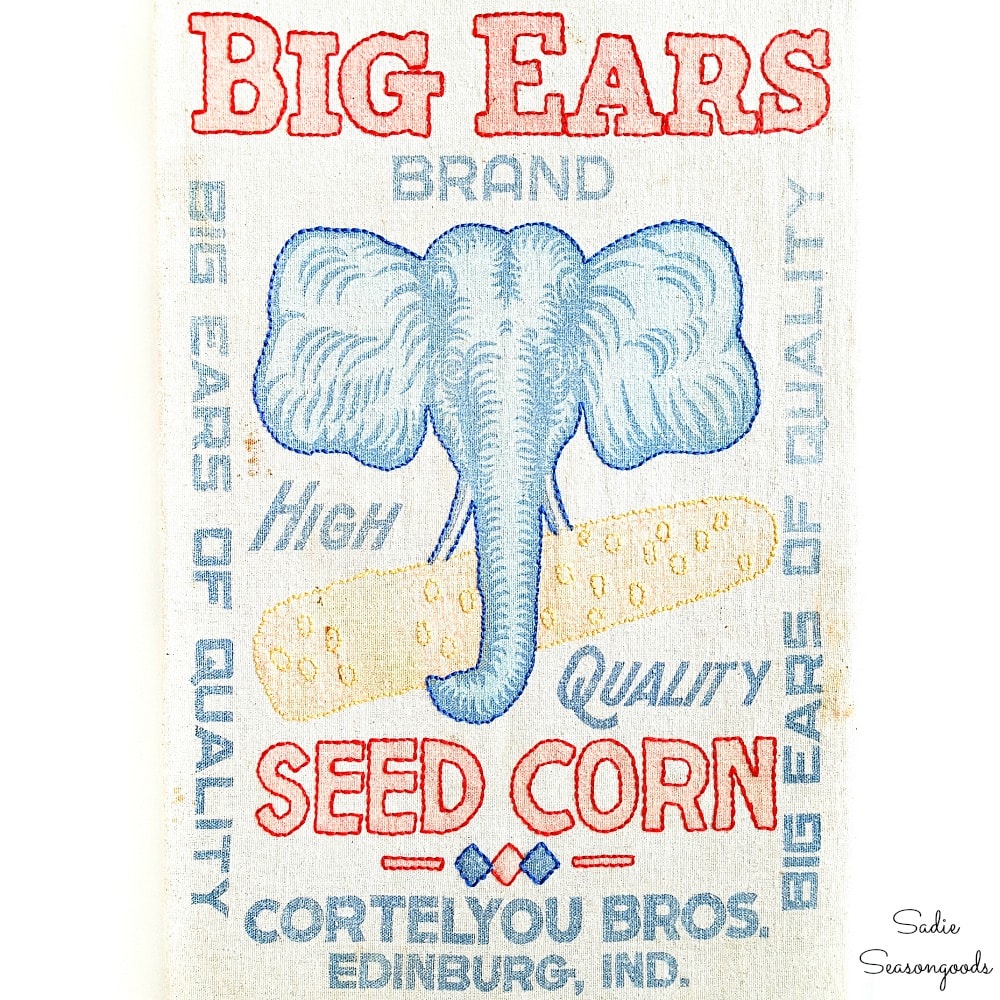 But instead of a heavier burlap background, this time I'm using a vintage floral sheet that fits the cottagecore aesthetic.
This post contains affiliate links for your crafting convenience. As an Amazon Affiliate, I earn from qualifying purchases. All blue, bold, and underlined text is a clickable link, either to a product or to a related post.
Vintage Floral Art for the Cottagecore Aesthetic
To create the cottagecore art that I was envisioning, I needed some picture frames from the thrift store. They had to be wooden and rectanglular shape, since I planned on creating wrapped canvases with the vintage floral sheets.
First, I decided to spray paint (hurray for my easy grip) the wooden frames white. I didn't want the darker wood to show through the sheet.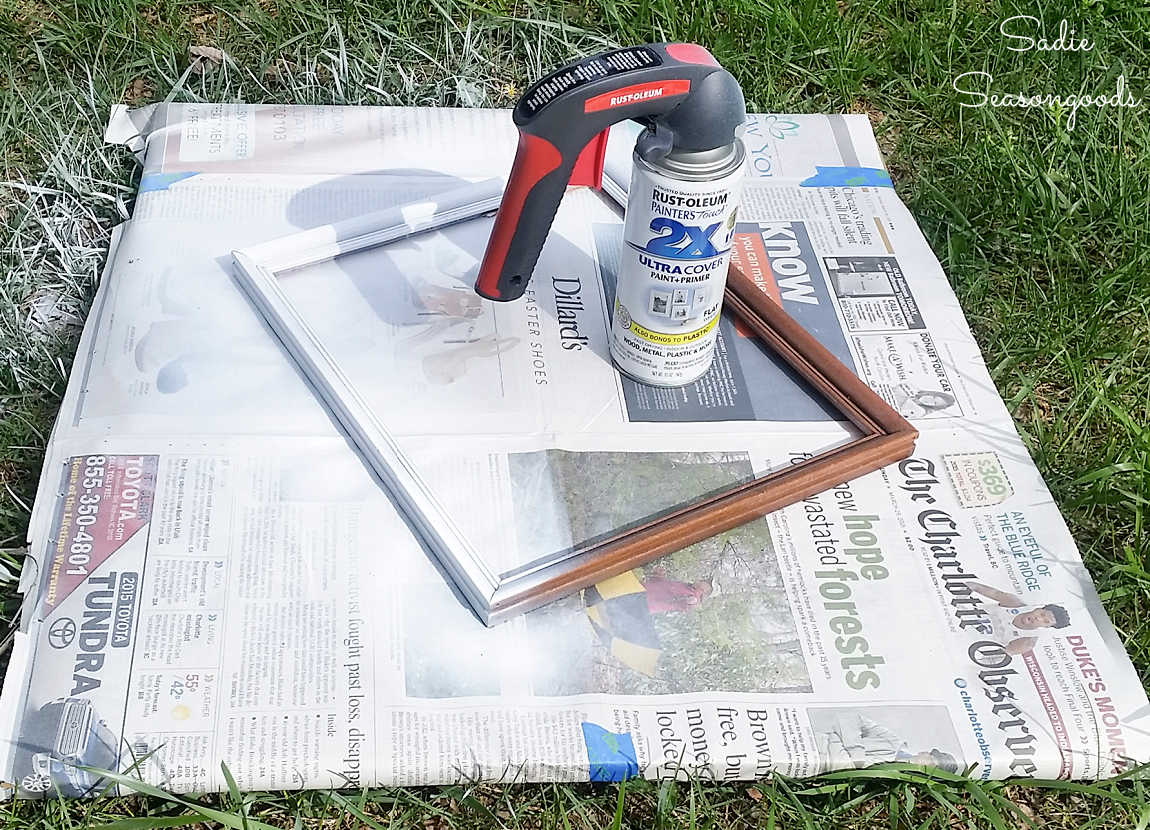 After the painted frame dried, I played around with my frame and vintage floral sheet and until I had found the pattern I wanted to work with. I liked the off-centered-ness of this section of fabric, and I thought it would be perfect for my idea of embroidery wall art.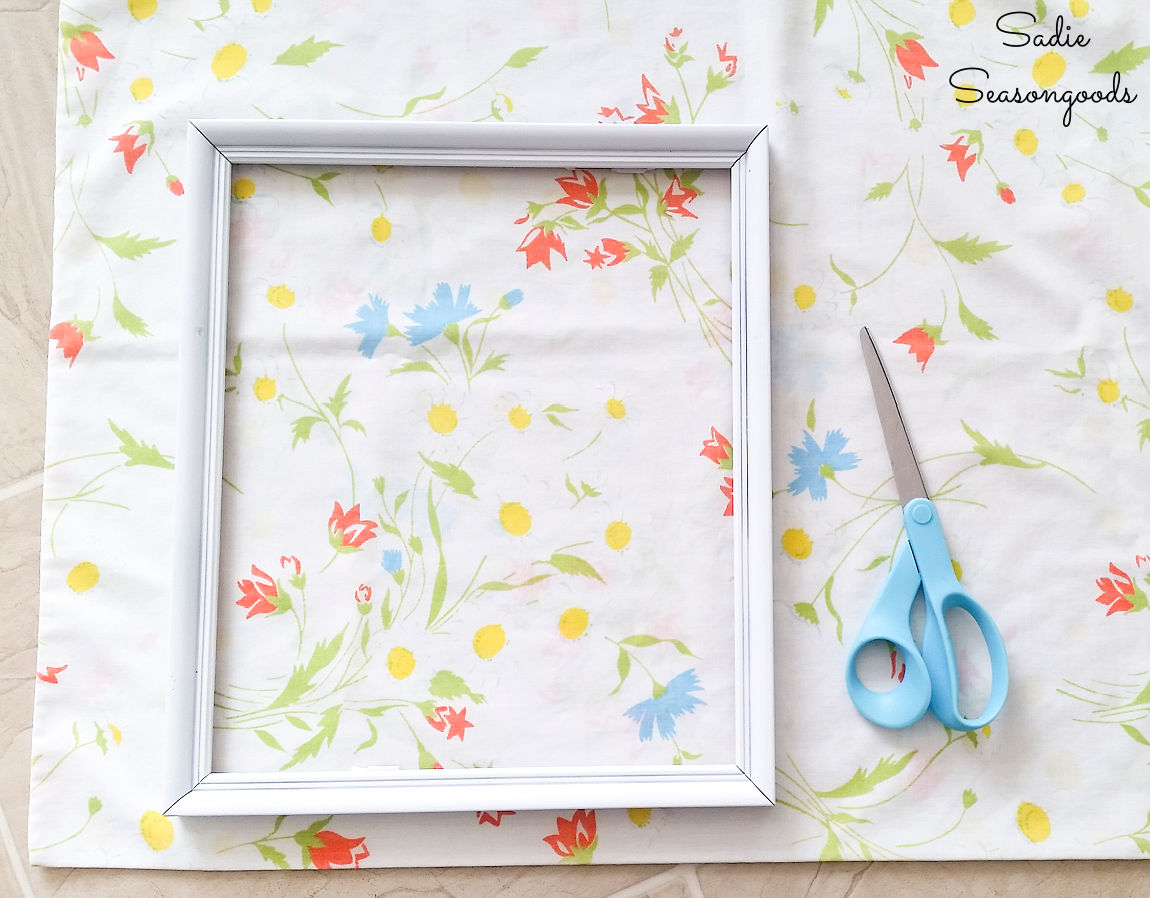 Then, I cut out the section of sheet, leaving a good 2" (roughly) border around my frame.
After ironing my freshly cut fabric, I turned everything over with the bright/right side of the sheet swatch facing down and the white-painted side of my picture frame facing down on top of the sheet.
Pulling the edges taut, I staple-gunned (is that a verb?) the vintage floral sheet to the back of the frame.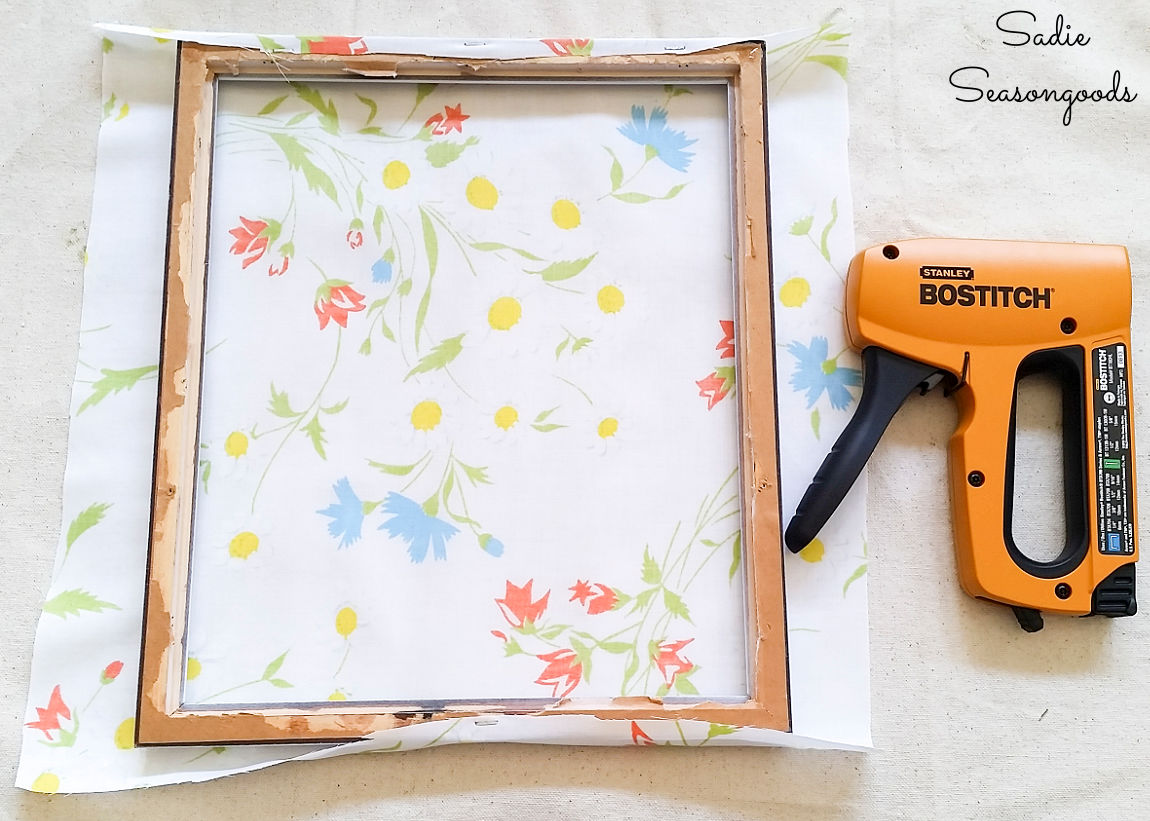 I folded the corners as if I were wrapping a gift and continued to *carefully* staple the fabric (all the while pulling tight) around the entire frame. I flipped it over and was very happy with the result!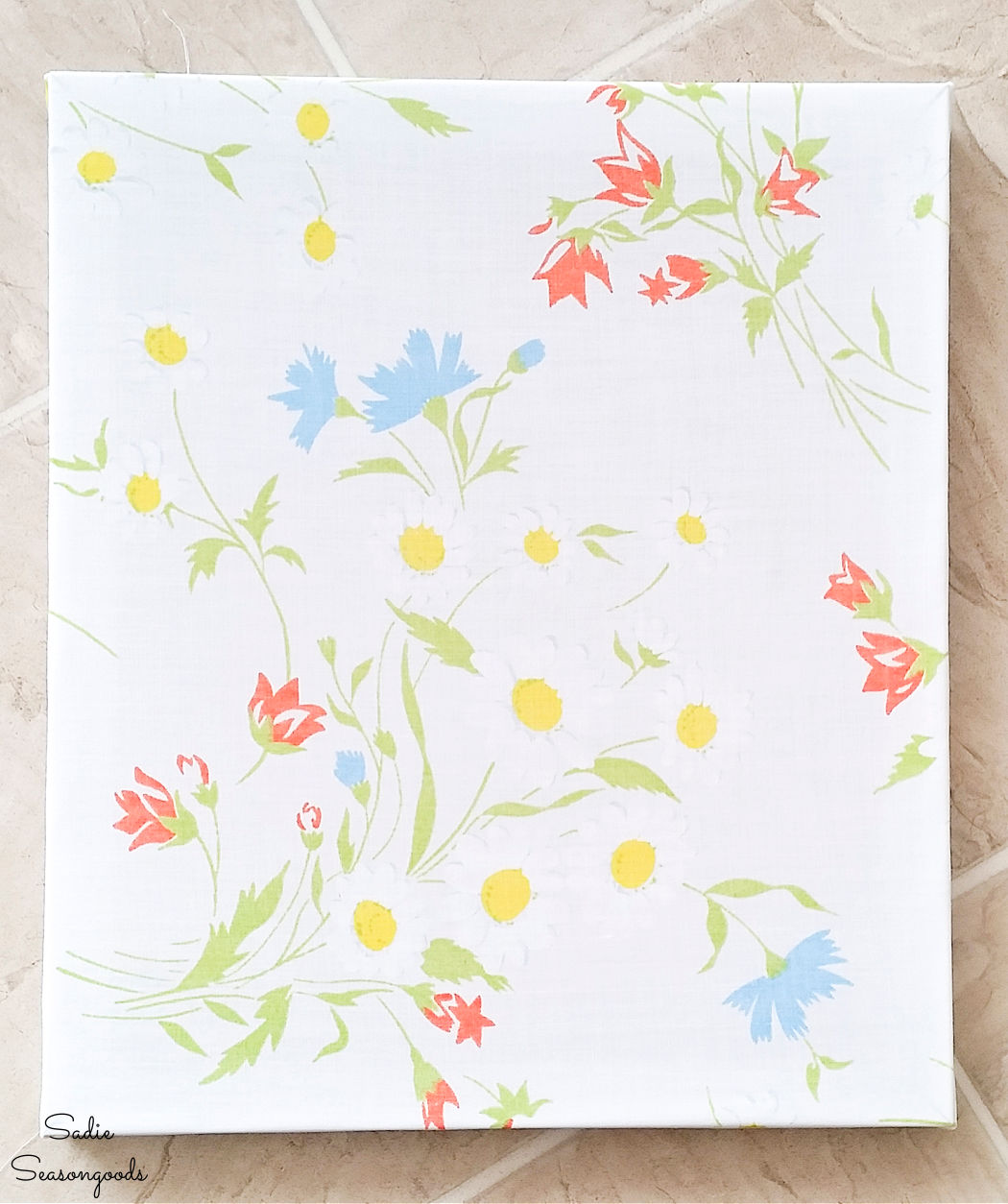 It resembled wrapped canvas art or wall hangings, which is exactly what I was going for!
Embroidery on Cottagecore Art
Next, I gathered my coordinating embroidery floss, which I had purchased earlier (using snippets of sheet to help me pick the right shades and hues).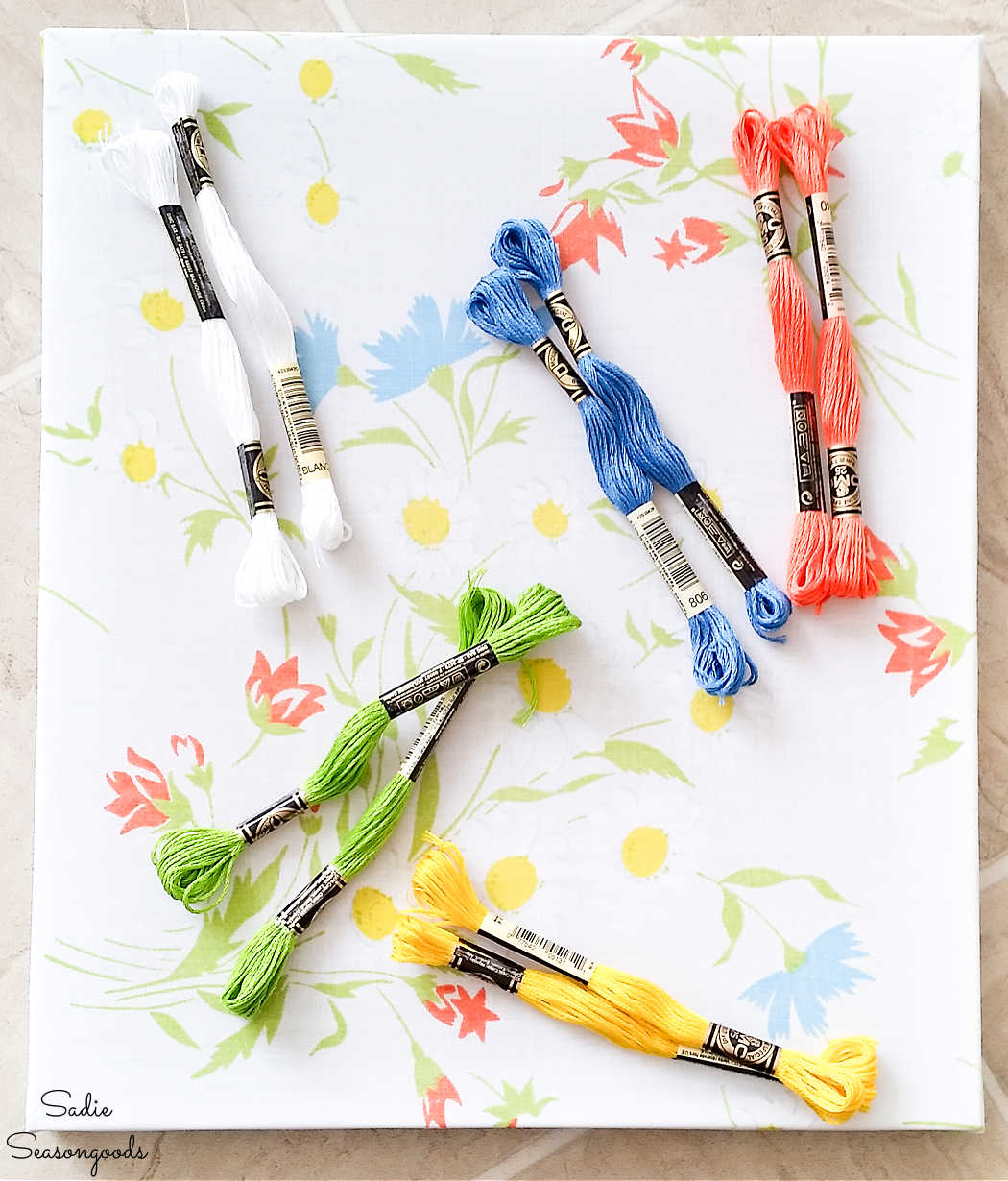 And then…I just kicked back, turned on a favorite show (time to catch up on The Righteous Gemstones!) and embroidered to my heart's delight.
My stitching skills are limited to just a few hand embroidery stitches, but I was determined to make those work!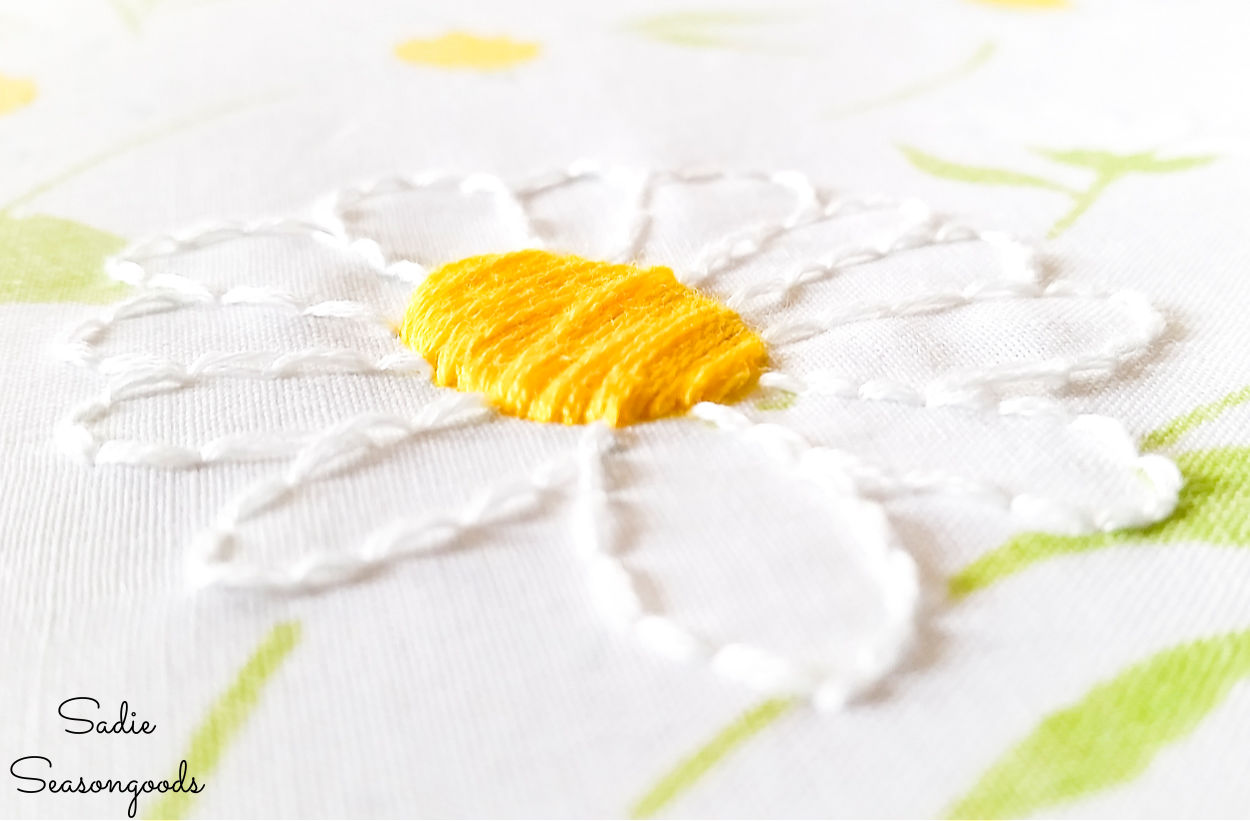 You know what? This was SO FUN TO WORK ON! And following the patterns on the vintage bed sheets is just about the easiest embroidery I can think of.
Not only is it easy, but the results are pretty spectacular, too. (Remember how I mentioned working on both sheets? This is on the second one.)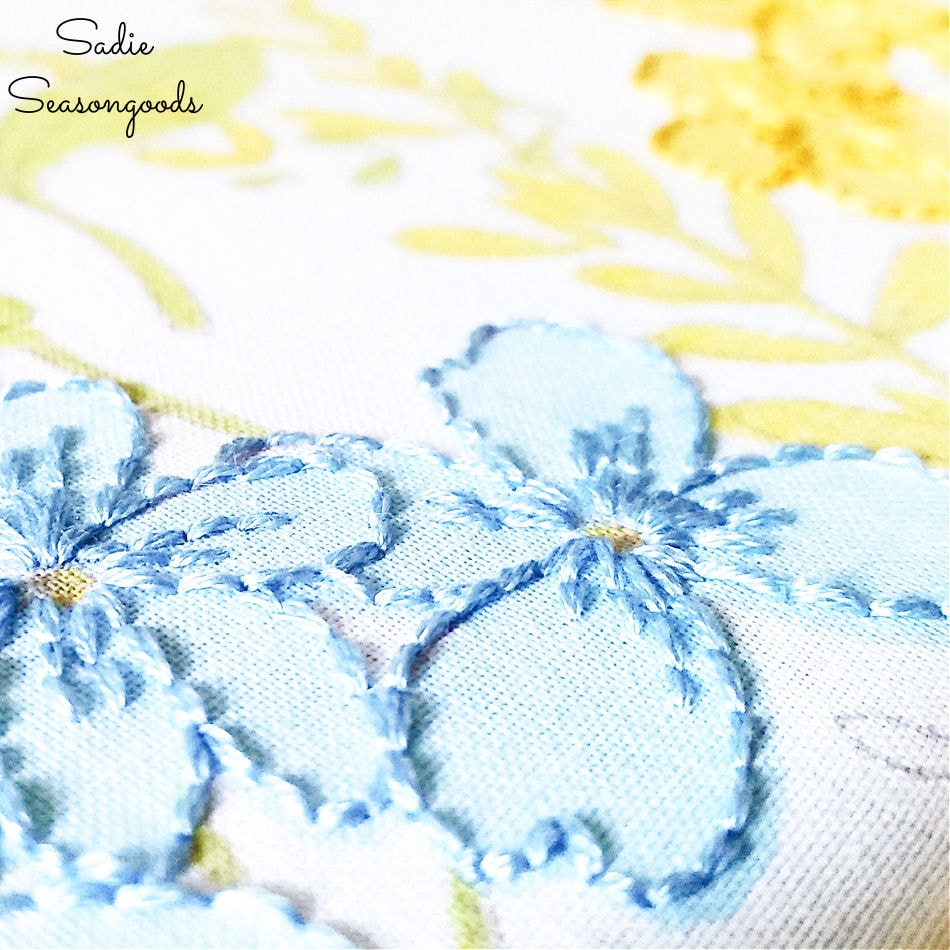 I didn't embroider everything on either frame- just flowers and leaves, here and there. When all was said and done, I was thrilled with them both- and they'll be perfect as cottagecore art!
In the world of embroidery on printed fabric, I think like Goldilocks- not too little, not too much, but just right!
Cottagecore Art from Vintage Floral Sheets
And there you have it- my embroidery wall art that fits the grandmillenial aesthetic and cottagecore style perfectly. All from thrifted finds- vintage floral sheets and wooden picture frames!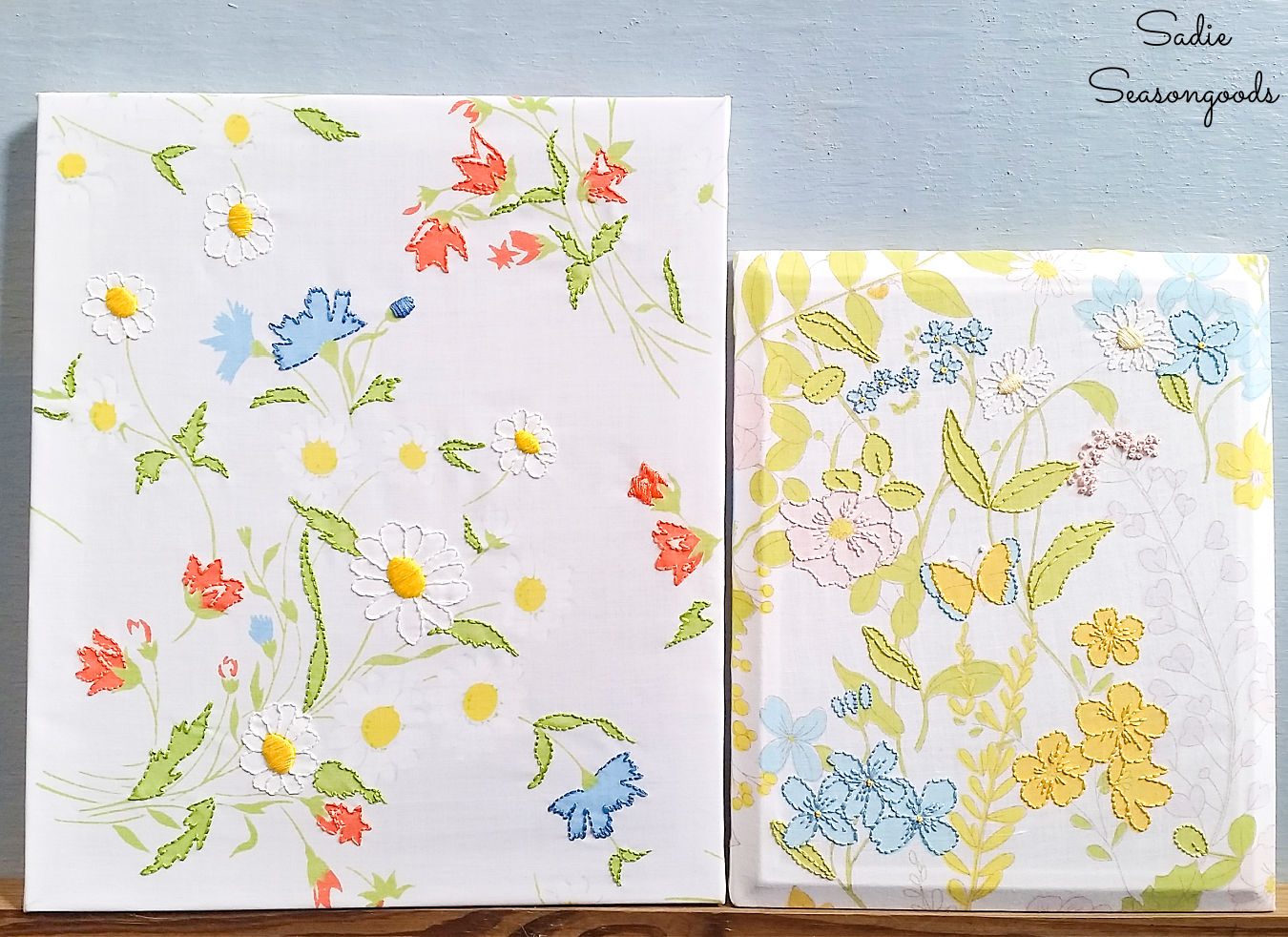 I have no idea where I'll hang these- but I just LOVED making them and think they turned out pretty well! You know what that means, don't you? I'll make more even if I don't need them!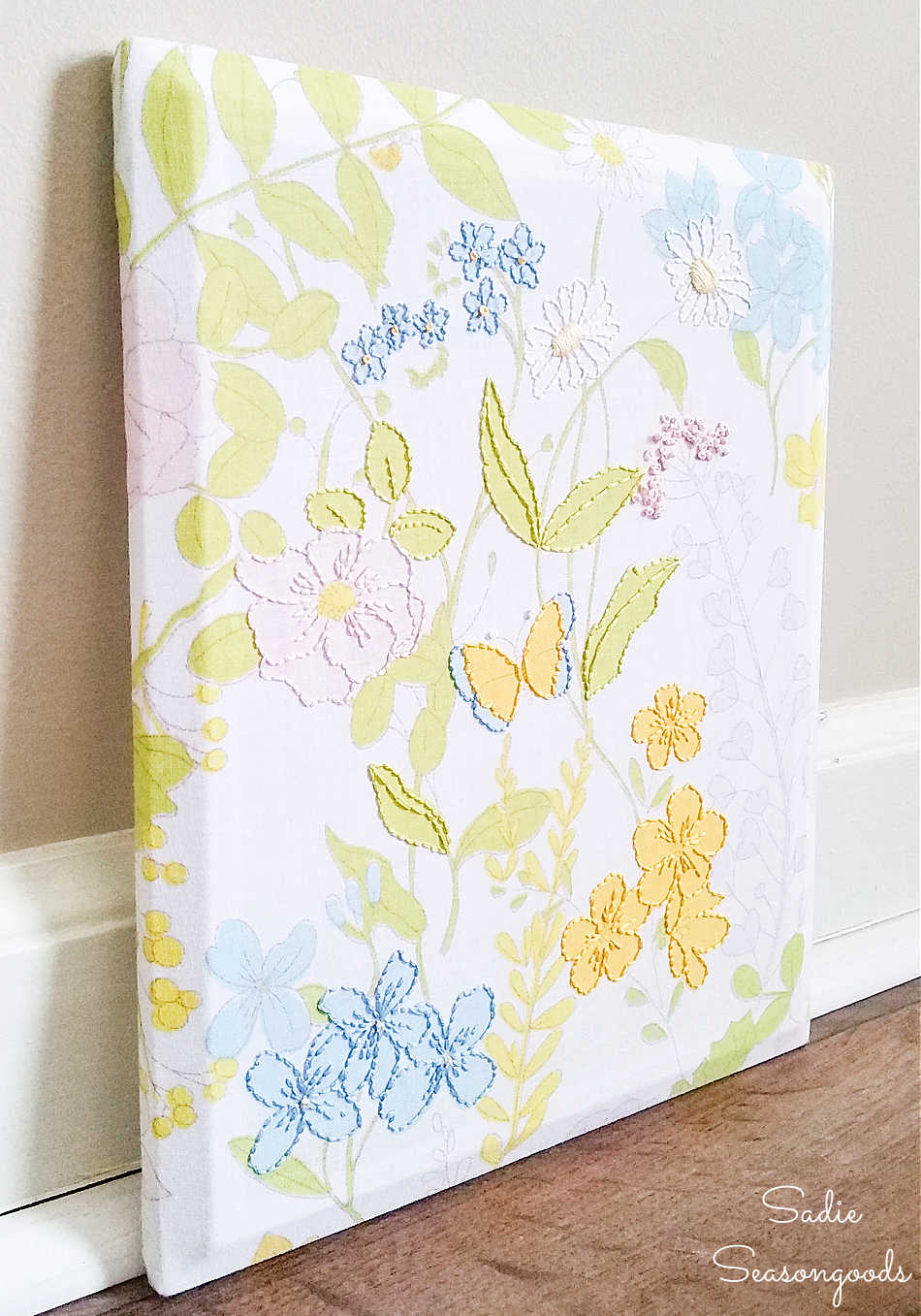 If you enjoyed this upcycling idea for wall art, then you might also enjoy my window frame decor with vintage doilies project, as well!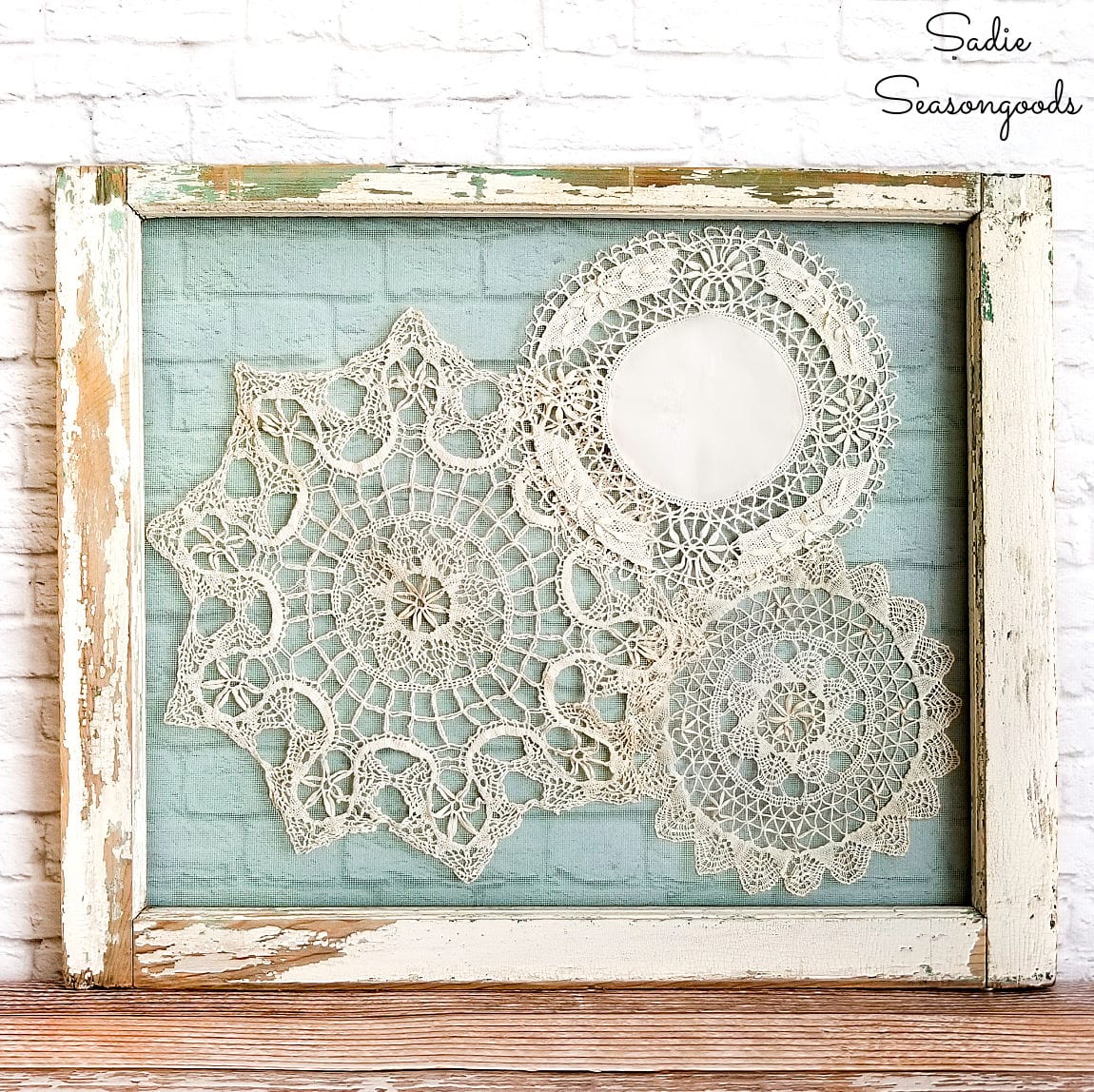 Craft on!
S
Want to be notified when I publish my next upcycling project tutorial?
Subscribe to Blog via Email
Join me on Social Media:



PIN ME!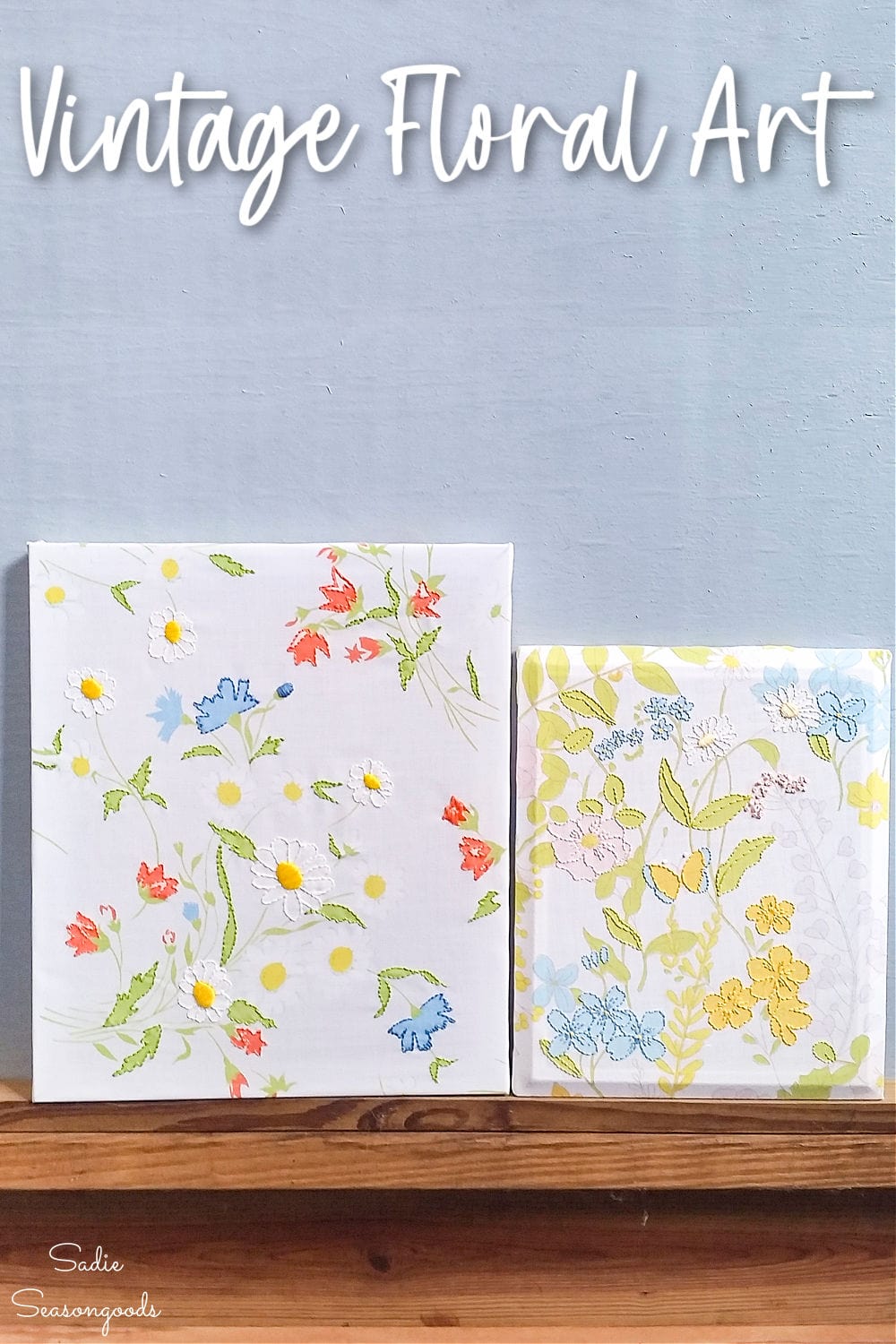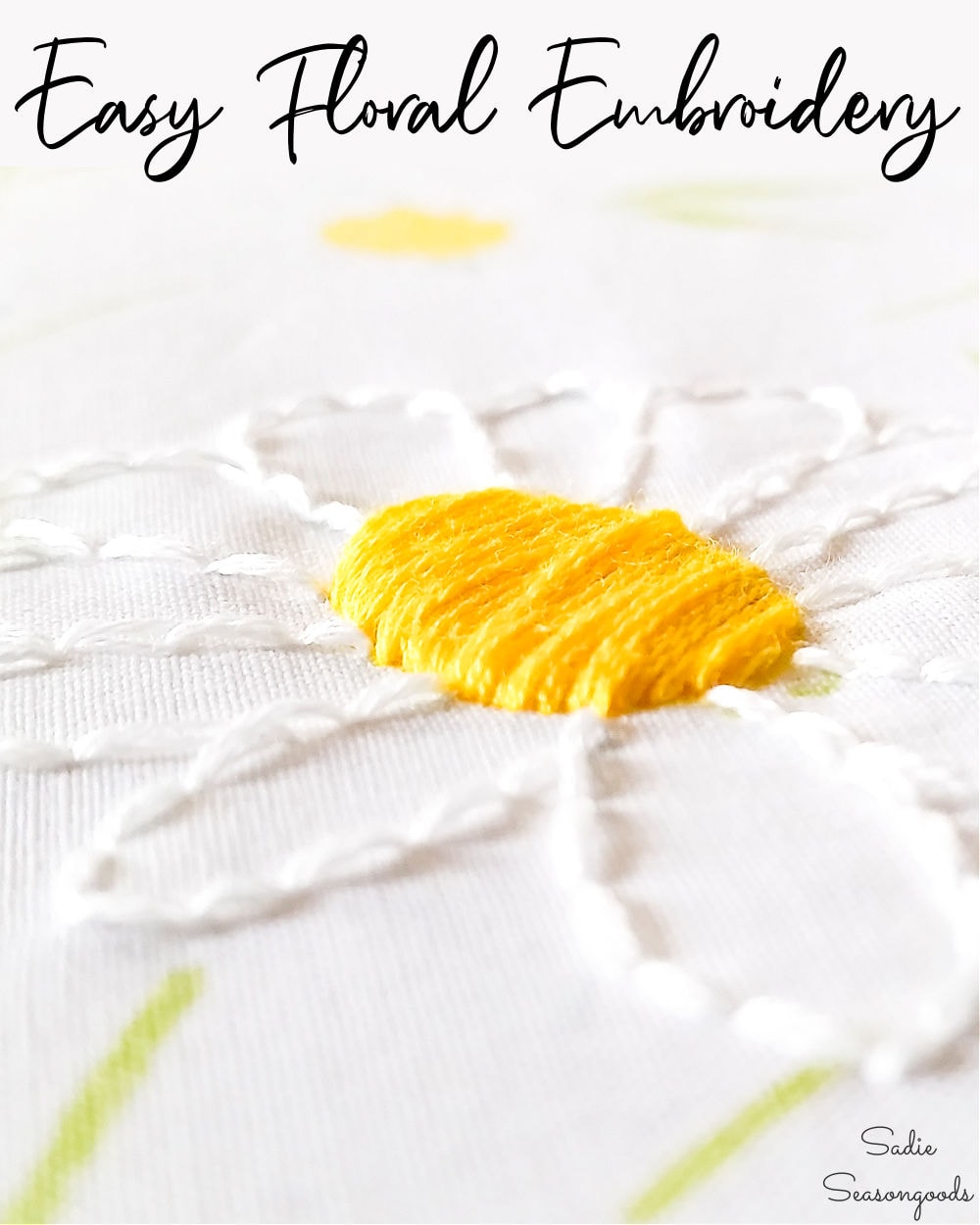 Sarah Ramberg is the owner of Sadie Seasongoods, a website that celebrates all things secondhand. From upcycling ideas and thrifted decor to vintage-centric travel itineraries, Sadie Seasongoods is a one-stop shop for anyone who loves thrifting and approachable repurposing ideas. Sarah is also the author of "Crafting with Flannel" and has been featured in numerous media outlets and magazines.