A reader recently asked (on my Facebook page) if I had ever upcycled a pizza saver. You know, those little plastic pieces that keep a pizza box from caving in on the toppings. And I instantly remembered a VERY old blog post that I had put together in 2014 (but never published) on fairy garden furniture that I made using household junk.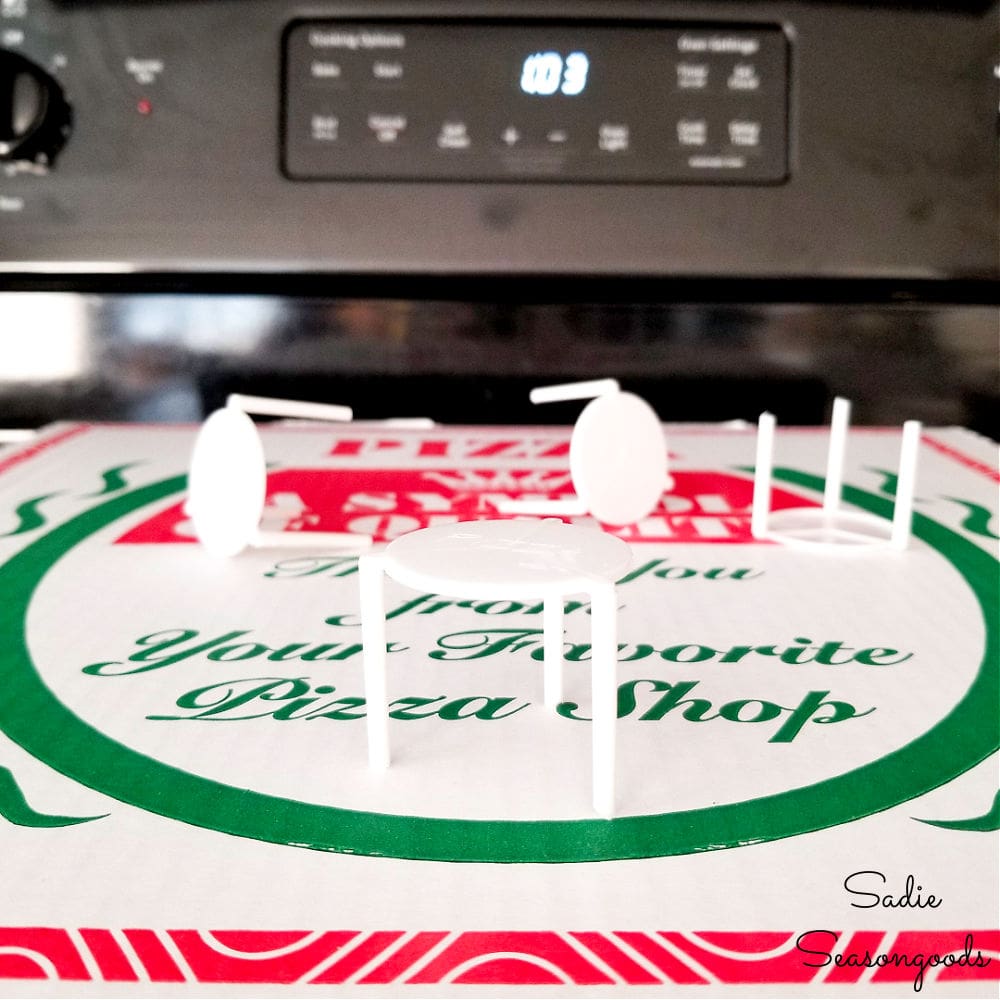 Why didn't I ever publish it, you might be wondering? Well…as cute as I thought it had turned out, I was worried that it wasn't "good enough" for my blog. So, I locked in a vault and forgot about it for nearly seven years.
But when I shared my fairy garden photo of the pizza saver, I was overwhelmed with the response. So, I'm breaking out the old photos and sharing this never-before published post with you today.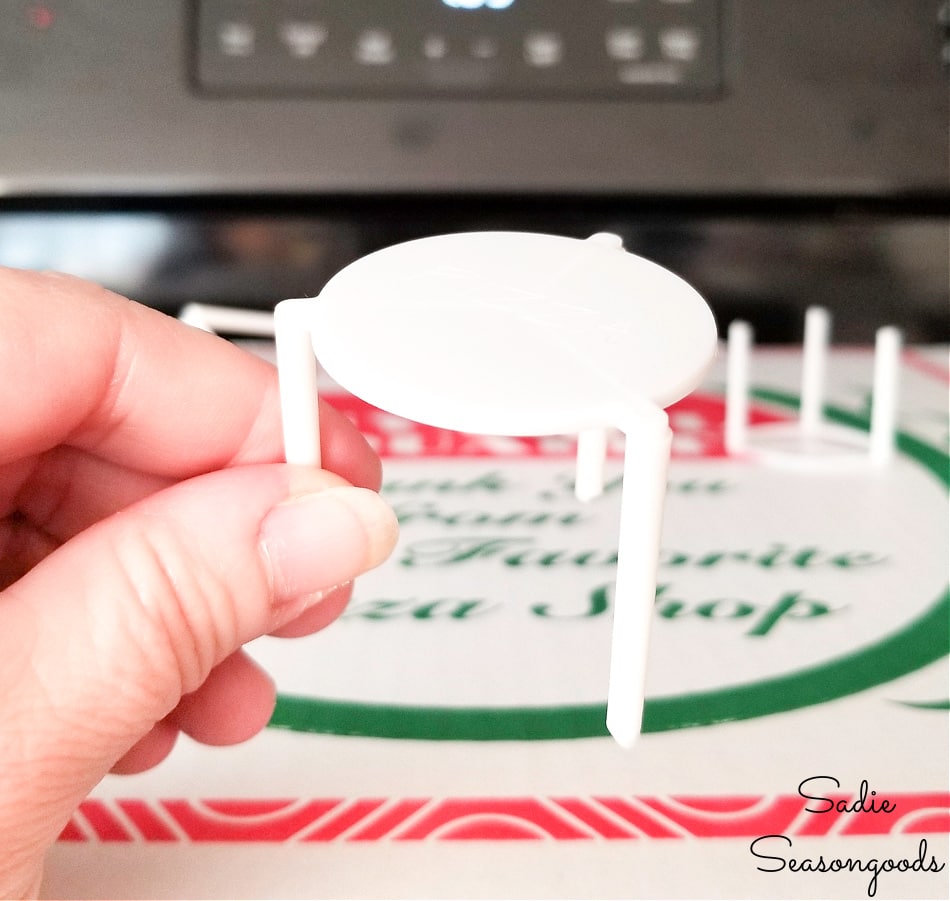 The timing is also particularly good for me. We just said goodbye to our senior cat (Wrigley) who had been us for nearly 18 years. So, I've been a little lost these days and feeling terribly uncreative.
So, I REALLY appreciate you humoring me as I finally share this previously unpublished project!
This post contains affiliate links for your crafting convenience. As an Amazon Affiliate, I earn from qualifying purchases. All blue, bold, and underlined text is a clickable link, either to a product or to a related post.
Craft Supplies from the Junk Drawer
The whole premise of my circa-2014 blog post was that any fairies that lived in my yard were probably on a budget.
And they probably weren't interested in the fancy fairy garden furniture sold at craft stores.
They would, however, be interested in things like a pizza saver, bottle caps, and soda can tops.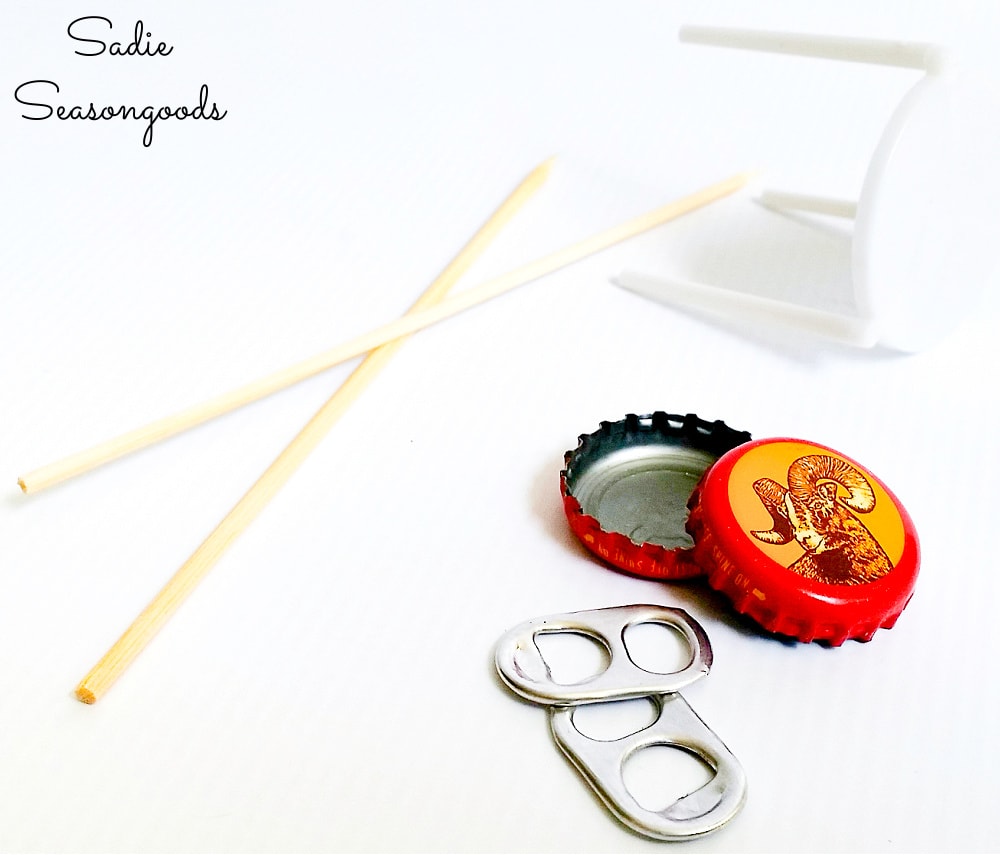 Perhaps other junk drawer cast-offs, too, like golf tees and marbles.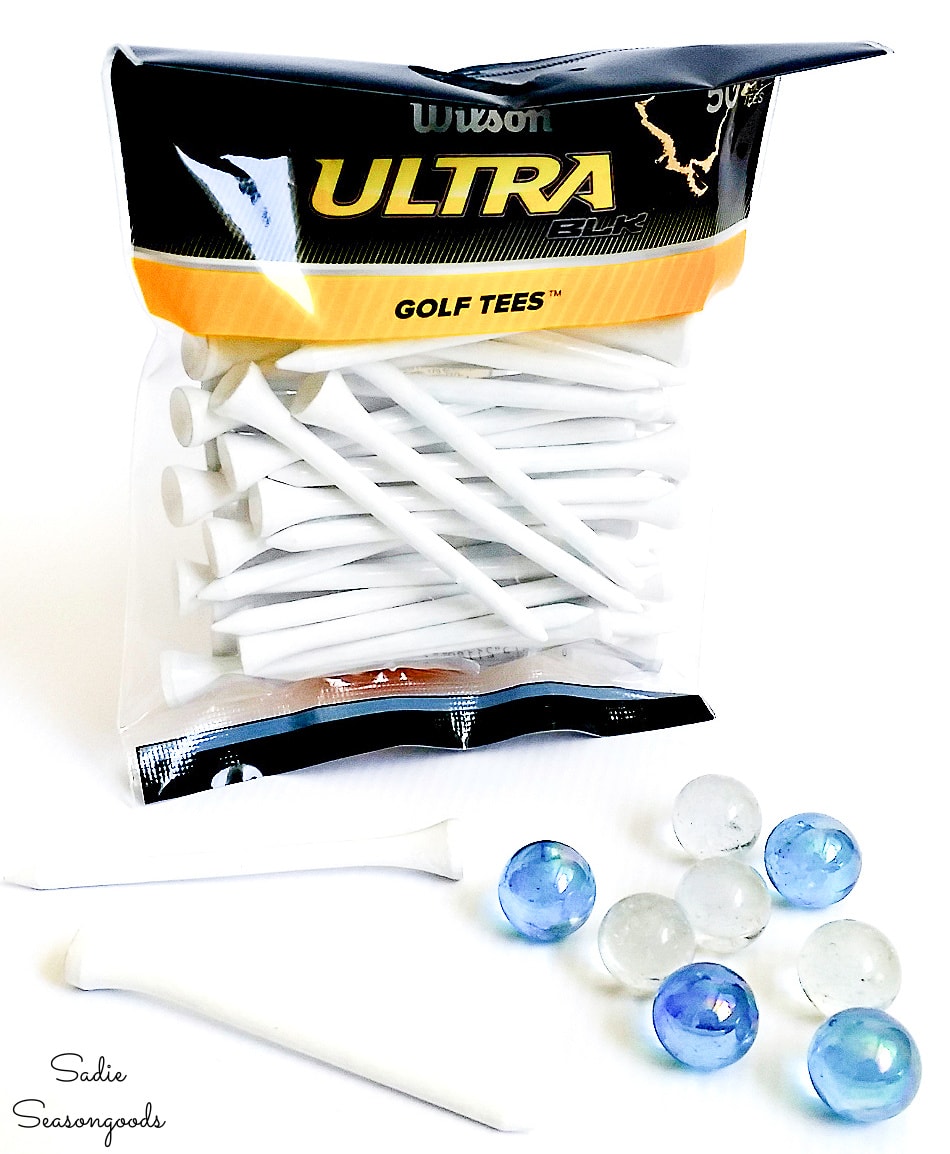 I mean, we all have a junk drawer (or two) that is filled with random odds and ends, right? Or even "bottom of the purse" bits that could be thrown out, but haven't been yet.
And finally, I decided that my fairies might want to craft with old jewelry wire and acorn caps, too.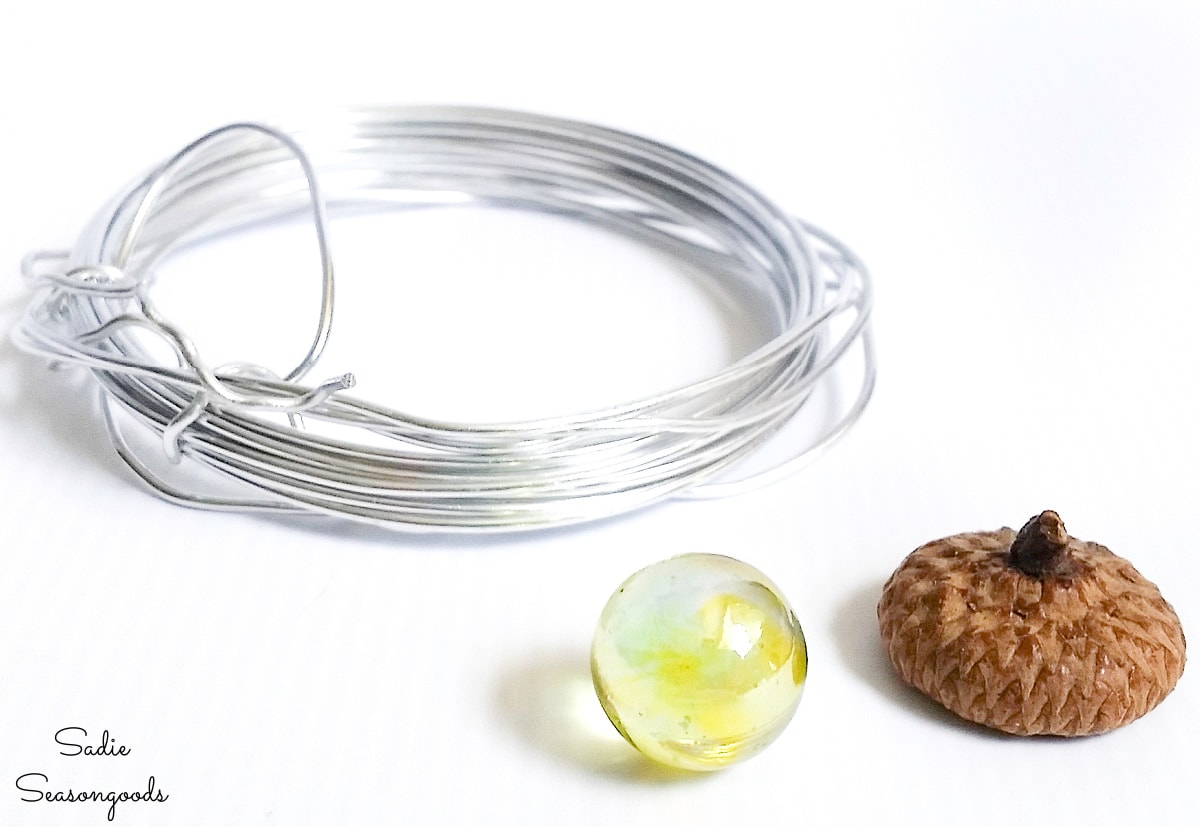 Household Junk as Fairy Garden Furniture
My plan for the pizza saver was to use it as a table in a bistro set. And I didn't need to do a thing to it (other than paint, if I opted to).
But what's a bistro set with out chairs?
So, I broke some bamboo skewers into eight same-length pieces with my heavy duty craft scissors. Then, I hot glued them to the underside of a bottle cap like four legs on a chair.
After that, I hot glued the soda can top to the bottle cap and voila- I had a teeny tiny fairy chair.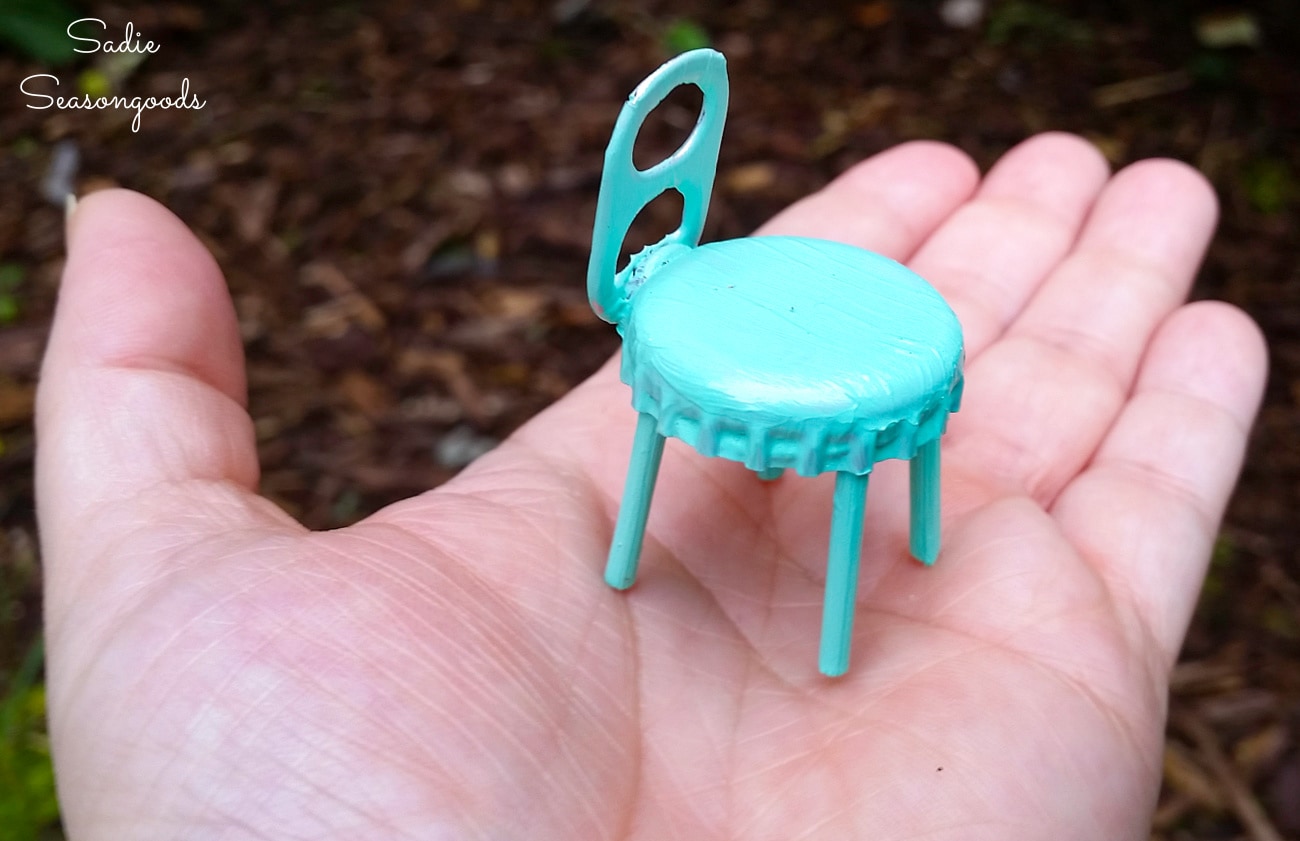 Once I had two chairs, I painted them to match.
Then, I moved onto the acorn cap! I simply hot glued a marble to the underside of the cap, as well as a tiny loop of thread to the top.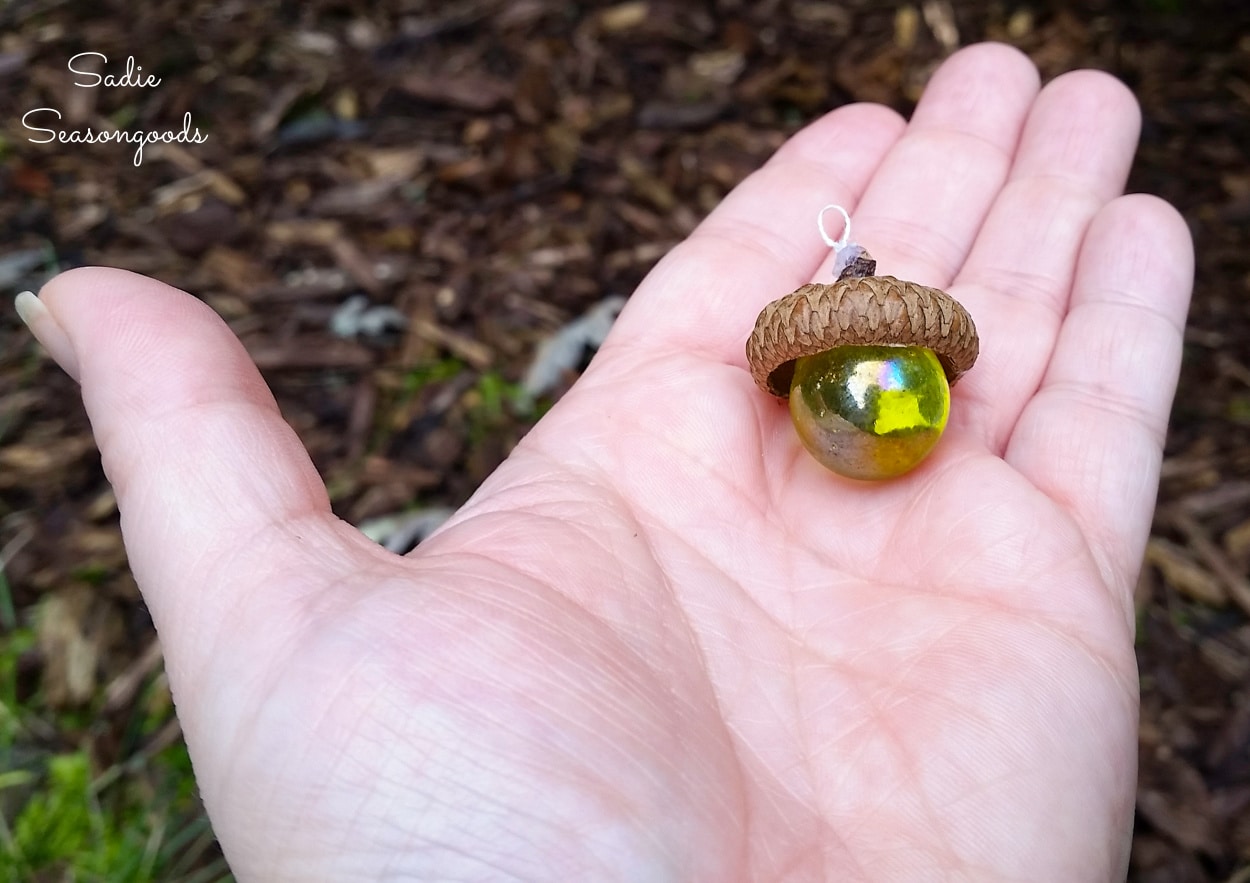 This will become a lantern for my fairy garden. You'll see why in a moment!
Finally, the golf tees and remaining marbles. I hot glued the marbles to the golf tees and used them as path lights to my fairy garden.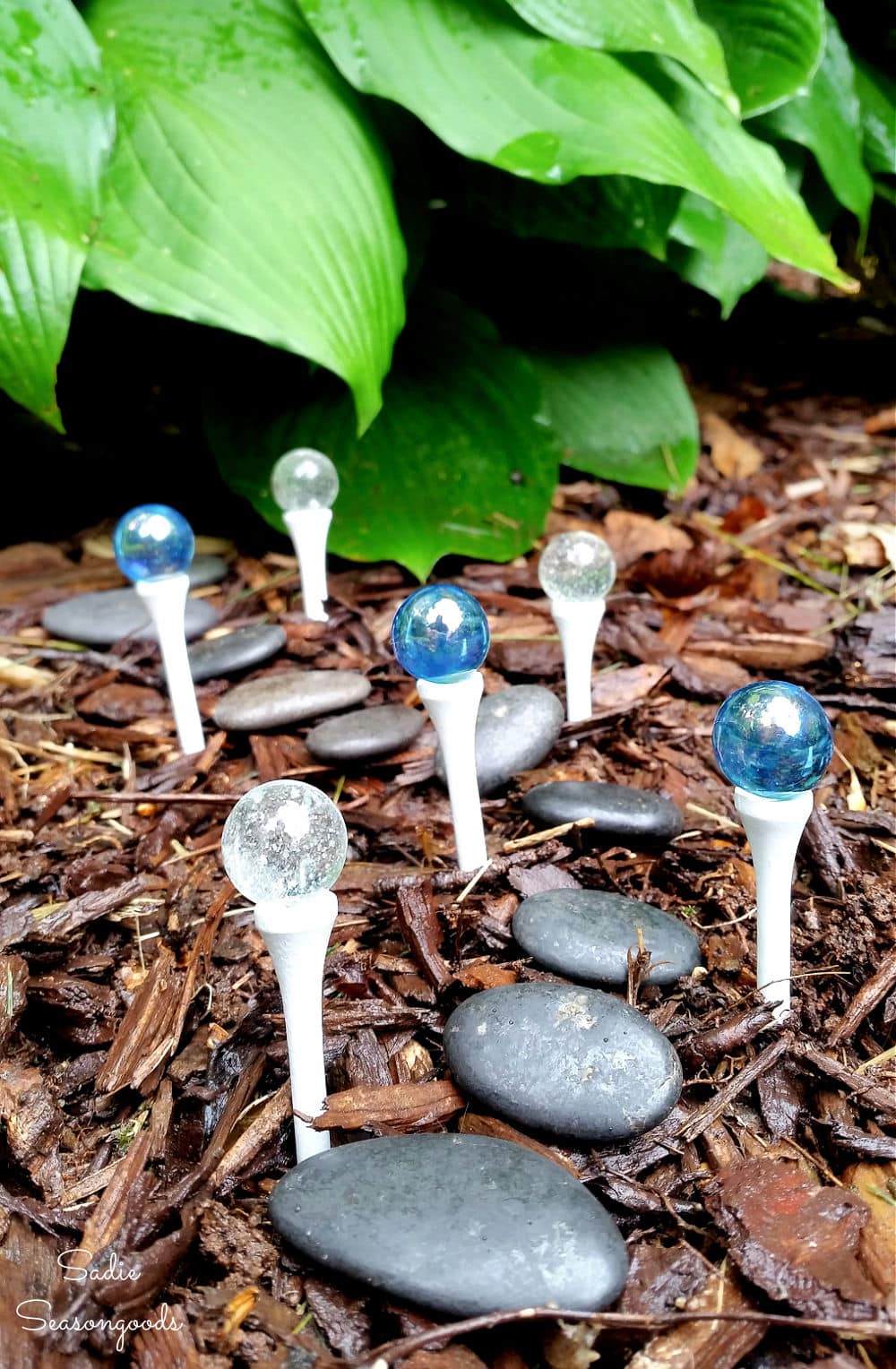 Along with smooth river rocks for the path. Like a fairy courtyard, more than a garden.
Fairy Garden Furniture from the Junk Drawer
Now, for that lantern! I fashioned a mini shepherd's hook from the heavy gauge jewelry wire and hung the lantern from it.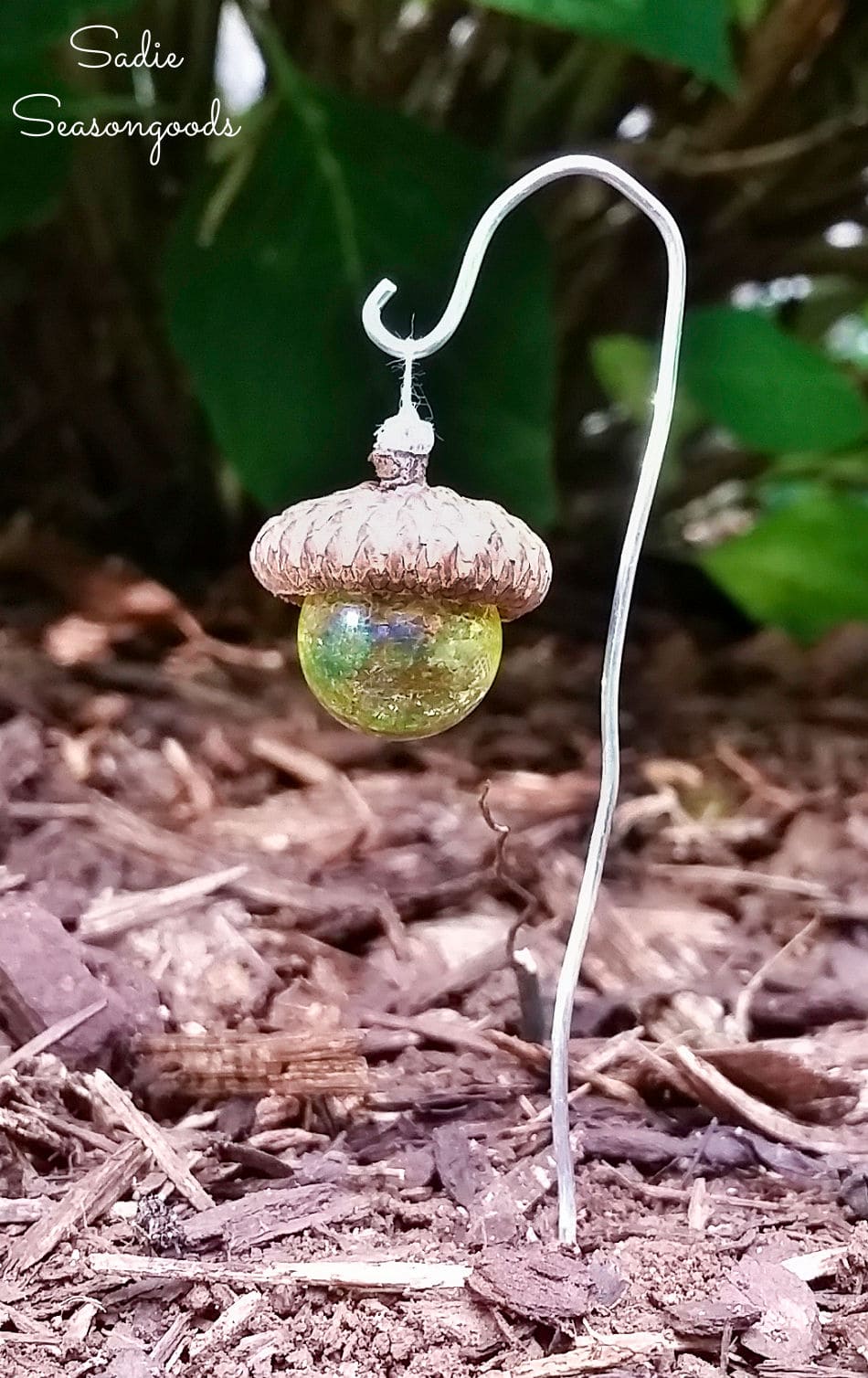 And the fairy garden furniture or bistro set I had crafted? The chairs got a spritz of clear topcoat before being placed under our hydrangea.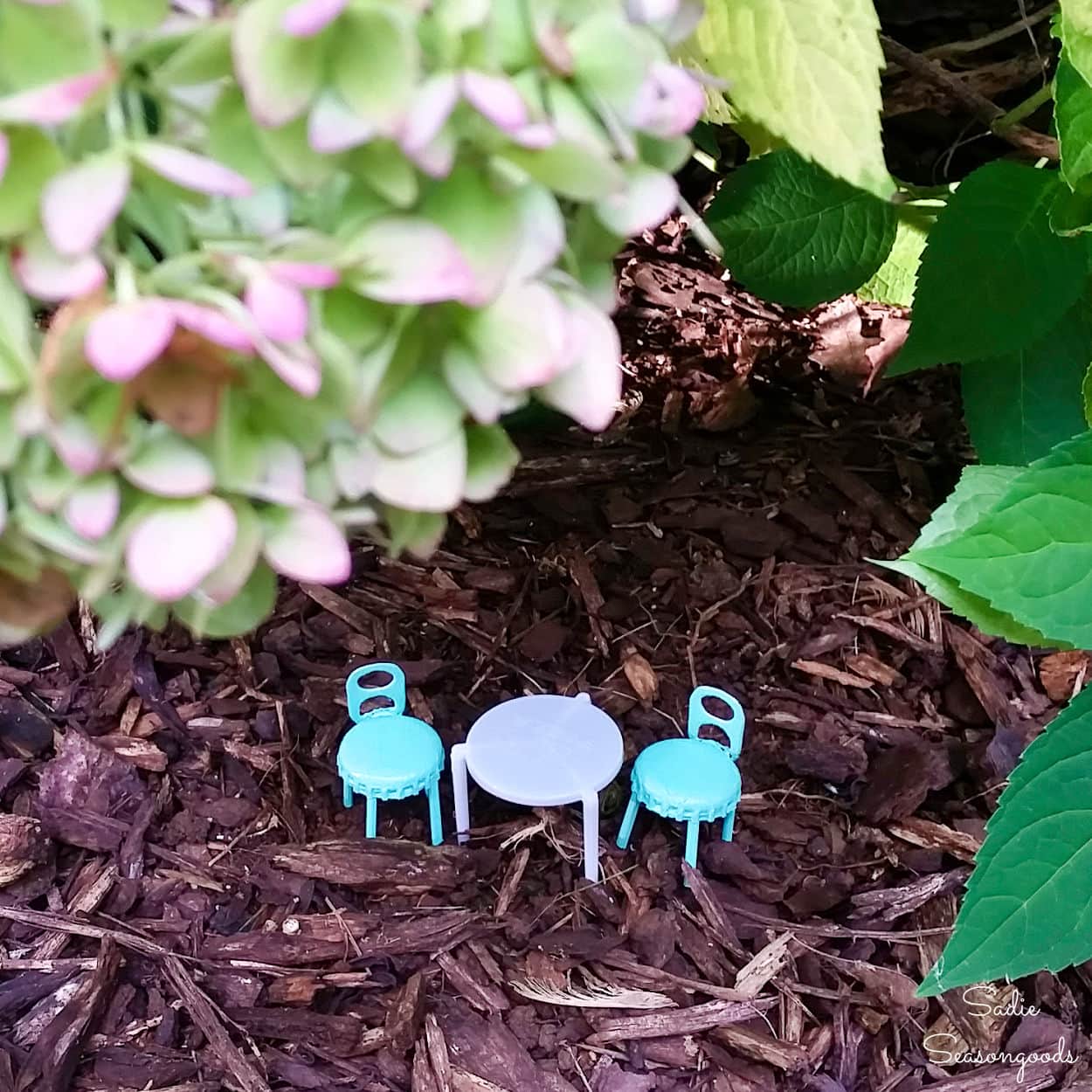 With everything together, the lantern marks the start of the fairy garden path. And the fairy garden path leads to the fairy garden furniture.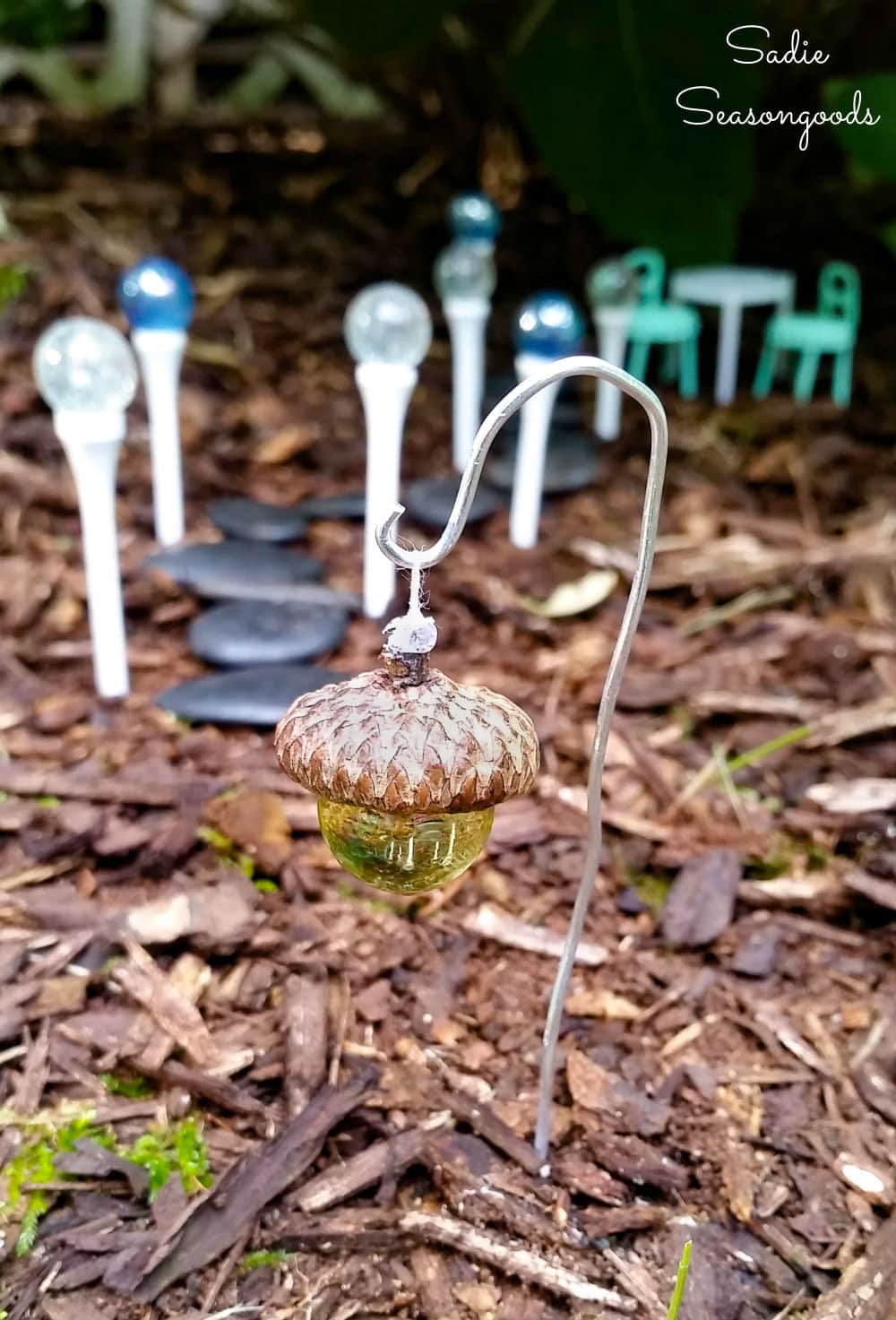 Y'all…why did I keep this blog post locked in the vault for so long? But maybe it ended up being a blessing in disguise.
Because the past year of homebound living has taught me a lot of things. Such as crafting out of necessity from stuff around the house. Like this fairy garden furniture from the junk drawer, even though I had made it so many years earlier.
But now I want to know- will you be crafting some fairy garden furniture from your junk drawer? I'd love to know what you plan to make!
And if you enjoyed these upcycling ideas for a fairy garden set, then you may also be interested in these Spring-inspired mason jars, too!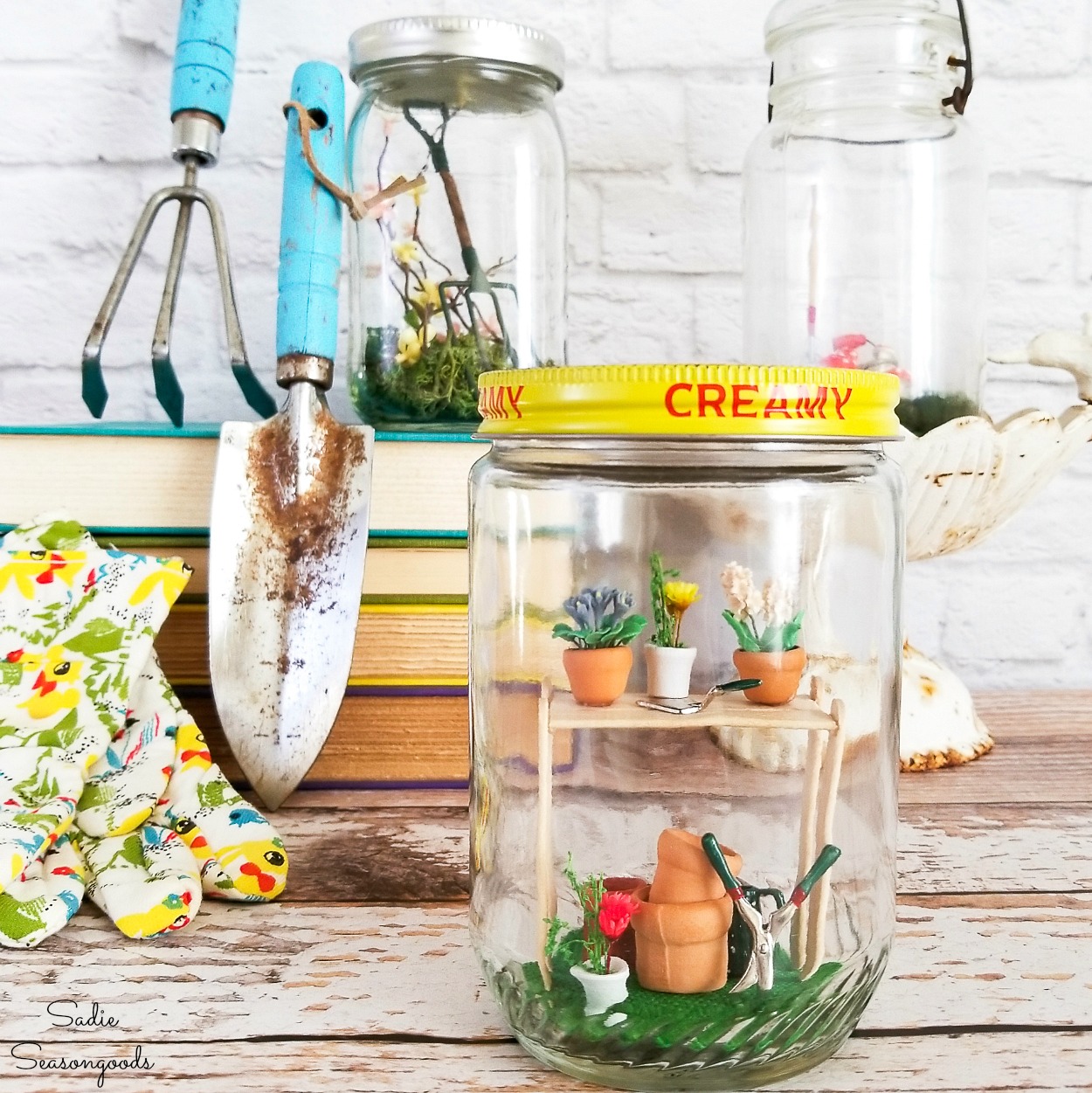 Craft on!
S
Want to be notified when I publish my next upcycling project tutorial?
Subscribe to Blog via Email
Join me on Social Media:

PIN ME!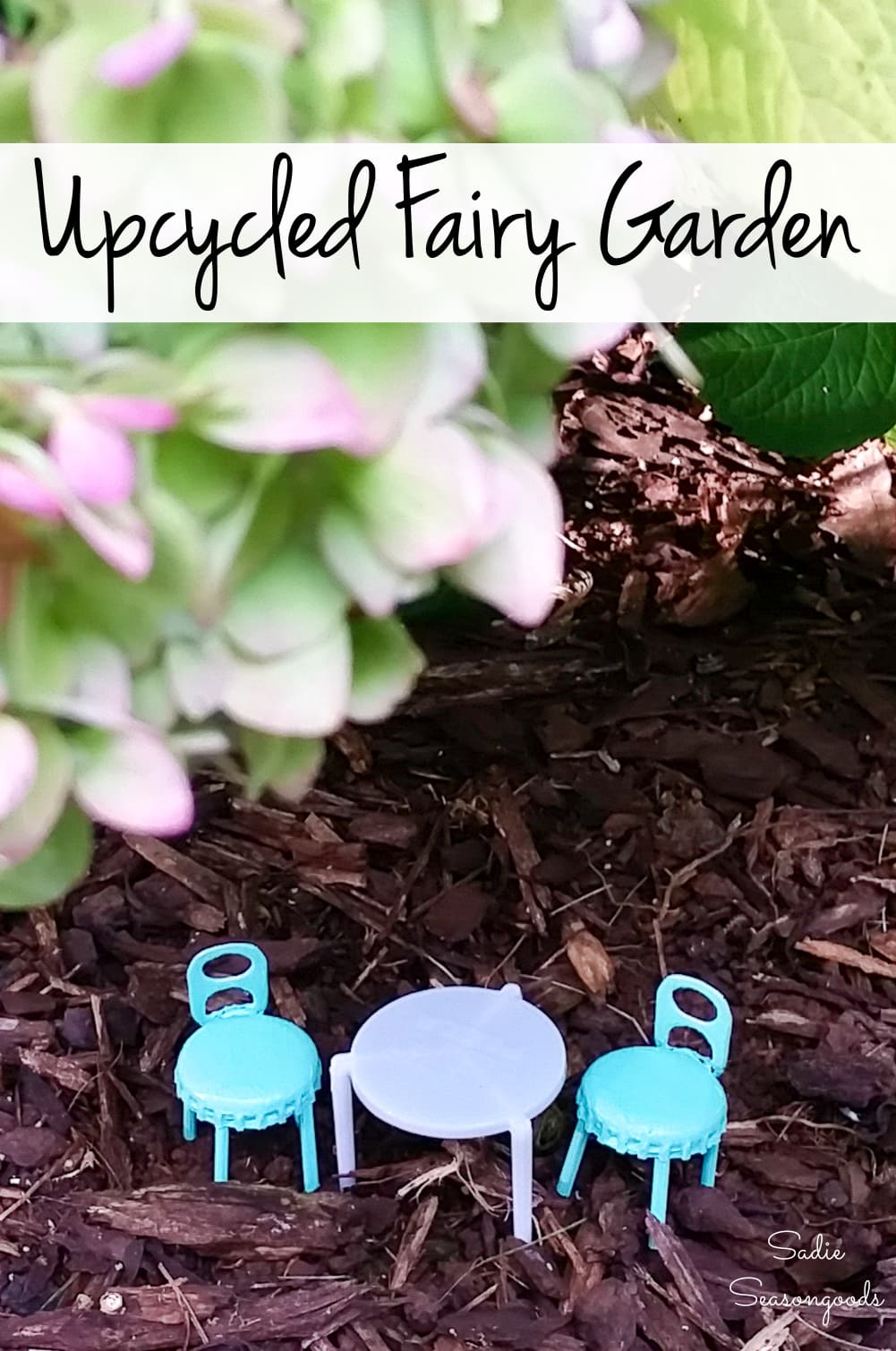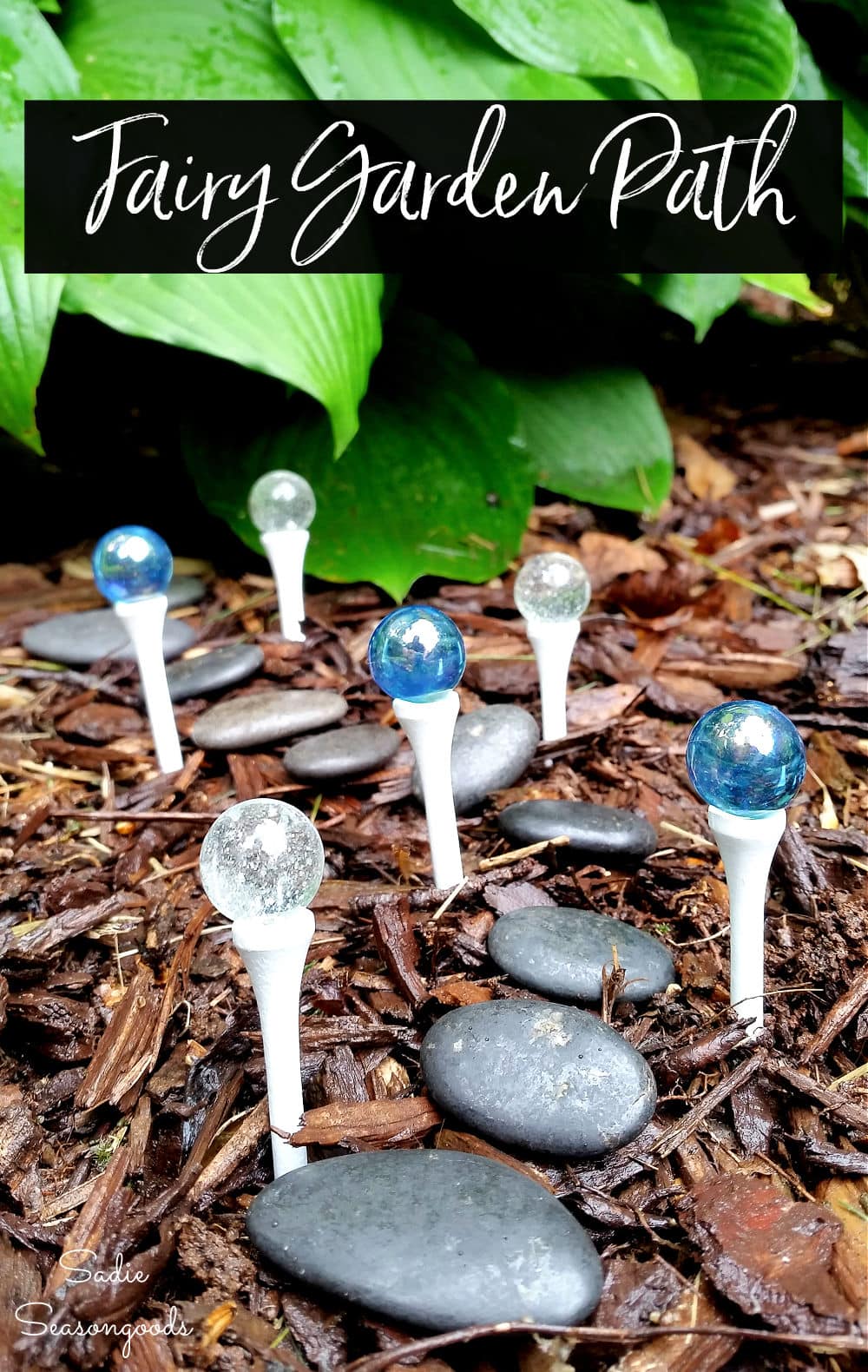 Sarah Ramberg is the owner of Sadie Seasongoods, a website that celebrates all things secondhand. From upcycling ideas and thrifted decor to vintage-centric travel itineraries, Sadie Seasongoods is a one-stop shop for anyone who loves thrifting and approachable repurposing ideas. Sarah is also the author of "Crafting with Flannel" and has been featured in numerous media outlets and magazines.