Several years ago, before I even started my blog, I created some "Spring Jars" using fairy garden accessories and dollhouse accessories. I just thought they were the cutest things ever- y'all know I love miniature ANYTHING! And when I reposted the old photo on my Facebook page, the positive response was overwhelming. So, I knew I needed to create a new fairy garden in a jar (or two) to share with you on my blog!
These were the original vintage jars that I created. Apologies for Cottonball who insisted he was cuter and needed to be in the photo.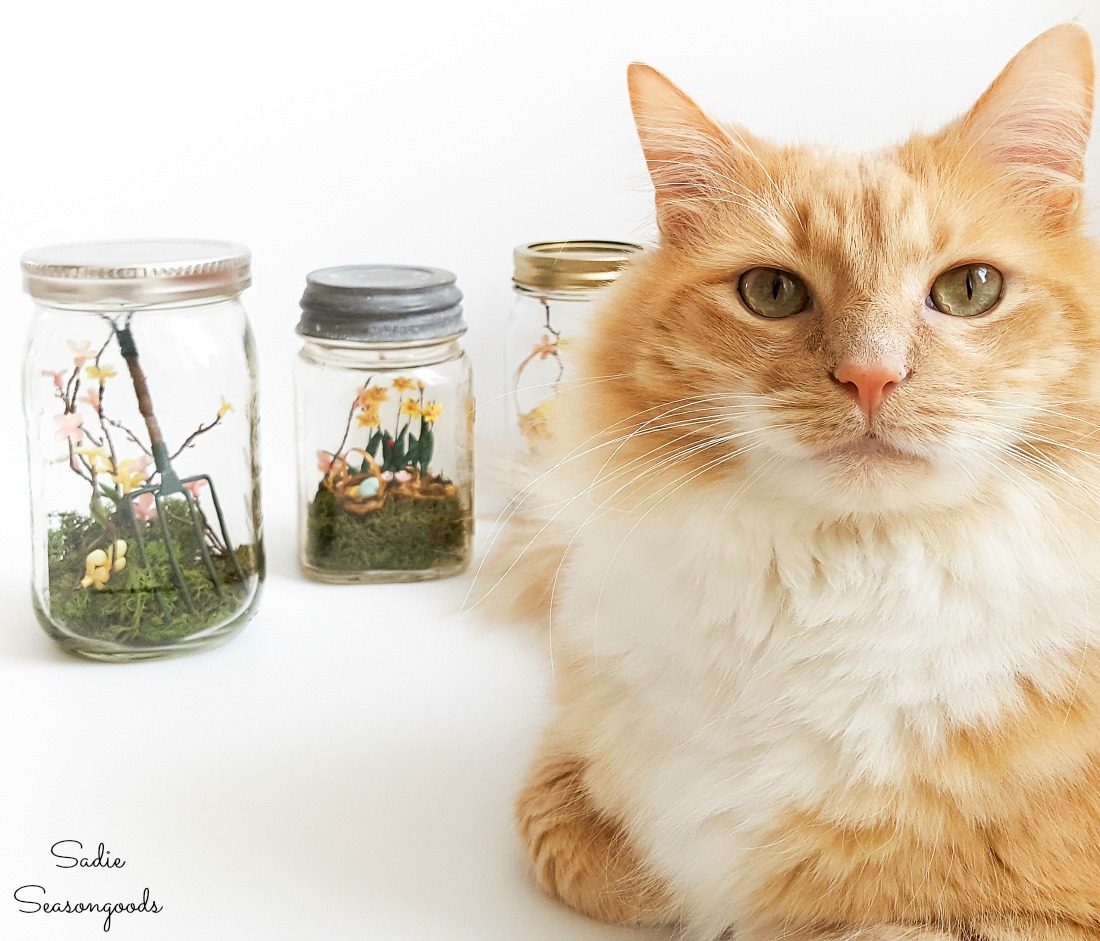 See what I mean? Dollhouse accessories for a garden are PERFECT for creating a mini fairy garden in vintage jars. Plus, I've already created "snow-less snowglobes" for other holidays and seasons: (1) Christmas, (2) Summer Beach, (3) Winter; (4) Ireland/St. Patrick's Day; and (5) even Halloween, to an extent.
Why not switch it up and do the same for Spring? Little garden scenes would be perfect for the season.
So, I headed to a favorite local antiques shop for some vintage jars. I was especially drawn to the peanut butter jars with their yellow lids for my fairy garden in jar!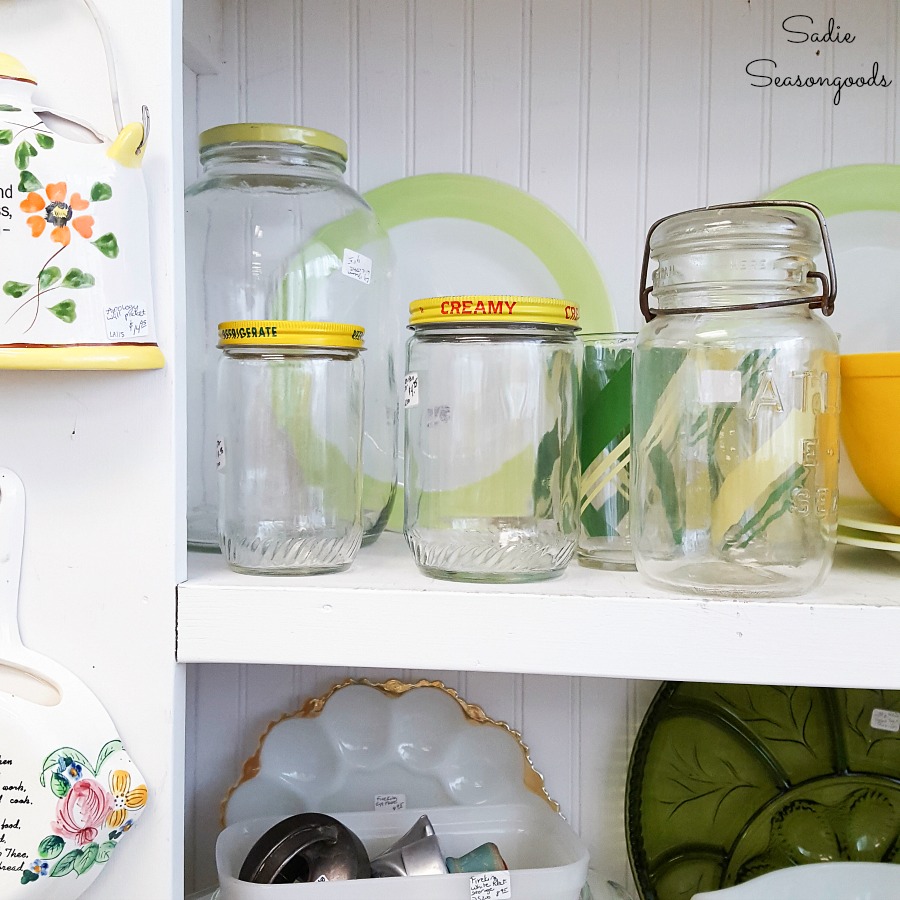 This post contains affiliate links for your crafting convenience. As an Amazon Affiliate, I earn from qualifying purchases. All blue, bold, and underlined text is a clickable link, either to a product or to a related post.
Making a Fairy Garden in a Jar
The first mini fairy garden that I envisioned for my Spring Jars involved constructing a small potting bench. So, I gathered some bits and pieces to bring my vision to life, including: Popsicle sticks, green fabric (to replicate grass), and dollhouse accessories such as flower pots and potted plants.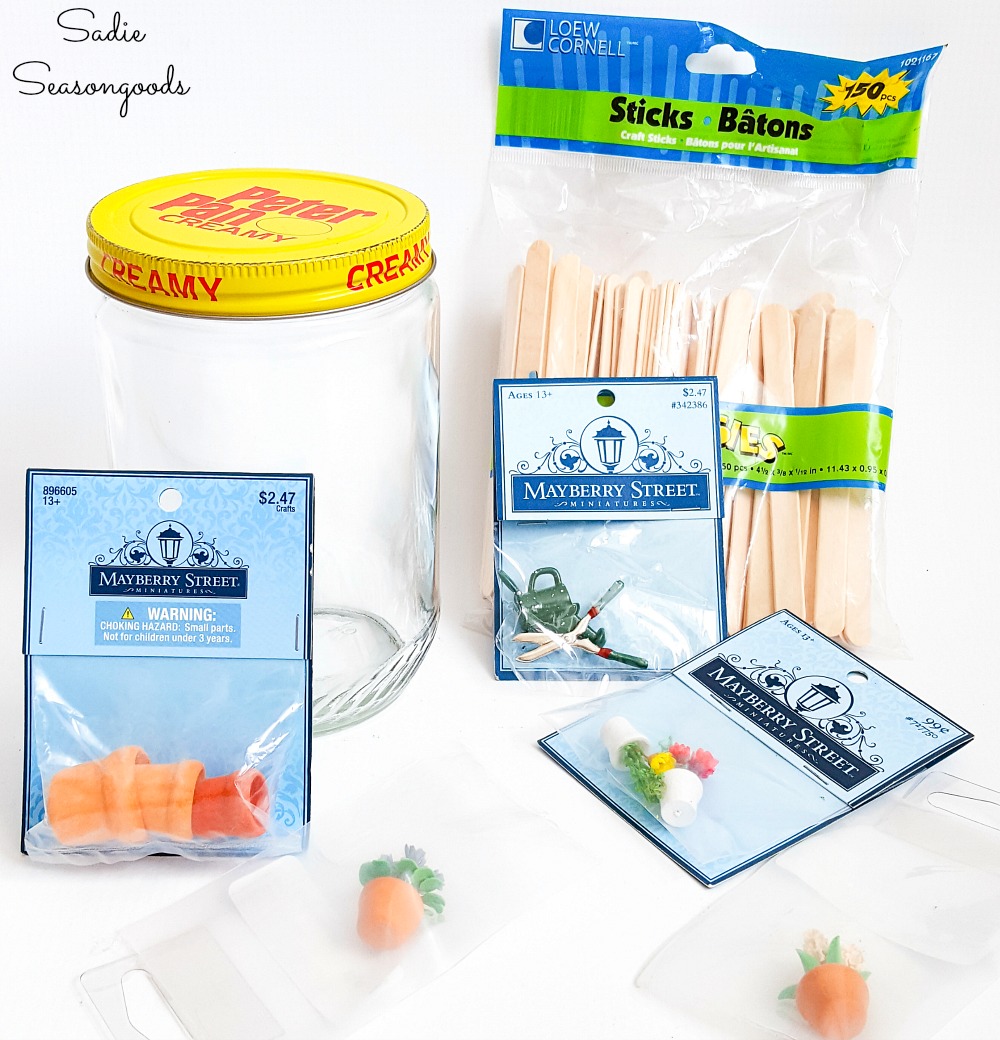 First, I cut out a circle of the green fabric to place in the bottom of the peanut butter jar.
Then, I constructed a miniature potting bench with the popsicle sticks and my hot glue gun.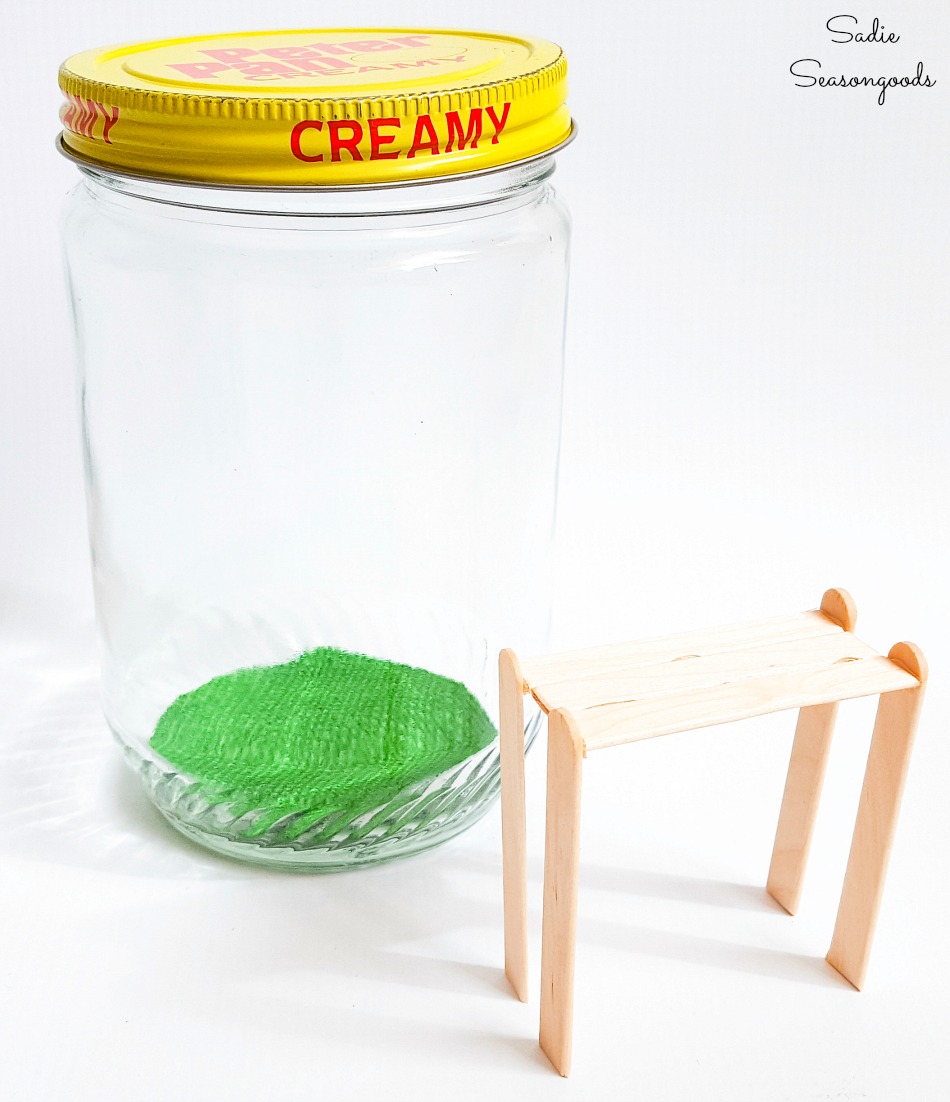 Then, I simply started piling the dollhouse accessories on and around the potting bench. I glued everything in place, including gluing the legs of the table to the circle of green fabric.
Check the dollhouse section of craft stores or the floral department at craft stores for fairy garden accessories! You'll likely find all the bits you need to create a mini fairy garden like this.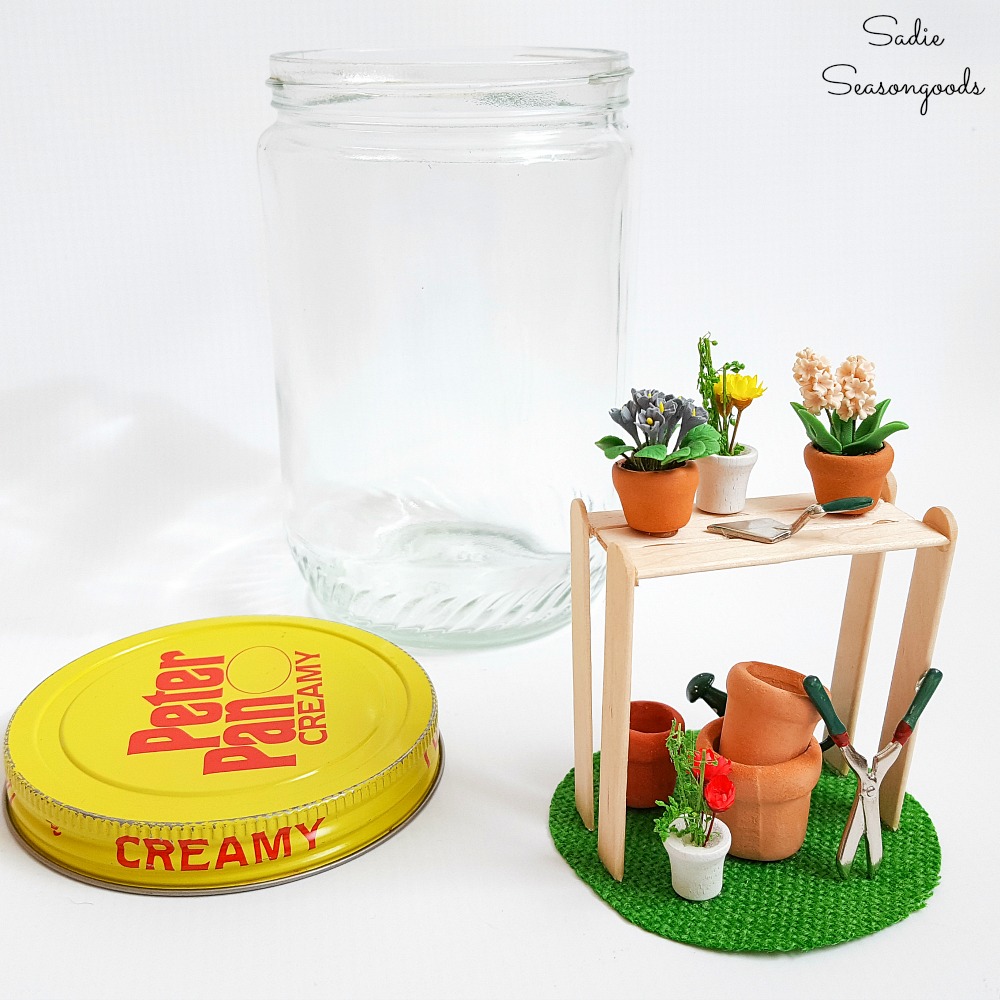 I placed the entire scene into the peanut butter jar and that was it. My first fairy garden in a jar was complete!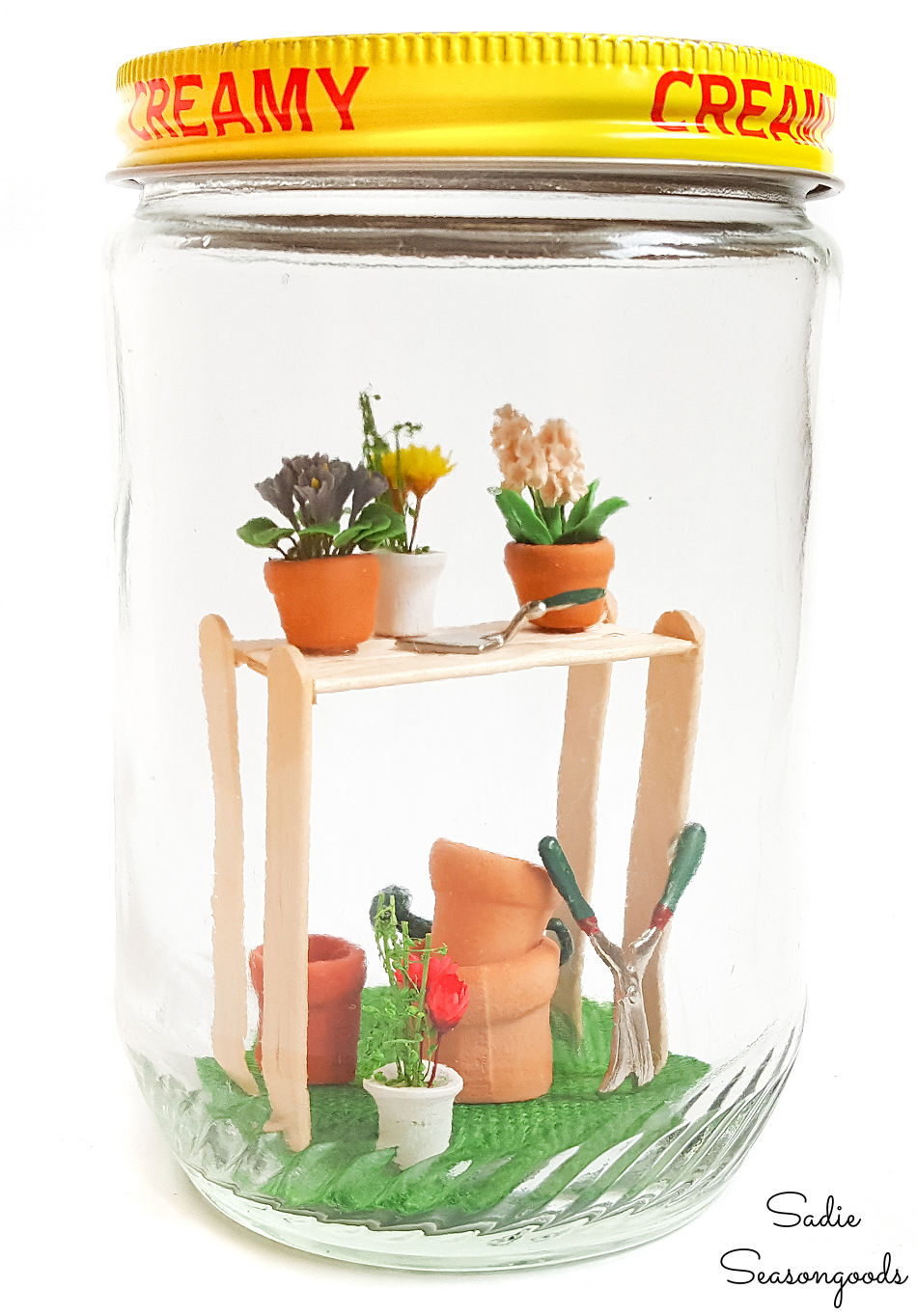 Decorating for Spring with a Mini Fairy Garden
For my second idea, I used a larger vintage jar.I had some vintage miniature red and white toadstools in my craft supply stash and really wanted to use them. My vintage toadstools were similar to this modern version.
I also gathered some reindeer moss and the same green fabric that I had used before. Other fairy garden accessories were involved, too, including a tiny metal pail and a miniature pitchfork.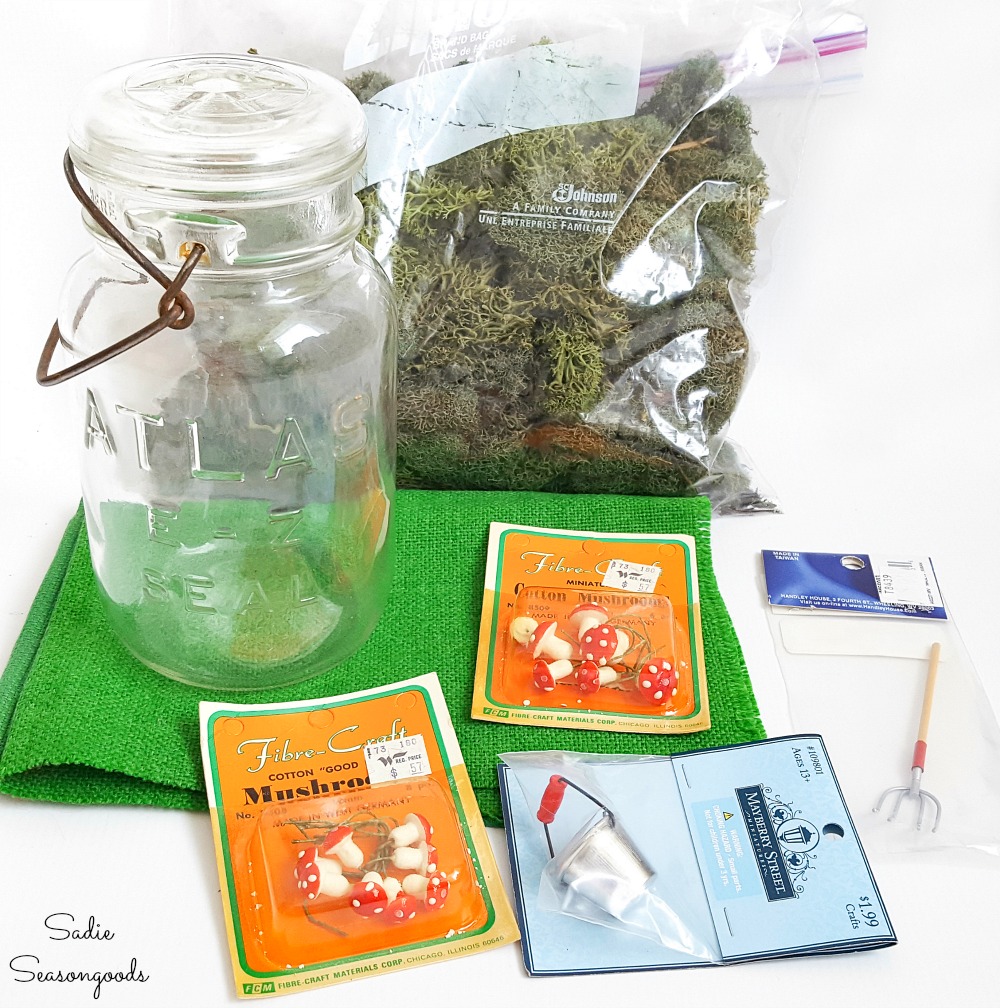 I started by once again cutting out a circle of green fabric that fit the bottom of the vintage jar.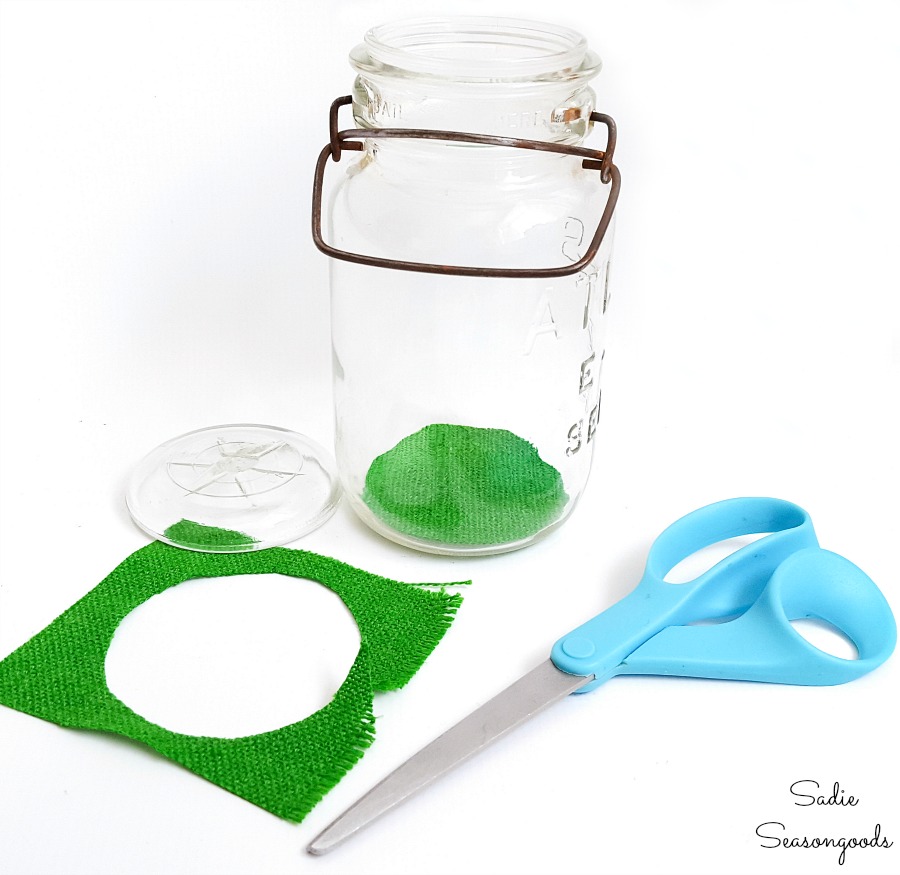 Then, I hot glued pieces of reindeer moss to the green fabric to create a mound of moss.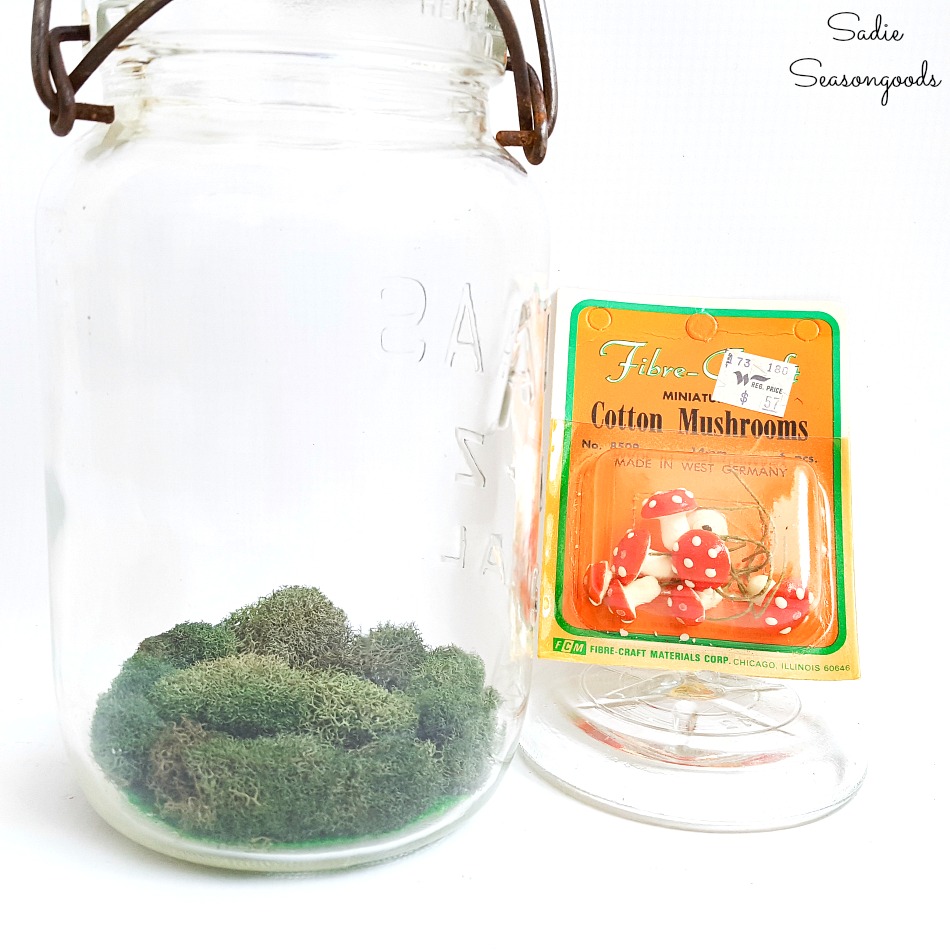 To the reindeer moss, I added the little toadstools (with hot glue again), as well as a pail of mushrooms.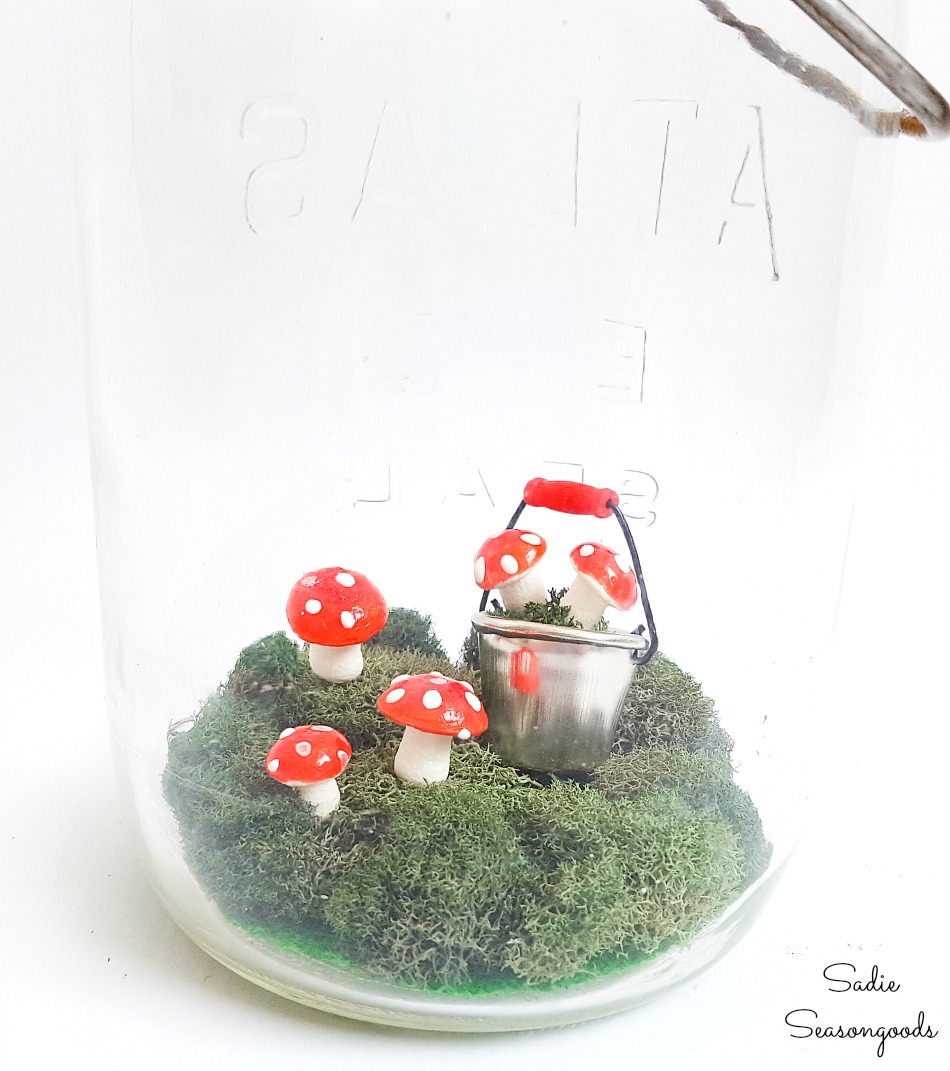 Finally, I added a miniature pitchfork and my mini fairy garden was complete!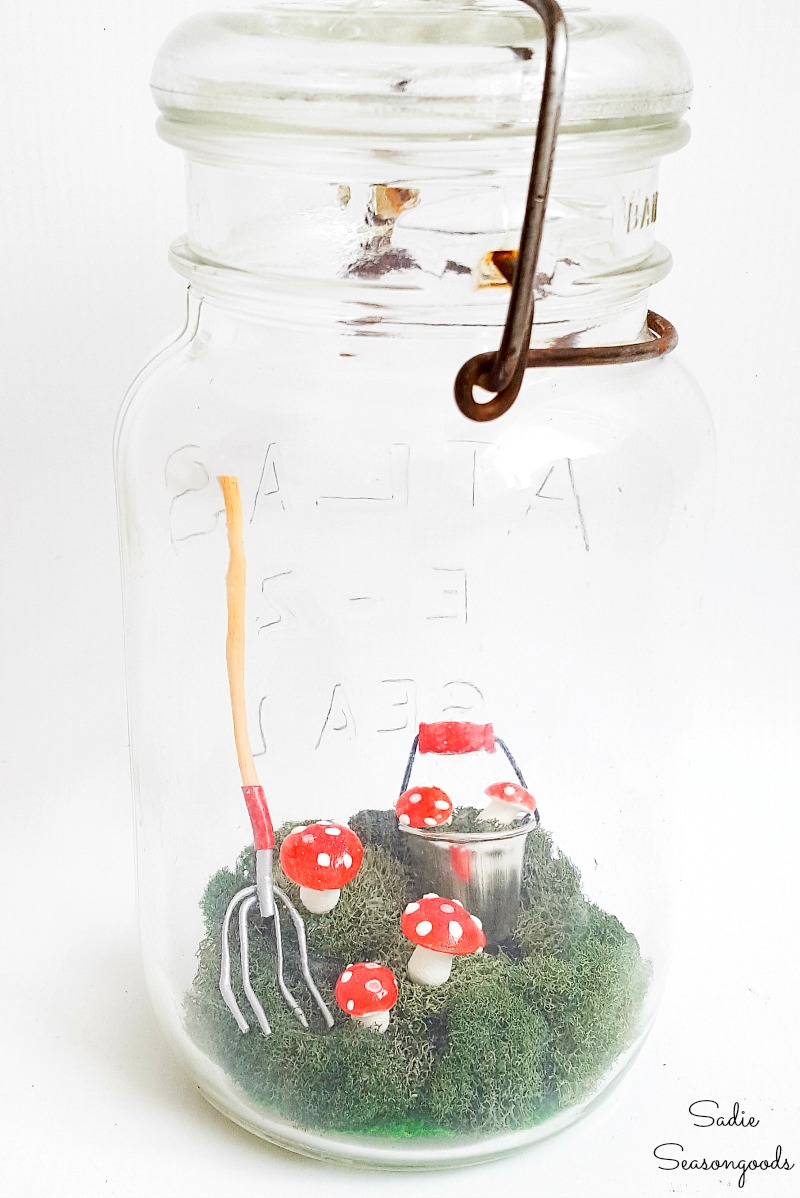 Decorating for Spring with Fairy Garden Accessories in Vintage Glass Jars
But, I mean, honestly- aren't they truly adorable? Fairy garden accessories in vintage glass jars come together as PERFECT Spring Decor.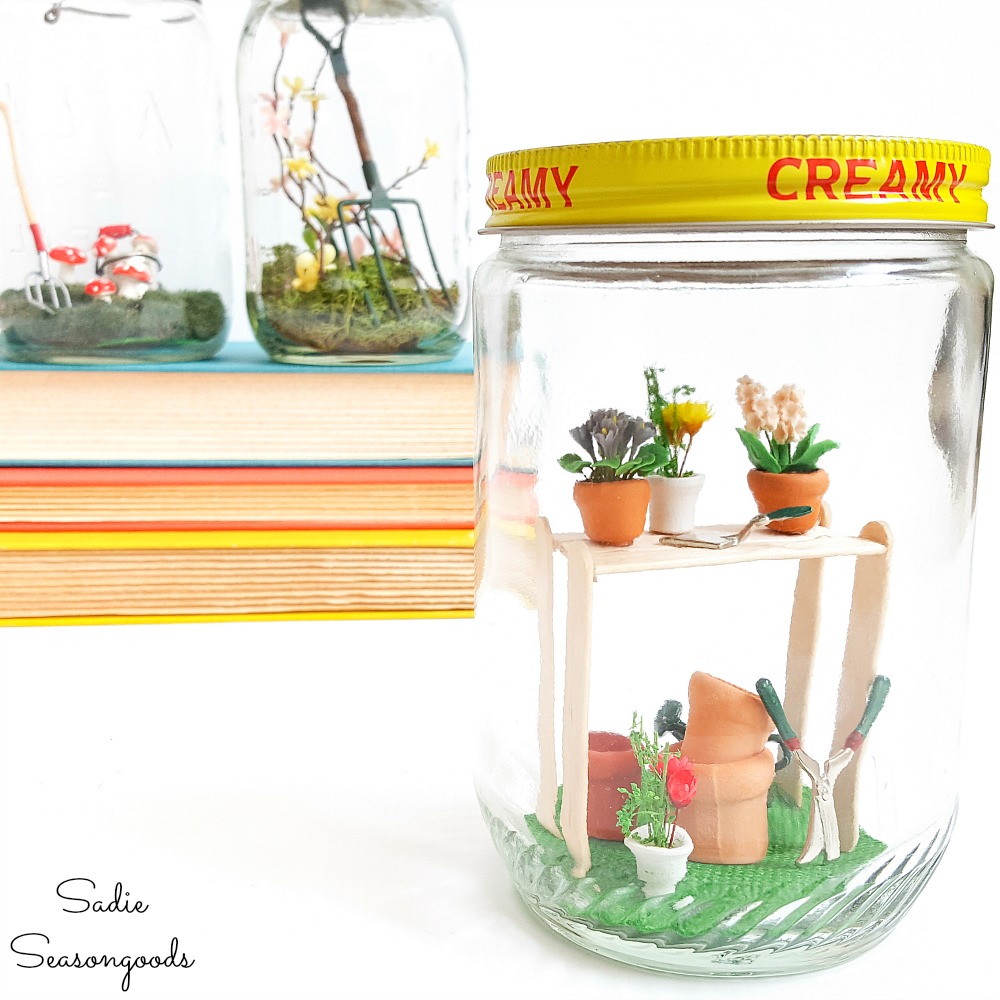 My Spring Jars are like enjoying the idea of gardening without all of the backbreaking work and dirt under your nails.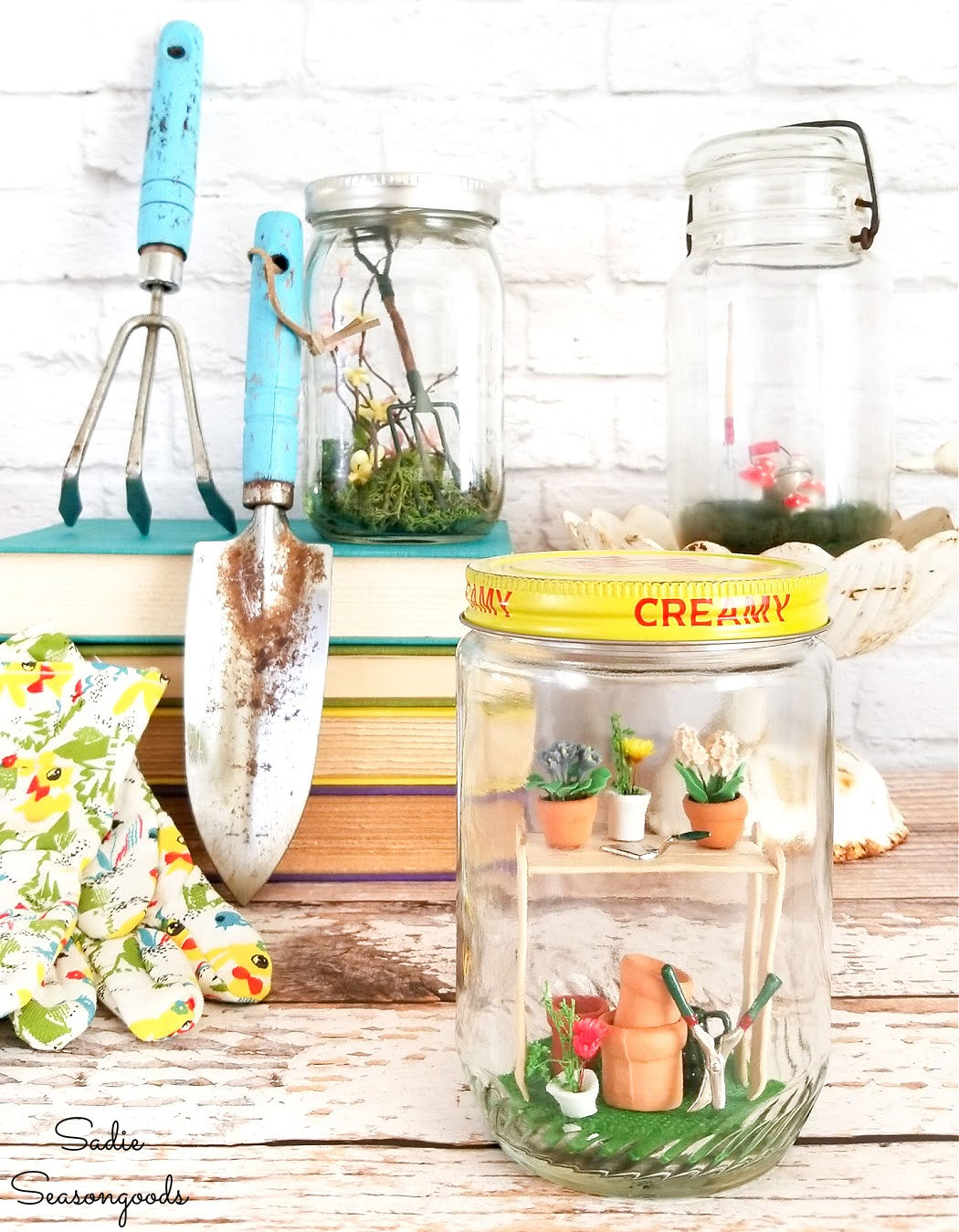 I still have some dollhouse accessories and vintage glass jars in my stash. So, I'm pretty sure I'll be making a few more of these for my Spring decor!
And if enjoyed this upcycling idea for Spring, then you'll love this flower vase idea for vintage milk bottles and milk tops!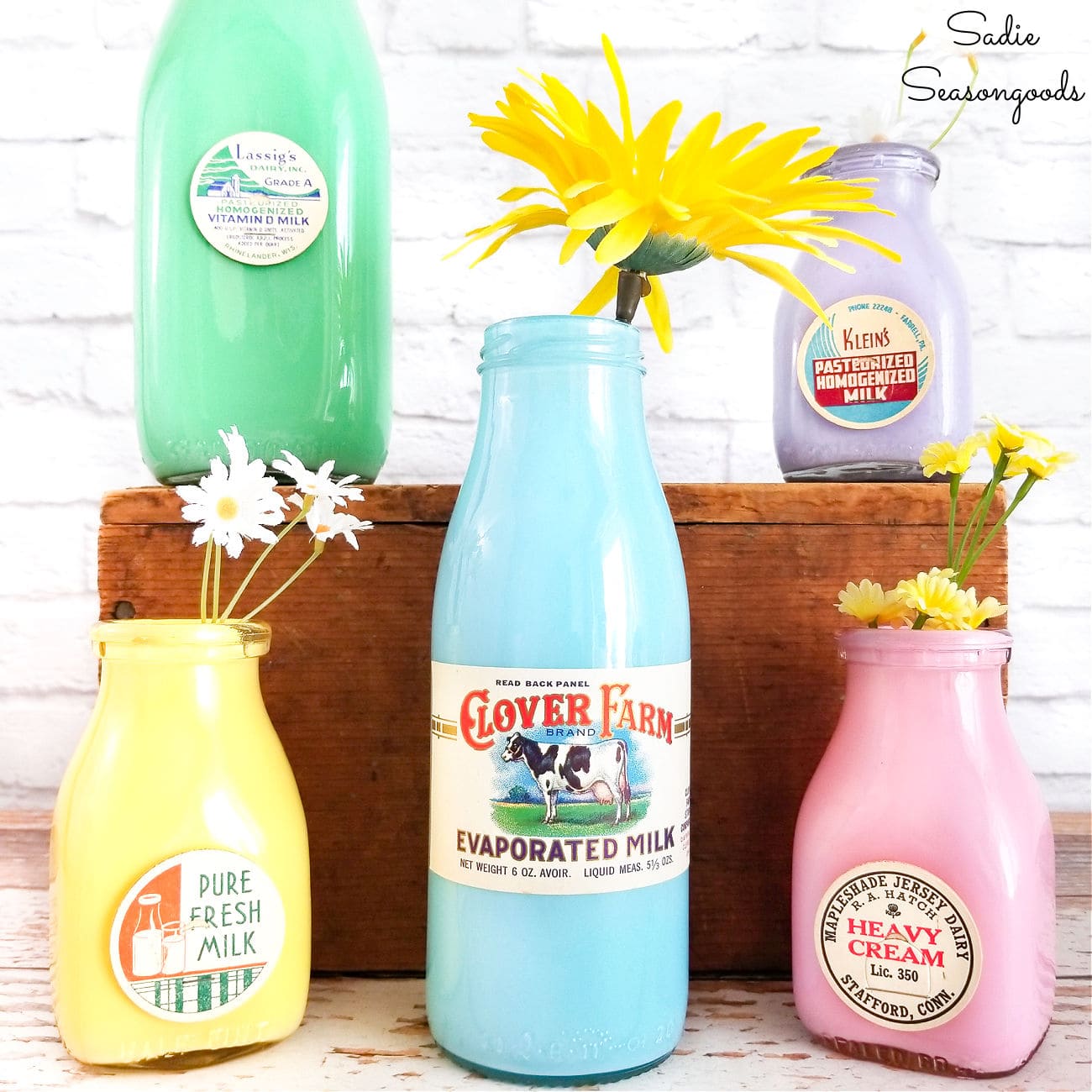 Craft on!
S
Join me on Social Media:

PIN ME!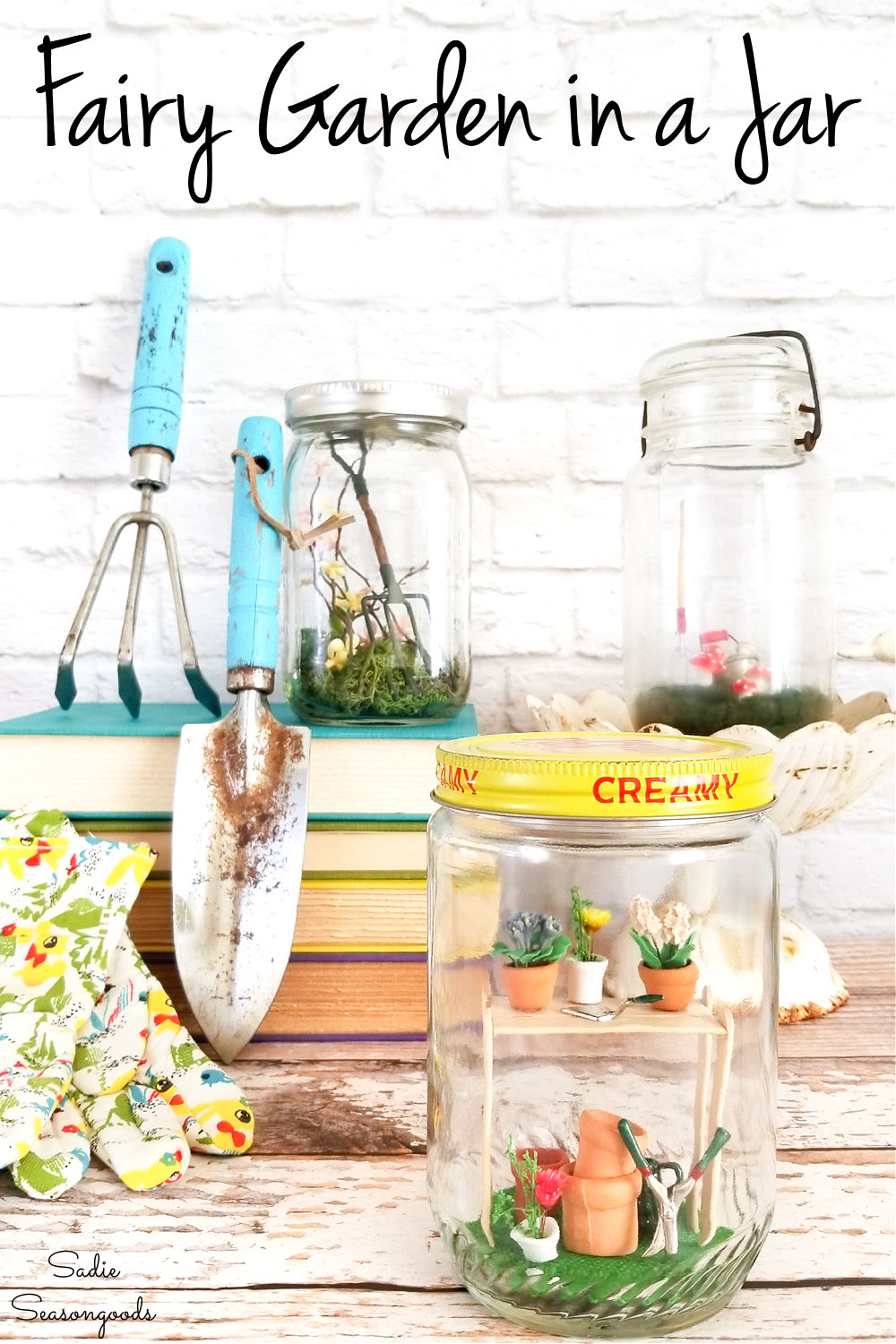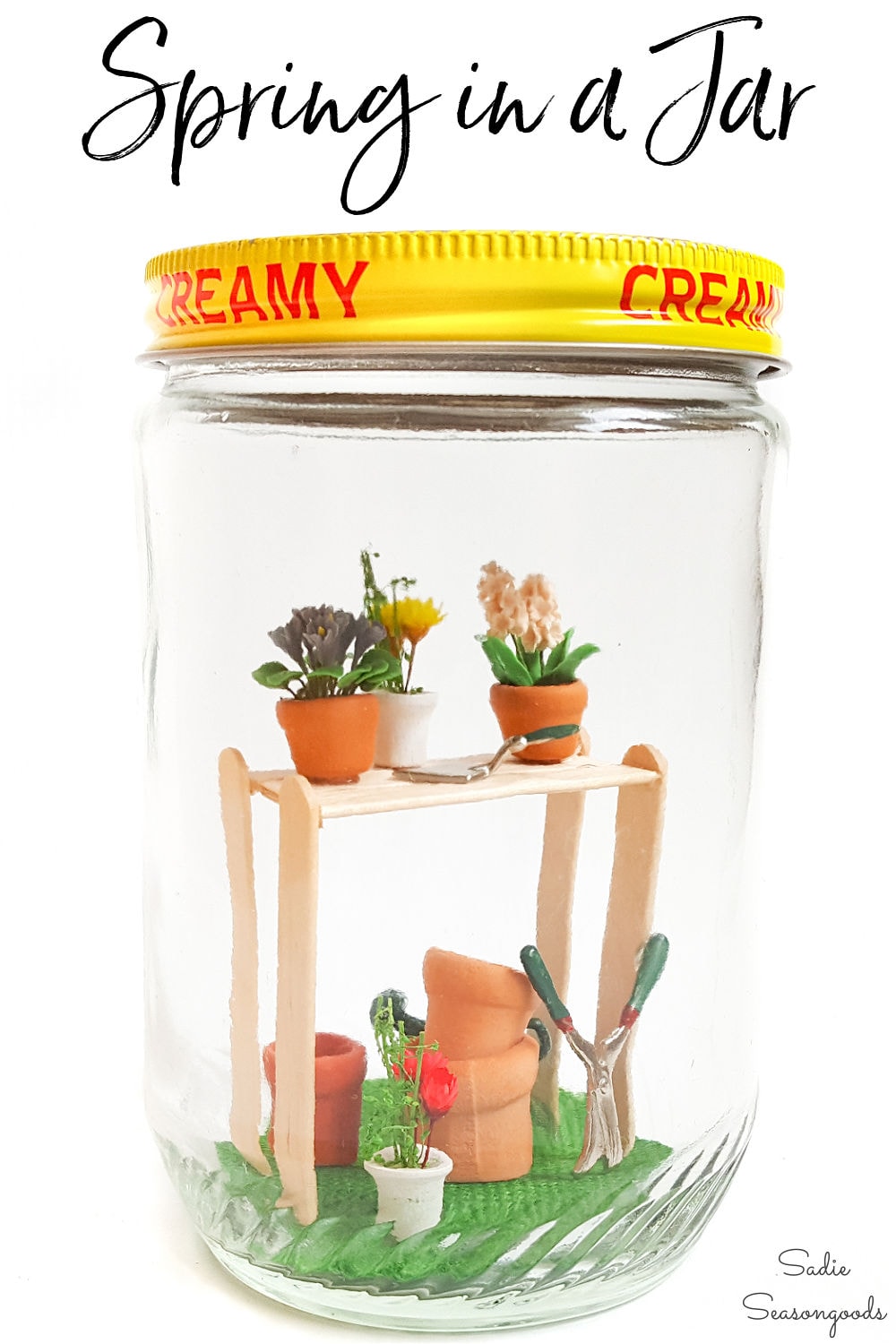 Sarah Ramberg is the owner of Sadie Seasongoods, a website that celebrates all things secondhand. From upcycling ideas and thrifted decor to vintage-centric travel itineraries, Sadie Seasongoods is a one-stop shop for anyone who loves thrifting and approachable repurposing ideas. Sarah is also the author of "Crafting with Flannel" and has been featured in numerous media outlets and magazines.