Leather belts are one of the most common things you can find at a thrift store, which makes them a GREAT craft material for upcycling ideas. And today, I'm making some decanter labels to use as home bar accessories, unique Father's Day gifts, etc. They're so easy to make if you have leather stamping tools, which you can easily share with friends.
This post contains affiliate links for your crafting convenience.
Making Decanter Labels from Leather Belts with Leather Stamping Tools
First, gather your leather. I have a penchant for camel- or caramel-colored leather belts for these decanter tags. But any plain / smooth leather belt will do (i.e., save the embossed leather for another day and project!).
Then, using a craft mat and a rotary cutter, I trimmed off a piece of leather belt to work with (approximately 3.5"-4" in length).
Before I began using the leather stamping tools, however, I "cased" the leather. "casing" Casing the leather helps it become supple which in turn improves the leather's ability to take an impression (such as these alphabet stamps) from the leather stamping tools.
For a craft like this one, you simply need to rub the skin side (top) of your leather piece with a damp cloth/sponge- just enough to dampen it.
Once I had successfully stamped the liquor name on the leather, it was time to add eyelets on both sides of the decanter labels.
Using a hole punch, I punched holes in your leather on either side of the embossed leather and inserted the eyelets (I used ¼" eyelets).
Then, I used an eyelet setter (same size as eyelets) and a mallet to secure them in the punched holes.
After the eyelets were secured, I trimmed off excess leather on each end. Now it was time to add some chain to the decanter tags / decanter labels.
To finish up, I used a jump ring to connect one end of the decanter label with the chain. Then, I used a small piece of tape to hold the tag on my decanter to figure out where to open up the chain at the other end.
Then, use another jump ring to connect the chain to the other end of the liquor decanter tag, like a bracelet. I used basic jewelry pliers (like this inexpensive kit) to cut chain, and open / close jump rings for this part of the project!
Home Bar Accessories with Decanter Labels Made by Upcycling Leather Belts
And that was it! I ended up making several decanter tags for a decanter set. They are perfect as home bar accessories for the modern home bar, or as gifts for Dad (Father's Day, Christmas, etc.).
I just love how they ended up looking! And the great thing about upcycling some leather belts is that you have a lot of good quality leather so you can practice with the leather stamping tools.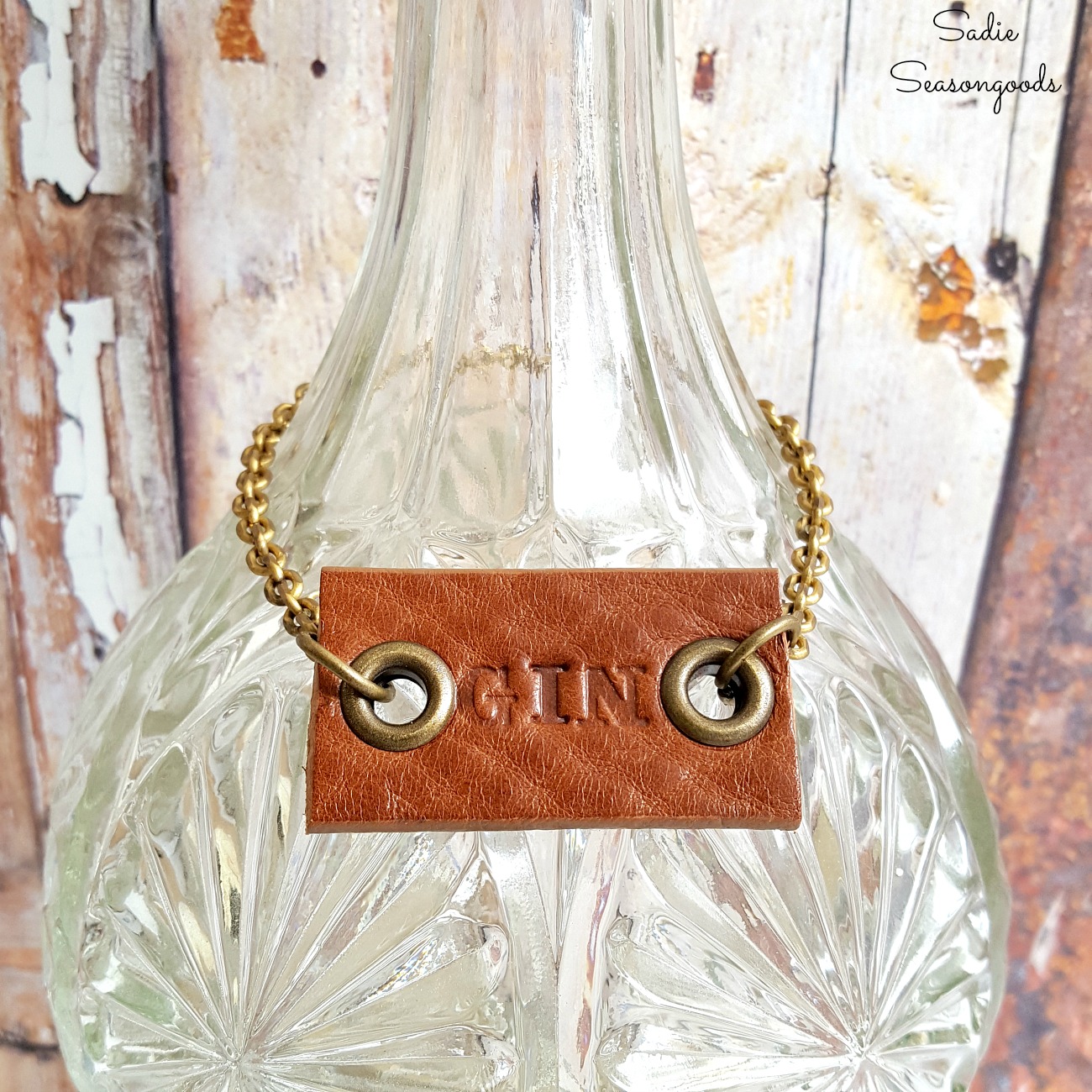 Whether you use these as rustic accessories for the modern home bar or make a set for a gift for him, these decanter tags are easy to make and a GREAT way to upcycle old leather belts from the thrift store.
If you enjoyed this upcycling idea for a Father's Day gift (or holiday gift for him), then you may also be interested in these beer coasters made from mini tart pans, as well!
Craft on!
S
Want to be notified when I publish my next upcycling project tutorial?
Subscribe to Blog via Email
Join me on Social Media: