Country decor pieces from the 1980s – covered in ducks, geese, and hearts – are a pretty common sight in thrift stores. And while the motif is outdated, the pieces often have good bones and are made of heavy, solid wood. This magazine stand was no different and I decided that I could "re-trend" it from country decor to the look of French farmhouse pretty easily.
A lot of thrift store makeovers could be considered "re-trending", or taking a piece from one trend to another. But this particular piece is SO 1980s country decor that I couldn't shake that word from my mind.
This post contains affiliate links for your crafting convenience.
Undoing the Country Decor from a Magazine Stand
Removing the country decor elements seemed like an easy idea when I was studying the piece in the thrift store. But, admittedly, the reality wasn't as quick and simple as I had hoped.
Globs of 40-year-old hot glue are ornery and stubborn. They don't like to let go.
But with a little patience and the help of needle nose pliers, I was able to successfully remove all traces of the country ducks.
I was left with a nice plain magazine stand and the hardware cloth in the front was no worse for the wear.
Speaking of which, the hardware cloth was one of the reasons I was so smitten with this piece! While I've upcycled a similar magazine stand for the rental cabin before, it was 100% wood.
To get the French farmhouse look that I wanted, I gave the entire magazine stand a makeover with grey chalk paint.
And when the paint dried, I gave it a light distressing to smooth out the paint and give it that vintage look we all love.
For painting the interior, I used a long-handled paint brush. But this could still be problematic for large hands and/or smaller spaces. So, keep a few paint sticks on hand to tape to your paint brushes! That gives them a much longer handle to work with.
The Look of Grain Sack Fabric on Painted Wood
Now, to get the French farmhouse look that I desired, I wanted to add some grain sack fabric behind the hardware cloth. But not REAL fabric…
But rather the LOOK of grain sack fabric with a piece of painted wood. Specifically, a wooden insert using scrap wood from our garage.
My husband used our jigsaw to cut out an 8" x 8" square of thin plywood, which was the size of the opening behind the hardware cloth. I proceeded to paint the wood a warm white color that I mixed with a drop or two of tan paint.
Just trying to replicate the look of linen without being too brown!
Then, I created adhesive stencils from painter's tape so that I could paint stripes like grain sack fabric.
I stippled on blue paint in a somewhat uneven pattern (to look like natural fading on grain sack fabric)…
Finally, I removed the adhesive stencils and was rewarded with a wooden panel that looked like grain sack fabric! Exactly as I had hoped.
Re-Trending From Country Decor to French Farmhouse
After buffing on some clear wax to protect the chalk paint finish, I popped in the wooden insert behind the hardware cloth. It was a nicely snug fit so I didn't even need to add any glue!
When all was said and done, I successfully erased the look of country decor and replaced it with French farmhouse – wouldn't you agree?
And that, my friends, is what "Re-Trending" is all about. I fully expect that someday in the future, another thrift store shopper will find my magazine stand and "Re-Trend" it again!
*****
Speaking of thrifting, it's Thrift Store Decor Team day, which means my friends have published new upcycling projects today, too! Click on the links beneath this collage to see the "after" photos.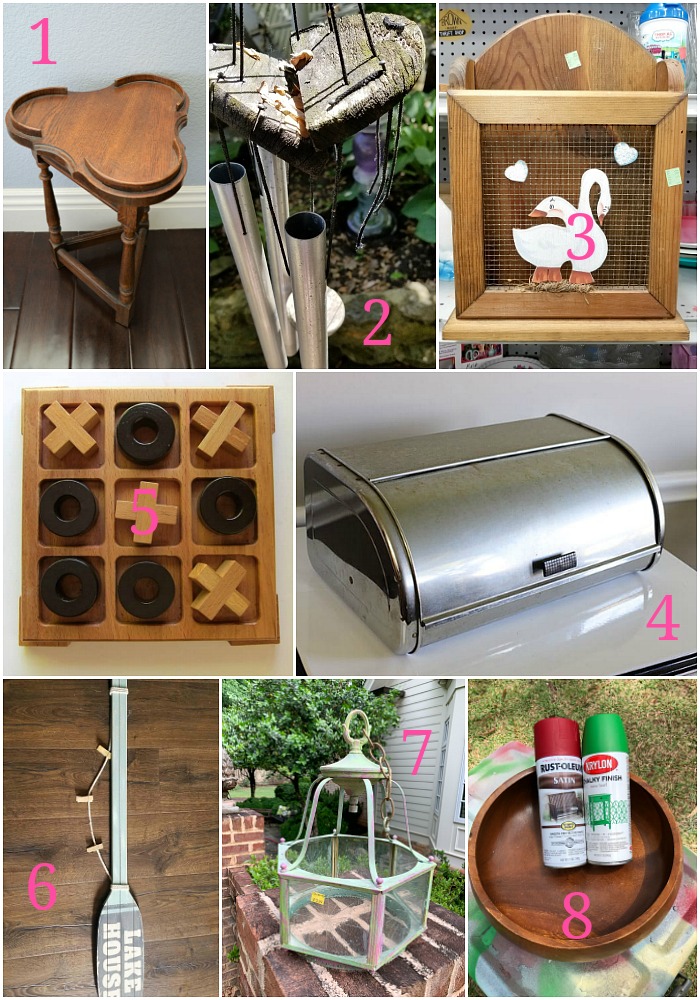 1. Accent Table Makeover – My Uncommon Slice of Suburbia
2. Wind Chime Makeover– My Repurposed Life
3. "Re-Trending" from Country Decor to French Farmhouse – Sadie Seasongoods
4. Breadbox Repurposing – House of Hawthornes
5. Metallic Spray Paint Makeover – Petticoat Junktion
6. DIY Nautical Oar– Domestically Speaking
7. Chandelier to Lantern Makeover – Our Southern Home
8. Vintage Wood Bowl DIY– Refresh Restyle
*****
If you enjoyed this magazine stand makeover, then you might love my French Farmhouse Decor from the Thrift Store post as well!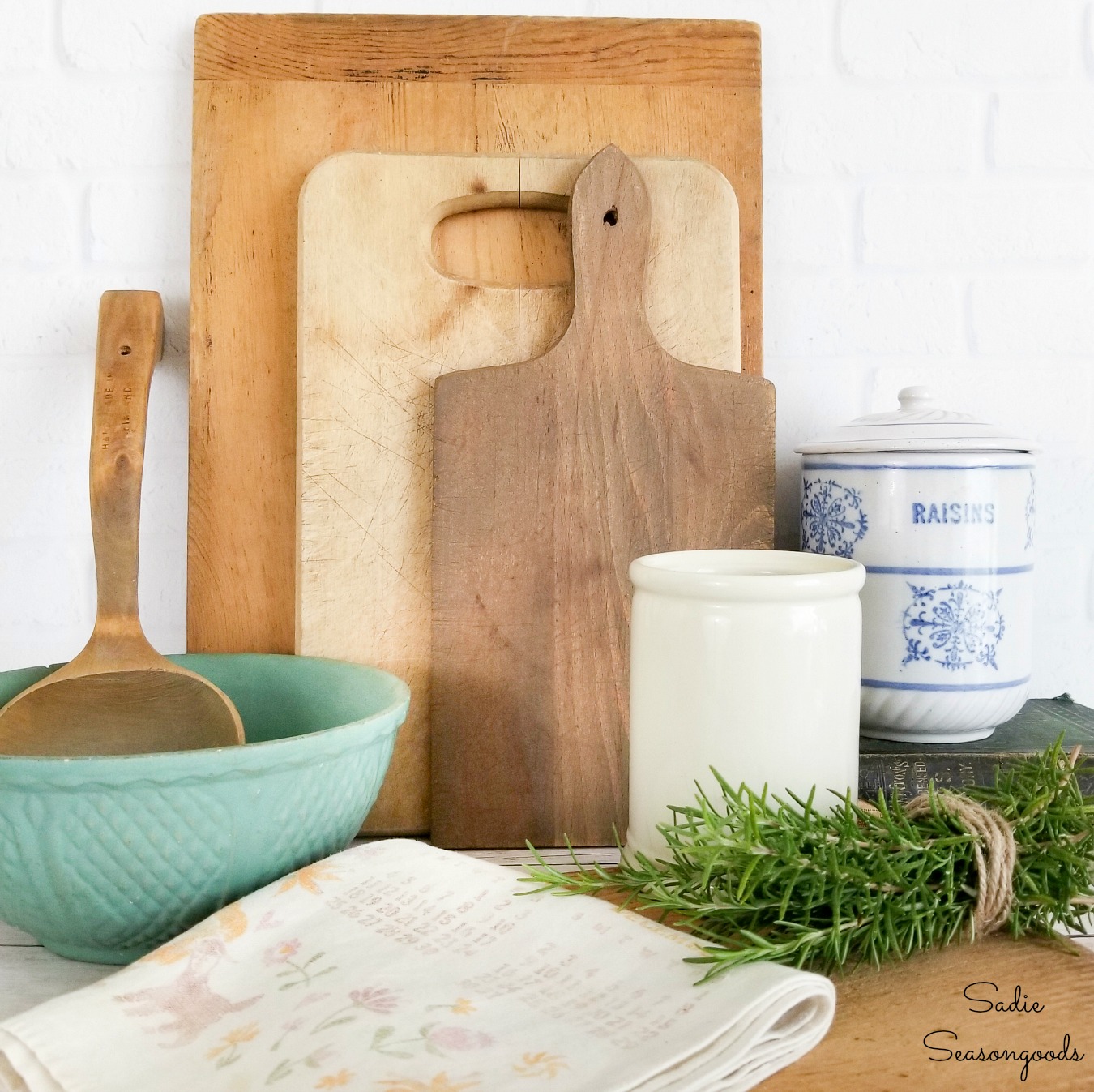 Craft on!
S
Want to be notified when I publish my next upcycling project tutorial?
Subscribe to Blog via Email
Join me on Social Media: