While I am no stranger to upcycling vintage washboards, I have yet to create anything for my laundry room in my nearly 5 years of blogging. So, when I found this antique washboard at a local favorite thrifting haunt, I decided to repurpose it into some laundry room decor.
In fact, I think Joanna Gaines must have sprinkled some farmhouse fairy dust on me that day because I had all sorts of farmhouse thrifting luck!
But it was the vintage washboard that had me clucking my tongue, envisioning it as primitive home decor for my laundry room. But it would be functional decor that could hold any lost socks and items from pockets.
This post contains affiliate links for your crafting convenience. As an Amazon Affiliate, I earn from qualifying purchases.
Antique Washboard as Primitive Decor for the Laundry Room
To put my plan into action, I gathered a few other bits and pieces, including some vintage clothespins, screw-in hooks, and a wire basket.
First, I drilled a pilot hole in the top center of the antique washboard, right beneath those fabulous graphics.
Then, I screwed in a large hook that I would hang my galvanized tub from.
See? Now I have a place to tuck lint into! Whether I'm saving it to make DIY fire starters or just gathering it to toss in the trash. Either way , the hook makes it easy to remove and dump in the trash when it's full.
Next, I marked spots for screws along the very bottom section of the old washboard. From there, I drilled shallow pilot holes and then hand-screwed in a wire basket.
This will be for loose change, receipts, etc. – anything I find in pants pockets before tossing in the washer.
And yes, I used the screwdriver for that. I could have used my drill for both pilot holes and attaching, but the antique washboard wood was soft enough for a screwdriver.
Last but not least, adding a lost sock holder component to my primitive decor!
I had oodles of vintage clothespins left over from these previous projects of mine. And they also fit the whole "laundry room" theme perfectly, so I glued one on each side of the vintage washboard.
Primitive Decor and Lost Sock Holder for the Laundry Room
And there you have it- primitive decor for my laundry room that is both decorative and functional as a lost sock holder!
But between you and me, my laundry room is a glorified closet that is illuminated by an overhead light, so I won't even BOTHER to try and get a photo of it in there for you to see.
A lost sock holder…a lint holder (to keep me from marching to the kitchen with lint in hand)…and a place for pocket treasures. Adding a couple of D-ring hangers on the back will make it easy to hang in my laundry room, too.
And if you enjoyed this upcycling idea for primitive home decor, then you'll love these vintage farmhouse style bookends with architectural salvage, too!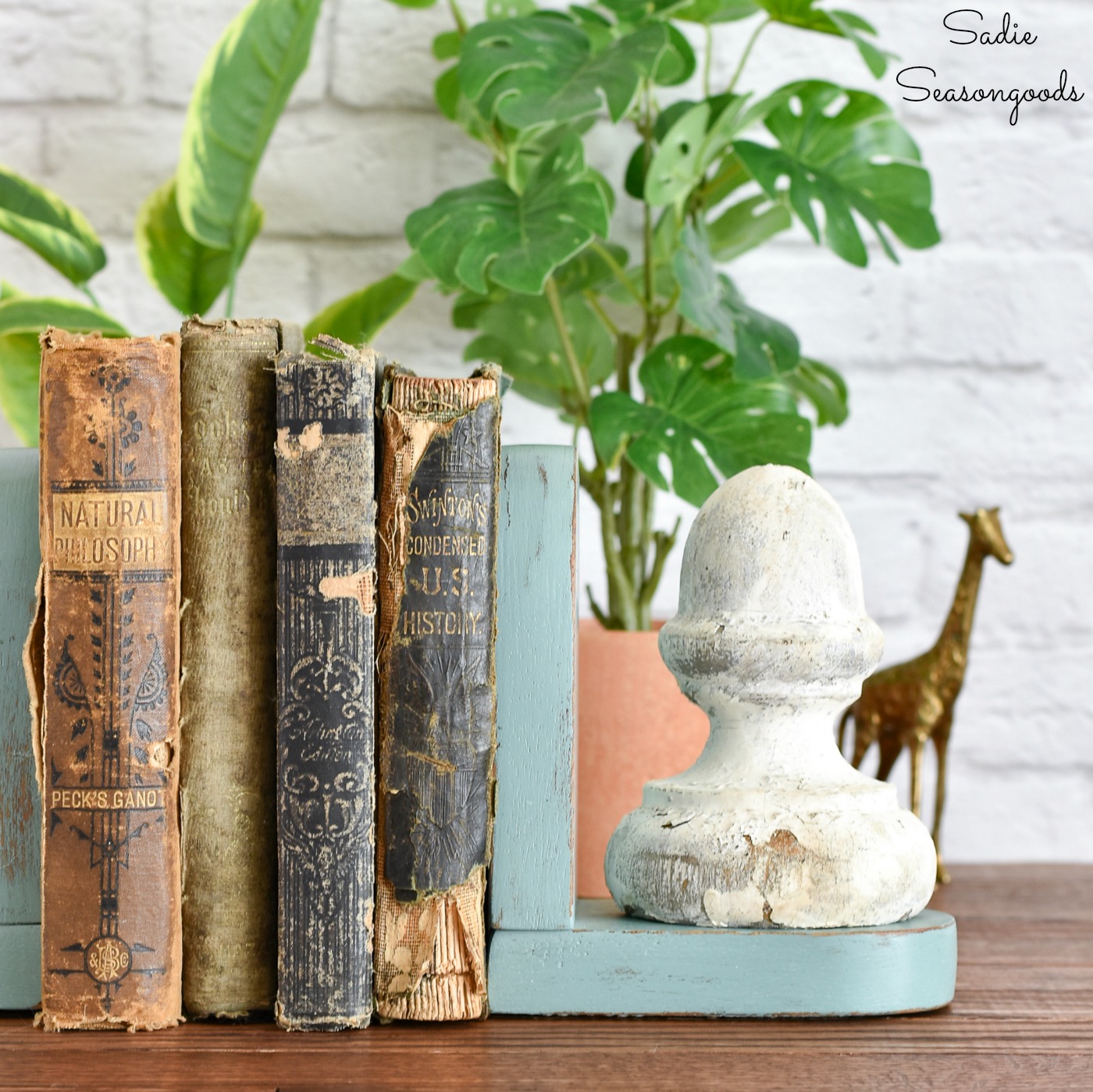 Craft on!
S
Want to be notified when I publish my next upcycling project tutorial?
Subscribe to Blog via Email
Join me on Social Media:



PIN ME!