Well, here we are again with the same vintage quilt that I found at a thrift store…this time with Project #2! To refresh your memory, I found these country quilts at a Habitat ReStore in the North Georgia Mountains. I ended up just purchasing one of them…the pretty lady on the left!
Back in April, I decided to use a less-tattered section of the quilt in my salvaged window frame to create some rustic wall decor for our Spring mantel. I love how it turned out, but better yet, I still have a few decent sections of quilt to work with! 
For this project, I decided to try my hand at creating a large kitchen hot pad / potholder / trivet to use underneath a baking dish (mostly my 2 quart baking dish).
In my early Sadie days, I actually created a super simple trivet from my wine cork collection– and I still use it for smaller sauce pans and soup pots. But I was definitely lacking the right potholder for my favorite baking dish – and the quilt was the perfect project catalyst!
This post contains affiliate links for your crafting convenience.
Creating a Kitchen Hot Pad / Potholder from Country Quilts
First things first, I needed to figure out a good size for my kitchen hot pad, using my 2 quart baking dish to measure it (approximately).
The secret to a making your own potholder / kitchen hot pad / trivet is something magical called Insul-Bright. I'm acting like I knew for a while but in reality, I just discovered it with this project in mind! You can guess the purpose it serves from its name, right?
To create my kitchen hot pad, I sandwiched a rectangle of Insul-Bright between my quilt piece (top layer) and some plain backing fabric (from the remnants bin). And in the spirit of all things quilting, I decided to "stitch" my layers together with Basting Spray.
To keep all things safe and clean, I covered my outdoor porch table with plain newsprint (i.e., packing paper), and sprayed each layer individually before layering them on top of each other.
Because I had raw edges along the entire perimeter of my potholder made from country quilts, I needed to cover them somehow. Traditional bias tape would have been ideal, but because of the layered thickness, I decided to just wrap wide grosgrain ribbon around it.
I also loved that this particular bright blue ribbon with contrasting white stitching was almost an exact replica of the entire backing of the original quilt.
A Potholder or Kitchen Hot Pad Made for a Baking Dish
I gave my sewing machine (which, by the way, is the perfect sewing machine for beginners) a fun workout with this potholder project (re: thickness) but it handled it like a pro. I even got to try my hand at mitered corners with the grosgrain ribbon – which turned out ok.
Isn't my large kitchen hot pad cute? It looks like a miniature version of the original quilt!
One last step- I want to hang it from the inside of the same kitchen cabinet where my baking dishes live, so I stitched a piece of the same ribbon (pressed in half, width wise, with a scorching hot iron), and a simple D-ring to the back of my potholder made from country quilts.
And there it is! My perfectly adorable, can't-wait-to-make-enchiladas-now-so-I-can-use-it potholder or kitchen hot pad made from country quilts! And it is the perfect size for my baking dish – hurray, hurray!
Oh my gosh, I love making projects with this quilt…now I just gotta decide what I'll do for Project #3…hmmm…
And if you enjoyed this upcycling idea for a country kitchen, then check out the faux finish project on a thrift store crock!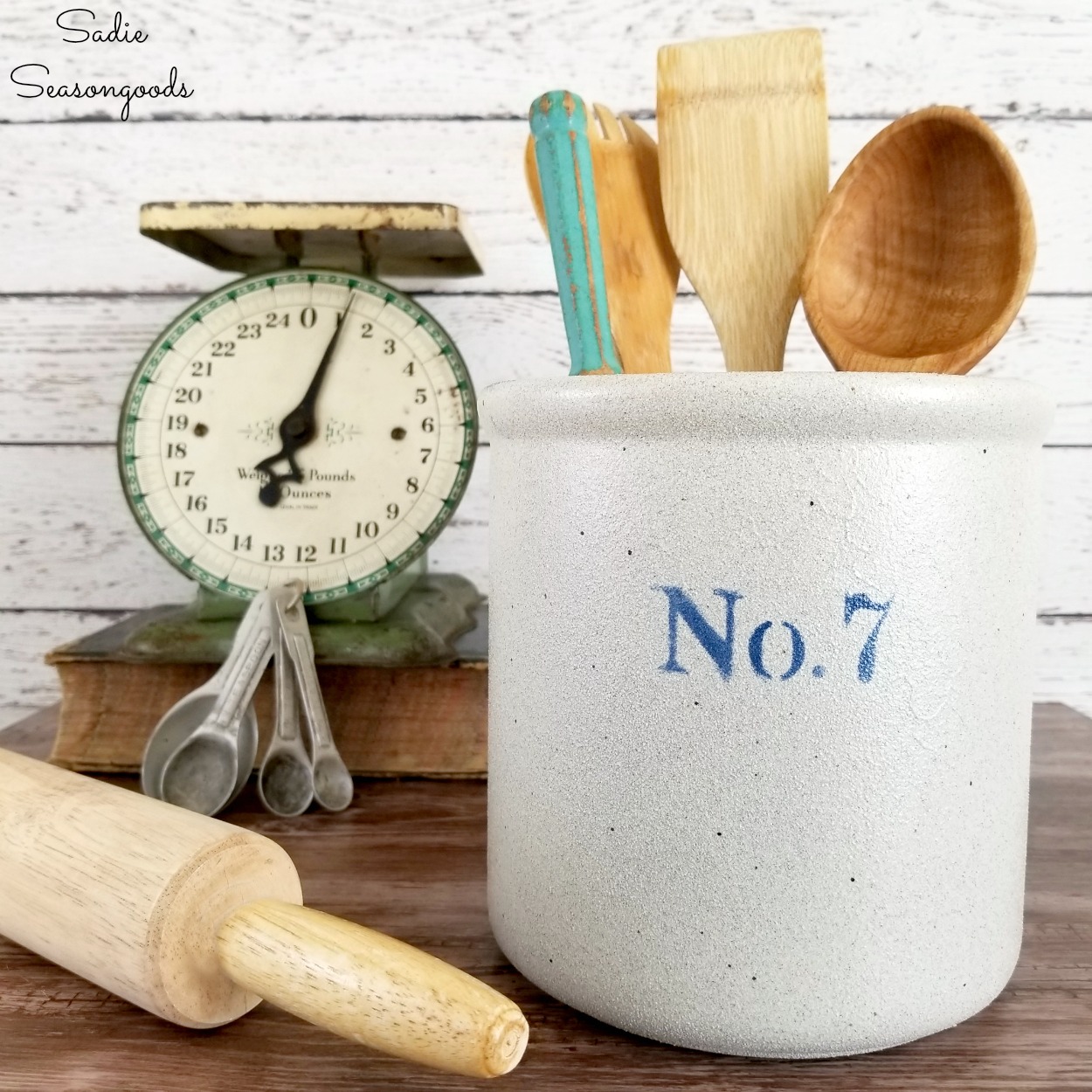 Craft on!
S
Want to be notified when I publish my next upcycling project tutorial?
Subscribe to Blog via Email
Join me on Social Media: