Magazine racks or wooden magazine files are a pretty common sight at thrift stores, aren't they? I've certainly seen my fair share of them, and have even repurposed them before. Upcycling another one wasn't a priority for me, but this particular one couldn't be passed up. Large, sturdy, and ripe for a makeover, it seemed destined to become a kitchen caddy.
Why, you might ask? Well, it really was the straight up-and-down sides that spoke to me.
Most magazine racks are angled out (as if you were looking straight at a boat from the tip of the bow). And sure, you could put cooking supplies, but they wouldn't be as secure and would need a wider space to live in a kitchen.
But not with this large magazine rack! As tall as he was, he was still relatively narrow and compact.
I couldn't wait to get started on his transformation into farmhouse kitchen storage!
This post contains affiliate links for your crafting convenience. As an Amazon Affiliate, I earn from qualifying purchases.
Transforming a Wooden Magazine File into a Kitchen Caddy
First, I needed to clean him up and prep him for painting. Whatever he held in his previous life had scarred and gouged him up pretty badly.
He was positively filthy, as if he had lived in a barn or basement and had been neglected for years.
For painting, I selected a pale, heathery grey for my magazine rack. I don't use grey very much, but I thought it would be ideal for a modern farmhouse look.
And spray painting appealed to me in the hot weather, as opposed to slower brush painting.
After I was satisfied with the paint job, I used my favorite flexible sandpaper to distress the edges and corners.
Farmhouse Kitchen Storage with a Rolling Storage Bin
When all was said and done, this is how he looked.
All fresh and clean now, and primed for the finishing touches to transform into into a kitchen caddy and rolling storage bin!
Of course, I could have stopped at this point- but what's the fun in that? I figured if I took a couple of additional steps, it would make this project just that much better!
First, I used my drill to attach four small (1½") casters to the underside of the kitchen caddy.
The bottom of this particular magazine rack is actually set in/raised so that he sits on the side rails as feet. So, I placed the casters far enough in and out to rotate fully without butting up against those side rails.
Next, I drilled in two black robe hooks, one on each side of the kitchen caddy.
You could certainly add more hooks than that, depending on what you plan on hanging. But two were good enough for me.
Kitchen Caddy and Rolling Storage Bin from a Magazine Rack
And that was it! My kitchen caddy and rolling storage bin was done and ready to be filled with cooking supplies.
Doesn't it look SO MUCH BETTER than before? Modern farmhouse style and perfectly upcycled into farmhouse kitchen storage.
For those of us with smaller or galley-style kitchens, this sucker really comes in handy. ESPECIALLY if you have an empty narrow space that is under-utilized.
The casters make it easy to move and it can hold whichever cooking supplies make the most sense. For me, that included bakeware (sheet pans, muffin tin, etc.), and baking supplies such as tin foil and parchment paper.
Oh! And those hooks I added to the sides of the kitchen caddy? Those are for my oven mitts!
I just LOVE upcycling the magazine racks for any variety of storage options, well beyond the glossy pages of your favorite rag. Would this kitchen caddy and rolling storage bin come in handy for you?
And if you enjoyed this upcycling idea for a kitchen caddy, then please check out this upcycling idea for a password book! Another thrift store find gets a fresh and modern repurpose that comes in SO handy.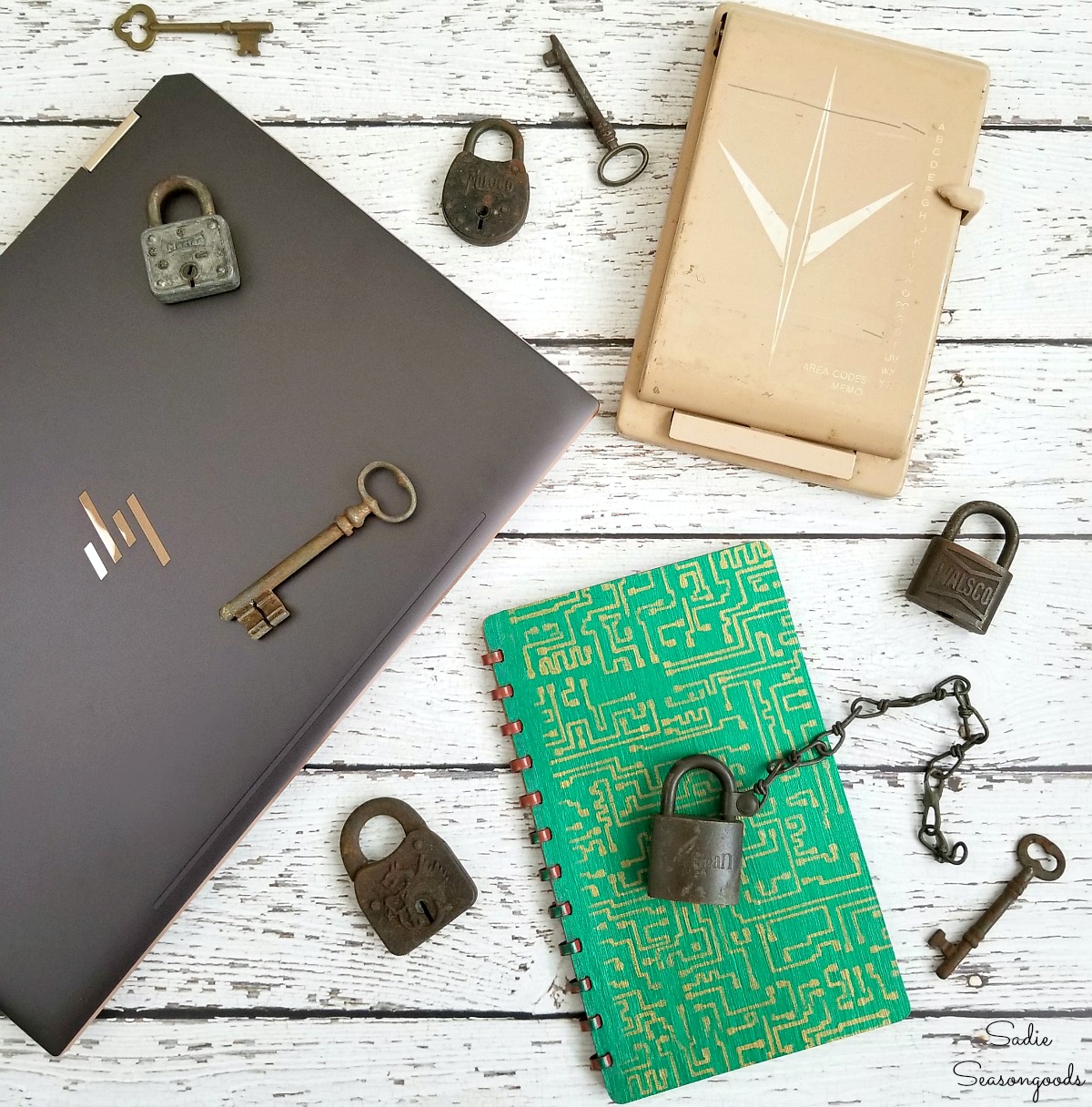 Craft on!
S
Want to be notified when I publish my next upcycling project tutorial?
Subscribe to Blog via Email
Join me on Social Media:



PIN ME!