As a woman who suffers from frequent headaches, both migraine and sinus pressure, a lavender eye pillow is a must-have in my bedside table. I've had the same one for years, made from silky satin with just the perfect amount of weight for my eyes. Making my own version was never on my crafting to-do list until Kate DiNatale Vintage gifted me with a bag full of vintage scarves that were too blemished to sell. They had minor tears or stains…making them perfect candidates for repurposing.
If you've never tried an eye pillow before, think of it as a weighted blanket, but for your eyes and temples. They block out light, infuse a calming aroma in the air, and apply gentle weight to a tension-filled area. They are a self care product or stress relief product that I simply can't live without.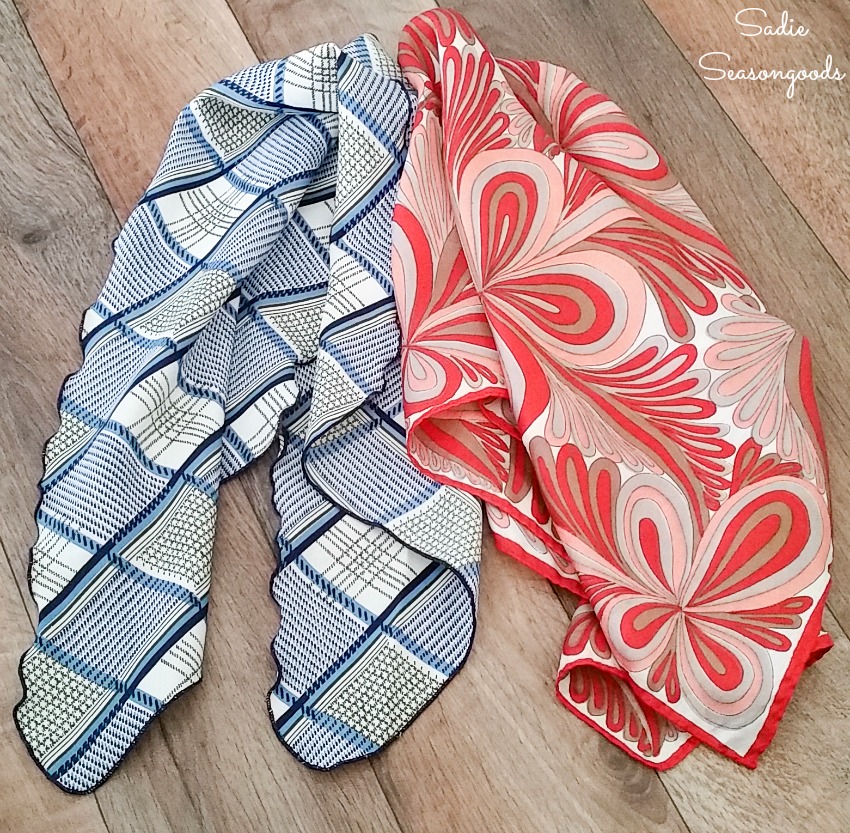 Because many of them are silky-smooth, I decided they'd be perfect for upcycling as a DIY eye pillow. I've upcycled vintage scarves before, such as these unbreakable suncatchers…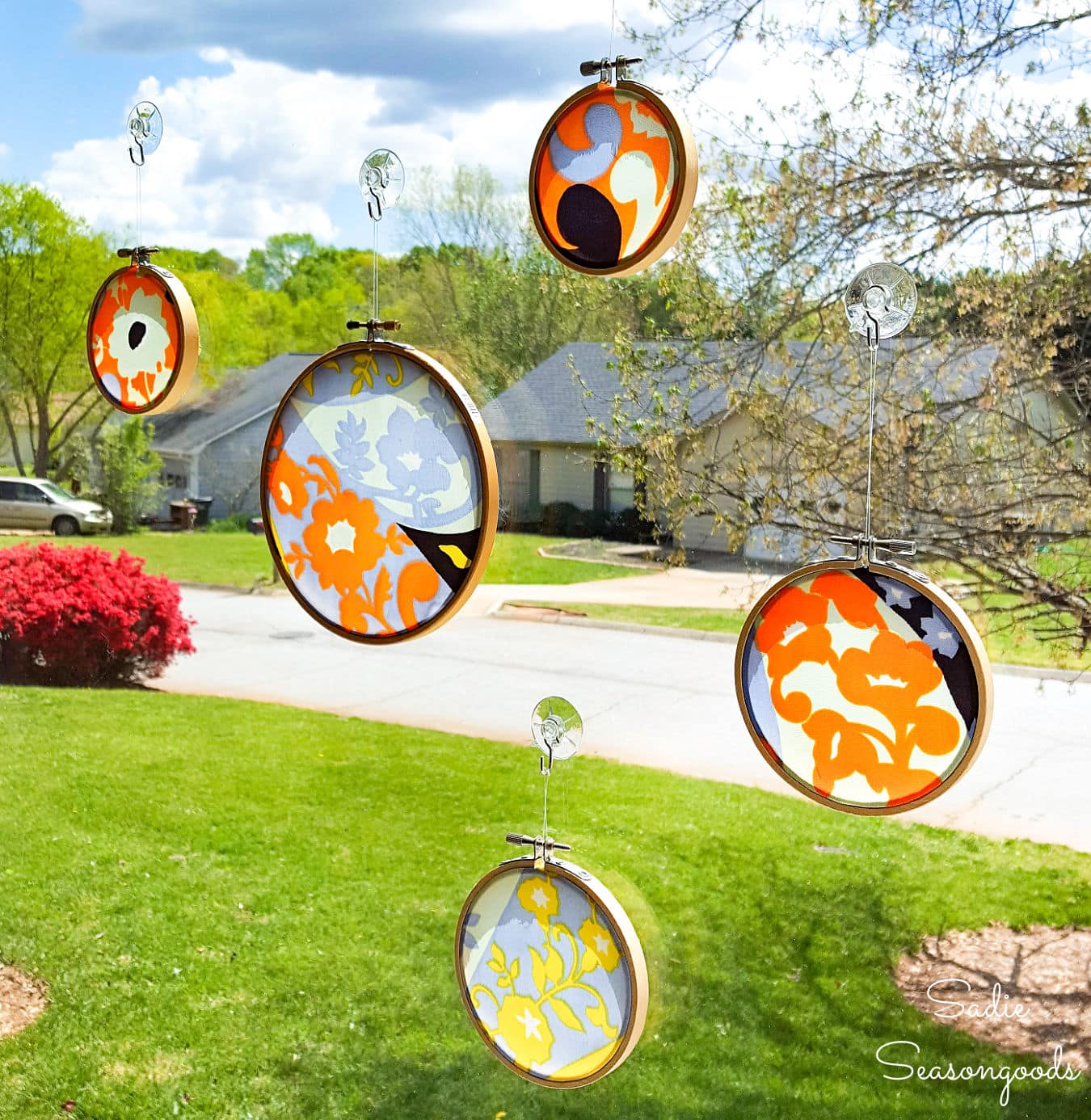 But eye pillows were a fun new idea! So, I selected two scarves from Kate's stash, washed them, and got to work.
This post contains affiliate links for your crafting convenience. As an Amazon Affiliate, I earn from qualifying purchases. All blue, bold, and underlined text is a clickable link, either to a product or to a related post.
Lavender Eye Pillow from a Vintage Scarf
First, I created a 10" X 5" template on scrap paper. That tends to be a good universal size for a DIY eye pillow.
Then, I fixed it to the scarf fabric with painter's tape to prevent pin holes from straight pins.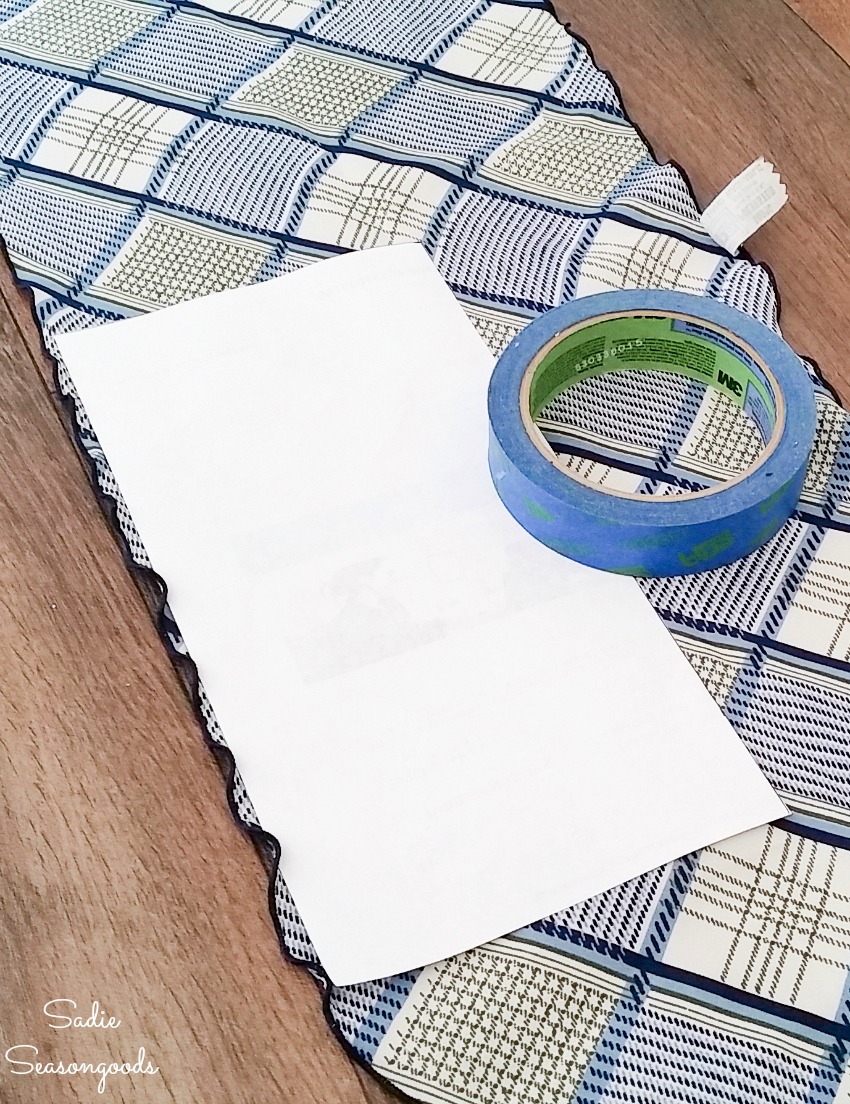 I cut out two rectangles of the vintage fabric with pinking shears and dabbed on a wee bit of Mod Podge along the raw edges to eliminate fraying.
If you recall my fabric spool necklaces, I always use Mod Podge on non-stick tin foil.
I also reused my painter's tape to mark the "wrong" side of the scarf fabric.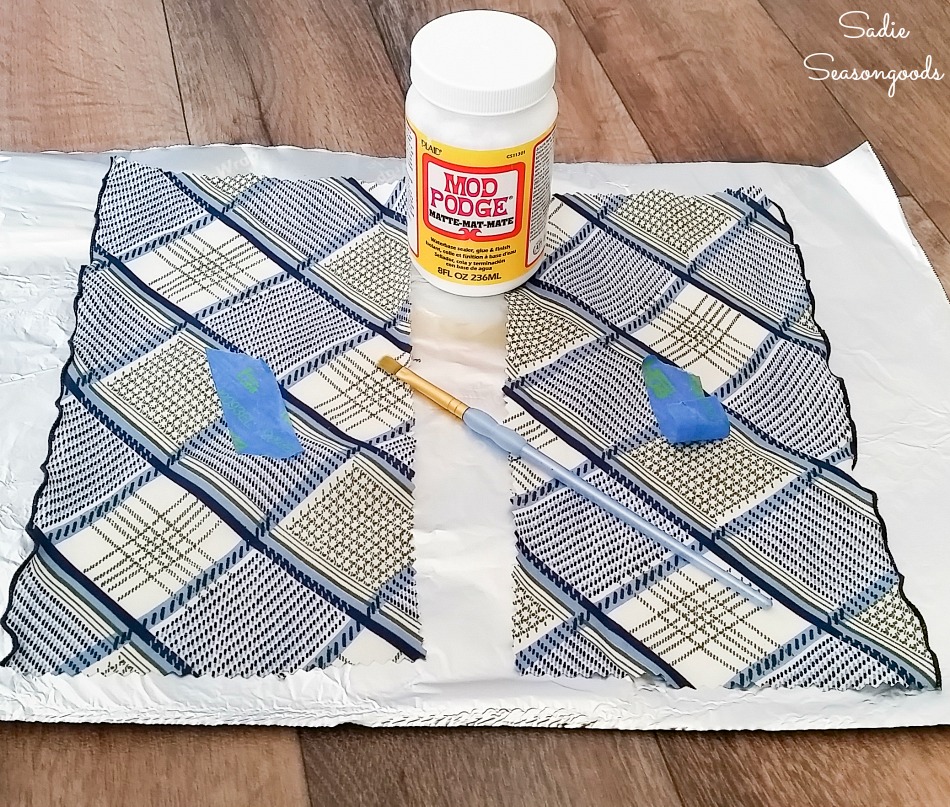 Next, I cut out two same-size rectangles of muslin cloth with my pinking shears. The muslin gives the lavender eye pillow a little more body while still allowing the calming fragrance to come through.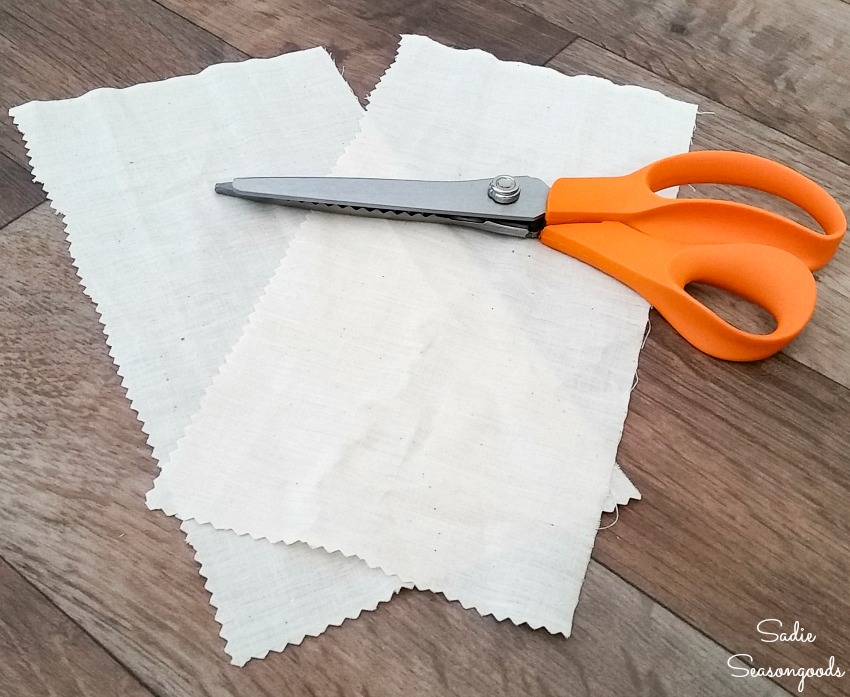 Next, I assembled the lavender eye pillow for sewing in the following order:
Muslin cloth;

Scarf fabric with right side facing up;

Scarf fabric with right side facing down; and

Muslin cloth.
I pinned them together before heading to my sewing machine.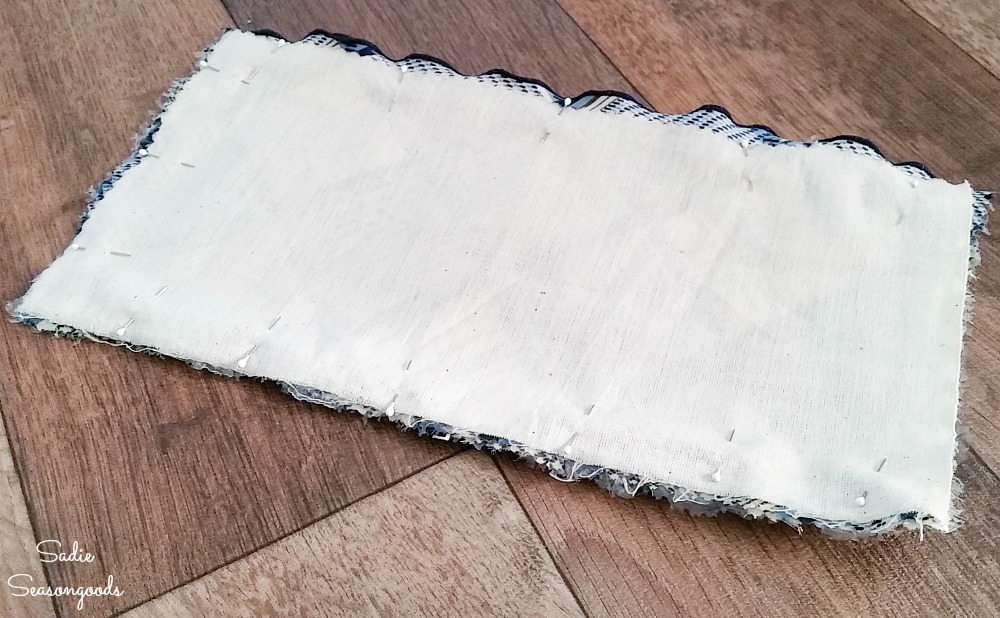 A Self Care Product for Stress Relief
I stitched along all sides but one of the short (i.e., 5") sides. Then, I repeated the process, stitching over the previous stitches.
Next, I turned it right-side-out, tucked in the open (non-sewn) side, and pinned it shut about ⅔ of the way down. Next, I stitched that ⅔ portion closed, leaving a small opening (1″ or less) at one end.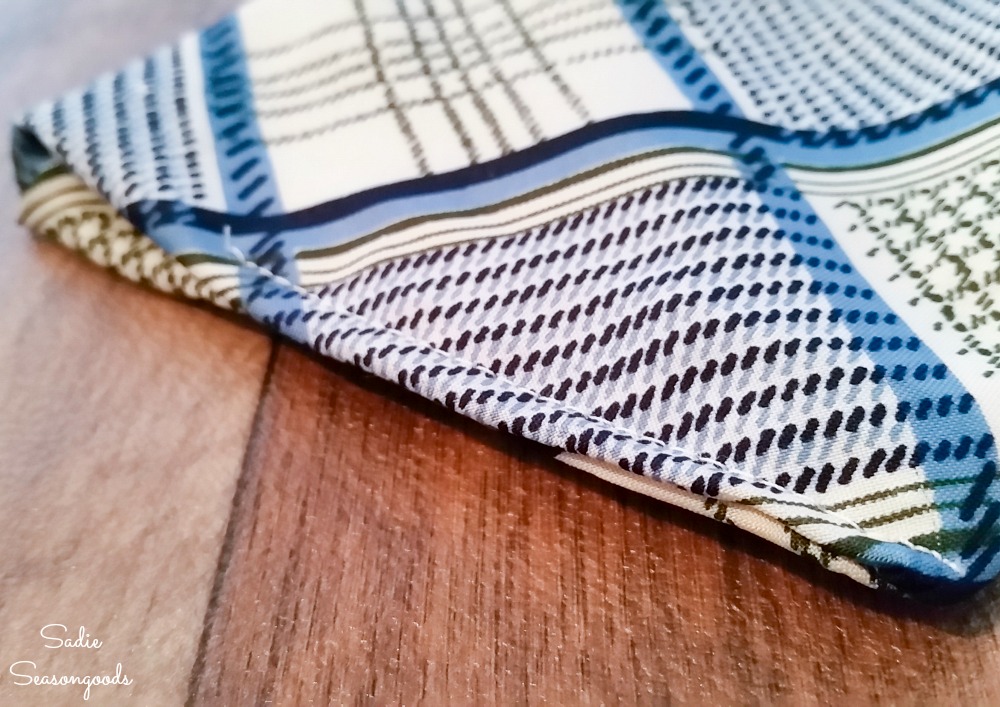 Now I could add the filler for my lavender eye pillow!
I used inexpensive flax seed from my supermarket, dried lavender flowers, and a few drops of calming essential oils (i.e., lavender oil).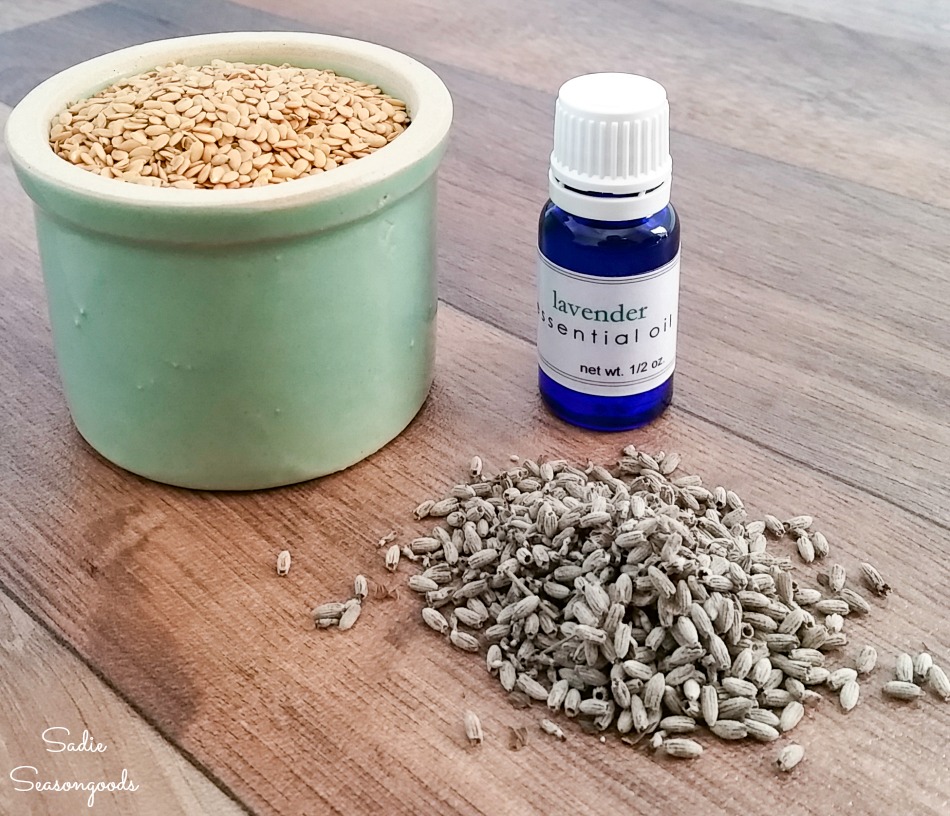 I mixed up the following in a bowl:
1¼ cup of flax seed;

¼ cup plus 2 rounded tablespoons of dried lavender flowers; and

3-4 drops of calming essential oils. Use more for a stronger fragrance.
Next, I inserted a funnel through the remaining opening and carefully poured fragrant filler into the DIY eye pillow.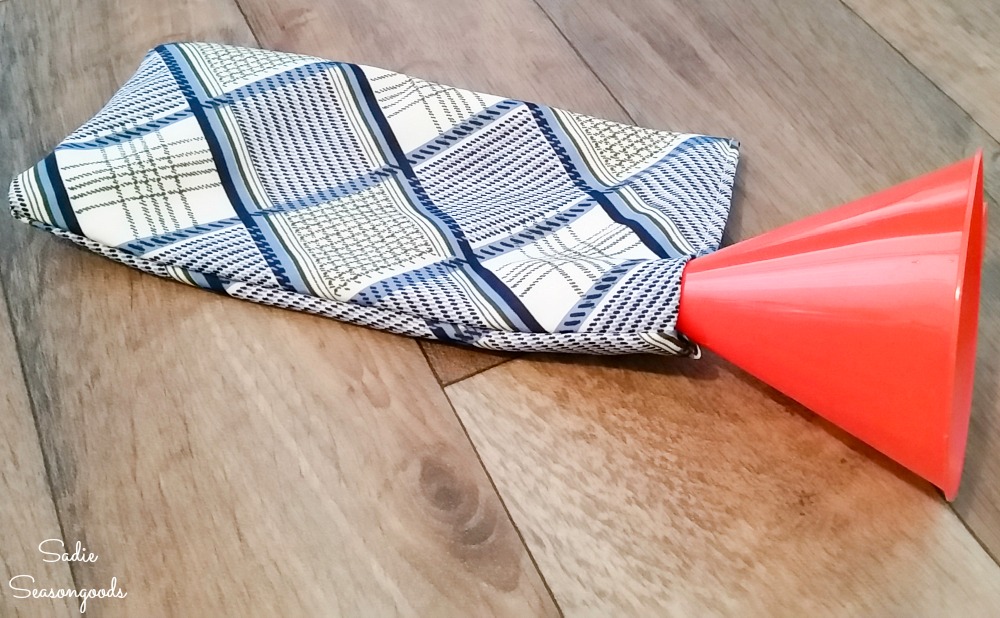 I like a lavender eye pillow to be just over ½ full- it seems to be the perfect weight on my eyes, and contours my face just right.
Once the mixture was in the bag, I finished closing the end, and then I re-stitched along that same seam- again, just for insurance.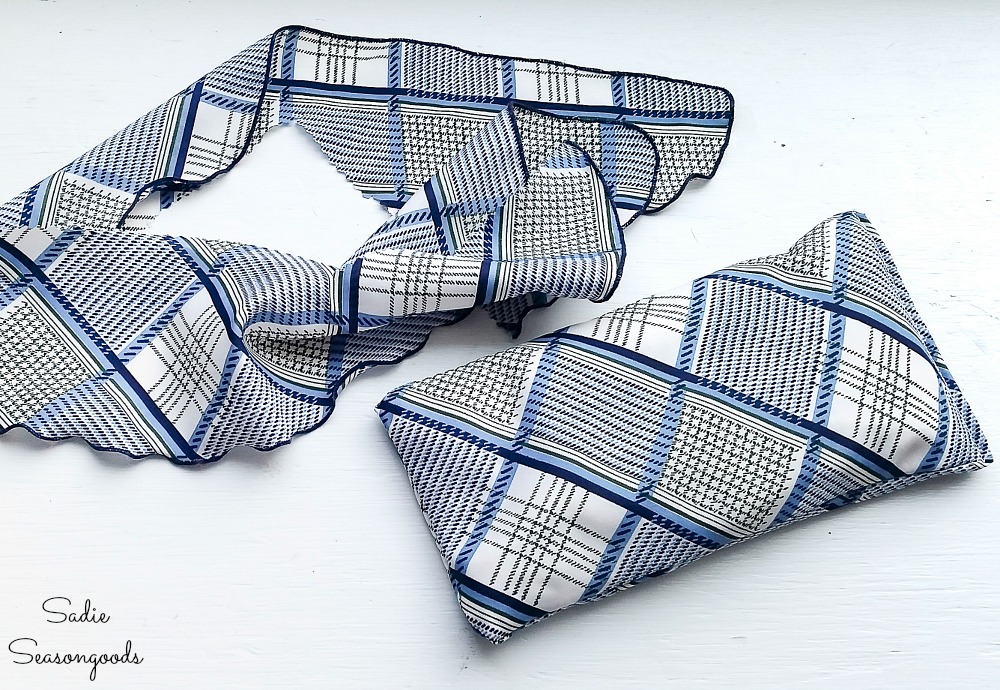 Upcycling a Vintage Scarf as a Lavender Eye Pillow for Self Care
The lavender is wonderfully soothing for stressful days. Laying one across my eyes while I rest in a dark room is wonderfully calming.
But I also suffer from sinus headaches. So I made a separate one using that red scarf.
For my sinus relief eye pillow, I made a mixture of 1½ cups flax seed and 5-6 drops of DoTerra Breathe essential oil. I LOVE this scent, and it really does sooth the sinuses. Now I have two self care products for my eyes!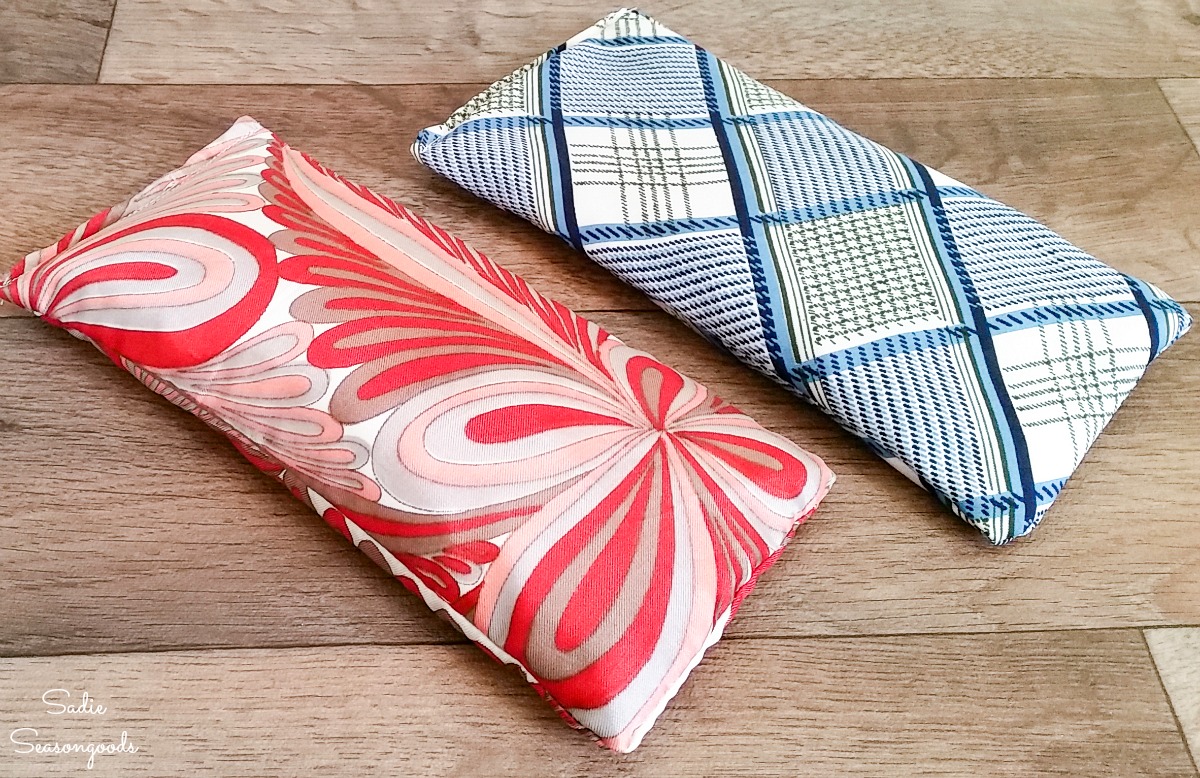 I can't tell you how wonderful it is to use these vintage scarves for this project, and I love having individual eye pillows (in retro designs!) for various ailments.
Self care means different things to different people. But this lavender eye pillow and the sinus headache version are definitely therapeutic and ideal for stress relief at home.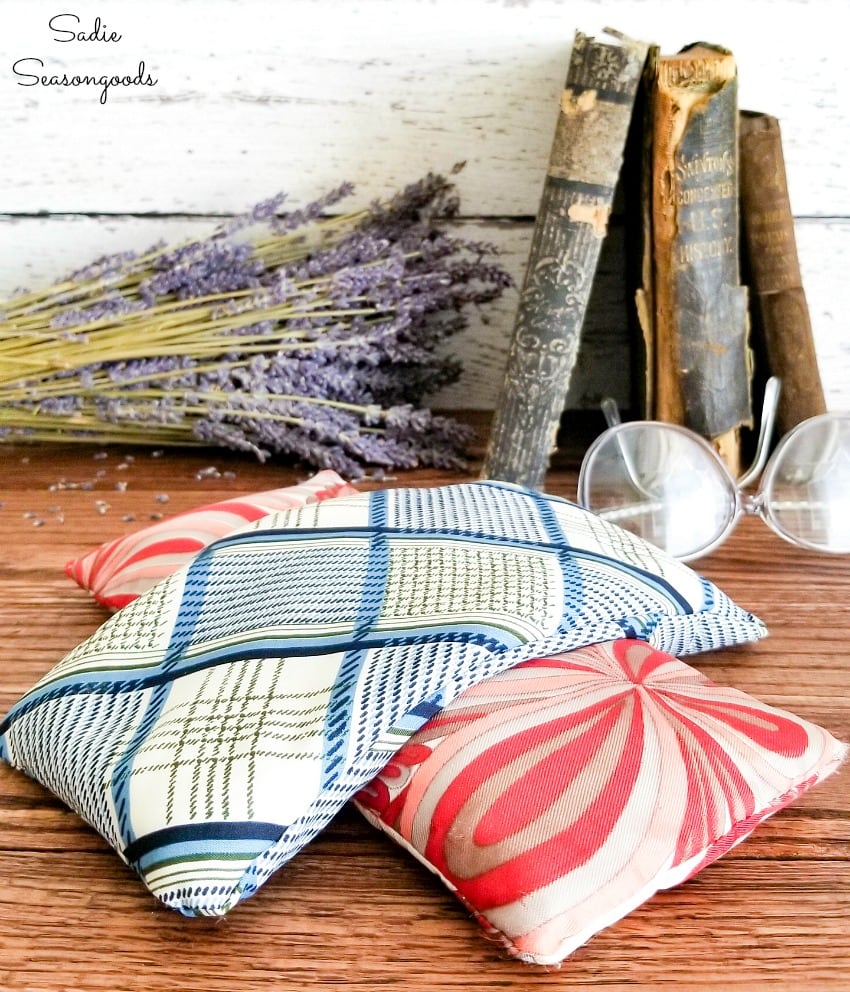 And if you enjoyed this upcycling idea for stress relief products, then you'll love these shower tablets that I made in butter molds from the thrift store!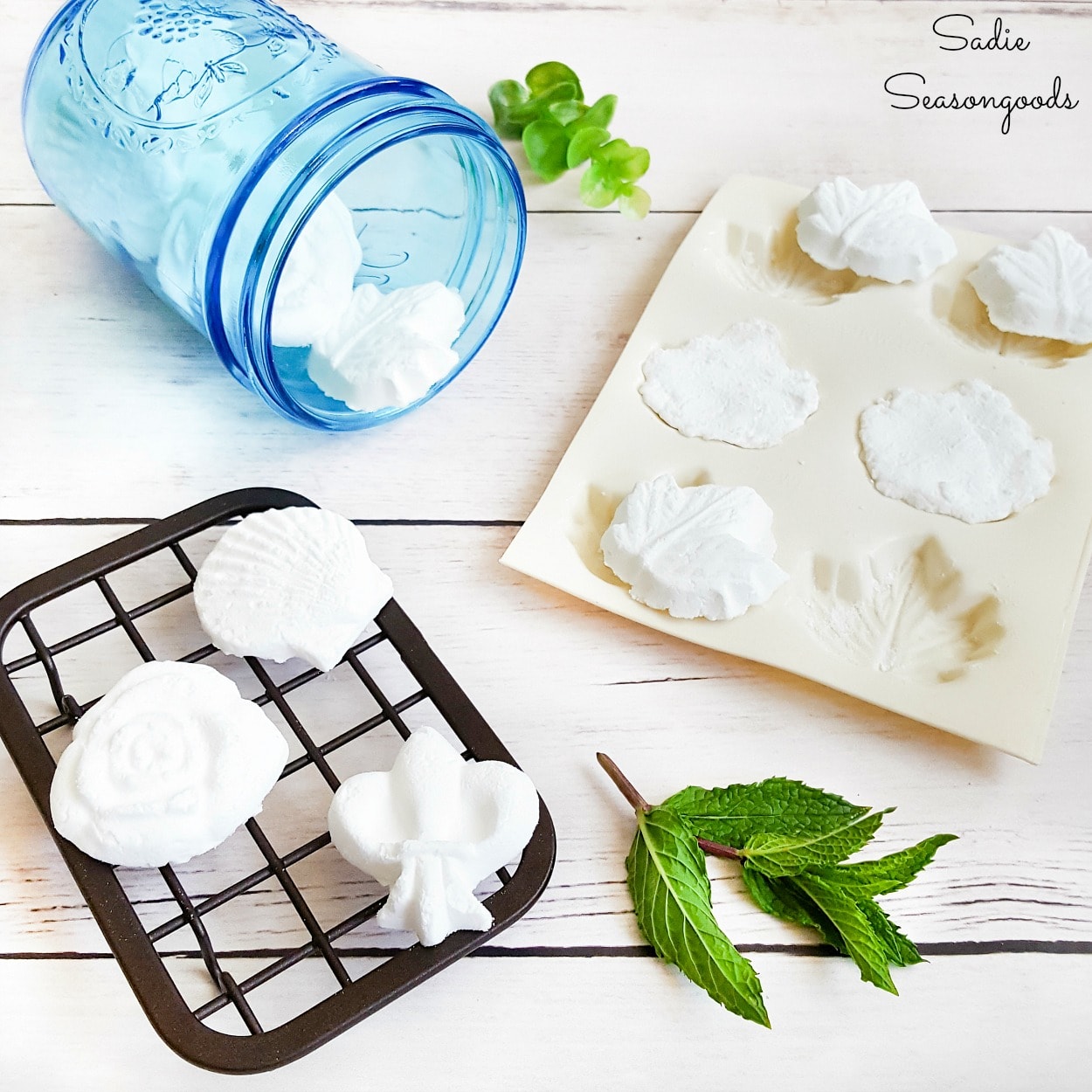 And for more simply sewing projects with upcycled fabric, I hope you'll check out my book, "Crafting with Flannel", too! You can find it online through Amazon, Barnes & Noble, Target, and Walmart.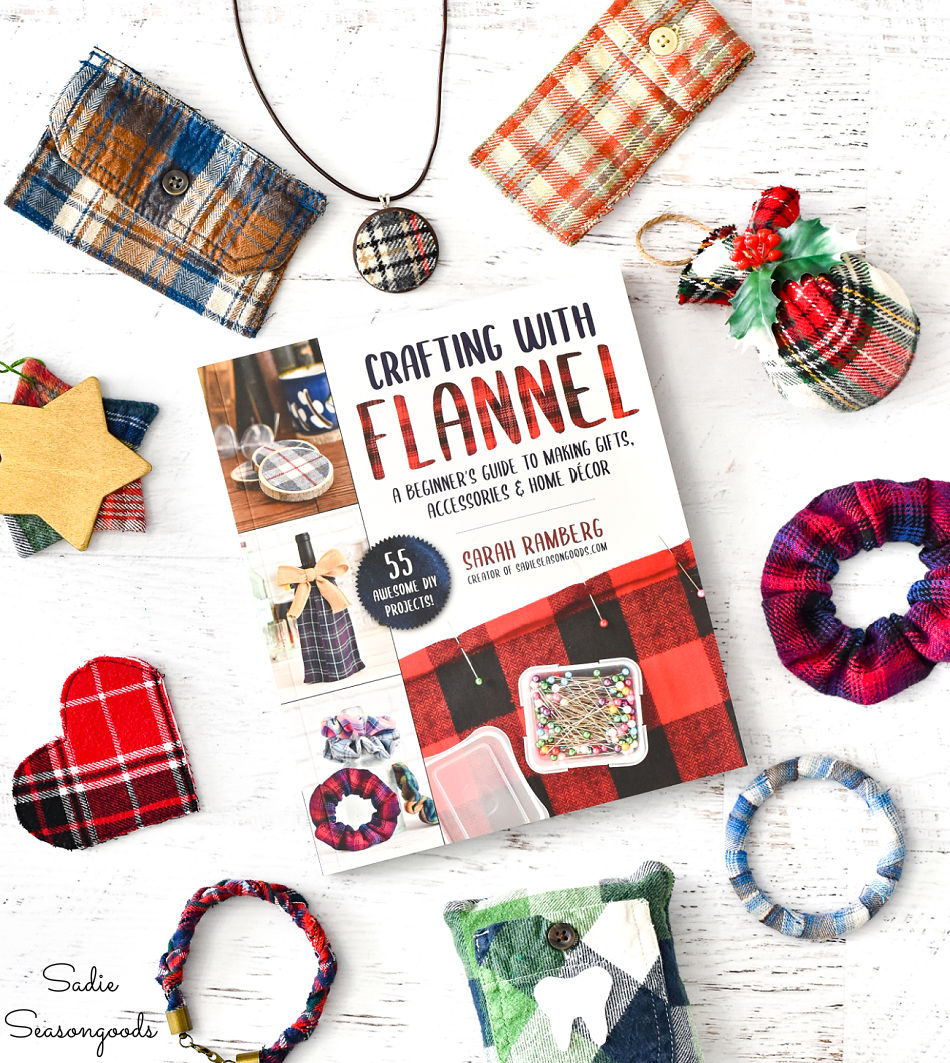 Craft on!
S
Join me on Social Media:

PIN ME!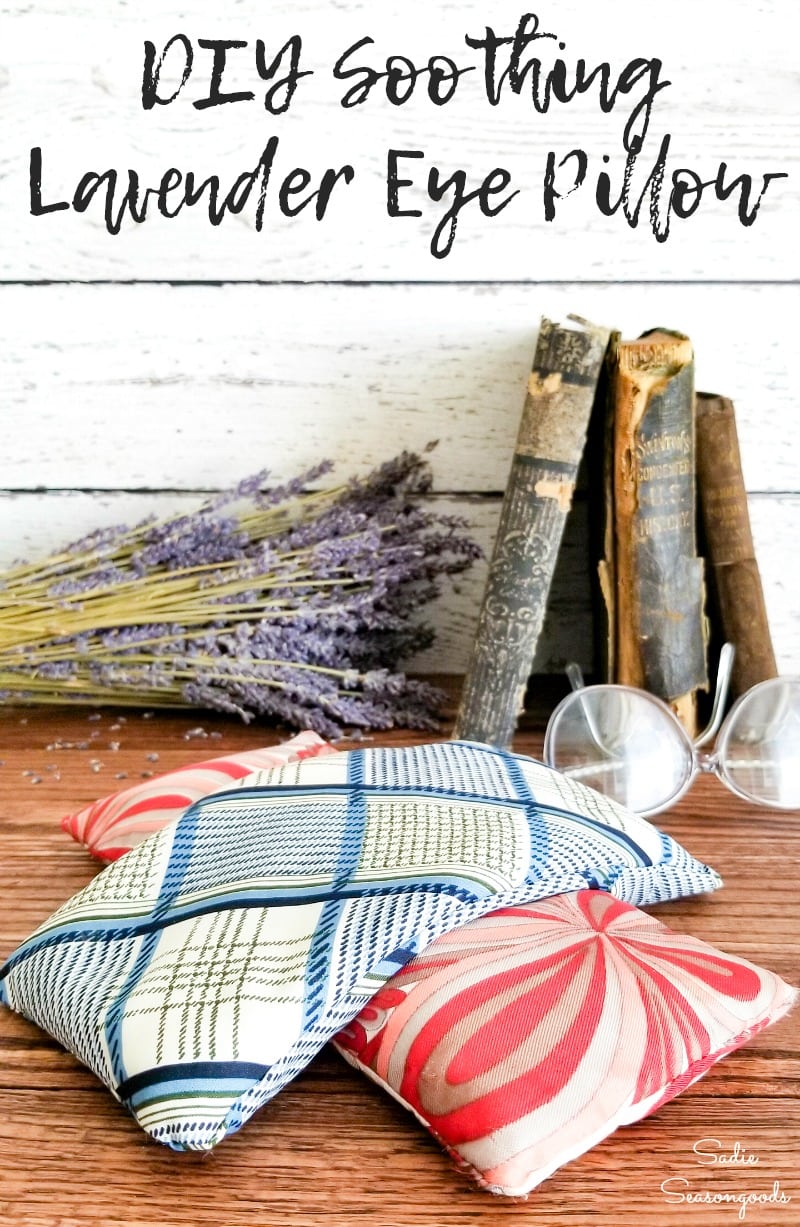 Sarah Ramberg is the owner of Sadie Seasongoods, a website that celebrates all things secondhand. From upcycling ideas and thrifted decor to vintage-centric travel itineraries, Sadie Seasongoods is a one-stop shop for anyone who loves thrifting and approachable repurposing ideas. Sarah is also the author of "Crafting with Flannel" and has been featured in numerous media outlets and magazines.