In my neck of the woods (the Carolinas), relics of old industrial textile mills are common at vintage stores and thrift shops. So, it's no surprise that I run across serger thread cones pretty frequently. I've already repurposed some for a Christmas project, but this time, I decided to upcycle a few into Halloween decor. More specifically, as decorative candy corn!
Instead of seeking out red and green serger thread cones like I did before, however, I only wanted serger thread in white this time! I wanted to experiment with painting them to look like candy corn decorations for Halloween, and white thread made the most sense. This post contains affiliate links for your crafting convenience.
Creating a Candy Corn Template on Serger Thread
I eventually found a handful of serger thread in white or off white. They were in various states of "mess" with fly-away thread tails, thrift store tape, etc.
Before I started transforming them into decorative candy corn, though, I needed to "clean up" my serger thread cones. I removed (re: unraveled) dirty or discolored thread, glued down loose tails, and trimmed the thread, if necessary.
Once they were all ready to go, I gathered a few painting supplies, including my favorite stencil brushes, yellow craft paint, orange craft paint, and wide rubber bands.
I planned on using the rubber bands as a candy corn template. My theory was that they would act as a stencil and allow me to create clean-ish lines between the candy corn colors.
I started the decorative candy corn at the bottom of each serger thread using yellow craft paint.
First, I carefully stippled on the yellow paint with a stencil brush. Next, I used a small flat craft paint brush to touch paint up against the rubber band.
When the yellow paint had dried (I let it dry overnight), I gently moved the rubber band a hair lower so that just a teeny line of yellow was above it. I wanted a hair over lap so that no white showed between the candy corn colors.
Then, I added another rubber band at the top to mark off the white tip, and used a small binder clip to cinch it tight.
I painted in the orange segment just as I had done with the yellow- stippling with my stencil brush and then doing the rubber band edges with a small flat paint brush. And it worked like a charm!
Decorative Candy Corn with Serger Thread
I ended up creating three candy corn decorations in various sizes!
Aren't they so sweet? And proof positive that you can easily paint serger thread cones to create whatever kind of seasonal decor your heart desires.
But I still had two remaining serger thread cones in my stash! So, I decided to upcycle into Halloween ghosts.
I gathered some vintage shank buttons, my favorite super glue, and a bobby pin (to create little divots for the button shank to sink into).
And just like that, I had adorable Halloween ghosts that are just as cute as the decorative candy corn! And I left no serger thread behind – each of my thread cones were put to good reuse as Halloween decor.
I just love how they turned out- my perfect little candy corn decor and friendly ghosts for Halloween!
If you enjoyed this upcycling idea for decorative candy corn and Halloween ghosts, then you'll love this Halloween moon from a vintage light fixture!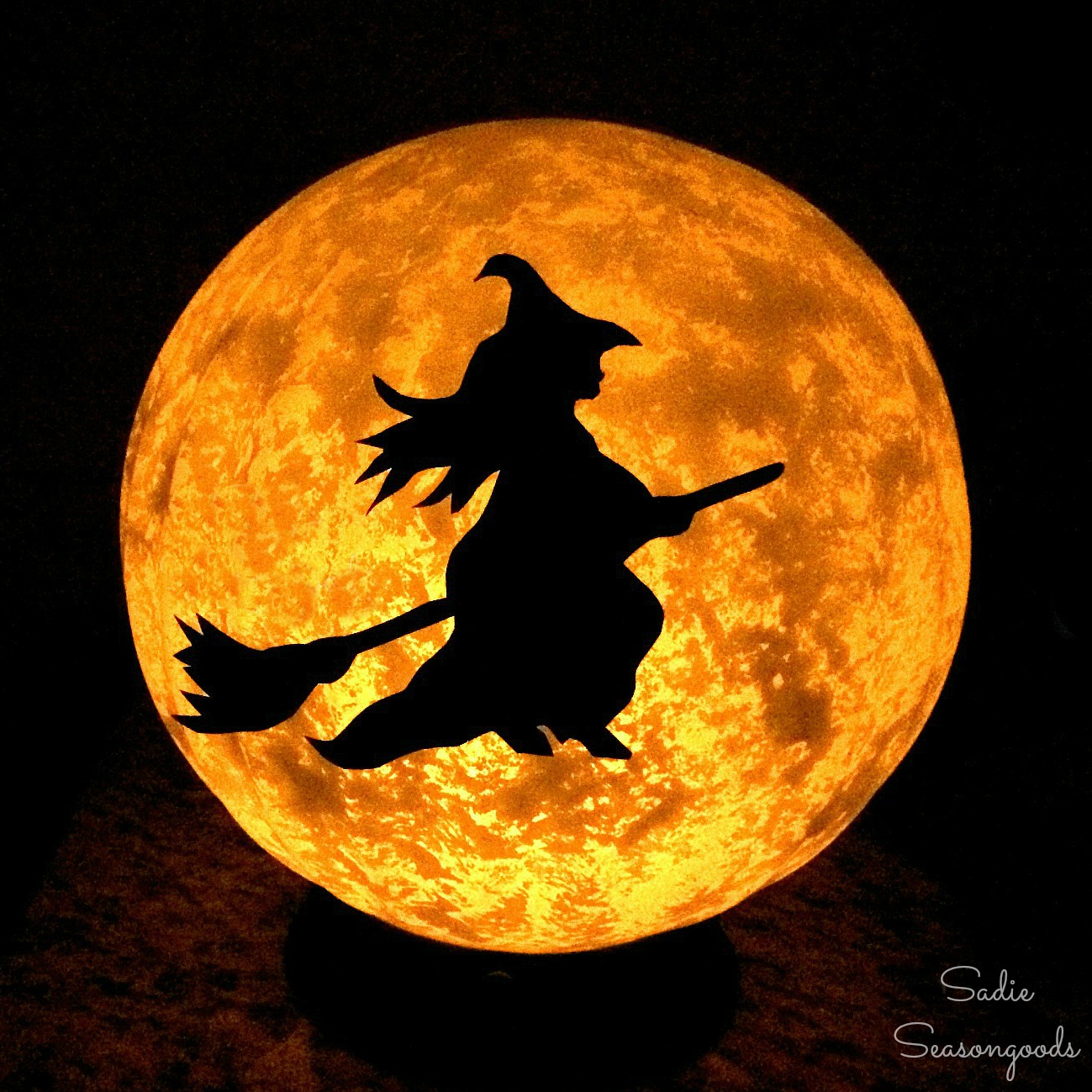 Craft on!
S
Want to be notified when I publish my next upcycling project tutorial?
Subscribe to Blog via Email
Join me on Social Media: