As a short & round woman, I am destined to love accessories since my clothing options are limited. Which means that jewelry organization and jewelry storage are always something I need more of. So, after collecting some barn wood (and other salvaged wood) and wood spools, I knew a necklace rack or wall jewelry organizer was in my DIY future…
Not only do I love vintage sewing notions (including wooden thread spools), but of course I love salvaged wood! This is really a very simple, straight-forward project…and is so impossibly cute and functional! This post contains affiliate links for your crafting convenience.
Building a Necklace Rack from Barn Wood and Wood Spools
First, I wiped down my piece of salvaged wood (both sides) and attached sawtooth hangers to the back (one at each end). Trust me- it's much easier to do this at the beginning of the project than after the spools are attached.
Then, I lined up the wood spools / wooden thread spools along my piece of barn wood, spacing them as evenly as possible. Using a pencil, I did my best to mark a dot on the barn wood directly underneath the holes in each wood spool.
Now it was time to hammer in the nails. I used molding or finishing nails, because the spools can slide on easily. Two different sizes (lengths) were used to accommodate different wood spools.
I hammered the nails in far enough to be sturdy and so that they didn't stick out past the wooden thread spools.
Then it was time to permanently attach the wood spools to the barn wood!
The nails, while perhaps not critical to the project, act as a fail-safe if the adhesive gives out. Nobody wants to deal with a beloved necklace falling behind a large, ornery dresser that is hard to move!
So, for this reason, I used Gorilla-brand epoxy to securely glue the wooden thread spools in place.
After blending the epoxy until it was uniform in color, I used a coffee stirrer to "shmear" the epoxy to one side to the wood spools. I always selected the uglier / planer / naked side of the spools so that I would still see the labels or graphics.
With the epoxy on the wood spools, I carefully slid each one over their corresponding nails.
With any epoxy, it's best to let it sit overnight, weighed down by something- so, I raided my pantry! Canned goods came in awfully handy, and I let the whole thing sit like this overnight so that the epoxy could cure.
Wall Jewelry Organizer using Wood Spools and Salvaged Wood
And that was it! Once the epoxy cured, I had a darling necklace rack / wall jewelry organizer that was sturdy and ready for my myriad of necklaces.
And you know what? I actually sold the one I made in the previous photos, so I made a different one just for myself. It hangs just like this in our bedroom to this day.
This necklace rack / wall jewelry organizer is just a part of my collection of jewelry holders, and they all hang out together in perfect upcycling harmony.
If you enjoyed my wall jewelry organizer project, then you may also be interested in this ring holder I made by upcycling a cigar box, as well!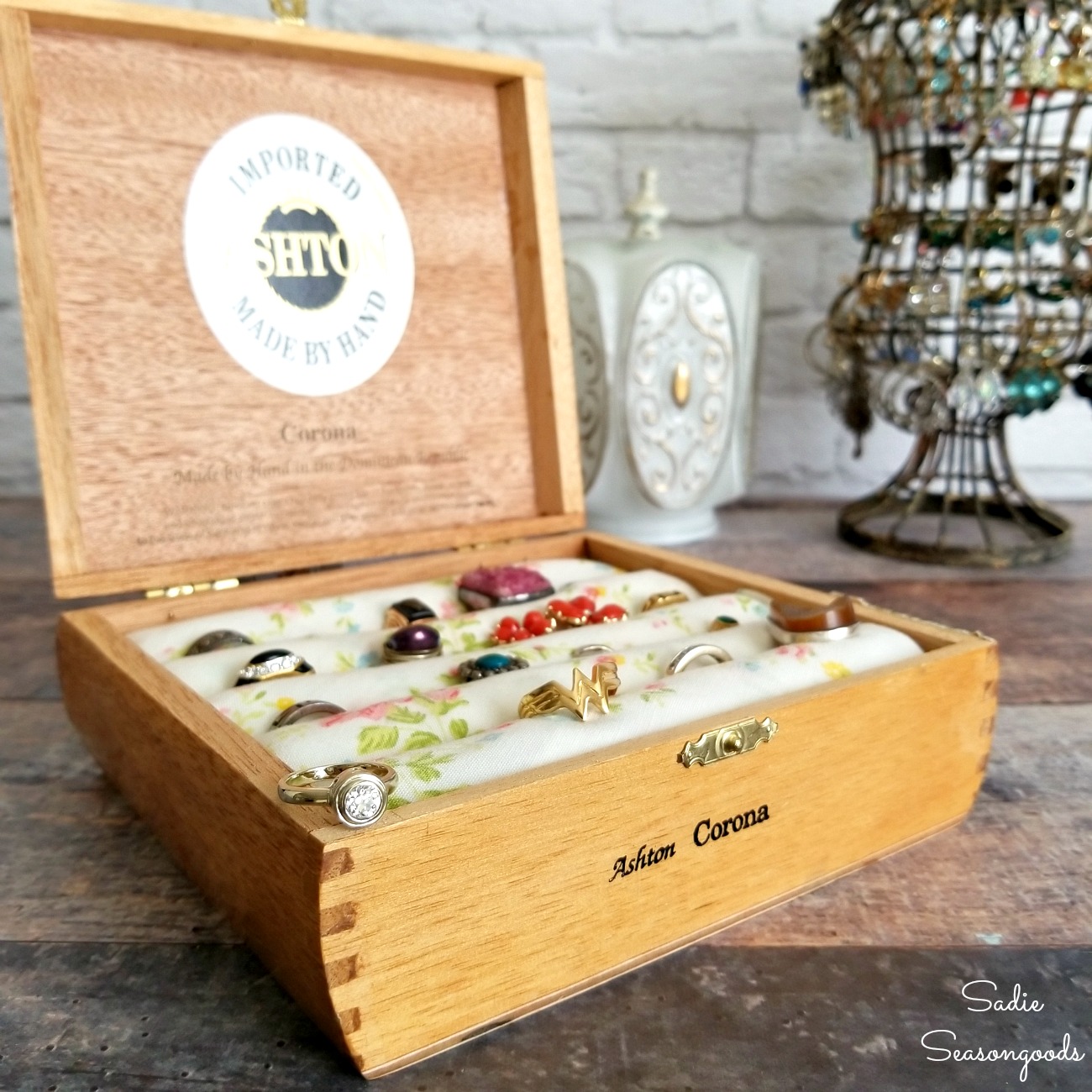 Craft on!
S
Want to be notified when I publish my next upcycling project tutorial?
Subscribe to Blog via Email
Join me on Social Media: