During a trip to West Palm Beach, we stopped in a nautical salvage shop. I picked up a bunch of fun odds and ends, including this cigar box. I had wanted a vintage cigar box for a while now so that I could upcycle it into a ring holder or wooden jewelry box, and this one seemed to be the perfect size and shape.

Upcycling this cigar box would be easy and it would be an excellent addition to my growing collection of jewelry organization projects!
This post contains affiliate links for your crafting convenience. As an Amazon Affiliate, I earn from qualifying purchases.
Upcycling a Cigar Box into a Ring Holder / Jewelry Chest
And to make it, I only needed a few more supplies: quilt batting, fabric (in my case, a vintage bed sheet), basic sewing supplies, and the right glue.
First, I measured the interior of my cigar box- roughly 6" X 6". I cut out a strip of quilt batting (about 6¼" X 6½"), rolled it up, and pinned it in place.
Then I quickly stitched it shut- and oddly enough, it looked like a fluffy cigar!
I kept making one fluffy cigar after another until the cigar box was pleasantly stuffed. Because they're soft and flexible, you can squeeze the ring cushions in pretty tight to make sure they fit inside your ring holder.
Then, I cut out squares from my bed sheet and rolled up my "fluffy cigars" (also known as ring cushions) like little burritos. Same as before, I first pinned the fabric in place and then stitched it shut.
Also, I never did paint my cigar box because I liked the natural wood look. But you could certainly paint it and then coordinate the fabric you use on your ring cushions to match!
I placed all of my ring cushions (now rolled in fabric) in the cigar box and it truly resembled a ring holder! You could store pierced earrings in between the cushions, too, so it's as much a jewelry chest or wooden jewelry box as it is a ring holder.
That optional glue I was talking about? You could certainly hot glue your ring cushions inside the cigar box, but mine were snug enough that I didn't need to take that step.
I would recommend gluing them in place, however, if you were giving this ring holder as a gift.
Ring Holder or Wooden Jewelry Box by Upcycling a Cigar Box
Once my ring cushions were in place, I added my rings! It all came together so quickly- gotta love that in a project! And it's the perfect addition to my ever-growing collection of jewelry organizers.
I didn't have a ring holder before (they just jangled around in a small porcelain dish), so this definitely solved that problem! And this will also keep my rings from getting dusty.
And a ring holder is certainly not the only upcycling idea for a cigar box when it comes to jewelry organization! I think it would be the perfect mens jewelry box or mens valet box if you lined the interior with flannel fabric.
You could stain the wood darker or even paint it black, dark blue, etc. Either way, there are lots of upcycling ideas for a cigar box and a jewelry chest or wooden jewelry box is just the tip of the iceberg!
If you enjoyed this upcycling idea for a ring holder or ring box, then you'll love this jewelry tree that I made from a silver candelabra!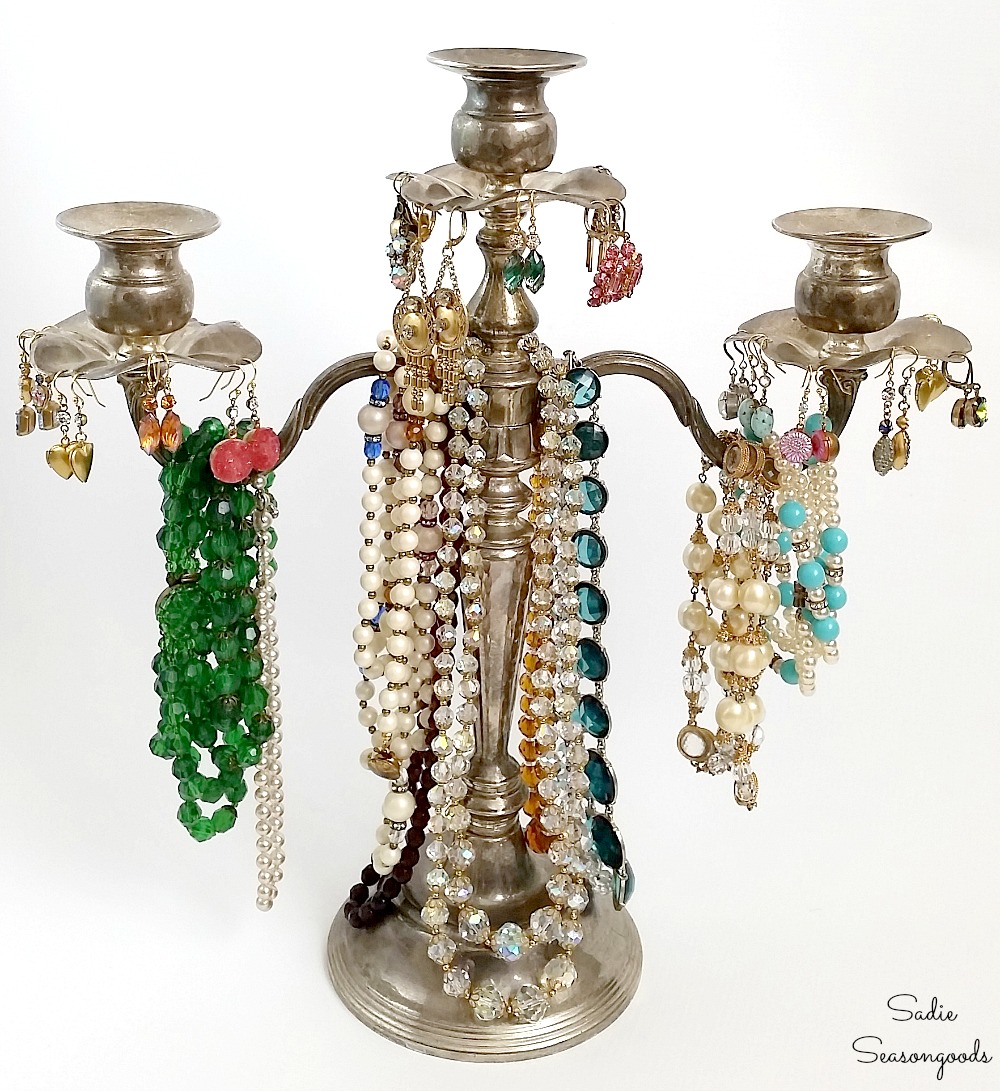 Craft on!
S
Want to be notified when I publish my next upcycling project tutorial?
Subscribe to Blog via Email
Join me on Social Media: