Not too long ago, I posted a photo on my Facebook page that garnered a LOT of attention- an embroidered flower on a vintage mesh strainer. It was gorgeous and unique, and I was immediately struck with an idea of my own. Why not do something similar with a vintage colander, the kind with a star design? And then use it as a patriotic centerpiece?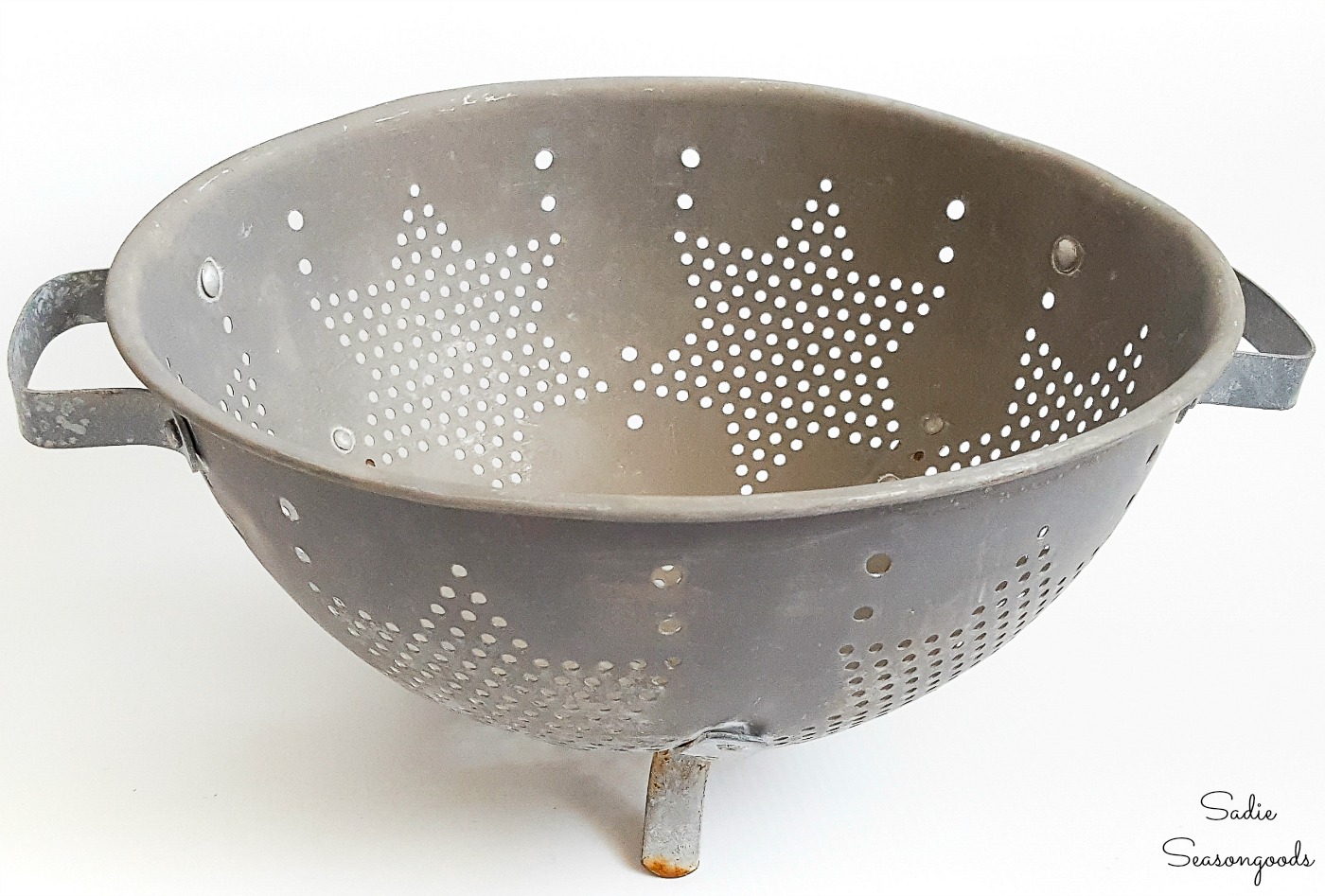 You can still find these old metal colanders at thrift stores from time to time. They are too lightweight to be upcycled into a hanging planter like I did here.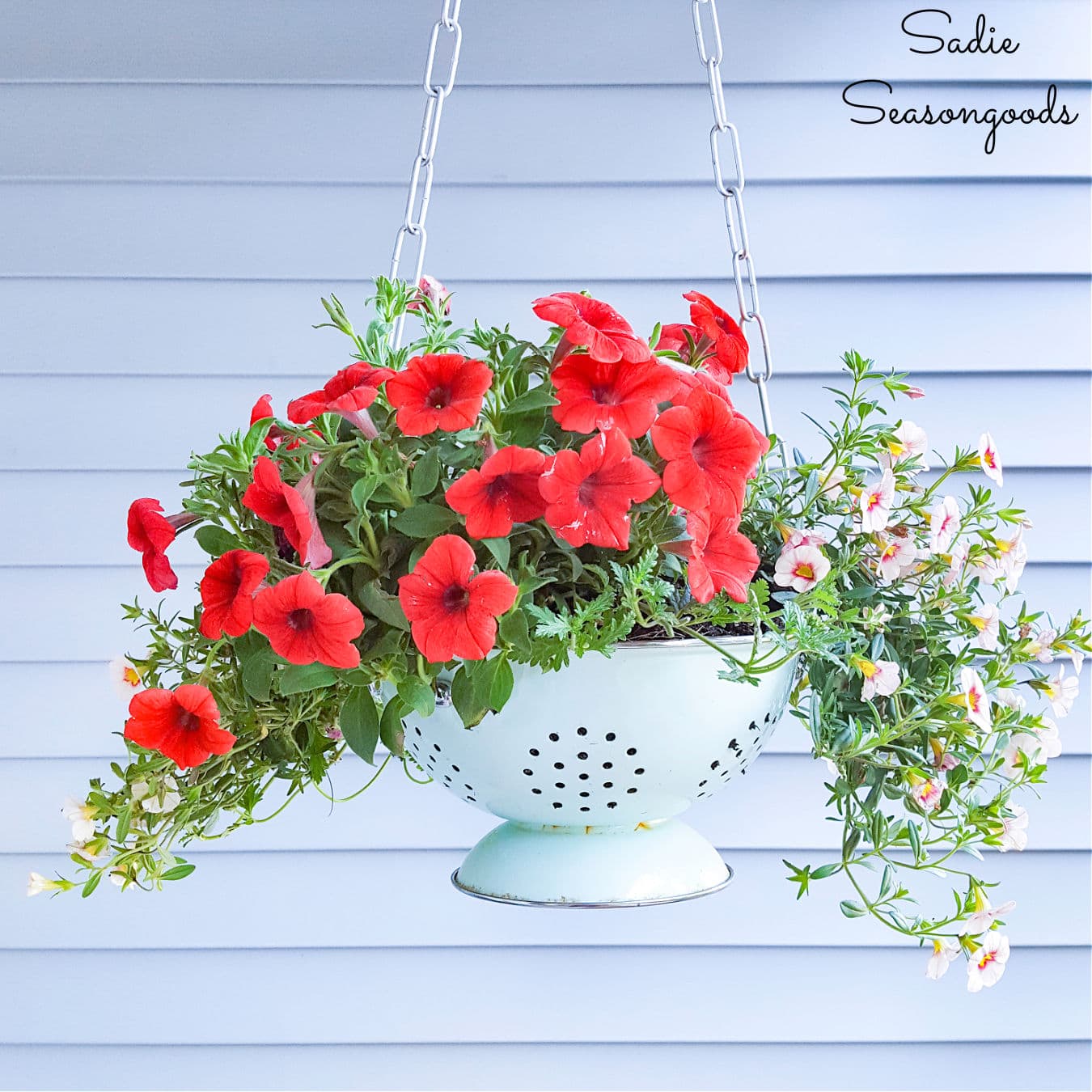 But what if I embroidered those stars? To use as a patriotic centerpiece?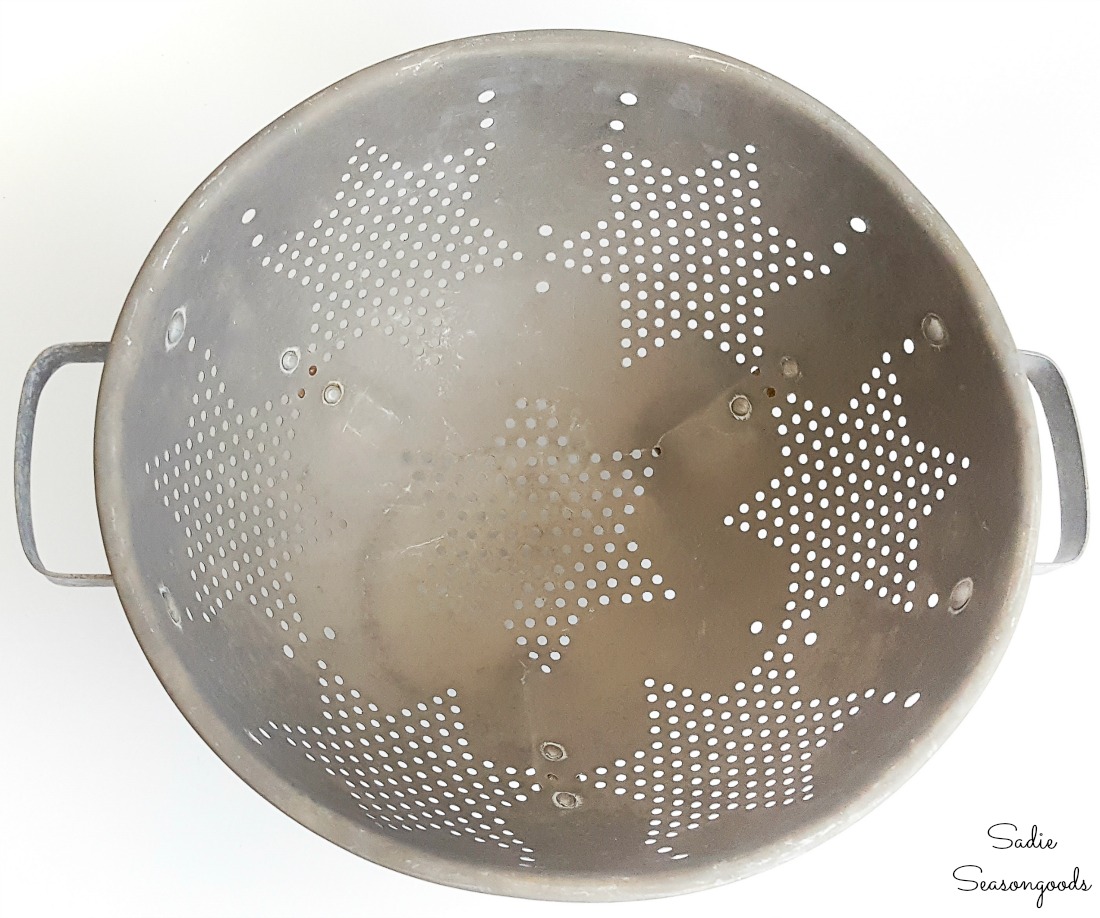 Either way, I decided that it was worth experimenting with! And I had a sneaking suspicion that it was going to be incredibly festive and cute!
This post contains affiliate links for your crafting convenience. As an Amazon Affiliate, I earn from qualifying purchases. All blue, bold, and underlined text is a clickable link, either to a product or to a related post.
Upcycling a Vintage Colander with Star Embroidery
First, I needed to paint it, should I use red, white, or blue?
I had all three colors in my spray paint stash, but the blue just spoke to me first. So, I gave it a glossy makeover in royal blue.
For my embroidery, I decided that plain white twine wasn't good enough, so I purchased some baker's twine instead.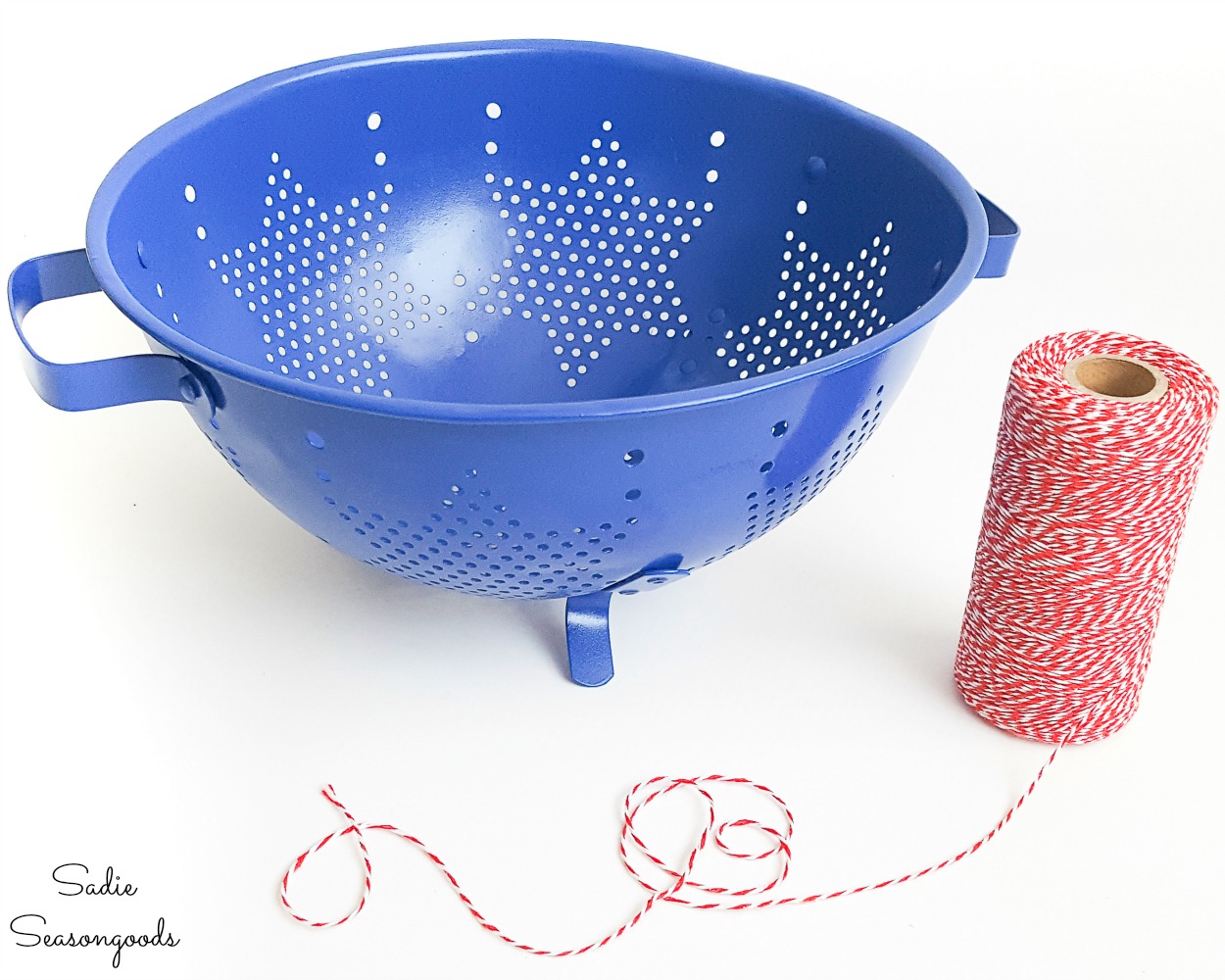 The red and white would set off PERFECTLY against the blue!
The star embroidery would be easy and straight forward, no matter how I went about doing it. But I ended up using a back stitch to get the full effect of the star pattern.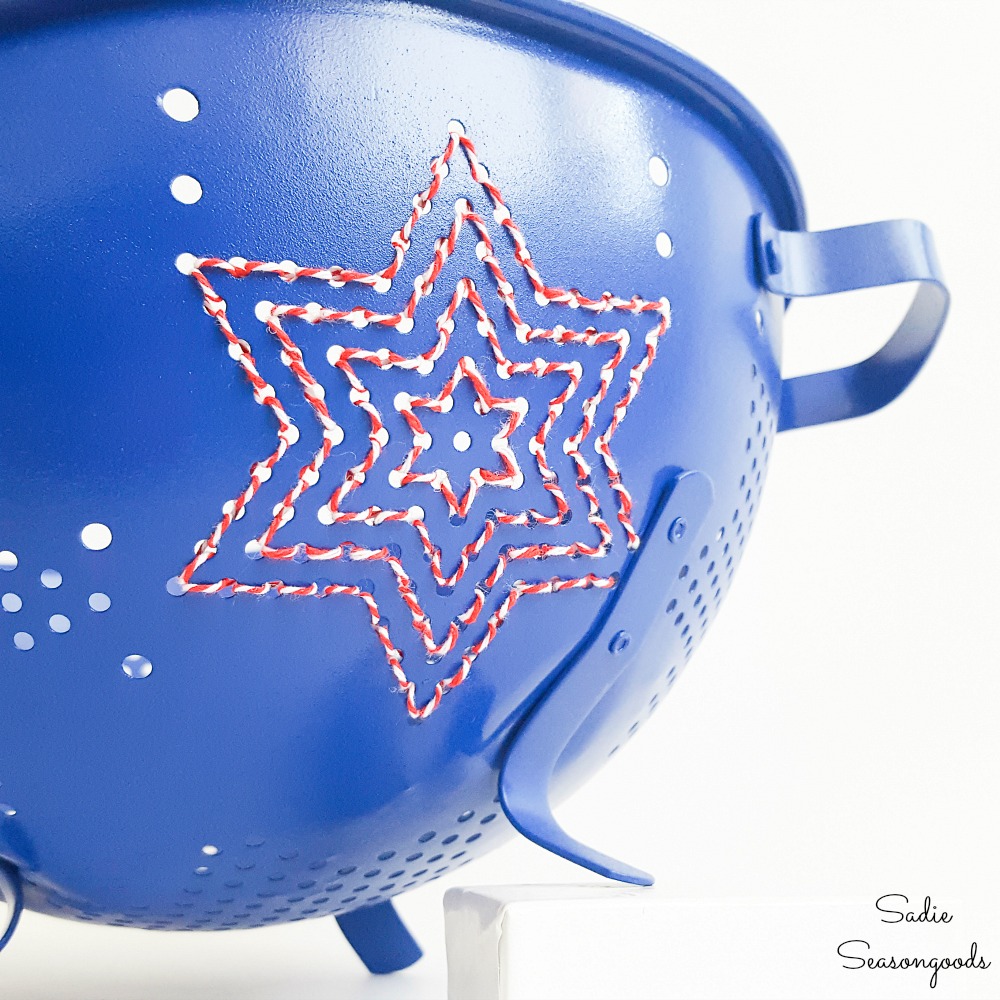 After watching a few episodes of a favorite TV show, I finished embroidering the entire colander! I absolutely love binge-watching TV when I have a needlework project to work on!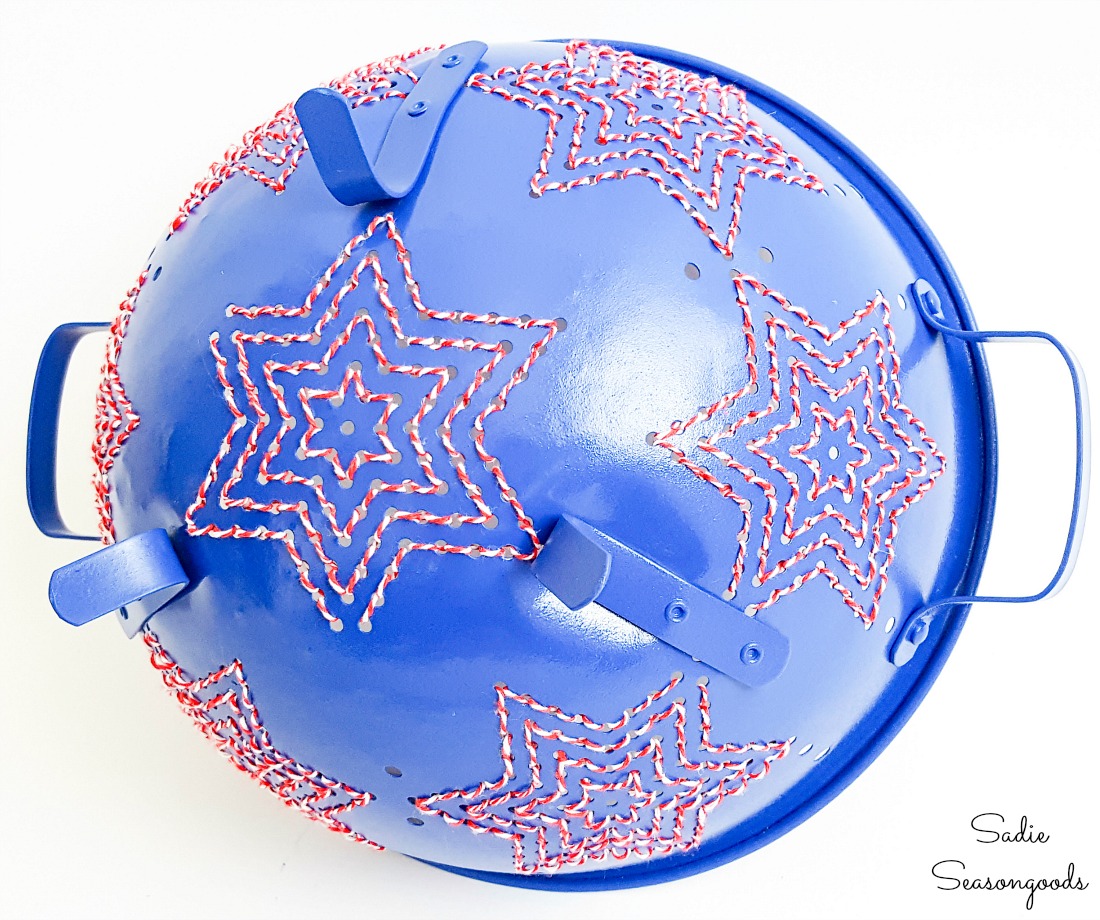 Now I could further transform my vintage colander into a patriotic centerpiece and 4th of July table decorations!
Patriotic Centerpiece and 4th of July Decor
To bring my upcycling idea to life, I needed the perfect filler for my centerpiece. First, I thought about baseballs, but decided against it in the end. They were a touch too large to sit in the vintage colander.
After much deliberation (and I mean it, it was causing me anxiety!), I decided to use rattan balls to fill the vintage colander. I also spray painted them in red, white, and blue.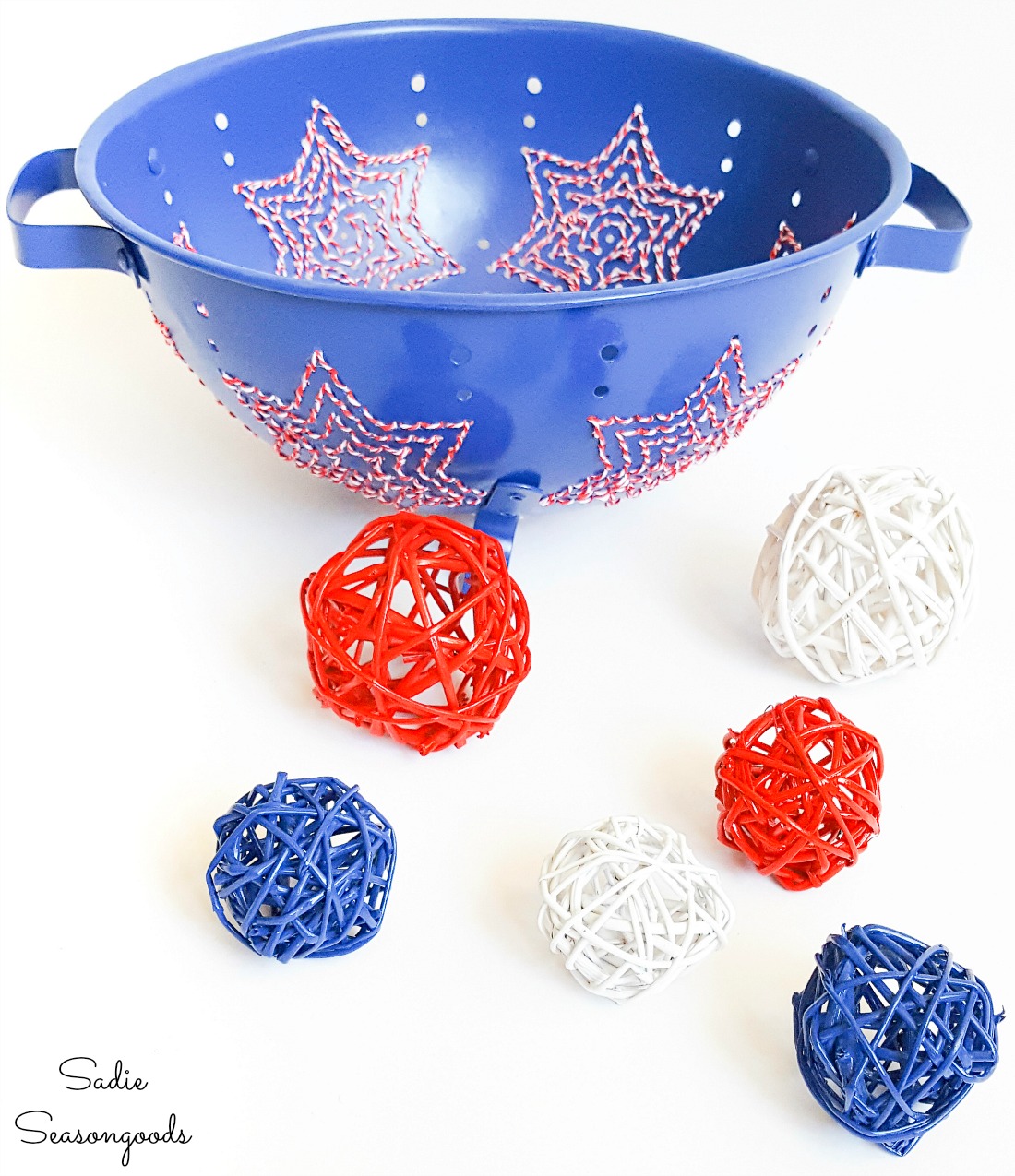 Filling the vintage colander wasn't enough, though.
It still needed something else. Something to add height and really pack a patriotic punch.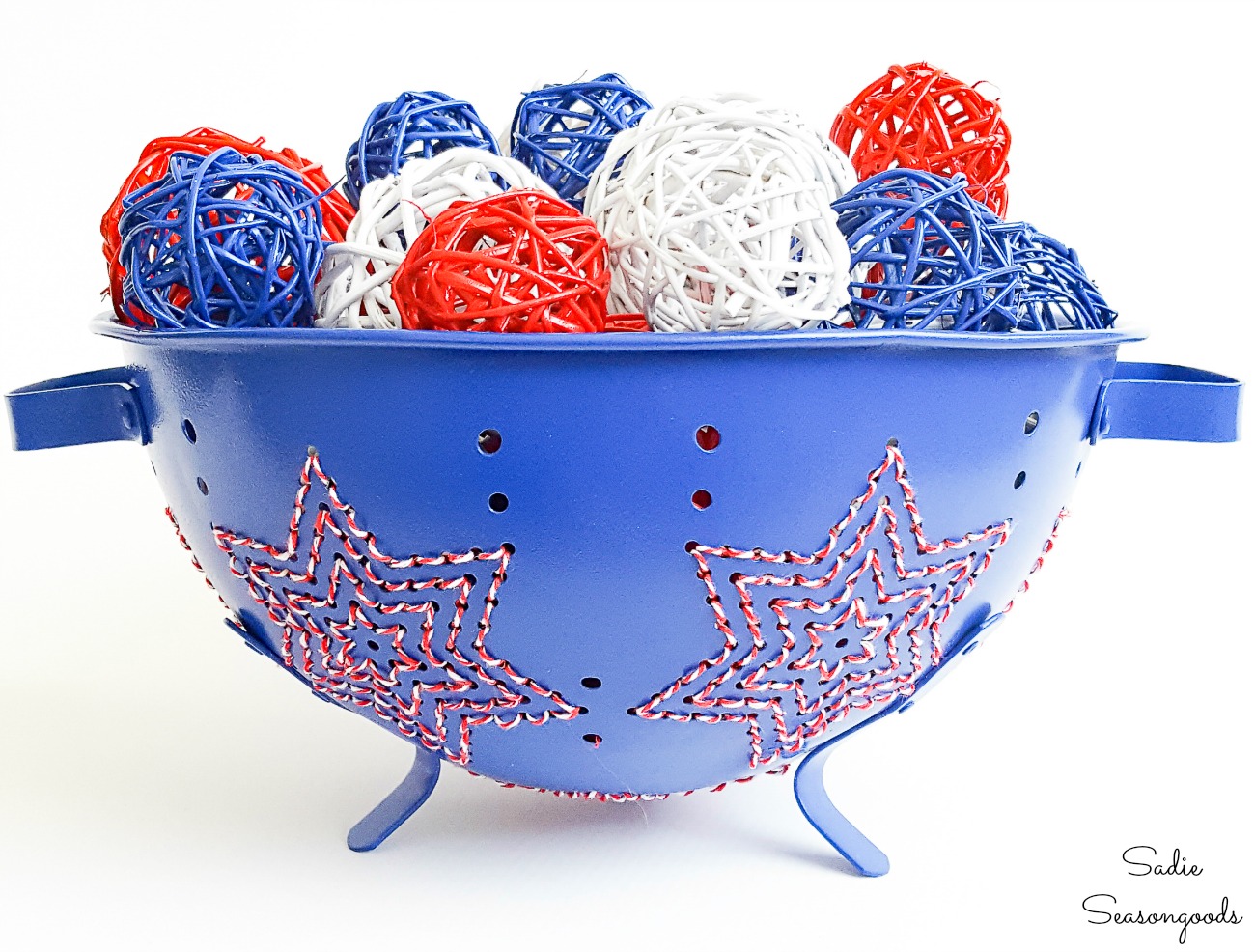 FLAGS! It needed flags.
And some table flags (vintage or new) would be the perfect addition to my patriotic centerpiece in a vintage colander.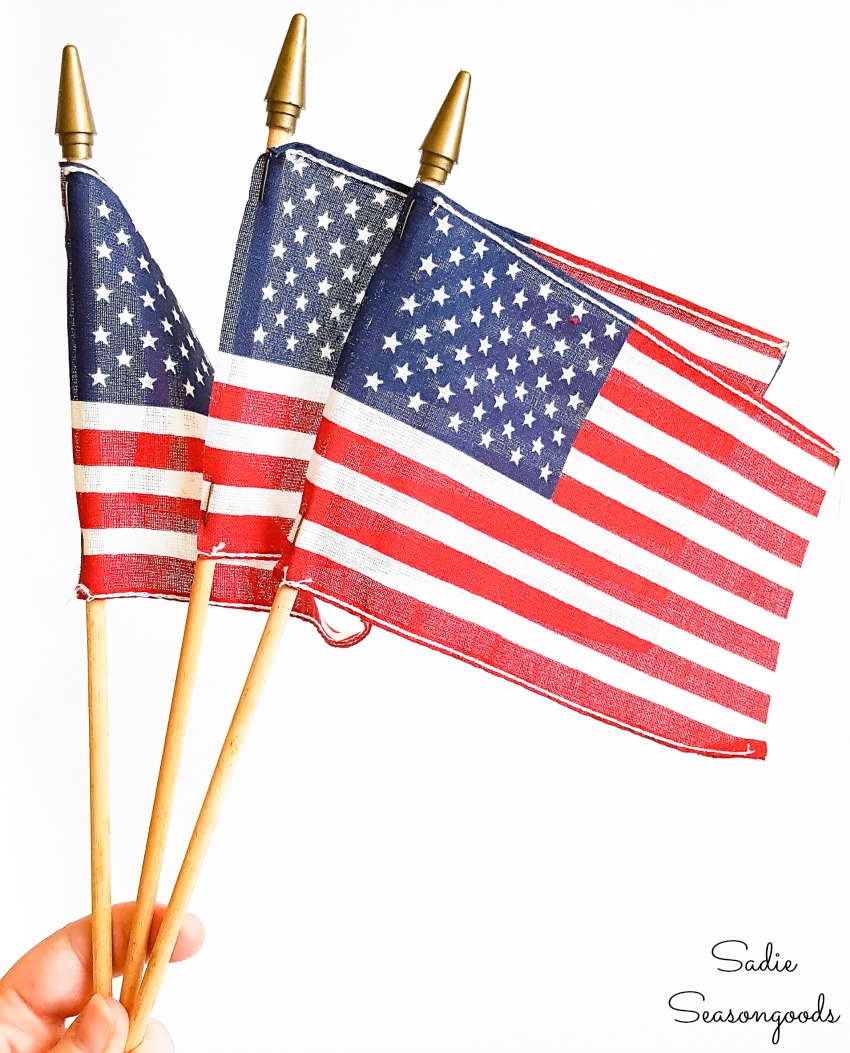 I had actually purchased these (from Etsy) for a now-defunct project that never came to fruition.
Lastly, I nestled the table flags in the collection of rattan balls, making sure they were secure and wouldn't fall over.
Ready to see how my patriotic centerpiece turned out?
Star Embroidery on a Vintage Colander as a Patriotic Centerpiece
Ta-da! Everything came together perfectly.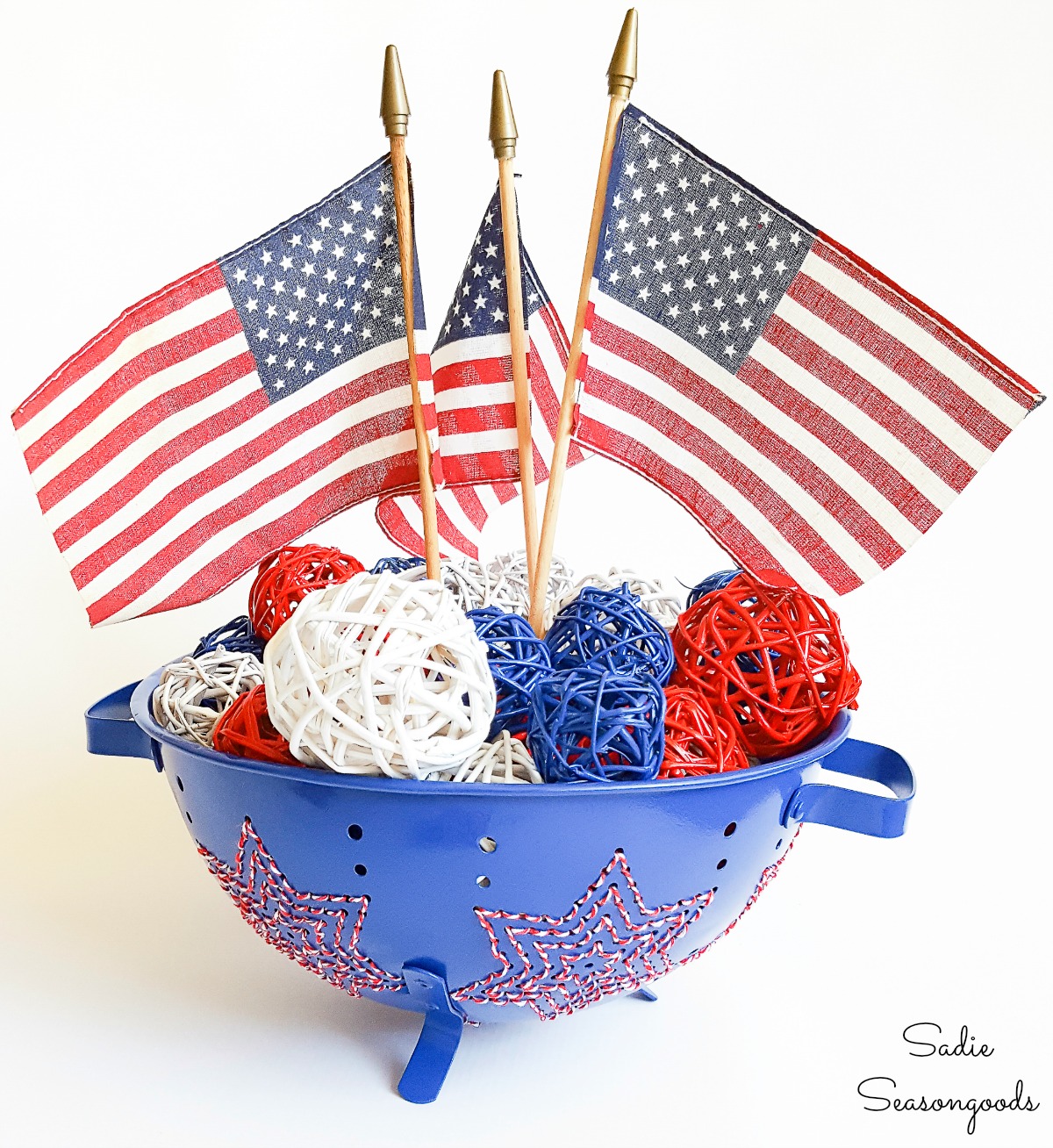 It's kind of amazing to think about what the colander looked like before. And, you see these at just about every antiques shop around!
Plus, wWhile this one would have continued to work just fine as a colander, I really LOVE it as a patriotic centerpiece.
And if you enjoyed this upcycling idea for Independence Day decor, then you'll love this patriotic wreath I made with thrift store neckties in red, white, and blue!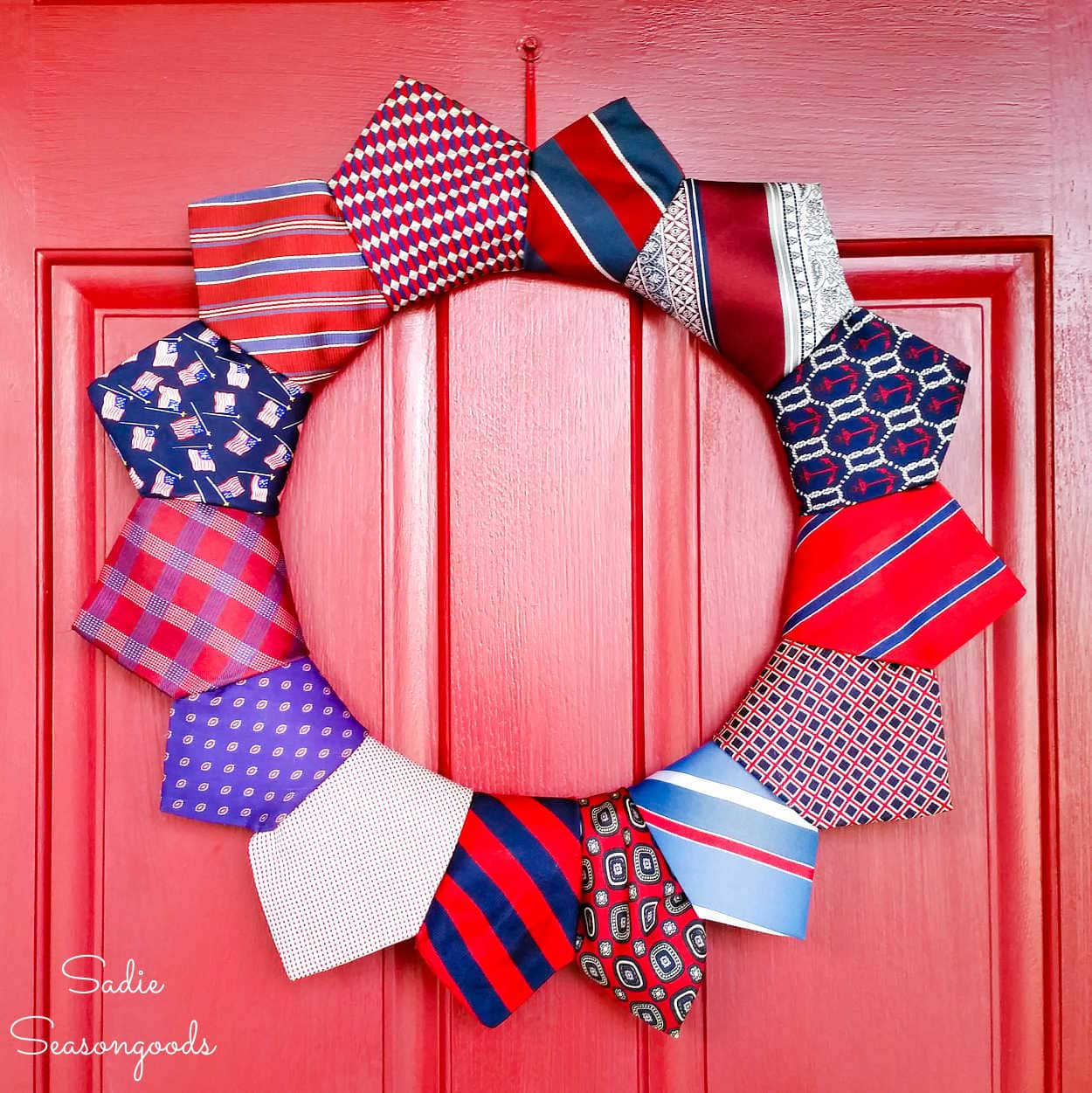 And check out how I created this oversized American flag with junk I found on the side of the road!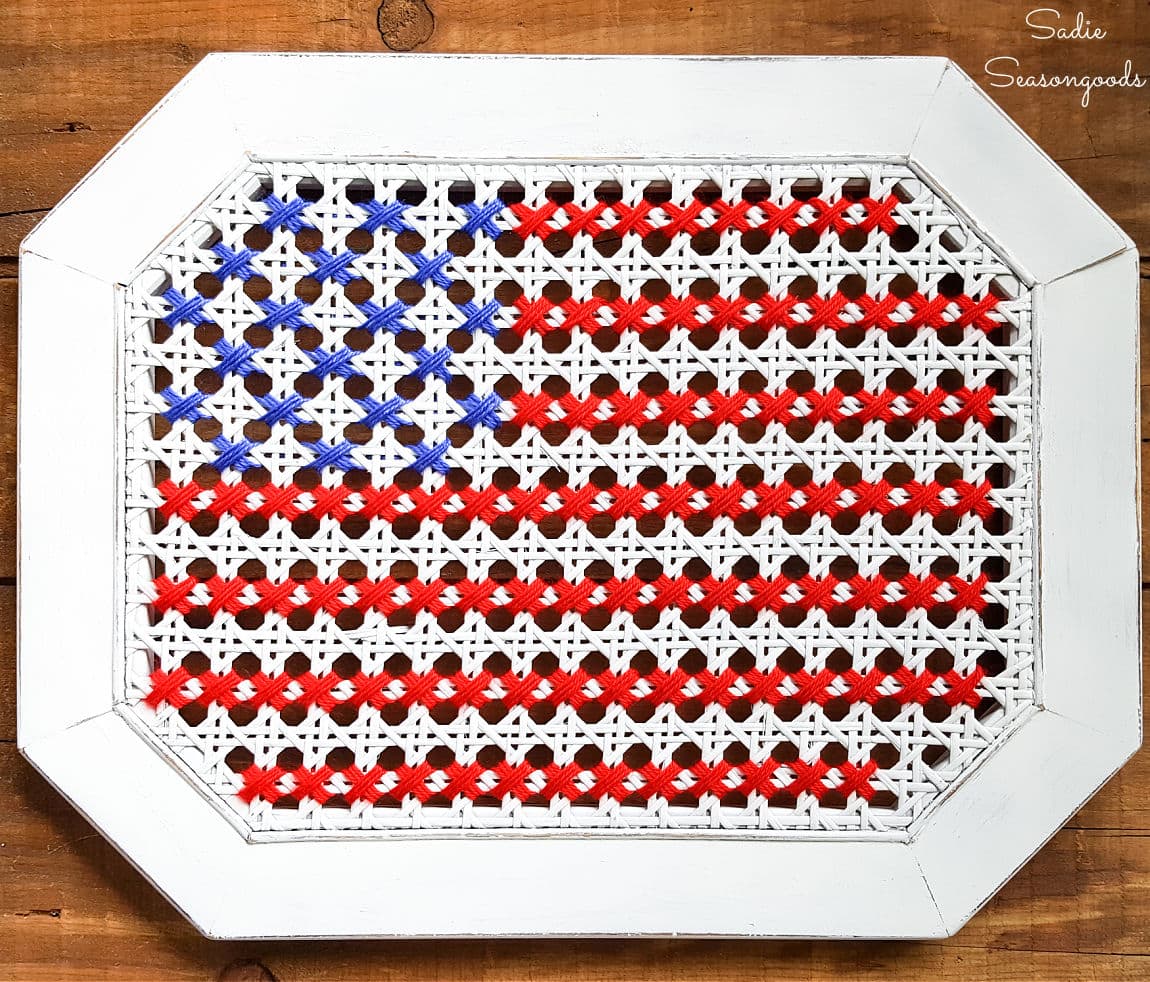 Craft on!
S
Join me on Social Media:

PIN ME!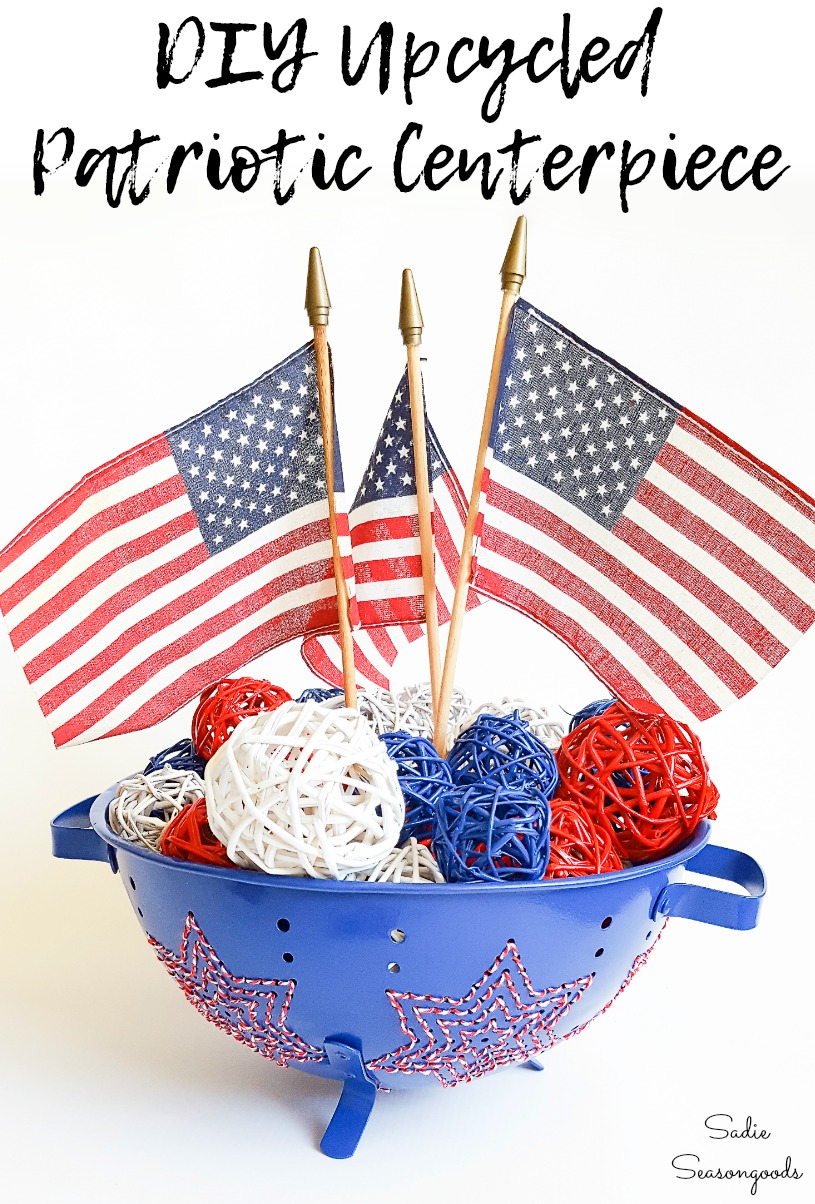 Sarah Ramberg is the owner of Sadie Seasongoods, a website that celebrates all things secondhand. From upcycling ideas and thrifted decor to vintage-centric travel itineraries, Sadie Seasongoods is a one-stop shop for anyone who loves thrifting and approachable repurposing ideas. Sarah is also the author of "Crafting with Flannel" and has been featured in numerous media outlets and magazines.