This, my friends, is an absolute first for me- truly a case of trash to treasure – or, as I like to say: "Junkernecking"! There we were…just getting started on a Saturday road trip- the sun was rising, the dew was fresh, and we were in search of treasures and fun and adventure. As we merged onto the road, I spied a broken table / cane furniture on the side of the road.
At best guess, someone had taken the ramp too quickly…or had to brake/accelerate unexpectedly, and some of their furniture must have toppled out the back. Rain had soaked the upholstered piece, but all I could look at was the broken table.
Despite broken legs and a missing top, the cane webbing was in perfect condition. So, like good citizens, we loaded up some of the litter, with hopes of a project that was trash to treasure! This post contains affiliate links for your crafting convenience.
*****
*****
Trash to Treasure from a Broken Table
The next day, I dismantled the cane webbing from the rest of the broken table. But I quickly realized that the tightness of the cane was warping the frame without the legs attached.
It's not easily visible in the photo but it was starting to twist and warp before my eyes.
It very clearly needed to be stabilized. So, I turned it over and screwed in mending plates at each joint.
I knew from the start (even standing on the side of the highway) I was going to turn it into an oversized cross-stitch…though the design was a big question mark. But with Memorial Day and July 4th on my mind, AND the rectangular shape staring back at me, an idea began to form.
After cleaning it up, I grabbed some spray chalk paint in white and gave the entire thing a fresh makeover. Because it was already scratched up from being on the roadside, I didn't sand it first.
Transforming a Broken Table with Cane Webbing into American Flag Wall Art
After the paint dried, I distressed it along the edges to give it some contrast and buffed it down with wax.
Then came the scary part- designing my own cross stitch pattern. The last time I did oversized cross stitch, I teamed up with Flamingo Toes! But this time, I was going at it solo.
I pulled out some graph paper, counted out the grid on the cane furniture / broken table, and replicated on the paper. Then, I used colored pencils to create an American flag pattern!
I already had red and blue yarn, so I went to town on the cane webbing to bring my American flag design to life. I used a little painter's tape on the end of my yarn to make it easier to insert the yarn through the pressed cane.
First, I worked on the red stripes…
Because I used "normal" yarn and not thick or chunky yarn, I did a triple cross stitch across the cane webbing. Yes, that slowed down the process, but to me, it was worth it!
Ready to see how the trash to treasure / American flag wall art from a broken table turned out?
Trash to Treasure – American Flag Wall Art on Cane Webbing
My cross stitch pattern worked like a charm and before I knew it, my American flag design was complete!
Isn't that so cool? Hard to believe it started out as a broken table on the side of the highway – talk about being at the right place at the right time. Now I have rustic wall decor that I can use for the patriotic summer holidays or really, all year long.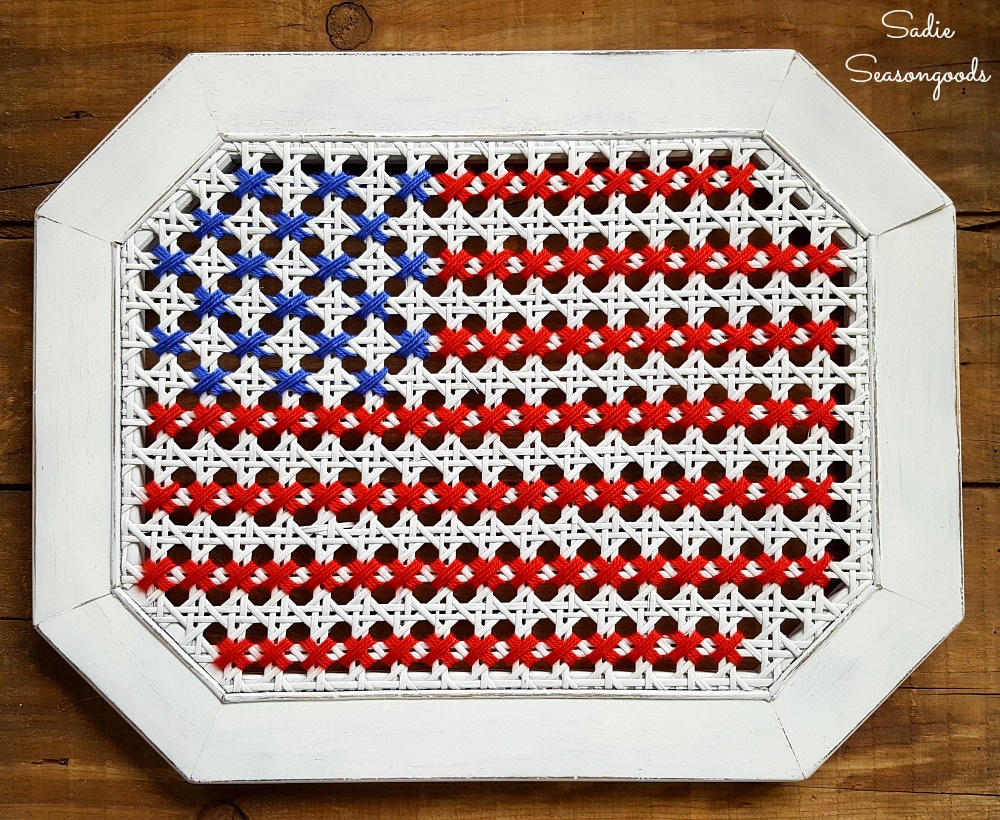 And if you've ever wondered where the word "junkernecking" came from, I created it as a meme to share on my Facebook page!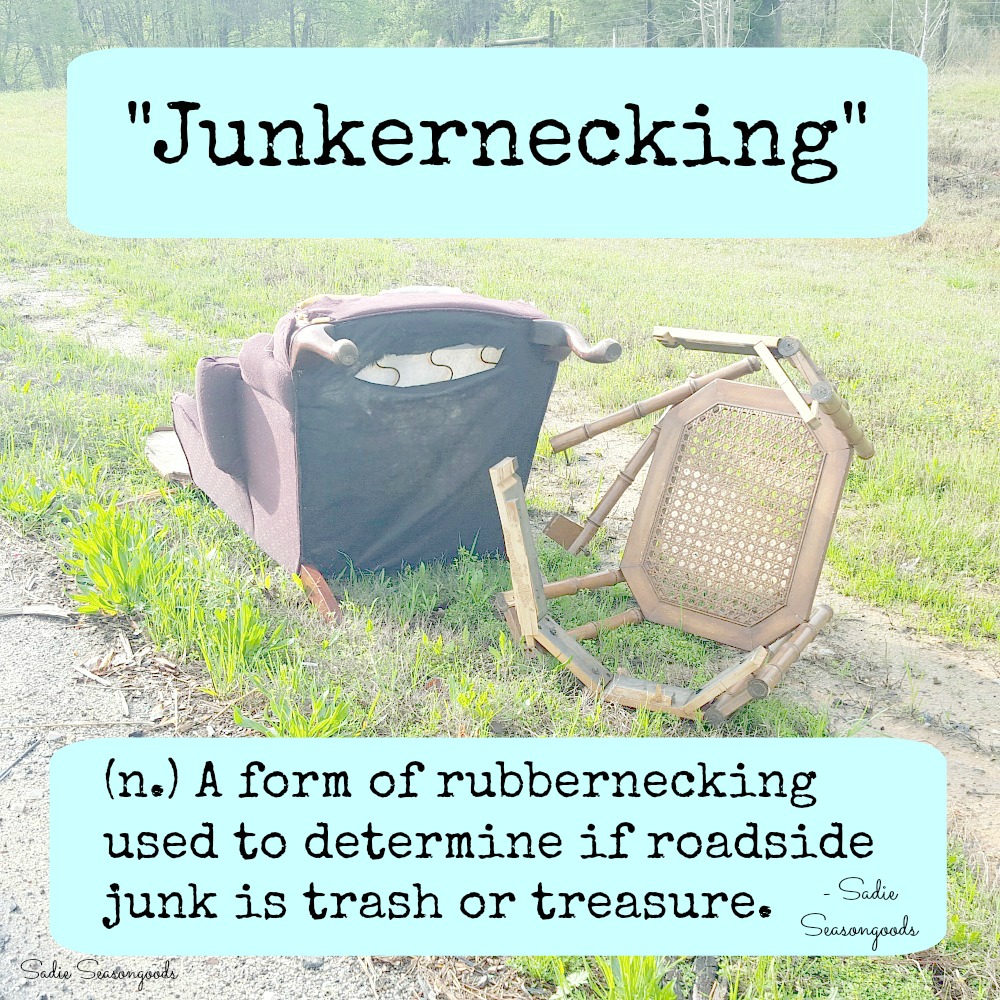 If you enjoyed this upcycling idea for rustic wall decor, then you'll love my take on vintage metal signs using a cabinet door!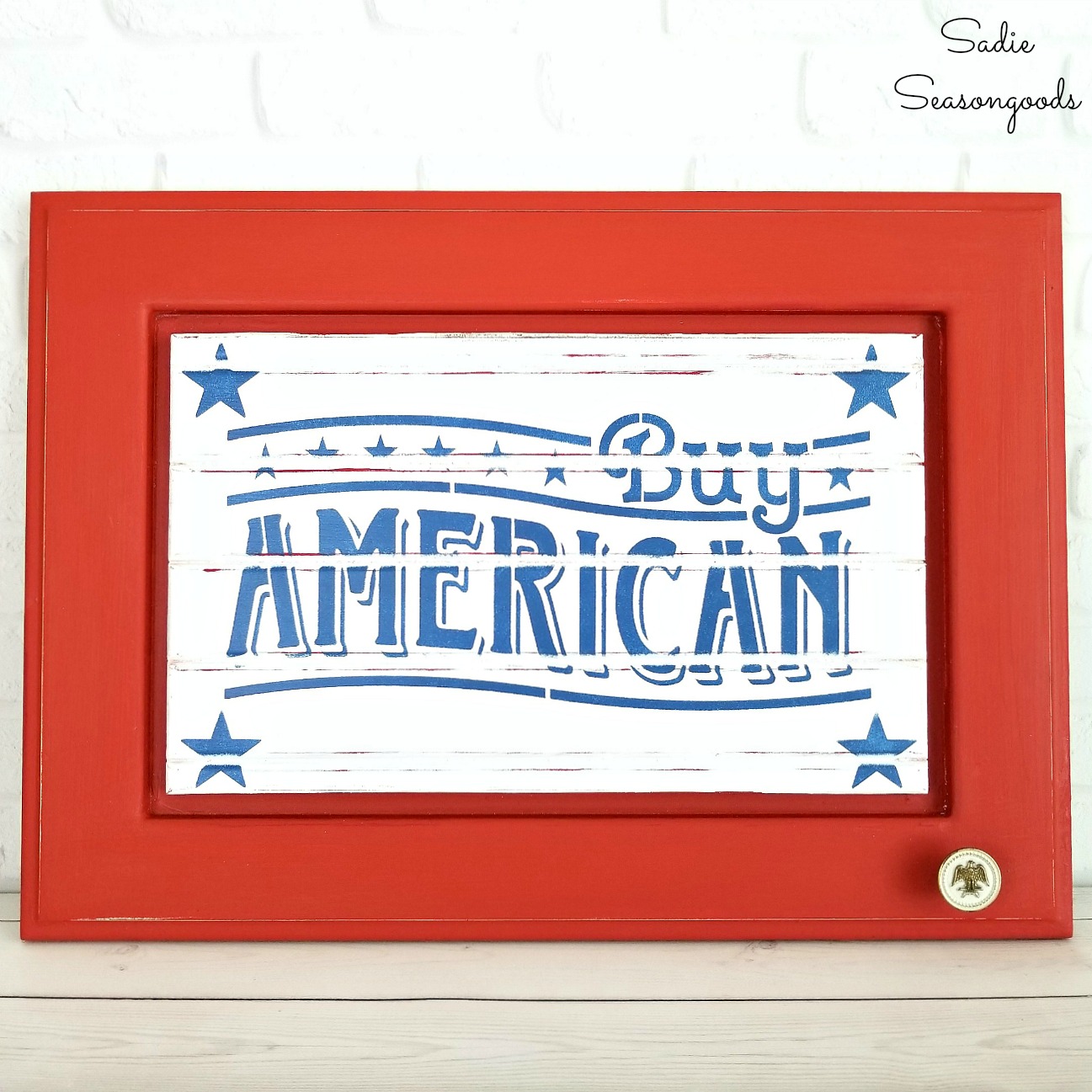 Craft on!
S
Want to be notified when I publish my next upcycling project tutorial?
Subscribe to Blog via Email
Join me on Social Media: