I love to upcycle items that are SUPER common at thrift stores, and picture frames fall into that category. There are endless options and the price point is (usually) ideal. This time around, I decided to create a DIY herb drying rack that is perfect to use with your fresh garden herbs!
Like I said, picture frames are a thrift store staple, and the only requirement for this project is that I picked a wood frame.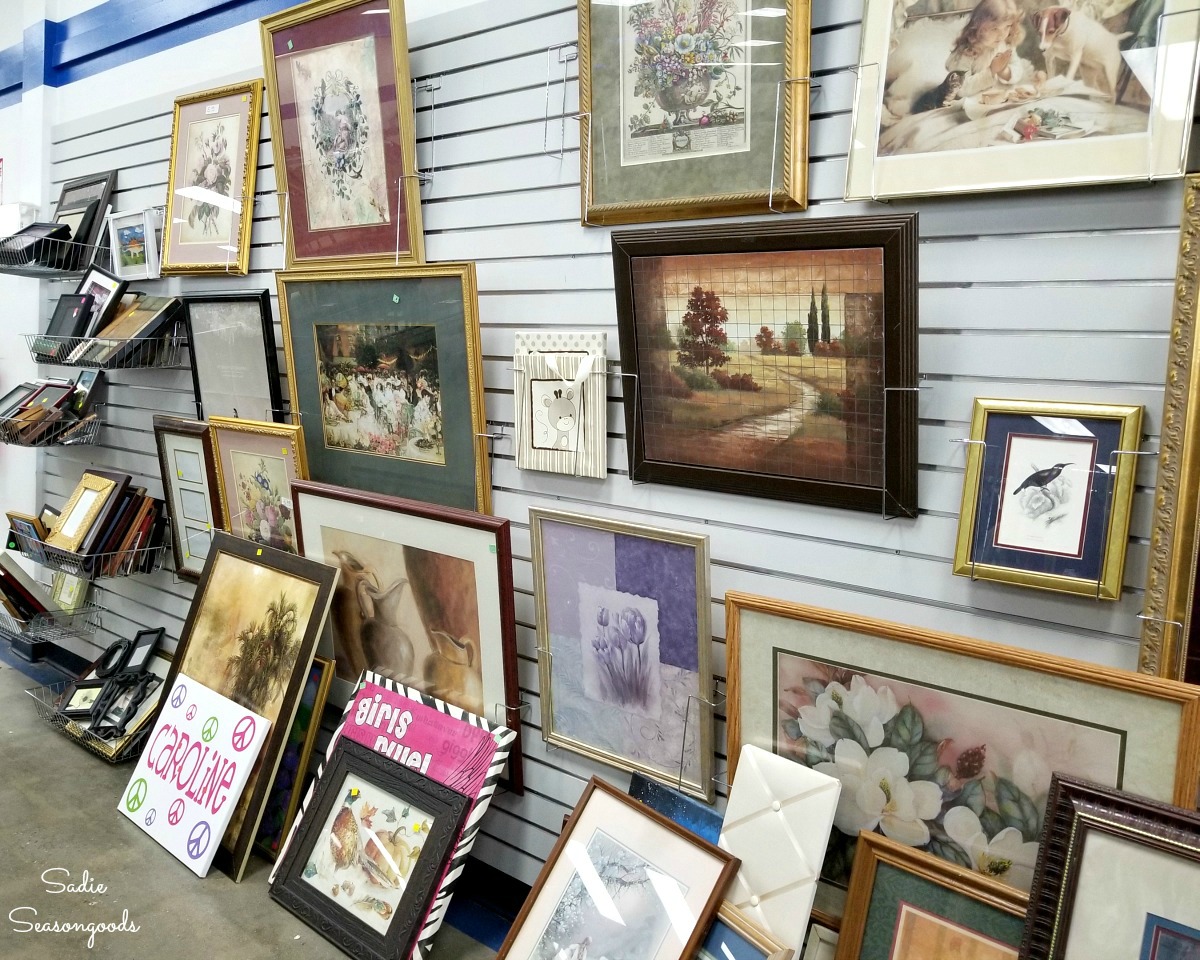 I bought one from a local thrift store that was 8"x 10" in size.
But I can honestly say that size doesn't matter in this project – just the fact that it's a wood frame matters!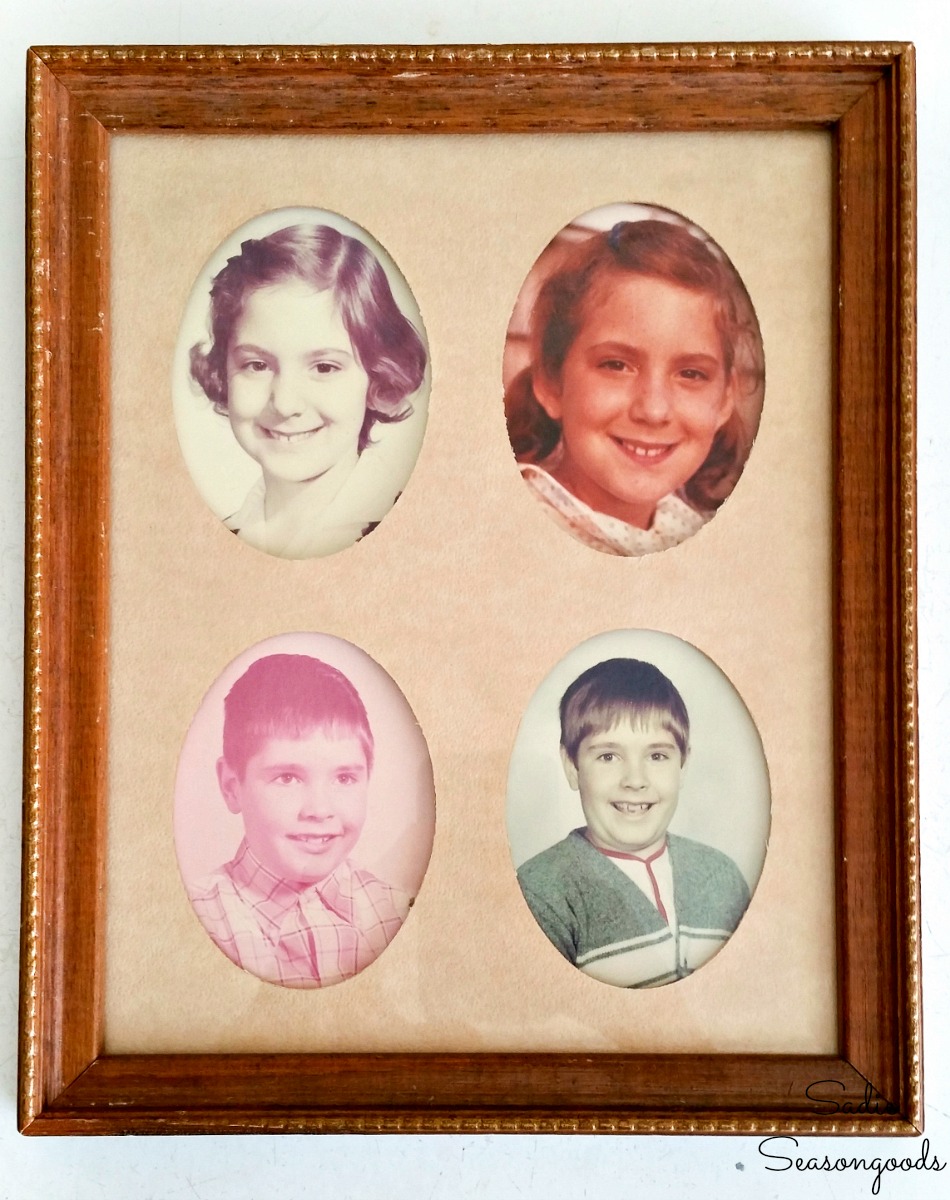 Once I had my wood frame picked out, I then gathered the other supplies I would need.
This post contains affiliate links for your crafting convenience. As an Amazon Affiliate, I earn from qualifying purchases. All blue, bold, and underlined text is a clickable link, either to a product or to a related post.
Building a DIY Herb Drying Rack
In addition to the wooden picture frame from the thrift store, I also assembled the following supplies:
Window screen

Scissors

Hardware (eye screws, S-hooks, chain)

Spray paint (optional- but good if you're leaving this outside)
After removing the cardboard backing, photos, and glass from the frame, I painted it- of course!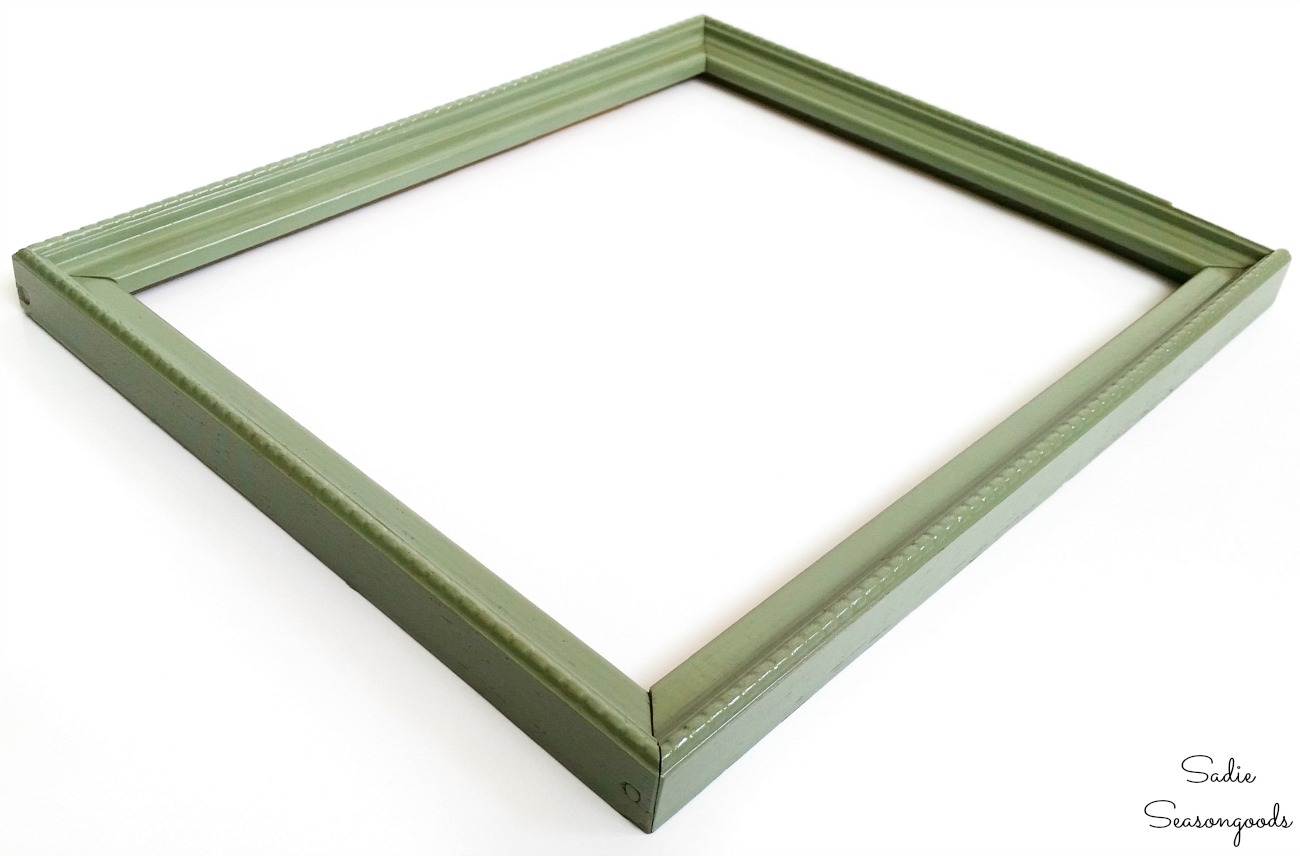 Using an indoor/outdoor spray paint and a coat of sealer was important since I live in the humid south and this project will be living on our back porch.
Then, I laid some inexpensive window screen across the back and cut a rectangle a good ¾" (or so) longer/wider than the frame.
I had extra leftover from this project, but you can find it on the cheap at home improvement stores.
Next, I folded over the edges, pulled it taut, and staple-gunned the screen to the back of the wood frame.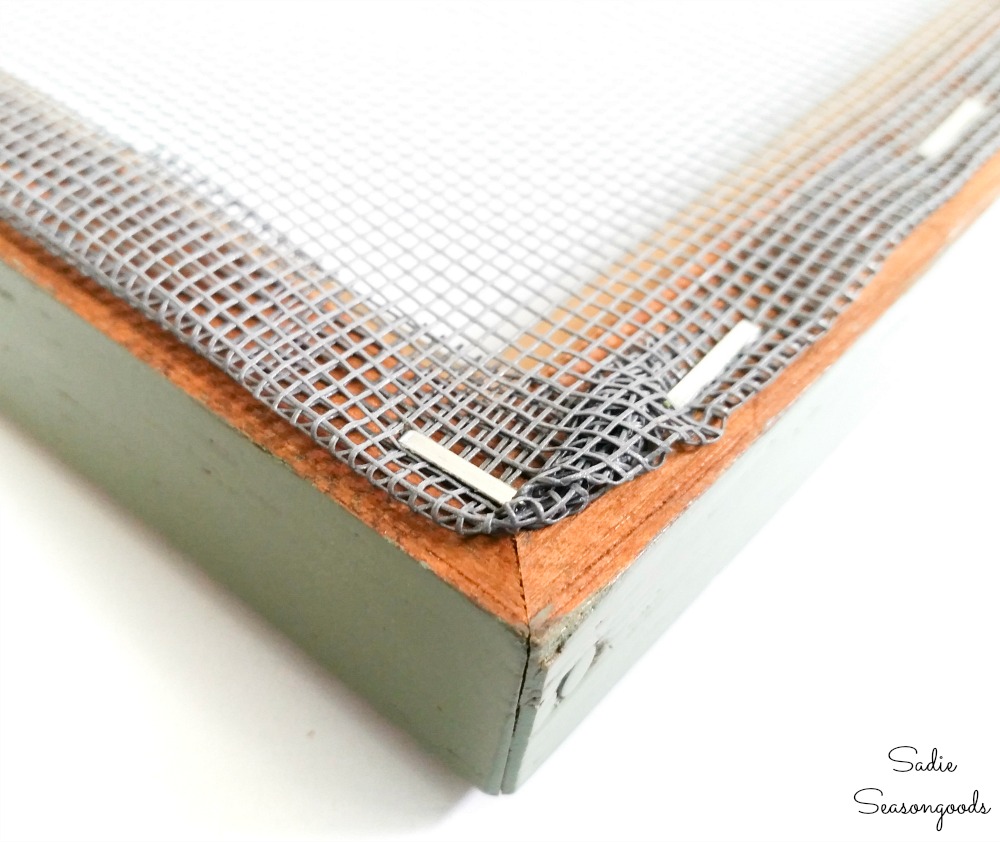 The screen mesh will allow air flow on either side of your fresh herbs which is crucial for the dehydrating process!
Next, I screwed in the eye screws at each corner of my wooden picture frame, angling them inward.
And yes, I wished I had had smaller, more delicate eyes for this frame…but y'all know I try and use supplies I already have on hand!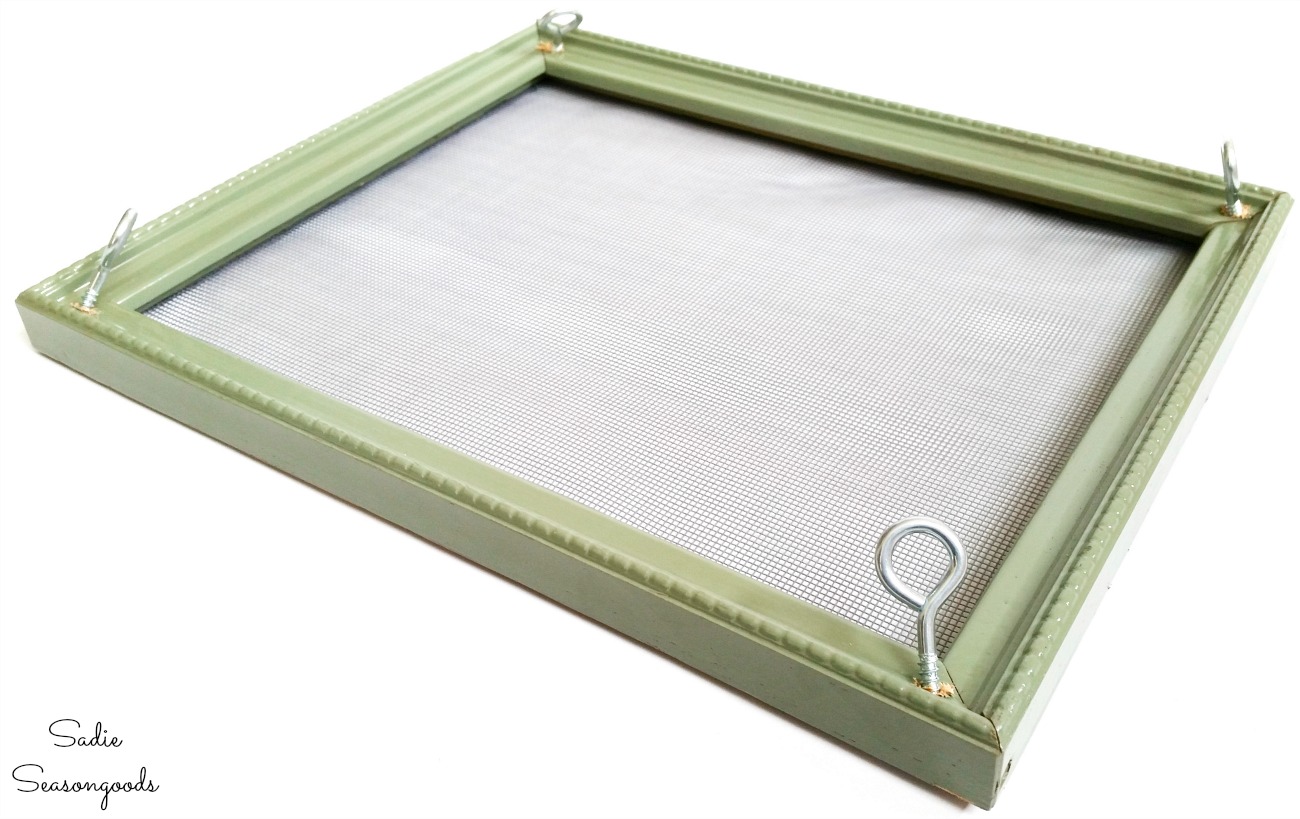 I fitted each eye screw with an S-hook and two shorter lengths of chain, overlapping crosswise from corner to corner, like a large "X".
Then, I used a larger S-hook to gather the "X" chains in the middle, hooking them a longer length on that same S-hook for hanging from the porch ceiling beams. Now I officially had a DIY herb drying rack!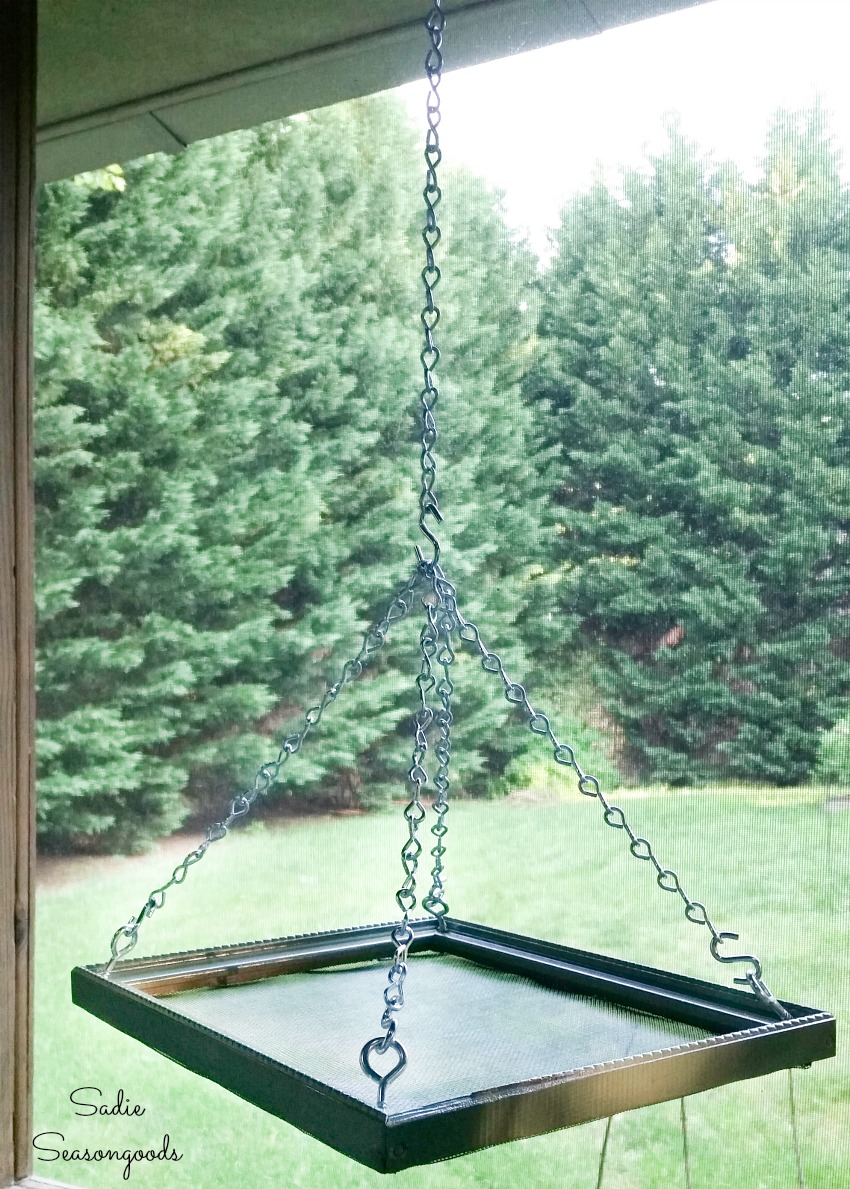 DIY Herb Drying Rack from a Repurposed Picture Frame
It worked like a charm and I couldn't wait to begin dehydrating herbs from my garden.
We have an out-of-control rosemary busy and I've always wondered about drying some of it. And now I can actually do it!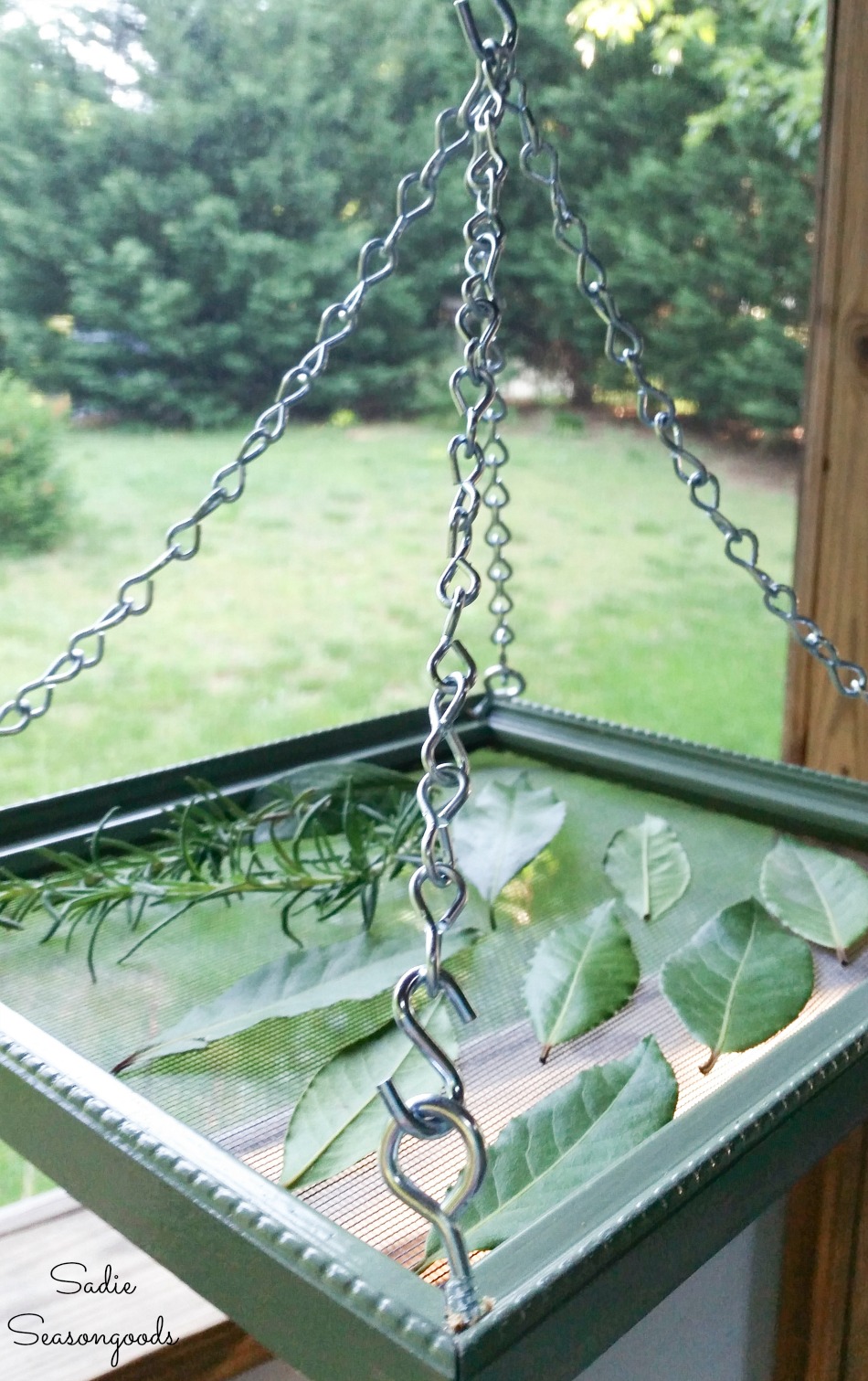 I also found some fresh bay leaves at the store and decided to dry those, too! I love that I won't be wasting any of the fresh herb I get at the grocery store now.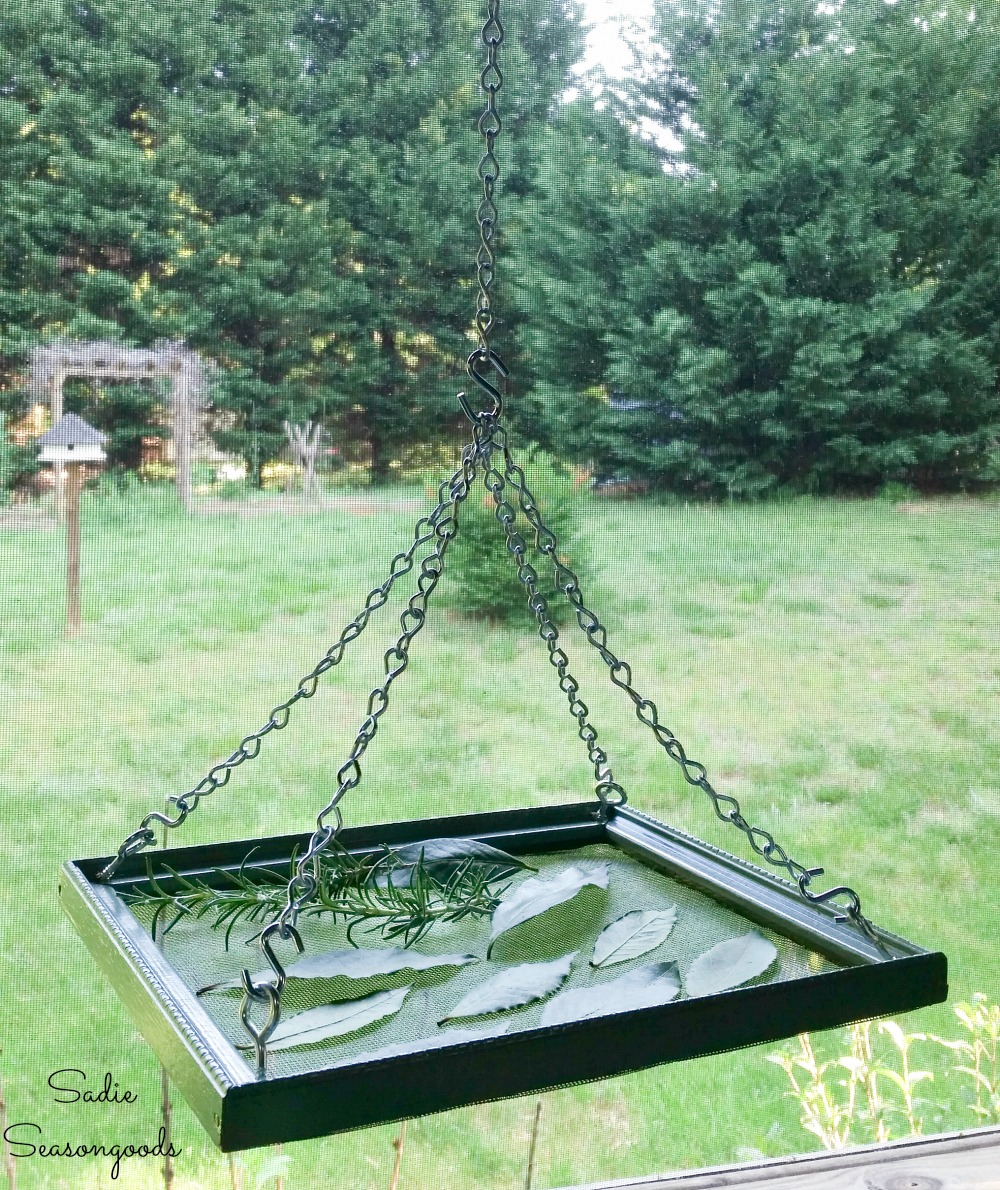 How fun and easy is that? A DIY herb drying rack with a repurposed picture frame!
If you enjoyed this upcycling idea for drying herbs, then you may also enjoy this upcycling idea for growing herb plants from seed!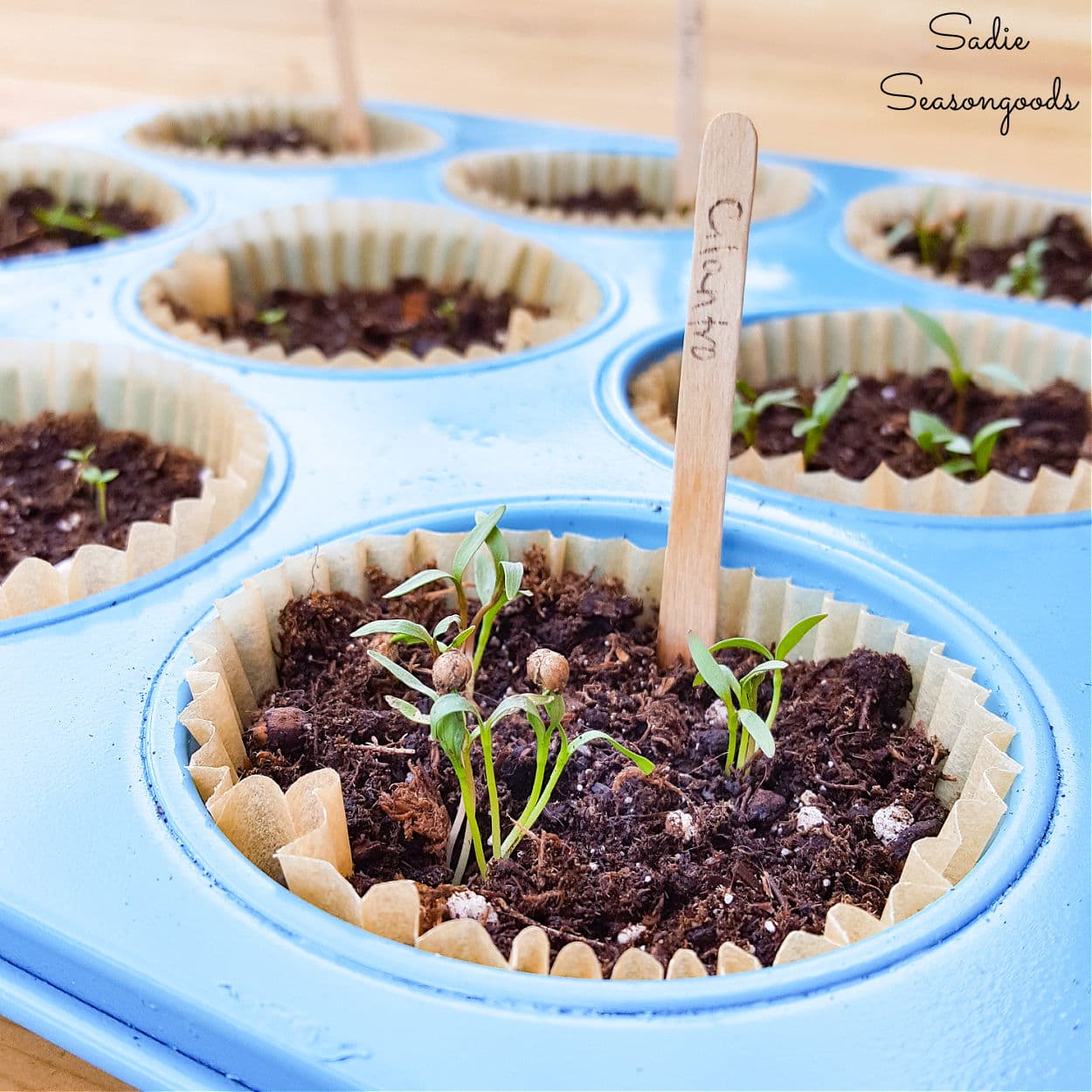 Want another upcycling idea for your summer herbs? This hanging herb garden made with mini lampshades is a PERFECT addition to your porch!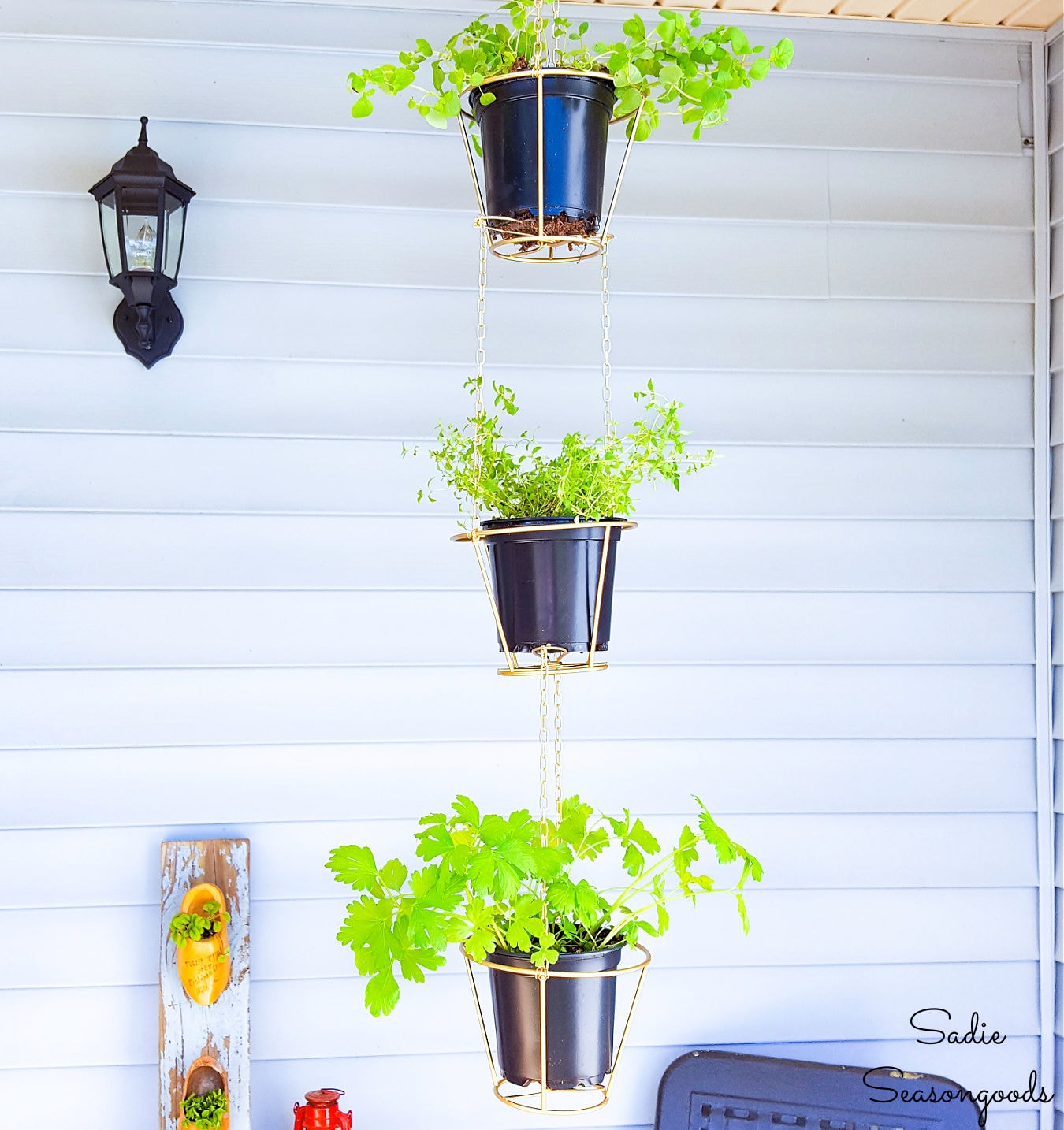 Craft on!
S
Want to be notified when I publish my next upcycling project tutorial?
Subscribe to Blog via Email
Join me on Social Media:
PIN ME!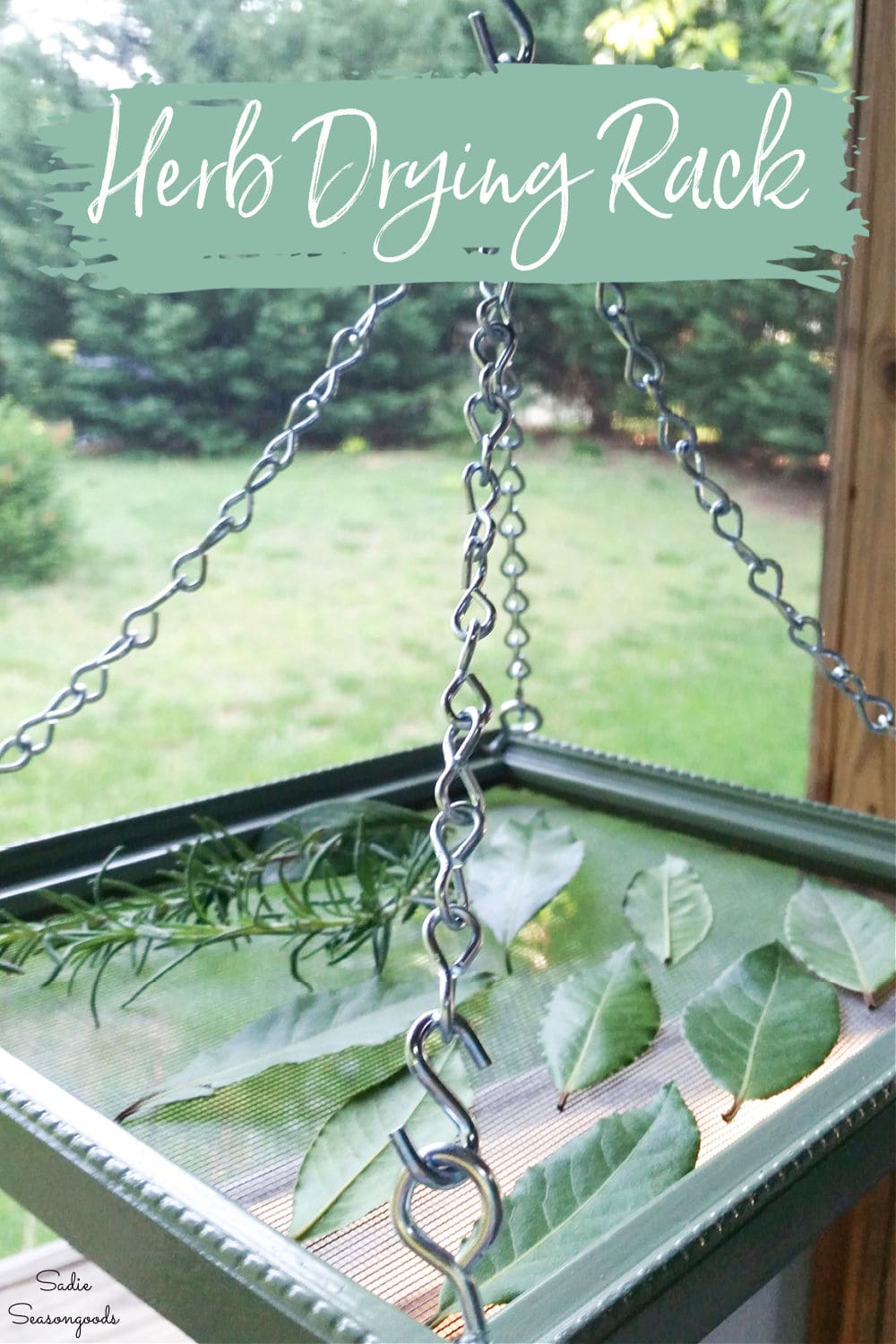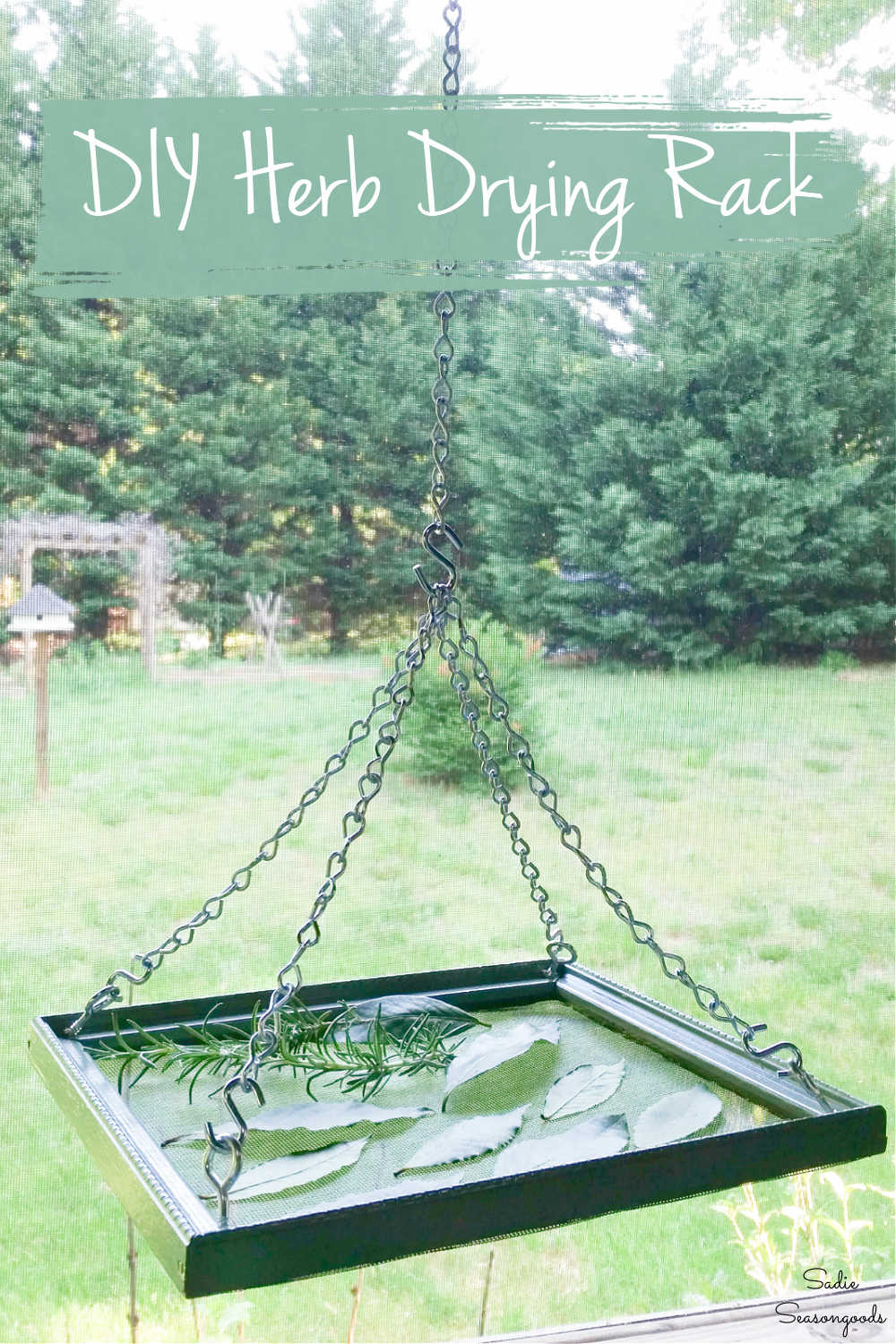 Sarah Ramberg is the owner of Sadie Seasongoods, a website that celebrates all things secondhand. From upcycling ideas and thrifted decor to vintage-centric travel itineraries, Sadie Seasongoods is a one-stop shop for anyone who loves thrifting and approachable repurposing ideas. Sarah is also the author of "Crafting with Flannel" and has been featured in numerous media outlets and magazines.