Now, I know what you're thinking: Sadie already created a sewing caddy once before. And you're right, I did. I still use it all the time, and the pins are safely tucked away from my cat, Cottonball. BUT, when I found this vintage jewelry box with a tapestry cushion lid at the thrift store, I knew right away it would could easily be upcycled into a sewing starter kit or sewing box.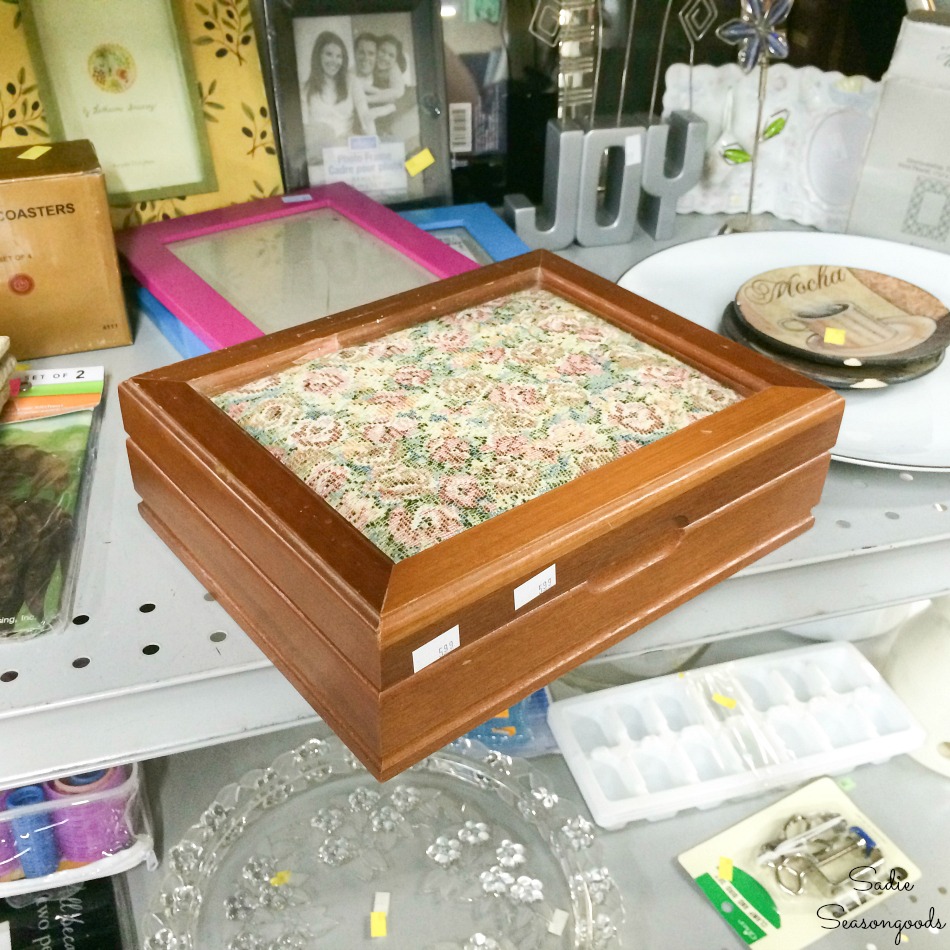 And to jog your memory, this is the sewing caddy I made from a vintage teapot.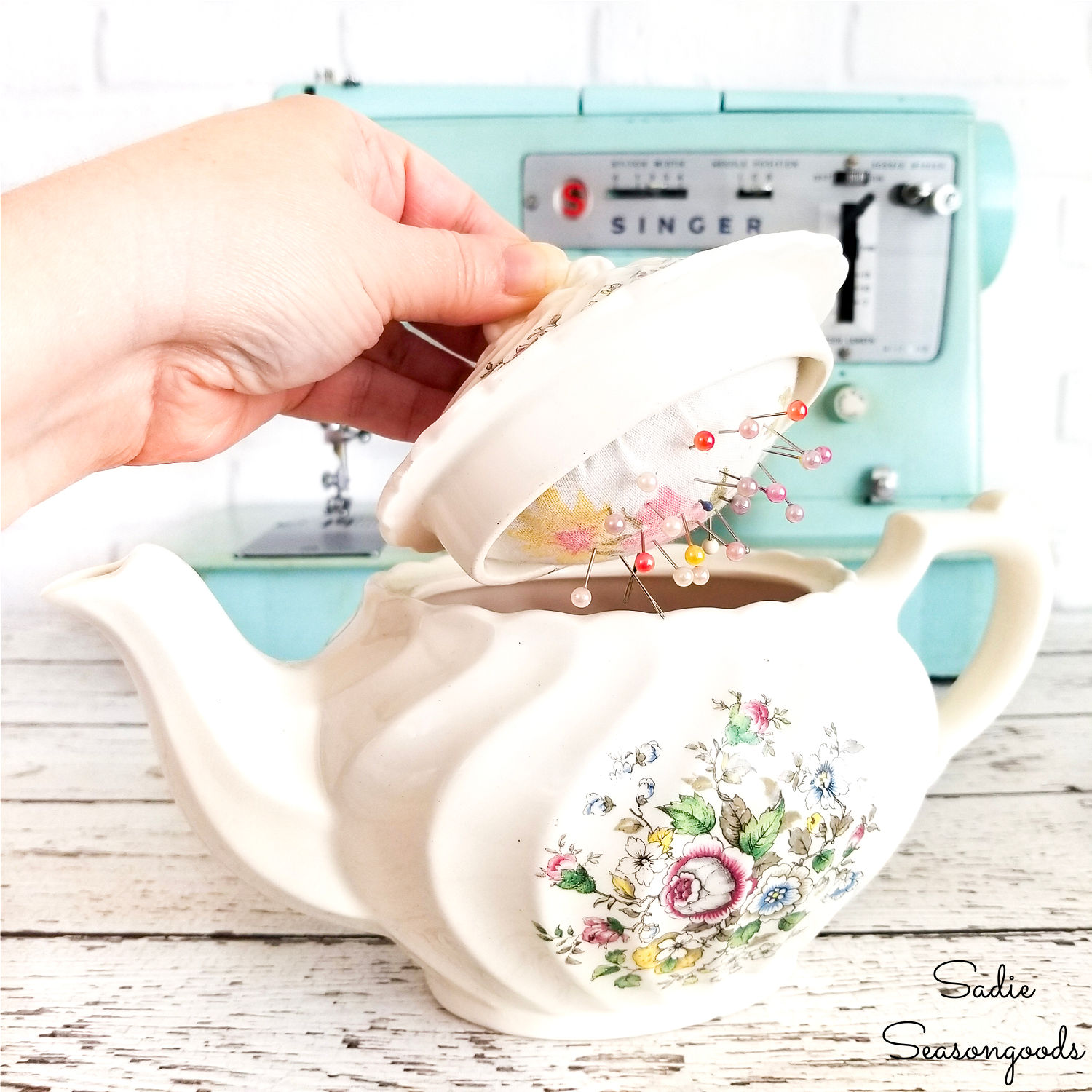 Truthfully, who couldn't use a little more storage for their sewing supplies and sewing notions? Plus, a sewing starter kit would be a delightful gift for a college student or young person moving out on their own.
All I really needed to do was give it a quick makeover, and make a few tweaks inside the box!
This post contains affiliate links for your crafting convenience. As an Amazon Affiliate, I earn from qualifying purchases. All blue, bold, and underlined text is a clickable link, either to a product or to a related post.
Upcycling a Vintage Jewelry Box with a Tapestry Cushion Lid
Sew…I mean, So…this jewelry box didn't need much to repurpose it into a sewing starter kit. But, first things first, I needed to clean out some of the dust and dirt from the velveteen interior.
Since I was already going to be using some painters tape for the exterior, I used some tape like a lint brush and dabbed out the grime.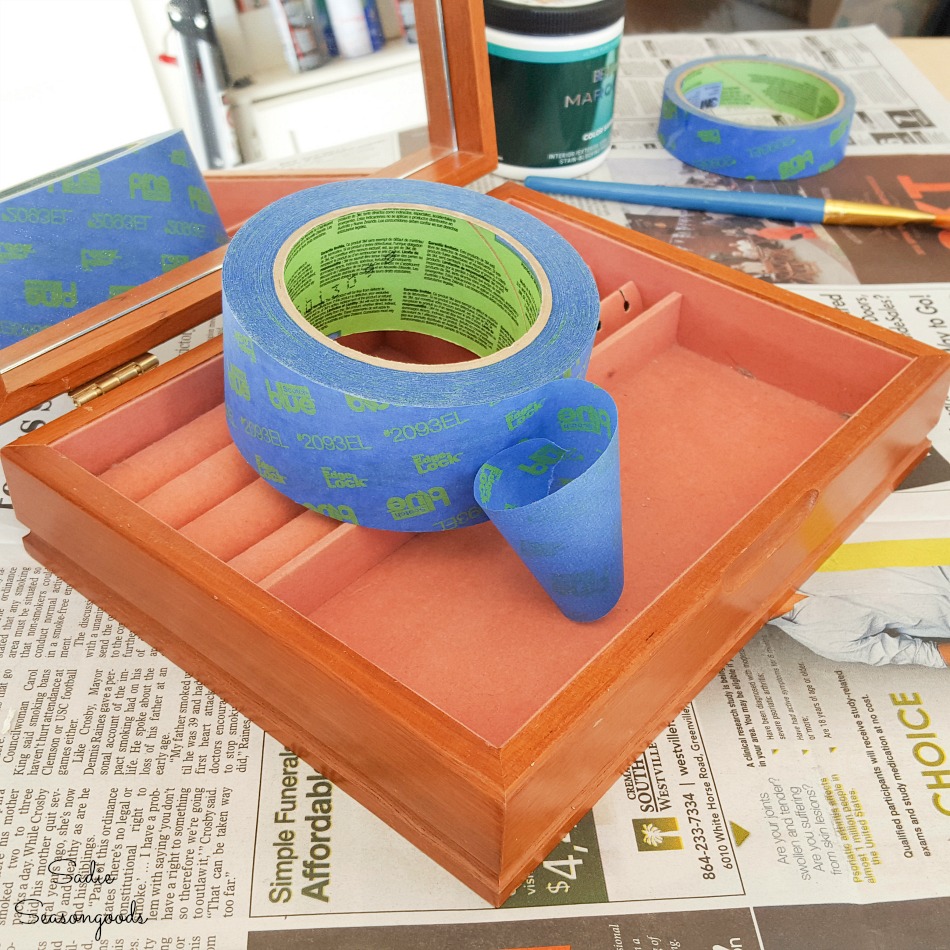 It worked like a charm! After I had cleaned out the velvet interior of the valet box, I taped along the edge between the wood and the upholstered top.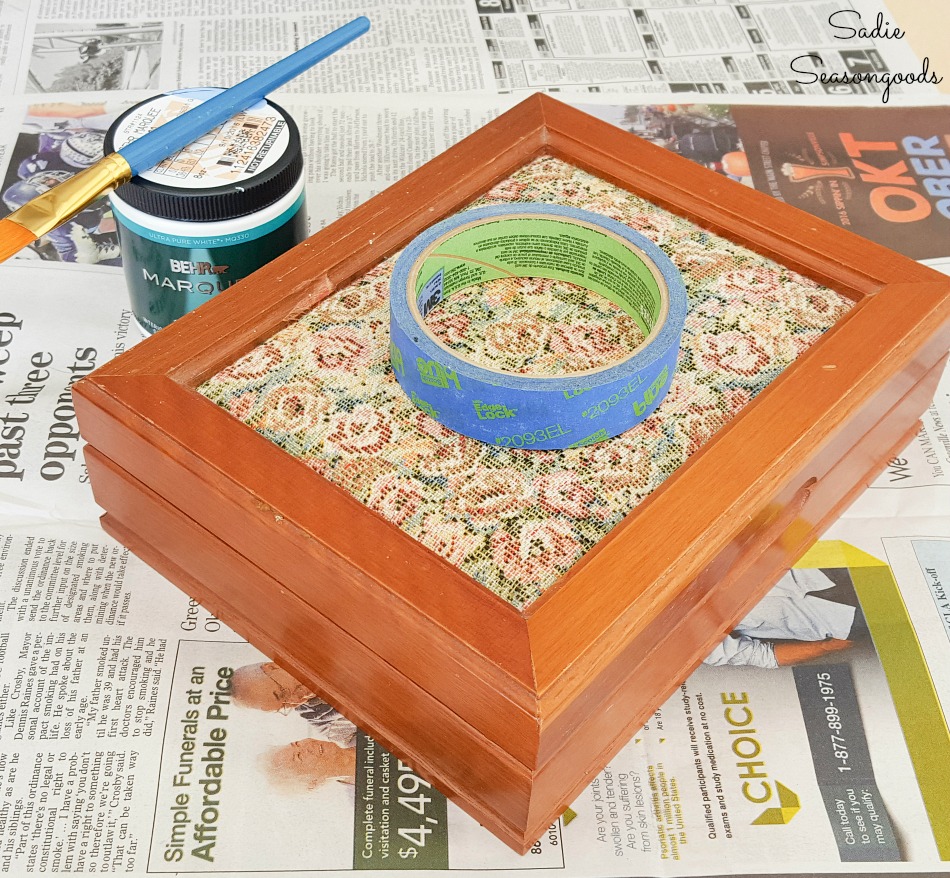 Why? So that I could paint it a pretty periwinkle blue.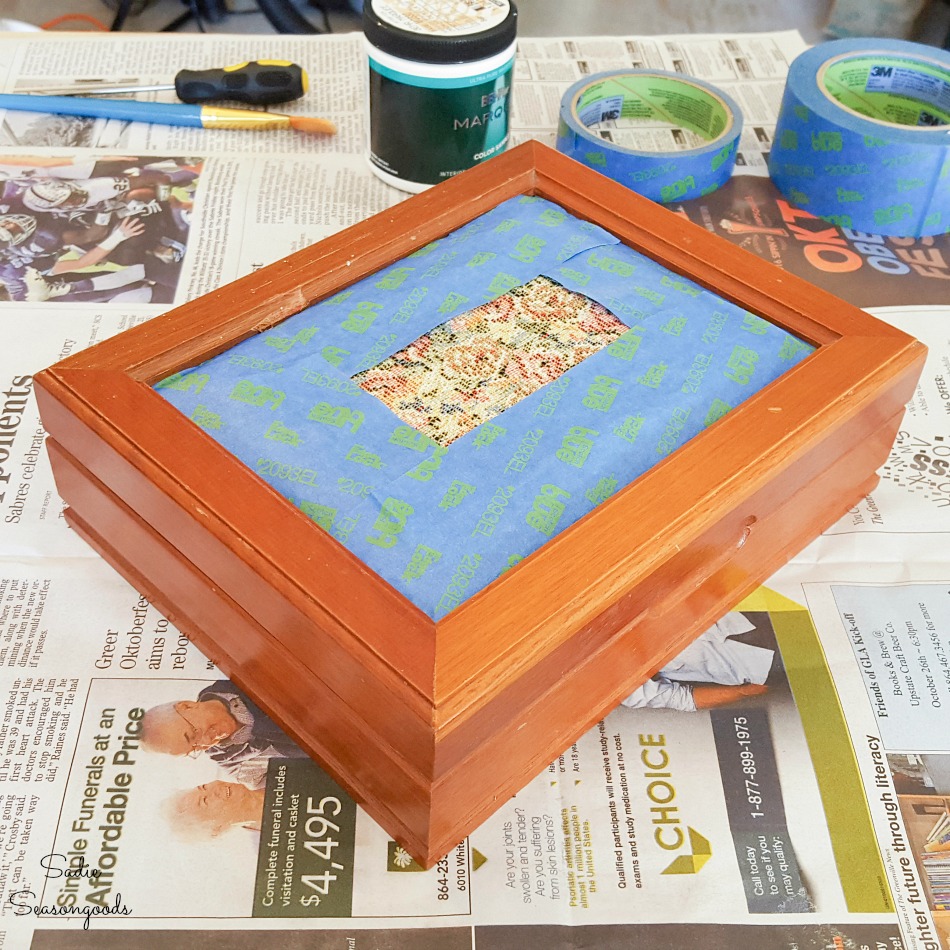 Once the painted had dried and I removed the tape, I was left with a fresh new jewelry box!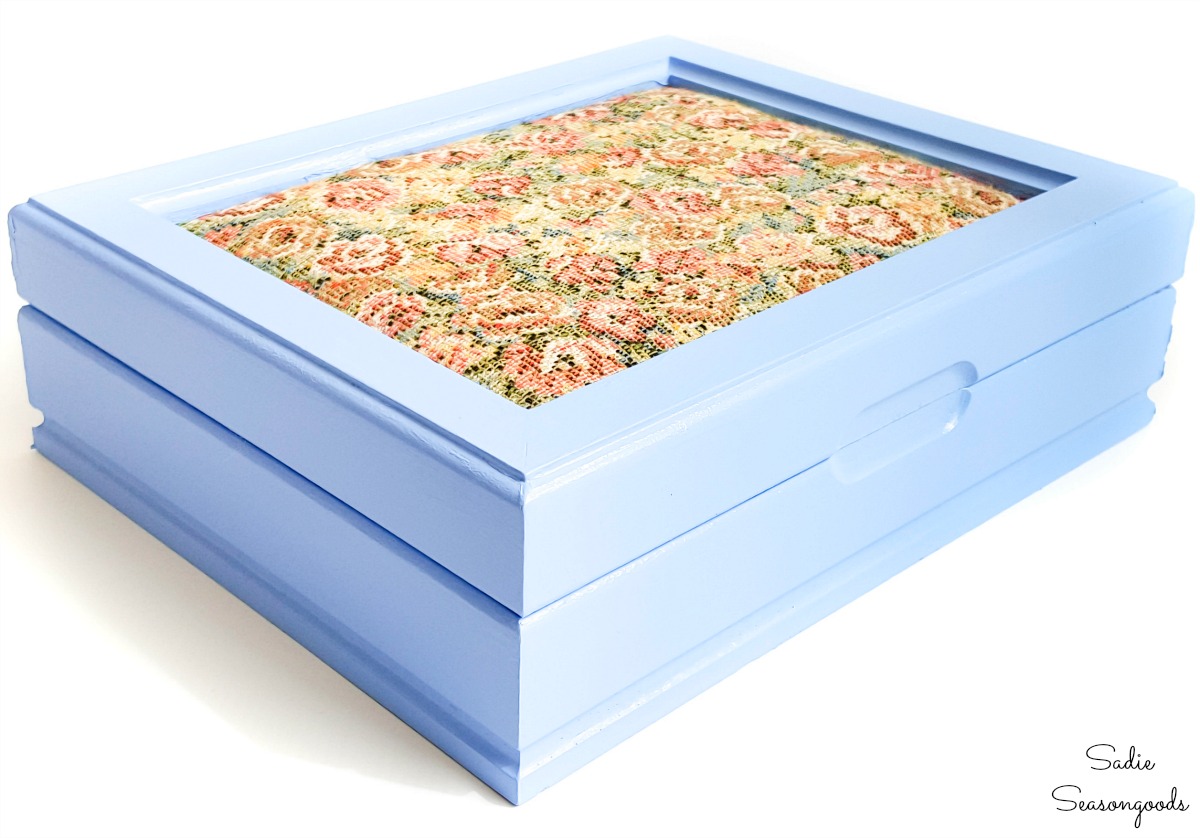 Now to REALLY put my plan for a sewing box or sewing starter kit into action!
A Sewing Starter Kit from a Jewelry Box
First, I did a little modification to the interior of the jewelry box.
With my antique pliers, I removed the foam ring holders.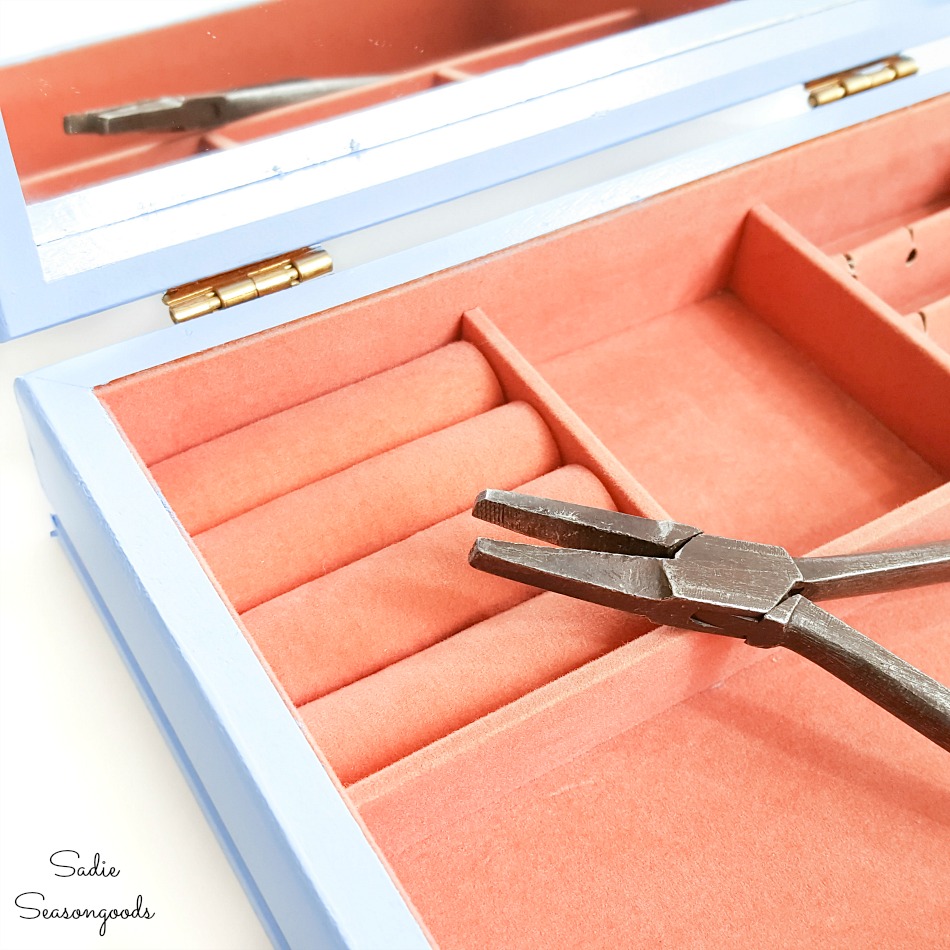 Why'd I do that?
So that the jewelry box could hold more supplies and notions; bobbins, to be more precise.
I mean, I'm upcycling it into a sewing kit, after all..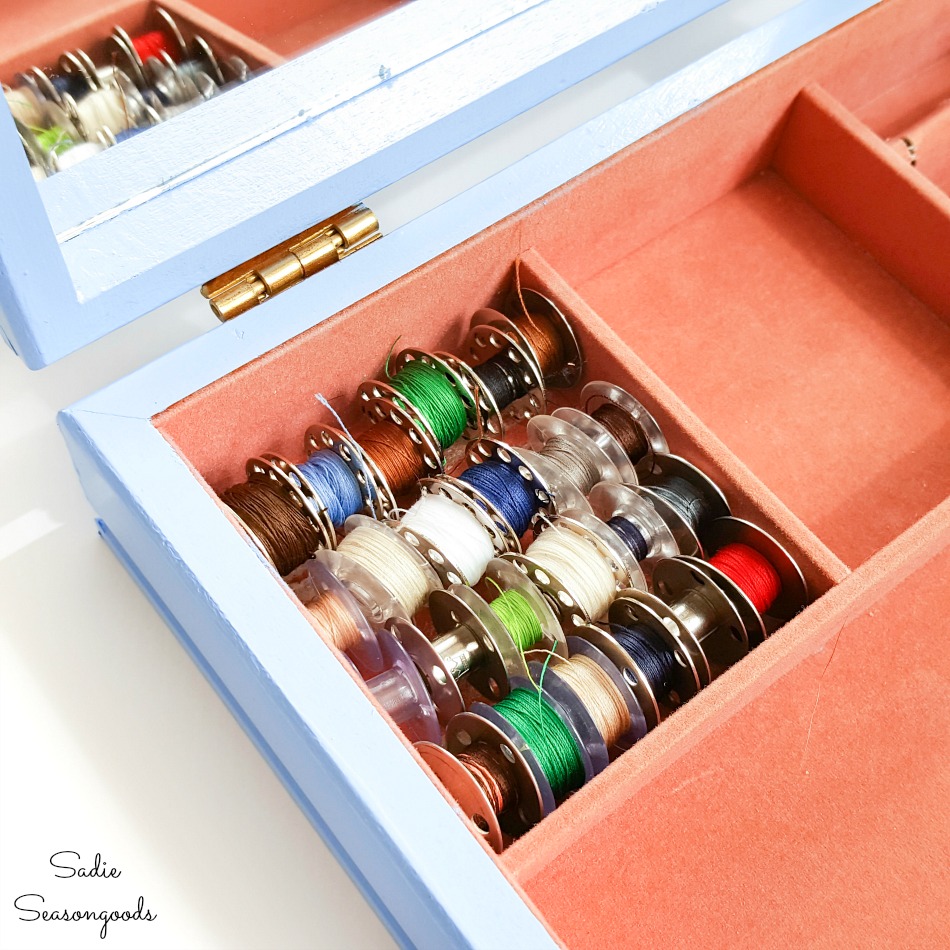 Across the aisle from the bobbins, I used the earring section to hold my long embroidery needles. How perfect is that?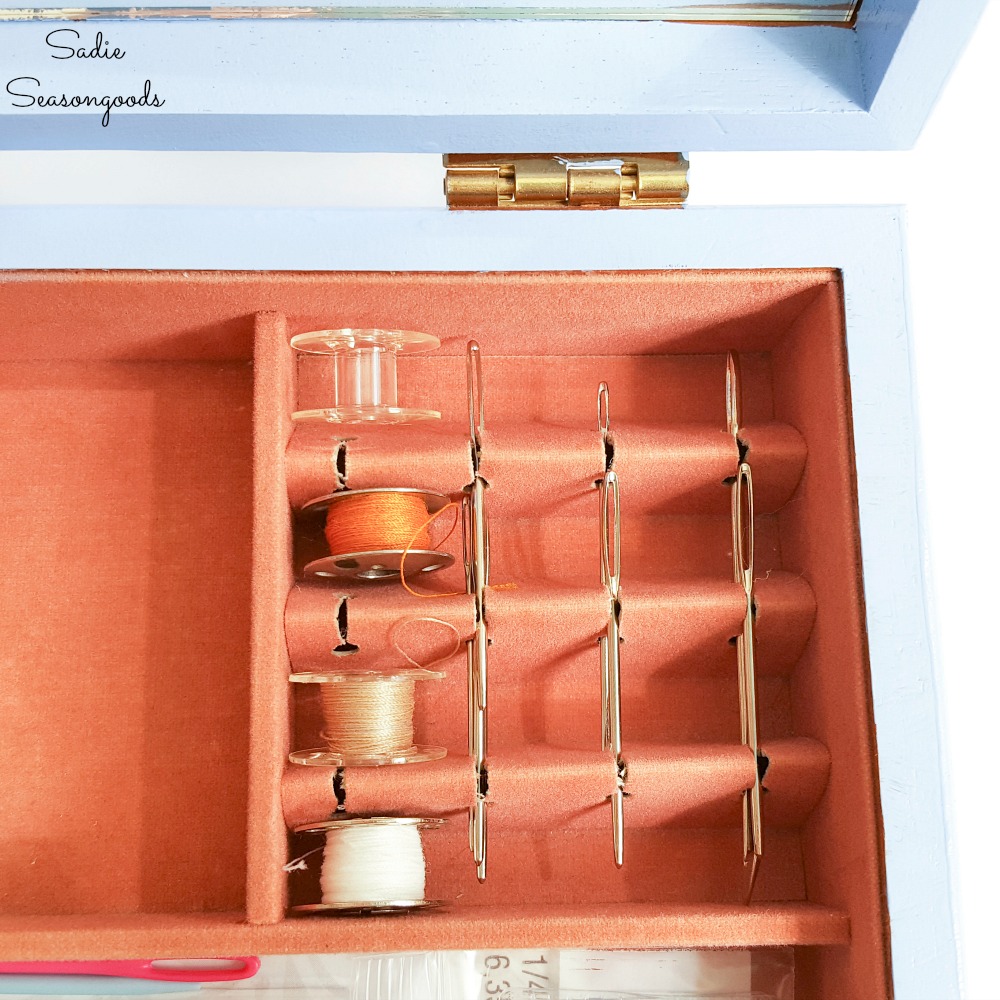 And then I just filled the rest of my sewing box with various sewing supplies- thimbles, measuring tape, cute little folding scissors, fabric pencils, etc.
But let's not forget the most important part, the very reason I purchased this vintage jewelry box in the first place! I used the tapestry cushion top as a built-in pin cushion!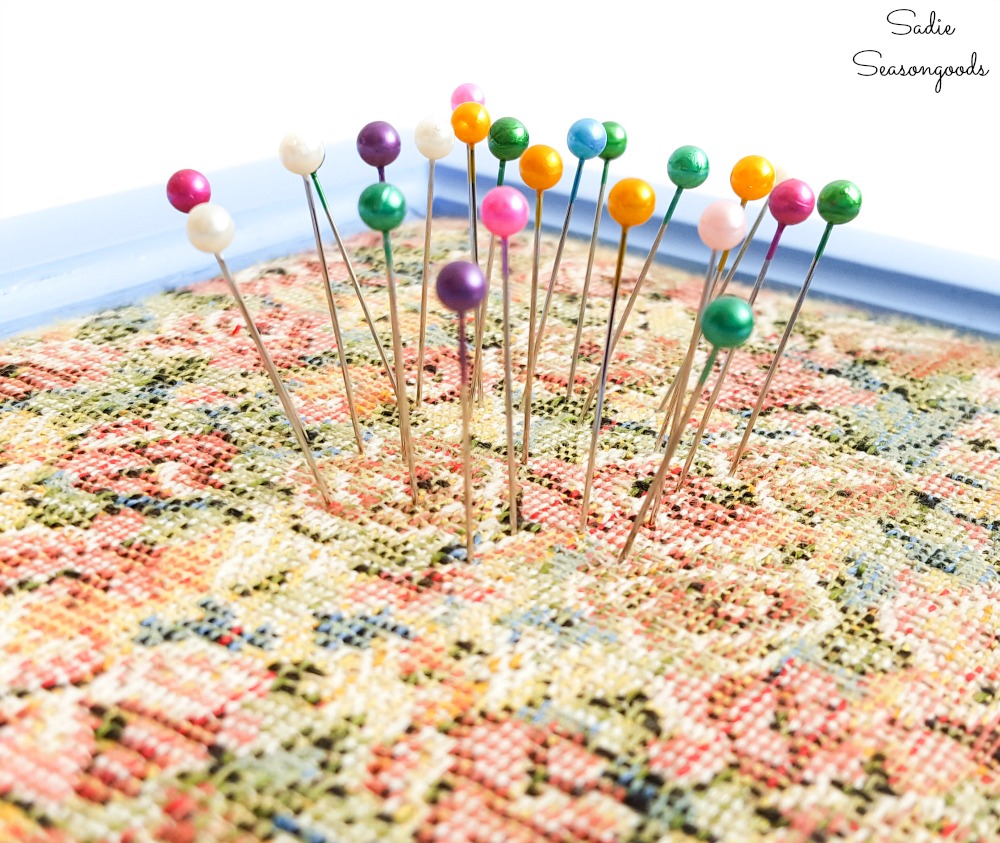 Isn't that divine? The perfect small sewing box with a pin cushion on top!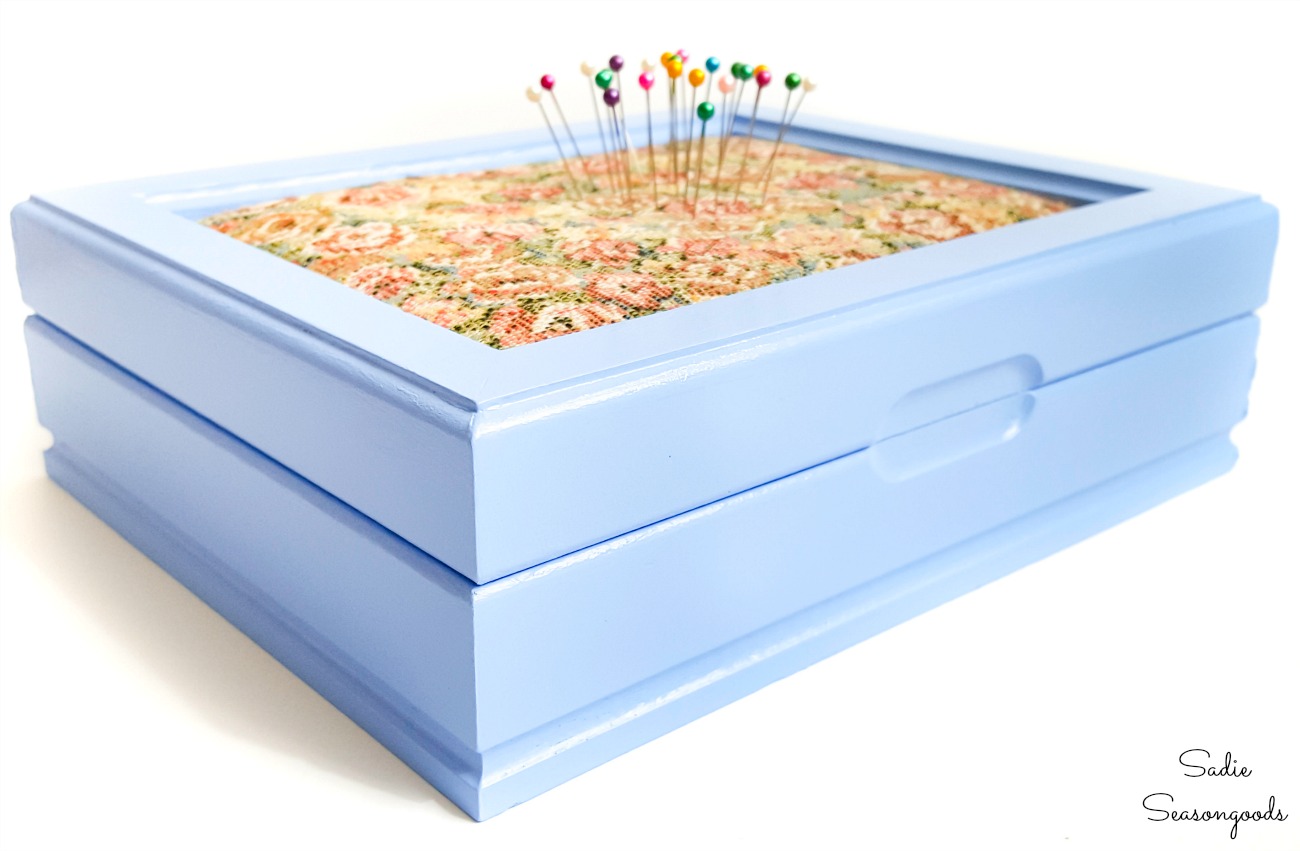 Upcycling a Vintage Jewelry Box as a Sewing Starter Kit
And when it comes to sewing supplies, this jewelry box can really hold a LOT. Definitely more than my (very cute but space-limited) teapot sewing kit.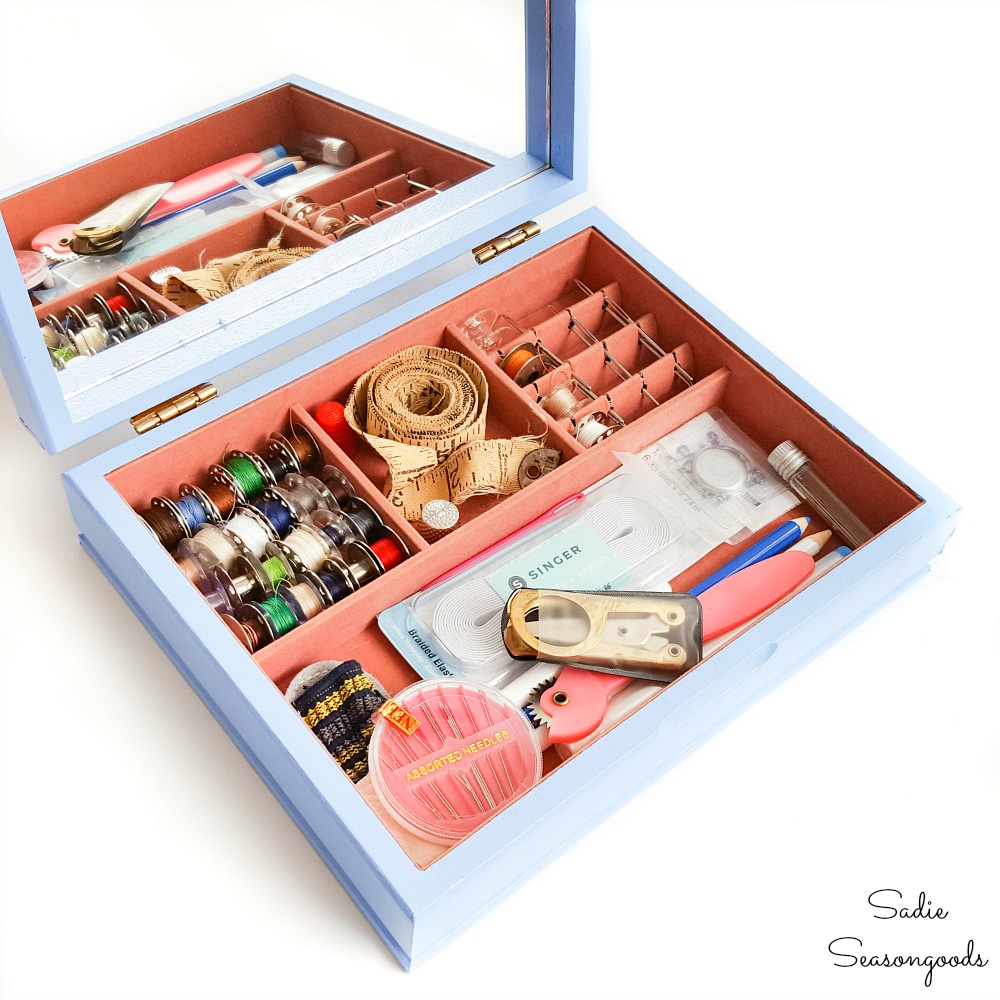 And while it doesn't hide the straight pins from Cottonball, I can tuck this into a drawer or on a closet shelf just the same.
Just a wonderful little sewing box,- all by upcycling a jewelry box from the thrift store!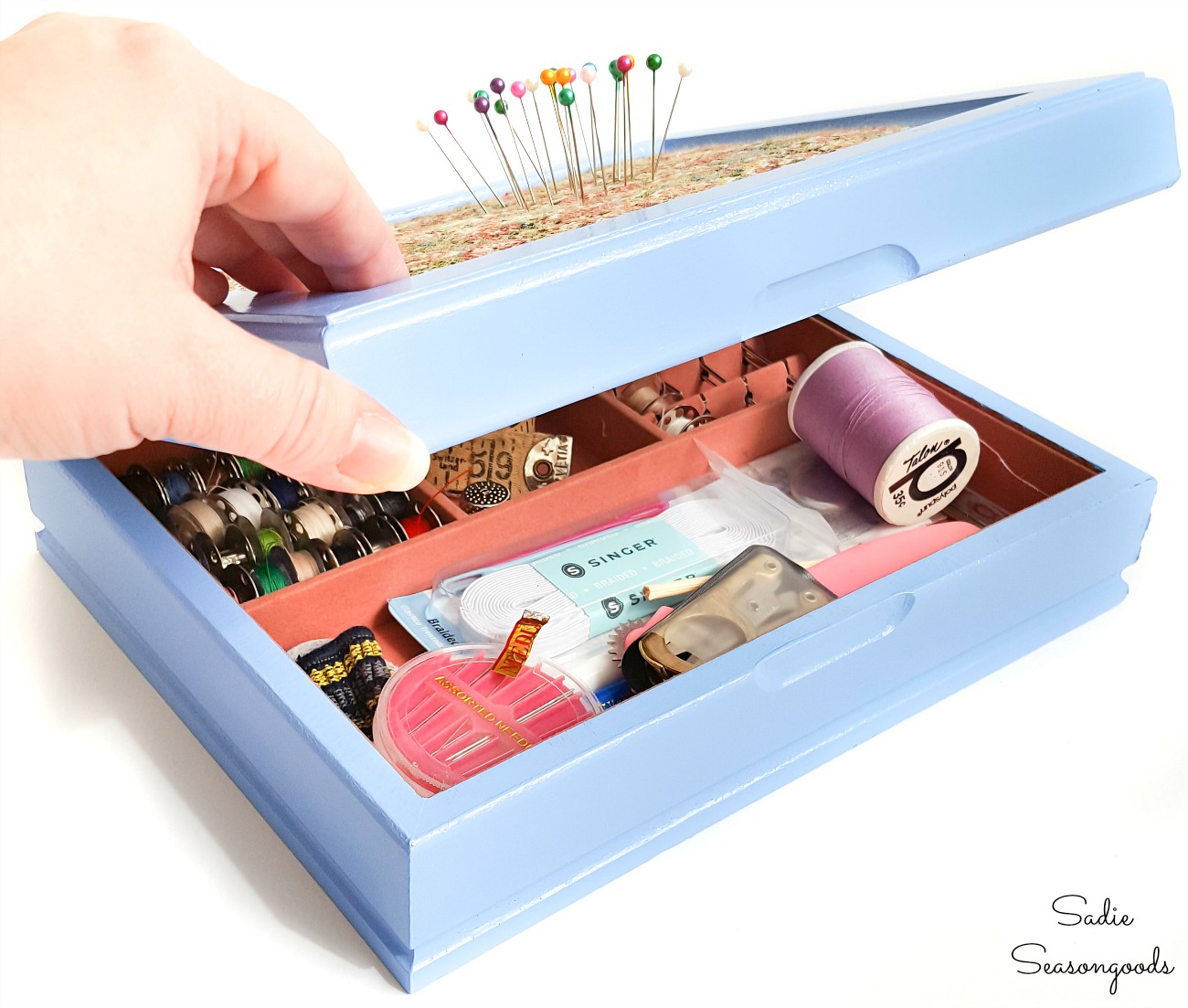 I think the periwinkle paint is a big improvement- it really makes it pop! And now I have a little more storage for my sewing bits!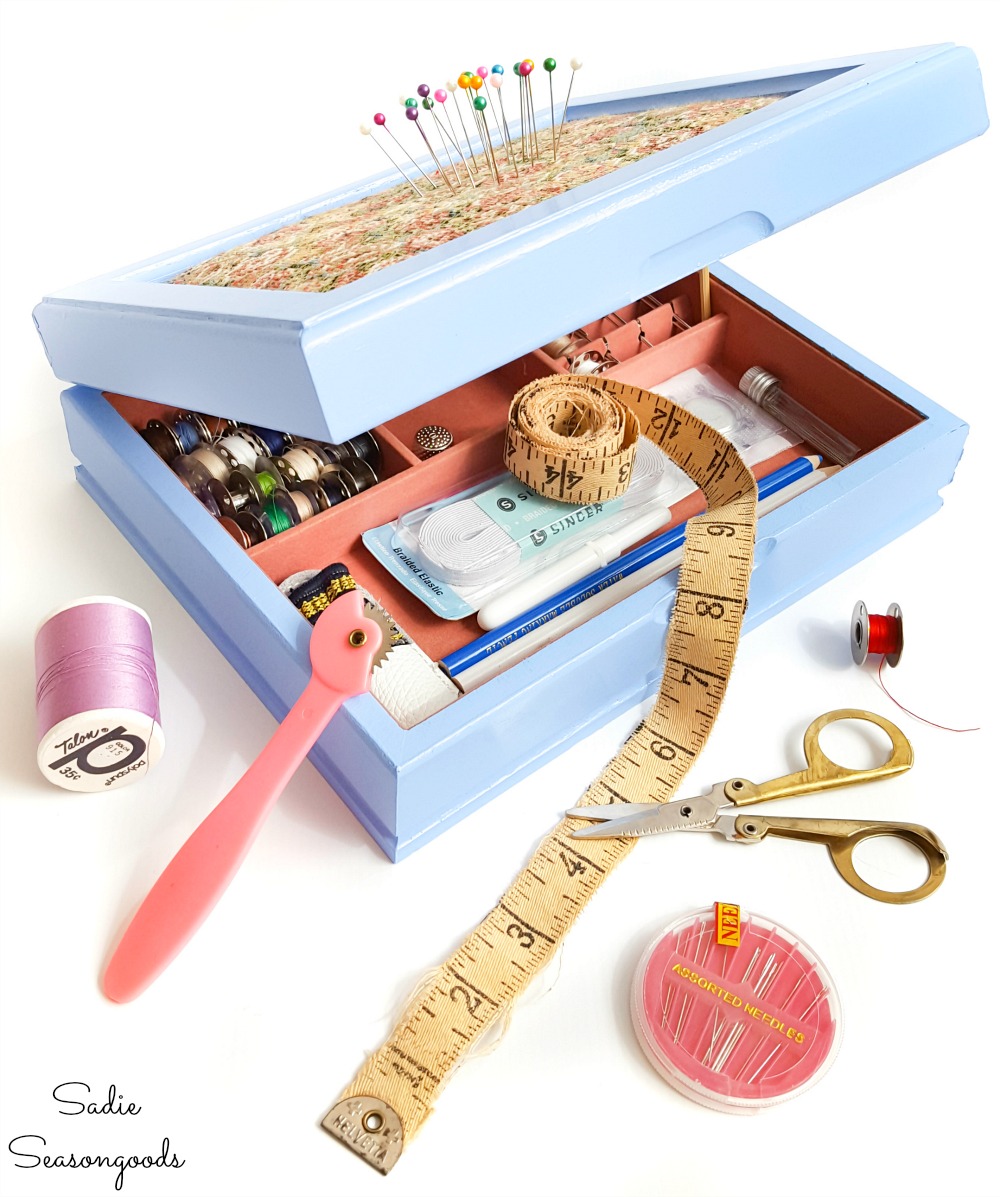 I'm also excited to announce that my first book is now available! If you enjoy upcycling clothing and simple sewing projects, then you will love my book on flannel crafts!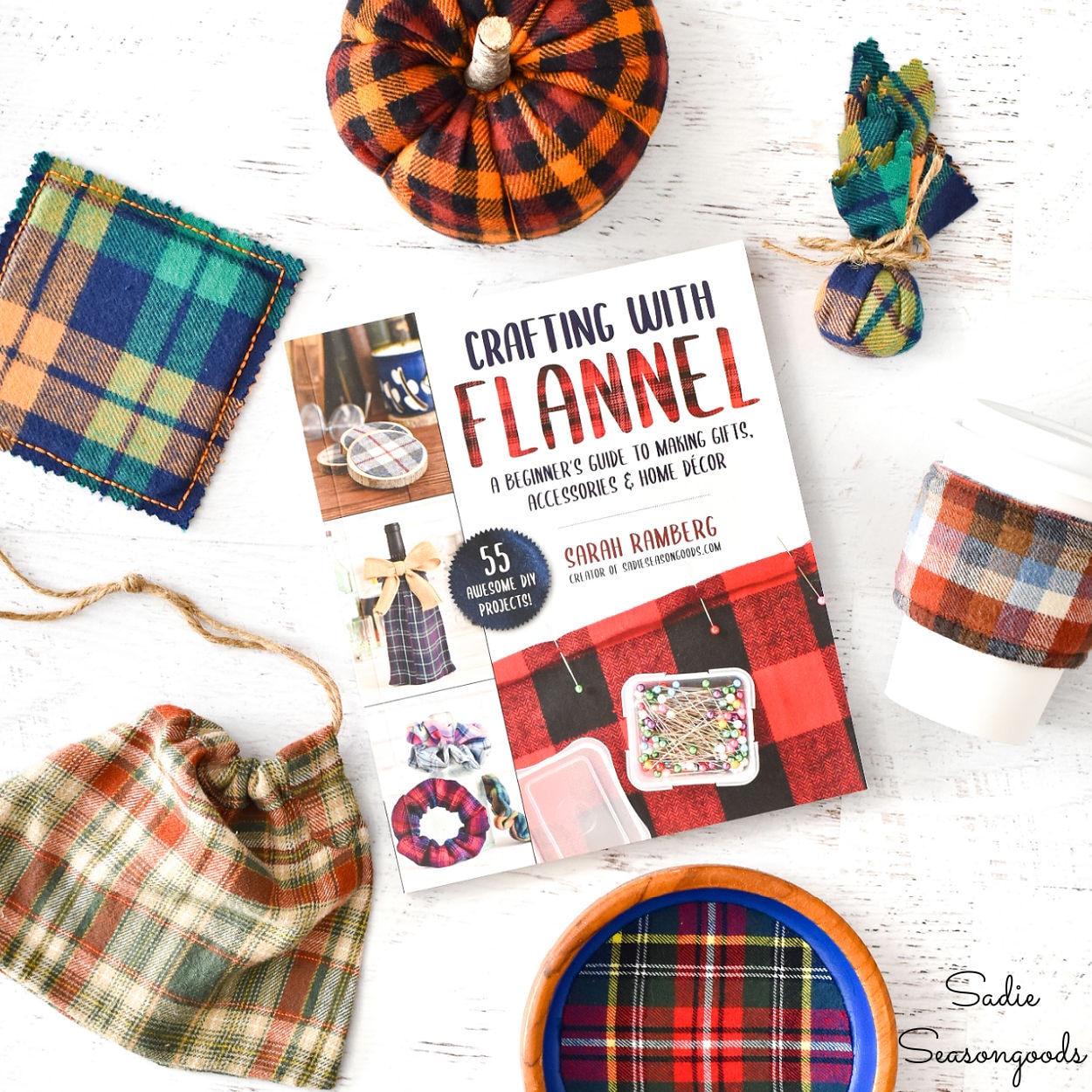 If you also enjoy sewing projects from upcycled fabric then you'll love these bandana pumpkins which are perfect for Fall and Autumn!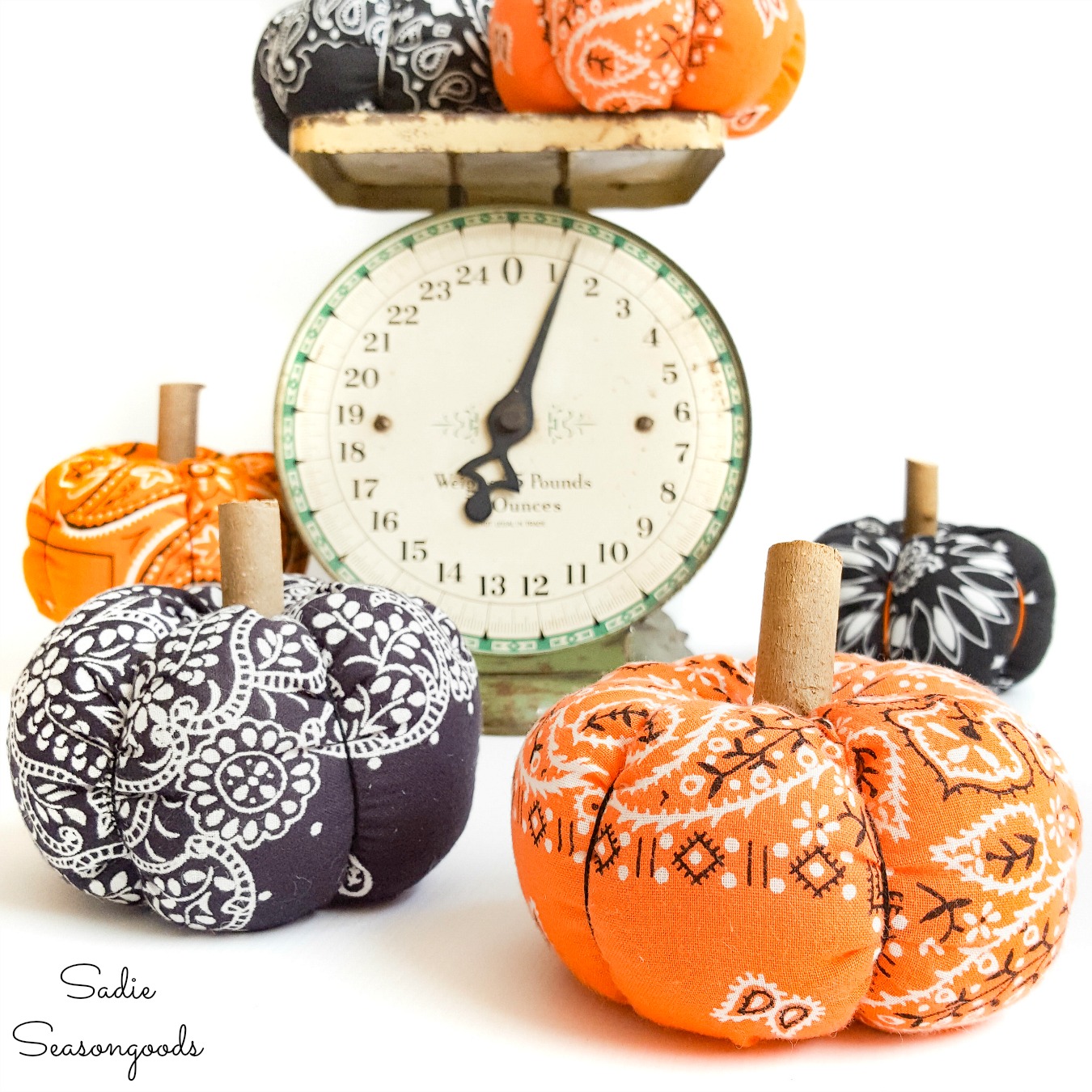 Craft on!
S
Want to be notified when I publish my next upcycling project tutorial?
Subscribe to Blog via Email
Join me on Social Media:

PIN ME!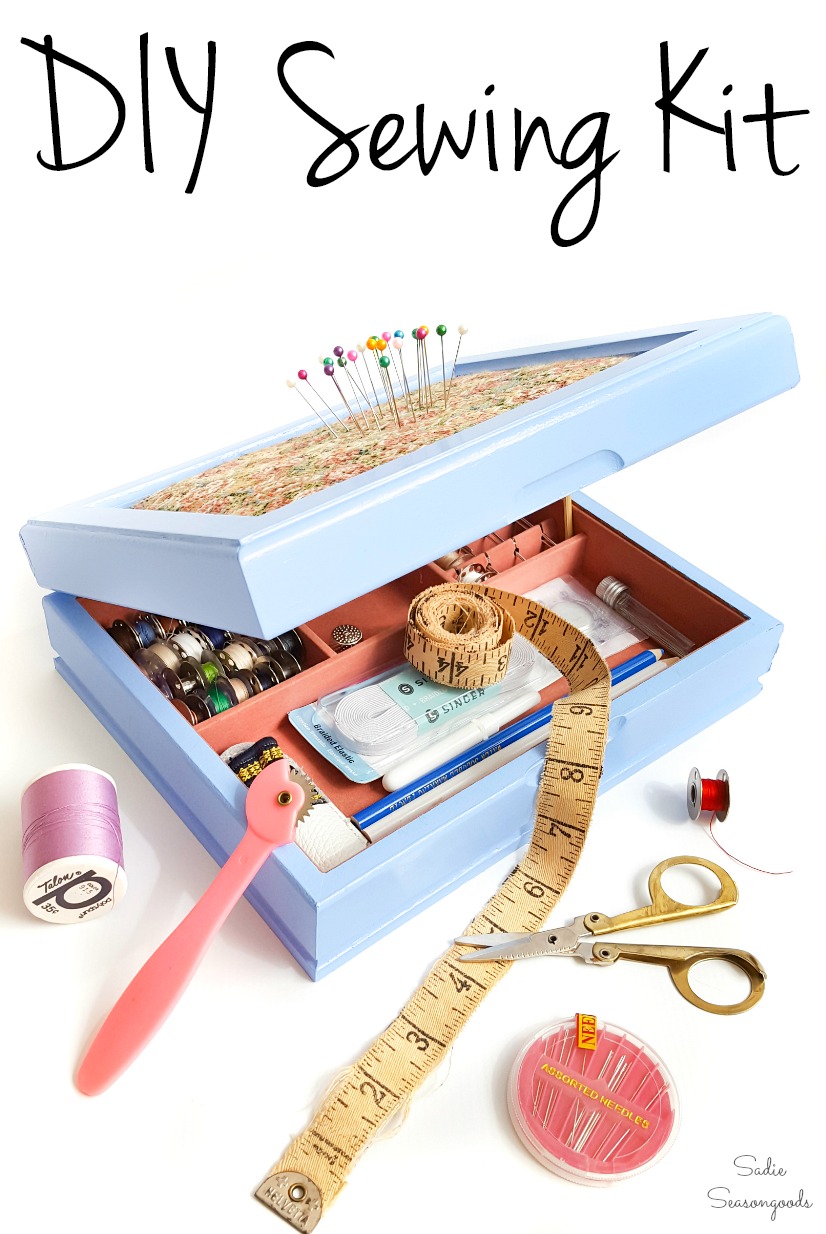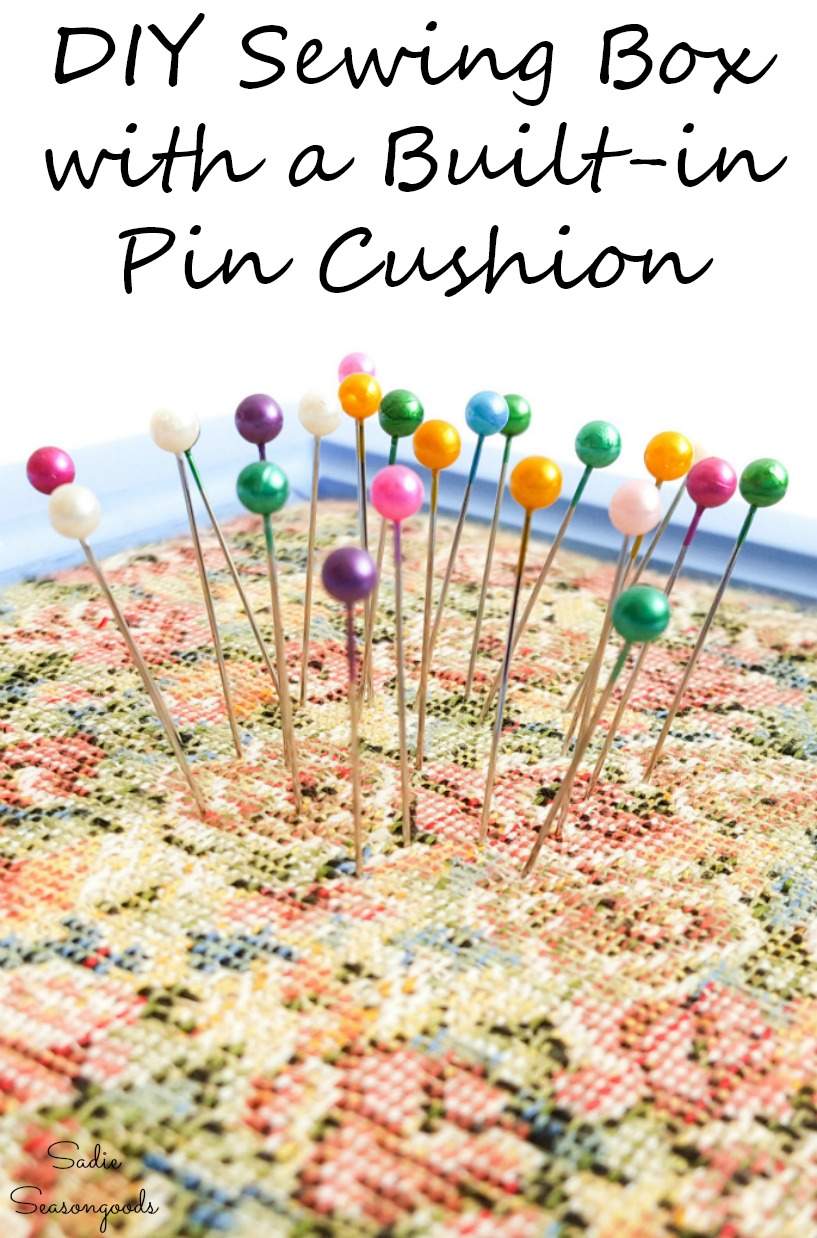 Sarah Ramberg is the owner of Sadie Seasongoods, a website that celebrates all things secondhand. From upcycling ideas and thrifted decor to vintage-centric travel itineraries, Sadie Seasongoods is a one-stop shop for anyone who loves thrifting and approachable repurposing ideas. Sarah is also the author of "Crafting with Flannel" and has been featured in numerous media outlets and magazines.