Back in January of this year, I was thrifting at my local Habitat ReStore and spotted a rotating photo frame that was in excellent condition. I put the frame in my cart and filed away this Christmas idea for a later time…and finally, FINALLY, that time is now. I would use it to display some of my vintage Christmas postcards!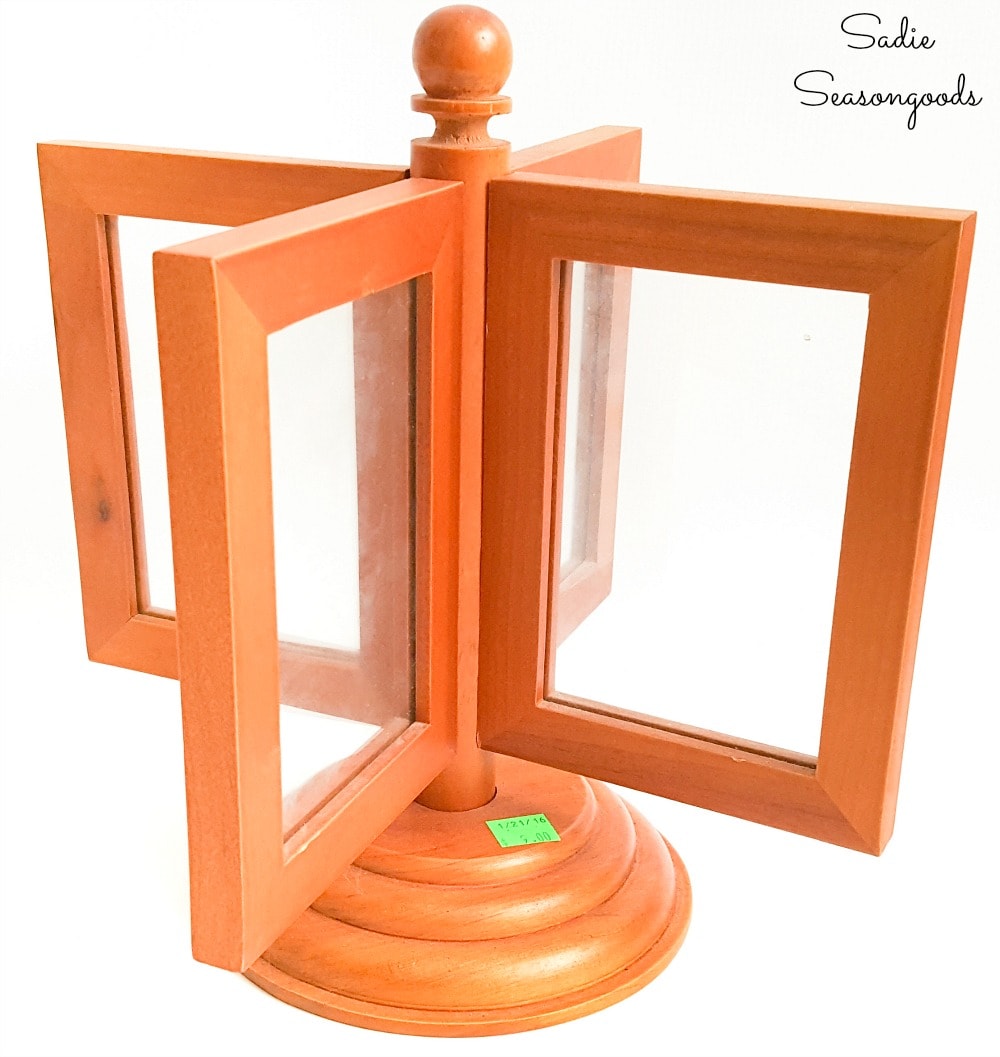 And yes, my love of vintage Christmas cards is well documented. Remember how I upcycled this vintage snowshoe?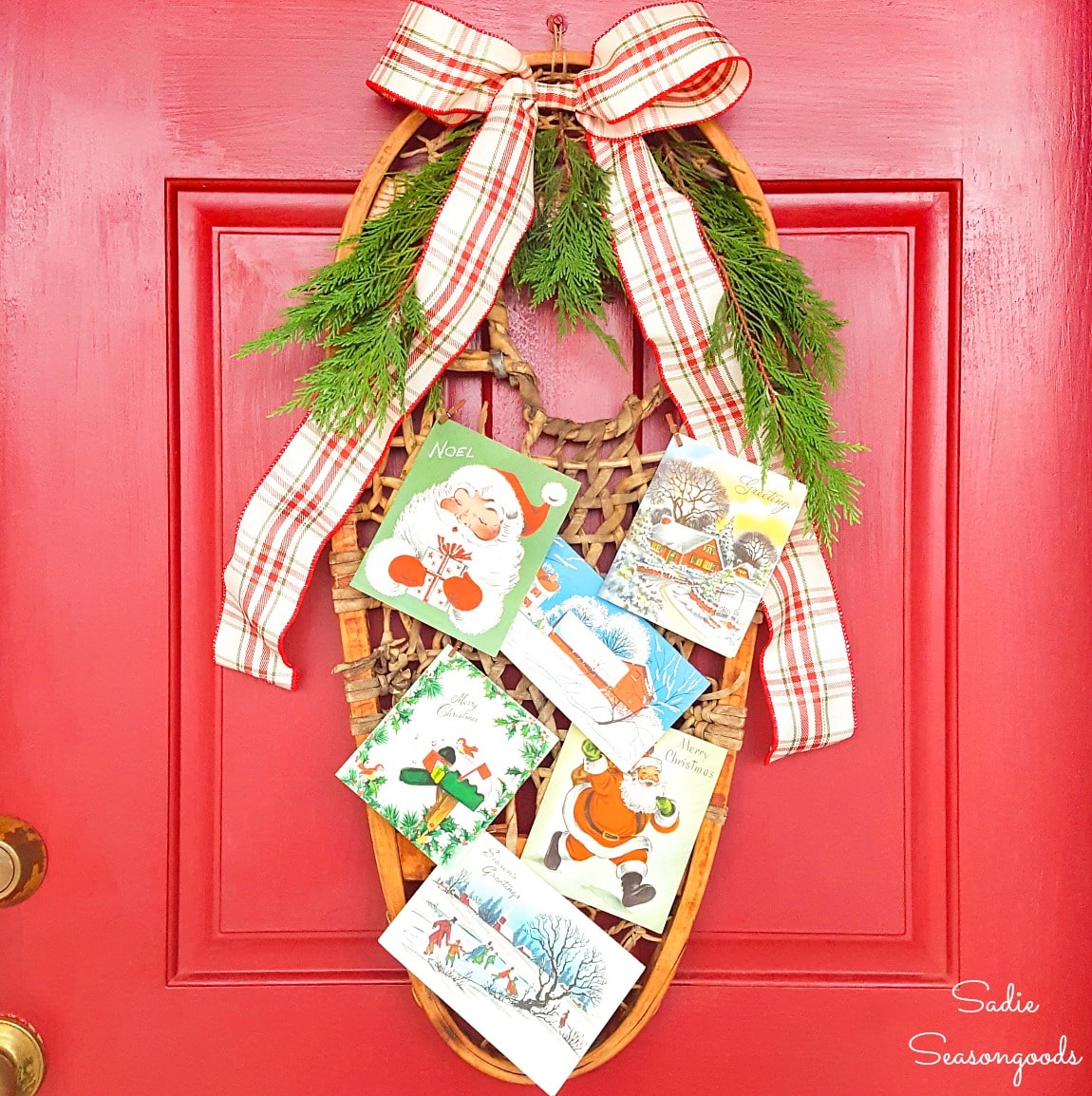 But back to the task at hand. I just love a vintage postcard, and Christmas versions (especially with Santa) are a particular favorite of mine.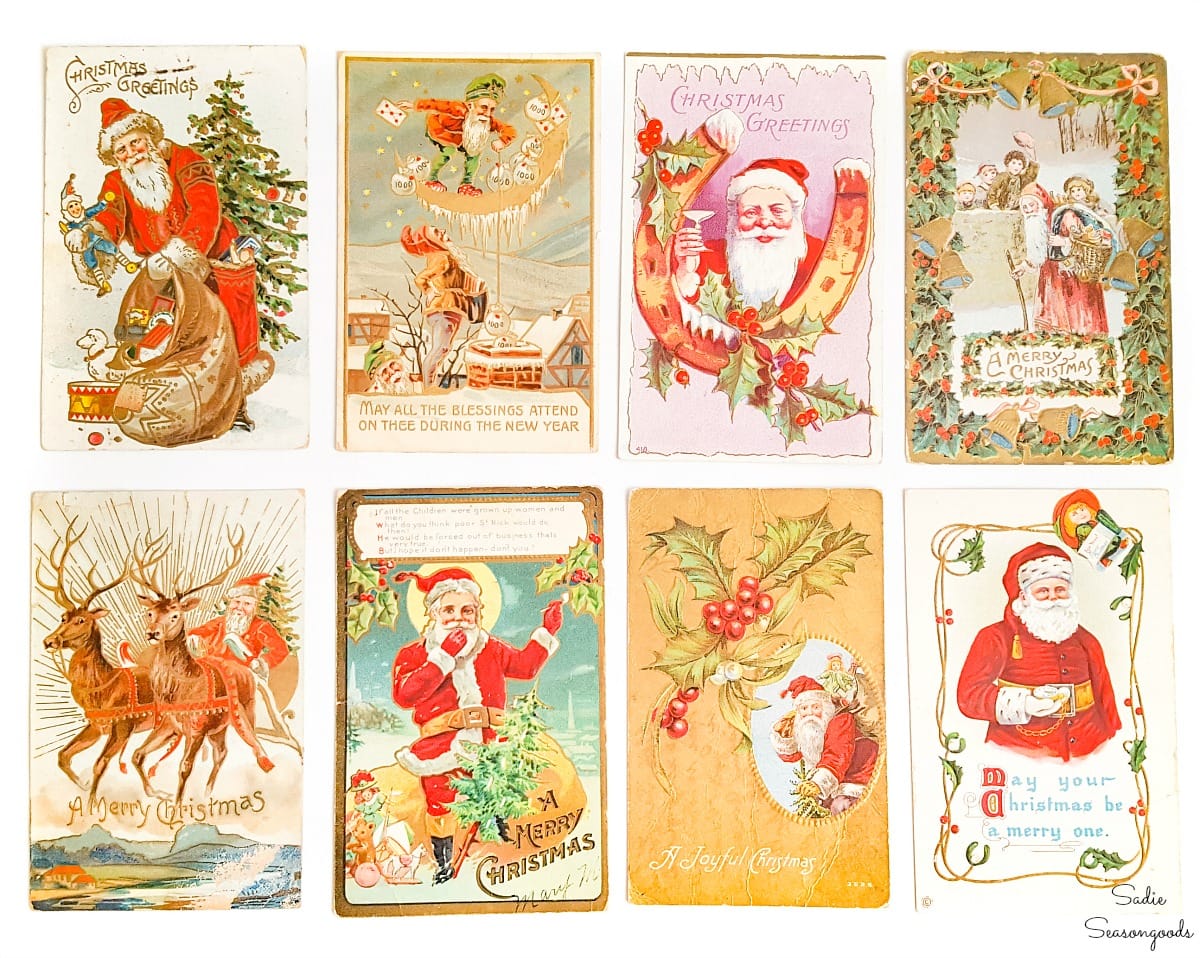 And since I had no intention of altering my postcards (cutting, Mod-Podging, etc.), my "new" spinning frame would be perfect. It'd keep them safe and sound, and perfectly displayed!
This post contains affiliate links for your crafting convenience. As an Amazon Associate, I earn from qualifying purchases. All blue, bold, and underlined text is a clickable link, either to a product or to a related post.
Creating a Display for Vintage Christmas Postcards
First things first, I dismantled the rotating photo frame. That way, I could wipe it all down (and clean the glass panes with Windex) before painting.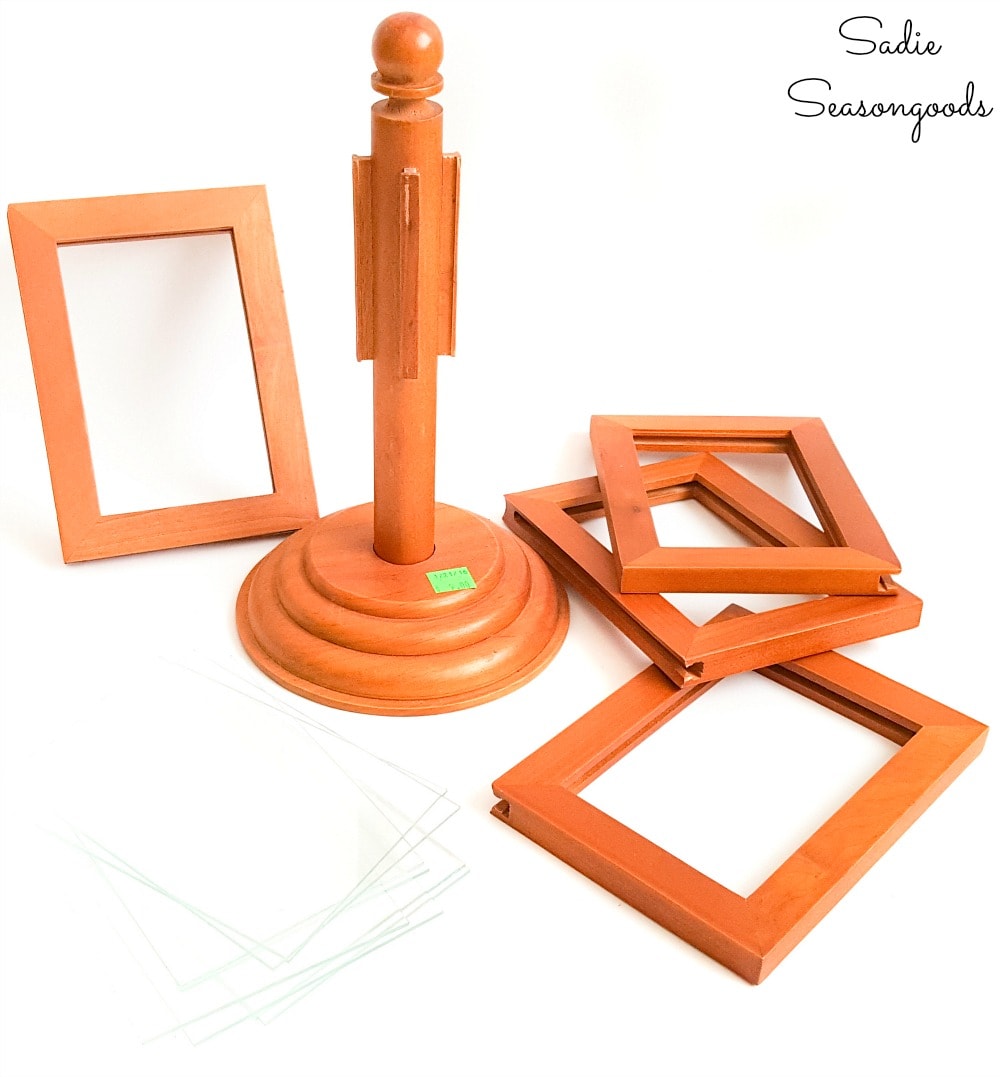 Next, I set up my spray painting station outside to paint the wooden portions of the rotating photo frame. I chose a bright Kelly green that would set off nicely against my vintage Christmas postcards.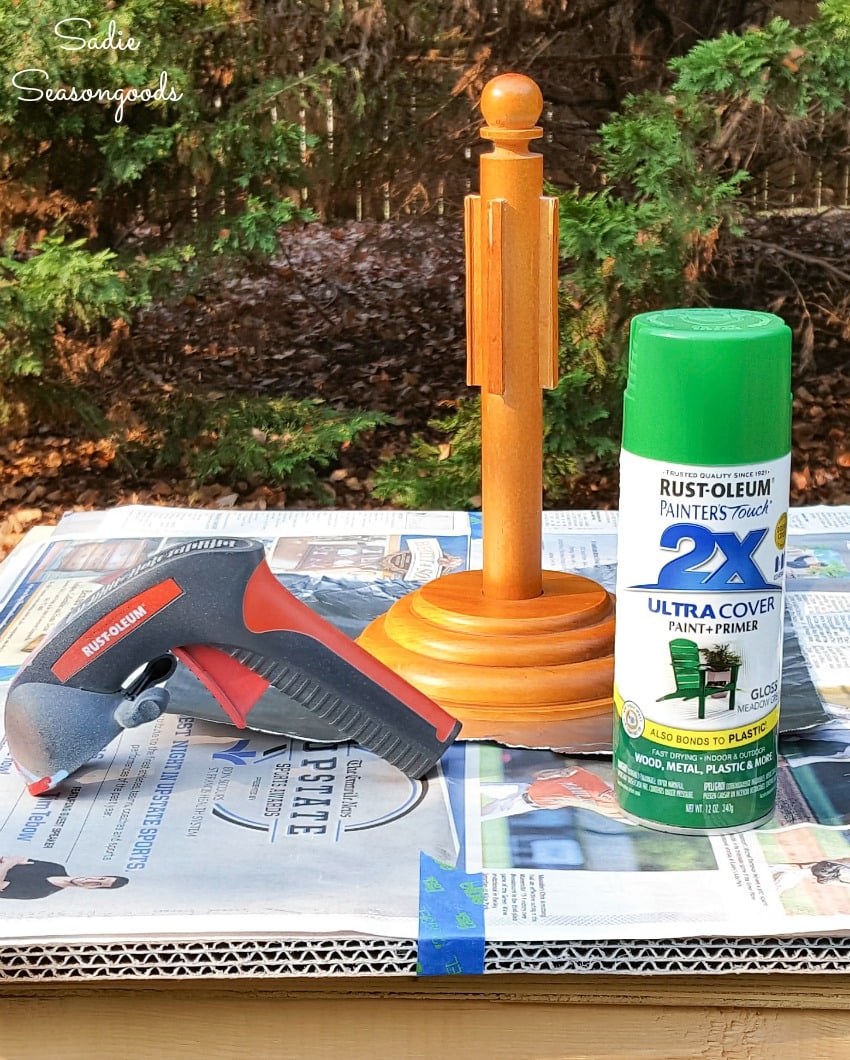 And I should note that, while not pictured, I sanded down the actual frames and center piece a tad, just to help the paint adhere better.
Once the paint had dried overnight, I cleaned the glass plates and re-gathered everything. Including the vintage Christmas postcards that I intended on displaying in the frame!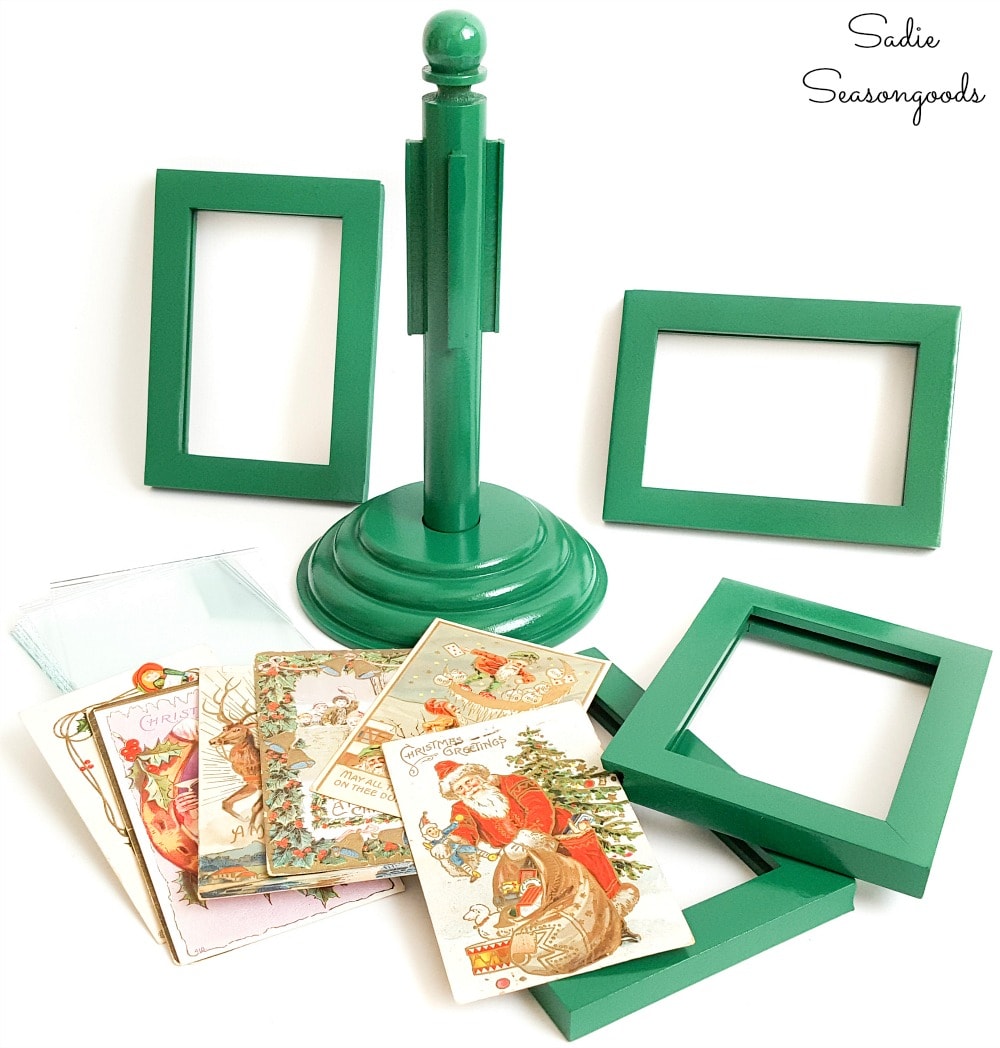 Next, I set each vintage postcard (back to back) between two plates of glass, and then slipped the glass into each frame.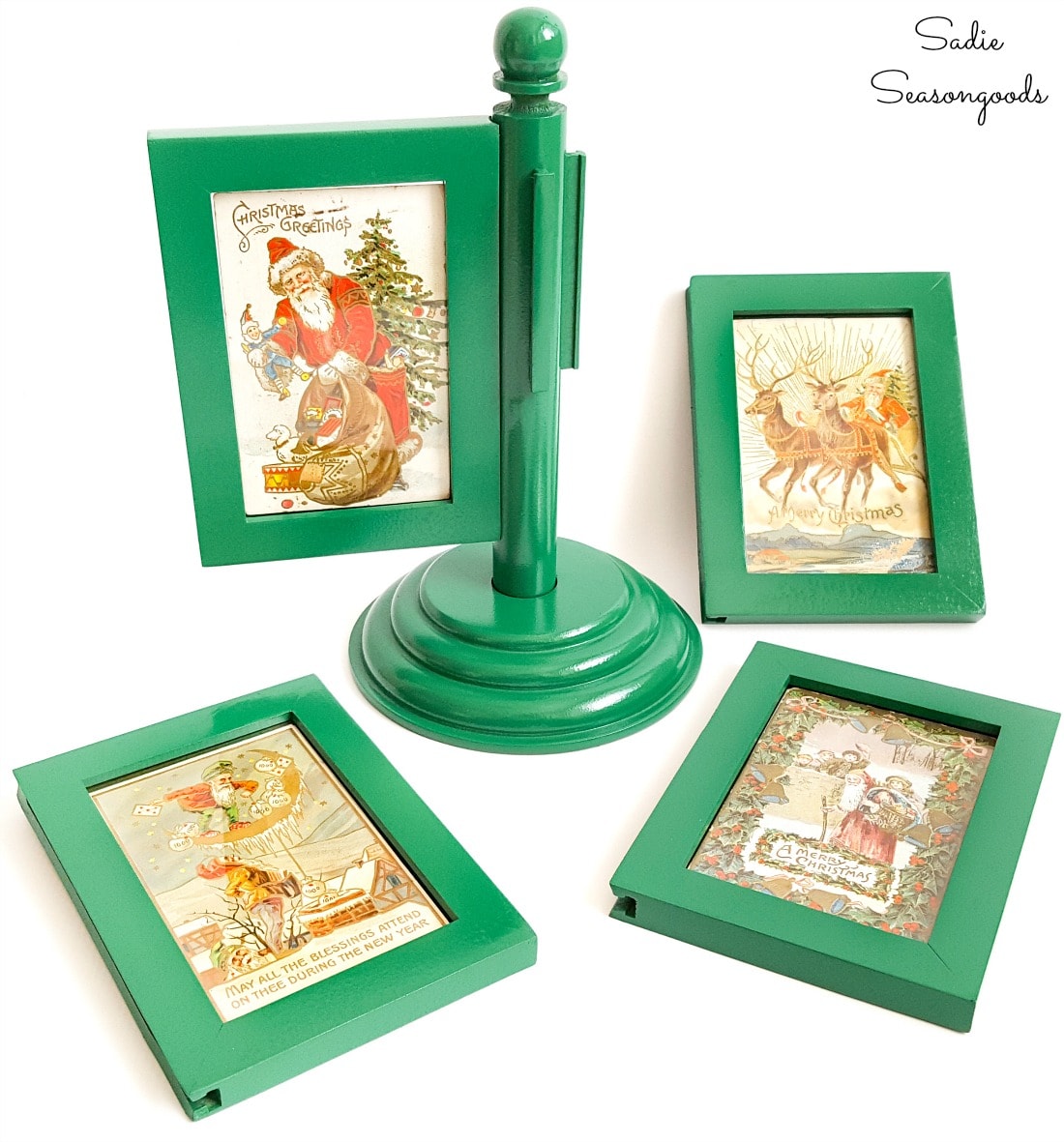 Now, I will mention that because postcards are thicker than photos, it was a tight squeeze from time to time. So, if you recreate a similar project, you may want to consider scanning and color printing vintage Christmas cards or postcards to streamline the process.
Displaying Vintage Christmas Postcards in a Rotating Photo Frame
And that was it! I had a wonderful way to display my vintage Christmas postcards!
I also love that it's interactive- people can spin the photo frame to see all the vintage Christmas cards inside.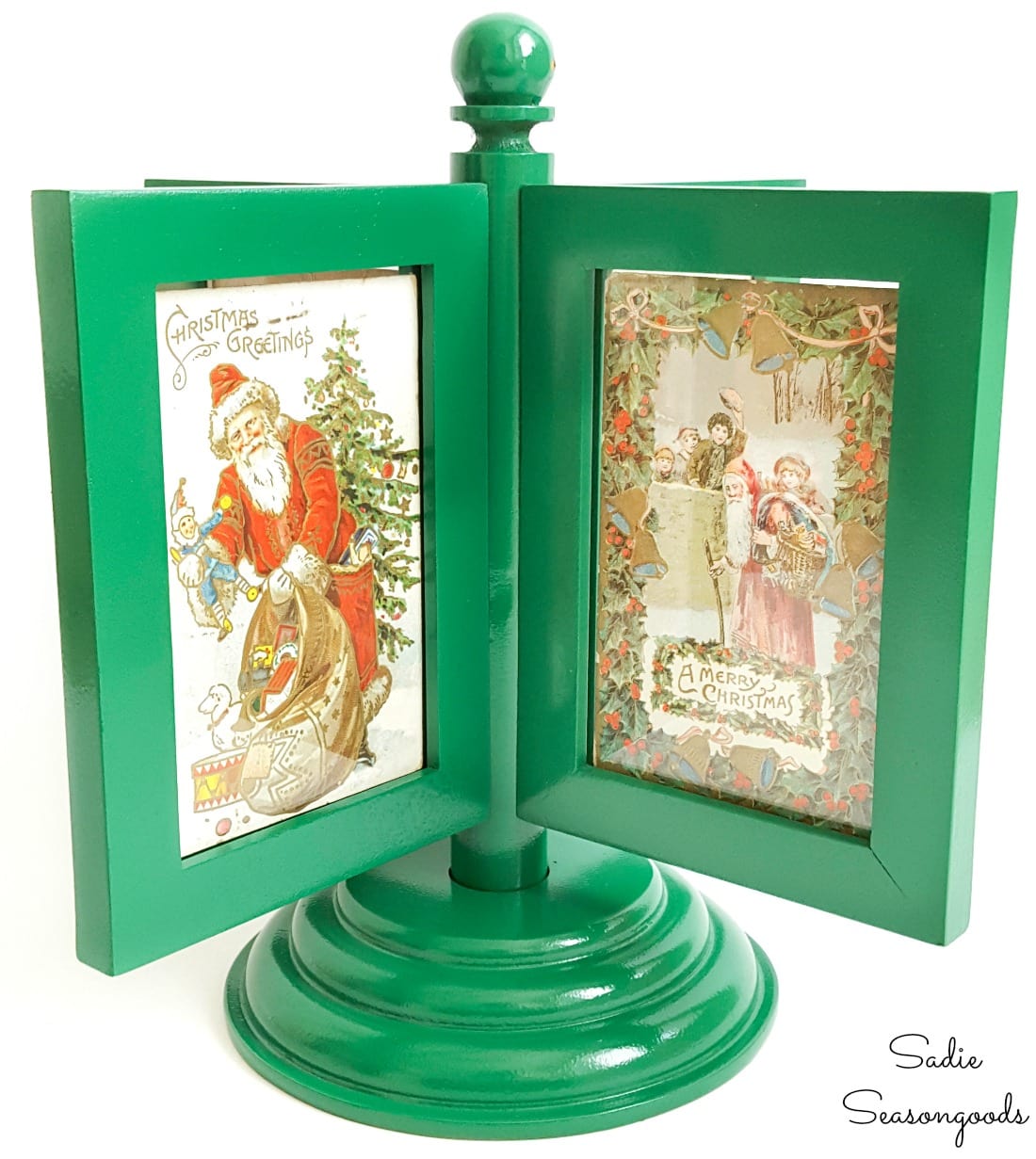 A multi photo frame displaying vintage Christmas postcards would be a nice variation on a tabletop tree, wouldn't it? And each card is protected from prying fingers or curious cats (I'm not mentioning names…Cottonball!).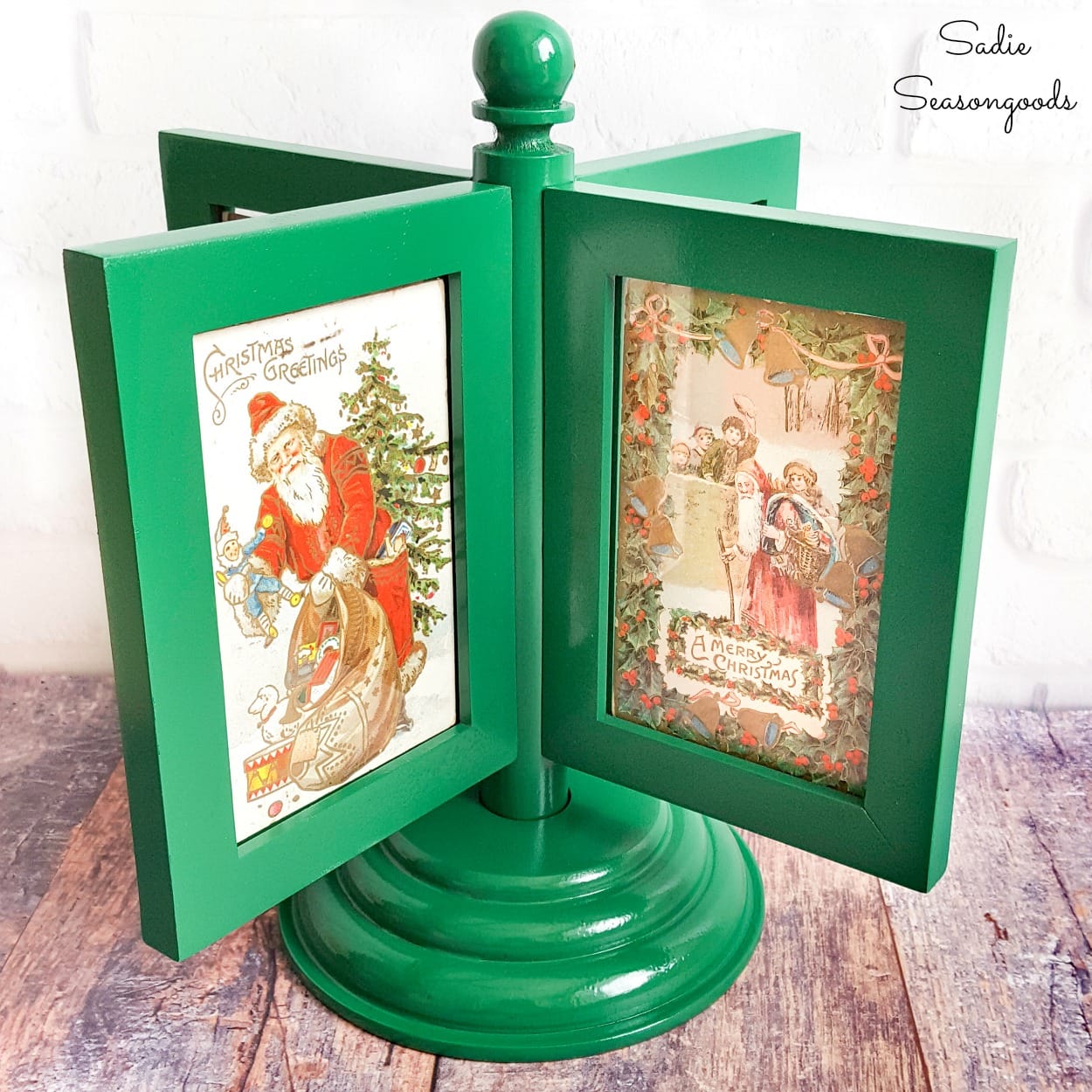 If you can't find a picture frame to display your postcard collection, though, don't fret! There are plenty of other ways to create vignettes with them.
For instance, I used some vintage shoe shine brushes and scrub brushes to prop them up.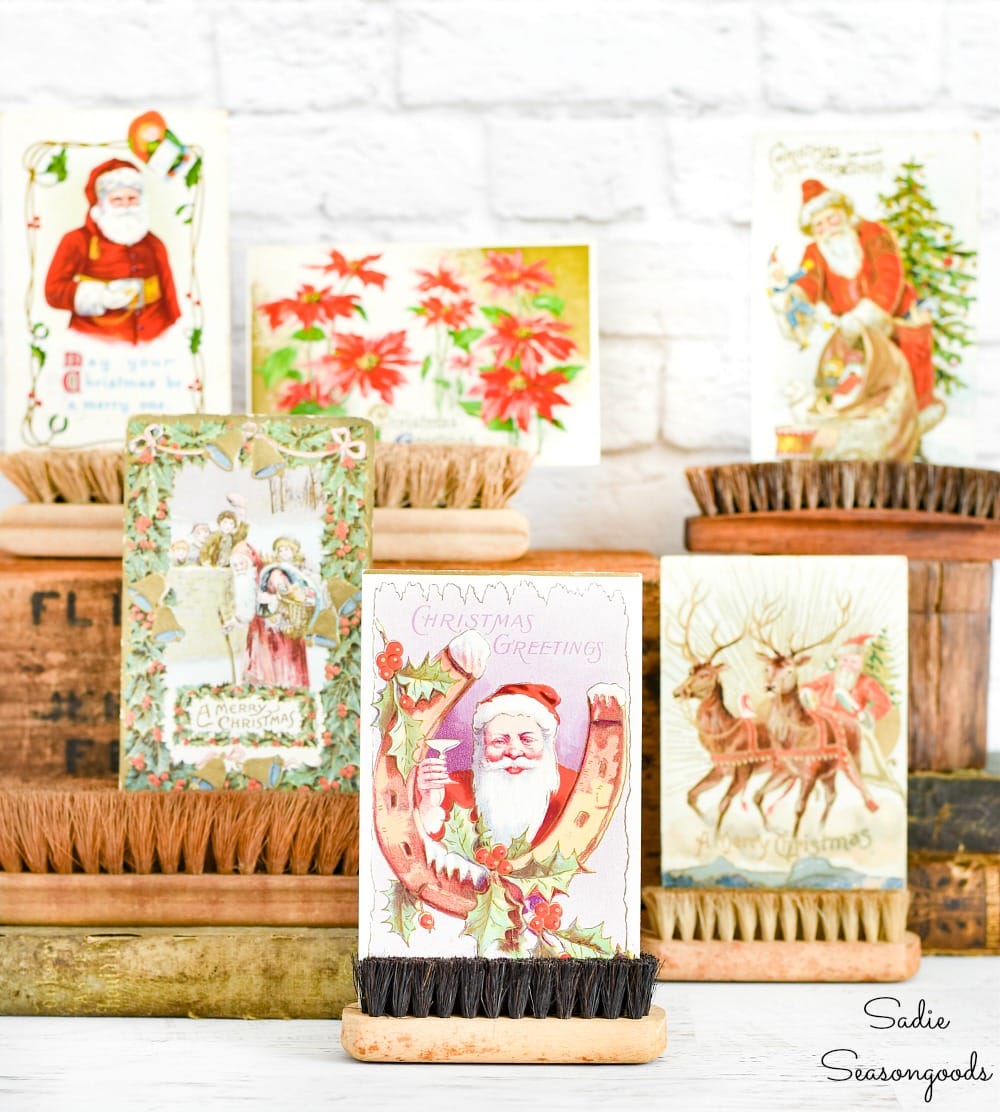 You could also achieve the same thing with vintage flower frogs, as well (the spiky kind).
If you enjoyed this upcycling idea for vintage Christmas decor, then you may also be interested in this retro Christmas wreath I made with a plastic cookie tray!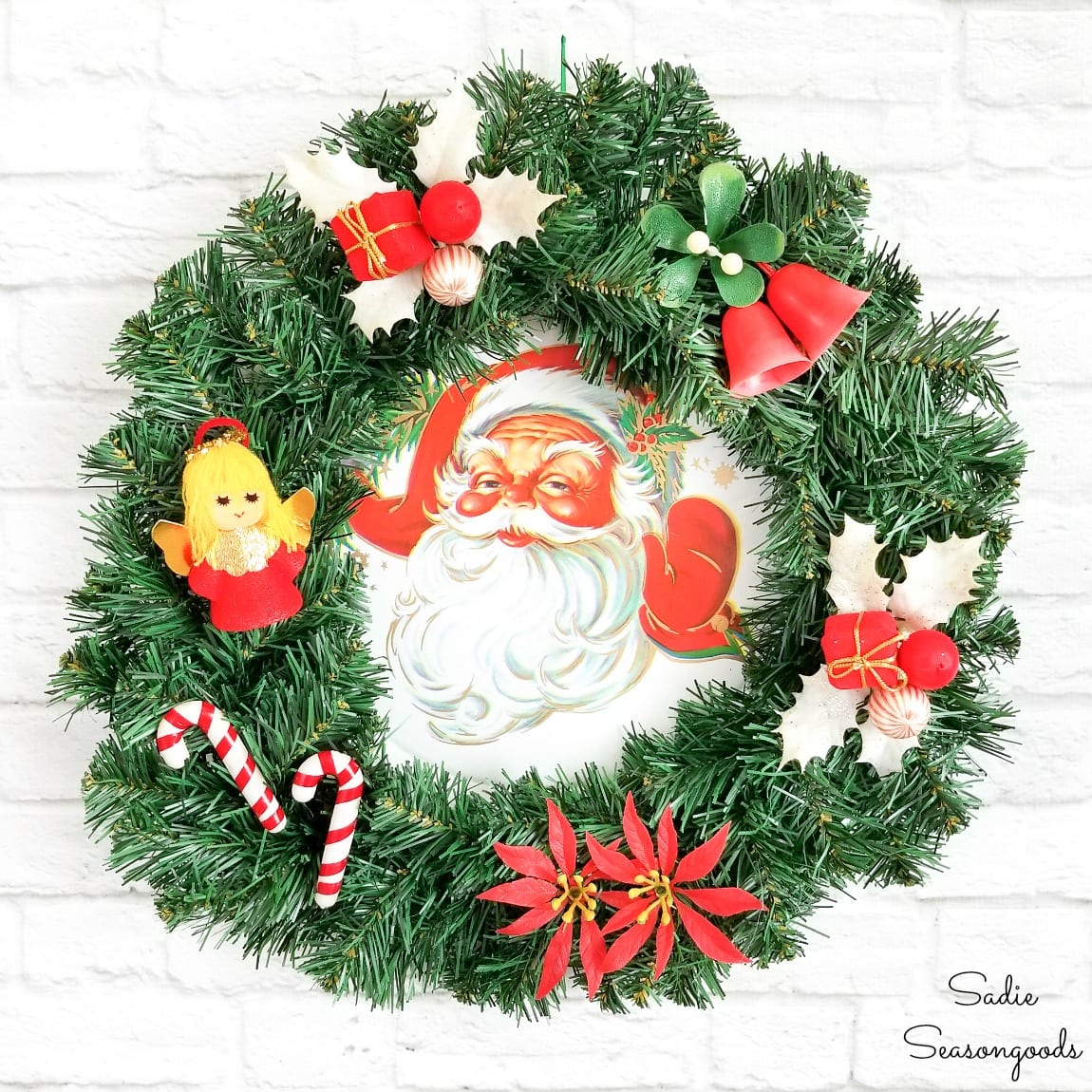 Plus, don't forget- my first book, "Crafting with Flannel", has an entire chapter dedicated to Christmas crafts! You can purchase it online from Amazon, Target, Barnes & Noble, and Walmart.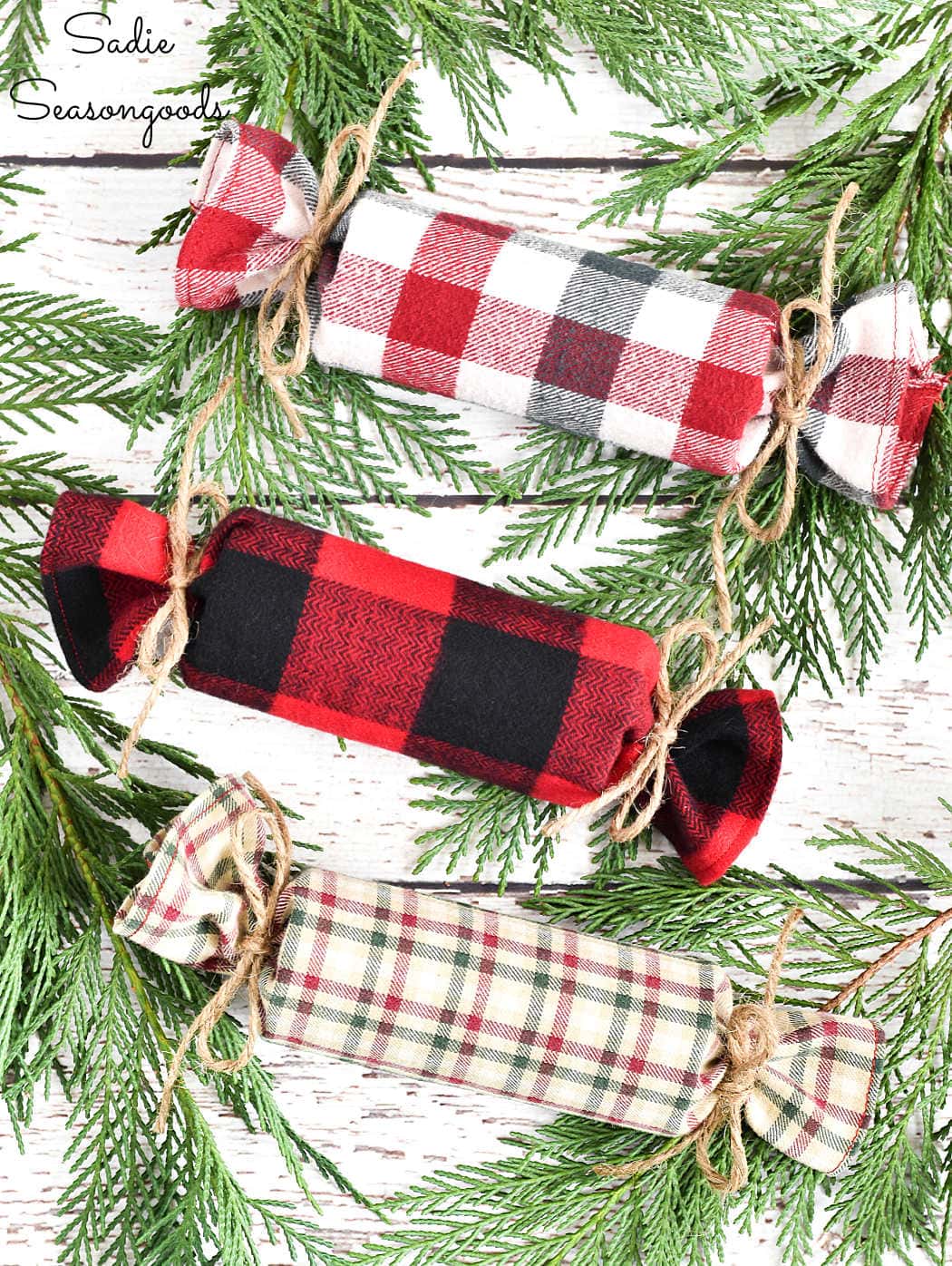 Craft on!
S
Join me on Social Media:

PIN ME!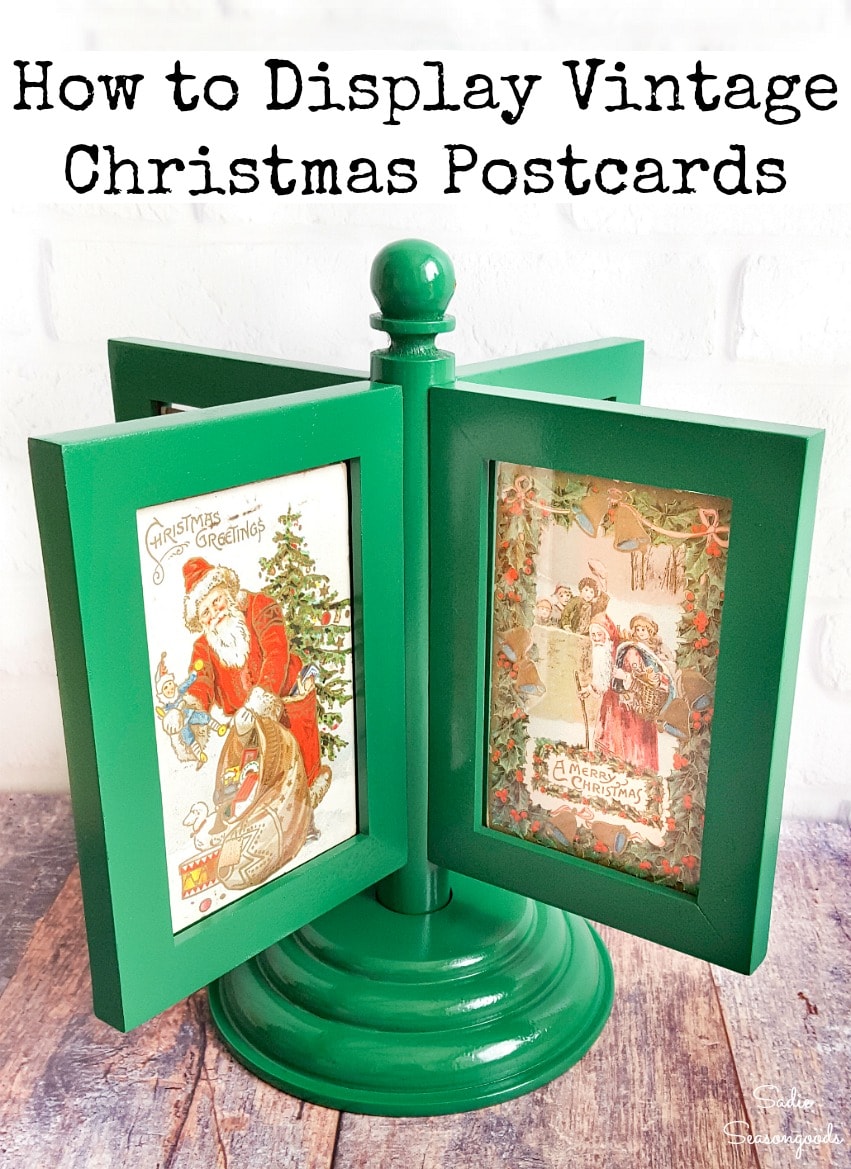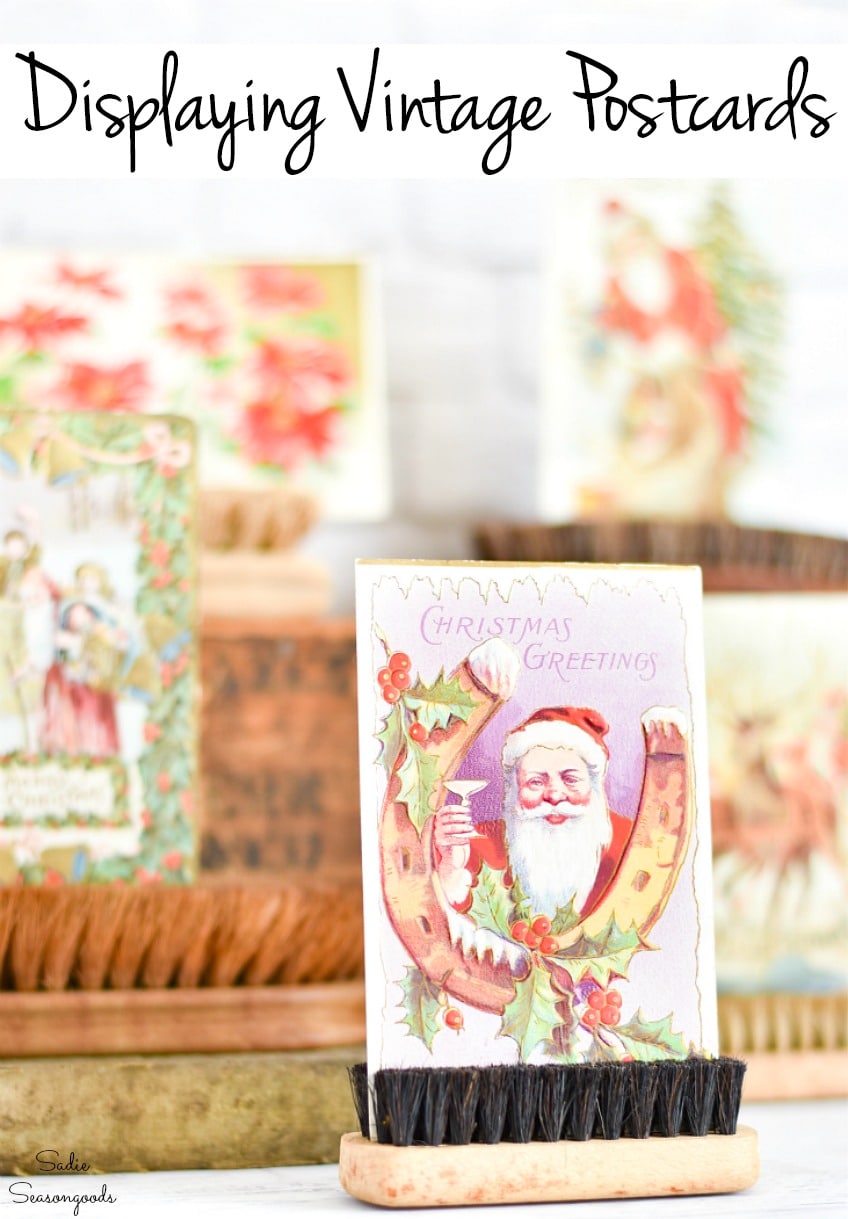 Sarah Ramberg is the owner of Sadie Seasongoods, a website that celebrates all things secondhand. From upcycling ideas and thrifted decor to vintage-centric travel itineraries, Sadie Seasongoods is a one-stop shop for anyone who loves thrifting and approachable repurposing ideas. Sarah is also the author of "Crafting with Flannel" and has been featured in numerous media outlets and magazines.