If you live in the States, then you may have noticed that it's an election year. There's an awful lot of anger and ugliness associated with it, so here's my attempt to diffuse the bitter divide with a bi-partisan upcycling project. Washington may not be able to cross the aisle, but Sadie can! And I'll be doing it with vintage campaign buttons to make a red, white, and blue wreath that is unique and fun!
I have to thank my good friend, Kate DiNatale Vintage, for inspiring this project. Many moons ago, she gifted me with some vintage ribbons that had a "Get Out the Vote" vibe.
She didn't have a good use for them, but figured I could probably come up with something.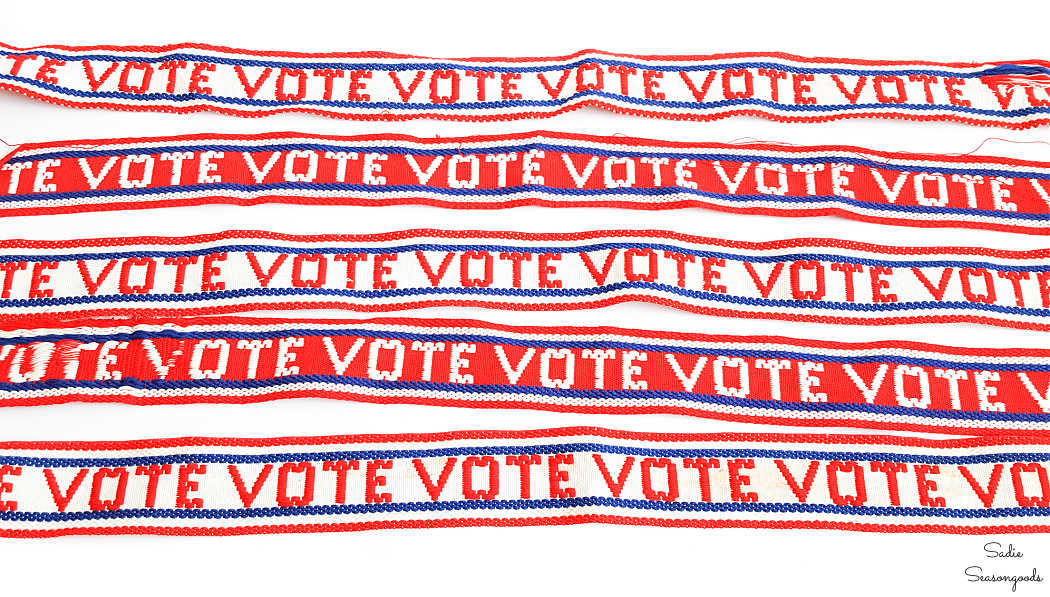 Since I hadn't made a patriotic wreath for a couple of years, I let the vintage ribbons be my muse. I had an idea in my head, but I needed some vintage campaign buttons to make it happen.
On a whim, I asked my mom if she had any. And boy oh boy, did she eve! She had a small boxful of them that her uncle had collected over the years (1920s and 30s).
Not all of them were political, but most of them were patriotic- even better!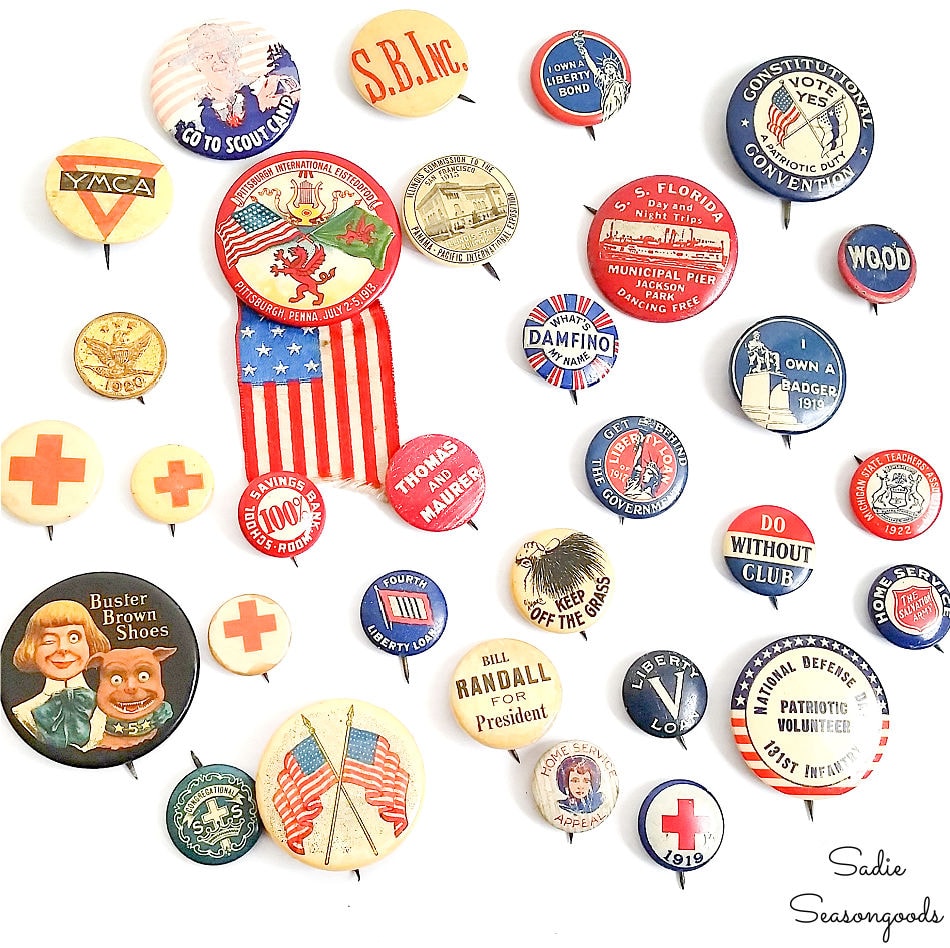 To ensure I had enough vintage campaign buttons to create a red, white, and blue wreath, I purchased a few more from Etsy.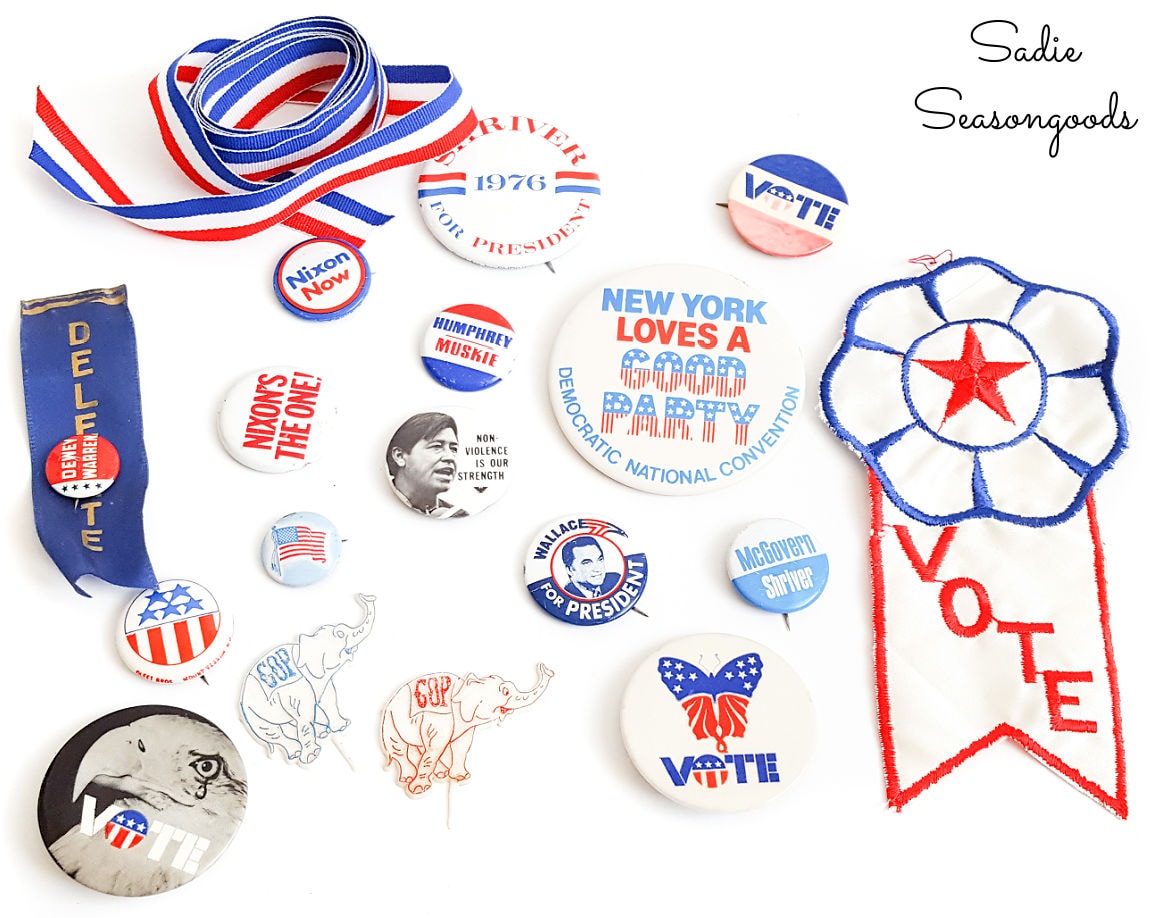 Now I could get to work to create a red, white, and blue wreath that was patriotic AND bi-partisan!
This post contains affiliate links for your crafting convenience. As an Amazon Affiliate, I earn from qualifying purchases. All blue, bold, and underlined text is a clickable link, either to a product or to a related post.
Get Out the Vote in Wreath Form
To bring my idea to life, I needed a round wreath form and some plain material to wrap it in. Which I already had, courtesy of the remnants bin.
Pale off-white burlap was perfect for this.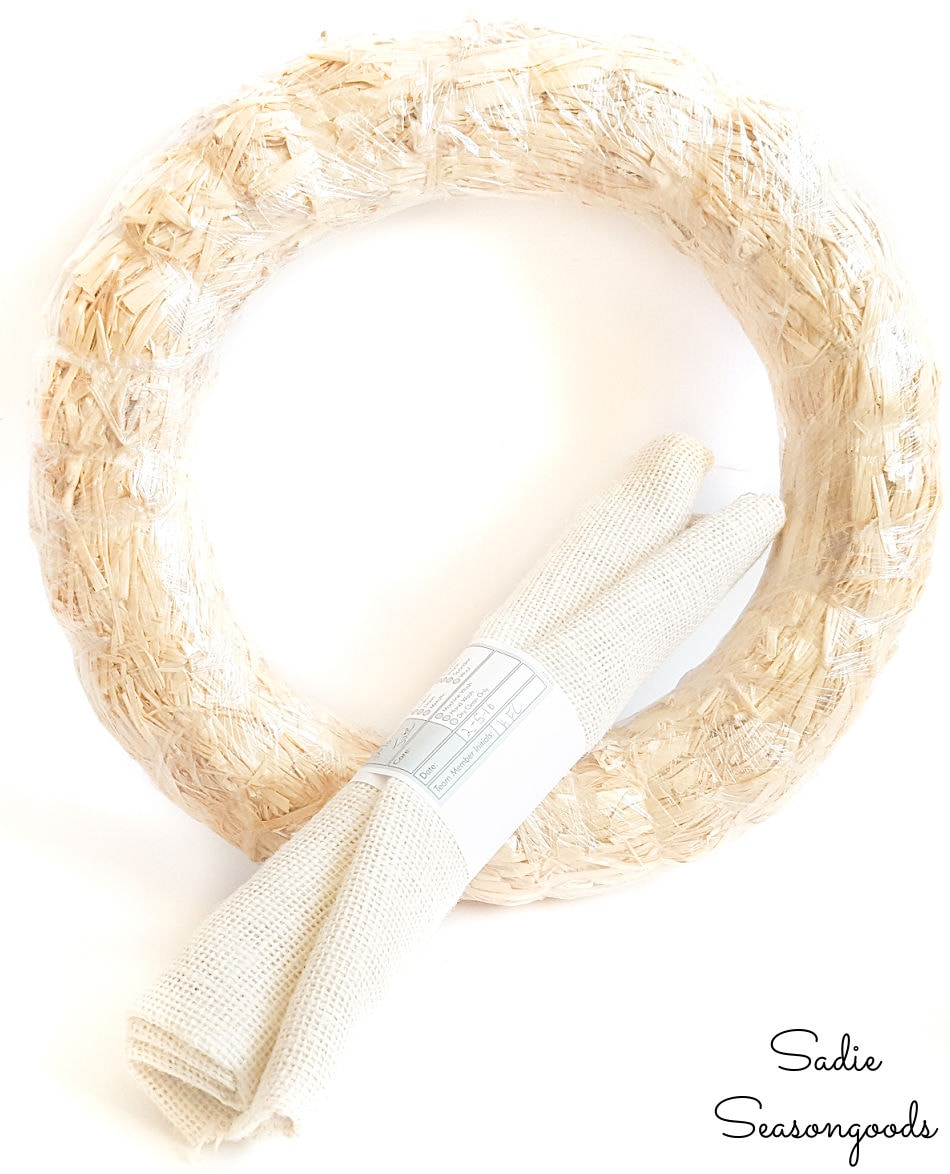 I cut the burlap in long narrow (3") strips, which I ironed and then wrapped around my wreath form. Then, I simply secured the ends on the back with my hot glue gun.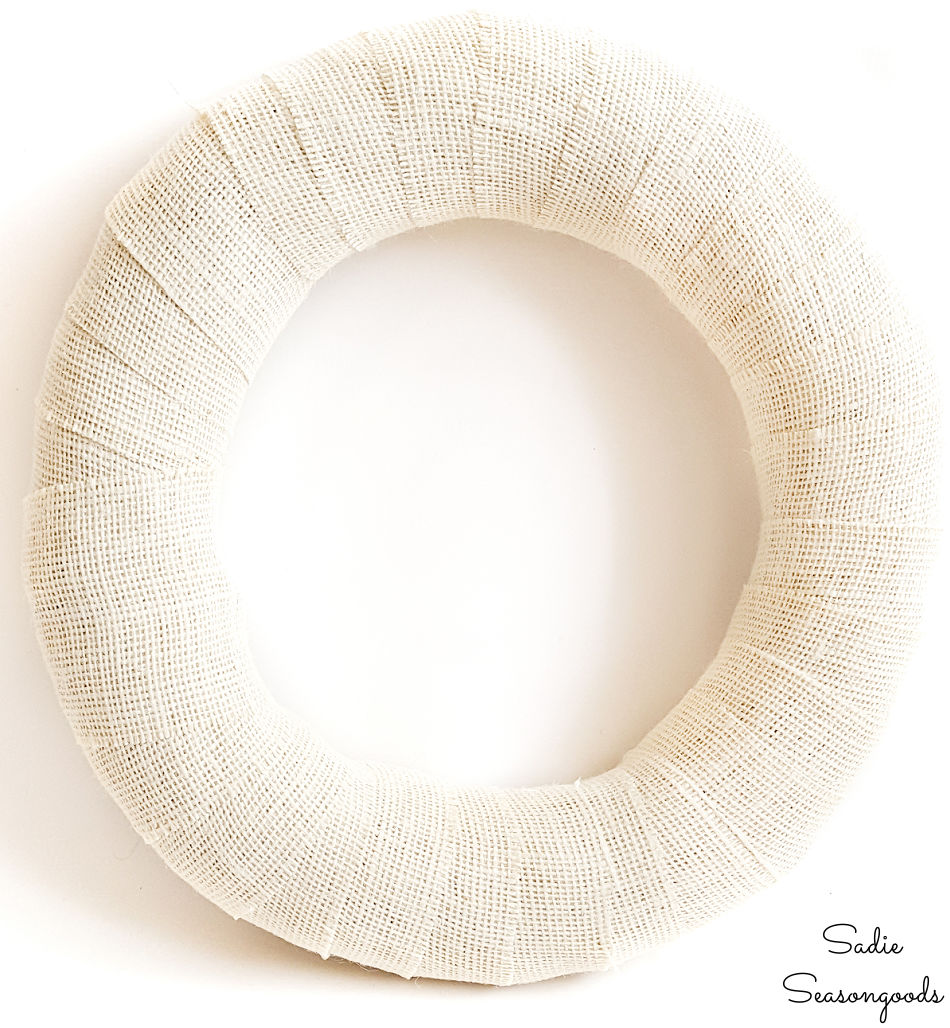 Now it was time to pull it all together! First, I attached the vintage campaign buttons to the wreath form, along with whatever other election memorabilia I had.
The beauty of using vintage election buttons is that you don't need any glue. They're already pins and easy to attach, especially after using burlap around the wreath form.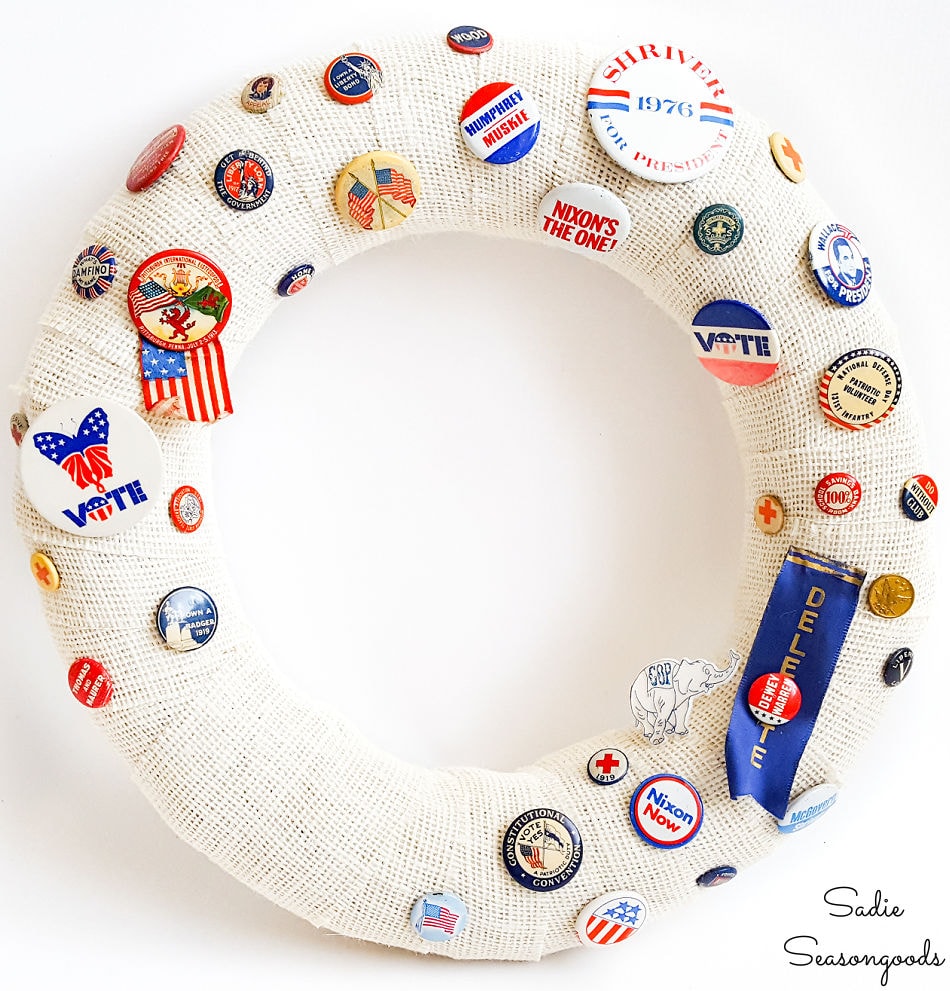 As you can see, I left a wide open spot near the bottom of my patriotic wreath. This is where the vintage ribbons would come into play!
I didn't want to cut or glue them, so I played around and created a wreath bow of sorts. I folded them, layered them on top of each other, and used a few hidden stitches with a needle and thread to secure them in place.
The end result was fun and flashy, like a prize ribbon from a horse show!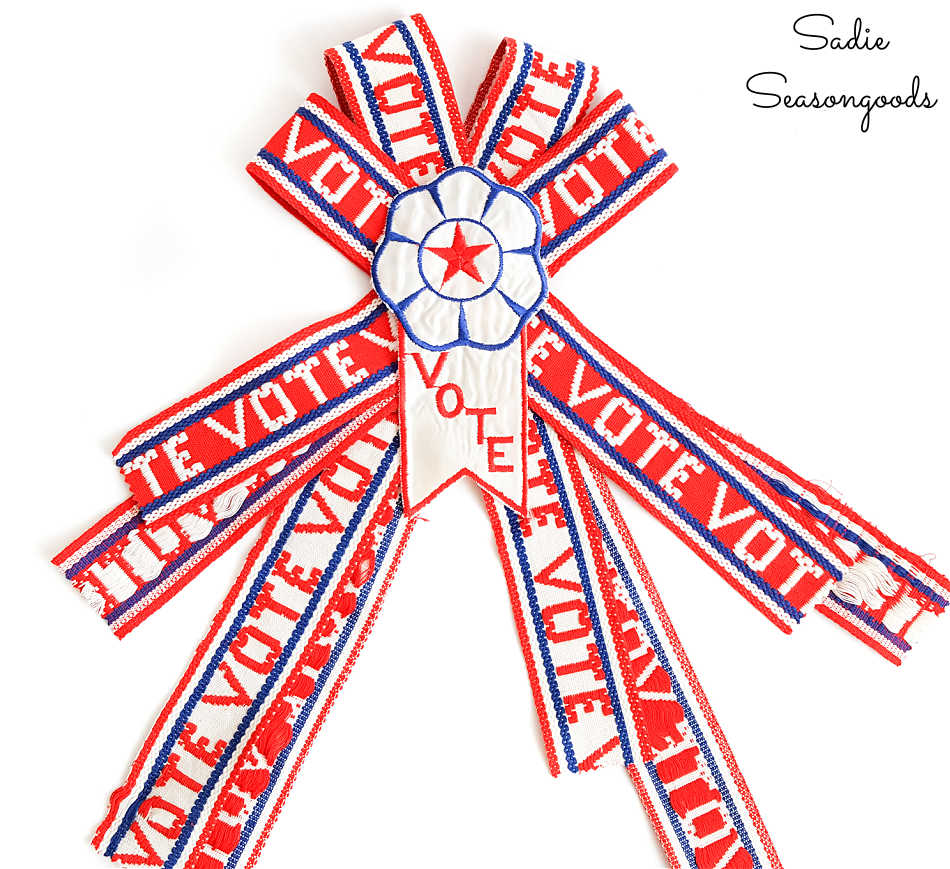 With a few more hidden stitches, I was able to secure it to my red, white, and blue wreath.
I also ended up moving a few of the vintage campaign buttons around to give it more room!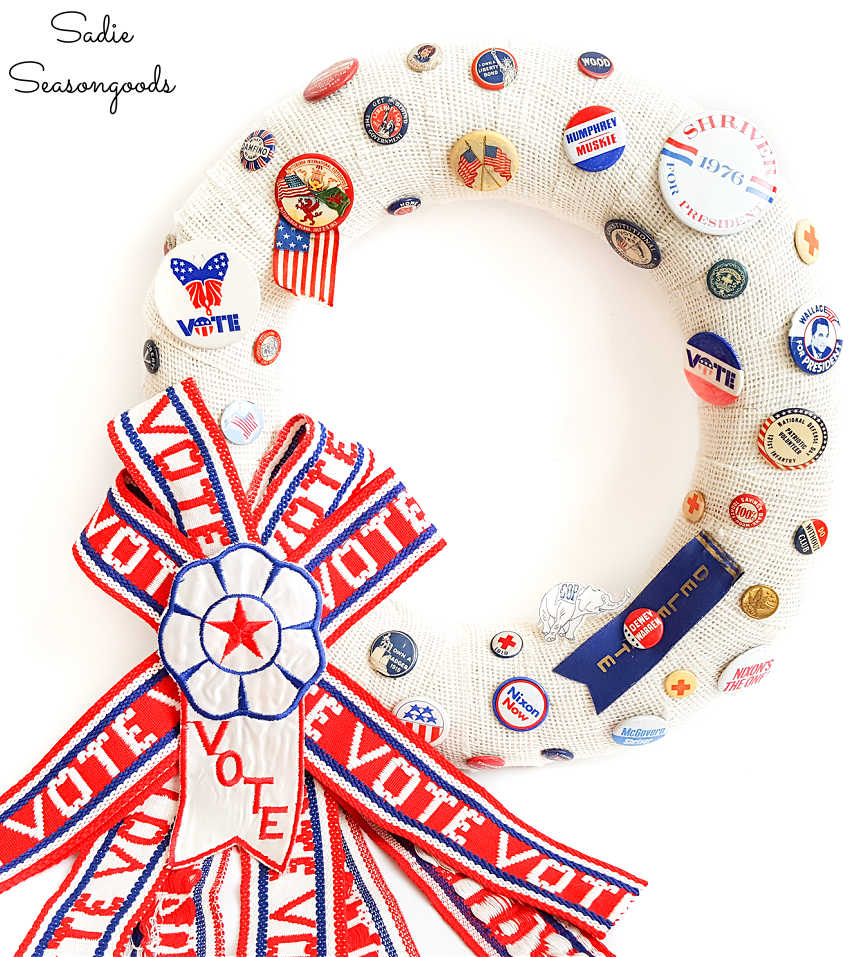 Now it was ready to hang on my front door. The perfect patriotic wreath that celebrates the politics of the past, from both major parties in the United States.
Red, White, and Blue Wreath with Vintage Campaign Buttons
To hang it, I gathered a loop of red, white, and blue grosgrain ribbon, which I knotted and fixed to the back of the wreath with a safety pin. And that was it!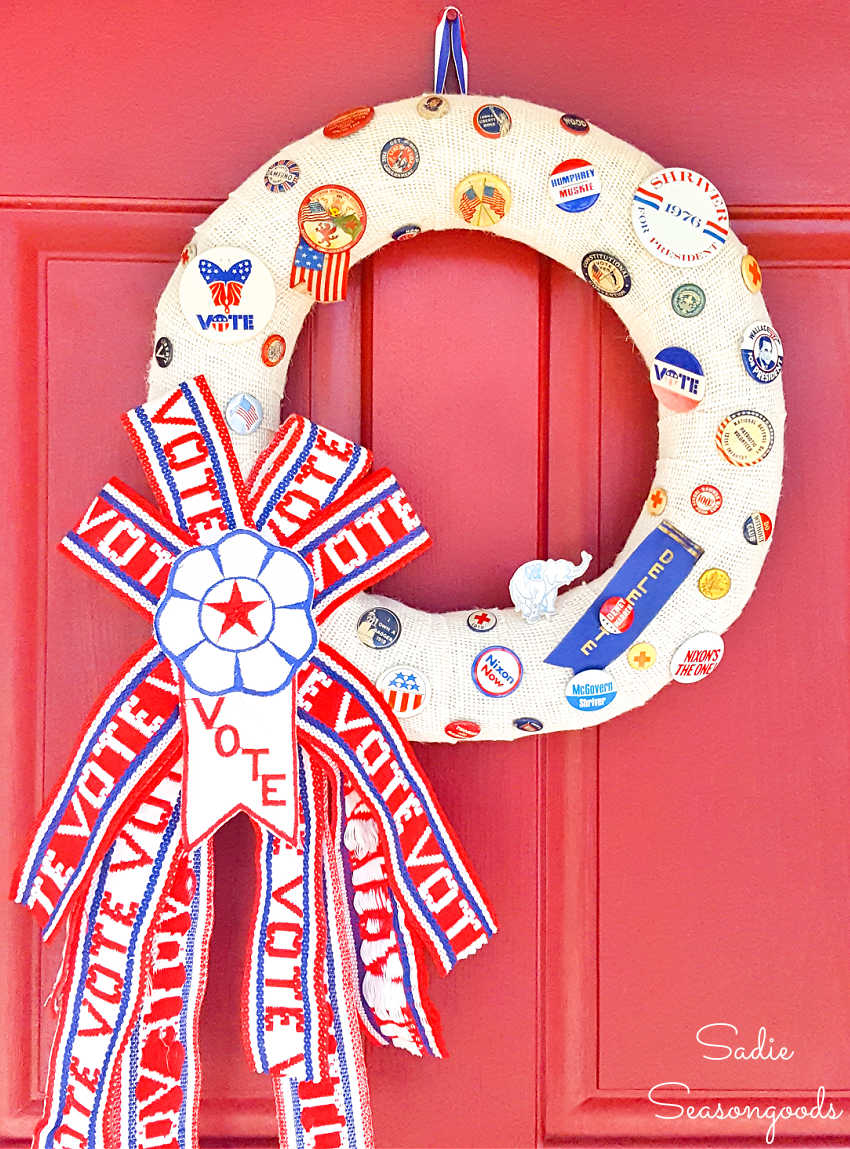 I just love how it turned out. What a fun way to upcycle and repurpose a collection of vintage campaign buttons patriotic ribbons. In a bi-partisan way, no less!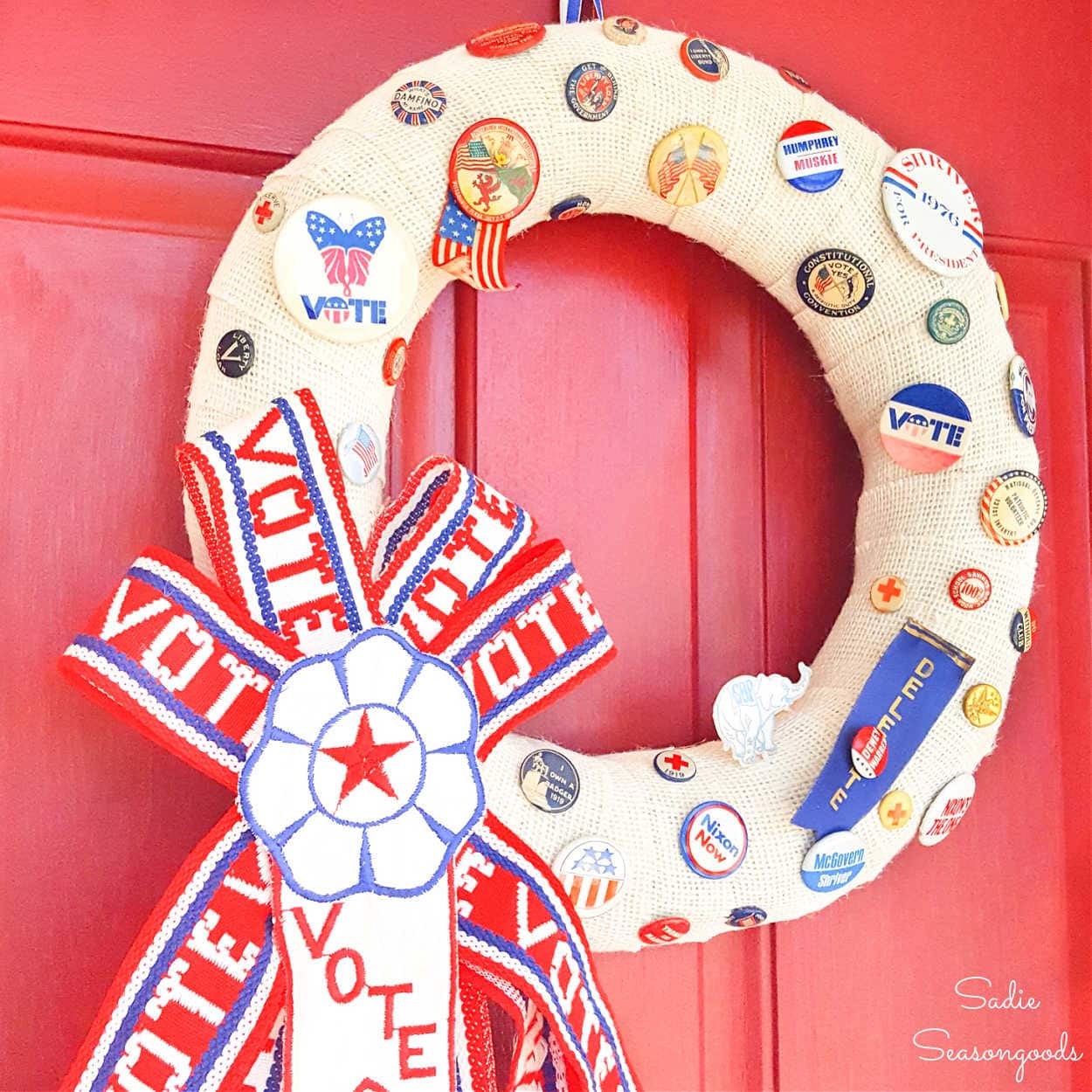 Years later, I wore the wreath bow as a corsage during the a recent election. How about that for celebrating the right to vote?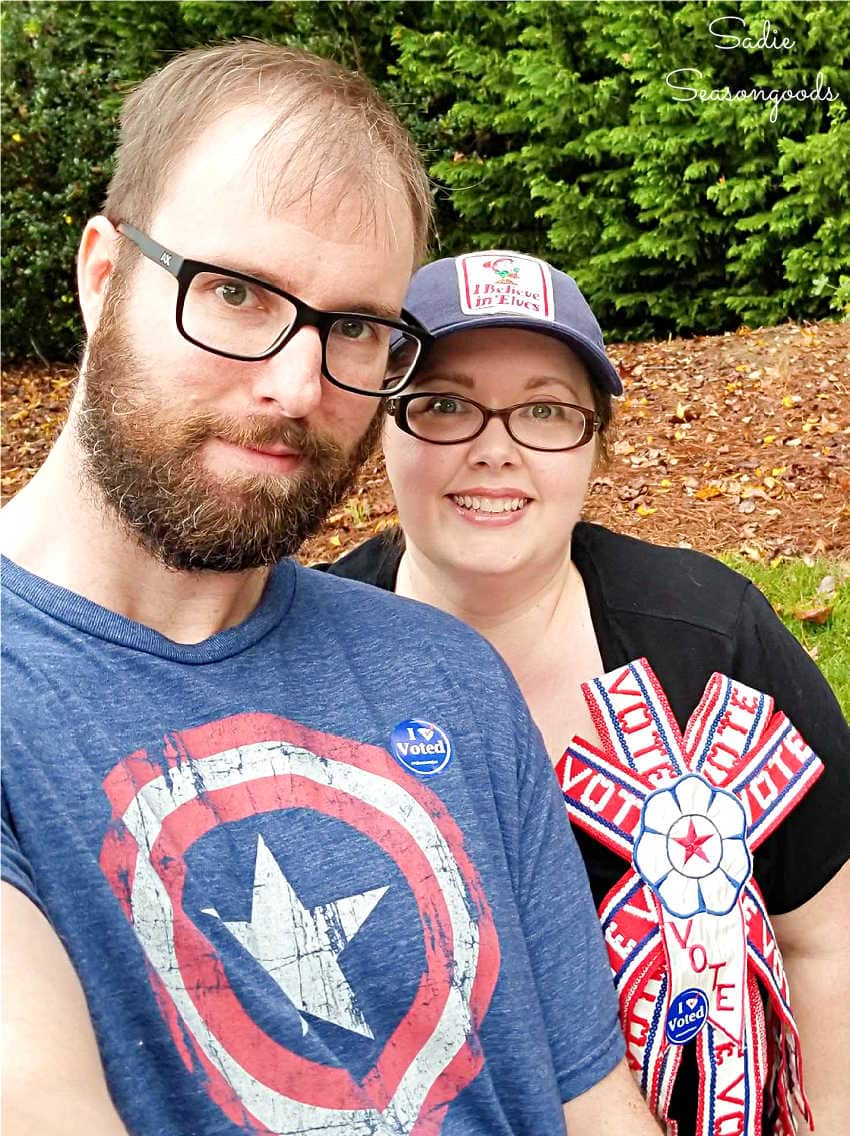 I often see vintage political memorabilia for sale, but rarely repurposed! But I do love how it turned out, and it reminds me that love of country is so much greater than politics.
With this project, you can make a political statement without any politics at all! And such a great way to celebrate the idea of Get Out the Vote in a bi-partisan way.
And a special thanks again to Kate DiNatale Vintage/CarlaSue Vintage and Maliasmark for their "political contributions" to this project! Without their vintage election buttons and political ribbons, I never would have created this!
If you enjoyed this upcycling idea for a patriotic home decor, then you may also be interested in this American flag decor I made, as well!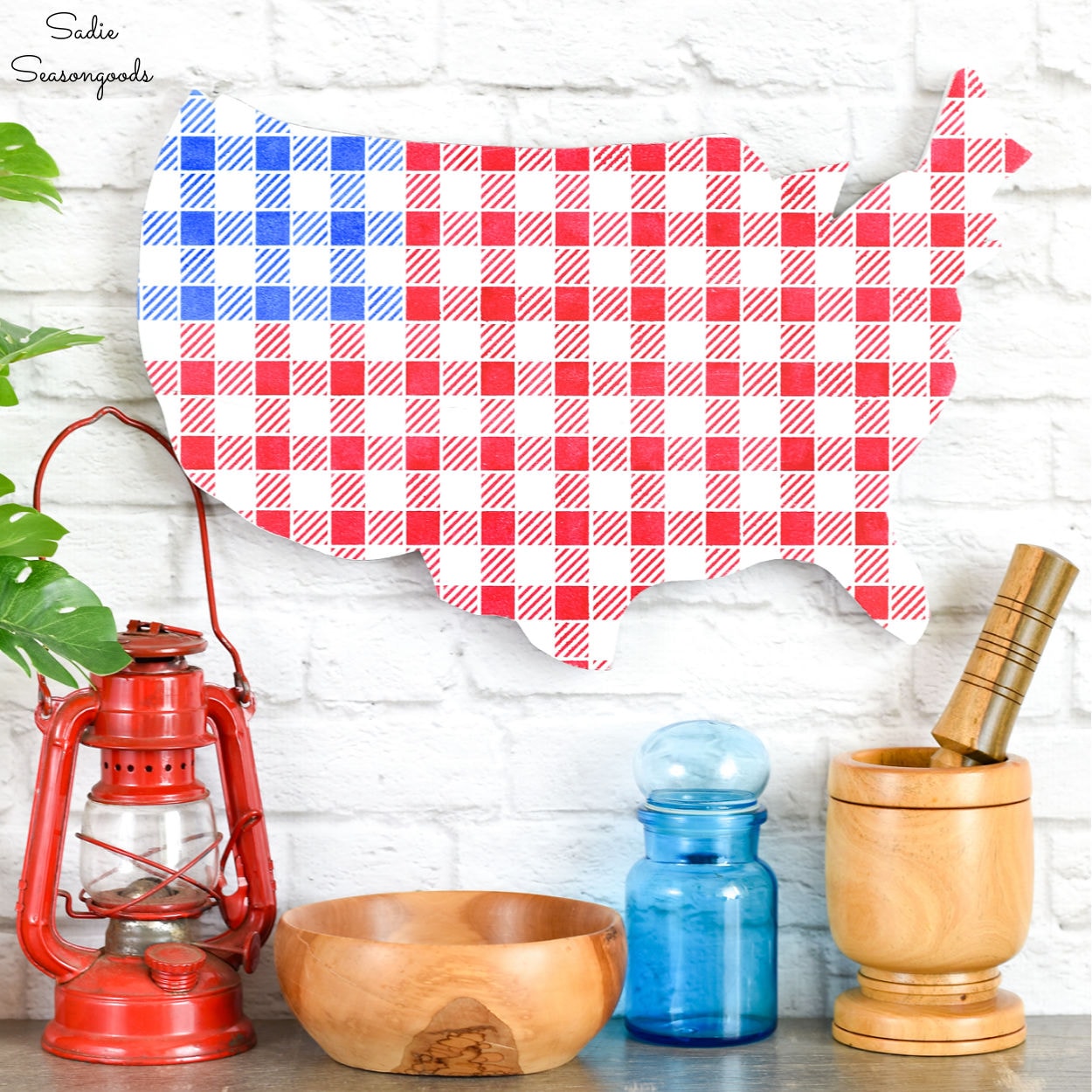 Craft on!
S
Join me on Social Media:

PIN ME!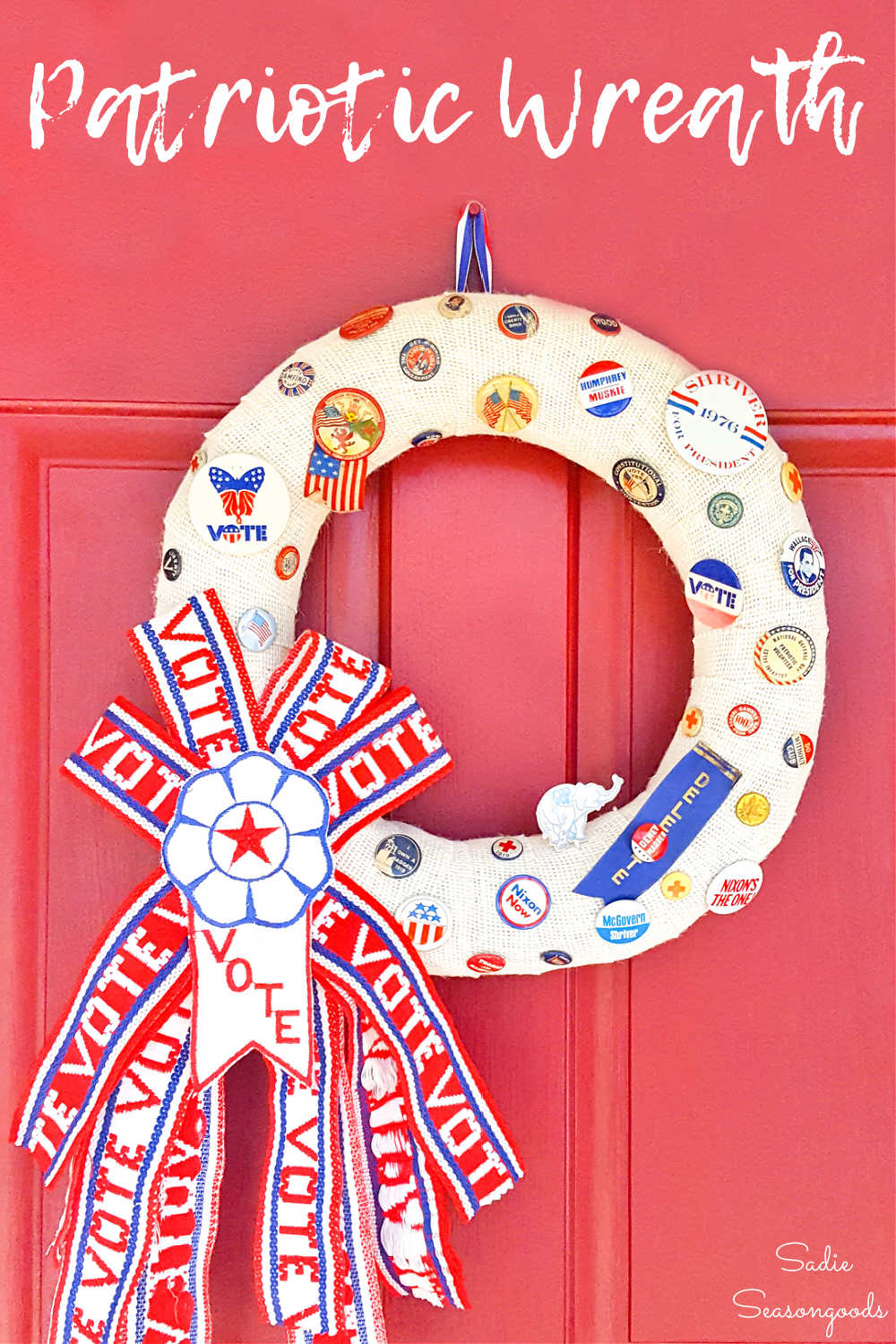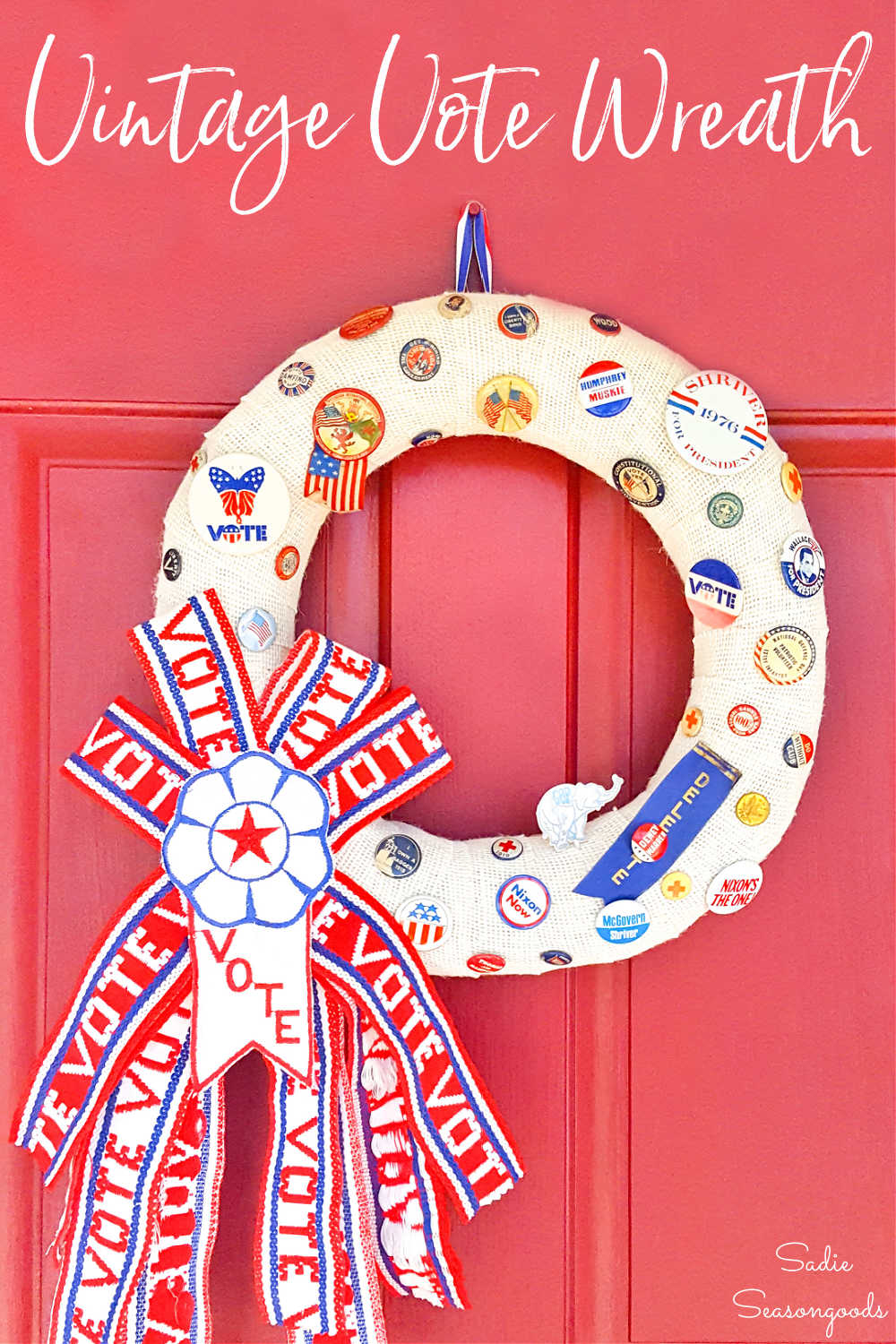 Sarah Ramberg is the owner of Sadie Seasongoods, a website that celebrates all things secondhand. From upcycling ideas and thrifted decor to vintage-centric travel itineraries, Sadie Seasongoods is a one-stop shop for anyone who loves thrifting and approachable repurposing ideas. Sarah is also the author of "Crafting with Flannel" and has been featured in numerous media outlets and magazines.