Every now and then, I choose to work on a project based on a crafting technique, as opposed to a really unique upcycling idea. And this, my friends, is one of those projects! You see, I'd been looking for a way to try out alcohol ink or alcohol paint paints for a long time. And I decided that creating alcohol ink art with glass pumpkins (or other round glass) would be fun for Fall home decor.
I found the first of my glass pumpkins at a Habitat ReStore…
As the year progressed, I gathered a few more thrift store glass pieces- like this round candle holder – that resembled a glass pumpkin.
Once I had my glass pumpkins collected, I purchased the alcohol paint / alcohol inks. They are available in lots of different colors, and come in little bottles that are a tad bigger than food coloring.
This post contains affiliate links for your crafting convenience. 
Alcohol Ink Painting on Glass Pumpkins
There are a few different ways to apply alcohol inks to your projects, such as dripping them directly on your surface, OR using a felt-tipped dauber. You can buy a pre-made dauber like this one, or make your own (which is what I did). To make one, I used:
a "handle" of some sort (I used a 3" nub from a wooden dowel);

plain crafting felt;

Hot Glue Gun

; and

Scissors.
First, I glued a small piece of Velcro to one end of my wooden dowel. Next, I cut out a similarly-shaped piece of felt and stuck it to to the Velcro.
And that was it – now I could start my alcohol ink project!
First, I selected three different colors of alcohol paint. Alcohol ink art is usually best with contrasting shades of ink. However, since I was looking to make decorative pumpkins, I selected three coordinating shades of orange, yellow, and green.
To test out colors and technique, I used a glass vase that was in my at-home donation pile. But you could easily try it on a clear glass spaghetti sauce jar (or similar) from your recycling bin.
I dabbed my dauber all over the exterior of my glass vase in an up-and-down motion, like stippling paint over a stencil. Going up and down keeps the colors from swirling together, allowing the different colors to show through.
I also rotated the dauber in my hand to keep a pattern from forming on the glass.
After I practiced and felt confident on my technique, I worked on the candle holder first…
I dabbed the alcohol paint over and over again on the glass pumpkins (ok, candle holder!) until I was satisfied with the result!
Fall Home Decor with Alcohol Ink Painting on Glass Pumpkins
Next, I added a fresh piece of felt to my dauber and used a slightly different combination of colors of alcohol paint. And I went work once again, dabbing all over the glass pumpkin.
Also, because alcohol ink can smudge, I sealed my pumpkin 24 hours later with a glossy spray sealant just to be safe.
I LOVE IT! It looks almost like hybrid of stained glass and mercury glass, straight out of a small art gallery or high-end boutique. Now I totally understand why alcohol ink painting / alcohol ink art is so popular!
And as an added bonus, my glass pumpkins look positively GLORIOUS at night with my absolute favorite LED fairy lights. Doesn't the alcohol paint look amazing like this?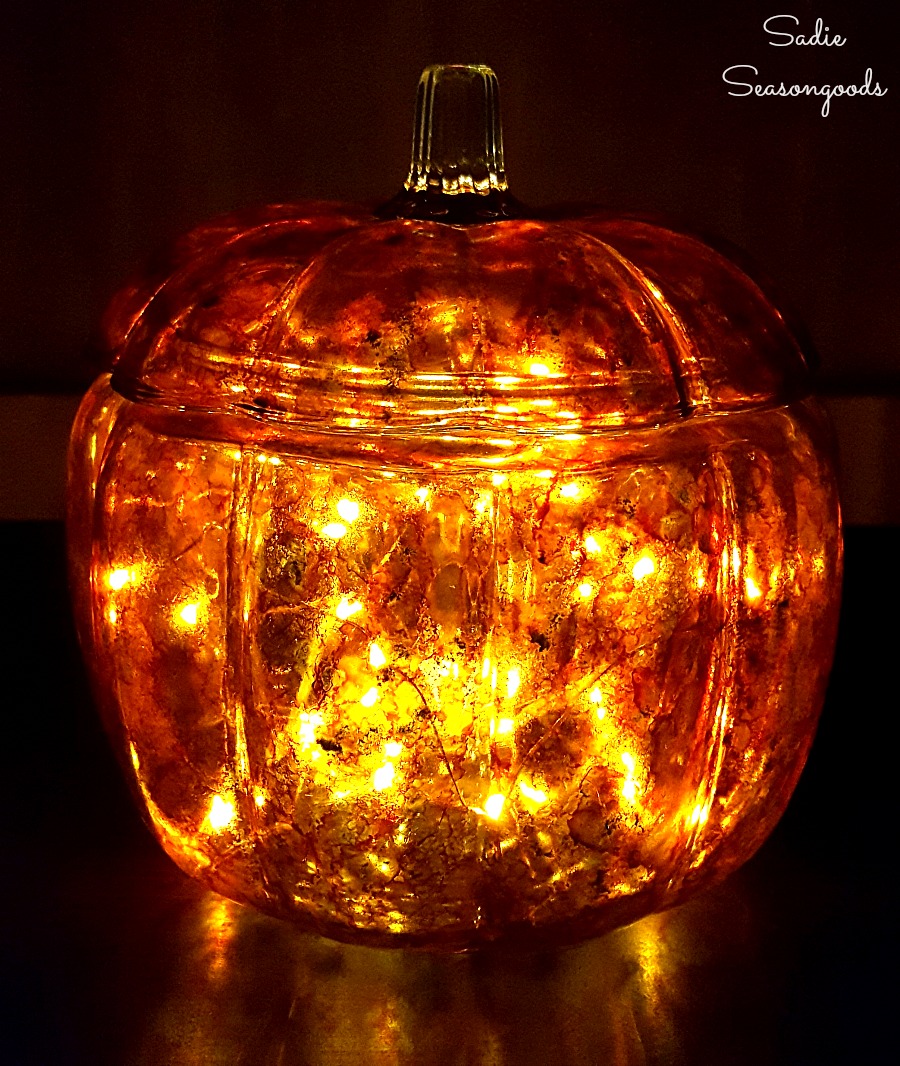 Using alcohol paint on glass pumpkins is such a fun upcycling idea, and a nice change of pace from the typical mercury glass look. Think you'll try out some alcohol ink painting now?
If you enjoyed this upcycling idea for DIY Fall Decor, then you'll love this project for painting glass jars and wine bottles to look like decorative gourds!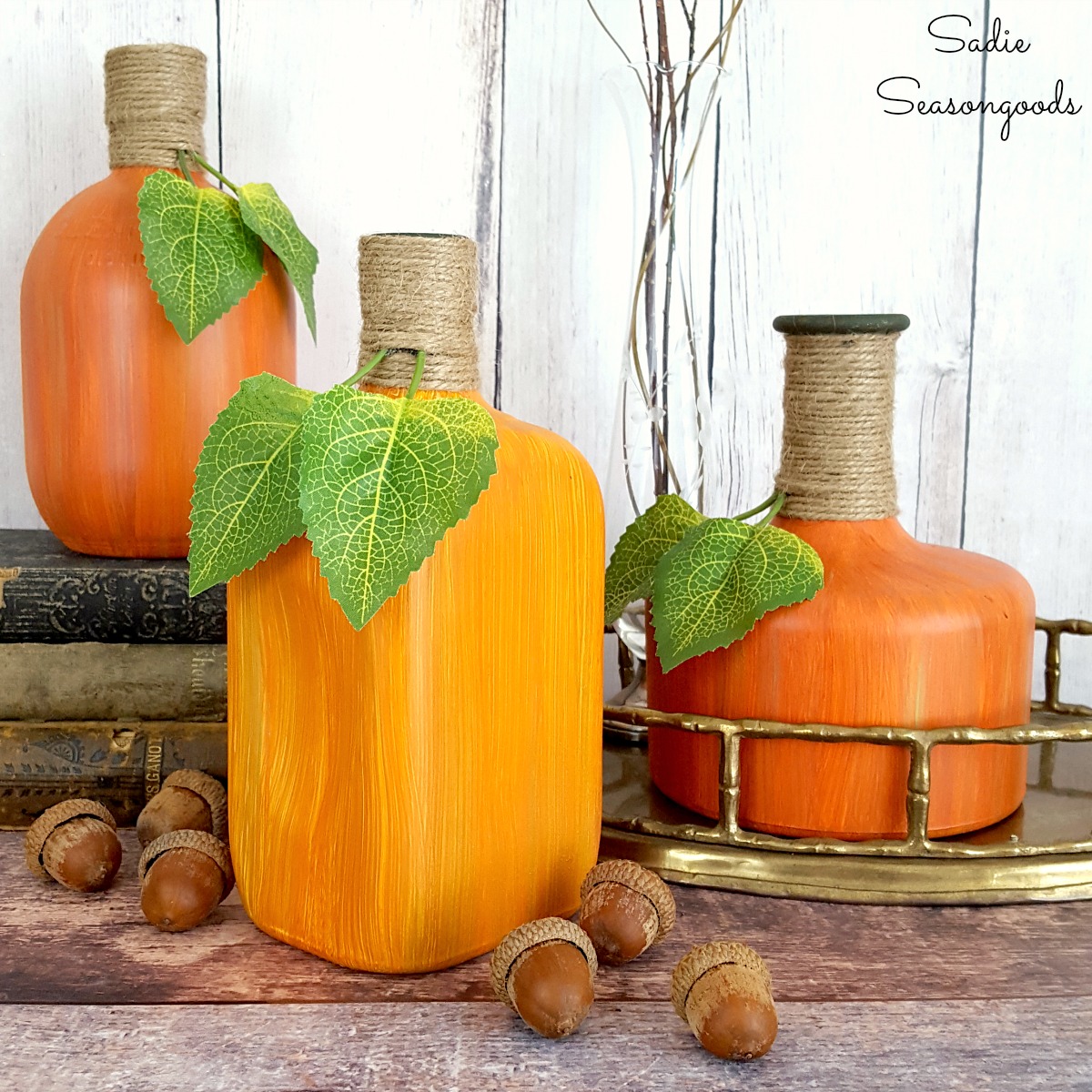 Craft on!
S
Want to be notified when I publish my next upcycling project tutorial?
Subscribe to Blog via Email
Join me on Social Media: