A few years ago, I made these DIY Wreath Ornaments using the bands from canning jars after I bought a set of mason jars to use as drinking glasses. I had no intention of making another ornament craft with them again…but then thrifting fate intervened. Earlier this year, I came across a bag of canning jar lids – in various sizes, colors, and brands…and I couldn't bear to leave it behind.
After mulling over different ways to upcycle them, I decided to pair them up with scraps of vintage Christmas wrapping paper. I had plenty left over from this project of mine and it just seemed like a match made in DIY heaven!
Unlike the mason jar lid wreaths I made before, this upcycling idea would use both the lid and the band. So, I gathered some crafting materials and went to work on my idea for retro Christmas ornaments.
This post contains affiliate links for your crafting convenience.
Upcycling Canning Jar Lids and Christmas Gift Wrap
To get started, I needed a way to hang the shatterproof ornaments. So I gathered a few canning jar lids and popped holes in the them using an awl.
I set the bands aside to then focus on the vintage Christmas wrapping paper. I needed scraps that had good graphics (size, color, etc.) that would fit inside the canning jar lids.
Once I isolated the image, I cut it out to fit the lid (either by tracing or using a rotary cutter around the ring).
Since the Christmas gift wrap was fragile and easily torn, I wanted to laminate it. I don't have a machine to do that, but no problem- I just grabbed laminating sheets which are super easy to use.
I cut a laminating sheet into quarters- using one quarter on the front and one on the back of my gift wrap circle.
Make sure you use the flat canning jar lid to smooth out the laminated wrapping paper- rub it like a quarter on a scratch-off lottery ticket all over and in multiple directions- trust me!
Then, I trimmed off the excess laminating sheet and trimmed my gift wrap insert. I wanted to make sure if fit perfectly inside one of the canning jar lids!
Next, I used a quick-dry glue to attach the laminated wrapping paper graphics to the canning jar lids.
While I forgot to take photos, I also spray painted my canning jar lids (the bands) in Christmas colors that coordinated with each gift wrap circle!
I used more quick-dry glue on the inside of the ring, lined up my graphic with the hole I punched in the ring earlier, and glued it in place.
Retro Christmas Ornaments with Canning Jar Lids and Christmas Gift Wrap
Lastly, I slipped a knotted loop of embroidery floss through the hole in the band. Now I could hang my retro Christmas ornaments on the tree!
And that's it- a whole series of shatterproof ornaments from canning jar lids and vintage Christmas wrapping paper. Such fun craft project to do with the girls, the grands, or solo this holiday season.
These are ideal for anyone who needs ornaments that won't break…and they don't take up much room to store, either.
And you certainly don't have to use Christmas gift wrap with your canning jar lids. Old Christmas cards, holiday craft paper, or printables from sites like The Graphics Fairy would be perfect as well.
I never get tired of DIY Christmas Ornaments – especially when I can upcycle items from my craft stash together!
If you enjoyed this upcycling idea for retro Christmas ornaments, then you'll love this unique Christmas decor that was made with vintage tennis rackets!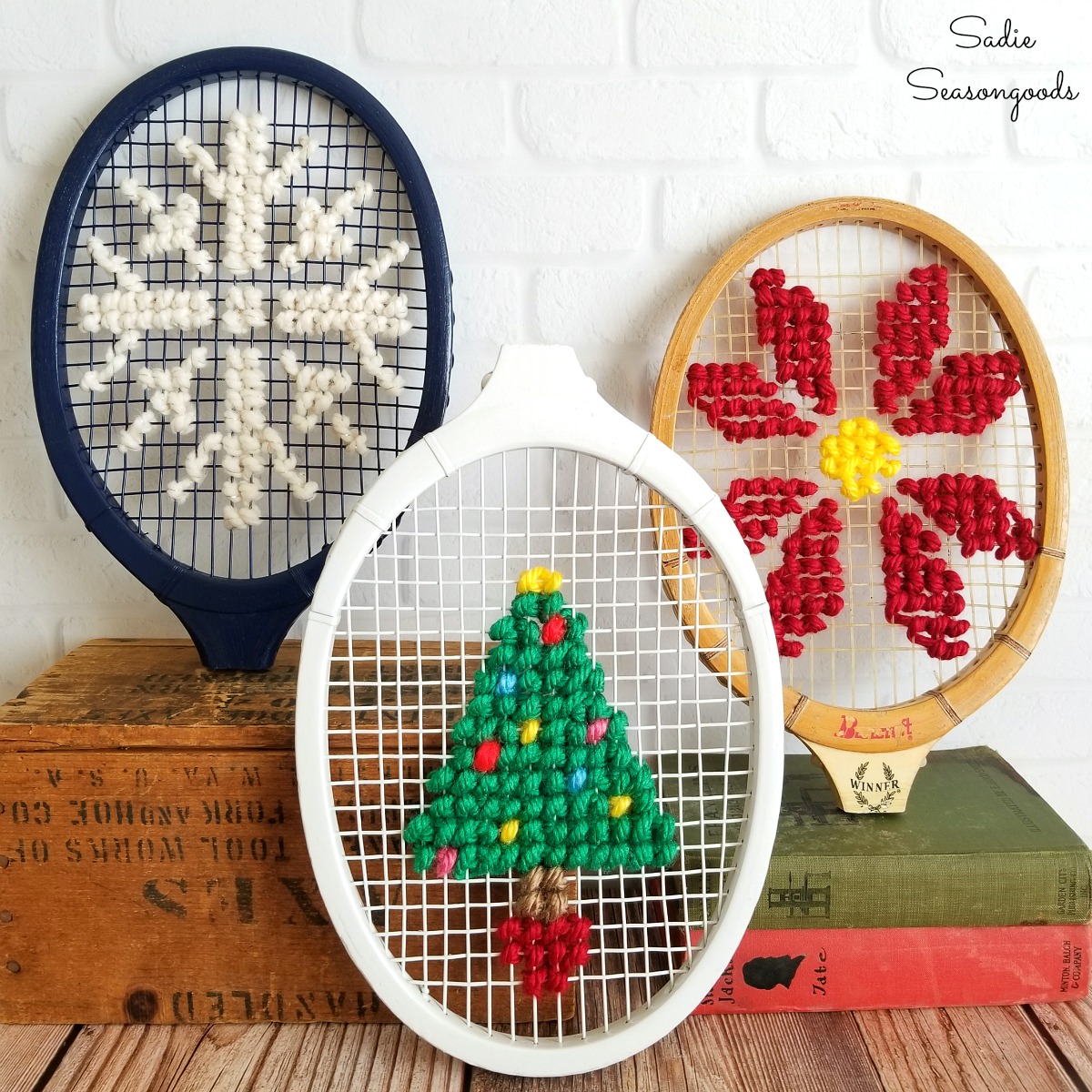 Craft on!
S
Want to be notified when I publish my next upcycling project tutorial?
Subscribe to Blog via Email
Join me on Social Media: