Mason jar lids are an ideal craft project material, aren't they? I frequently find the lids and bands at thrift stores, and crafting with them is always fun! This bag of lids was a great find on one of my thrifting adventures and I knew they'd be perfect for upcycling into rustic Christmas ornaments.
I had first seen this idea on Chipping with Charm and just loved it. It was perfect for my collection of mason jar lids!
This post contains affiliate links for your crafting convenience. As an Amazon Associate, I earn from qualifying purchases.
*****
*****
A Christmas Project with Mason Jar Lids
First, I gathered my Christmas craft supplies, including jute twine, cotton twine, etc. Some of it came from the hardware store, and some from craft stores. I also gathered a few extras – small Christmas "bits" (such as scrapbooking stickers and embellishments), rick-rack, and other festive ribbon.
Then, I started by wrapping the cotton string around one of the mason jar lids. I tied a knot when I first started out, but you could just as easily hot-glue the end inside the lip of the band.
When I was finished, I tied another knot and added some hot glue to keep everything in place.
Again, in retrospect, a knot isn't needed. You could just hot glue the end of the twine or string at the back.
Next, it was time to embellish my rustic Christmas ornaments – the fun part!
Decorating Mason Jar Lids to Look Like Christmas Wreaths
With some craft ribbon, I wrapped a loop around the mason jar lid to use for hanging on the Christmas tree. I also made a small, simple bow and hot glued it on the front of my ornament.
The bow hid the knot I had made when I wrapped the lid with string. It also held the hanging loop in place.
Within a couple of hours, I had made several rustic Christmas ornaments with the mason jar lids! This Christmas project would be ideal to do in a group, even with kids!
I also used narrow lace to wind around the band, and then added narrow rick-rack on top to give it a candy cane look.
I also used braided silk cord (which has a nice shimmer) and green ribbon. And instead of jeweled stickers, these "berries" are actually earring studs from the thrift store!
I also used natural jute twine, extra lace from the candy cane wreath, and little holly embellishment from the scrapbooking aisle. I just love the rustic look of the jute!
Mason Jar Lids as Rustic Christmas Ornaments
The possibilities are truly endless with this Christmas project. With so many potential Christmas craft supplies available, the sky is the limit when it comes to mason jar lid wreath ornaments.
And they are the perfect size to hang on your Christmas tree. I can't help myself, I keep making more of them!
If you enjoyed this upcycling idea for the bands from Ball canning jars, then you'll also love this upcycling idea for mason jar lids and Christmas gift wrap, too!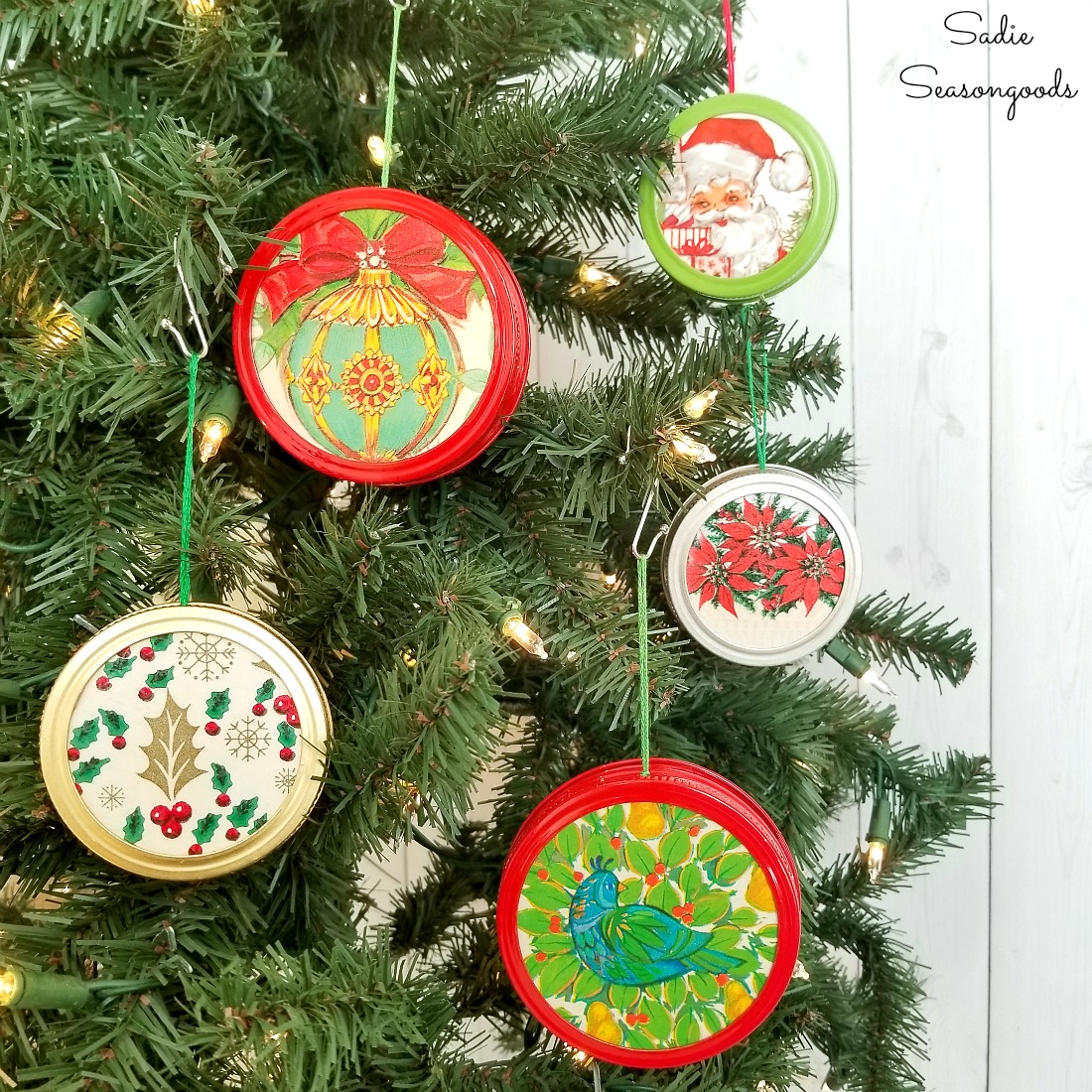 Craft on!
S
Want to be notified when I publish my next upcycling project tutorial?
Subscribe to Blog via Email
Join me on Social Media: