Whenever I'm in a creativity funk, I head into my garage or Craft Room to do some tidying up and rearranging. Why? Because I usually unearth something long forgotten and it's the shot in the arm that I need to get back in the proverbial (crafting) saddle! And that's how I decided to upcycle this vintage window into some whimsical decor to celebrate Spring.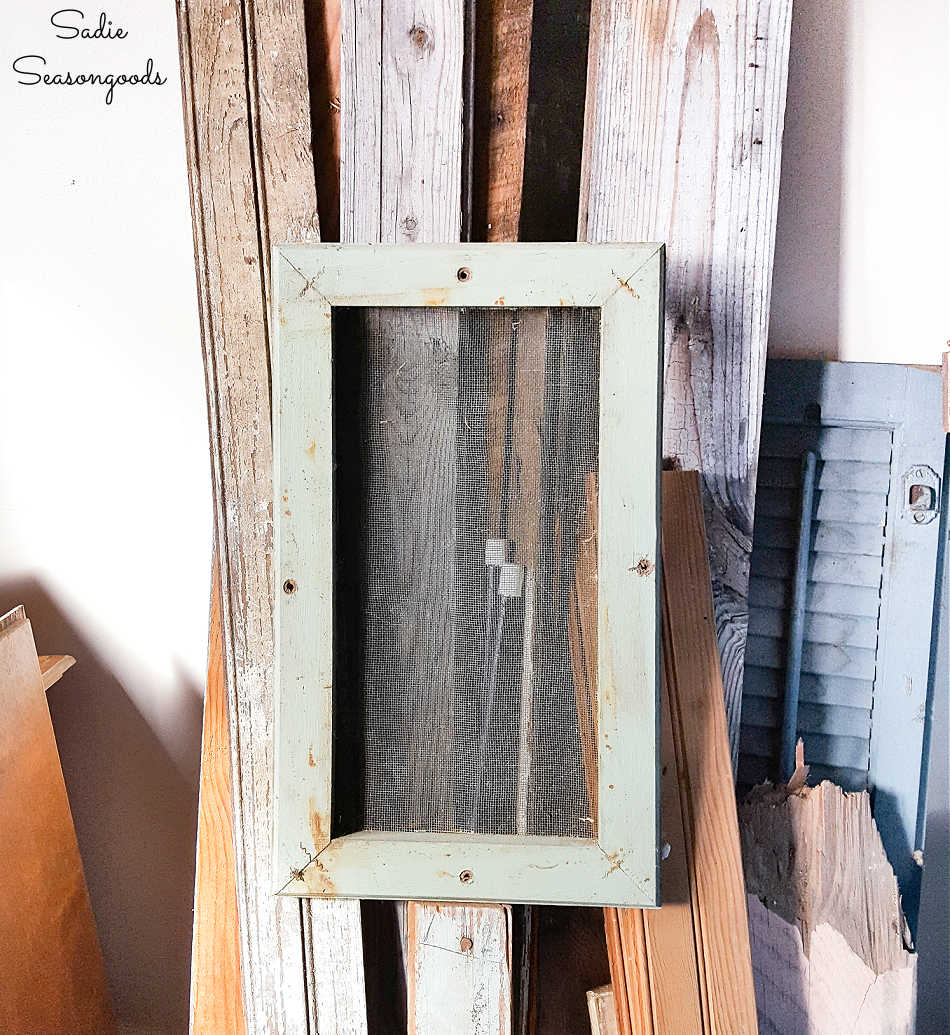 Believe it or not, but I've had this vintage window since before I started my blog! Old, rusty, and crusty, it was the perfect project-to-be.
So, I decided to upcycle it into whimsical decor for Spring. And I would use my very first blogging project (this shabby chic wall decor) as my inspiration!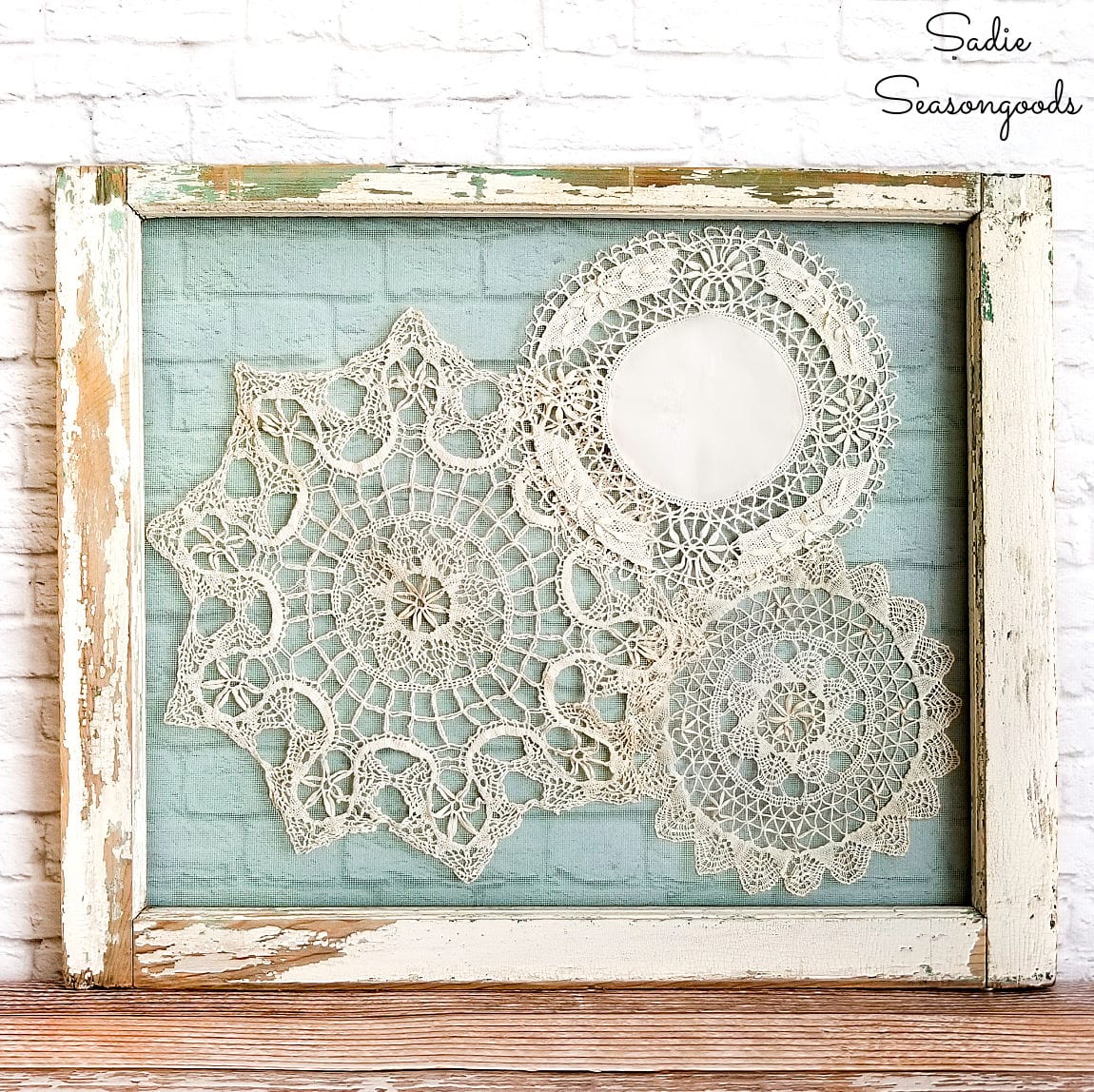 This post contains affiliate links for your crafting convenience. As an Amazon Affiliate, I earn from qualifying purchases. All blue, bold, and underlined text is a clickable link, either to a product or to a related post.
Refreshing a Vintage Window
Now, as much as I love a little rust and crust, this guy was a little overwhelming. The mesh screen on the back was old and, well, menacing! It grabbed, snagged, and sliced anything that came near it!
So, I decided to give the whole thing a makeover- without really changing its appearance. Kind of like wearing makeup that looks so natural that it doesn't LOOK like you're wearing makeup.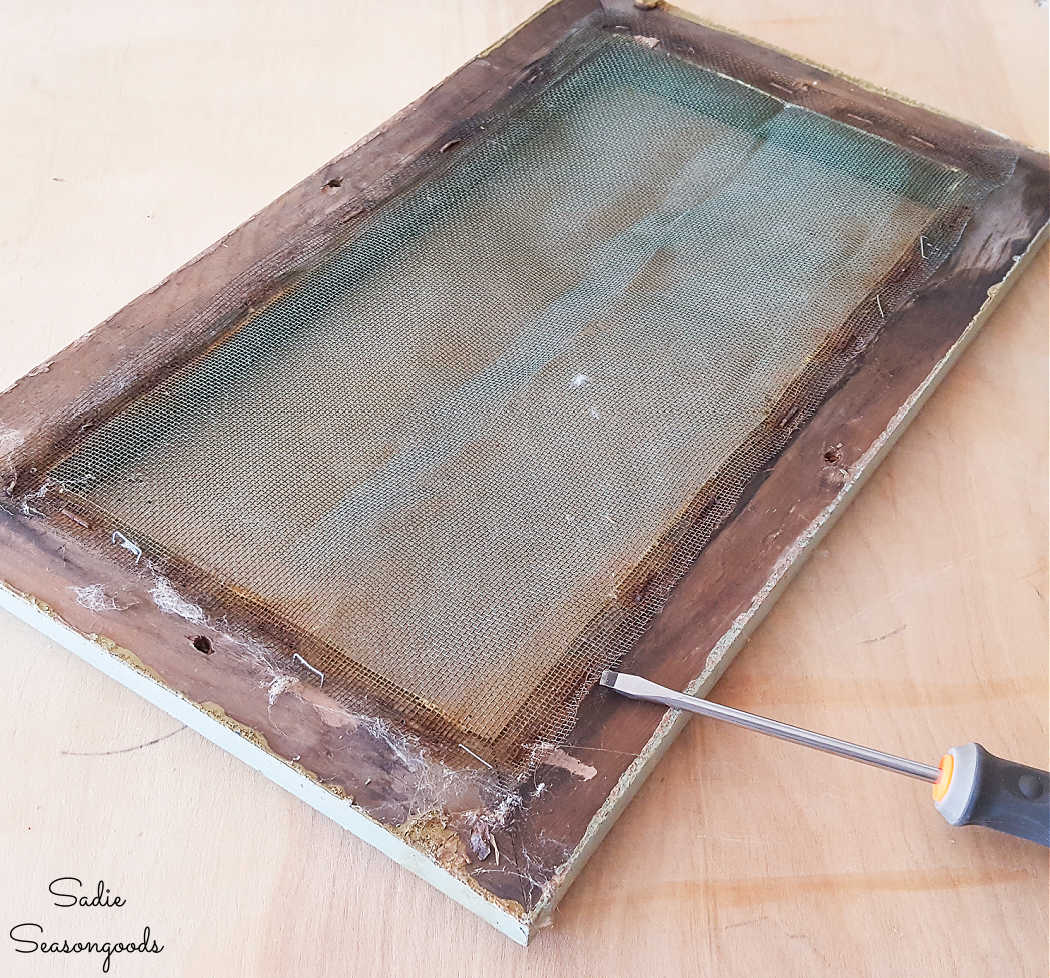 The malevolent screen had to go!
First, I carefully removed the window screen and the crumbling staples that held it in place. A wire brush came in handy for really scrubbing the back of the rustic window frame and helped to clean it up nicely.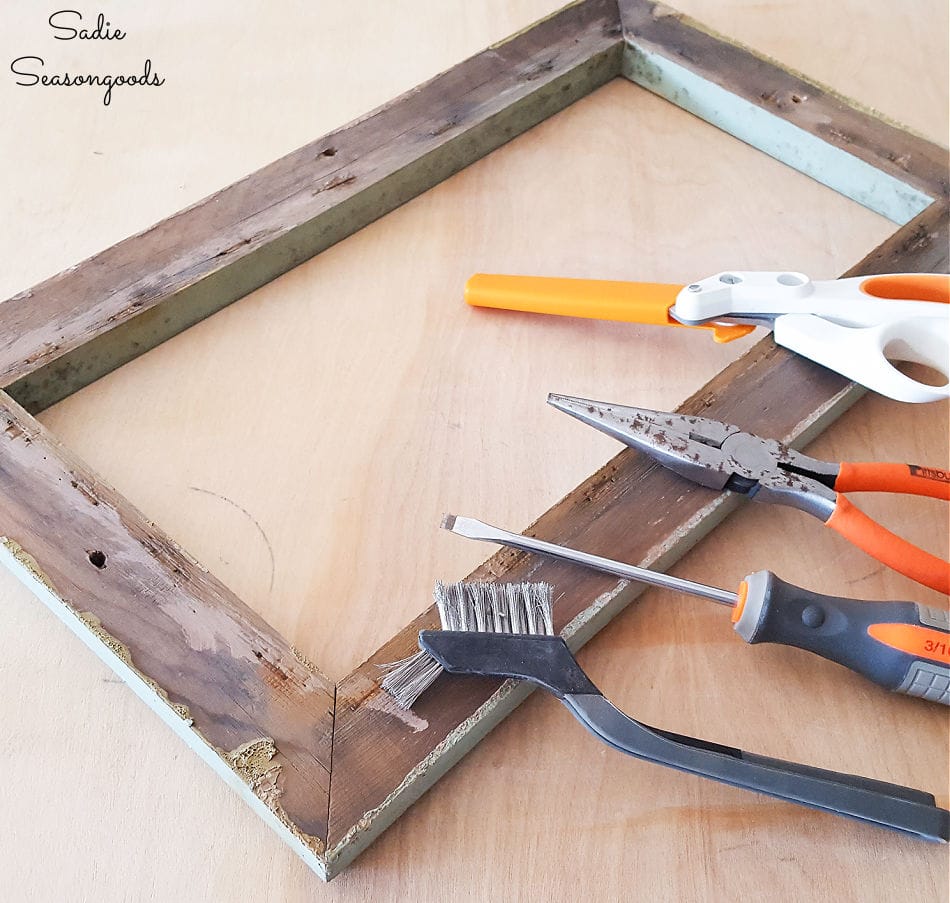 Next, I decided to freshen up the rustic window frame. I had virtually the same color craft paint leftover from this project!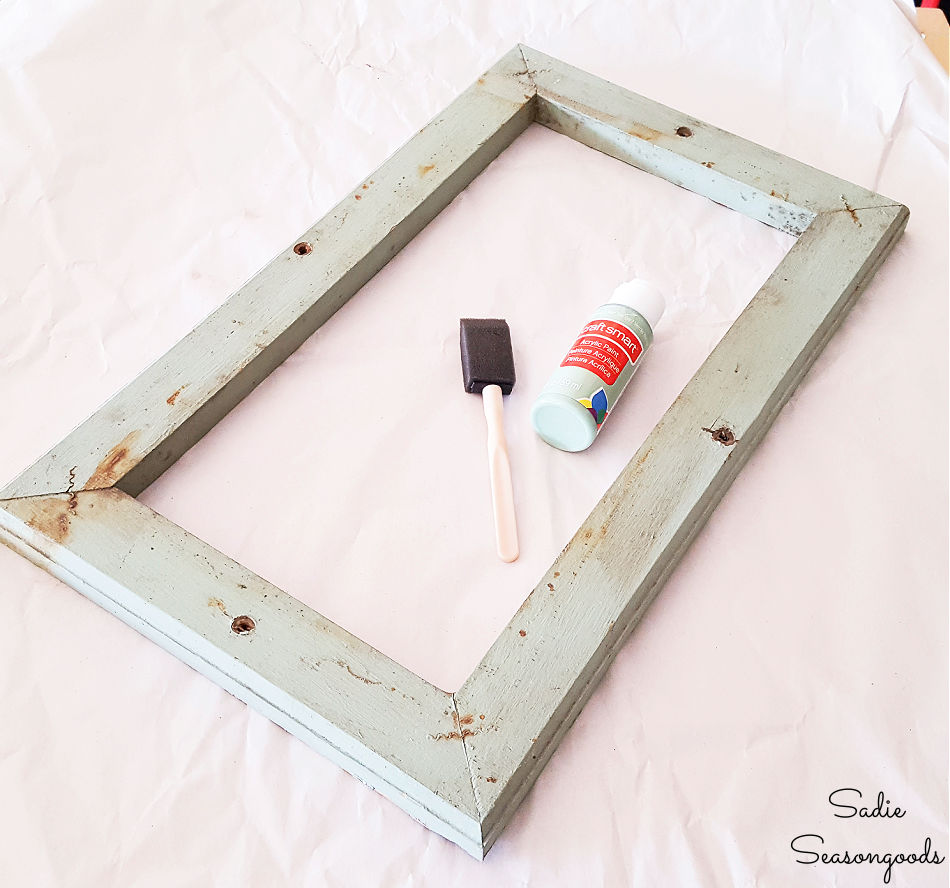 So, I dry brushed some on the frame just to brighten and liven it up. I wanted it to remain that dusty shade of green which seemed perfect for my whimsical decor plans…
Next, I cut out a rectangle of window screen that was just smaller than the frame and spray painted the screen white. A cheap clip hanger works perfectly for spray painting screen!
Then, I just attached the screen to the back of the frame!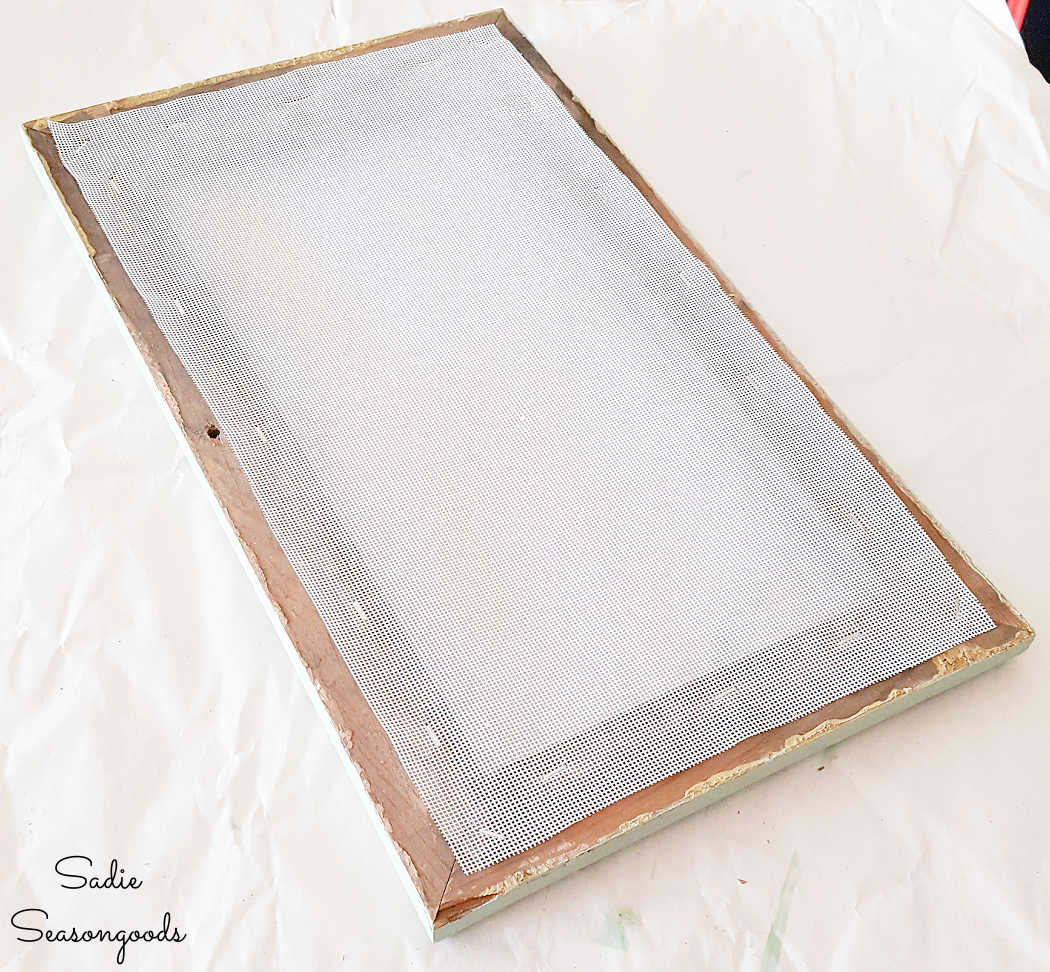 Vintage Doilies for Whimsical Decor
Now the rustic window frame was fresh and clean, and ready for next steps!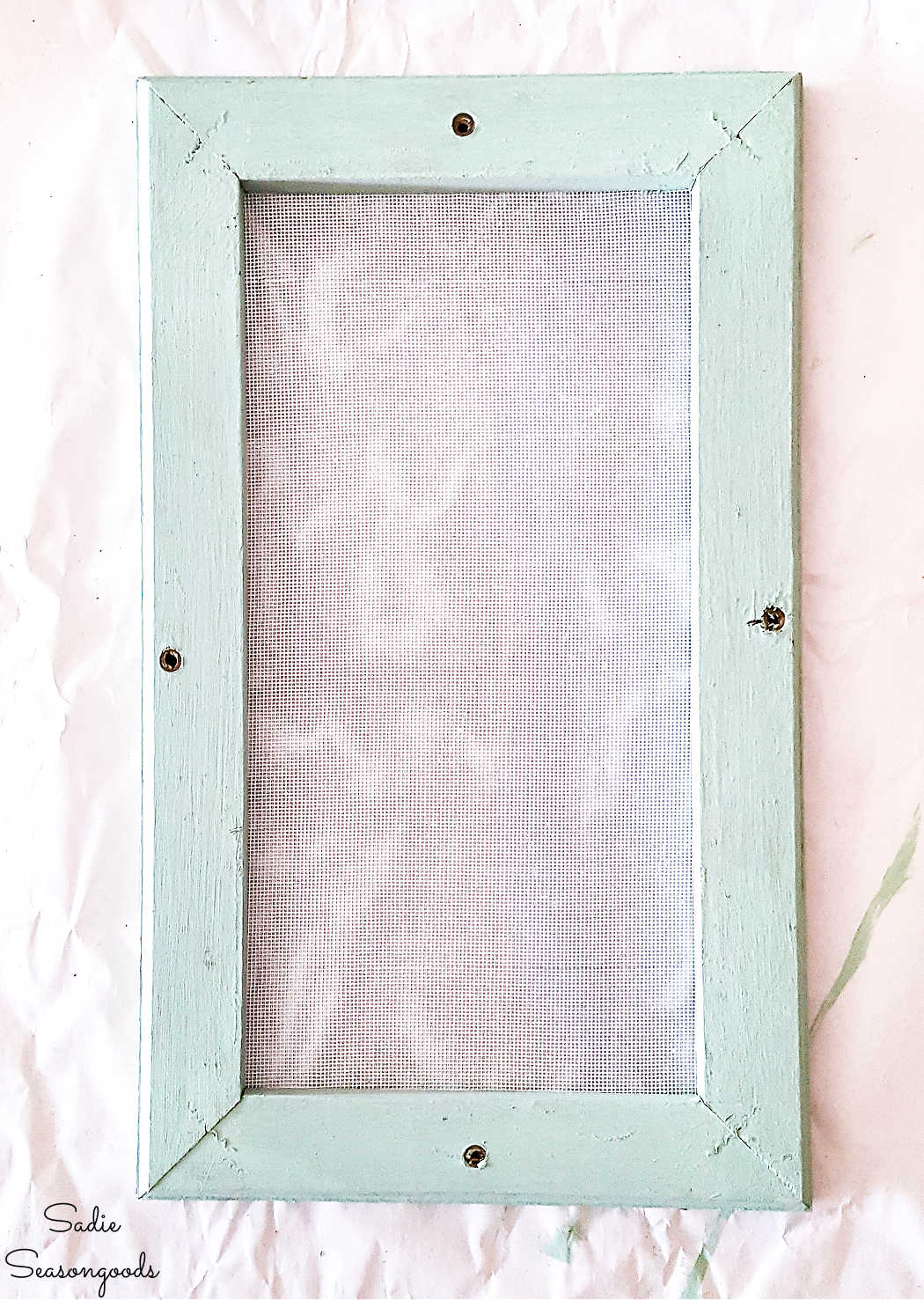 As I mentioned before, I was using my shabby chic window decor with vintage doilies as my inspiration. But I wanted to use colored doilies in Spring colors instead of natural or white.
First, I selected a few of my smallest doilies (purchased from this Etsy shop) and arranged them on the screen.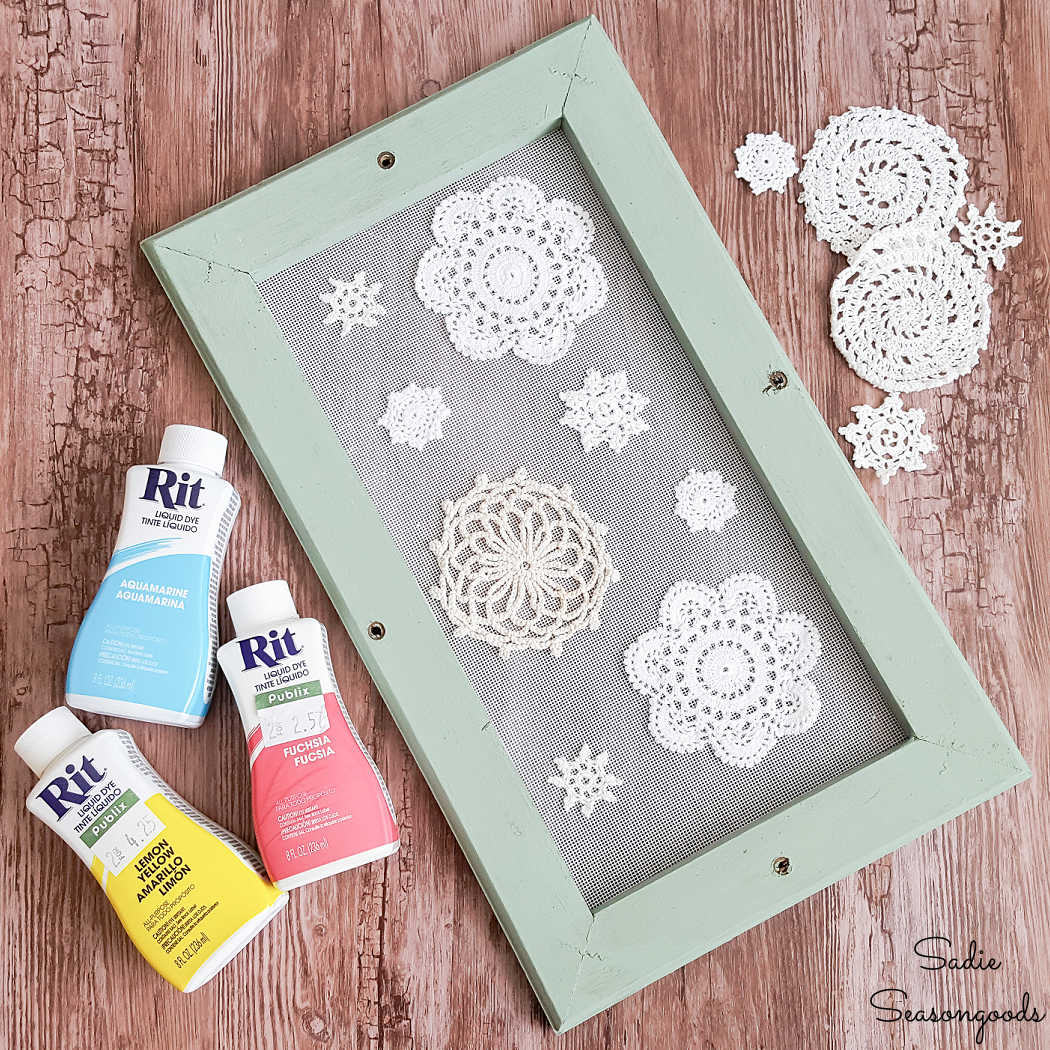 I snapped a photo to remember the arrangement on the window screen frame. Then, I gathered some Rit dye in Springtime colors to dye my doilies.
You may remember that I've done this before for my doily table runner that I made for Spring decor, too!
After dyeing the doilies per the directions on the bottles of dye, I ironed them and placed them back on the window screen. I pinned them in place and grabbed some all-purpose thread in coordinating colors.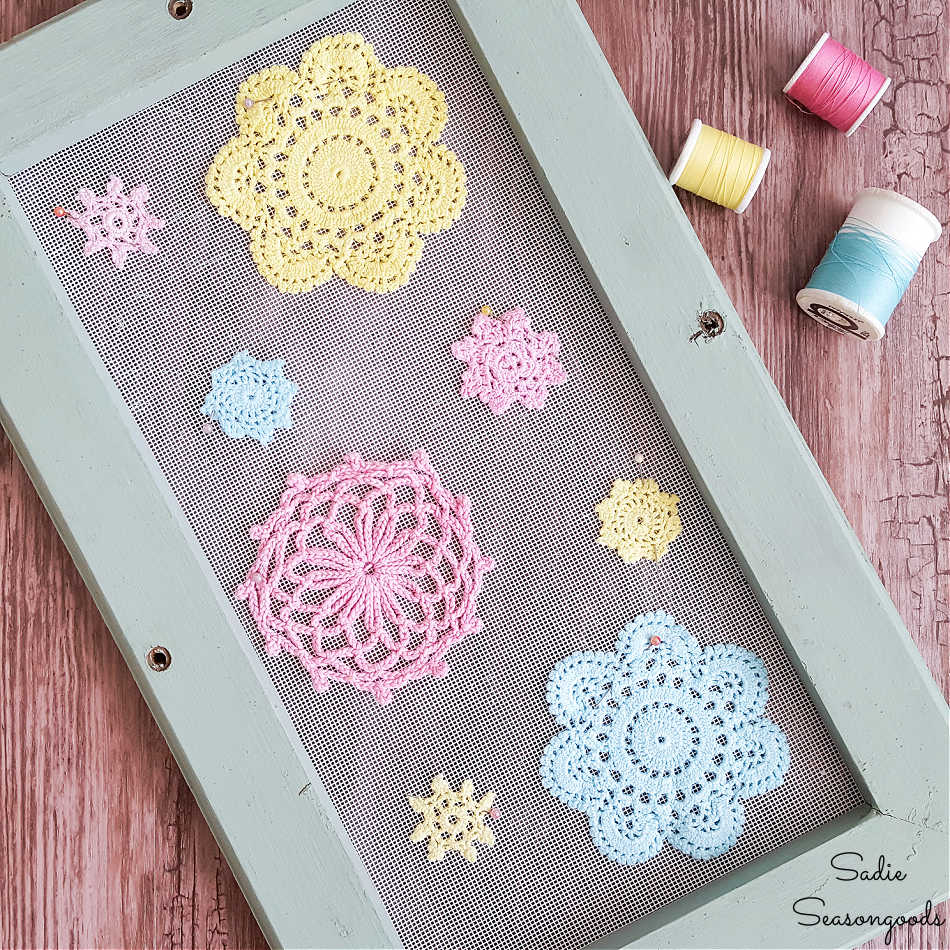 My whimsical decor was really coming together now!
For a bit more whimsy, I grabbed some sage green embroidery floss. My plan was to add some floral embroidery in between the colorful doilies so that they looked like flowers on a trailing vine.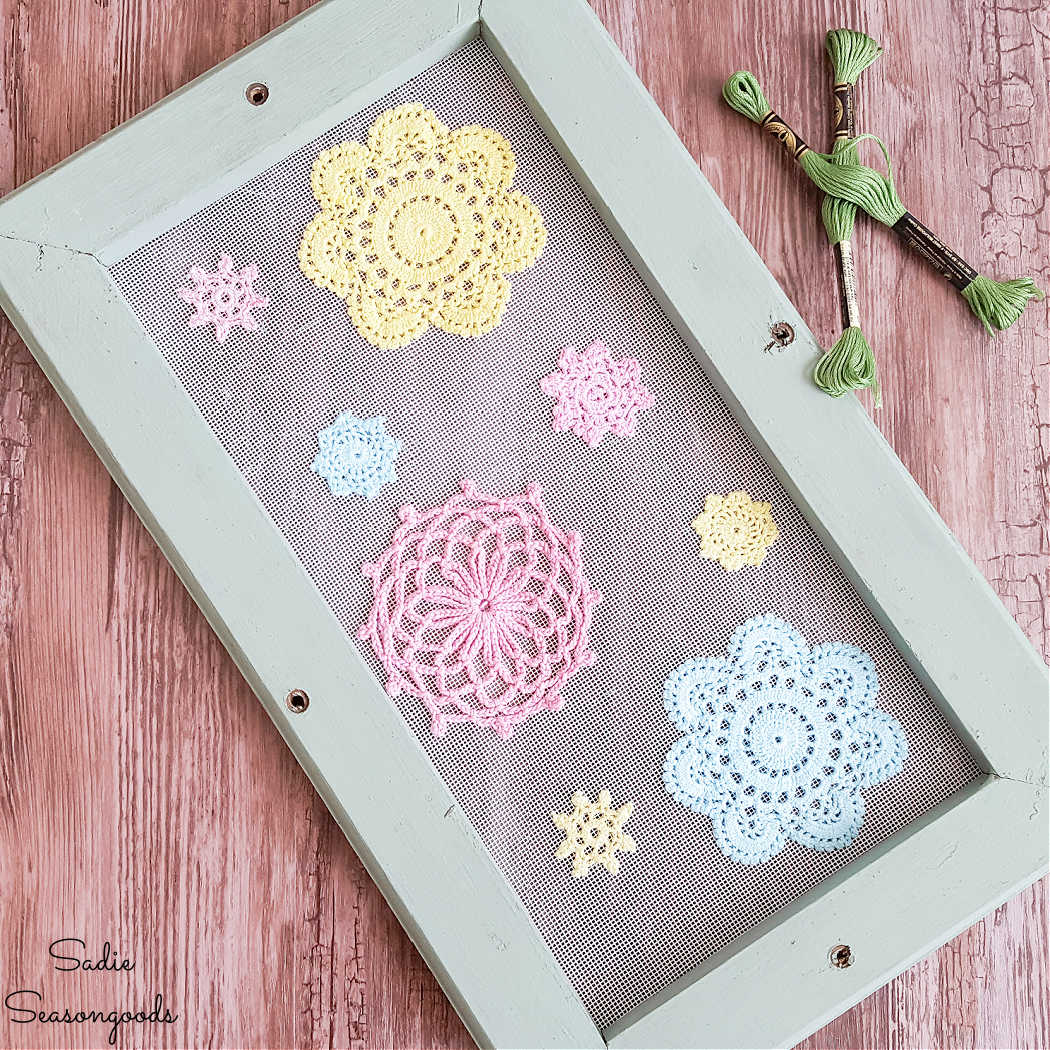 Whimsical Decor on a Vintage Window
When all was said and done, this is what my vintage window looked like all gussied up!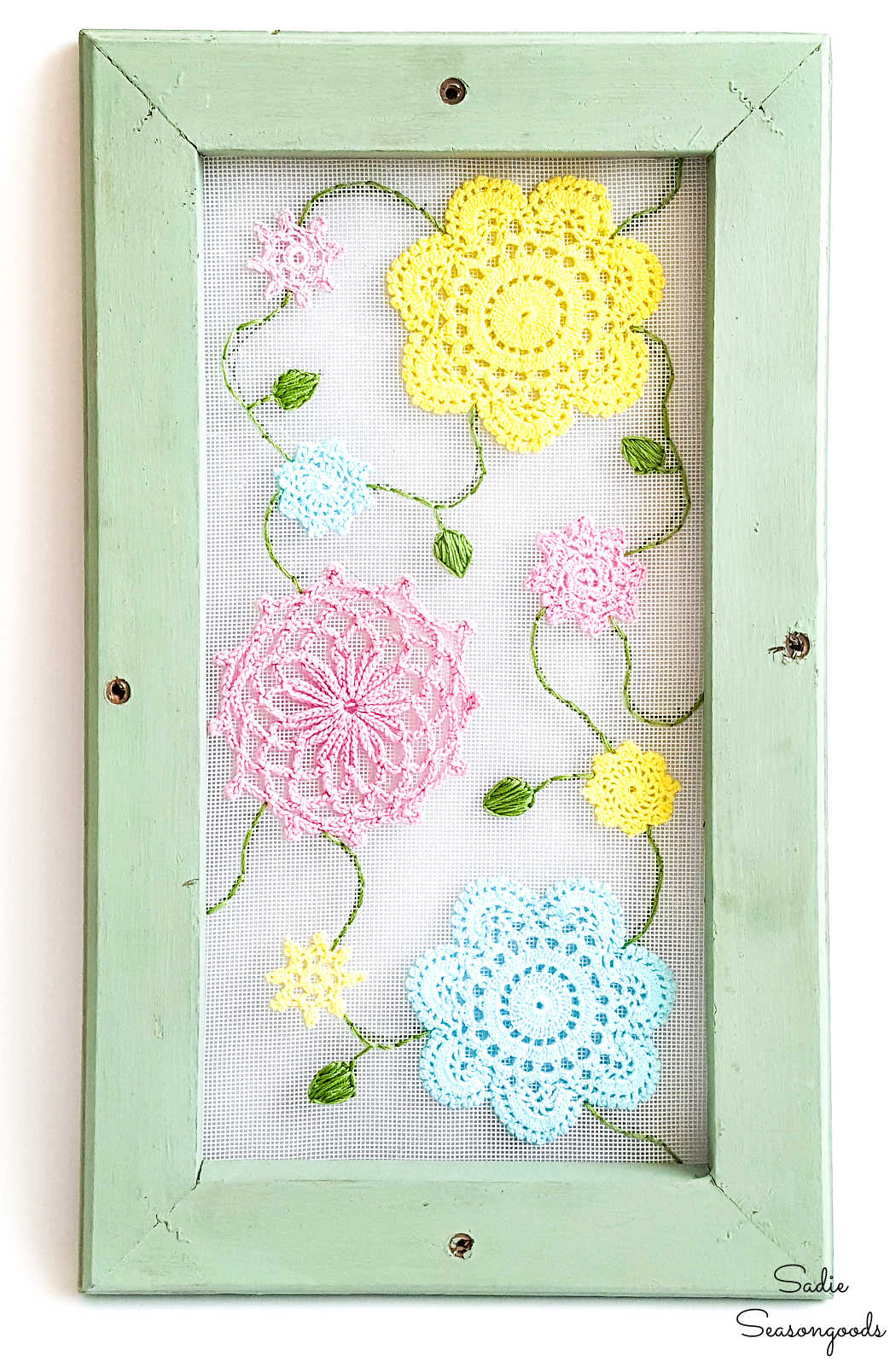 It had all the elements of cottage style decor that I love: vintage doilies, pastel colors, and a sweet upcycling idea!
AND I used something that had been in my garage forever, which always makes me feel good.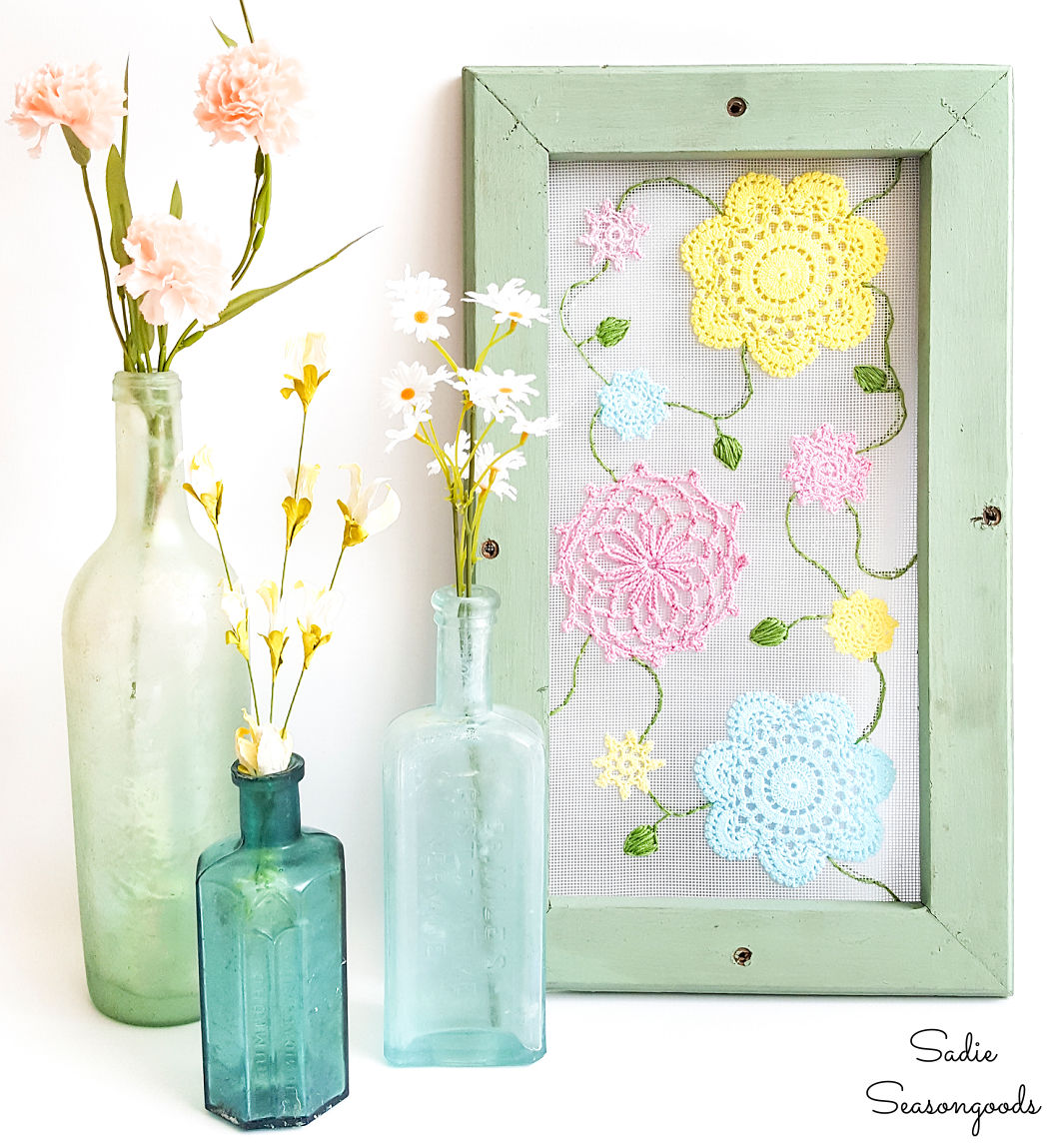 I think it'll be perfect as Spring mantel decor, don't you? Either way, whimsical decor like this feels so fresh and uplifting as winter comes to a close!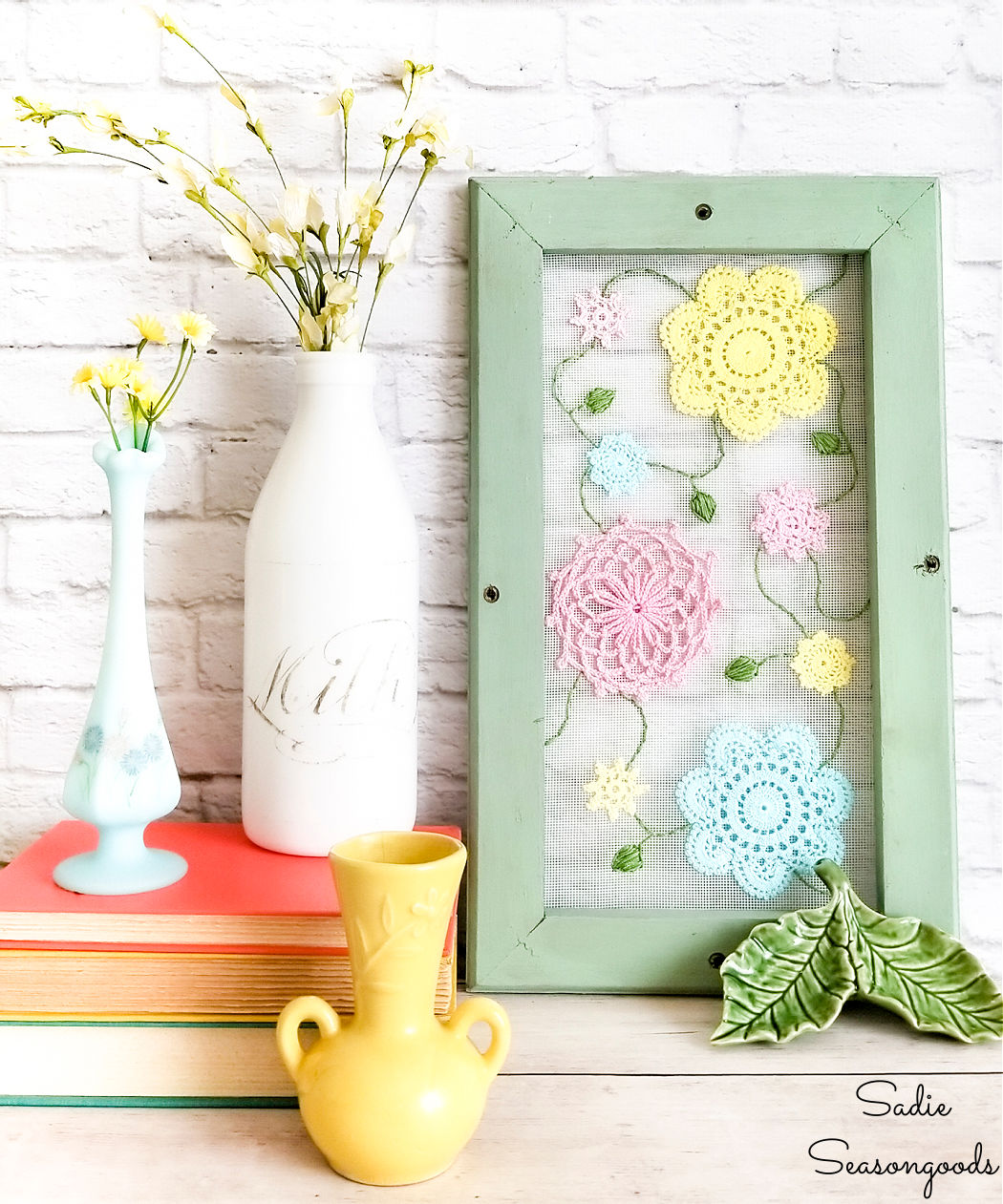 And if you enjoyed this upcycling idea for Spring decor, then you'll love this simple craft project for Easter decor with hobnail milk glass!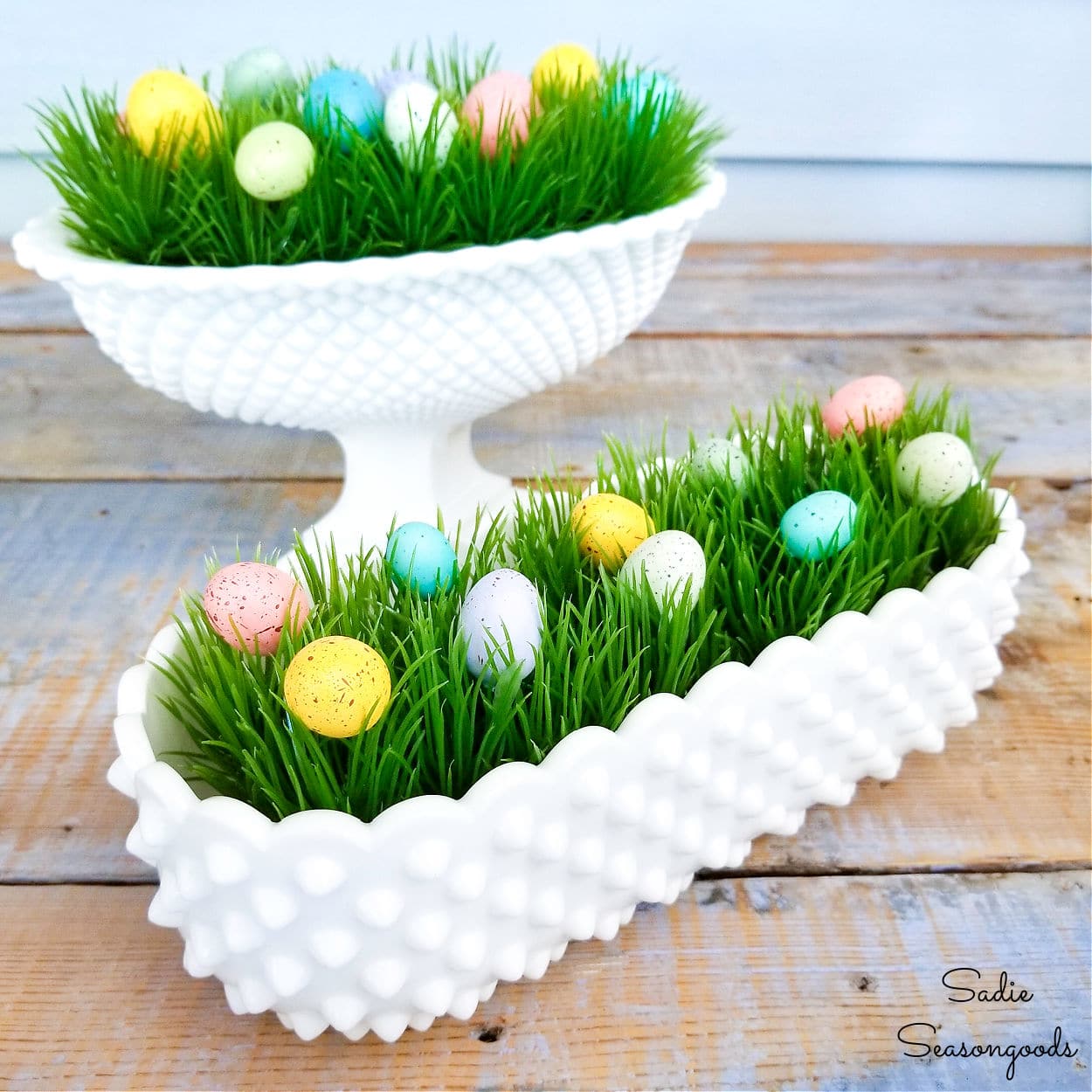 Craft on!
S
Want to be notified when I publish my next upcycling project tutorial?
Subscribe to Blog via Email
Join me on Social Media:



PIN ME!