For as long as I can remember, I've had a TERRIBLE habit of losing my gardening gloves. After some yard work, I'd come into the garage, rip off my gloves, and fling them wherever I could before going inside. It has led to countless trips to the hardware store to buy new gloves – wasteful in money, time, and well…gloves! So, I'm determined to create some garage storage solutions / shed organization with a wood clip board dedicated to work gloves.
To do so, I created the easiest wood clipboard or hanging clip board that you can imagine, using salvaged wood and vintage clothespins.
First, I took a trip to Habitat ReStore for a piece of salvaged wood. It didn't have to be gorgeous barnwood or anything with a lot of character – in fact, I wanted a plain board that could be painted over.
For the wooden clothespins, well…I already had a jar full of lovely old weathered ones that I had picked up on one of my Junkin' Journeys. And how wonderful that I'm FINALLY using some of them in a project!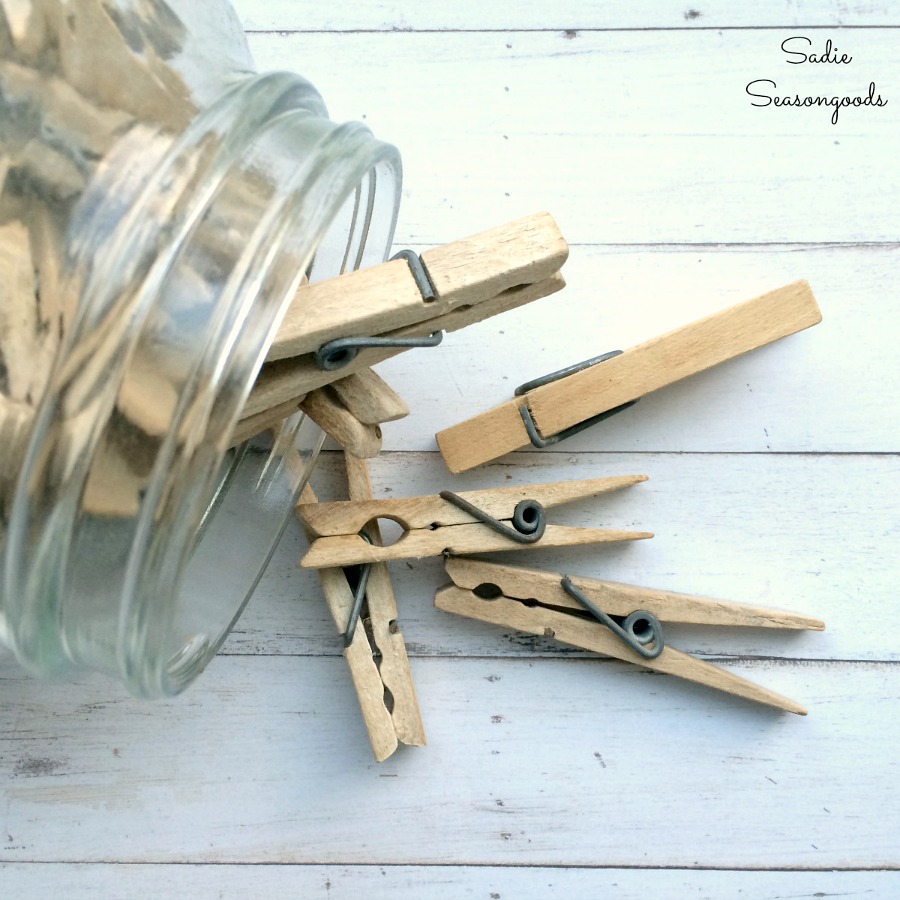 *****
*****
Now, all I needed to do was combine my salvaged wood and vintage clothespins into a wood clip board that would hold my gardening gloves, making them easier to find the next time I needed them. This post contains affiliate links for your crafting convenience.
Upcycling Salvaged Wood into a Wood Clip Board
Since the price was written on the salvaged wood that I had purchased, I decided to give it a quick wash of paint. Just enough to give it some color…but by no means a thorough job.
I like the fact that I can paint something quickly and get that "distressed" farmhouse look just by being lazy!
Then, I gathered a handful of vintage clothespins, marked where I wanted them on the newly-painted board, and used wood glue to attach them. Of course, I could have spent time measuring for careful placement, but this going to be a wood clip board for some garage storage or shed organization.
Therefore, perfection is NOT required.
To help the wood glue do its job, I applied clamps as I went along. These will ensure that the wood glue bonds as tight as it can between the salvaged wood and the vintage clothespins.
Cottonball, of course, was fascinated by the process.
I let everything on my wood clip board dry/cure/set overnight. Next, I screwed in a couple of D-ring hangers into the short ends of the board.
Now I just needed to finish up my wood clip board before hanging it in the garage!
Garage Storage / Shed Organization with a Wood Clip Board
And then threaded some braided picture-hanging wire between the two D-ring hangers! And that was it, the wood clipboard was done and I could hang it in the garage.
It works perfectly as a hanging clip board for gardening gloves, work gloves, and anything else that is sweaty and gross!
Such a great way to upcycle a board of salvaged wood or scrap wood that you may have laying around. And as a 2019 update, this wood clip board has been hanging in our garage for nearly 4 years and has held up perfectly. A LOT of glove clipping and unclipping has happened over the years and it's as good as it was the day I finished it.
You know how I love me some upcycled organization and/or storage! And you know what? I think it looks pretty cute, too. Bonus!
If you enjoyed this post, then you might also enjoy this upcycling idea for a wall mounted coat rack for your cold weather gear!
Craft on!
S
Want to be notified when I publish my next upcycling project tutorial?
Subscribe to Blog via Email
Join me on Social Media: