When I was a little, I simply adored a chocolate heart box that held Valentine chocolates. Frilly, lacy, and covered in ruffles, they lined the grocery and drug store shelves. The fancier, the better, as far as I was concerned. And as I was brainstorming ideas for Valentine's Day home decor this year, my mind went back in time to those Valentine's candy boxes, and a simple craft project idea was born!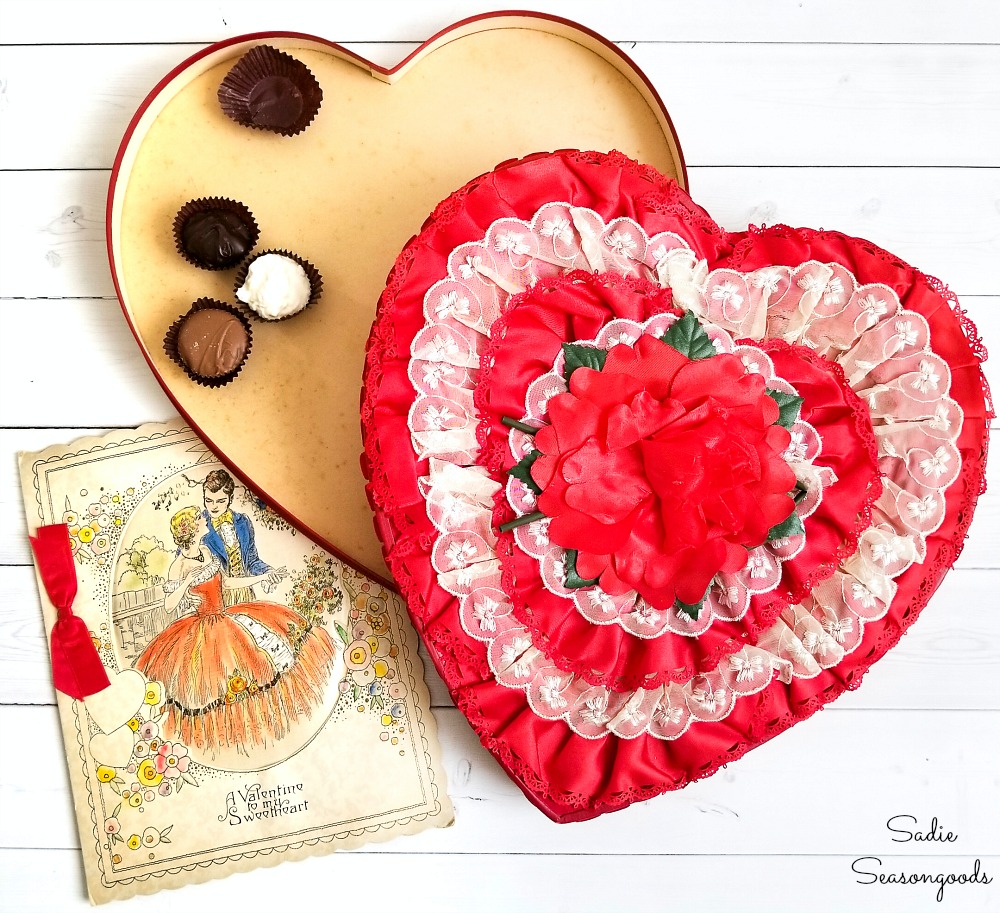 They came in pink and red, and I think I remember yellow ones, too!
Anyway, these are the two chocolate heart boxes that I was able to find: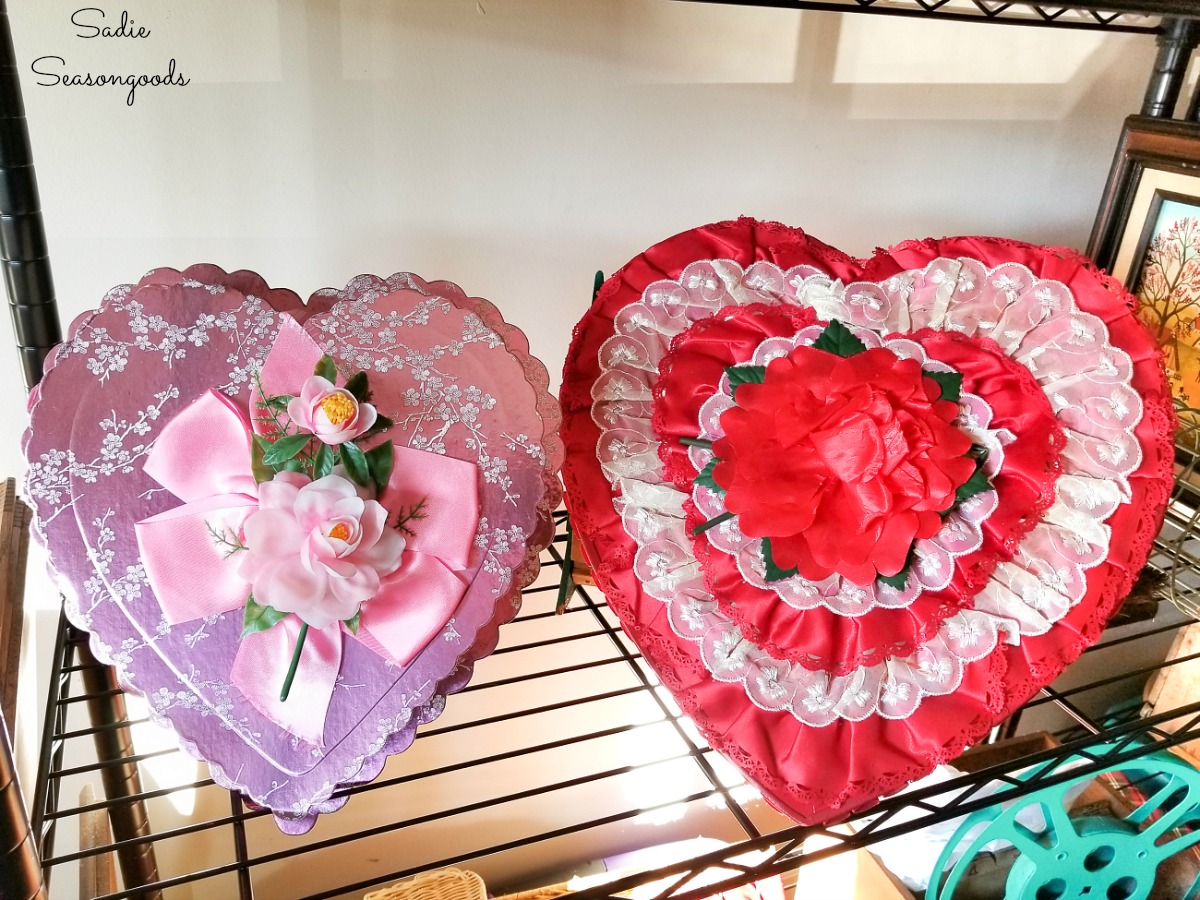 Transforming a heart-shaped chocolate box into a wreath for Valentine's Day was going to be the easiest craft project ever. I only needed a few other craft supplies and about five minutes of time.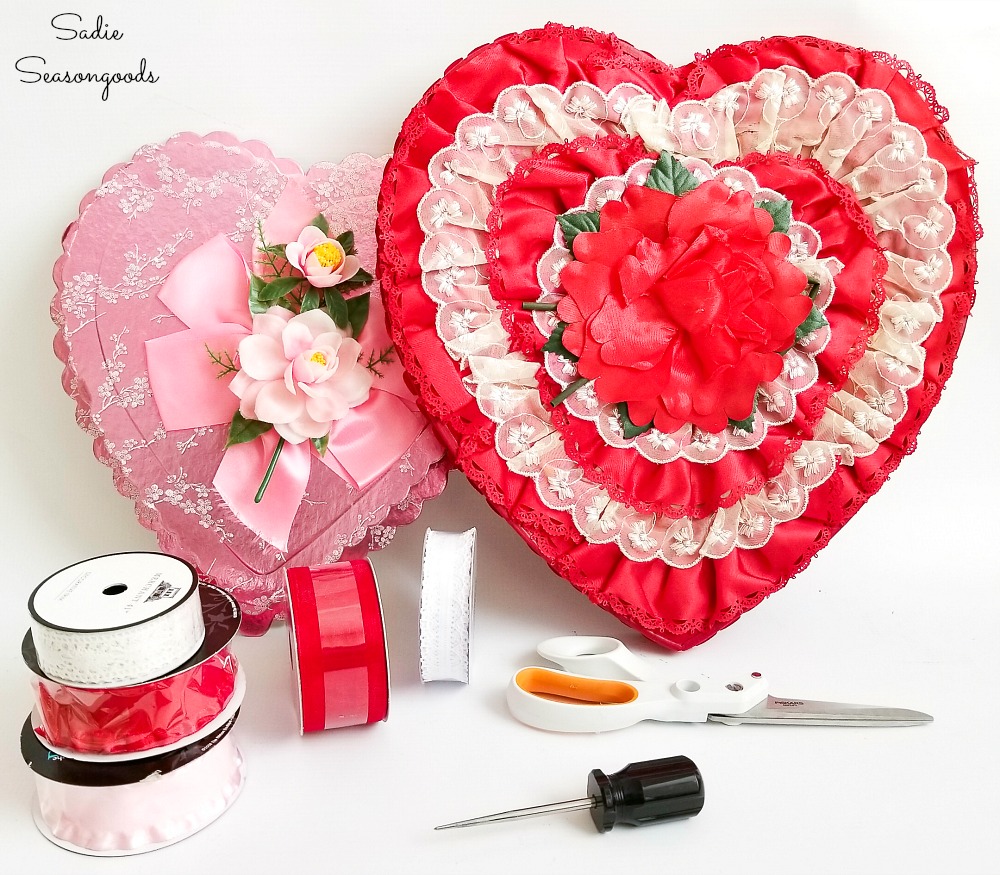 So, let's get to it!
This post contains affiliate links for your crafting convenience. As an Amazon Affiliate, I earn from qualifying purchases. All blue, bold, and underlined text is a clickable link, either to a product or to a related post.
Upcycling a Chocolate Heart Box into Valentine's Day Home Decor
First, I needed to add a hanging mechanism to my Valentine's candy box. Speaking of which, you find find vintage chocolate boxes like this on Etsy- which is where I found mine.
Basically, I just needed to punch small holes in the bottom half of the box. The holes did, however, need to be evenly spaced near the top of the heart.
After measuring and marking punch-dots on the back, I placed the box bottom over a short stack of scrap wood, and carefully tapped holes through my marks using my festive craft hammer and awl.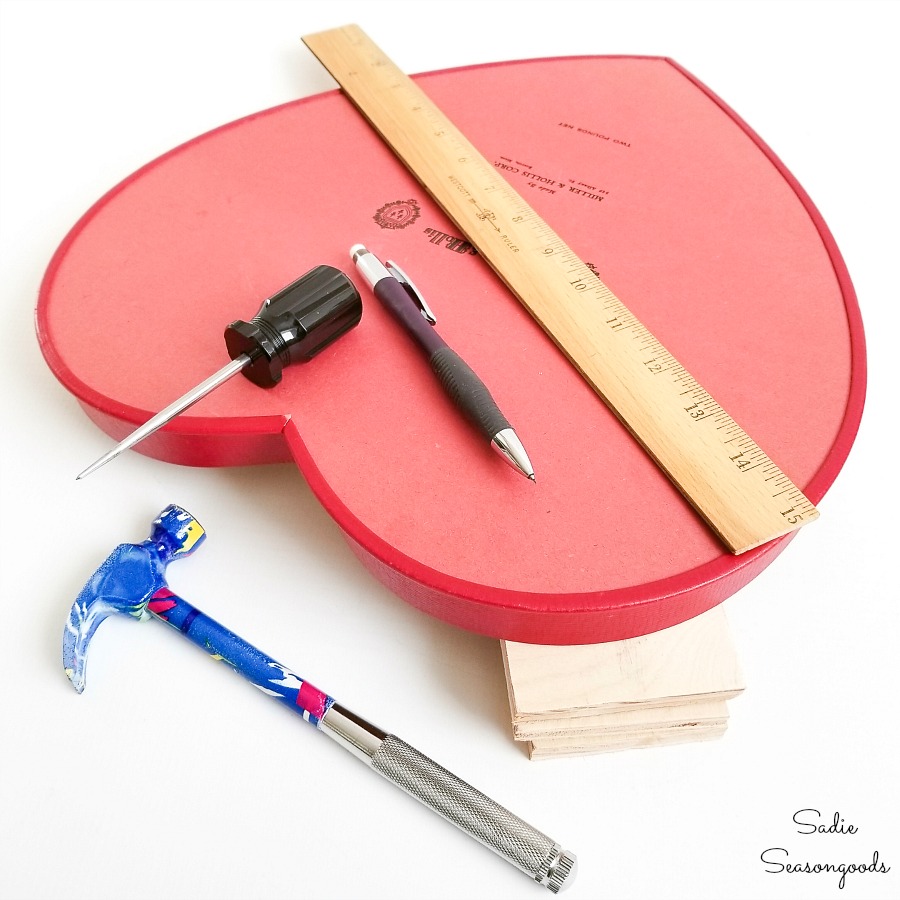 If you didn't have an awl, you could do the same thing with a hammer and a nail. Just tap lightly so that you don't crust the paper board.
Next, I cut a short length of ruffled ribbon to hang my Valentine's wreath. And you won't believe the CUTEST thing I found to connect it to the box.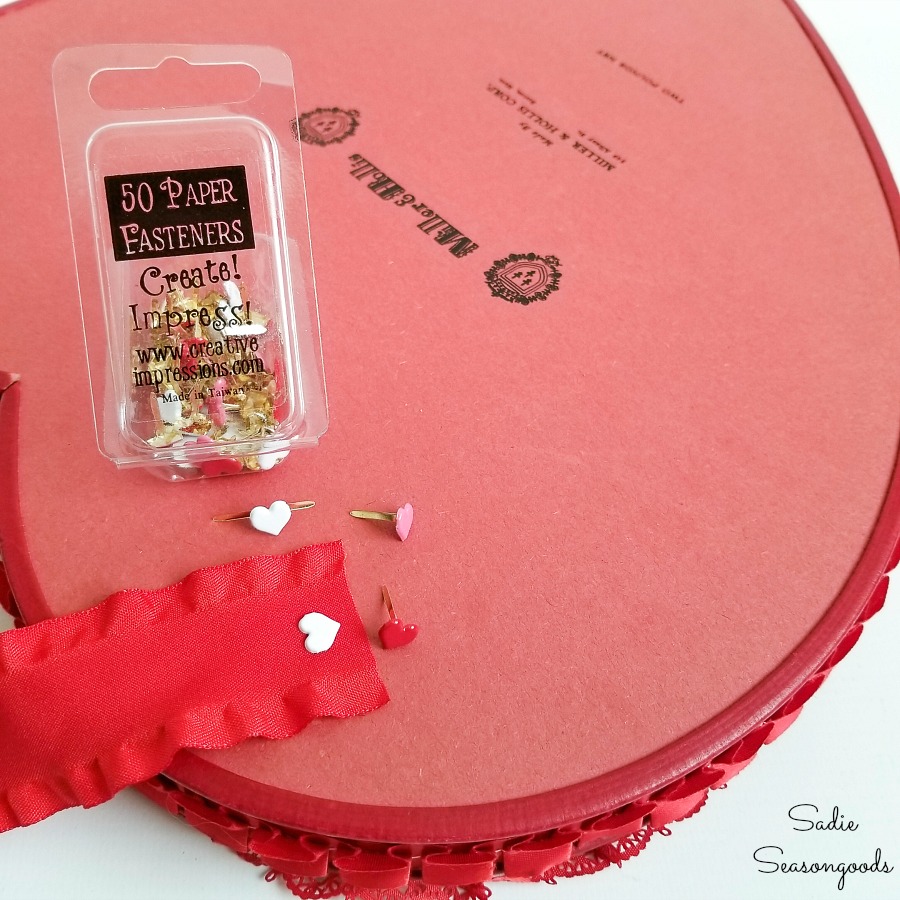 Heart-shaped paper fasteners! (Or brads…I always called them brads in the past). But, how perfect (and crazy easy) is that?
And OMG, I just thought of the funniest project joke: What do you call a small hole for a paper fastener?
A BRAD PIT! (wink, wink)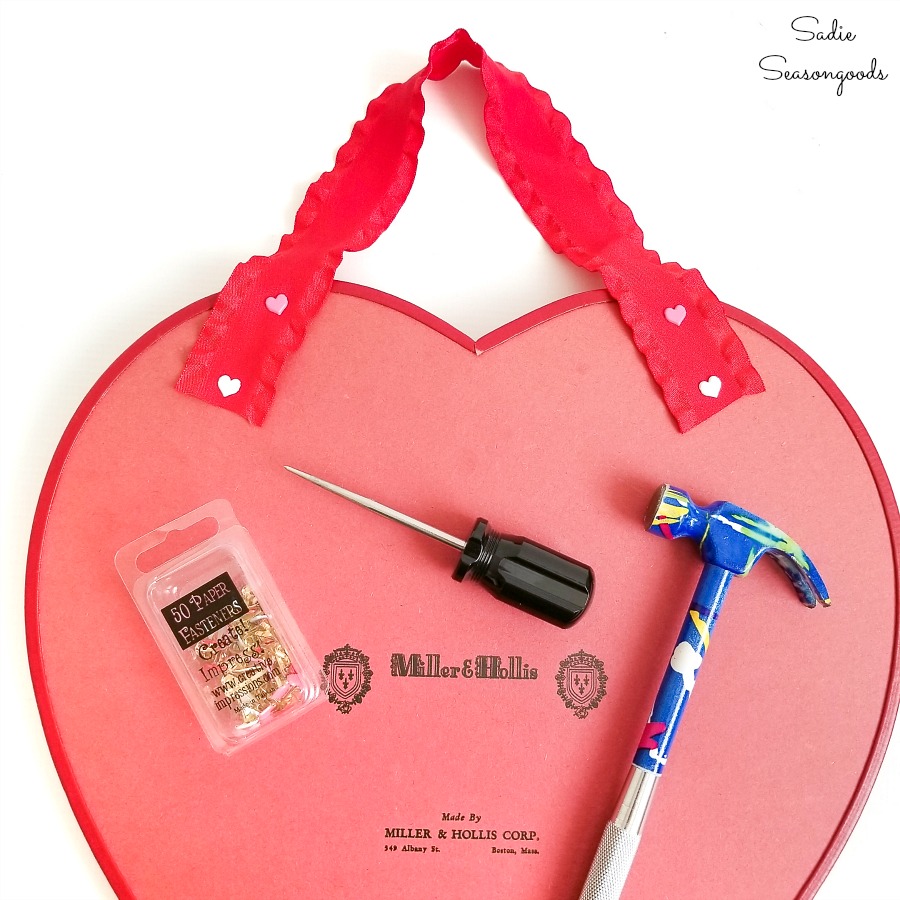 Here's a view from inside the chocolate heart box…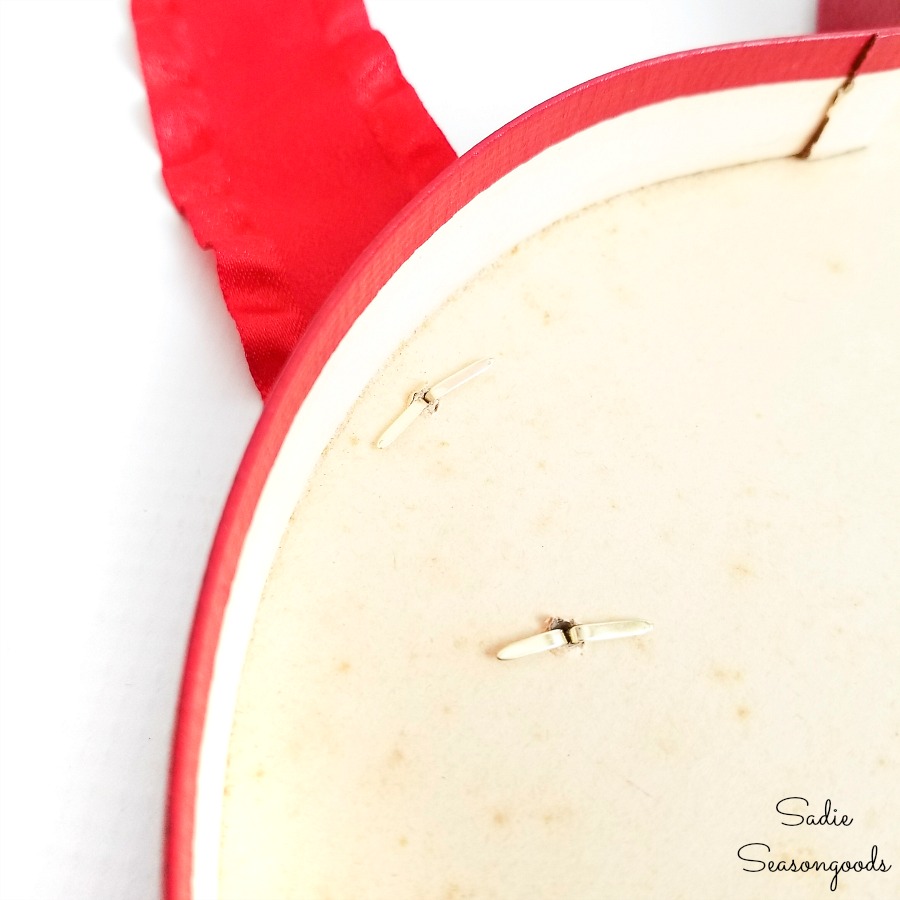 And that was it! Now I had a super simple-to-make Valentine's wreath that is an honest to goodness 5 minute craft.
But I have to confess, I did two more completely optional steps…which added a few more minutes to my crafting schedule…
First, I used double-sided tape inside the heart shaped chocolate box to keep it closed while hanging. It was already pretty secure on its own, but this was just simple insurance for my piece of mind.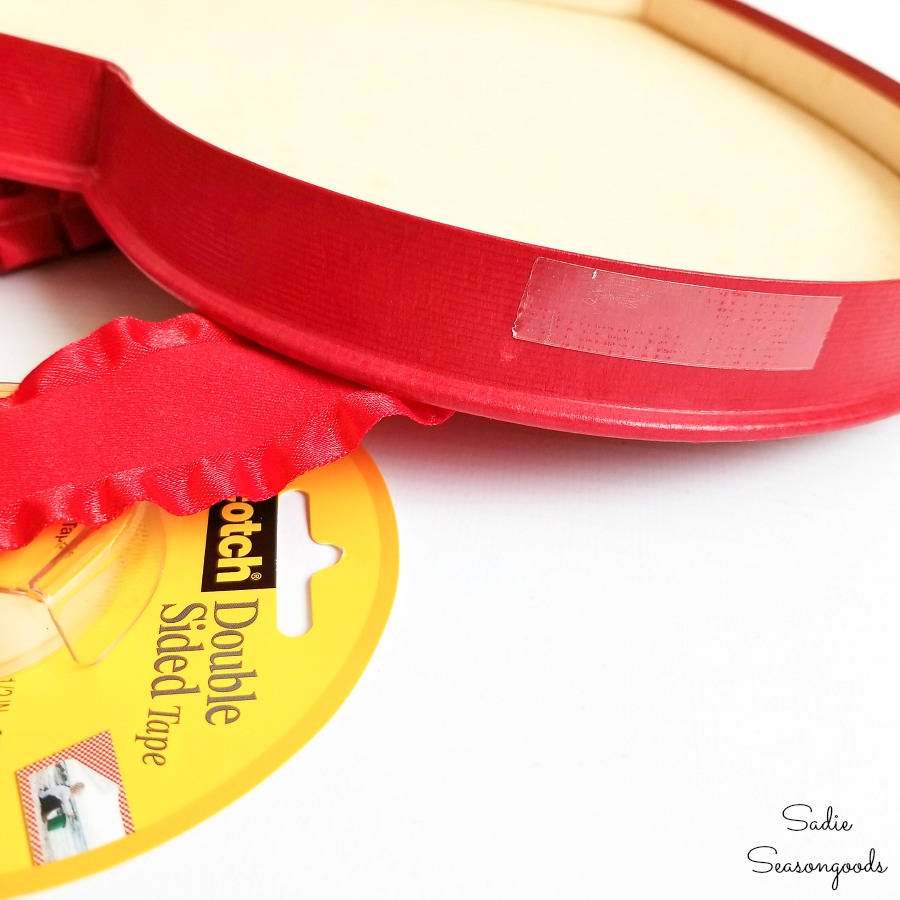 Then, I used my hot glue gun to freshen up the flower on the center of my heart wreath. It had gotten smooshed over the years and the petals needed some help staying open.
Of course, not every chocolate box will need this, but mine did.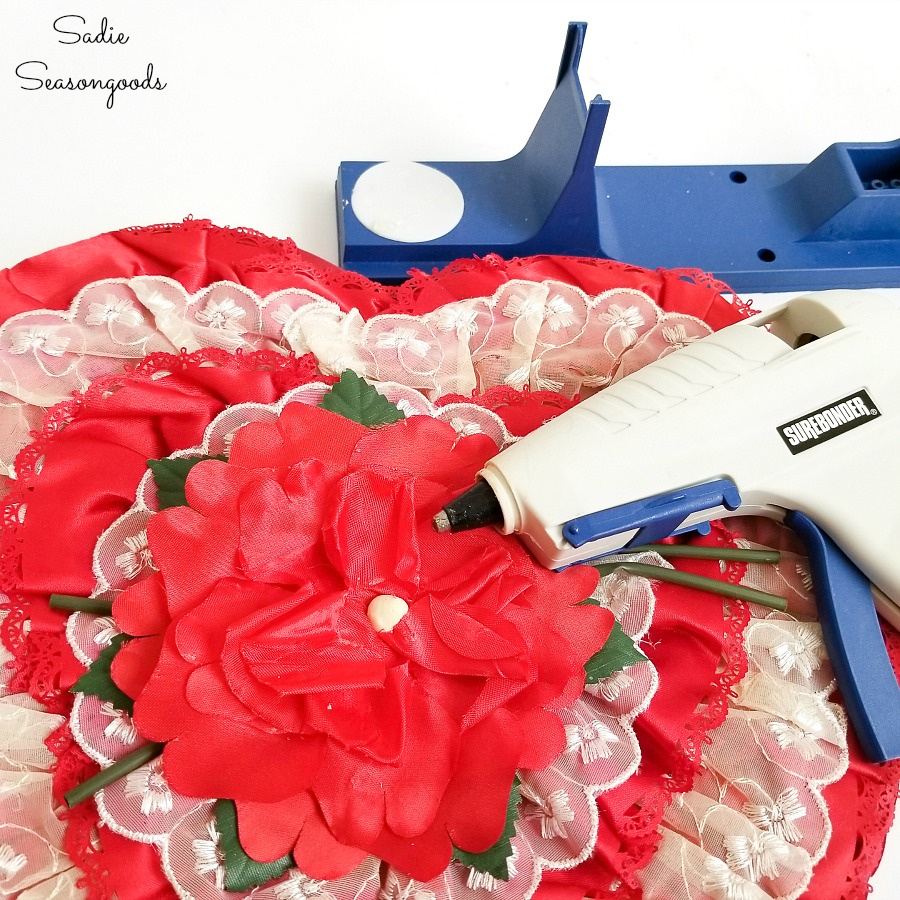 DIY Wreath with a Valentine's Candy Box
NOW I was done! Still…pretty darn close to a five-minute project, even with the optional steps!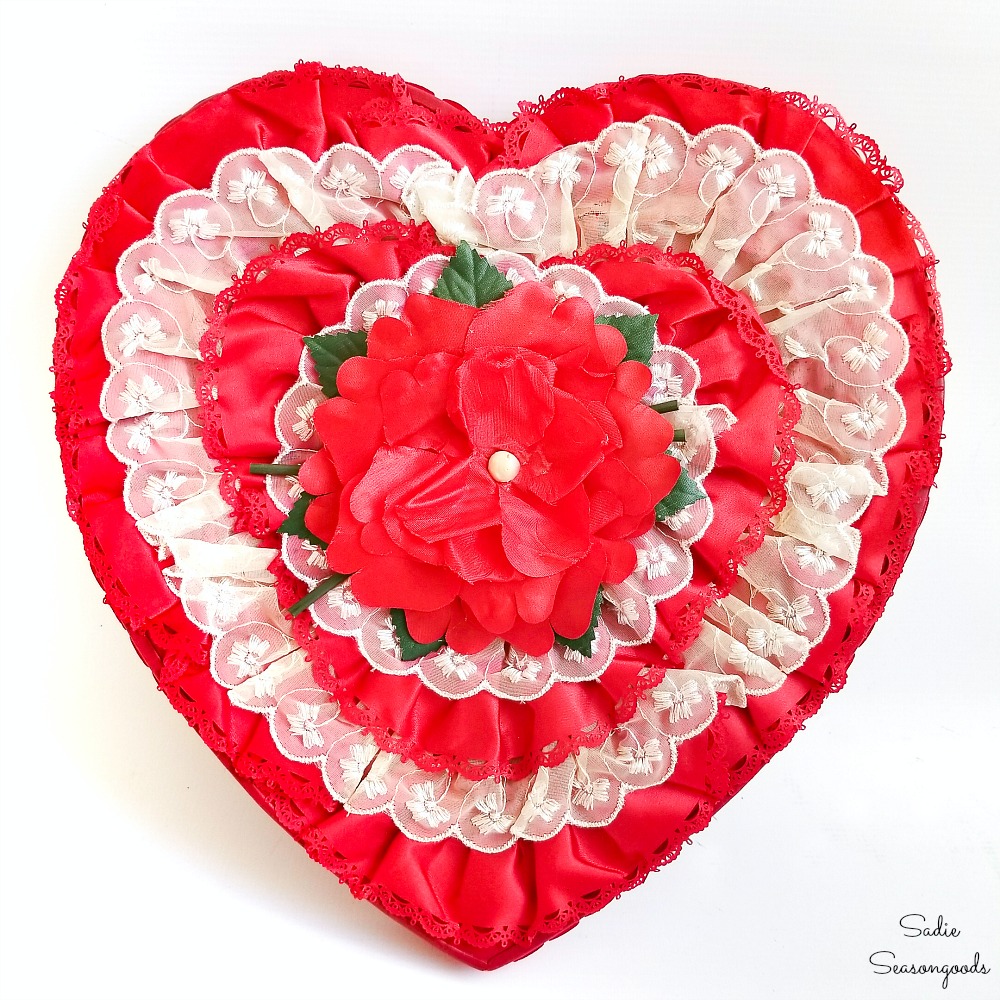 Isn't she pretty? Like she was always meant to become a wreath.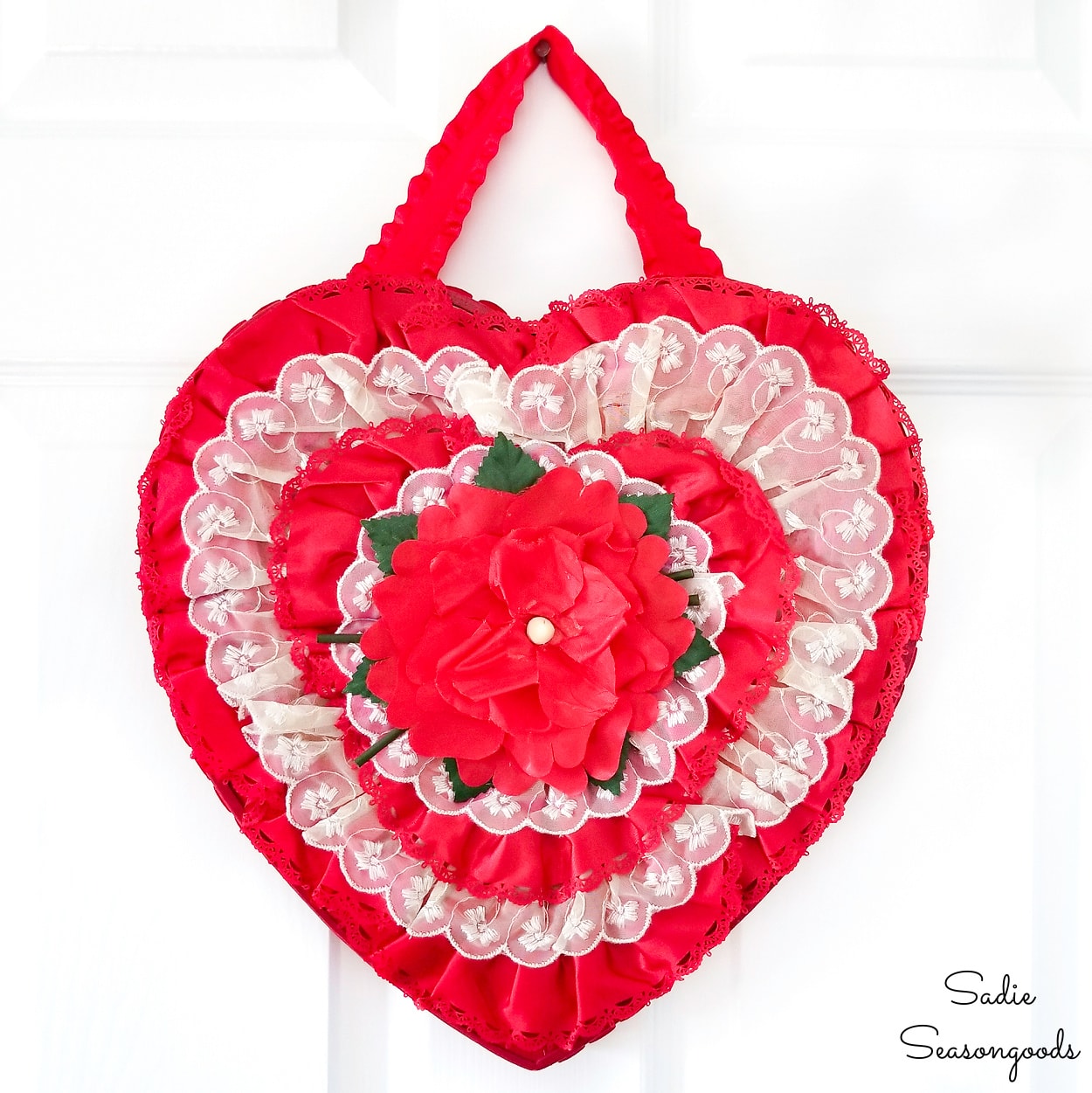 A couple of other things to note…
You could easily make this Valentine's wreath with a plain chocolate box! Simply add the embellishments yourself, using whatever lace, ribbon, or silk flowers you have.
Because the paper brads can be easily removed, just tuck the ribbon hanger and brads inside the box when you store it for the rest of the year- then they won't get lost.
And if you enjoyed this upcycling idea for Valentine's Day home decor, you'll love this display for vintage Valentines with a carpet beater, too!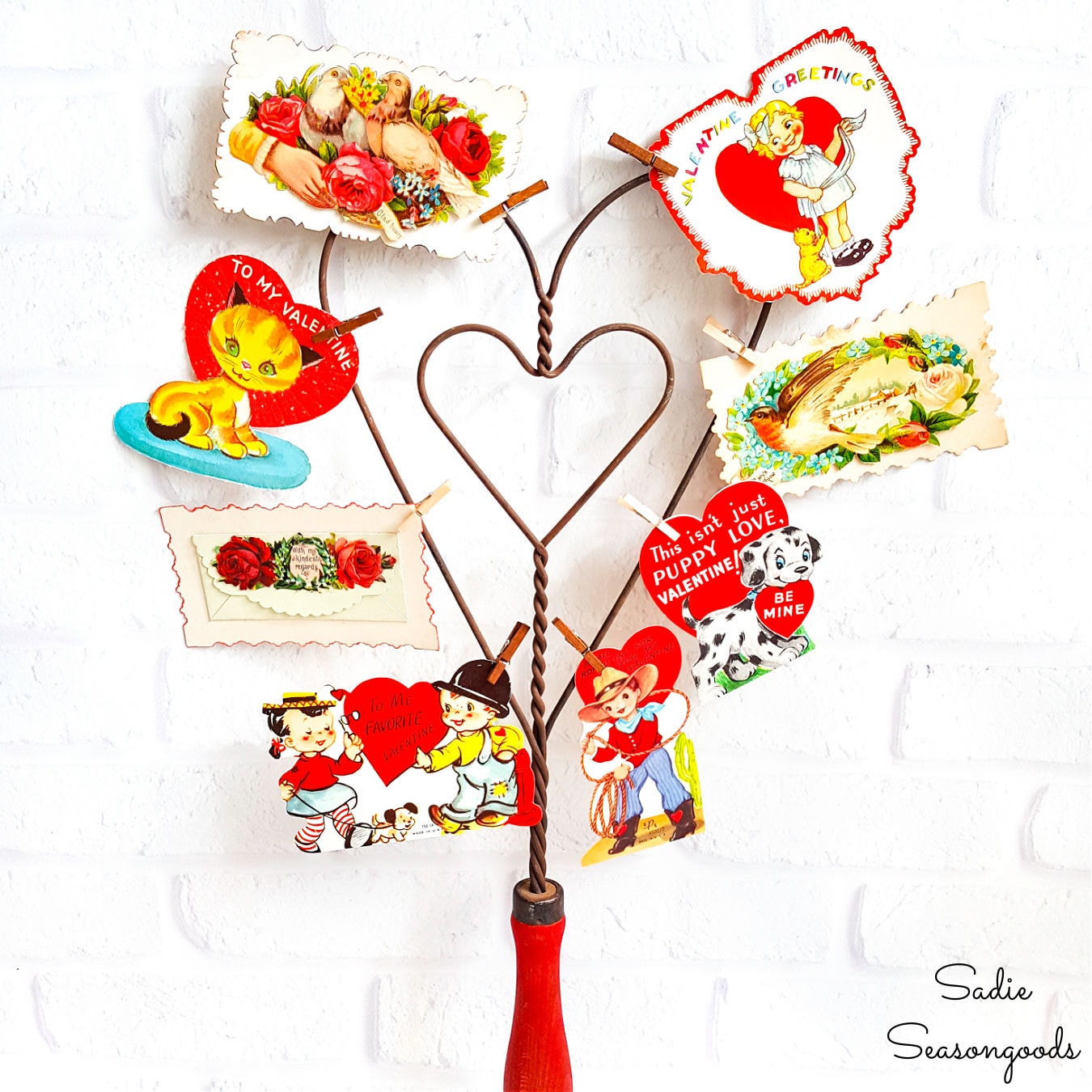 Or, for a fun change of pace without any pink or red, check out these heart decorations with an industrial twist!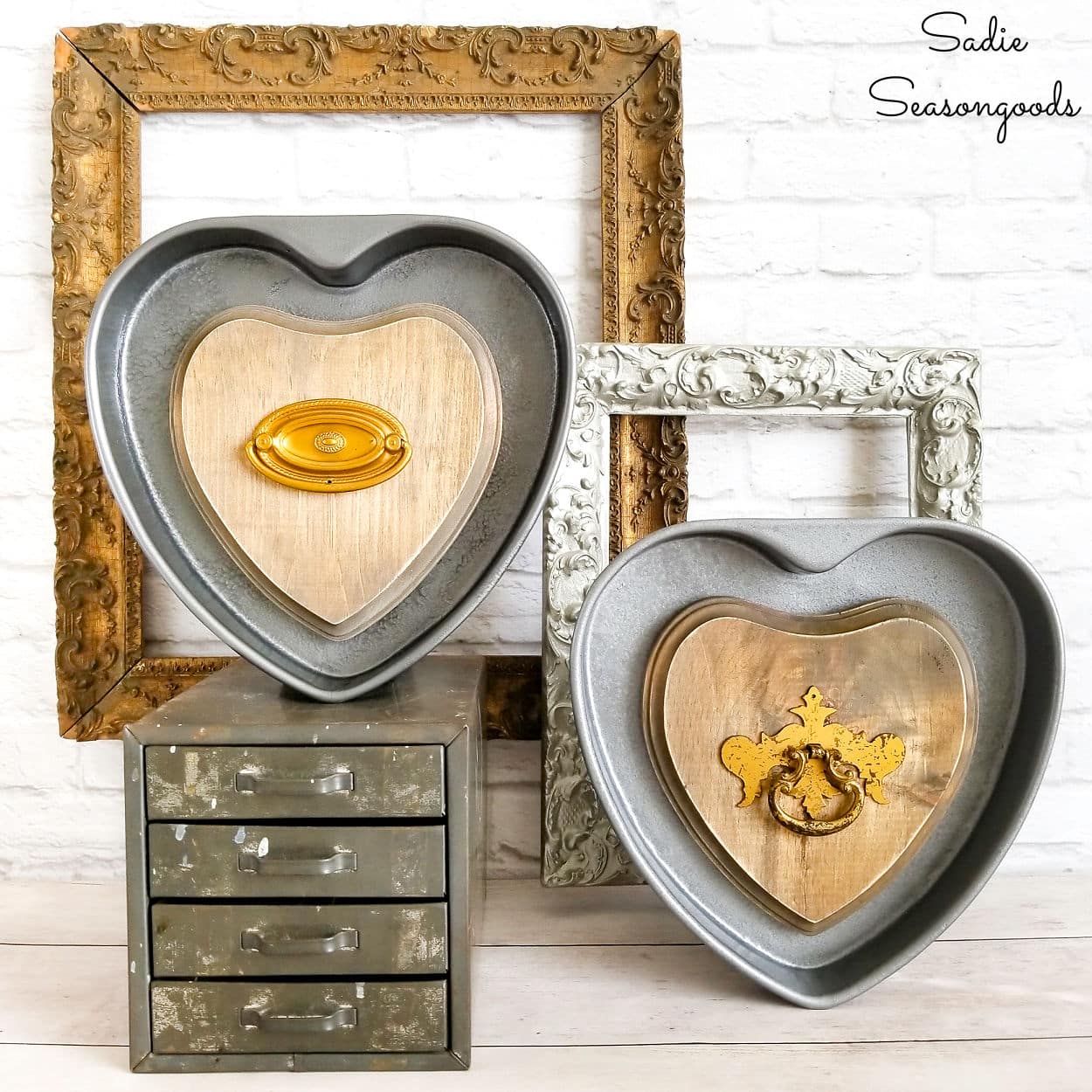 Craft On!
S
Want to be notified when I publish my next upcycling project tutorial?
Subscribe to Blog via Email
Join me on Social Media:
PIN ME!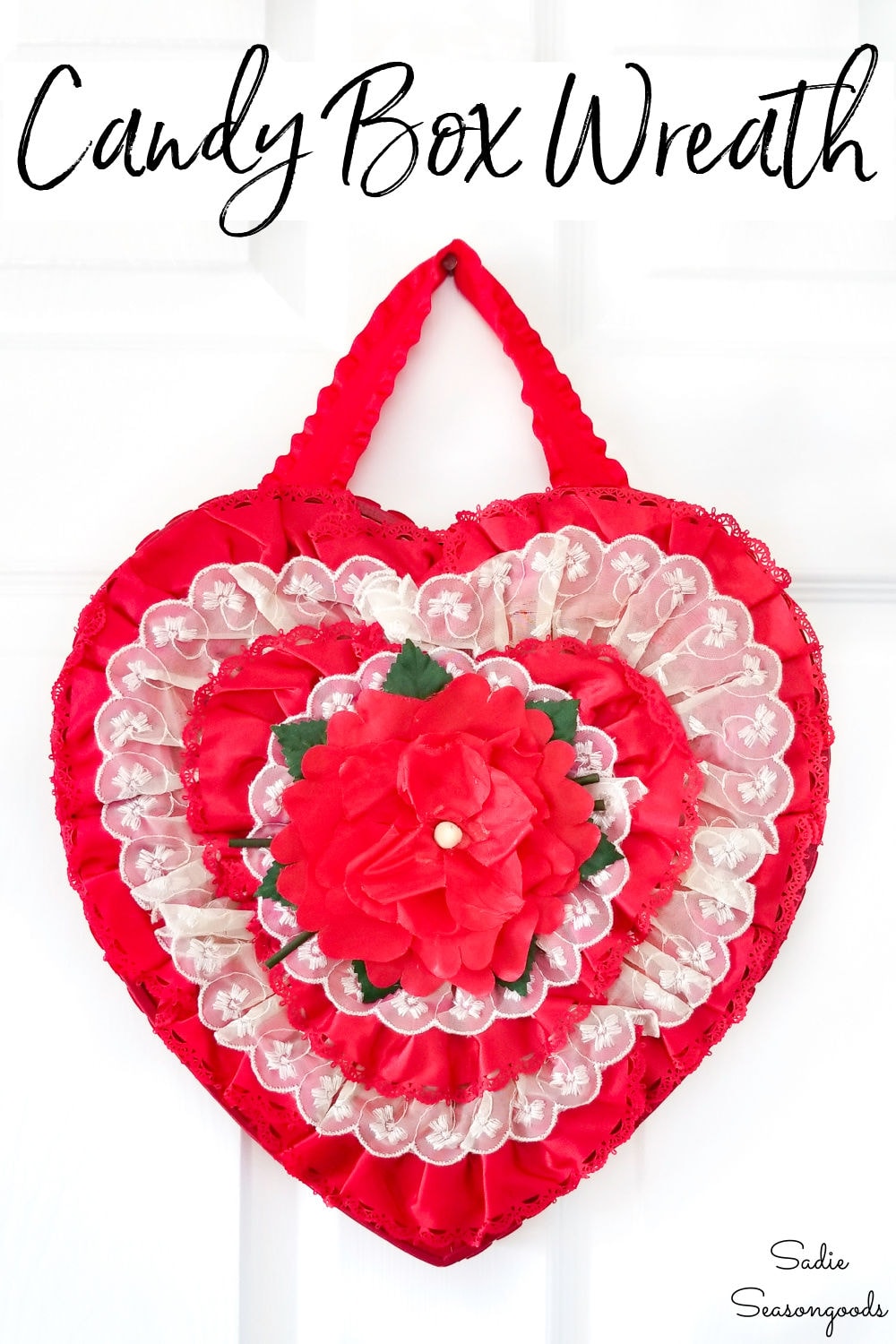 Sarah Ramberg is the owner of Sadie Seasongoods, a website that celebrates all things secondhand. From upcycling ideas and thrifted decor to vintage-centric travel itineraries, Sadie Seasongoods is a one-stop shop for anyone who loves thrifting and approachable repurposing ideas. Sarah is also the author of "Crafting with Flannel" and has been featured in numerous media outlets and magazines.