When I first spotted this house shaped picture frame at Goodwill, it had been casually left in a basket of scarves and belts, as if the originally buyer had changed their mind. And as soon as I saw it, I thought, "Oh, look- a haunted house picture frame!". But upon further inspection, I realized it was just in the shape of a Victorian house.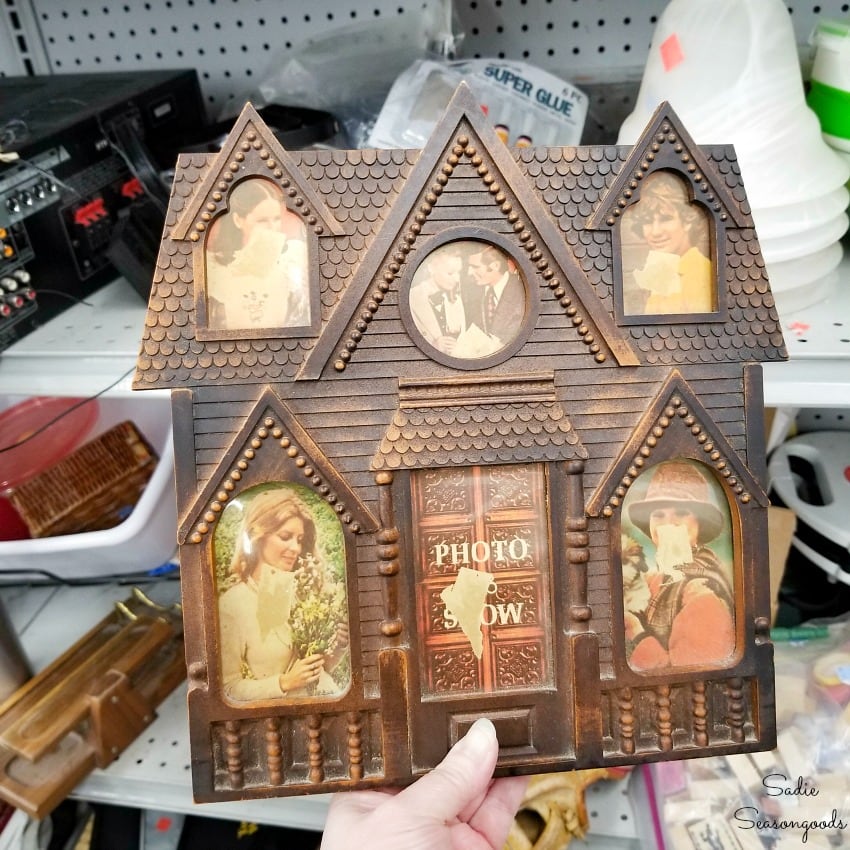 With a Halloween makeover, however, it could EASILY become haunted house decor. Even though I'd crafted a haunted house before from a cookie jar!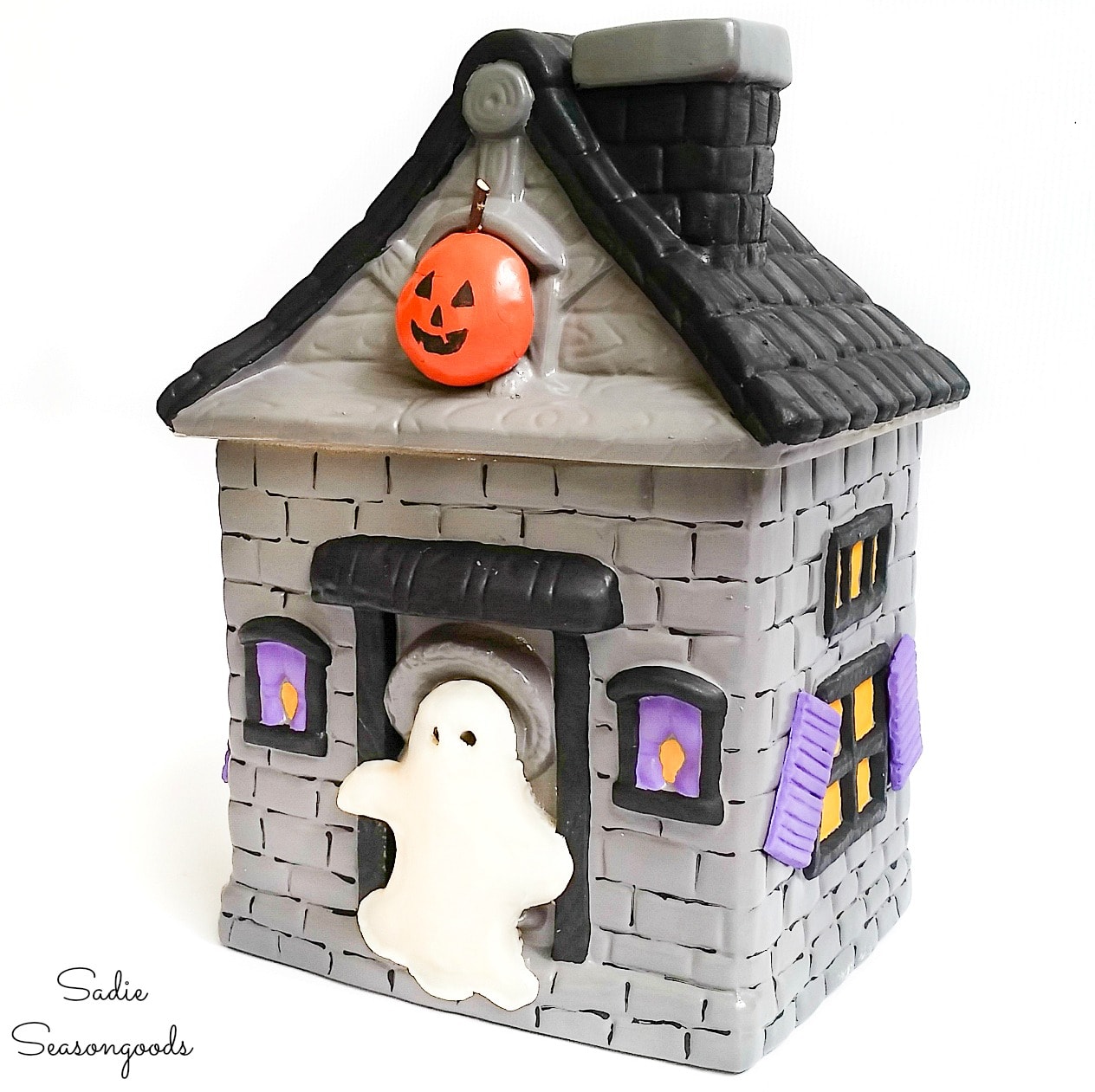 But this frame would be totally different! Once I realized that, I was torn: Do I paint it or do I leave it alone?
Sometimes, the treasure needs to tell ME what to do. So, I disassembled what I could (the backing, the fading stock photo insert, etc.) to get a better look at things. From there, I realized that the whole thing just looked dirty and that painting it was the best way to go.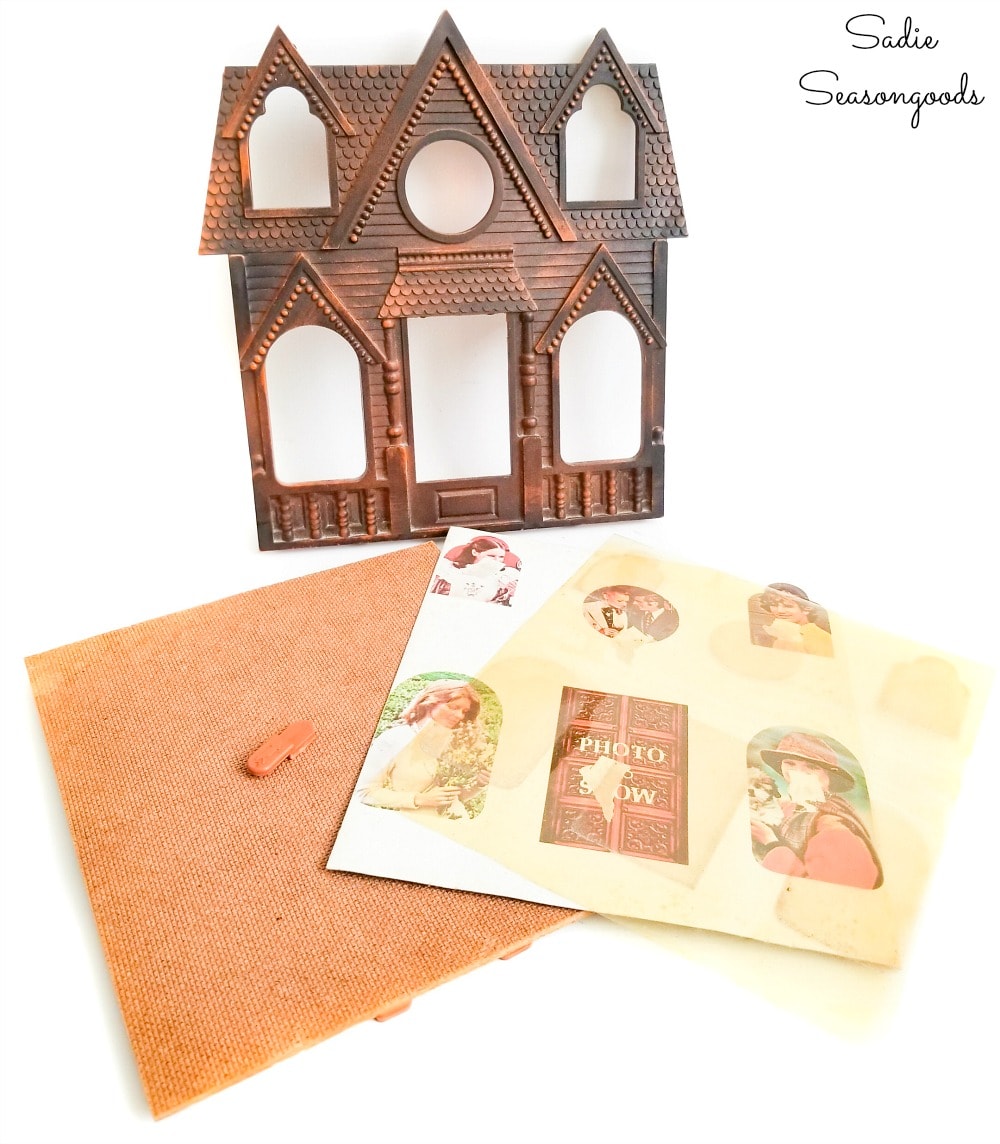 This post contains affiliate links for your crafting convenience. As an Amazon Affiliate, I earn from qualifying purchases. All blue, bold, and underlined text is a clickable link, either to a product or to a related post.
Transforming a House Picture Frame into a Halloween House
I could have spray painted it black, but I didn't want to accidentally over spray and lose some of the details of the frame with pooled up paint.
Instead, I bought a sample of black latex (semi-gloss) and brush painted the picture frame, ultimately doing two coats.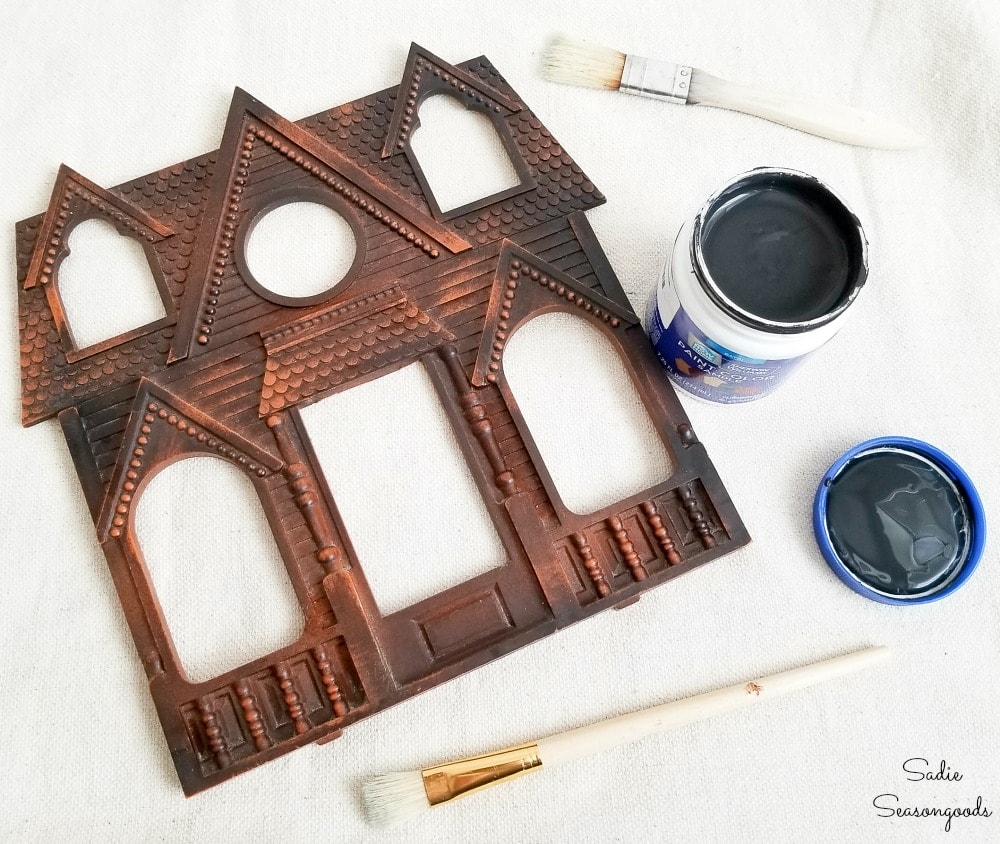 While I suppose I could have stopped here, I wanted to embellish it even further.
I thought purple would look magnificent against the black AND be perfectly Halloween-ish.
And this purple metallic wax was exactly what I needed/wanted.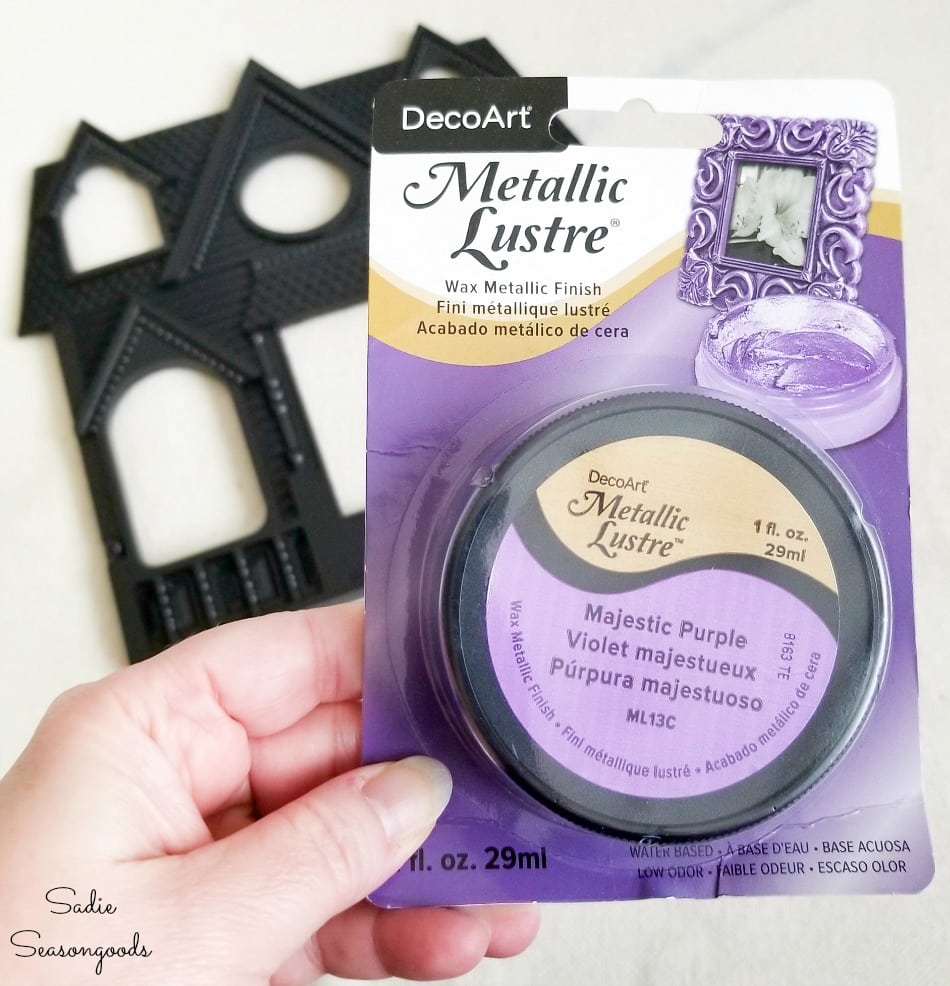 And boy oh boy, this tub will last me a lifetime, because a little metallic wax goes a LONG way on my small projects!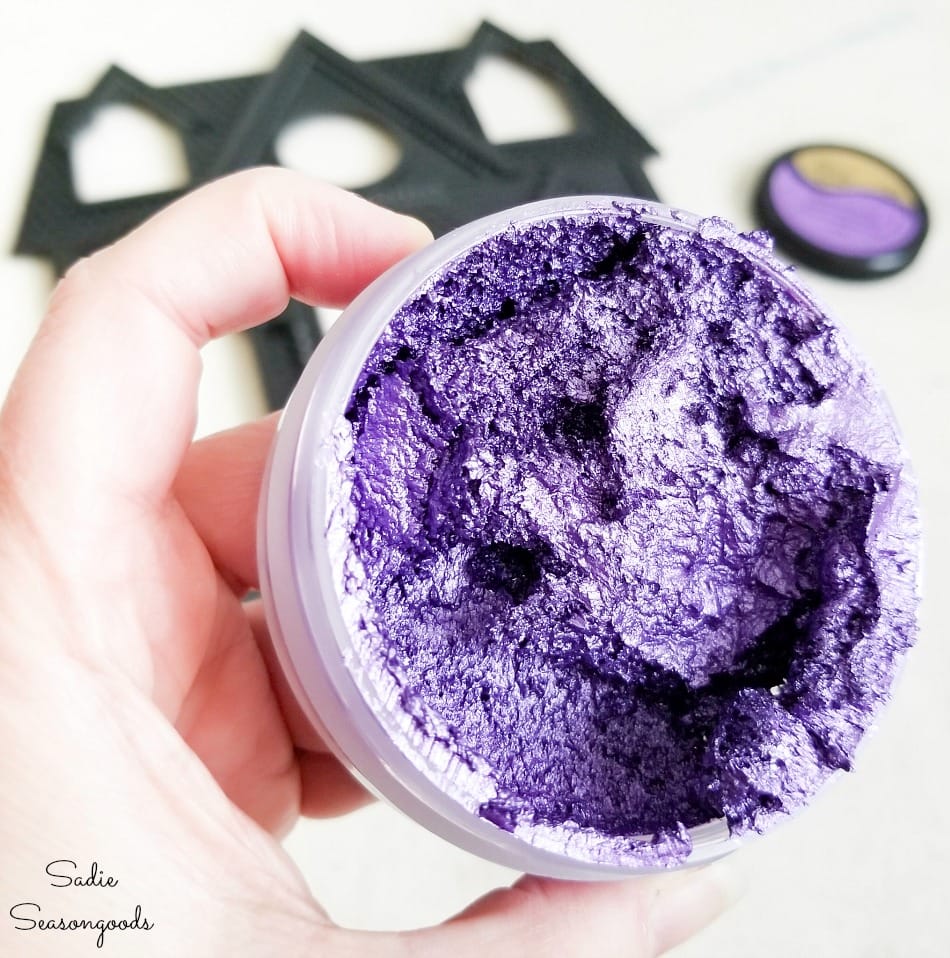 Using my fingertip and a paper towel to buff, I smudged purple wax on the dormer windows and decorative dots.
My haunted house decor just needed a flash of purple here and there. Not too much…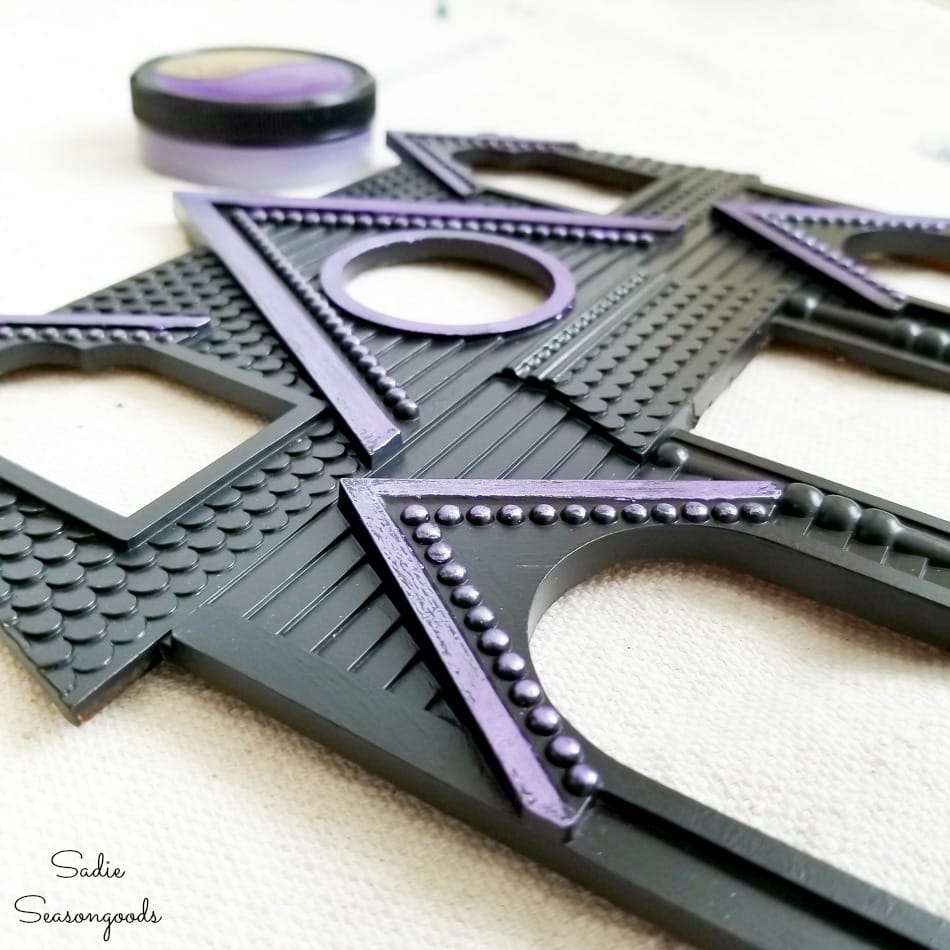 But it still needed something else!
Thankfully, I had tons of copper wax leftover from this faux oxidized copper project and thought it would add the perfect touch of "orange". So, I again used my finger tip and touched copper wax on the porch spindles and door columns.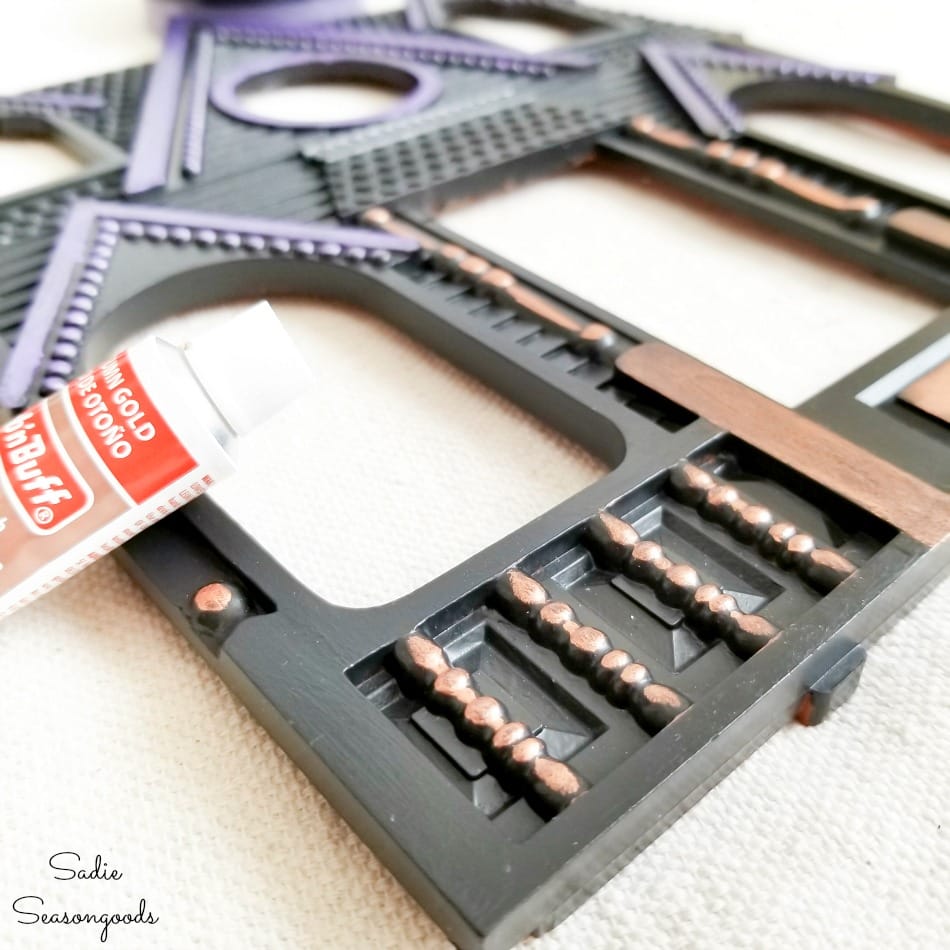 Vintage Halloween Postcards in Haunted House Decor
When all was said and done, this is what my haunted house decor looked like! The metallic waxes added just a hint of color and shimmer.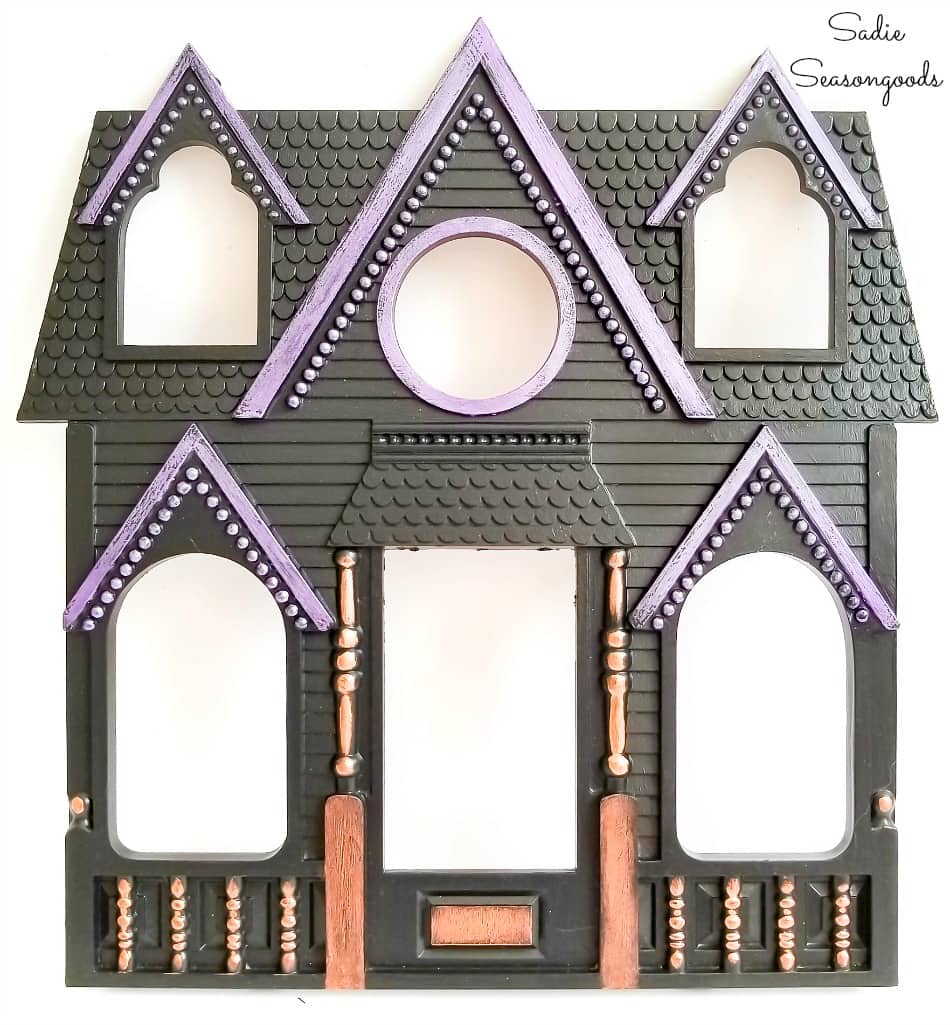 Now it was time to focus on filling the haunted house decor with some Halloween characters! Because I love vintage Halloween postcards, I decided to use their likeness (in the form of scanned/printed versions) to fill the openings of the picture frame.
To do this, I needed to recreate the original stock photo cardboard insert. I didn't have any tracing paper and thought it would be silly to buy some, just for this project.
My workaround? White parchment paper, which I almost always have in my pantry.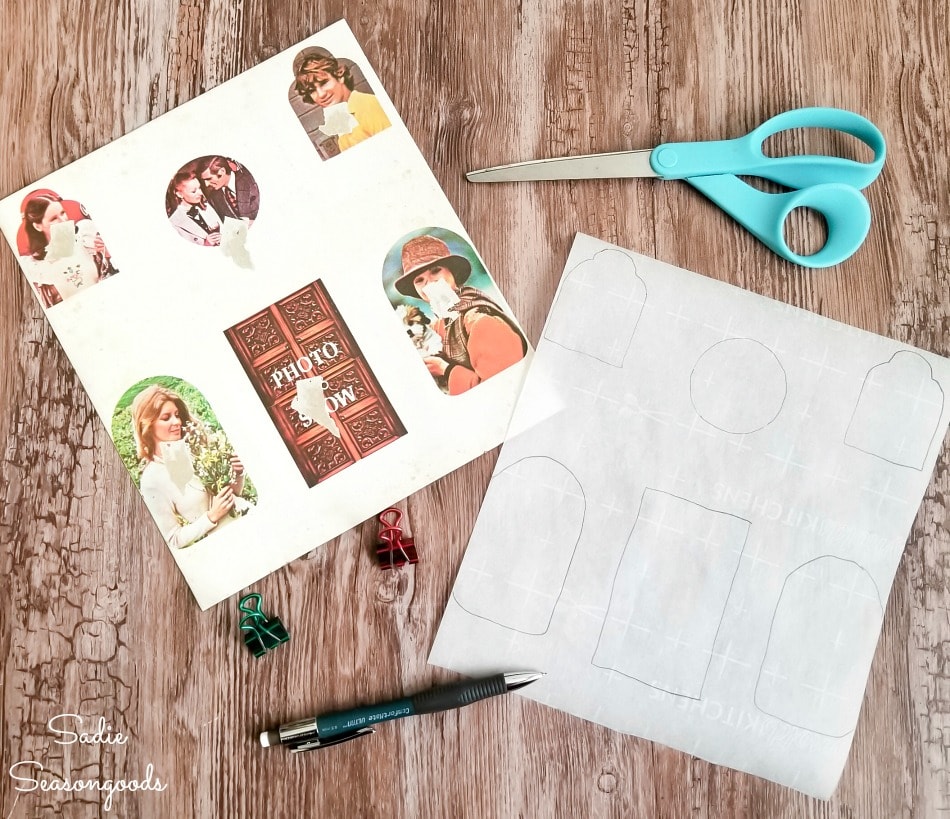 I also traced the entire cardboard insert on a piece of white card stock from the craft store. Then, I cut out the parchment paper tracings and matched them to the scans of Halloween postcards.
Finally, I recreated the cardboard insert by attaching the vintage Halloween postcards to the card stock with double-sided tape.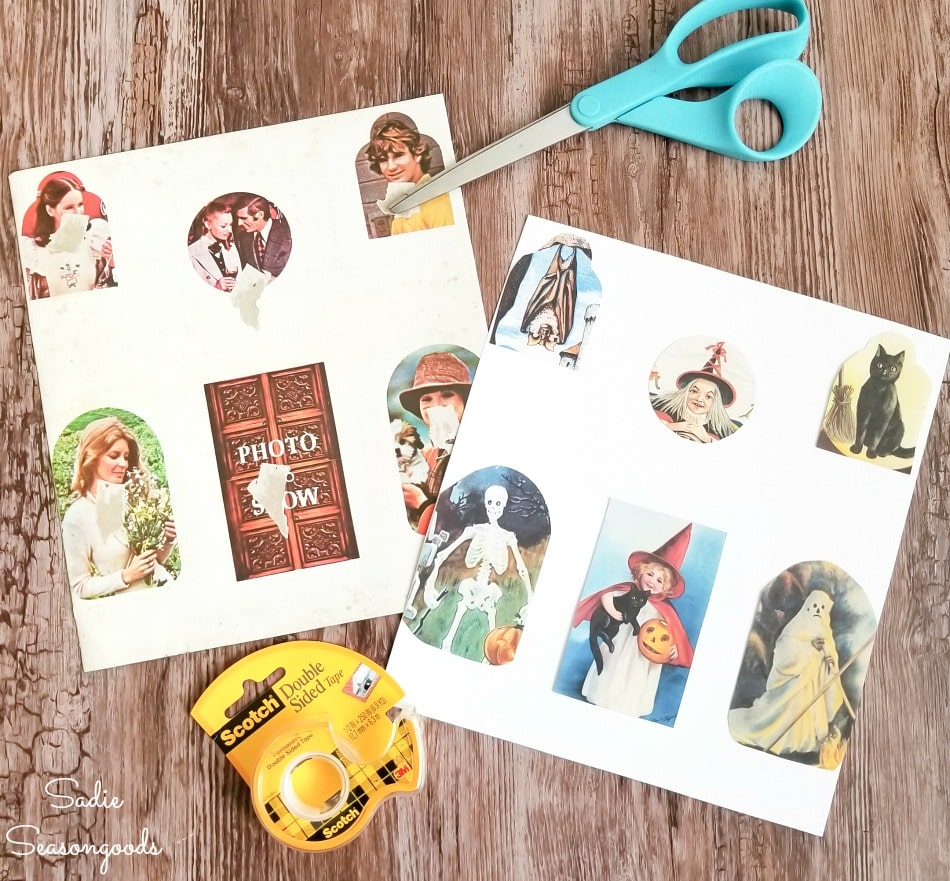 And then the Halloween makeover was complete! The house shaped picture frame had been transformed into haunted house decor!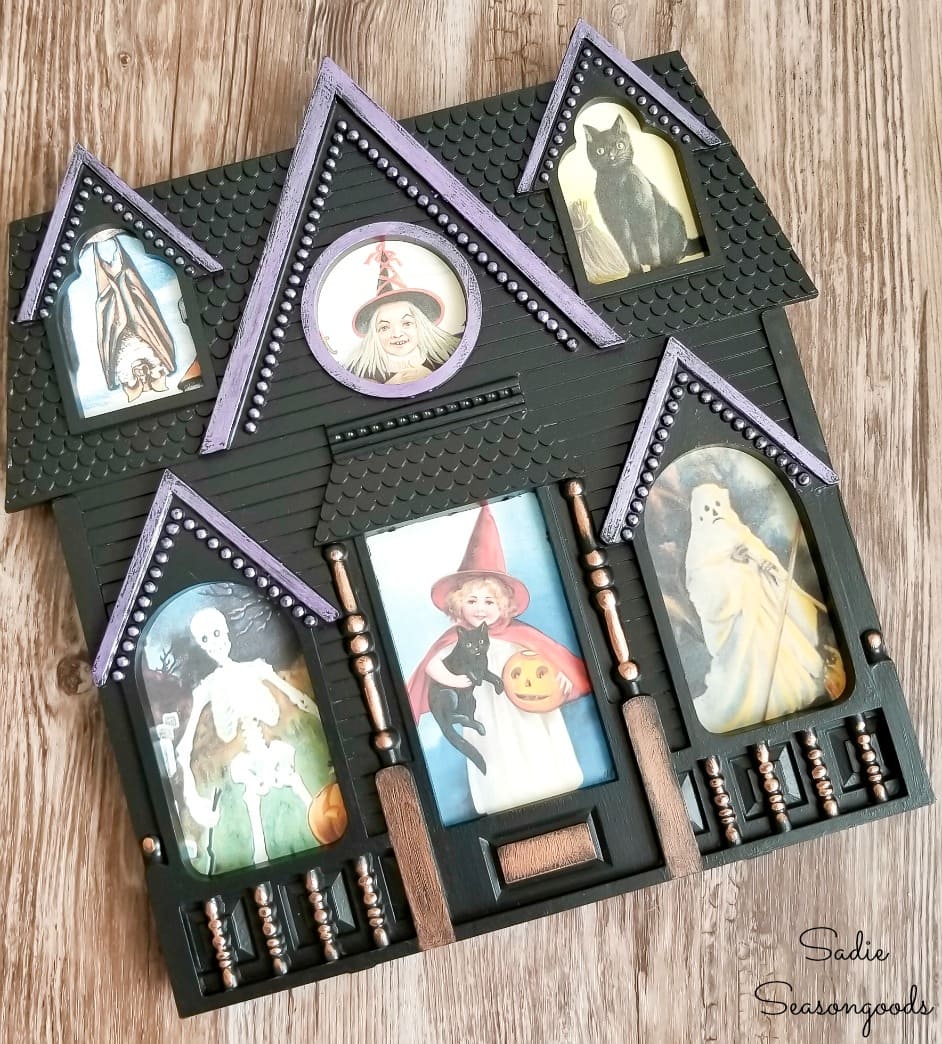 Haunted House Decor from a House Shaped Picture Frame
I seriously love how it turned out! Such a fun and fresh idea for Halloween decorating.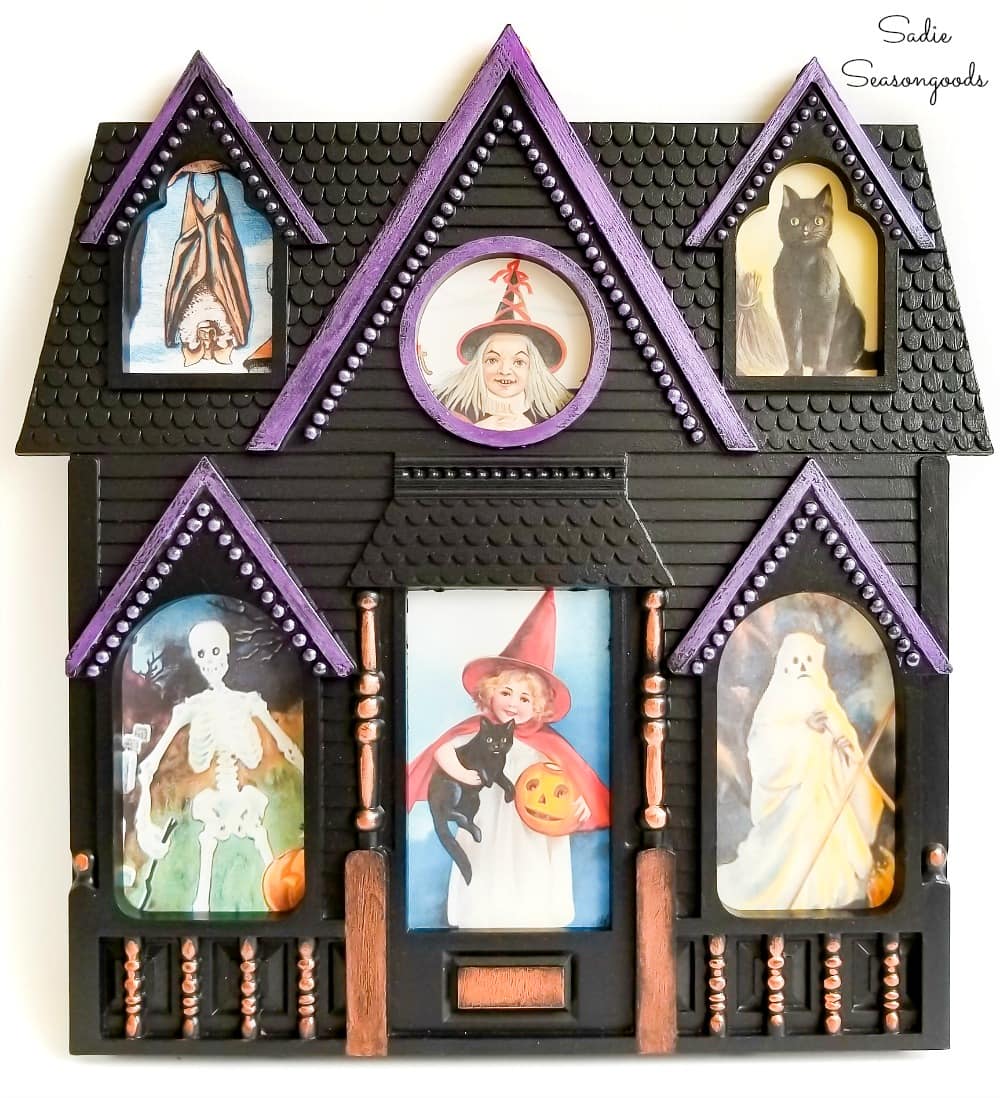 I love that it's not really spooky at all AND it really has the look of vintage Halloween decorations.
Such a cute take on a haunted house, and so inexpensive to make!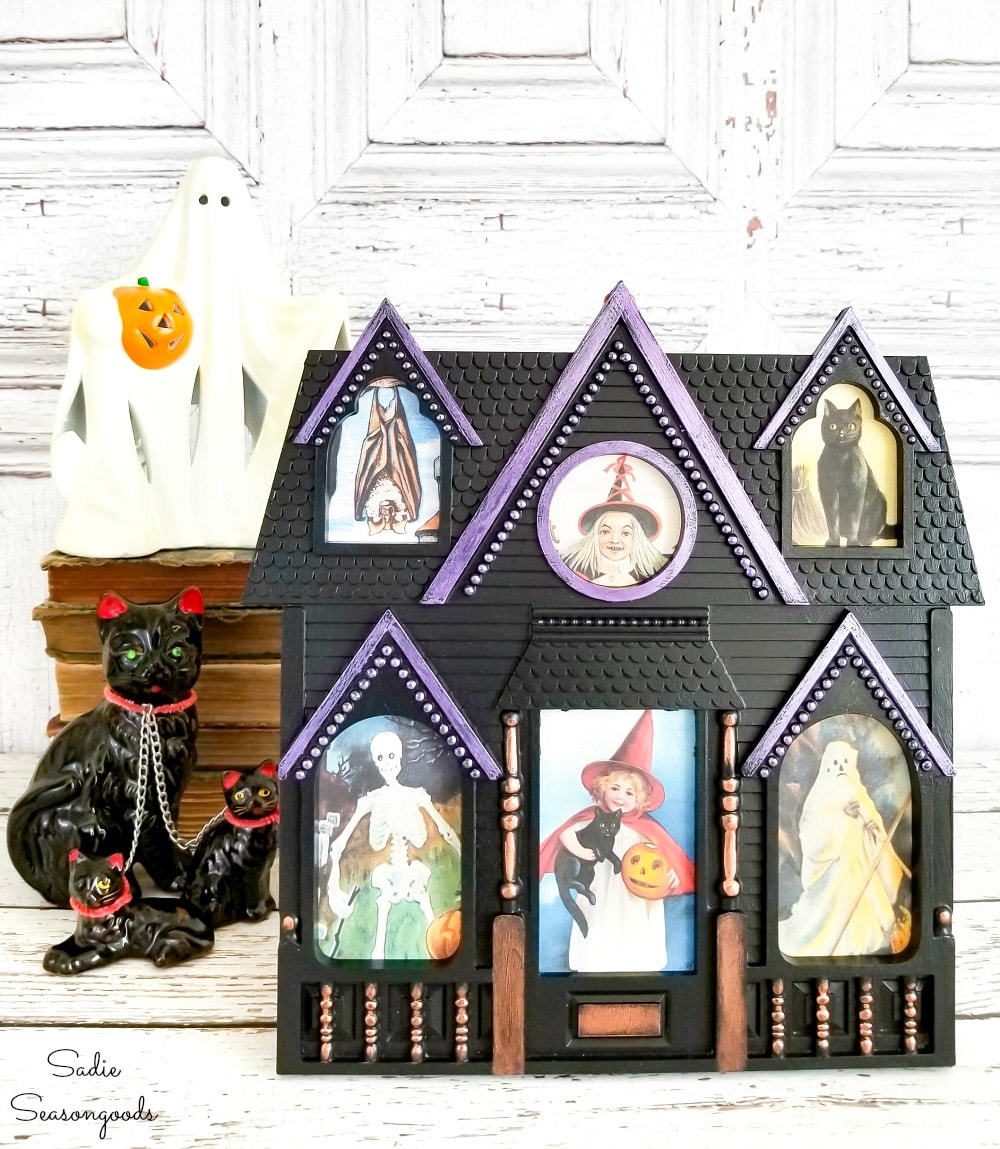 I think the biggest takeaway from this haunted house decor is how amazing that purple wax looks against black paint! I just want to "shimmer all the things" now-without a speck of glitter, too!
If you enjoyed this upcycling idea and thrift store transformation for Halloween decor, then you'll also love this Halloween planter from a straw tote!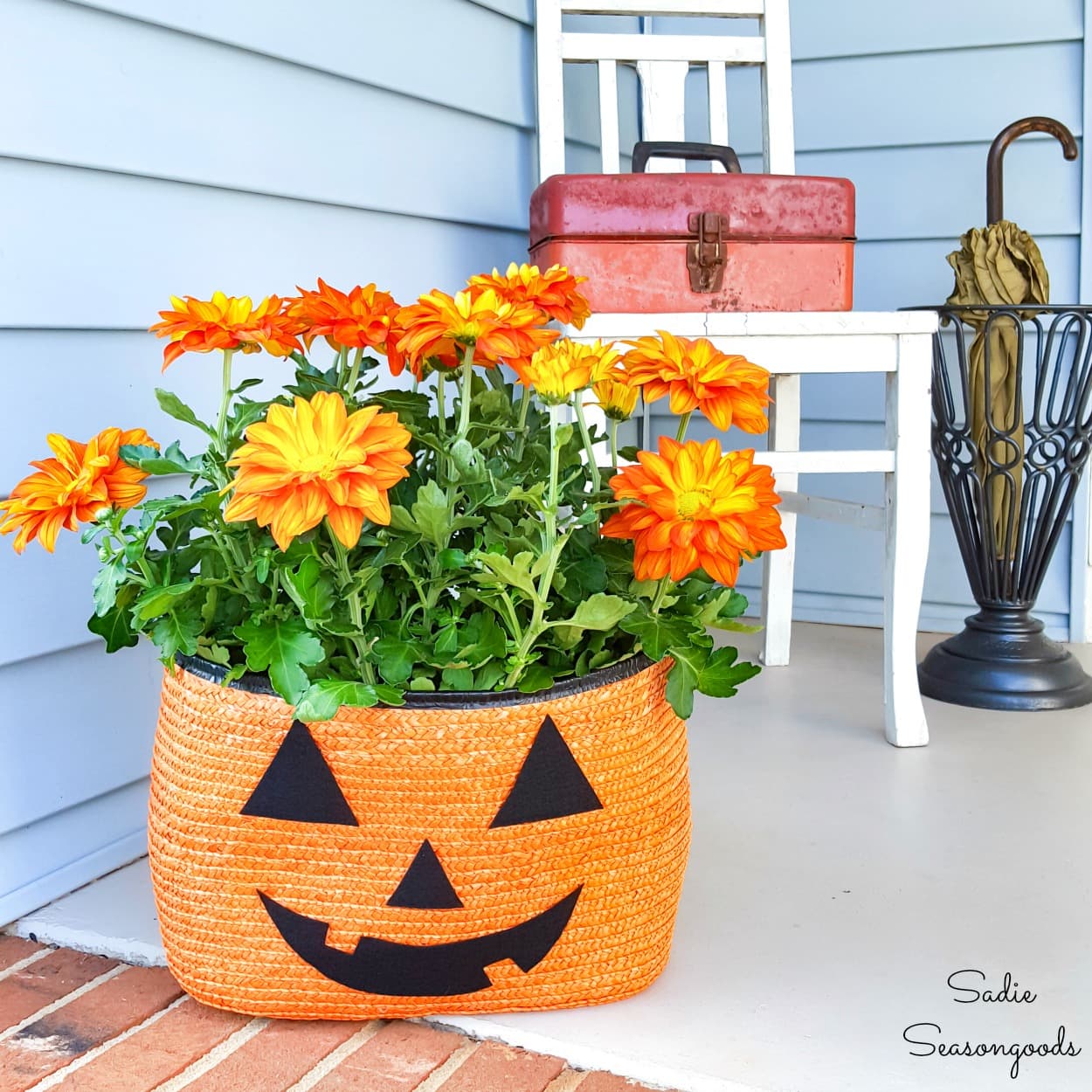 Craft on!
S
Want to be notified when I publish my next upcycling project tutorial?
Subscribe to Blog via Email
Join me on Social Media:

PIN ME!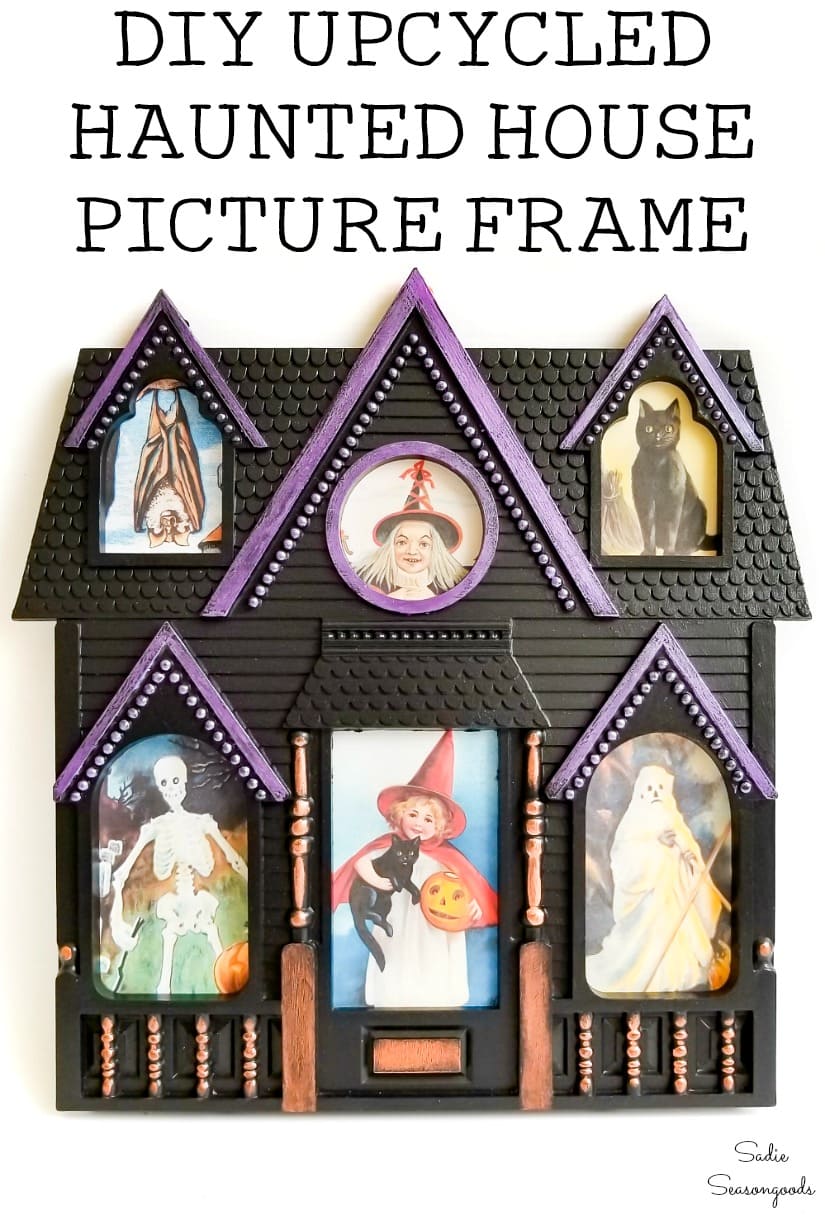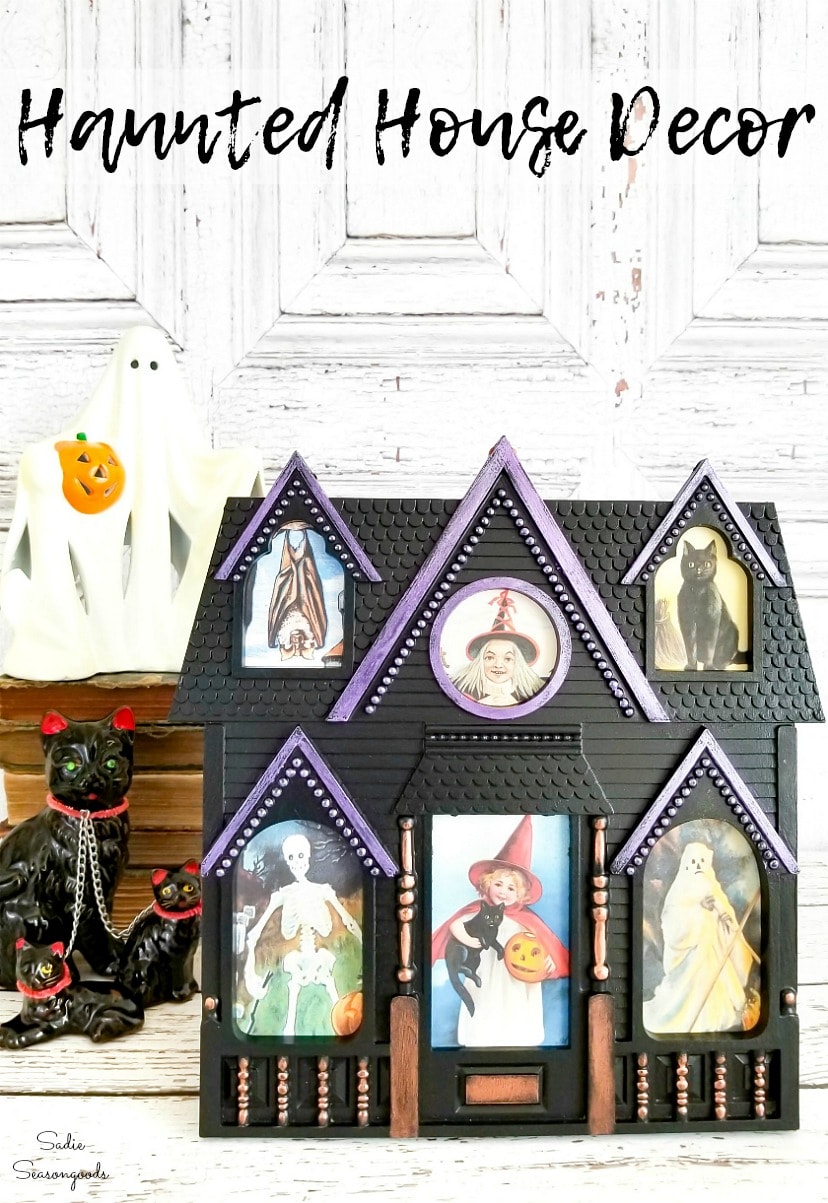 Sarah Ramberg is the owner of Sadie Seasongoods, a website that celebrates all things secondhand. From upcycling ideas and thrifted decor to vintage-centric travel itineraries, Sadie Seasongoods is a one-stop shop for anyone who loves thrifting and approachable repurposing ideas. Sarah is also the author of "Crafting with Flannel" and has been featured in numerous media outlets and magazines.