Sometimes I go to the thrift store and come away empty-handed, bummed out, and treasure-less. But then there are those magical times when I walk in and immediately have a "near-craft experience". And by that, I mean I spot a thrifty treasure and know what I plan to do with it…immediately! That's what happened when I spotted this straw tote and knew it was destined to become a Halloween planter.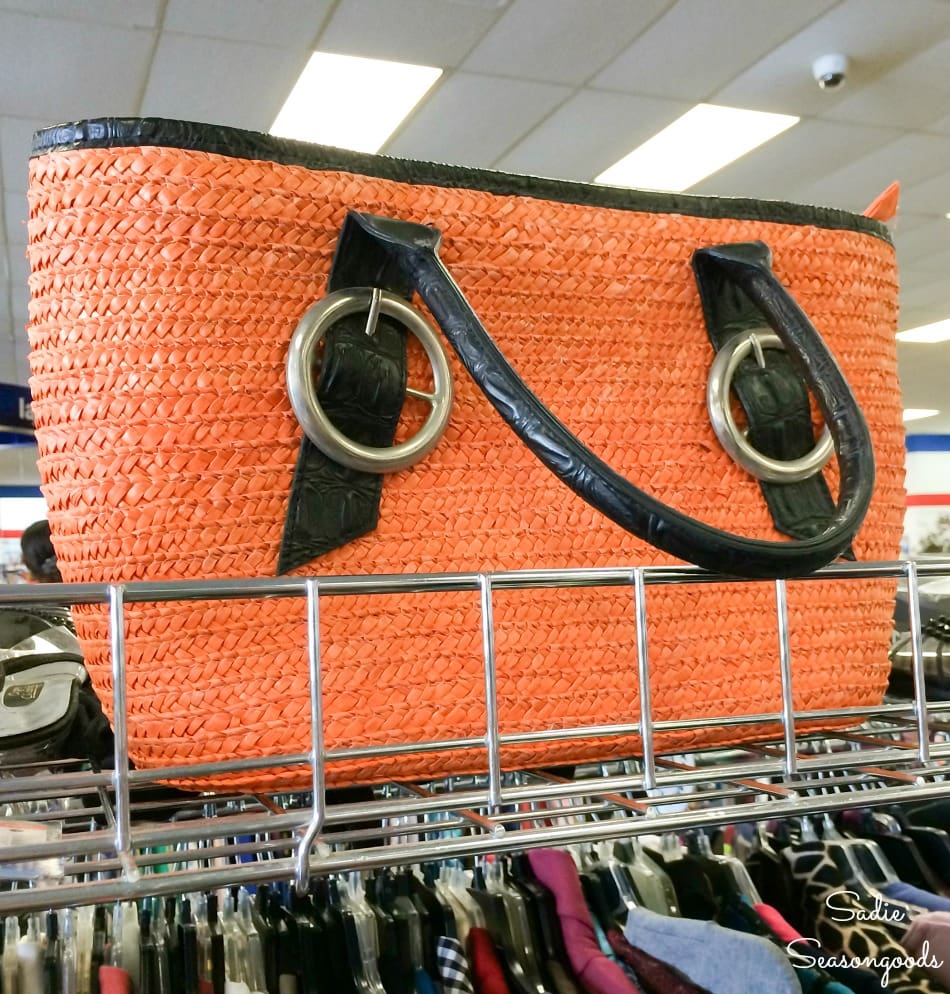 If it hadn't been October, I probably would have walked on by. I mean, an orange tote bag isn't really my thing!
But when the air is crisp and I'm feeling all Halloween-y inside, then an orange and black straw tote is going in the cart.
Why? Because the more I stared at it, with its curved handle and round buckles, the more I saw a jack-o-lantern face. And that's when I decided to upcycle it into a Halloween planter for my front porch.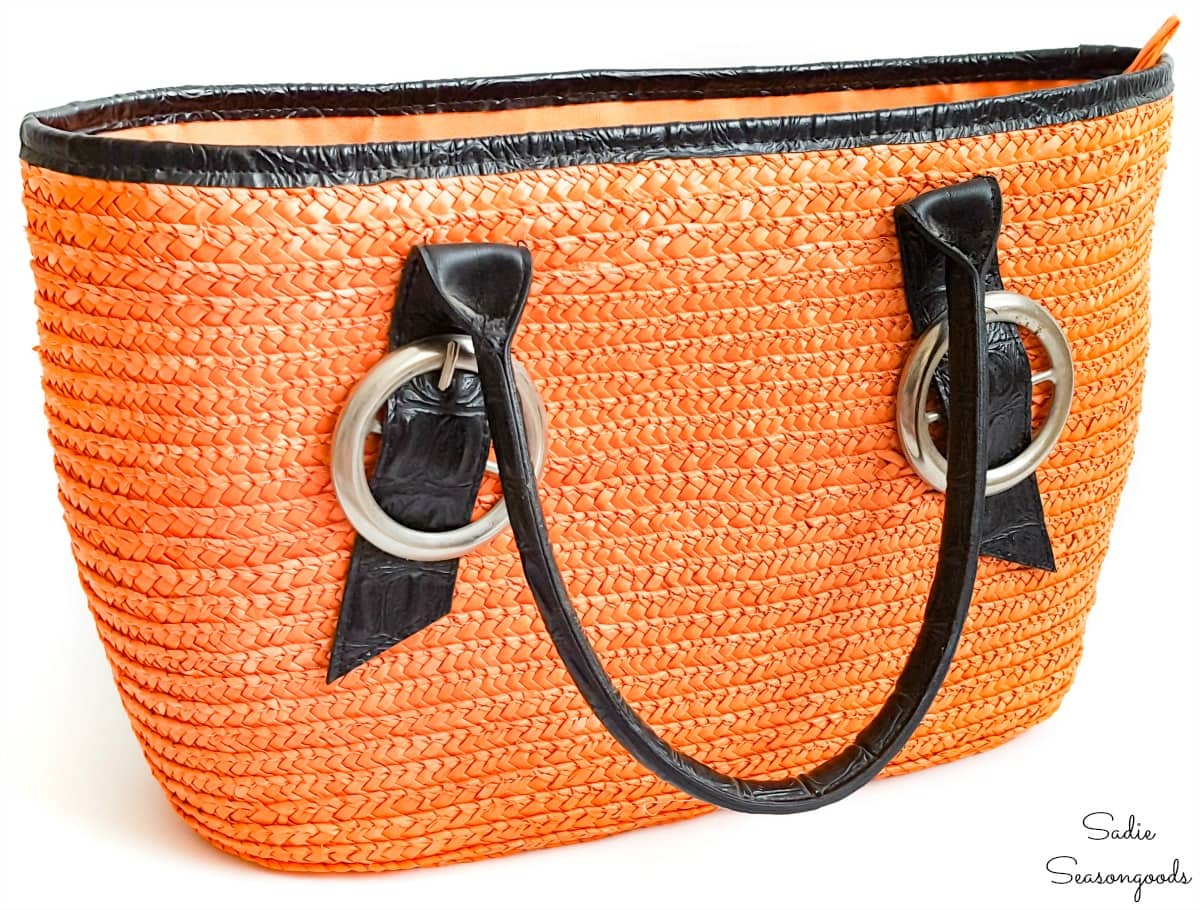 And even though I've made something similar on a smaller scale, I couldn't help but kinda-sorta do it again!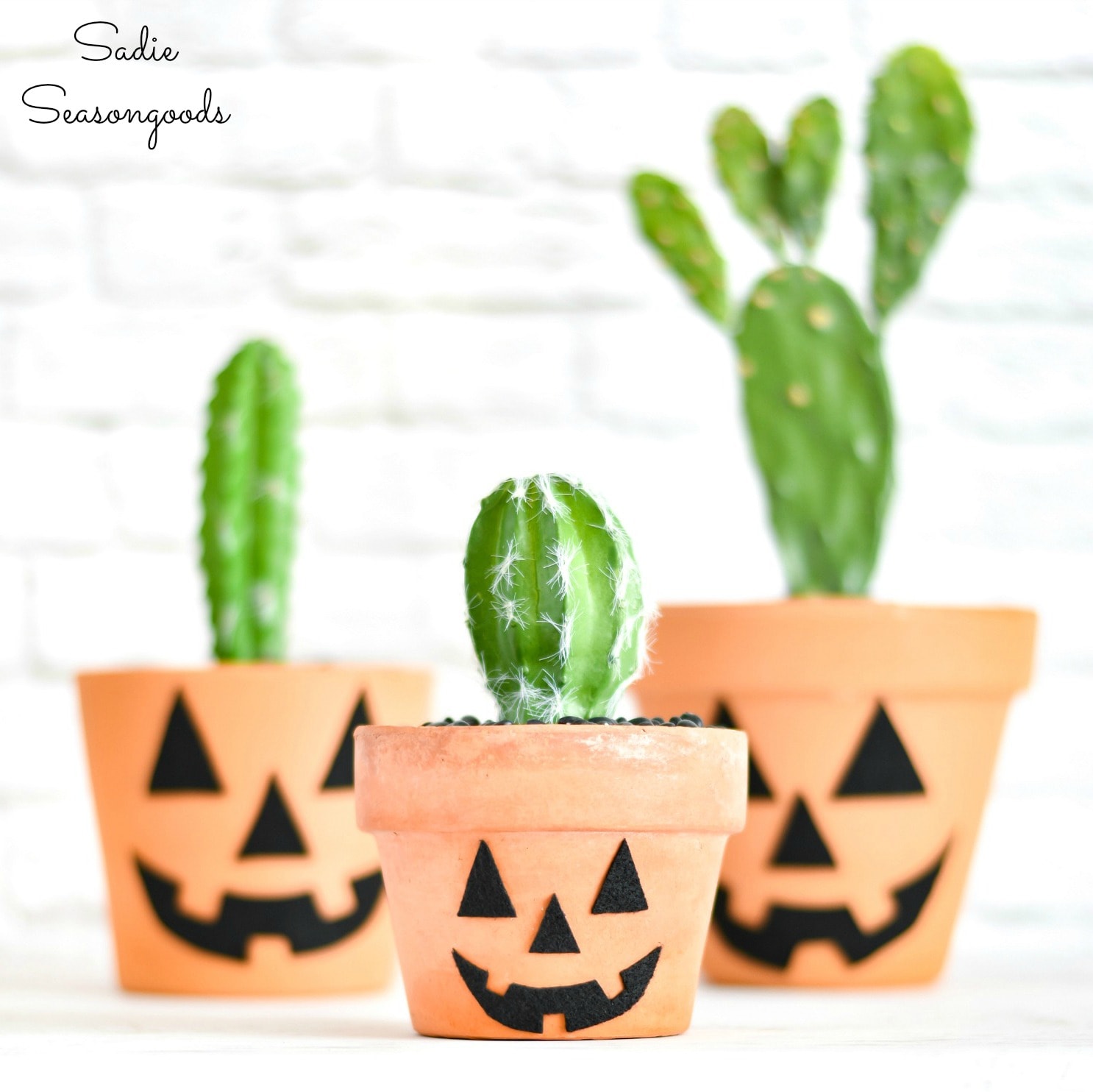 This post contains affiliate links for your crafting convenience. As an Amazon Affiliate, I earn from qualifying purchases. All blue, bold, and underlined text is a clickable link, either to a product or to a related post.
Halloween Planter for Front Porch Decorations
Before I could repurpose it into a jack-o-lantern for my front porch, though, it needed an actual jack-o-lantern face.
First, I grabbed our utility knife and carefully sliced off the threads that held the handles and hardware on the straw tote.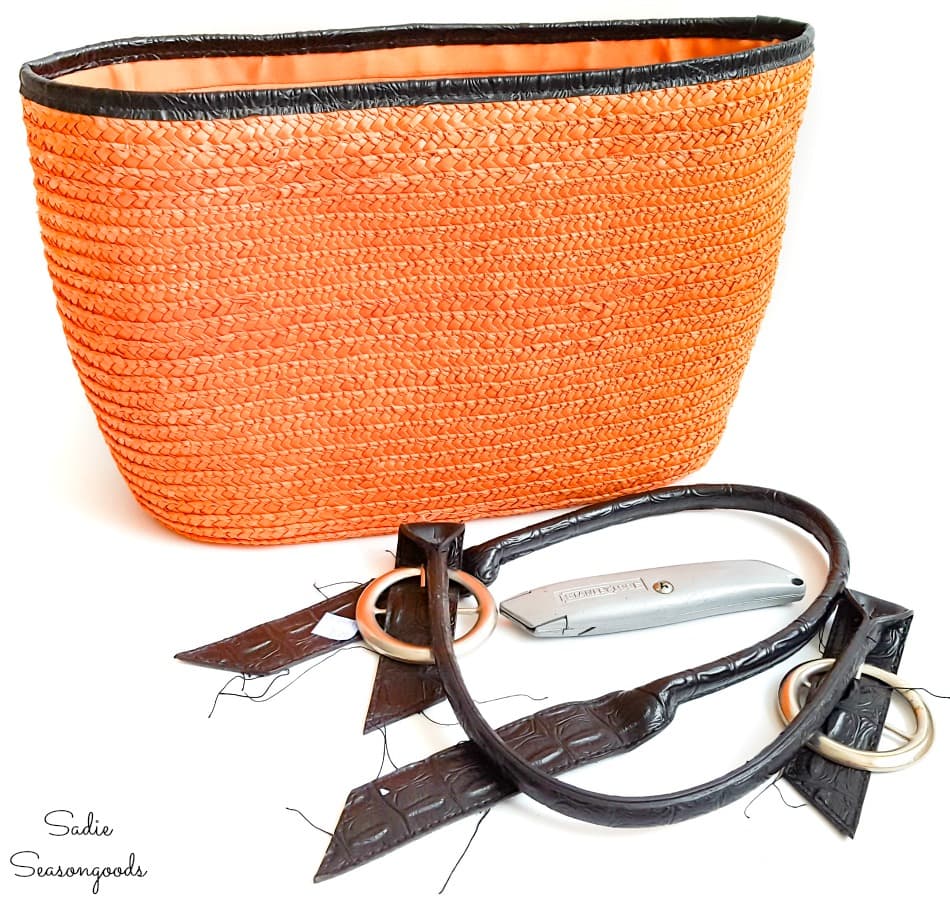 Next, I created a template of a jack-o-lantern face using wide painter's tape.
This allowed me to arrange and re-arrange it on the straw tote until I was satisfied.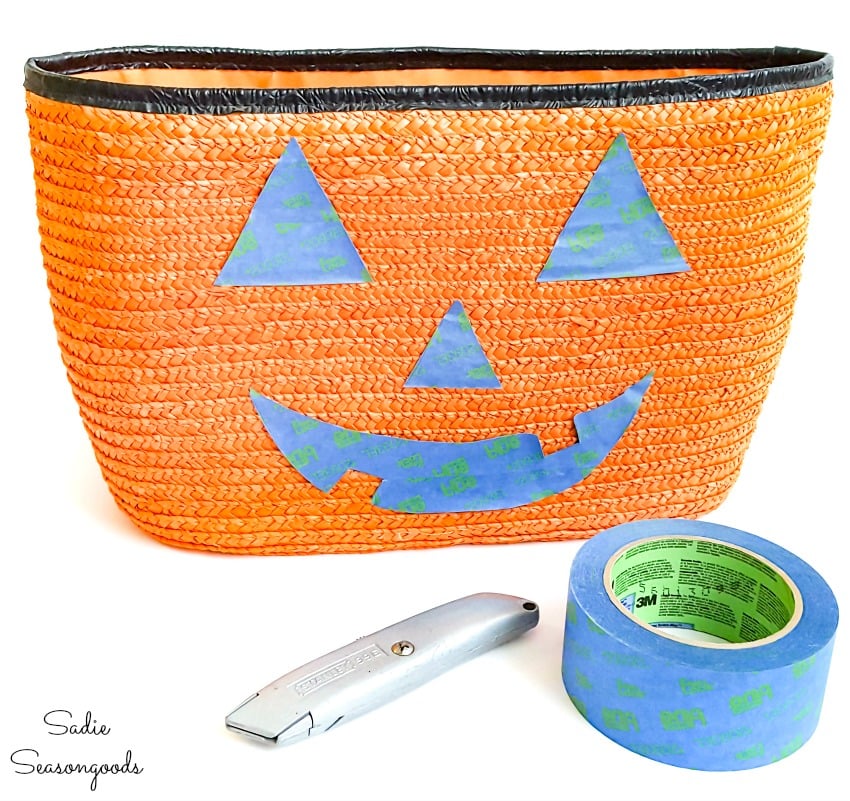 Once I was happy with the face on my Halloween planter, I removed one piece at a time.
Then, I stuck each piece on black felt and used the tape as a pattern to cut them out. I used craft glue on the felt to stick them back on the straw tote.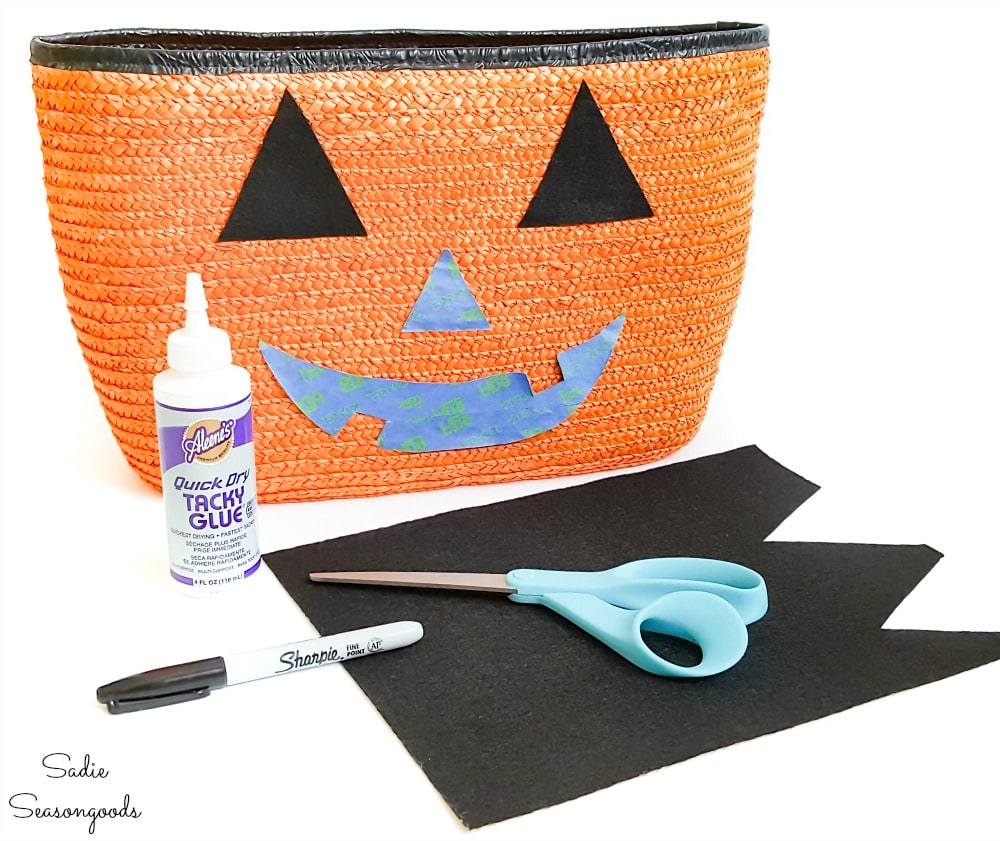 I could have used adhesive or peel-and-stick felt, too. But I didn't have any on hand at the time!
And that was it! The straw tote was now a Halloween planter and ready to hold some fall flowers on the front porch.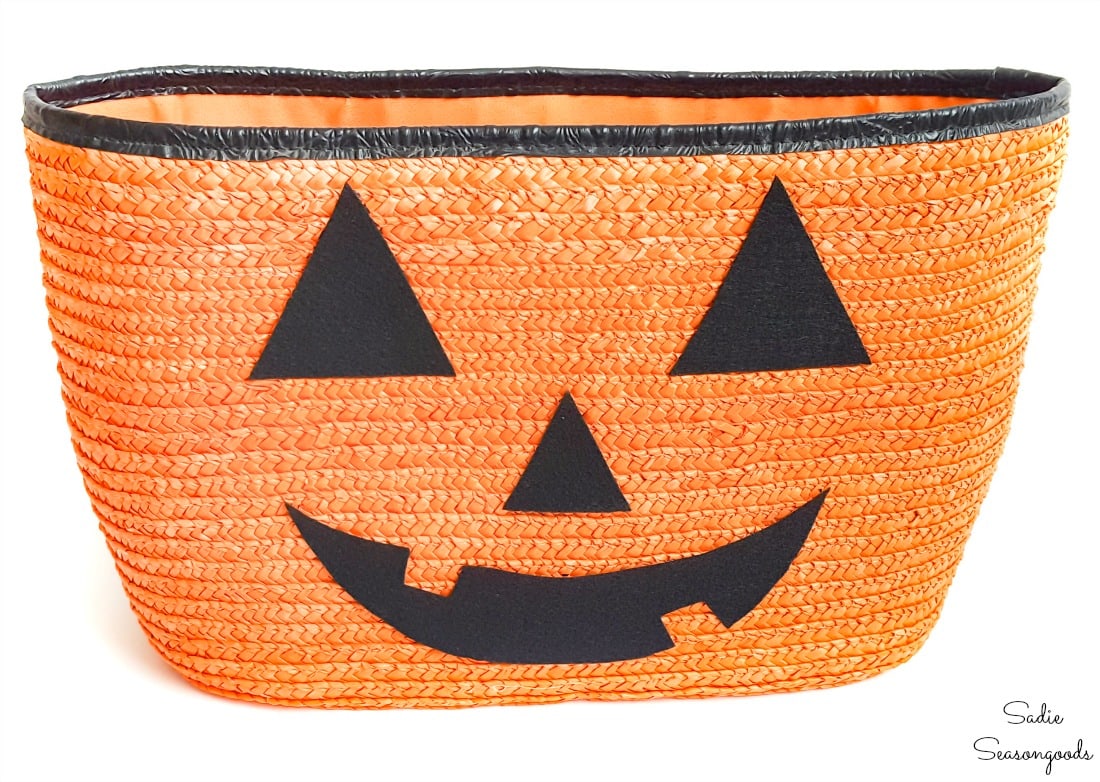 Upcycling a Straw Tote as a Halloween Planter
Finally, I went to a nearby garden store and picked up the prettiest mums I could find! I chose Pele mums for their orange and yellow hues, like the colors of a lit-up jack-o-lantern.
After adding a few small river rocks to the bottom of the straw tote, I simply tucked the existing pots inside my Halloween planter.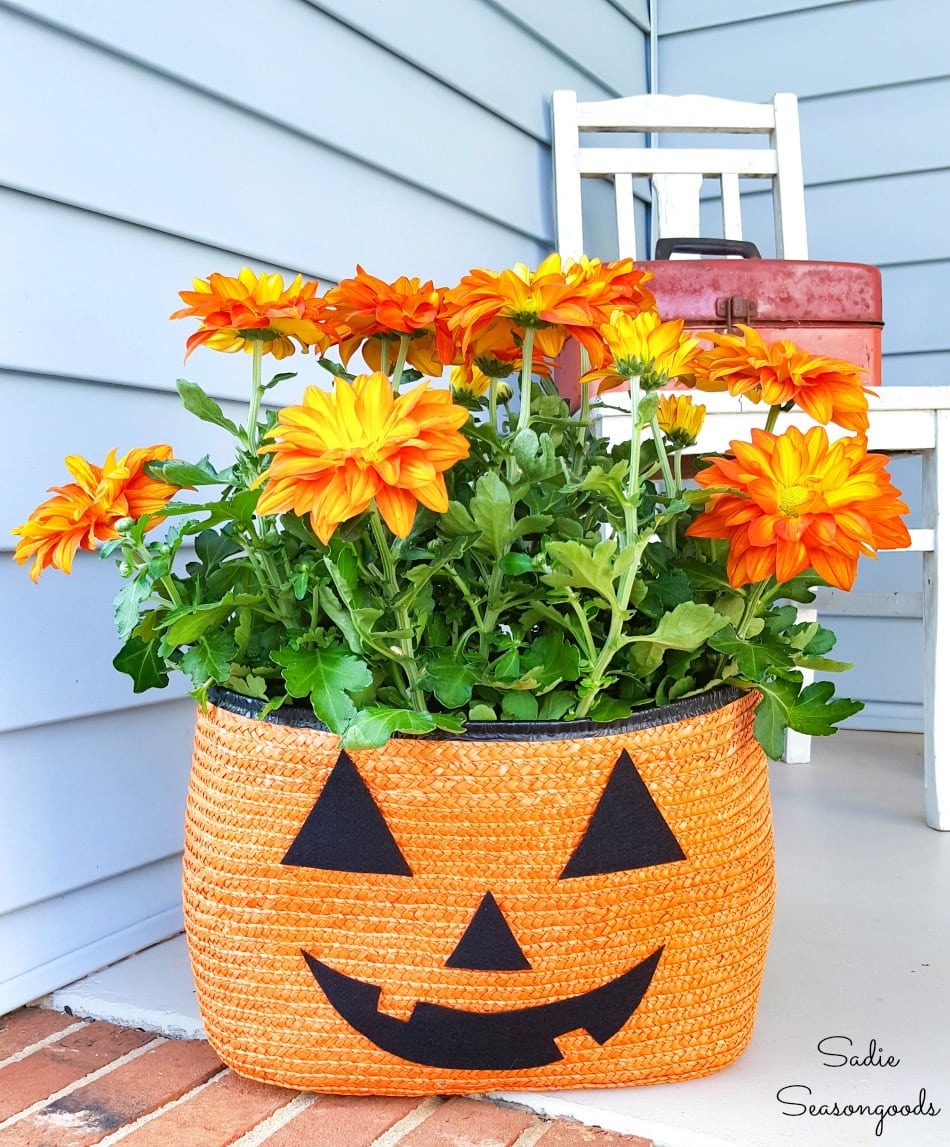 Doesn't get any easier than that!
I don't usually do much when it comes to Halloween porch decorations, but I made an exception for my Halloween planter.
In fact…I think he's more of a…
JACK-O-PLANTER!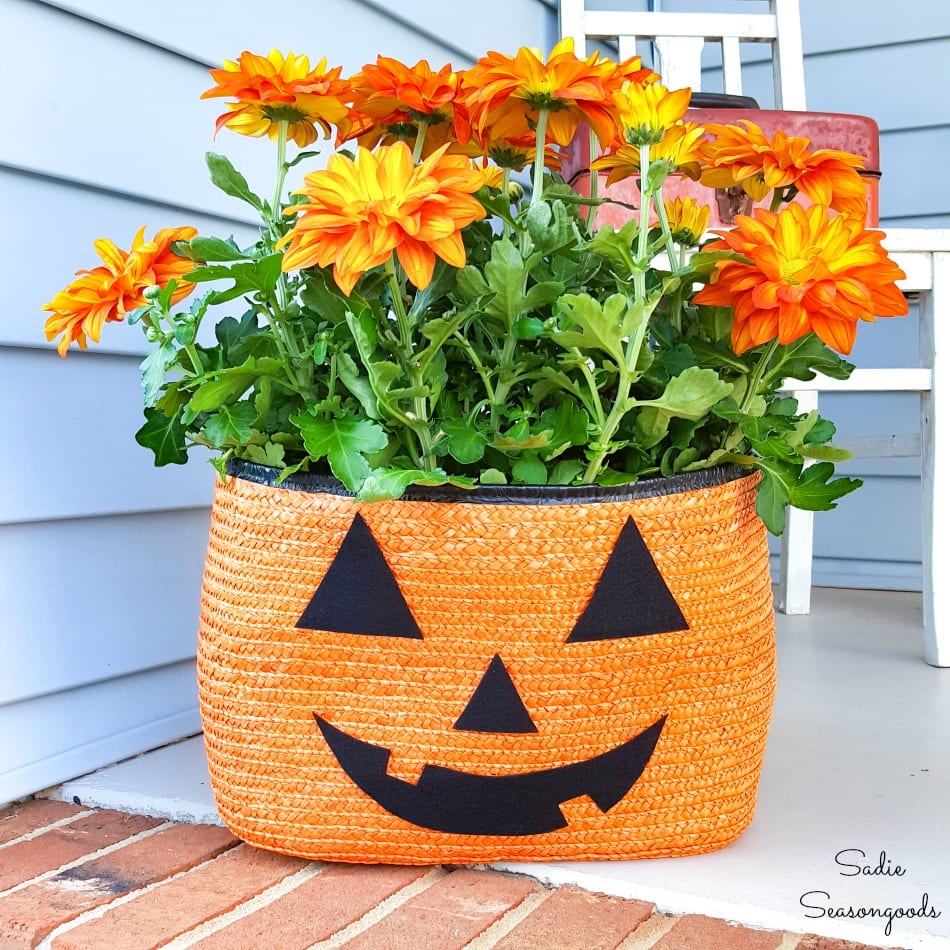 Now I think I'll go get a few pumpkins to round out our Halloween porch decorations! I'm thinking I'll get some of those unusual green and white pumpkins that are oddly shaped- like something out of Alice in Wonderland.
I really do love the look of plants combined with jack-o-lantern decor. Clearly, because I can't stop coming up with projects that combine the two…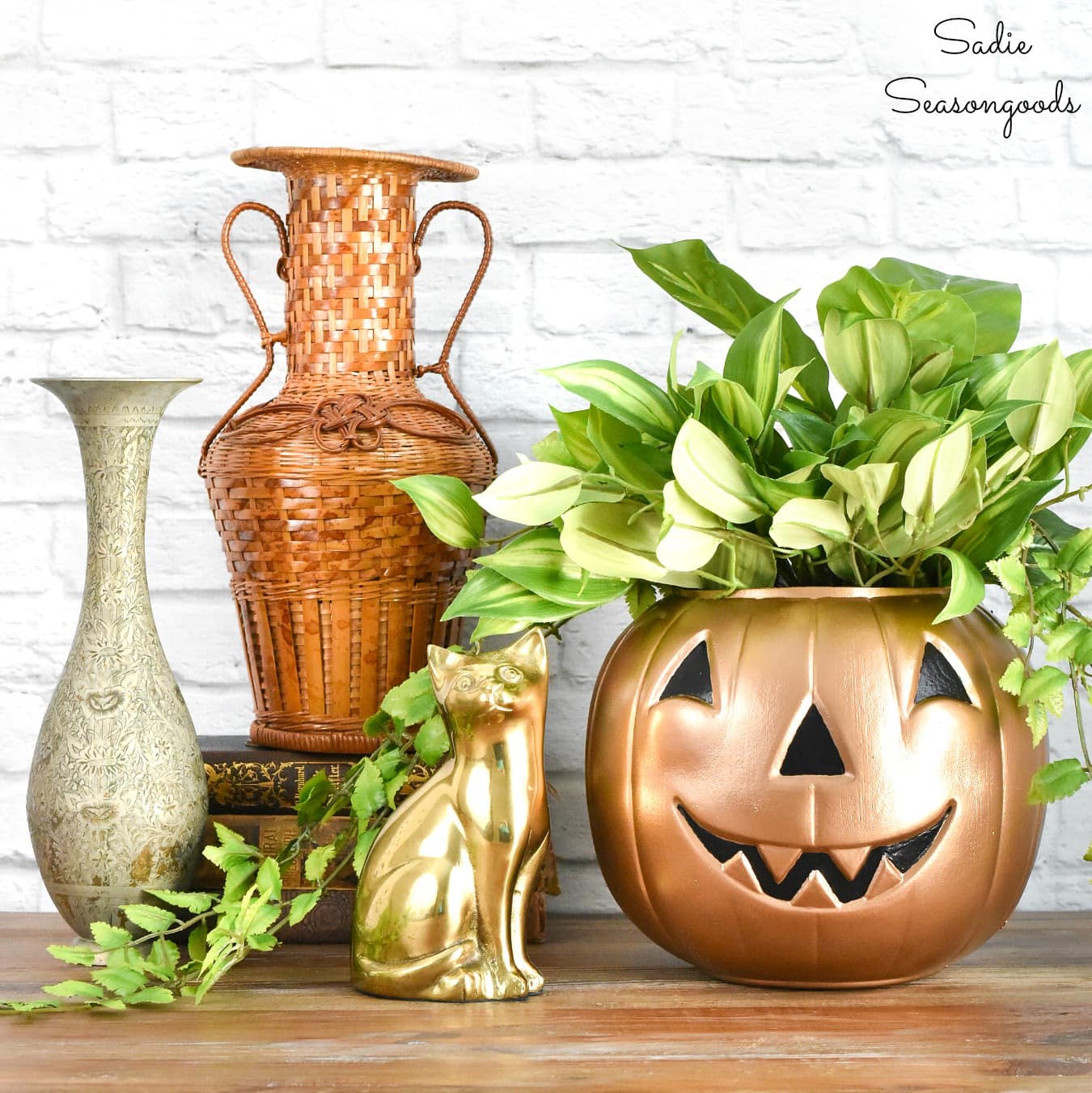 And for extra fun on Halloween night, this candy bowl holder doubles as ghost decor!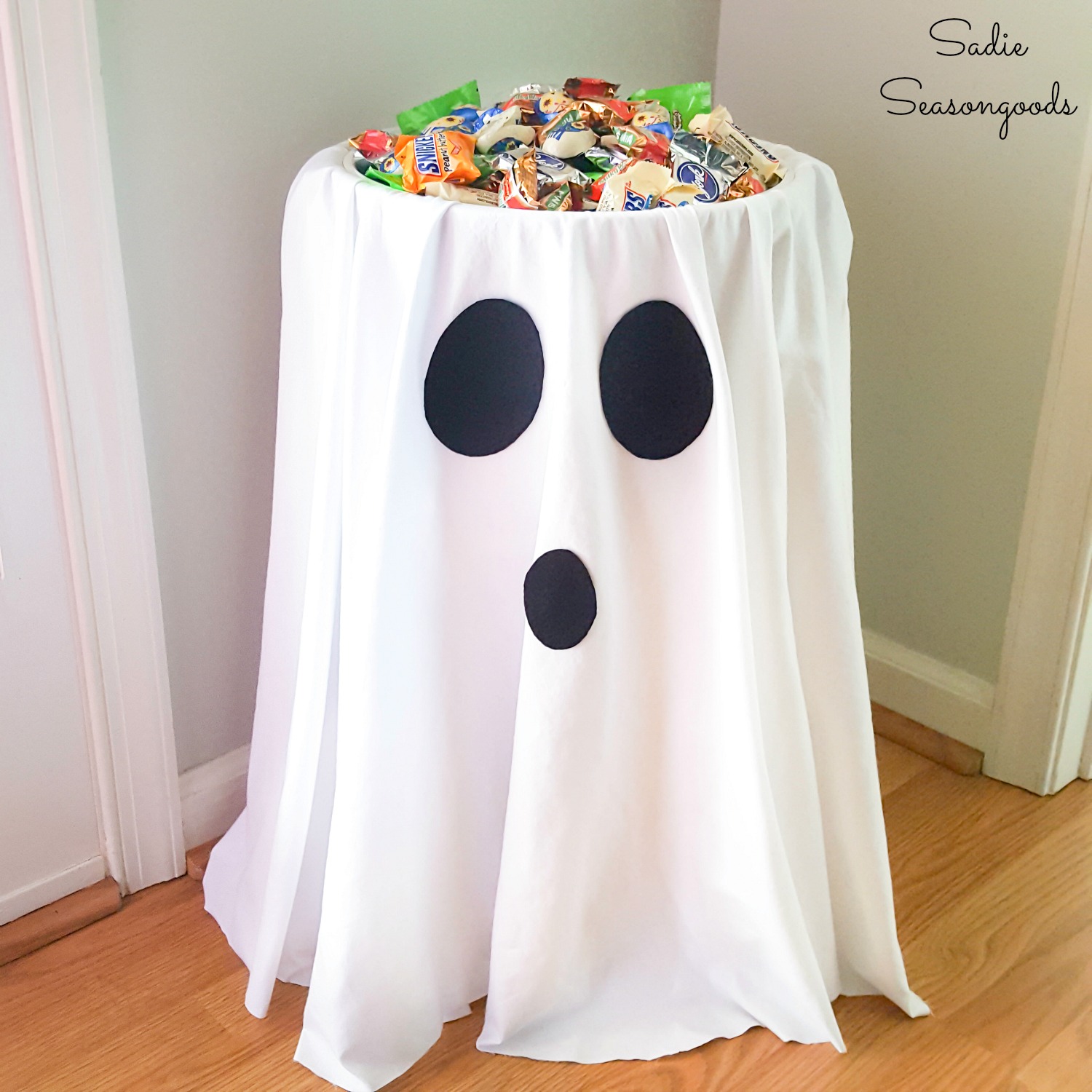 Craft on!
S
Join me on Social Media:

PIN ME!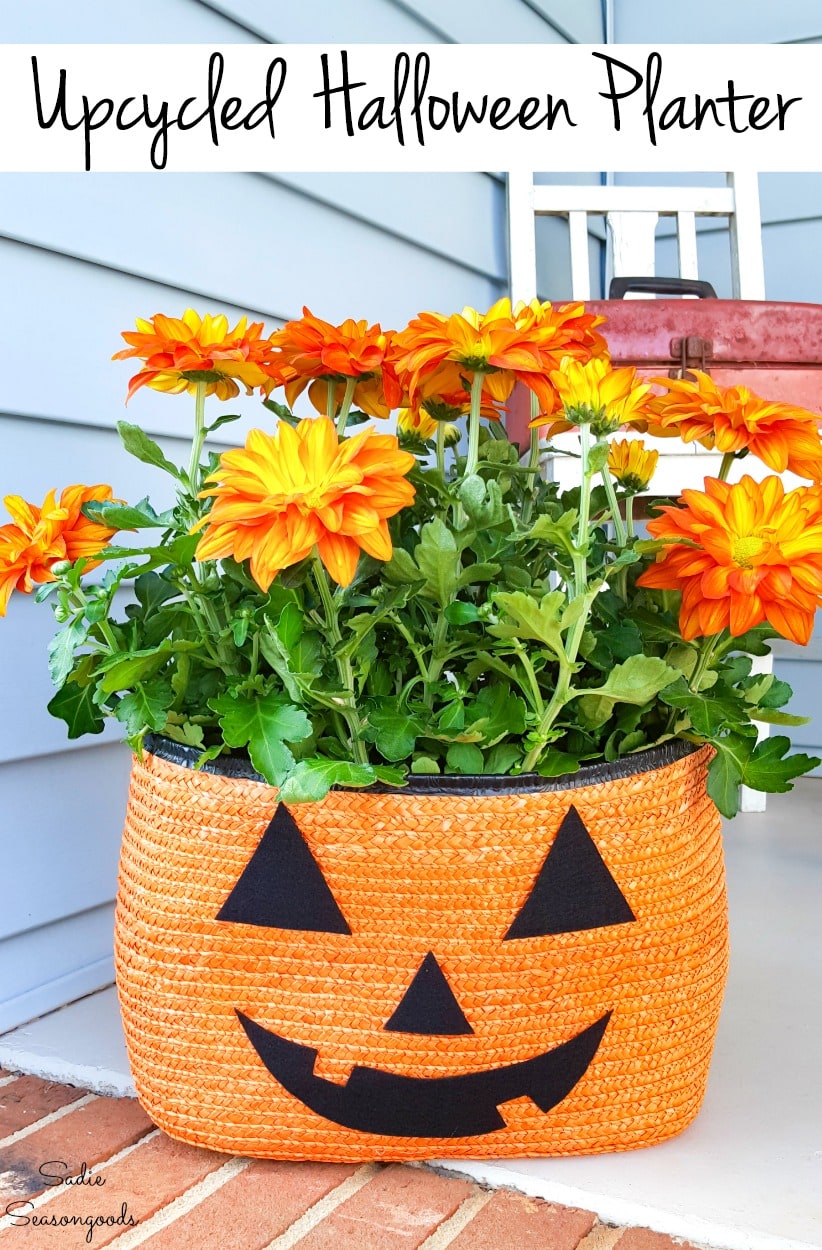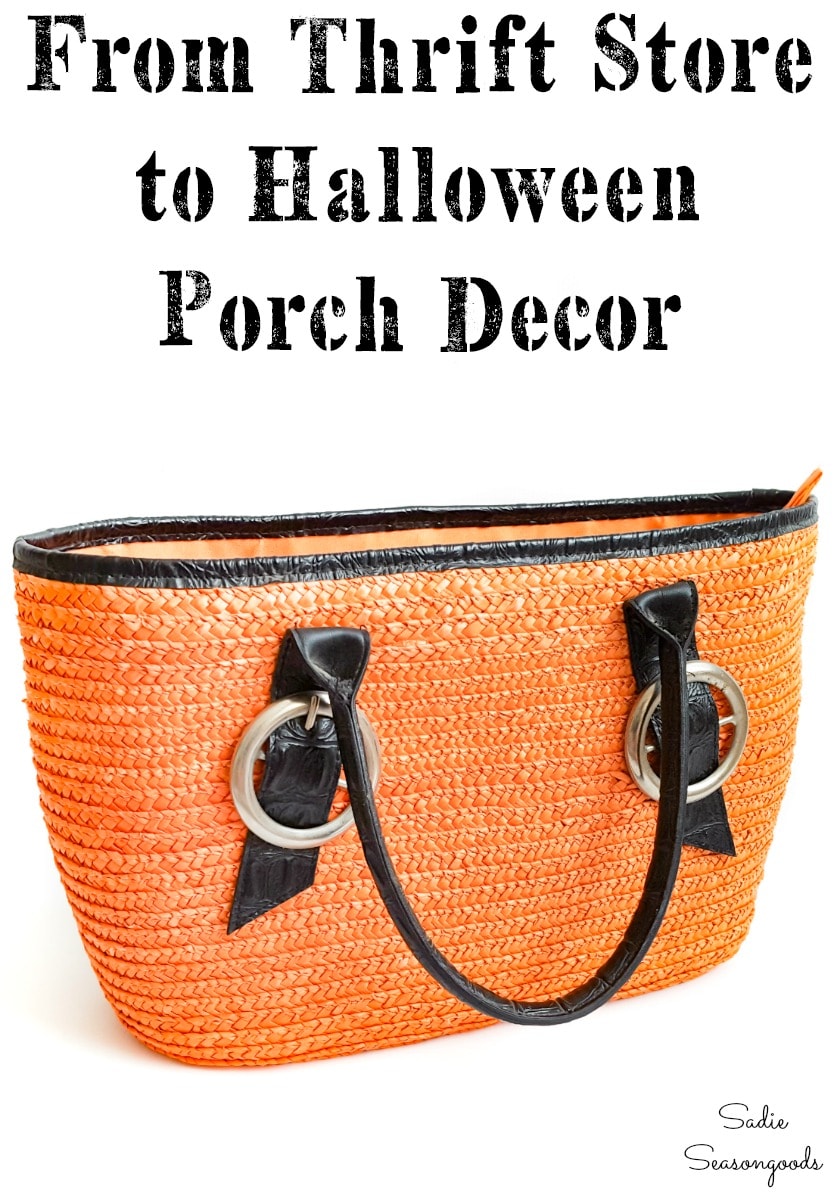 Sarah Ramberg is the owner of Sadie Seasongoods, a website that celebrates all things secondhand. From upcycling ideas and thrifted decor to vintage-centric travel itineraries, Sadie Seasongoods is a one-stop shop for anyone who loves thrifting and approachable repurposing ideas. Sarah is also the author of "Crafting with Flannel" and has been featured in numerous media outlets and magazines.