It's been a while since I created a bird project for our yard…so I decided to combine this year's Log Cabin theme with an outdoors project. Since we always have nesting wrens and chickadees at our house, I had a birdhouse idea that I just couldn't shake.
Now- I could have constructed a miniature log cabin from scratch. But oh my goodness, that sounded like a lot of work! So instead, I decided to repurpose a vintage bank – the kind that used to be found at every national park gift shop across the USA. Did you have one when you were younger?
Remember those banks that looked like a log cabin? I do…vaguely…and since the dimensions are nearly perfect for a DIY wren house, I figured it might just be the cutest bank-turned-birdhouse ever.
This post contains affiliate links for your crafting convenience. As an Amazon Affiliate, I earn from qualifying purchases.
Making a DIY Birdhouse that Looks Like a Log Cabin
First step- I needed to fill in the vintage bank's coin slot! So, I used some quasi-color-matched wood putty and a wooden coffee stirrer to carefully seal up the slot.
There…much better – now my DIY birdhouse is no longer a log cabin with a leaky roof!
I went ahead and applied some putty to the seam where the two roof sections met, and let it dry/cure overnight.
Then, using a hole cutting bit, we created a 1⅛" hole (ideal for the smallest birds, like my wrens and chickadees). My small, child-sized fingers could then sand down the inner edge until it was smooth.
Next, I added two small eye screws under each gable of my log cabin (for hanging purposes).
Putting the eye screws here (as opposed to one on each roof section) will help balance the house better and the under-gable area of my DIY birdhouse is less likely to get wet from weather.
And then another eye screw for my DIY birdhouse on the back…
As a precaution, we drilled two small holes in the bottom of my DIY birdhouse…on either side of the coin access!
This will help with air flow through the log cabin to prevent mold and mildew from building up inside.
DIY BirdHouse or Log Cabin Style Birdhouse Idea
Once all the ventilation drilling was complete, I gave the entire DIY birdhouse a healthy coat of sealant and let it dry overnight.
Then, I strung some wire between the two eye screws and my little log cabin birdhouse idea was ready to hang outside!
Ta-da!! Isn't it just the cutest log cabin that you've ever seen?
And in case you were curious, wrens prefer a DIY birdhouse that does NOT have a perch outside the entrance. That's why I didn't add one to this rustic birdhouse.
I can't wait to bring it to the mountain cabin and hang it outside!
If you enjoyed this upcycling idea for birds, then you'll love this suet feeder that was made from a thrifted store coffee mug!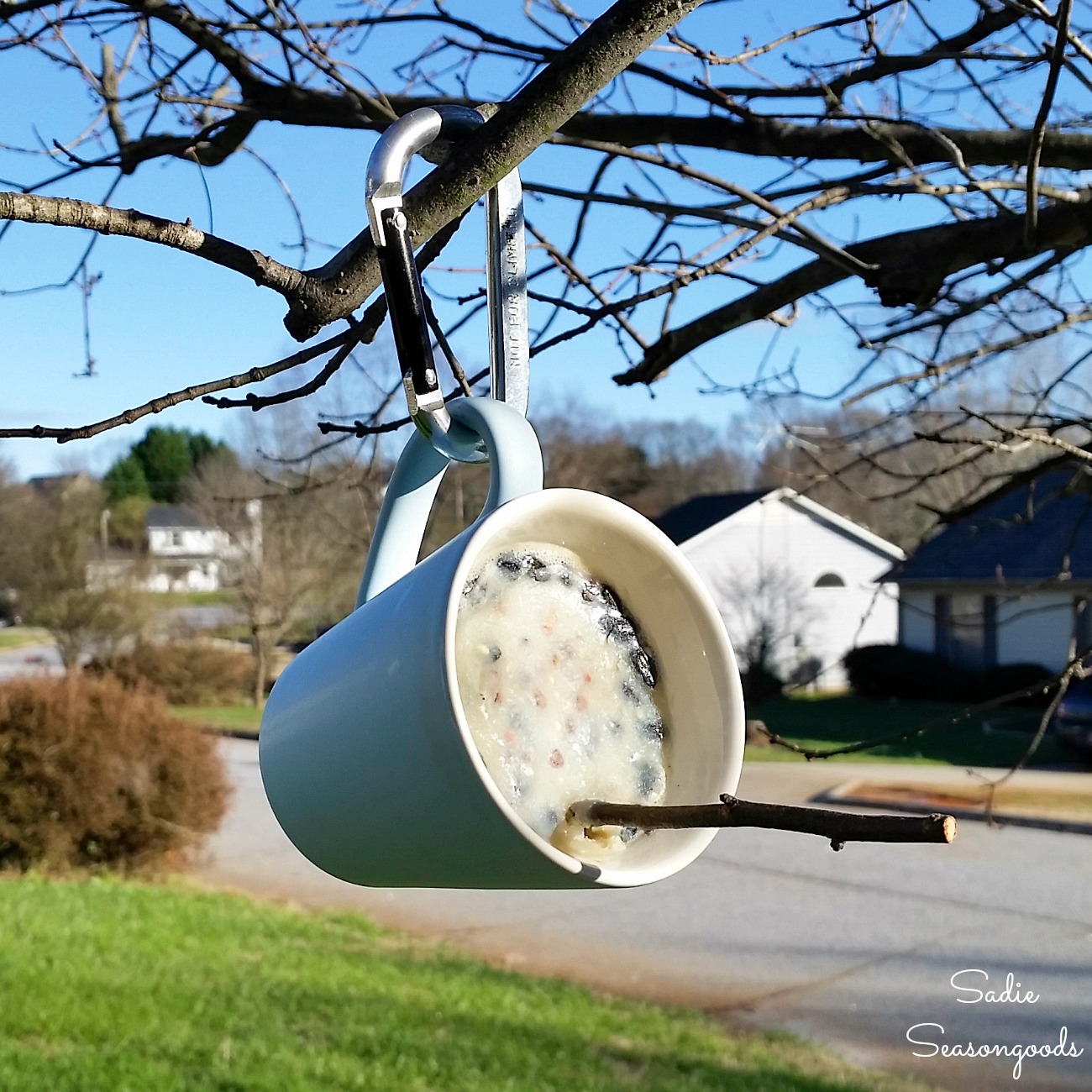 Craft on!
S
Want to be notified when I publish my next upcycling project tutorial?
Subscribe to Blog via Email
Join me on Social Media: